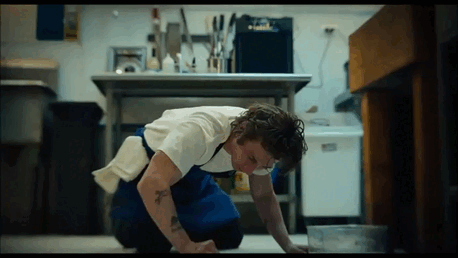 We're back with The Bear season one, still setting the table and trying to figure out what happened! Rolling into my recap of The Bear S1:E02 Hands after the break.
We open far from where we left last time, in a dazzlingly white kitchen full of blue-aproned chefs. it's a year ago in New York City and Carmen 'Carmy' Berzatto (Jeremy Allen White) stands at the fore, calling out orders while carefully, carefully plating plate after plate of delicate bullshit food. I mean fine dining, my bad, sometimes I misspell.
A tall bearded chef (Joel McHale) with a white apron enters, slinging abuse first at the helpers then at Carmy himself. He berates Carmy under his breath with cutting remark after cutting remark as Carmy plates carefully and specifically then calls for HANDS! HANDS! at the nadir.
The last insult was: you should be dead, which now I have to wonder if this is dream or reality. Is this Carmy dealing with the fallout of his brother's death?
We switch to Chicago to present day where Carmy is again calling HANDS for a super gross looking sandwich in an even more disgusting kitchen.
Seriously.
HOUSEKEEPING.
Sous chef Sydney Adamu (Ayo Edebiri) has a blue apron too!! She's the only one besides him.
They're working on housekeeping, so I can relax, but Carmy's cousin Richard 'Richie' Jerimovich (Ebon Moss-Bachrach) is determined to be an arsehole every single step of the way. He mocks Carm's experience in The French Laundry, NOMA, everything that reeks of pretentious bullshit (aw man, do I need to change my wording above? I don't want to agree with RICHIE).
Instead of The French Laundry and NOMA, Richie went to DeVry! And so can fix the ice cream machine maybe. Maybe.
Carmy cleaning montage: I may need a minute.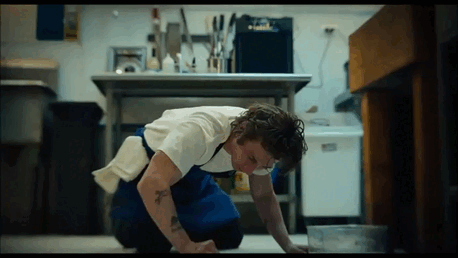 This is a lot of hands-on work for an owner.
He goes home to eat a PB&J sammie, throw back a Coke and eat Doritos like all fine dining chefs the world over. He falls asleep watching a cooking show and dreams of an endless stream of orders pouring in like the abuse from the NYC chef we saw in the opening.
He awakes to a beeping noise, finding himself standing in front of a stove top full of pans with things on fire, smoke hanging heavy.
Back in the work kitchen, Sydney has a plan. Actually, Sydney has many, many plans. She would also like to get paid out of the savings she's found, let's do that!
Carm hears shouting at the front of the shop, a heath inspector has shown up and Richie's not happy. Nancy Chore (Amy Morton) isn't her old partner Ron, who passed away.
Guessing Richie had a deal going with Ron.
Nancy finds three violations, resulting in a C grade from the heath department. She leaves and chaos erupts in her wake, Carmy and Richie at each other's throats while Neil Fak (Matty Matheson – he's Canadian!) shouts suggestions from the peanut gallery.
One of the violations is a hole in the wall that has been stuffed full of napkins and covered with…proxy? But not properly caulked or drywalled. After all the shouting, Richie is charged with fixing the hole but Sydney will have to drive him to get it because Richie has a suspended license. Even though he drove to work that morning.
In fact, besides Sydney and presumably Carmy, the only other person with a license is Marcus (Lionel Boyce), neither Tina (Liza Colón-Zayas) or Ebraheim (Edwin Lee Gibson) can drive either.
That's not the point! We're going to watch Sydney and Richie bond! He called her 'sweetheart' instead of 'chef' when they met, let's see how this goes!
Oh. OH. We do find out what happened with Michael, Carm's brother who used to own the restaurant and willed it to Carm: Michael committed suicide. And Richie is not Carmy and Michael's cousin, he was Michael's best friend.
Oh.
Remember last time when Natalie 'Sugar' Berzatto told her brother Carmy that their Uncle Jimmy wanted to buy the restaurant? Guess who shows up just as Carmy's hanging the C grade from the Chicago health authority? NO, GUESS?!
Hai Uncle Jimmy (Oliver Platt! I may have a little crush). He listens to Carmy's tales of woe then heaps another 300k of Michael's personal debt on it that Carmy will have to repay.
There is no way there is 300k of anything in this shop.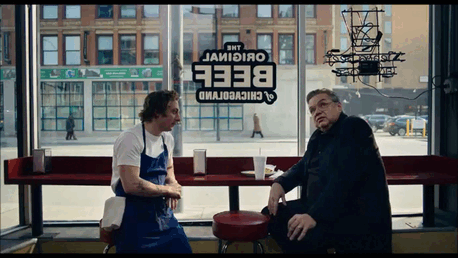 Carm wants to know why Uncle Jimmy gave him all that money there would be no way he could pay it back. Uncle Jimmy offers to buy the restaurant which was what he came for all along.
I want to know what Michael did with the money he supposedly borrowed.
Richie takes a break from shittallking Carmy to Sydney to take a call from his ex-wife, their daughter is having a bad time at school so he talks her through it a little. Its a tough conversation to listen to for us and Sydney.
It was Richie who caused two of the three health code violations, the vulnerability of that conversation allows him to ease up just for a second and admit he was wrong. Sydney figured out he didn't know what he was doing with the caulk already.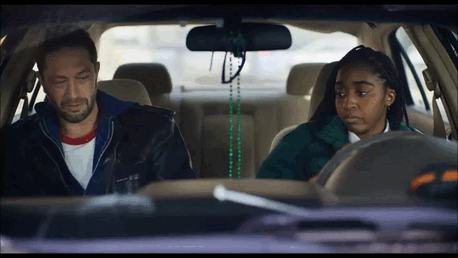 Carmy calls his sister Sugar's husband; Pete (Chris Witaske) answers and is suuuuuper awkward but kind of takes Carmy's apology (the urgent care put something right on it!) then hot potatoes him over to Sugar. Sugar would really really like Carm to get into Al-Anon to deal with his breathing problems and almost setting his apartment on fire while dreaming thing.
While poorly caulking the hole in the wall, Richie finds a letter from Michael to his brother Carmy and after first placing it on his desk, hides it back where he found it.
Sydney runs the kitchen, Carmy hires her then realises he was the person to blame for the major health code violation of leaving cigarettes next to the stove top.
But. I thought Richie did that? He said so. Maybe Richie is used to always being the one who messes up. We're out.
We can see that the team is starting to gel and a new system coming on the rails in The Bear, but there are still gaps. Carm seems to have found his voice a little more, unfortunately it's just screaming gobbledygook at Richie like "surge rates, F#cko!!".
Richie is a real bully, one that doesn't go away when you yell at him and I will never not love having a complicated character on my screen. It's an interesting idea that Carm's Food & Wine chosen life contained the same stressors, but just farther from home.
I'm still not crazy about the score but I'm absolutely loving the cast. Until next time!
FYI: HANDS means come and take this perfect food carefully with your hands and deliver it to the right table. THANKS.