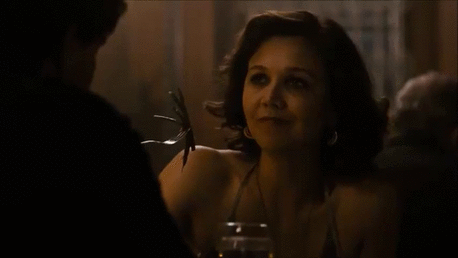 It seems like we were just here at The Deuce, yes? Well, we're back already, you're welcome for my being so late with the last one! Rolling I See Money after the break!
We open with Candy Merrell (Maggie Gyllenhaal), the picture of a bedraggled hookah, being an independent contractor means only you pay the bills. It also means that you're probably not gonna slice up your own armpit if you take a rainy night off, though, so: choices.
Lori (Emily Meade) joins Candy, she's thinking about working the theatres but her pimp C.C. (Gary Carr) thinks it demeans her. Candy thinks it's all the same anyhow and it's WARM. Cya Lori, Candy's off to the movies! CC has a LOT of opinions about what kinda work Lori should be doing.
We get a shot of the movies here and there and I canea even say how much I love seeing more than one body type on this show: hallelujah!
A rat sends Candy flying into the lobby where we learn that "you like movies?" means something very similar to "do you have any weekend plans?" but with a twenty passing hands.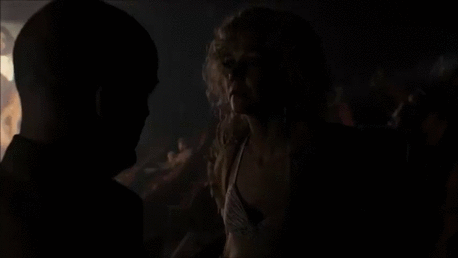 Vinnie Martino (James Franco) meets with his mob benefactor Rudy Piplio (Michael Rispoli) and henchman Tommy Longo (Daniel Sauli) to discuss this week's take, they got something big in mind for our barman!
Our other barman Paul Henrickson (Chris Coy) is also out on the town, on a date with his closeted boyfriend Arthur Laurent (Sean Meehan) who almost climbs out of his skin when Paul touches his hand. That was dangerous then, and maybe still is in some parts. I have never understood why anyone cares what another person does with their privates as long as everyone is of age and consensual. Never got it. Love is love, boning is awesome.
Bobby Dwyer (Chris Bauer) isn't allowed back at work yet, so he's stuck smoking and drinking at home with Vinnie while recuperating from his heart attack. Vinnie's estranged wife Andrea (Zoe Kazan) took some time off from pulling mob trains to bake a dietetic casserole for Bobby but we all know she's there because she heard Vinnie's making bank now.
He declines her bagina but he should pop by and see the kids, yeah?
Officers Flannagan (Don Harvey, who I just saw on The Night Of, which confused me!) and Chris Alston (Lawrence Gilliard Jr.) are working The Deuce but Chris isn't about to just follow this no-go-zone bs. He decides to test it with a drug bust, "see how it bounces."
It's like he never wants to make it out of uniform!
Abby (Margarita Levieva) is handling the afternoon crowd fine, which is good because Paul's busy chatting up an old actor friend Todd (Aaron Dean Eisenberg) who is off to film a porn on Fire Island. The way Paul leans in has the ears up on Vinnie and me both, but Vinnie ruins everything all on his own without my help by asking Paul a lot of personal questions and making allusions.
Sigh.
If he asks Paul who plays the girl I'm throwing something at the TV.
Vinnie doesn't, he just wanted a minute to reassure Paul that he appreciates his work and wants him to stay as long as possible, even though this really isn't Paul's "thing." Vinnie spouts some transphobic shite and then suggests Paul's friends are great entertainment for everyone else. I mean.
Candy meets a guy! At a record store and he doesn't seem to know she's usually on the game, so she gives him her real name, Eileen, and her number! Y'all should know that I am rooting for Candy ahead of every other person on this show, but I think the last thing she needs is another dick in her life.
Officer Chris finds out exactly how much bounce he gets on that drug bust, zip zero.
The ladies know how to clear Larry Brown (Gbenga Akinnagbe) out of a room: just talk about menstruation in excruciating detail! Barbara (Kayla Foster) has a Communist in her Funhouse but it's Ruby Thunder Thighs that scares the man off with her talk of needle-nose pliers. High fives all around! He was getting a little too insistent that Barbara was light.
Rodney (Method Man) and Leon (Anwan Glover) don't mind some ketchup on their hot dogs (hahahahah sorry, that was awesome) but Gentle Richie (Matthew James Ballinger) practically insists! Hahahaha Larry Brown doesn't understand ANY of these fckers and it is glorious.
C.C. has big plans for Lori and it doesn't involve her working the bread trucks in Ashley (Jamie Neumann)'s place. Ashley is tired and just wants to GO, but she obligingly heads off towards the delivery trucks.
Melissa (Olivia Luccardi) is supposed to be working those trucks too, but instead she's staring at her brain, thanks to Barbara of the amazing boobs.
Paul tries one more time to get his boyfriend to come out dancing after work, he wants to have his own place. Oh and Penny Lane is now called the Hi-Hat, my bad.
The paycheque racket at Bobby's construction job isn't running any more, the guys don't want to pay 5% to get their cheques cashed for them, they'll wait until Monday, fanks. And once one guys says that…
Candy's sorting through money at home when the guy from the music store calls, he's Jack (Will Chase) and he talks too much. She should have one drink with them, tell her mother she met a nice guy then bail.
Bobby's presence on the job site isn't encouraging these guys to give up their paycheques, I'd like to feel bad for Bobby and Vinnie but they're definitely the arseholes here. Forcing the crew to pay a 5% vig is bullshit.
Bobby might think the guys all saying that is just men talking, but Rudy and Tommy understand a little better. I'm sure they'll take care of it with some baseball bats and maybe one tiny cornfield. I had nightmares about cornfields. The truth is that you can't do things halfways, boys. You can't shrug about a lost mob revenue stream, they like consistency and are great motivators.
Candy seems so sad and so tired these days, rolling through another appreciative john (Eric Reid Schroeder) and showing off her bum.
Over at the Hi-Hat, Vinnie and Abby get closer while Bobby waxes poetic about trading his testicles for her and Shay (Kim Director) fixes in the bathroom. Writer Sandra Washington (Natalie Paul) interviews her on the street before they all get swept up in a Show and Prove net.
This must be a Go Zone!
Candy's busy with a date, so she doesn't get grabbed but I am worried her patron is going to stroke out climbing all those stairs. Oop, or well, while she's doing the first Half and that has to be distressing. She tells a pimp and his woman in the hallways and heads slowly off, trying to regain her equilibrium.
Back at the police station, Officer Chris takes one look at Sandra's shoes and pulls her out of line. No way a prostitute shops at Bonwit Teller. Some chitchat later, Chris can't help Sandra figure out why women end up being pimped but she still wants his number anyway. And not badge number neither.
Frankie is doing GREAT at poker, yay. So much to smile about. Until a fight breaks out in the Hi-Hat and Abby gets shoved into the bathroom for her own protection. Darlene (Dominique Fishback) laughs at Abby staring in dismay at her shoe with its broken buckle: bet she's never tried to fix that, has she? Probably just bought new shoes.
And such are the differences between rich and poor.
So are the viewpoints, Abby takes a minute to Afternoon Special Darlene, why doesn't she go back home? Leave this life? There are other ways to earn money, says the woman in a leotard "shaking her Breck hair for tips." Darlene isn't buying and it will be interesting to see if the women let her in, since Abby is so clearly a tourist, playing at The Life of The Poor. One phone call to Mommy is all it would take. Let's see if the women get attached.
Case in point: another way to make money is to be Lieutenant Sweeney (Shaun O'Hagan) and have set up that fight so he can charge protection money to Vinnie so it doesn't happen again. That's a way!
Tommy Longo takes all of Frankie's money, now he's caught up on his debt! Let's see for how long. Meanwhile, Tommy suggests Vinnie gets a gun and then he's off to see the ringleader of the construction workers refusing to cash their cheques with Rudy, Bill Schmidt just needs some motivation.
Candy took herself over to see Ruby, who calls it a night too. They stare at a suede jacket, it belonged to someone named Nikki, who loved Jean Nate and has been gone a long, long time. Okay, last summer, but it's feeling like an eon to this ladies.
Vinnie tries another good guy run at Abby, she dazzles him with wordplay then makes her move. Within one single minute he's inside her on a pool table, who says romance is dead??
Candy's ready for her romance, trying on outfit after outfit and even wearing a bra! Whut? Jack's message plays over and over as she drinks more and more.
Bill Schmidt gets the ever-luving shit beat out of him on the construction site while Vinnie visits a friend of Big Mike (Mustafa Shakir – I was trying to figure out where I knew him from, he's in The Night Of!) to get a piece. But he doesn't know anything about guns, so the gun seller suggests he needs a gunman instead.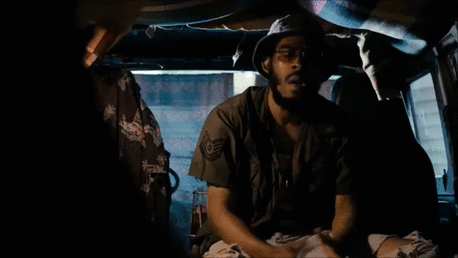 This guy is Black Frankie, he and Big Mike will be providing security for the Hi-Hat and walking around with the laziest nicknames ever.
Sandra and Chris have the lamest date ever right after! She brings him a burger in a bag and must be using him for cover while she stalks prostitutes. I know she's intelligent and beautiful, Chris, but you deserve a meal on a plate for your first date.
Like Candy and Jack! Jack (Will Chase) isn't doing very well, he's divorced because he cheated on his wife with a co-worker, but it's okay because it wasn't Love. Candy drinks more. At least if it was love maybe it meant something, yes? Why is just sex okay to this guy? These are the things that make me never ever want to be in a relationship ever again as long as I live. WHERE WAS I?
Oh right, Jack's asking Candy all kinds of ordinary questions, like what does she do for work?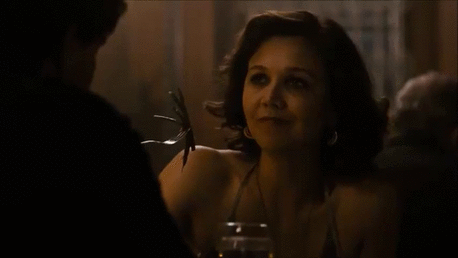 And then says Candy doesn't go on many dates. HAHAHAHAHAHAHA
He goes for a kiss at the end of the date, it's as though Candy has forgotten to do that. She has to work up to it and then it is scorching, until she breaks away without a word. We see her walk out a little while later, ready for work. I think she just wants to be around what's familiar, where she knows the rules and what's expected of her.
WHY AM I CRYING AT CANDY'S ISOLATION AND SADNESS??
Rudy is ready to show Vinnie his plan for the future, it looks like…a warehouse? Vinnie and I are confused.
Abby gives Darlene a Graham Greene book and a bus ticket back to see her aunt, so nice, so condescending, so Abby.
Leon (Anwan Glover) serves up eggs while the men start in on Candy. One pimp christens her "Mouth Of Death" and the all the dudes are on their feet clapping, mocking the horrifying death that happened right in front of her. Out she walks, a reluctant smile on her face.
We're out.
The whole point of the show The Deuce is to show the commodification of women and their sexy bits. I get that, but I also see HBO showing us a whole lot of sexy bits to improve their position, ya dig? Making an exploration with the exploitation is always a fine line, I think HBO is walking with big clunky shoes all over that.
The interesting thing here about making money from women's sexuality is that it's always been around; in the Seventies they just figured out all the side rackets. It's always been about T&A, it's as though they had a board meeting and workshopped how to make money off periphery. How about just the suggestion of sex? How about we name nailpolish after various shades of labia? Where are we on fleshlights? Reeeelly short shorts in the mainstream? Somebody get someone with bunny ears on the phone!
Until next time.