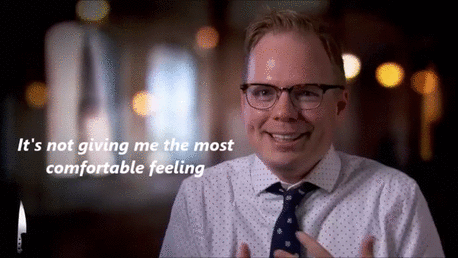 Hi everyone! It's the weekend and it's Top Chef time, does it get any better than this?? It does NOT! No matter what Jim says above. Rolling Choke Holds and Clammy Hands after the break!
Last week we lost another Rookie chef (Top Chef Rookie, not cooking newb, CALM DOWN Emily!) proving that time and expectation management is key in the game of Top Chef. The Veterans kept their cool, planned well and executed to perfection. The Rookies were all over the place, fighting in Whole Foods (*gasp* my idea of a place that deserved cathedral-like shhhshing), leaving biscuits off the menu when they had JUST dined with a chef whose career IS biscuits, all of that. We lost Annie Pettry, who just couldn't bring herself to speak up.
Casey Thomson from the Veterans team took the challenge with her divine collard greens, proving that you can elevate almost anything if you don't "cook the piss" out of it. Snaps on the side to John Tesar, who's Caroline Rice and caramelized okra dish made HGM and I hungry and Tom Colicchio a believer.
Man I love watching people cook, almost as much as I like cooking myself. Alllllmoooost
Amanda's nervous, due to her 18 months off from cooking, but I'm not worried, she's been top three every dish she's put up. She's got the goods.
She previously described her time off as due to "back pain" but what that means when you look at the fine print is THREE SPINAL FUSION SURGERIES. Amanda. I have back pain. YOU have something requiring 3 major surgeries. Goodonya for being back at all.
It is a little odd that she went into bartending and is only now feeling the draw of the kitchen but however she got there: she's got this. She's just under the radar right now.
Challenge time! John ducks his head a little when they walk into the kitchen, Chris Cosentino is there and he sent John home last time he saw him in Season 10. For the record, John, you can pop a sunny-side-up egg on anything you like.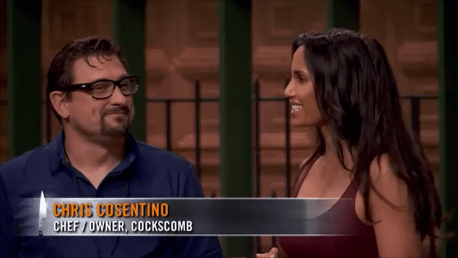 Chef Cosentino won Top Chef Masters, so while he looks like a chubby Kim Coates with a dash of Christopher Penn: he cannot be discounted. Oh yay this is the Mise en Place Quickfire Challenge! I haven't given my bio on this season of Top Chef, but when I worked in commercial kitchens, I was always what they called a Prep Cook or Salad / Dessert girl and later Baker. Prep Cook is what a fancy restaurant would call a sous chef, but I never worked anywhere nice enough for that title. I can do one hell of a mise en place, and fast: I'll tell you what.
The cheftestants choose their teams using knives; the challenges are as follows. Peel and mince 5 ounces of garlic (easy peasy, that looks like regular garlic. Try artistinal garlic, and cry while doing so. It's a good thing it tastes like heaven in a large teardrop shape), finely dice two quarts onions, properly turn 3 artichokes, de-vein 30 shrimp and shucking 30 clams.
Katsuji and I are neck and neck for opening clams: I think I would destroy mine with slightly less banging.
Chris and Padma (in a very revealing and casual tank top with weird bubbly bits; I don't know where to look! I am choosing to stare at the giant keloid scar on her arm, it probably makes people very happy to see that and I dig) will be choosing an MVP who will have immunity in the Elimination Challenge, let's go!
The teams get two minutes to delegate roles, everyone seems happy but they had to talk Shirley into cooking. Oh but there's a twist! Whichever team wins, they get to run over and Pause the other team for three minutes with a huge button. Ooooh, shaaaaaddyy
Katsuji FLIES through the onions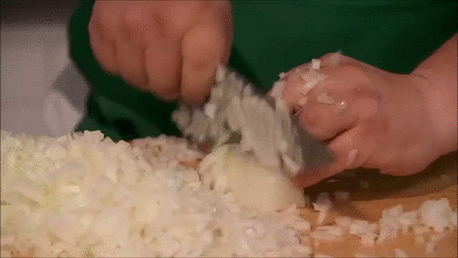 I strongly dislike Chris Cosentino for his banging on the plastic containers and complaining that they aren't full. That's booshite. Katsuji makes it on the second pass; Sheldon finishes his right after, with kudos for a clean workstation.
Sheldon goes to help Emily on garlic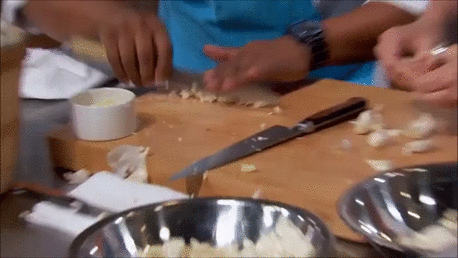 That's legit, dude. Wow. Chris doesn't bang Emily's container, though, Booshite
The teams fly through artichokes next, leaving shrimp and clams left to decide who will win immunity. Chris and Padma think Sheldon and Katsuji are locks for MVP with Chris favouring clean-station Sheldon.
Shrimp is completed next, two clams left and that's it! Blue has to wait three minutes and they only had thirteen left to start with, dang.
Sam tells us the green team is doing baked stuffed clams, the blue team eventually gets to make shrimp. Time's up!
Chris Cosentino grew up loving baked stuffed clams, good job green team! They look totally gross to me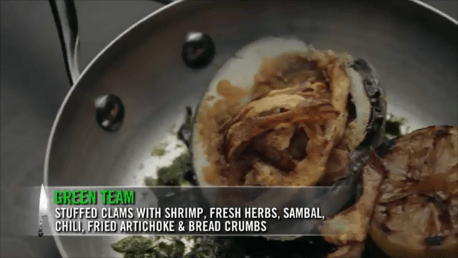 And I don't know about this whole clam belly thing over on Blue Team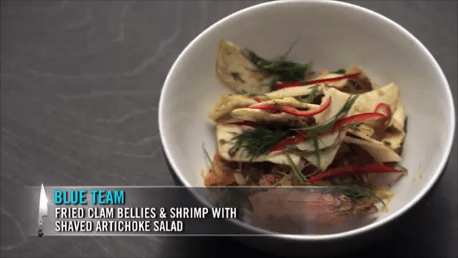 Chris liked BOTH dishes, but he chose blue, probably for Sheldon and his clean workspace. I like a clean kitchen too but calm down, Chris! Sheldon is marked as MVP, shocking nobody.
These teams weren't just for this challenge, they'll be working together for the elimination challenge which is a seven course progressive meal. That's right, SEVEN. They'll be going head to head feeding a bunch of Top Chef superfans and you KNOW HGM and I would be right the eff in there. The first team to get four points will be the winner and whoever lost their battles on the losing team will be up for elimination.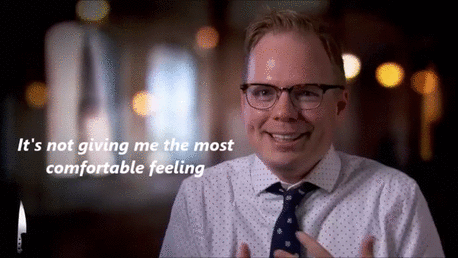 I just adore Jim's face, he's a gentleman, will always be polite and borderline apologetic for everything he does, and then he'll demolish you with his skill. Plus he looks like Garth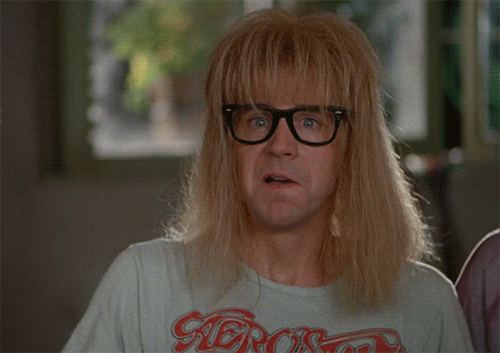 There's another twist! Every dish must feature Chef Cosentino's favourite ingredient. Sylva figures it will be innards (Chef C is known for his offal (...)) but no, it's even more difficult: radishes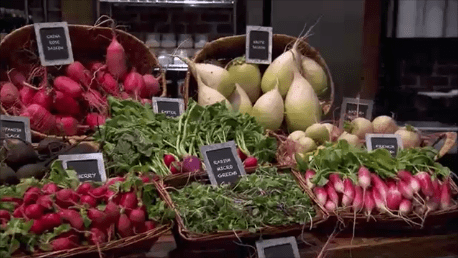 Brooke figures she's got his in the bag, she loves radishes (radishii?); she even sports a tattoo in the inside crook of her arm. The thought of tattooing that spot is making me wince from here, radishii or no.
The meal also has to end in a dessert, which is typically Top Chef harakiri, so choose wisely, friends!
The chefs taste all the different radishes and their microgreens, Brooke is flashing back to when she came so close to winning her season, losing in the finale to Kristin before her great dessert. She's doing dessert tonight, this will be her redemption.
Silvia suggests a radish/yogurt cake (herk), her crush Sam is like, so into it.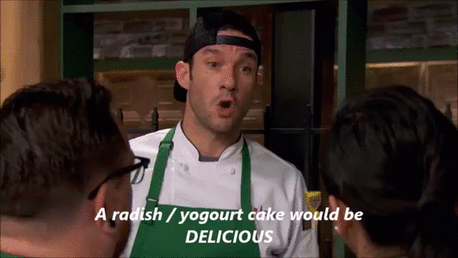 He's impressed that she threw her hat in the ring on a dessert challenge with radishes, he's got his eye on her.
Whole Foods Time! Sam explains: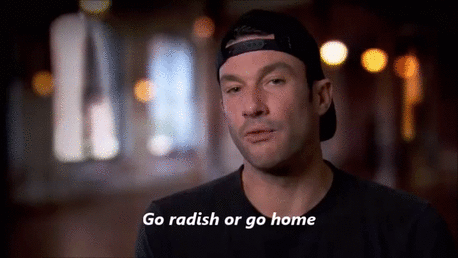 There's a little more sturm und drang between Veterans in Whole Foods this time, John's doing his level best to not bite when Katsuji pokes his "bear," but I think it's getting through, K.
Emily is preparing the first course for the Blue team, she's making salmon with black radish and black radish aoili, she's up against Sam. Oh wow. Good luck, Emily.
Katsuji and Jim are the second course, talk about polar opposites. My money is on Jim, though. He won a challenge with INNARDS. Katsuji is going "spicy, aggressive, Mexican" on Jim's well-mannered pale bum, still: eyes on Jim.
Sylva kills me with how slowly he works and talks, but he'll be making the fourth course: halibut with dashi daikon tomato water. That sounds...bland. He's worried it's a little too "chef-y" with a lot of elements, but he's up against chill Casey. She's doing a faux-scallop radish and I dunno, man. If I think I'm reaching for a lovely warm seared scallop and instead I get a cold old peppery radish, I'm not gonna be happy.
Jamie will NOT give up on vegetables, he's doing kale with a miso-emulsion and being taunted by renowned bear-poker Katsuji. Hey K, maybe focus on your own work so you remember to do things like PUT A LID ON YOUR BLENDER.
BJ's making a conserva of radish and local trout, er. Sure. Okay! Shirley is making the fifth course: beef-braised daikon with orrichiette pasta (ears for ALL!), no problem except she only has 45 minutes to make and shape alls the pasta. By hand.
John's sweating all into his radish ramen for his course, grosssssss. He calls it radish siracha and then is he putting in on something? In something? He digs it anyway
Sam LOVES Silvia's "next-level" radish and yogourt cake; good job in teaching her that one, Silvia's mother! I can't wait until the whole wheat flat angel-food cake challenge, me and my momma have that one whipped!
Silvia's not worried about Brooke; she was a pastry chef in a restaurant with two Michelin stars. That's legit
The next morning, Brooke's panna cotta is not set but she's trying not to show panic. She stirs in cornstarch (why not gelatin?) as everyone waxes ecstatic about Silvia's radish / yogourt cake.
Shirley's abandoned the orrichiette pasta for a square one she can cut by hand, sure! It's still fresh pasta, go on. Amanda is no longer worried about going up against Shirley, her sauce turned out great.
The Top Chef superfans are brought into the room, one hollers out that her daughter is a diabetic, which grabs Sam's attention immediately. He's a type-1 diabetic and he has a foundation called Beyond Type 1 (with a great website) about education and awareness.
Time for tasting! Round 1: Emily vs. Sam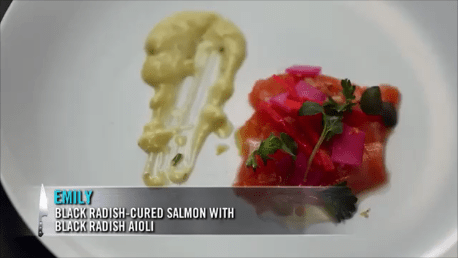 vs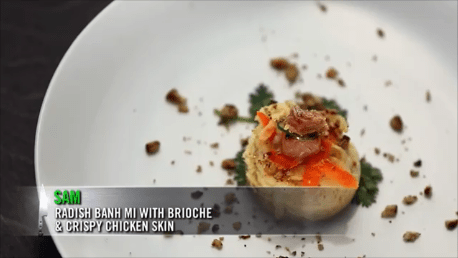 Emily takes it by two votes from the audience and two votes from the judges. Good job! One point Blue Team
Second Course: Jim vs. Katsuji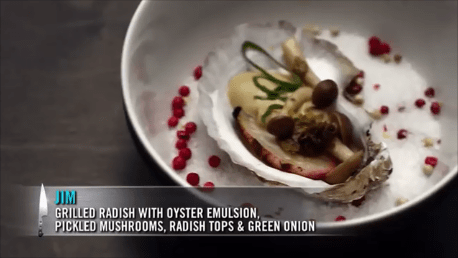 vs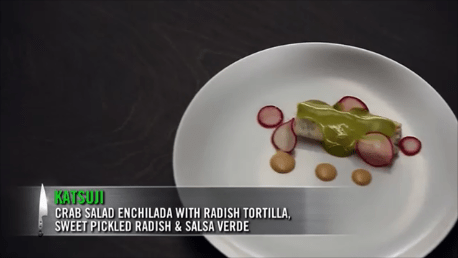 Katsuji throws in an extra jab against Jim making an "oyster and mushroom dish", wow. The audience LOVES his food though, giving him the vote by an overwhelming margin. The judges tie it up with: Tom (Jim), Richard (Katsuji) and Padma (Jim) locking the vote. Tie-breaker Chris goes with Katsuji
Third Course: Jamie vs. BJ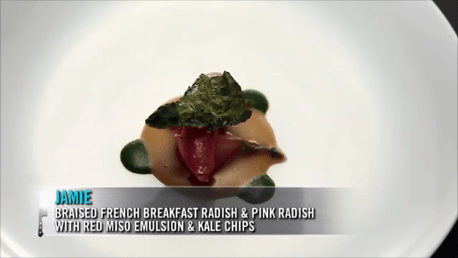 vs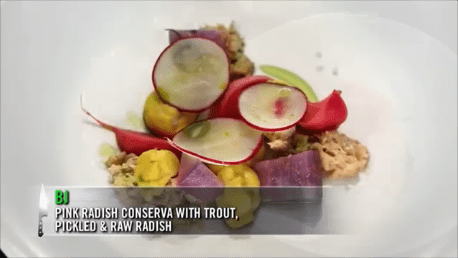 Blue takes the popular vote; the judges: Tom (Jamie), Richard (BJ), Chris (BJ) and Padma (Jamie): the Blue team takes another knife to pull into the lead.
Fourth Course: Casey vs. Sylva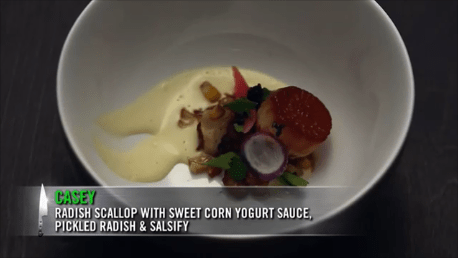 vs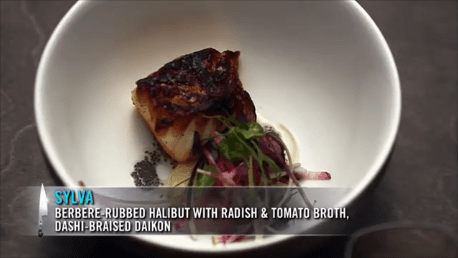 That looks burned, right? And I think Casey's is kinda dumb, but let's see what everyone else though. The diners vote for Casey's dish, the judges: Tom (Sylva), Richard (Sylva), Padma (Sylva), Chris (Sylva) so the blue team has three and green only has one. If Blue wins again: it's all over for Green
NO PRESSURE AMANDA!
Fifth course: Shirley vs. Amanda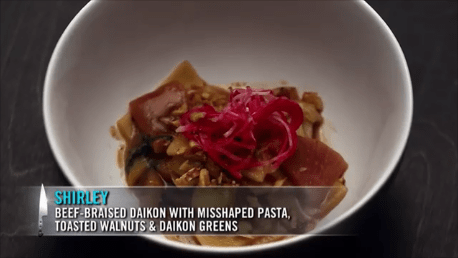 vs.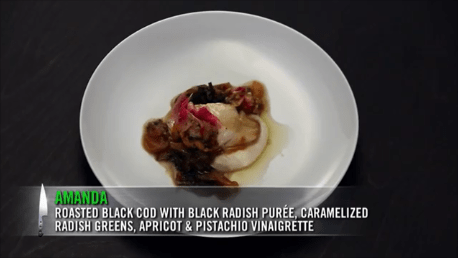 Amanda takes the audience vote handily, the judges: Richard (Shirley), Chris (Shirley), Padma (Amanda - this is the best thing you've ever made on this show!) and it's down to Tom's vote: Amanda. Woot! Green is still in this!
Sixth course: John (I won't insult the judges with micro-greens) vs. Sheldon (and here is my dish with micro-greens)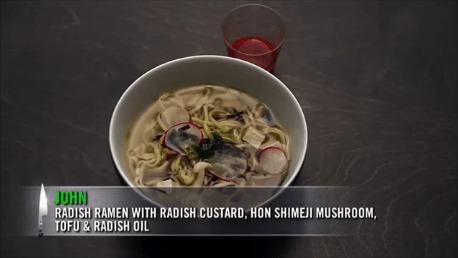 vs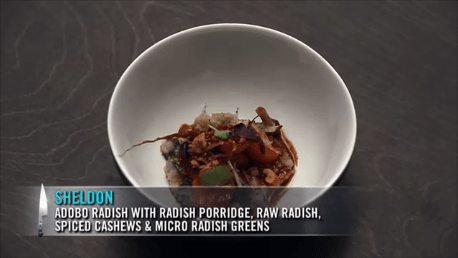 John takes the audience vote for Green, the judges: Richard (John), Chris (Sheldon), Tom (Sheldon) and the deciding vote is Padma (John), keeping Green alive until dessert when I find out what the Sam Hill a yogourt / radish cake is.
Dessert: Brooke vs Silvia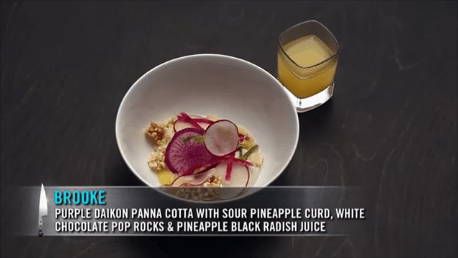 vs.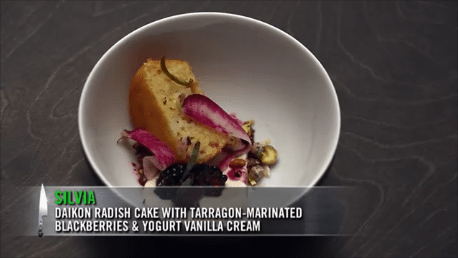 Brooke's looks BEAUTIFUL! The audience chooses Brooke from Blue, let's see who takes it for the challenge. Richard (Brooke), Chris (Brooke), Padma (Silvia) and Tom decides it with his vote for Brooke. Blue Team wins!
That was a strange challenge, I ended up feeling as though Sam didn't really know what he was talking about and that's unexpected. All that excitement about Silvia's dish and his own bahn mi, hmm.
Judges Table: Padma opens with admitting that this challenge yielded the best meal she's ever had on Top Chef. That's fourteen seasons worth of food! Wow
The two chefs from Blue that are up for winning are: Sylva and Brooke. They were incredibly impressed with Sylva's techniques but have to give it to Brooke, who's panna cotta was one of the very best desserts ever on Top Chef. Yay Brooke! That's right, girl, you just stir in some cornstarch and never let them see you sweat.
And now the Green Team: the losing members are Sam, BJ, Casey and Silvia. Tom reminds Silvia, she "ran into a freakshow over there" and Brooke will TAKE THAT. Oh shoot, Sam's in trouble: he didn't make his own bread and Padma looks as though he slapped her when he says that. Tom just thinks it wasn't a bahn mi and that brioche was a bad choice. BJ gets read for having too much radish and yet not enough radish.
It's between Sam and BJ: who will pack their knives tonight? BJ is just fresh off the bottom from last week and had allll the foreshadowing with his "I don't want to be the next Rookie sent home" but Sam didn't provide a real bahn mi OR make his own bread . So. Packing up is: Sam. Aw man.
We're all shocked, there's a moment of silence and then he's totally okay with it. He has a shot in Last Chance Kitchen (which I should probably get) but he's totally cool with "leaving on a high note, even though I'm...leaving." He's overcome so many challenges, that is life. He's got fight.
Until next time, you guys! Cheers