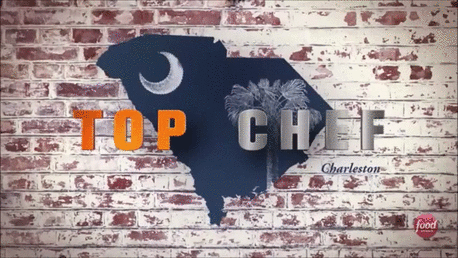 Hi everyone, welcome back to Charleston for Top Chef! I bet everyone's shellshocked after that elimination ceremony, let's check in with our cheftestants and see how they're doing!
I don't know about y'all, but I've started a list in my head of all the better chefs sent home while Emily stays. I don't mean to wish anyone ill, but the fact that
Jim Smith
Jamie Lynch
AND
Katsuji Tanabe
have all gone home while she STILL SURVIVES is blowing my mind, but not in an exciting, fun way. I also can't believe that John Tesar stayed while Katsuji was sent to pack his knives, unbelievable. John takes umbrage with Katsuji going after him hammer and tongs when the chips were down (that seems like a lot of metaphors)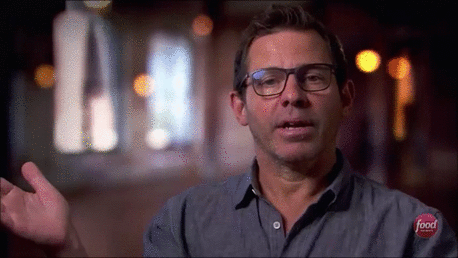 Without taking any responsibility at all for the spectacular failure of the Blue Team at Restaurant Wars. All right, John.
Sheldon Simeon's had enough of all this sturm und drang; there's a beach across the street! Trust the Hawaiian! He is awesome, such a positive dude. I could learn a lot from Sheldon.
It's challenge time and we have a pouting chihuahua with neck tattoos as the guest judge.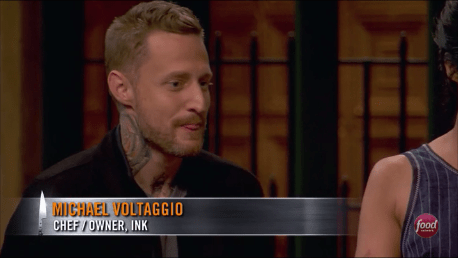 I mean Michael Voltaggio. Sometimes I misspell. He won season 6 of Top Chef, and has a restaurant based on his tats, so.
It's blindfolded taste testing today: Palate Quickfire! Freak deaky Padma likes a good blindfold now and again, but I prefer to stick to restraints. Too difficult to top from the bottom without a good line of sight.
The chefs get 5 minutes to guess as many ingredients as they can out of twenty; John's the only one excited. He mocks the smokers in interview; pfft, almost all the chefs I've ever worked with have smoked, cigarettes at the very least.
Since immunity is no longer available, the winner gets 14 cases of wine. CASES, of wine.
Brooke is first and knocks off a bunch right away, but watching her finger pimento cheese makes me wanna hurl.
John licking everything is doing just about the same, but Emily just passes on everything. Who spits out chicken??????
Sheldon is much more deliberate and does what I would do: smells everything first, and not like John who was shoving pimento cheese up his nose. I'd leave it in the bowl and get exactly two, I hope Sheldon does better!
Casey can't stomach anything but at least she isn't spitting everything up like Shirley. Dang, girl, spitters are quitters! Padma gets in a little dig at Casey about her Pirate Party scallop, she does that a lot, hey?
The three bottom chefs are: Emily (5), Sylva (8) and Shirley (8) but nobody's going home!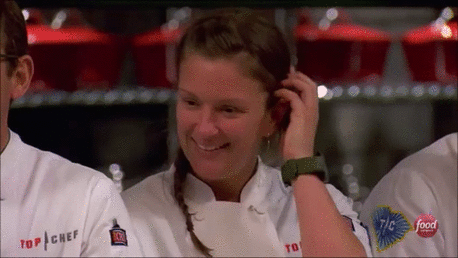 Yaaaayyyy
Brooke (16!!), Sheldon (10) and Casey (11) guessed the most correctly, lookit Brooke man! She's just glad she kicked the pouty chihuahua's arse.
I'll let Padma explain the challenge because I'll oversimplify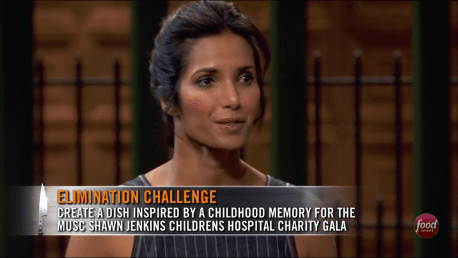 Childhood memory meal, got it! Go! Oh but it better be good, it's a $500/plate fundraiser! And hey, Top Chef got a new sponsor: BMW X-5 plug-in hybrids must have rolled out some cash to get Padma to shill directly like that!
Whole Foods shopping time! And John is hogging all the King Crab, boooooo hisss says Sylva. John is making something scampi, that was his whole childhood. They have $800 each? In Whole Foods that's like one off-brand heirloom tomato and half a twig of thyme. Use wisely!
Sylva has to give up on his planned crabcakes and moves on to "Haitian Beef Bags." Er
I love that Sheldon had a great childhood! I don't know anyone who had a happy childhood and I dig that! He's making Tea with Rice based on his dad's leftover rice in his "termous." But he's using barley. Huh
Brooke isn't making something from her past, she's making eggs benedict-stuffed crepes because she makes that for her son. She's using the sous vide for the eggs in herb oil and we're both a little worried about it. She's far away from her kiddo and that has to be so hard for all the parents. I identify more with the moms, of course, but I do realise it must be as painful for the dads.
Emily's making her grandpa's icebox cake, his sounds much less complicated than what she's doing. Good luck, Em!
Sheldon asks Shirley about her childhood, but can't hear any of it, held in thrall by the sheer volume of words coming out of her face. I can hear it, Shirley and I were TWINS as kids! Stealing fruit, setting fires, jumping off roofs!
Tom Colicchio and Michael (I really want to call him Nick, no idea why) come in to see how the chefs are doing, is it weird that all I can think is that the chefs should be using pure, spun gold because of per plate cost? I will never be able to afford $500 to sit at a table.
Michael talks and I'm sorry, my eyes were watering from Eau de Douche so Imma need another opinion: HGM, was he always like this?
Casey is making a crab macaron based on her two very different grandmothers. Yes, you heard that right, those wee little precious cookies you find in expensive bakeries, but done with crab.
Shirley's making an elevated street food as she used to sneak away and eat, something with lamb that she's going to finish in front of everyone the following night. Michael watches his language this time, not calling it ballsy as he called Sheldon steaming fish for 200, totally awesome. Sigh. How can disguy irritate me so much? I just met him!
Emily is having a lot of trouble with her cakes, it's the ovens! This is why I would get so nervous watching the Great British BakeOff, it's so difficult to use a new oven in a baking competition because you don't know the hot spots, the actual temperatures, etc etc. Unlike cooking, you can't constantly check it, either. Emily is finding that now.
Emily says she's been somewhere in the middle until now and I'm just going to leave that right there.
Brooke's having technical difficulties with her eggs in herb oil, good luck Brooke!
Sylva's still struggling with his dad's non-acceptance of his career choice.He wants to win Top Chef and show him.
John's still working through his dismay at Katsuji's treatment of him at Restaurant Wars; Casey's worrying about him in the other car because like everyone else with eye(s) and ear(s): she saw his completely unacceptable behaviour as a huge problem during that challenge. I didn't know him before, though, I'm glad he's been able to grow as a person.
Sylva's stuffed beef lollipops are lagging to the side; I don't think I can improve on that sentence so let's just ruminate in it's glory for a minute.
He didn't account for the heat outside, Shirley didn't account for a crowd. She's searing and slicing lamb to order???? For 100 people????
Emily's cake...
It's showtime and hey, Graham Elliot is back!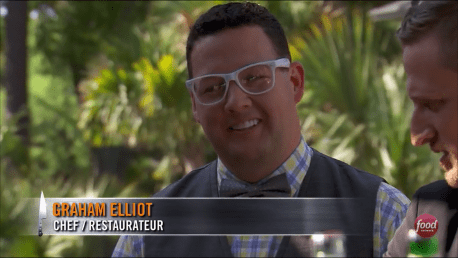 He's gonna be so hot in that bowtie! Never mind, we're on to food already! John is up first and it's gorgeous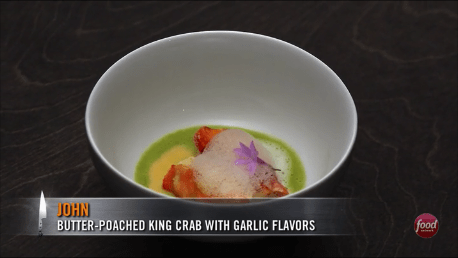 I hope Casey's crab cookie tastes better than she's making it sound, but Padma thinks it needs a little salt. Huh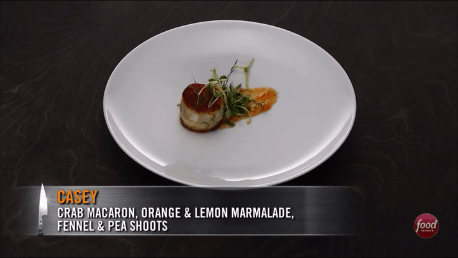 Brooke makes her son Nutella crepes, not these heady suckers that get RAVE reviews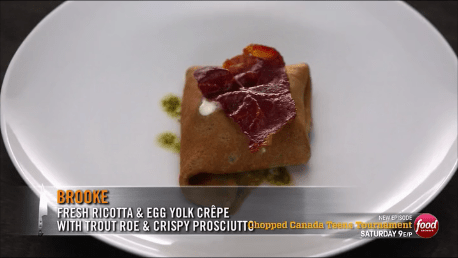 Shirley is not getting her lamb out properly, it's too much for a cocktail party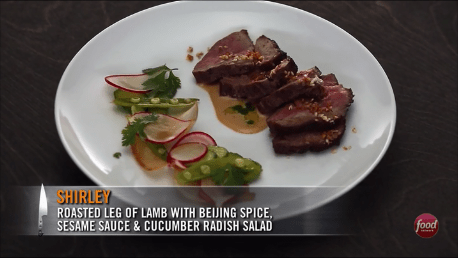 Emily's mushed cake gets no feedback whatsoever, except for a "very nice" pity vote at the end from Graham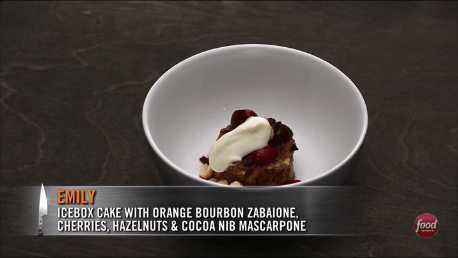 I have high hopes for Sheldon's steamed fish and he gets good feedback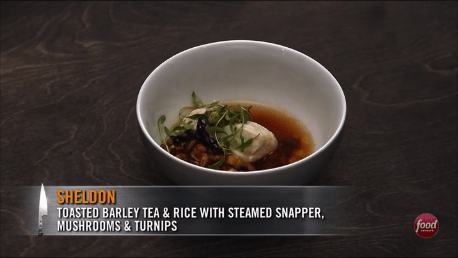 Sylva says his beef lollipops are bringing everyone back to the yard, Graham calls it "punching you in the tongue" which is a good thing, I guess?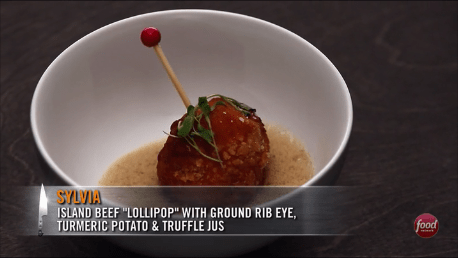 All in all, the judges loved all the food! That's fabulous, it doesn't always go that way.
I miss Chef Marjorie
Back waiting for deliberations, Brooke takes a second and throws kudos at Sheldon for the best dish she's had in months, maybe years and good on her for saying something! She comes from a place of love, creatively and kickass-edness.
Sylva, Brooke and Sheldon are in the top, of course, yay! The winner is: Sylva. Good job, fella.
In the bottom are: Emily, Shirley and Casey, none of which are a surprise.
Casey gets read for missing a flake of salt, Shirley for not slicing the lamb properly and Emily for not elevating her cake. Tom mentions Emily's muddled flavours again and I don't know why we're going through this charade of judging! We have to know who is going home, right?? RIGHT?
AND EMILY IS SENT TO PACK HER KNIVES.
THANK YOU
Take care, lady, regroup, get at it and see you next time. I mean that in the most friendly way possible; Emily was way over her head. Look at Brooke and Shirley, elevating their game and stepping up the difficulty and execution of their dishes as we go along, while Emily was mushing her cake into a ring mold. Nuff said. Until next time!