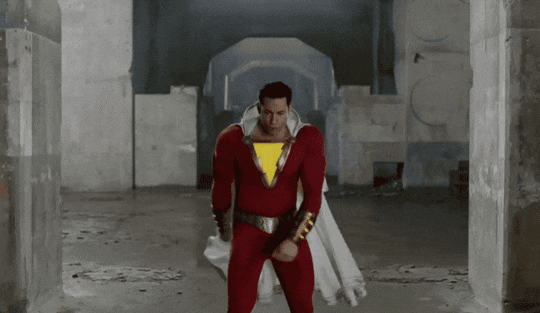 There's been some awesome trailers released at San Diego Comic Con over the last week!
Let's check 'em out! Flossing optional!
First up, of course, is my boy Zachary Levi in DC's Shazam! So looking forward to seeing the DC Universe in colour!
Next up, Fantastic Beasts: The Crimes of Grindelwald. While not hugely impressed that they put gross old Johnny Depp in it, I can overlook that for a bit of Jude Law as a schmexy Young Dumbledore. The first of these movies took me by surprise, I wasn't expecting to love it as much as I did. Plus Eddie Redmayne has the best real life Muppet face ever.
Aquaman is one that I really want to love, but I'm not 100% convinced yet. I'm hoping it's lighthearted like old Shazza up there, but not too ridiculous. Also Amber Heard's wig is all kinds of wrong. But really, I'd watch Momoa read the phone book so . . .
I am super keen for this next one, Glass from M.Night Shyalaman. A sequel to both Unbreakable from 20 years ago AND Split from just last year. Now if you have not seen Split, DO IT! James McAvoy is crazy talented and scary AF! And Hedwig's dance scene, just perfect.
Godzilla: King of the Monsters is generating a huge buzz, good on you Millie Bobby Brown for getting your bad self in a huge movie. You know I'm just watching this for Coach Taylor though.
There was also a few TV trailers, Walking Dead, Mayans MC, Doctor Who etc but I'm gonna go with the new one from George R.R.Martin, Nightflyers. I hate scary shite but if I can watch Game of Thrones, I can watch this. Right? RIGHT? That screen shot is not convincing me.