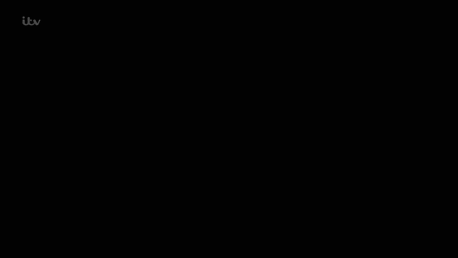 Hi there, my name is TTM and I will be recapping this 2019 series A Confession from itv for your reading entertainment. I don't know much about A Confession other than it has a stellar cast (Siobhan Finneran!! Martin Freeman! Imelda Staunton! I mean) and that it's based on a true story, so let's roll into Part One without any further delay after the break.
We open over the woods in Scotland? Is it Scotland? I think everything is Scotland lately, after recapping Traces, The Nest and Deadwater Fell back to back.
It's 5:07 am on Saturday morning and Elaine Pickford (Siobhan Finneran! from Happy Valley and The Moors and Downton Abbey (of course), and of late of Harlan Coben's The Stranger on Netflix – have you seen?) is fast asleep, as you would be, woken by her husband whose been called in somewhere important.
Hm. Well, maybe not husband, they're in a hotel room and he appears to be a pilot? Commander of some kind?
The man in question is definitely not Detective Superintendent Stephen Fulcher (Martin Freeman from Sherlock! and all the Lord of the Rings efforts too), who meets with DCC Ray Hayward (John Thomson) to discuss how f***ed Ray may or may not be. Ray's a police bigwig, but he's being investigated for sexual misconduct, which makes Steve wince.
50 statements have been written by women about Ray's conduct, which he thinks was just him having a laugh! So he told women they looked nice or leered at their "big buttons," can't a man say anything any more?
*Hi! Allow me to introduce myself! I am TTM and I am one of those radical feminists you read about that thinks you shouldn't make sexual overtures at work. Okay, it's just flirting and fun and wooooo, sure. But why do some people feel the need to make a work environment sexy, flirty fun? Why couldn't it just be about working, perhaps about a shared project or love of miniature cacti, if you really wanted to connect on another level? I'm sure it's not that some people think there's a complicated hazing system where one less-empowered half of society is expected to "roll with the punches" and "be a good sport" at the expense of their own comfort and sense of safety.
**Maybe people as a whole are bad at reading signals, I think it may lie closer to a sense of entitlement and lack of viewing others as separate from us with different comfort levels, opinions and boundaries. So: just don't do it! Whip out pictures of your tiny Blossfeldia instead of a Coke can, Clarence, and let us move on with our lives.
We get the first whiff of our main concern, Elaine gets a call from her son Liam O'Callaghan (Jake Davies) that his sister Sian O'Callaghan (Florence Howard) hasn't popped up after running around old town with mates the night before. Elaine isn't worried yet.
Karen Edwards (Imelda Staunton from literally everything, from Harry Potter to Paddington Bear, she's impossibly recognisable) bakes cupcakes with her young granddaughter Chelsea, her husband Charlie (Peter White, also extremely prolific) is off to the police station leaving Karen to cry thinking of her daughter Becky. It's Becky's birthday soon, Karen isn't hopeful she'll come for a visit.
Elaine catches a ride home from the hotel with her parents, another call from Liam has her quite worried now. Nobody's heard from Sian since 1 am.
Chelsea's dad Steven (Darcy Vanhinsbergh who looks exactly like Nathan Fillion on his IMDb, its uncanny!) comes to pick her up from Karen, whom he wants to show something.
Elaine gets home right then, startled to walk into her house and find police wandering around. Sian has officially been reported as missing by her partner Kevin Reape (Charlie Cooper hahahaha from This Country! I have no idea what that show is, but BBC Three has clips on Twitter that are brilliant).
Elaine is shocked that the police are investigating already, she surely is just out with friends? She just needs to do a ring-round.
Liam and Kevin discuss what they know while detectives search Sian and Kevin's flat, Kevin is pulled aside separately for a chat.
What Steven wanted to show his mum is the house he and his wife just bought, right around the corner from Karen and Charlie! Karen is ecstatic but her happiness is tinged with concern that Steven's dad might be angry for him and the grandkids moving closer to their mother.
Ermagahd, so divorce never, ever gets any better? Jeebus wept.
Karen is worried, if she doesn't stay civil with "the other side", they won't tell her if Becky contacts them.
Children can be the best thing that ever happened to you, but they leave you vulnerable in a way you can never protect against.
Mick O'Callaghan (Ian Puleston-Davies) is playing footie when his phone rings, he hasn't heard from Sian either.
This is all happening in concert, Kevin is still being interviewed by DS Sarah Bilston (Caroline Bartleet) in his living room about his movements the night before. She seems skeptical.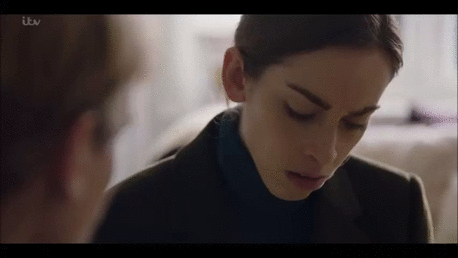 Because they don't know anything yet, they're checking on everything. Was Sian having an affair? Was her recent trouble with credit cards enough to make her do a runner? It's extremely invasive, that's why people lie about unimportant things while being investigated by the police, from what I understand.
Steve Fulcher has literally just sat down with his supper and a football game when his phone rings, he's got to go in.
He and DS Sarah Bilston review CCTV of Sian walking close to 3 am in the direction of her house with Kevin. However. Half an hour later, her phone shows her 14 miles in the other direction. Stephen directs an enormous team to start searches in both directions, he arranges for helicopter cover as well but that's not without pushback.
It's very expensive to rent a helicopter, Steve's boss wants to know if it's really warranted, Sian's only been missing for 17 hours at this point.
There's a long-standing myth that 24 hours must elapse before a missing persons report can be filed, but that's not true. It all depends on the person missing, in Sian's case they know she kept good and regular contact with friends and family, so it's out of character for her to be out of touch.
Elaine is being whatever the opposite of supportive is with her son Liam. Perhaps she's unable to see past her own fear and worry, but shouting that Sian's being held against her will being subjected to unimaginable attacks that will leave her horribly changed isn't exactly helpful.
The police search the woods at night with a helicopter whirring overhead. Thermal imaging completely ruins the night of a young couple camping.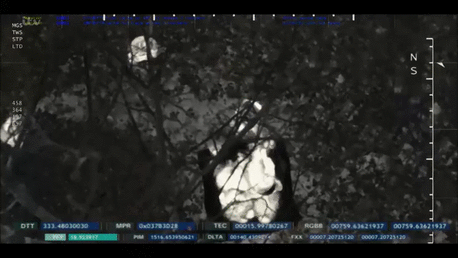 (Looks sort of like a moth giving birth, doesn't it?)
But the couple knows Sian is missing, that's why they're there, to help with the search in the morning. That's…not a good idea, young people.
The police complete their search, the important window of time is 2:52 am to 3:00 am, leaving 8 minutes where something significantly changed Sian's night.
Elaine fields a call from her pilot fella, ah this is Pete (Derek Riddel! from Gentleman Jack and Happy Valley!), he wants to be positive and all that noise but Elaine's not having it. Sian wouldn't be out of contact this long and they need to be realistic. The police want them to do a press conference, Elaine is not your typical parent of a missing child.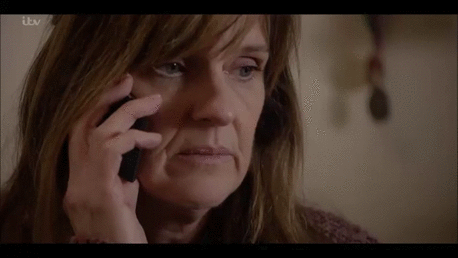 I haven't figured out where Karen and Charlie Edwards fit into this story yet, although I'm tending to thinking that Karen's a bit *finger in circling motion close to ear* about Becky. She's got a boatload of presents wrapped for her and no indication she'll be showing up.
Stephen leads a briefing of where they're at, we have some new information. Before that, we meet Stephen's backup DI Steve Kirby (David Nellist), scribe Deborah Peach (Faye McKeever) and DI Sean Memory (Owain Arthur). Sian was seen talking to a "possessive" lesbian the night she disappeared, and possibly smoked cannabis with her. The club DJ has since come up suicidal, related?
Ray Hayward, the DCC under review we met above, has been asked to come in for a meeting at the police station, but his cardpass no longer works. That has to be quite humiliating, he's even all dressed up with shiny buttons and things.
Karen meets up with her odious ex-husband John (Christopher Fulford) on the street, it's amazing to think she could have been married to someone that bitter and angry. He dangles information about Becky over her head as she jumps for it, it's the only reason she puts up with his snide remarks.
Loads of people not in tents show up to help search the area, Steve directs PS Marcus Beresford-Smith (Jonny Lavelle) to let them help. They have almost 7 miles to search based on cell-phone pings.
Steve is on his way to interview Kevin Reape again, this time in his kitchen but still not at the police station. Steve asks about Sian's ex-boyfriend Max, Kevin wishes she was off cheating with him instead of what's going on now, nothing known.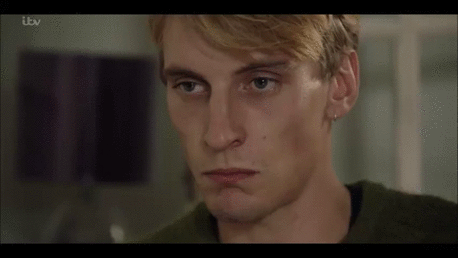 It's not really the questions that matter here, it's how Kevin responds to them, that's what Steve's gauging. He asks carefully if Sian ever dated women, not to Kevin's knowledge. He hands over his phone and asks them to search his house, he's "f***ing terrified."
Steve and Sean believe him.
Several vehicles were spotted on CCTV headed the same direction as Sian's phone at the same time the night previous, all need to be followed up on, starting with Barlow (Martyn Ellis). DS Bob Cooper (Dominic Tighe) asks what he was doing out in the middle of the night, he was driving 40 minutes each way to get Monster Munch. I don't know what that is, DS Bob's ears are all the way up when he yells as his mum. He searches the house and comes up with a rat stashed suspiciously in the attic.
It is taking every bit of my willpower to not look up this case online. EVERY.BIT.
The police and volunteer's search of the woods goes on and on; PS Marcus finds a pair of knickers.
DS Bilston dug up some more CCTV footage, they've got that 8 minute window narrowed to 65 seconds when a car approached Sian with its hazard lights blinking. Then she's gone.
They can't tell much about the car and they can't be sure she got into it, either. More CCTV is needed.
Ahhhh Karen's daughter Becky is rumoured to be managing a club, but has worked as a prostitute in the past, so every week Karen goes to the stroll with sandwiches for the girls to drop Becky's name.
Steve drinks warm milk with his wife Yvonne (Kate Ashfield whom I know from Line of Duty), of course he believes Sian's still alive. He doesn't do this to find dead bodies.
It's Monday, 2 days and 6 hours since Sian disappeared, we feed out a third storyline a little with ACC Mike Beale (Daniel Betts) warning Steve to not visit with Ray Hayward again, even for coffee, even off-base.
It's time for the O'Callaghan family press conference. Kevin volunteers to speak so will be sitting next to Elaine. Karen and Charlie are watching the TV, she recognises Elaine right away as a neighbour.
Oh no, Ray Hayward committed suicide. Steve finds out after the conference from Steve Kirby. He's still reeling from that when Deborah the scribe follows that with the news that he should probably be looking at Ray for Sian's disappearance. Ray's car matches the one seen on CCTV footage, it's not likely someone would think anything odd about getting in with a cop, even one she didn't know in the middle of the night.
We're out.
Hoo. Now I know how two out of three storylines meet! But not the third, what can Karen, Charlie and Becky have to do with what happened? Not.looking.online.must.not aahhhhhhhh. Until next time, everyone, cheers!