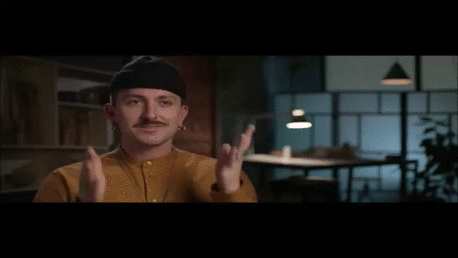 Hi everyone, are you ready for a Digital Marketing Campaign on Making the Cut? We're really narrowing the field on MtC, I probably wouldn't have chosen these designers in the beginning (well, two of them I would have) but I'm fully invested in our final five now and don't want to lose any. Let's find out who I have to part with after the break as we roll into Making the Cut S1:E07 Digital Marketing Campaign after the break!
Last time, Sander Bos notched another win with his artistic/commercial triumph of a t-shirt theme.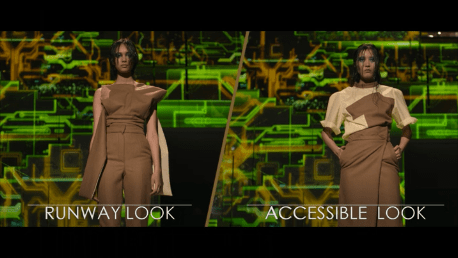 Then we lost talented Rinat Brodach to a mismatch of opposing forces.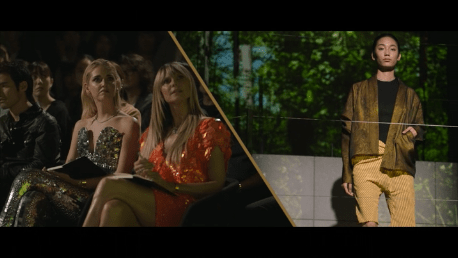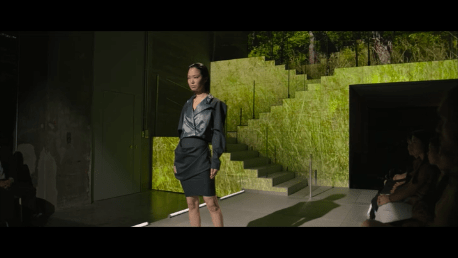 There aren't very many people left! We've got Megan Smith, whose 70s throwback/sexy vibe has carried her work through, Jonny Cota who is going from strength to strength, Sander, Ji Won Choi who's floundered recently and formerly invincible Esther Perbandt who is experiencing growth and its accompanying vulnerability.
The designers file into the Tokyo Amazon Fashion design studio where host/judge Heidi Klum is waiting with mentor/awesome dude Tim Gunn.
Their challenge this week is to create two looks to launch their brand in a digital marketing campaign. Megan is very, very excited.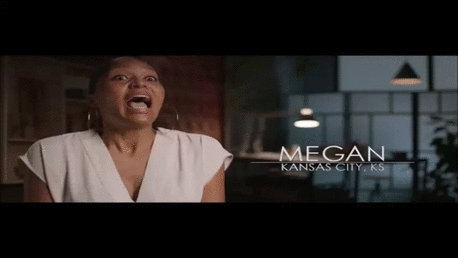 They get to be the creative director of their collection (okay, two outfits) and in charge of the photo shoot, most designers are super pumped.
The photoshoot is set at the Edo Museum, they can choose whatever they like as the backdrop. That's awesome!
Tim calls this campaign the linchpin of the show, how can Heidi not know what that means? I don't…understand. We get a definition flashed across the screen, it's of critical importance, basically, it encapsulates the whole competition. If you can't digitally market your work, you're sunk.
Jonny and Ji Won think this is their challenge too, forget the sewing, Jonny's a creative director from way back!
The designtestants dine together, much, much sake is consumed and Jonny gives a speech about respect. They're all in the hustle, he may not like you (gesture at Sander) but he respects every one of them.
The next day, they head to the EDO Museum to choose photo shoot locations and to start sketching. Ji Won has to do eveningwear, judge Naomi Campbell basically told her it's do or die so she's stretching into fancy away from her sporty jumpsuits.
Sander is making menswear for the first time in his life, I think he'll be fine, he's so talented. Jonny found a little green alleyway full of potted plants, he's decided this container garden will be the right spot to showcase his very first floral look. Wooooow. Mr. Rock and Roll Leather is using a floral print. I see.
Heidi and Tim head to a virtual reality venue to battle; it looks kind of fun. I need to find out, I've got a kiddo looking to do that at a birthday party coming up!
Everyone but Jonny is hard at work in the studio cutting out patterns and the like, he rolls in with 6 hours until seamstress pickup. Run, Jonny!
Esther is basing her design on a dragonfly's wings, interesting. She's been sticking to a severe yet beautiful silhouette thus far, she's also stretching herself with different materials.
Ji Won is pissed that she has to fit a plus size model and excuse me, Ji? You're selling on Amazon, you have to be size inclusive and it's kind of offensive that you think making something everyone can wear is beneath you.
Megan thinks she's expanding her range by sewing together a cacophony of patterns together, but the whole thing looks exactly like her usual silhouette: boobs in a jacket with sharp shoulders.
Cute moment in the room when Esther asks Megan if she can "borrow her" a rubber. *record scratch* Ohh, she meant eraser! Hahaha silly Esther asking for a rubber now when last night was the one with sake.
Oh Ji Won, noo noooo no, do not stick your plus model in that flowy flour sack.
Megan stares at her look, unhappy.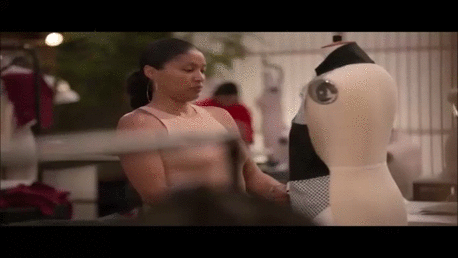 She has to start all over again, she thinks it looks cheap and forced.
Heidi and Tim battle it out in virtual reality, Tim defeats Heidi as easily as she beat him fencing in Paris. She pretends to be a sore loser, I'm not crazy about the scripted action here on the show. From Heidi-as-ditz to Heidi-as-pouty-blonde, ehh.
It's muted in the studio on Day 2, Jonny's particularly distracted. He thinks his dress is meh, but it's because all his focus is back home, where his friends and family are opening his new store without him. He had a store previously for ten years, he cried when he closed it because shite like that is hard. It's hard to stop, to admit defeat when you really, really want to make something work. There's a grieving process. But eventually he moved on and was offered an excellent new space and can't be there because he's here with us.
Ahh I love Sander's design, his ruffled layers of off-white under a gorgeous red are beautiful. It stands out in the workroom, as all his work does.
Tim heads his way for his first TimTalk (TimTique), some switcheroos with the pieces gets Sander thinking outside the box.
Tim asks Jonny what in the Laura Ashley hell he's doing with that perfectly nice but boring floral dress, Jonny's got a plan! And a denim motorcycle vest. Hm.
Megan is next, then on to Ji Won, who has confused Tim with her unusual designs for her digital marketing campaign. Therein lies the rub; they're all trying to showcase growth in different directions but this campaign needs to sum up their brand, so too much of a departure is not wise either.
Ji Won isn't planning to make any changes, even with Tim's concerned face looking at her. Yikes. BUT. I really like the regular-sized dress, it looks like sporty eveningwear, which is a good blend for her.
Jonny gives up all pretense of working and goes to chat with his family, who are in the midst of opening his new store without him. Jonny's husband Frank is adorable, we're all crying along with Jonny when we see how happy he is with Jonny's family. He has a wonderful support system.
Aw man, I felt that from here.
Jonny gathers himself, inspiration strikes and he runs to the communal area. He's going to dye his dress with coffee. After a couple of test strips, he hits the espresso machine in earnest, throwing in some teabags for extra colour. You got this, Jonny!
Model fittings! Megan actually changes the design after seeing her pants on her model, she's going with baggy instead of fitted. The model loves it, but I also enjoy wearing clothing four sizes too big: doesn't mean it's flattering or well designed.
Ji Won feels strong during fittings about her regular-sized look, but has completely fucked up the plus size sizing. She can't even get the pants on her model, who could only be considered alternative sizing in the fashion world. She's going to make an elastic waistband for that look and now I am fully okay with her going home on this challenge. Fuck elastic waistbands for plus size clothing.
Okay, I need a small water break, I can't even call myself plus size but I'm getting heated.
We didn't see Sander fitting anyone, so his must be fine.
Jonny manages to get his coffee-scented dress dry enough to try on a model, but the only thing that will save this look is the vest the seamstress will be constructing in the middle of the night, so I guess this is make or break time.
None of the designers get enough work back from the seamstresses, so they're stressed and working fullbore.
Okay, except Sander, he's having a great challenge.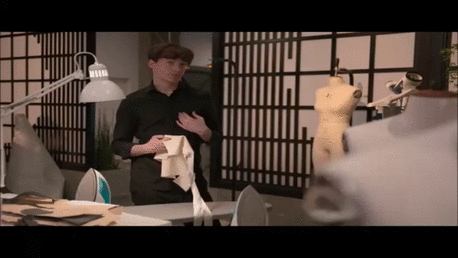 Jonny is still sewing 20 minutes before the shoot, dang, son. You don't even know how it's going to fit your model.
Esther has always been creative director on her photoshoots, she ain't scurred. Not even of her actual plus size model, who she welcomes with open arms.
We're off to the EDO Museum for photoshoots, Megan is up first!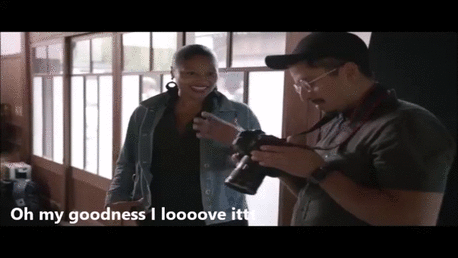 Ji Won tells us she wants to show her brand as for people who want to stand out regardless of size but still: hates her second ACTUAL size inclusive look that she herself designed. Honestly.They're very careful to not show us her second look, I'm really curious now as to what "meh" to Ji Won looks like.
Esther's black clothing photographs well in the rain?
Sander directs his photoshoot calmly, I love his use of colour but we're not really seeing a whole look, that's for the runway, dahling!
On to Jonny and his container garden space, there's no shelter for the models who are shooting in the rain, poor things. The creative director and the photographer get umbrellas at least! They're just gonna photoshop the gooseflesh and blue undertone, right?
The museum is where the runway will be held as well, outside in the rain, so we've got a bunch of irritated-looking but fashionable Japanese people holding clear umbrellas in front of a space full of puddles. It's…underwhelming.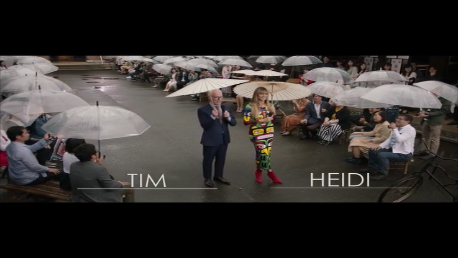 *I will say that it's been raining for three days straight here, I rarely feel this in tune with a television program!
Heidi introduces the judges: Joseph Altuzarra, Chiara Ferragni and Naomi Campbell. Time to start the show, do you think Heidi knows she has a giant face on her bum?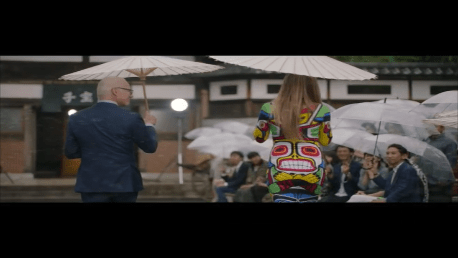 On to the show! Esther is first, they know it's her and they're reasonably happy with the looks, preferring the second.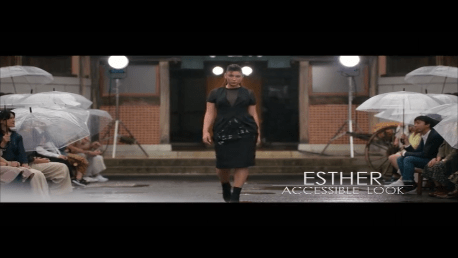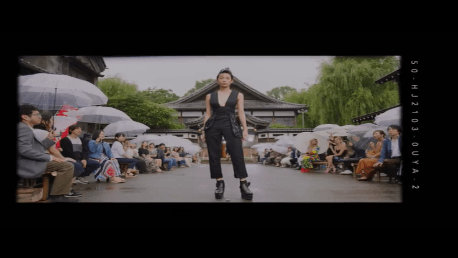 Of course it's black and white.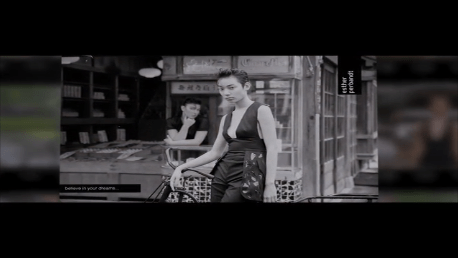 When Sander's first model walks out, everyone gasps, me with them. I just LOVE his stuff.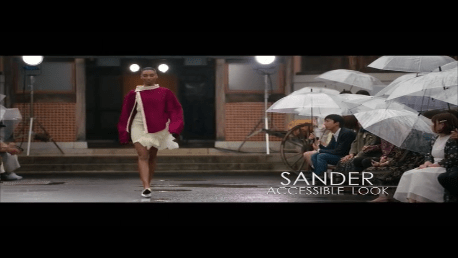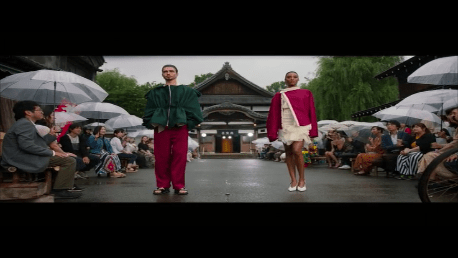 THEN the models switch jackets and the judges melt into a puddle of drool.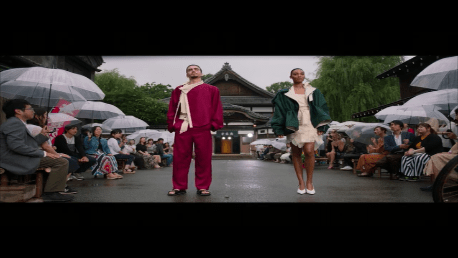 Great photoshoot photo.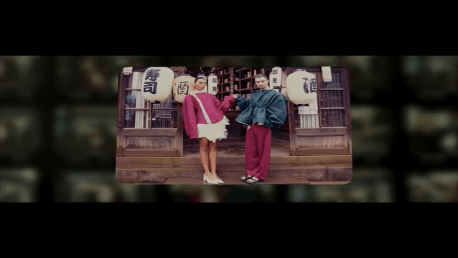 I've pegged Sander as the frontrunner for awhile now, I can see him being the Christian Siriano of this show but with (sorry, Christian) more artistic integrity. I love CS, no tea no shade.
C'mon Jonny, you can do this!!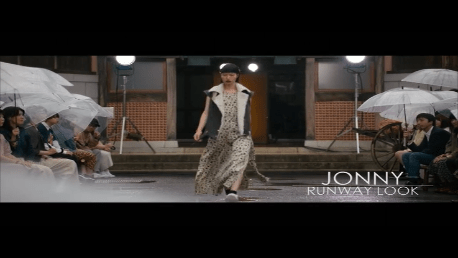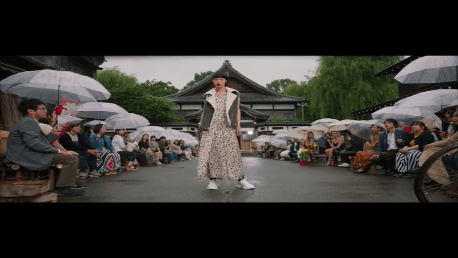 The judges LOVE the first look and I can relax for the first time this episode. He's given up a lot to be there! It needs to count! I can't get a clear shot of his jumpsuit, here it is in the photoshoot.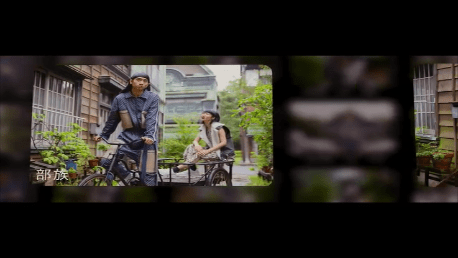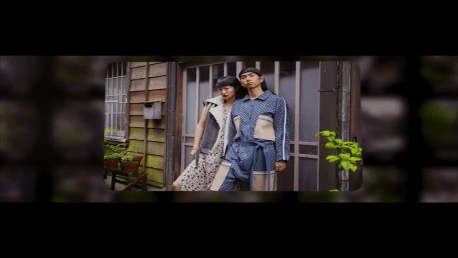 I expected Ji Won's accessible size inclusive look to be shit and I was not disappointed. Nobody would buy OR wear this. It's ill-fitting, boring and poorly designed. The judges hate it as much as Ji Won and I do.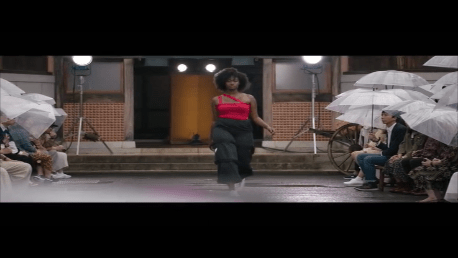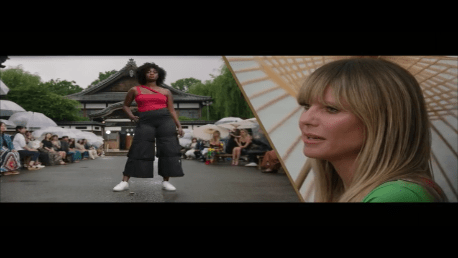 They dig her eveningwear.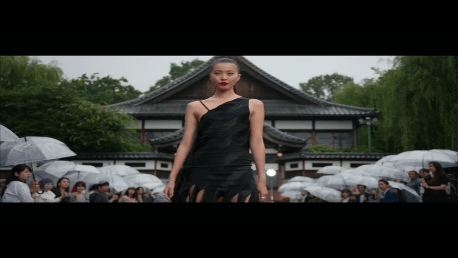 But look how unhappy the plus size model is in the photoshoot in her ill-fitting elastic-waist pants.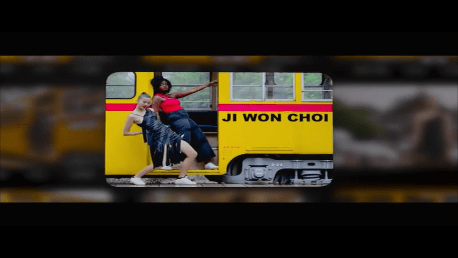 On to Megan and her pajamas for daywear.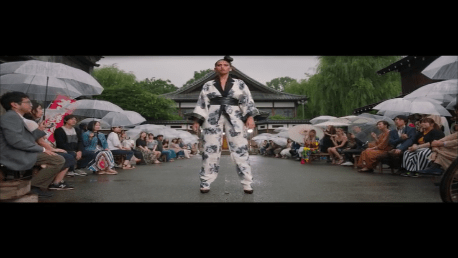 The judges like her looks, they're sexy, etc but I don't see it and don't see any design there. I mean, Martha could have done that second look, except she never would have used black.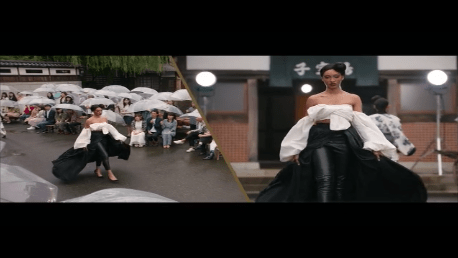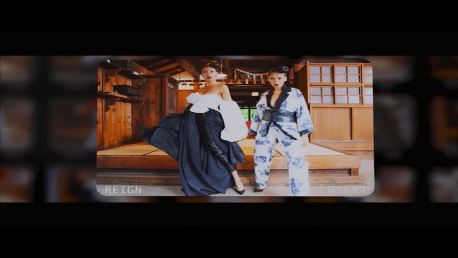 Time for judges to-their-face critiques, wooo! Go getcha trophy, Sander!
Esther is called up first, the judges like her photo campaign but I'm wondering why we see so little of the model in the back. IS IT BECAUSE SHE'S PLUS SIZE??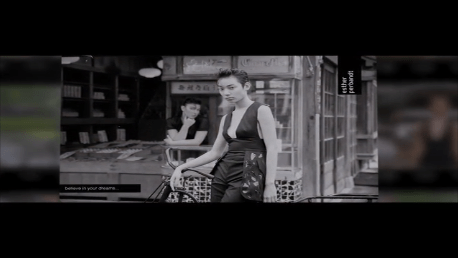 Taking another small water break. I'm clearly overwrought.
Sander is spoken with next, they love his work, full stop. Say winner! Say winner!
Ji Won gets read for a basic pants design but it's Naomi who drags Ji for filth. She's disappointed in every single thing Ji Won did in this challenge, which has to be upsetting for Ji, who basically changed her whole design esthetic to appease Naomi.
Heidi lets her know she's on the chopping block, does she have anything to say to change their minds? Not much, she's sent home for not making the cut.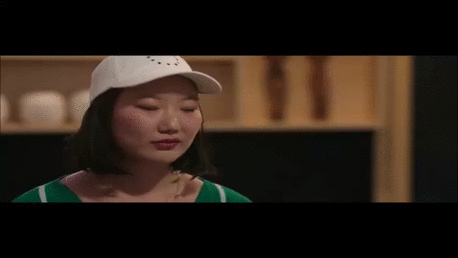 She hugs all the judges and designers and leaves. She was one of the designers I'd picked to be in the final with Sander, just the last couple of challenges I started to see that perhaps her work was stunted. Stalled in fancy athleisure. But you know what? She's 26 and she has a whole lifetime to grow as a designer. She's definitely got this. Maybe she could get some education on fitting alternative size ranges too!
And we still have people to talk to! The judges liked Jonny's collection but they don't like his brand name: Skingraft. Naomi doesn't hold back at all: he needs to change it to Jonny Cota and that's IT. He is directed to stay on the carpet and Megan is asked to join him.
What.
Give Sander the win! Come on! Did you see those ruffly thingies??
Sigh.
Megan is told she did a fantastic job today, they loved her looks. They didn't love her photo campaign, so Jonny and she will be battling it out for the win.
I'll give you a tiebreaker: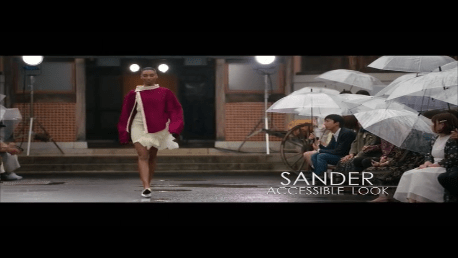 ANYWAY. I guess we're doing this. FINE. A very polite and cultured throwdown commences, Jonny is shocked almost to his knees when Megan carefully suggests his dress wasn't all that new (he totally said that himself), it's different when a friend says it in front of judges!
I don't care who wins, I'm already checked out because: ruffles. I am so sad I will not be able to add that to my Amazon cart then take it out, then add it, take it out and sign out a half dozen times.
Okay, I want Jonny to win, THERE. I think Megan's looks were ehh, as were his, but he gave up a store opening to be there and his husband is adorable and I know that's not why people should win but you gave me no choice, Making the Cut.
He wins for his superior photo campaign, yay!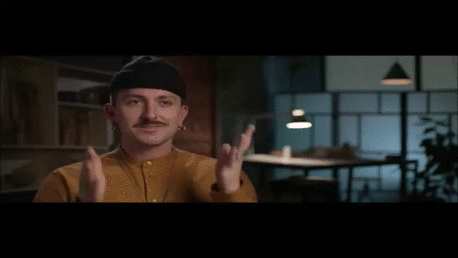 Until next time! Cheers