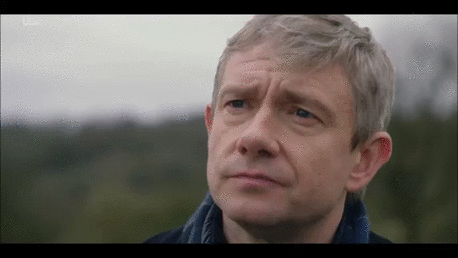 We ended last episode of twisty true story A Confession with our lead detective questioning our main suspect under very questionable circumstances, how will that play out? Will we find Sian O'Callaghan? Have any of you caved and looked up the circumstances on the Google? Let's hurry up and get into it before I do, rolling the A Confession S1:E1.3 recap after the break.
Okay, we left in the middle of an extremely informal and ill-thought-out interview of kidnapping suspect Christopher Halliwell (Joe Absolom) in by the woods by Detective Superintendent Stephen Fulchur (Martin Freeman) in a stunning breach of protocol. Some short days ago, Sian O'Callaghan (Florence Howard) disappeared in the middle of the night approximately 65 seconds after Halliwell drove past her in his cab.
True crime would have us believe Sian is dead already, but Stephen is determined that shes alive, that's why he's brought Halliwell here, to "do the right thing." Interview rooms are recorded and filled with cops, perhaps not the most conducive to an open rapport is the plan.
Of course, the place is crawling with cops, trying to pretend they're not looking directly at Stephen and Halliwell, who wants to go to the police station so he can talk with a solicitor present. He's almost pleading when he looks at Stephen, "you think I did it."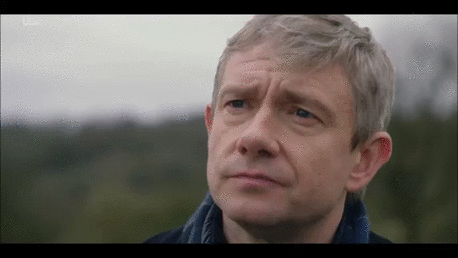 Halliwell thinks for a moment, Stephen leans on him, this is the way he can possibly protect his family. Again, any person thinking rationally would know that whatever happens, his family is about to get it in the neck. Stephen wants to keep him off balance.
Halliwell asks if Stephen has a car and they set off with Eddie (Jason Milligan) driving, the rest of the police following.
A tense drive with a helicopter overhead, but Halliwell is calm. He directs Eddie to slow down, he threw Sian's body along the side somewhere along there after he moved her.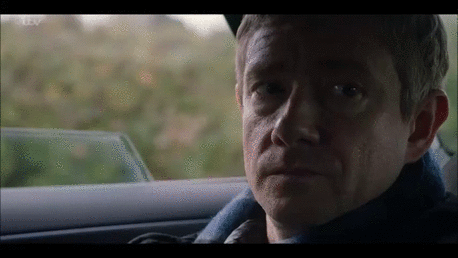 So all this soft soap has been for naught. Sian O'Callaghan was murdered after all as literally all true crime predicted.
Stephen keeps his head; why did Halliwell move the body? They were getting too close with their searching, so he moved her that Tuesday night when detectives lost him in the dark.
They're pulled over now, Stephen fills in detective Tracy Joyce (Maimie McCoy) on where to look then heads back to the car to send Halliwell back to town for another caution.
Halliwell did have his rights read to him when he was first arrested, it's just been a bit loosey-goosey since.
Halliwell still wants to talk to Stephen privately and here, so off they go on another car ride for a chat. They stop at a vast farm field full of sheep (you know I'm looking for Gillian), just Stephen and Halliwell walk alone until they perch. Police scribe Deborah Peach (Faye McKeever from The Moorside) sits unobtrusively nearby.
Halliwell admits to being a 'sick f***er', any chance of help? Since he just said he stabbed Sian in the back of the head, that's a TOO LATE, Halliwell. As calm as you please, he looks at Stephen and offers up another death.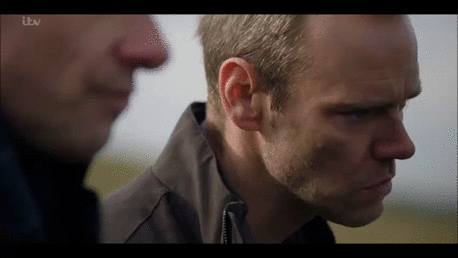 He killed another woman in 2003 to 2005, a prostitute and ahh, he thought Sian was too. He couldn't tell the difference between club clothing and garb worn by streetwalkers.
I say this without prejudice: depending on the age of the wearer, perhaps the only difference might be that one set of gear gets washed more often. Go by smell.
But that's not the point, sorry, Halliwell, wants to take him somewhere else to the body. They drive off, Hailliwell castigating himself for purporting to be a protector of women in his cab, but look what he did!
Halliwell says he didn't have sex with Sian, but he did with the prostitute before he strangled her and buried her by a wall. He visits the wall sometimes.
He takes the whole gang to where the first victim is buried, DS Bob Cooper (Dominic Tighe) arrives to caution Halliwell again, they'll start digging.
Tracy calls, Sian's been found. She was stabbed to the back of the head as Halliwell said, but some of her clothing was torn off as well so he probably was lying about sexually assaulting her.
The O'Callaghan family is all gathered at Pete the Pilot's (Derek Riddel) house where he lives with Sian's mum Elaine Pickford (Siobhan Finneran), police liaison Annette (Emma Clifford) delivers the devastating news.
Stephen goes to the family, who thank him for finding Sian. Onward to the police station where people break into applause at the sight of him. Halliwell is taken into a proper interview room, Stephen retreats to his office.
DI Steve Kirby (David Nellist) follows him in, how did he do it?! An extra body!
I'm trying not to be a buzzkill here, but they did just find the body of a very young woman they were hoping was alive up until 15 minutes ago.
It's very quiet at Elaine's house, everyone lost in their own thoughts until her youngest child Aiden (Rufus Gerhardt-Williams) walks in. Elaine cries as Aiden's dad Mick O'Callaghan (Ian Puleston-Davies) leads him away to break the news about Sian. He wants his mum, she's not able to comfort him yet.
Stephen holds a press conference. Elaine's neighbours, Charlie (Peter Wight) and Karen Edwards (Imelda Staunton), are watching. She immediately connects our two stories.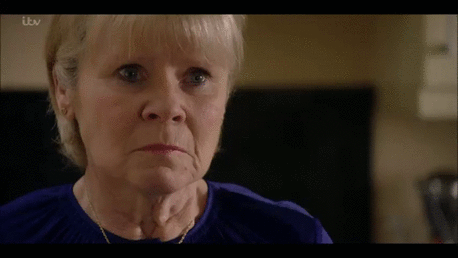 She's been looking for her daughter Becky for years, Becky hasn't been around and she used to do sex work.
The police dig for the body of the second murdered woman, well, first, but you know what I mean, Halliwell meets with Duty Solicitor Coleman (Andrew Brooke) before being interviewed by Bob Cooper and DS Sarah Bilston (Caroline Bartleet). Halliwell now has legal representation and the only answer he gives now is "No comment."
Karen and Charlie go to the police station, 600 other people also think the other woman Halliwell killed was their relative, so it's going to be slow going. There's also the matter of Karen's first husband, who told Karen he saw Becky in the last couple of years, so given Halliwell's timeframe of 2003-2005, it's considered unlikely that it's Becky in the ground. As long as that first husband wasn't lying to be spiteful and I'm afraid my money's on that. The Duty Sergeant (Laura McAlpine) is kind but also as skeptical as they are by the end.
Sian's boyfriend Kevin Reape (Charlie Cooper) and Sian's brother Liam (Andrew Davies) watch as her car is towed away, Kevin and Pete the Pilot will be identifying her body. That makes sense to me as well as the O'Callaghan family, nobody will want to remember her that way. Pete and Kevin had the least amount of time with her.
It's slow going where Halliwell told them the other body was buried, DI Sean Memory (Owain Arthur) goes for a walk and discovers another dip in the wall…perhaps this is where they should be looking.
Stephen leads his team in the next stage of investigation; it's not likely Halliwell will ever admit anything to them again, they'll need parallel evidence to bolster this prosecution. Stephen directs Bob to get Halliwell's daughter into his cell, see if they can't get some kind of confession from him to her.
Stephen is called out of the meeting by his boss ACC Mike Veale (Daniel Betts) and his boss's boss CS Keir Pritchard (David Michaels) for congrats but also: what about the confession, a bit off the books, yes? Stephen disagrees and quotes an Urgent Interview protocol.
It's Pete who identifies Sian, but Kevin asks if he can hold her hand so the doctor (Simon Rivers) has to prepare her for that.
Another body has been found in the secondary location that Sean suggested.
In court, Stephen asks Halliwell to disregard the advice of his solicitor, clear his conscience and admit to what he's done, much to Halliwell's solicitor's outrage. Fulcher gets another 36 hours from the magistrates to find out the identity of the second victim.
Halliwell's daughter has agreed to wiretapping her dad to get another confession, Stephen gets that ball rolling then heads over to Halliwell's residence where a search warrant is being executed.
Stephen suspects that Halliwell's killed more than the two women. When Stephen asked, Halliwell only said "isn't that enough?" and it's more than, really, but that's not a no, is it?
Halliwell's daughter (Evelyn Hoskins) is brought into the bugged interview room as Sarah Bilston connects our cases for sure. DNA on the second body reveals it to be Becky Godden after all, so Karen's ex-husband was just torturing her after all. Divorce is the worst.
Halliwell's not dumb enough to confess to his daughter in a bugged interview room, he tells her to be quiet and points out she can sell her story later.
Stephen and team converge on Karen and Charlie's house to give them the news, unfortunately it's Becky's actual birthday so Karen gets the wrong end of the stick when the doorbell rings. Her son Steven Edwards (Darcy Vanhinsbergh) answers the door for her but Karen comes up behind him. When she sees the police, she knows immediately what they're there for.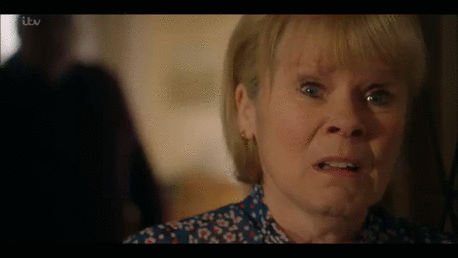 She howls in grief and with that, we're out and whew, that was rather a lot. Whew. The loss of hope and the anguish of grief, all in that one scream. Until next time, everyone. Cheers.