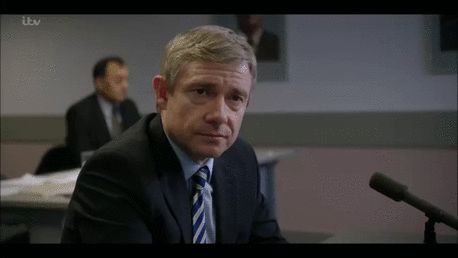 Bolstered by several episodes of charming television involving zero murders, I am once again ready to tackle the much heavier material of A Confession. Rolling into the penultimate episode after the break.
Right, so we've got our murderer Christopher Halliwell (Joe Absolom) in custody, he was even decent enough to plead guilty to Sian O'Callaghan's murder to save the family a trial. He could have done that without raping and murdering their daughter too, but here we are.
I have a theory as to why he did that, partly for mercy as he did receive a five year sentence deduction, but also because I think Halliwell has not come to terms with the sexual nature of his crimes. He killed two women after/while raping them, but wouldn't admit to Sian's rape, just the murder. He was okay admitting to having sex with prostitute Becky Godden-Edwards (Stephanie Hyam), but ten to one that was rape as well. So not having a trial, he wouldn't have to answer to the sexual trauma inflicted on Sian and he and her family could move on without that graphic knowledge.
Detective Superintendent Stephen Fulcher (Martin Freeman), our top cop who secured Halliwell's unorthodox confessions for both murders is now facing a disciplinary hearing for his choice to subvert the PACE code. What's the PACE Code, you ask? I had to look it up too, it's actually a set of PACE Codes of Practice that police are required to follow when dealing with/arresting the public.
Stephen's been claiming he was following an Urgent Interview protocol but a judge found that to not be the case (it totally wasn't true) and now he's in troubbllle. More than that, as Halliwell gave up the second murder without being cautioned and outside of any kind of PACE practice so the Crown is dropping the entire case against Halliwell for Becky Godden-Edwards' murder.
Her parents are not happy. The mother is ecstatic, however, that Stephen brought her child home, but the father has registered a formal complaint for which Stephen must answer in front of a review board.
Stephen believes that Halliwell murdered several other women, that's what he's focused on, disciplinary hearing schmisciplinary schmearing. He's still relying on scribe Deborah Peach (Faye McKeever) for help, but she's more focused on him losing his job. I mean, she's taking notes, she still has a job.
When we first met Stephen, he was meeting with a man who was about to go in front of this very tribunal. DCC Ray Hayward (John Thomson) was in line to explain 50 separate statements about sexual harassment when he chose to end his life instead. There were no doubt other stressors in his life, but he was on the verge of losing his reputation, livelihood and ability to hold his head up in polite company. The last thing we saw him do was arrive at the police station in full regalia to find out his access to the building had been revoked.
*I'm feeling expansive, bear with me or skip ahead to stay on track. Sexual harassment is not a straightforward thing because it varies greatly depending on the people involved. I've known many, many people who've made work-life a living hell for women, I would be very surprised if they knew they'd done that. We all understand about the quid pro quo boss, the Sleep Your Way To The Top or I Won't Promote You, even if it's not that clearly represented, but what about the manager who wants to talk with you about his porn addiction? Do you want to be one of the boys or not? Surely you don't want to be treated as a special flower, do you? What about bonding with the group? Is that harassment? Do you need to understand that you're making someone uncomfortable to be perpetrating an offense? Maybe the manager thought he was edgy or 'pushing the envelope', they can't all be as clearcut as someone having a wank during a job interview. Do you know that people defended that too? "He ASKED" as he was tearing the handle off himself, well, okay then, pfft, carry on, as you were. And I'm done!
So now Stephen will be under review, in a situation his acquaintance and colleague saw as an immutable force. He just doesn't know when, he's on restricted duties until then which will be some time before the end of the year.
Deborah's got her own issues, Stephen's boss tried to force her to resign and then just hired a person for her role anyway when she refused.
Stephen is incensed that his shite has spread all over his colleague, he approached CC Pat Geenty (Gary Oliver) for an angry word in the cafeteria. Pat doesn't listen, telling Stephen to instead get hold of ACC Mike Veale (Daniel Betts) who's been looking for him.
There were two women (that we know of) killed by Halliwell, one was a 'good girl', with a respectable job, boyfriend and a supportive family. That's Sian, and that's who Halliwell pled guilty to killing. The other woman Becky (as above) was a drug addicted sex worker with a mum who cared the earth for her. Sian's mum Elaine Pickford (Siobhan Finneran) was quick to distance herself from Becky's mum Karen Edwards (Imelda Staunton) and Becky's case, as she didn't think much of Becky's life choices.
Karen and her husband Charlie (Peter Wight) did not accept that Halliwell wouldn't answer for Becky's murder, she's set up a petition table near the local stores which Elaine avoids like the plague. Only one person signs.
ACC Mike Veale isn't alone when Stephen makes it over, CS Keir Pritchard (David Michaels) is there to take notes. Stephen's being suspended, effective immediately, they found out that he leaked to the press as a friend of Keir's was in the pub when Stephen met with itv. Stephen says he didn't remember Keir telling him not to meet with journalists but doesn't fight the suspension.
PC Tom (Liam Akpan) is sent with Stephen to recover all police documentation and property, he's 12 but quite firm about Stephen not being allowed to use his phone, not even once to call his wife.
It's worse when he gets home, his wife Yvonne (Kate Ashfield) is happy to see him at first but then concerned when PC Tom has to retrieve a work laptop from the kitchen in front of her parents. Stephen doesn't tell his daughters, but his mood at dinner does that for him.
The complaint Becky's father made about Stephen's conduct will be reviewed by the IPCC, whose representative has reached out to Karen and Charlie Edwards to see if they want to add their names to the complaint against him. No, they bloody well don't. If you know Karen and well as I've grown to know her over these past four and a bit episodes, you'd be able to guess next steps already.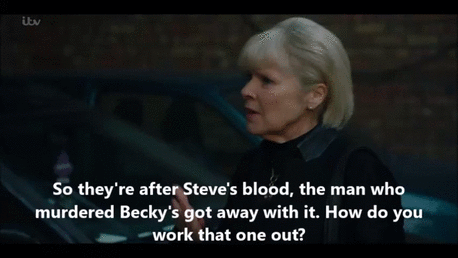 "Justice for Steve is Justice for Becky!" Karen has a new cause and she's really, really good with causes.
Okay. Have I mentioned this is a true story and everything we're seeing is like an agreed statement of facts? Because I would like to know how we get so much detail about Elaine's relationship with the controlling Pete (Derek Riddel) the pilot. He took over funeral arrangements for the Sian, pushed her into medical testing that she admittedly needed and is now calling himself the father of her son Aiden (Rufus Gerhardt-Williams). Pete, Aiden has a father, it's Mick O'Callaghan (Ian Puleston-Davies) whether it's every other weekend or every single day. Still his father.
Someone in this family wrote a book, because we even know that Elaine doesn't get along with Pete's daughter.
Karen is doing what Karens do best, she's arranged a meeting with local politician Robert Butland MP (Keir Charles). Karen talks and talks and talks until Charlie chides her, Robert only says one thing, but it's the important thing. Karen advocates for reforming PACE.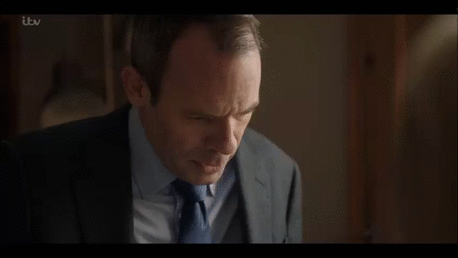 He gives them some advice about next steps, this is on a roll! I absolutely would have expected that to be a last-ditch hail Mary sort of pass (I don't know what that means exactly) but he seems legitimately interested.
Stephen and wife Yvonne meet with Deborah at a pub to find out the inside scoop on what's shaking; his bosses tried to have him charged criminally with Malfeasance in a Public Office proving that once again: even criminal offenses sound much classier in the UK.
It's January of 2014 before Stephen Fulcher's disciplinary hearing is held, his wife Yvonne introduces herself to Karen, who's there with Charlie as she will be testifying. Karen manages to cram 14 sentences into a ten second introduction, I get the sense that Karen in real life would be someone you'd admire, but from a distance. Up close she'd be a lot. My theory is proven when she loudly physically moves sides to sit behind Stephen when she realises she's sitting next to the complainant, her ex-husband John Godden (Christopher Fulford).
The hearing is about two main issues; should Stephen have cautioned Halliwell when he started talking about Becky?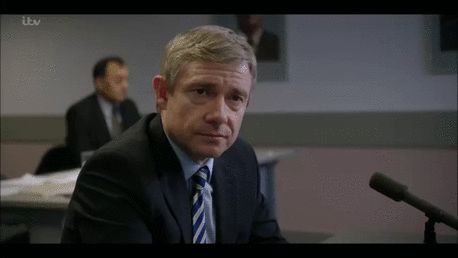 And should he have talked to the press?
Stephen defends his choices; had he not let the conversation flow, they would never know where Becky Godden's body was buried or indeed, that she was even dead, thanks to John Godden and his arseless family's shenanigans.
Stephen's lawyer John Beggs QC (Will Barton who has the most marvelous Terrence Stamp speech cadence) calls Geenty and Pritchard to the stand, there's rather a lot pointing at that meeting-press conversation not being valid so we'll see on that one. Karen interjects during Geenty's interview when it appears he only cares about Sian's murder and not Becky's.
DI Sean Memory (Owain Arthur) is back visiting Elaine and Pete, whom I like like less and less every time he opens his mouth. Sean wants to make sure they've heard about Karen's petition and to reinforce that the police department does not support Stephen and his choices. They would have found Sian anyway, they're sure of it. Elaine seems mostly out of it, but she's struggling with what happened to Sian before she died. Since Halliwell didn't go to trial, he didn't give an account of what happened, or one that could be fully examined, anyway. Elaine's not dumb, she noticed that Sian's tight-fitting high boots were removed, there's no way Halliwell killed her right away as he said.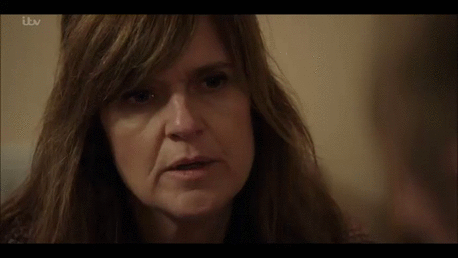 Elaine lies awake at night thinking torturing herself with it, Pete comforts her by offering to protect her. She should quit her job and he'll take care of her.
RUN
It's not exactly marital bliss over at Stephen and Yvonne's house, he's bitter and quiet, she's trying to make things work. Wheeeee.
Surely there are supportive marriages out there highlighting partnerships, shared goals and a deep, abiding regard for one another? Somewhere?
At least Elaine is aware how controlling and unreasonable Pete can be, but under times of extreme duress it seems as though his take-charge attitude can appear to be a positive.
While Karen is stumping for justice for her daughter and Stephen, she's also receiving near-miss stories of run-ins with Halliwell, who's rumoured to have been stalking and attempting attacks on women for years.
In jail, Halliwell talks with a therapist about what he likes to do to calm himself aside from murder young women, he did like to go fishing. He even had a special place, a 'sanctum' where I immediately assume he buried the rest of the bodies.
The disciplinary council has come to a decision, everyone crowds into the room to hear CC Andy Parker (Rocky Marshall) find Stephen Fulcher guilty of all counts he's accused of, issuing...
A final written warning.
Hahaha what? Delivered with such gravitas, all that time and money spent on...
A final written warning.
But he came super close to losing his job!
Kudos to the cameraperson for that zoom in on Steve's face so we could understand the import of A Final Written Warning.
DI Sean Memory oversees the investigation of Halliwell's favourite fishing spot, look, people are looking for other victims while you're away, Stephen!
Yvonne is not happy that Stephen plans to return to work right away, even if it's all he knows.
*They're fighting in the kitchen, I THOUGHT that was an Aga cooker in the back! Be a sport and give me a front view, there's a good cameraperson.
Stephen is now the leader of the Bobby Van department of the Wiltshire police, looks...fun.
Karen, Charlie and their MP deliver her petition with 40,000 signatures on it to David Cameron himself.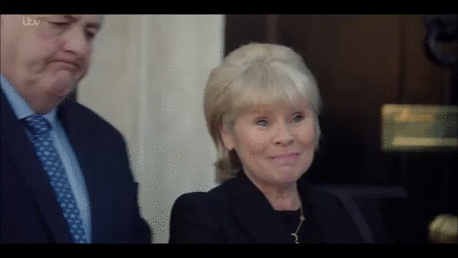 Elaine tells her three kiddos she's getting married, prefacing her news with idea that it's okay to be happy, to get excited about things. Her sons Aiden and Liam (Jake Davies) and daughter Lora (Jessica D'Arcy) look so excited they want to cry and/or throw up.
Karen receives the unwelcome news that her petition has resulted in exactly nothing being changed in PACE or even being reviewed for change.
However! Evidence is being recovered by the bucketload from Halliwell's fishing spot, including several pieces of women's clothing and perhaps Sian's boots.
Stephen's not fighting with his wife any longer about resigning, but he doesn't seem to know what to do either. He visits with his friend Ray Hayward's left behind partner (Sara Faulkner) who tells him it's not worth it. Ray cared everything about the job, when he lost that he took his own life because he couldn't see past it.
Stephen mails his letter of resignation, walking into his home to a call from Deborah to turn on the TV. It's Sean Memory on the news, showing off all the findings at Halliwell's spot which is...an odd choice. Not odd that they'd be investigating Halliwell as a serial killer, given that he mentioned '8 murders' in a phone call, but that the focus there was on Sian's boots. As in "Look! We would have gotten him anyway!"...18 months later because they knew who to ask where to look...
With that, we're out! Cheers, until next time.