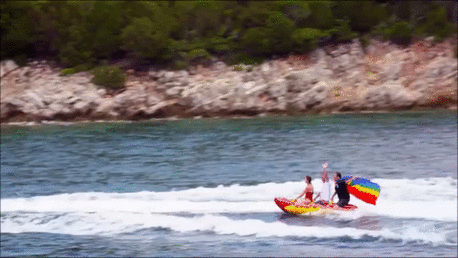 Hey y'all, welcome back asea on the Parsifal III! Has it been a week already? It HAS! Let's find out what the Below Deck Sailing Yacht crew gets for a tip on this particular journey of a lifetime after the break! Rolling BDSY S1:E15 You Snooze, You Lose recap.
We're on charter with co-primaries Kerry McReynolds and Dino Cresci, Primary Kerry has cancer that is not in remission, everyone's working very hard to make this an awesome trip for them. I will say they just seem like the nicest people ever, which doesn't hurt in the service department.
The crew has been working overtime, they just threw a birthday party for guest Mark Nitsche for which first mate Paget Berry delivered the birthday cake in his underwear and then third steward Georgia Grobler sang songs for everyone.
Chief steward Jenna MacGillivray swore this was going to be the best ever charter to honour Primary Kerry and Jenna's dad who passed from cancer, but is dealing with some other pressing personal shite instead. She's been dating chef Adam Glick, who is just an all-around problem child for me, and everyone he dates. He cannot and does not talk about his feelings, but oh yes, he HAS feelings, he just never deals with them. He was hurt when Jenna wasn't appreciative enough of the flowers he gave her and instead of dealing with that or talking to her, he threw a series of hissy fits and is has now retreated behind a manly wall of I'm Not Even In A Relationship, I'm Blowing This Joint After The Show.
Sigh.
I know this doesn't happen in a vacuum, I know men get socialized to act and think this way, so hey dudes and ladies, next time a male person you know is upset: don't tell him to suck it up or man up or any of the other harmful terms people use to invalidate how other people are feeling. As I tell my kids: feelings are just feelings, they change all the time, but they need to be dealt with as you go. You can't store them up like extra chocolate milk, because they tend to sour over time.
Jenna is IN this relationship, she's tired of the push pull of Adam not dealing with his feelings of vulnerability: what are they going to do? Ah this is like couples therapy and I've been listening to some super empathetic podcasts lately so now I'M all in. They need to build trust, Adam really does want this relationship so he is motivated to try but gets scared easily and pulls back. He didn't have a very stable childhood. He agrees to try. He blames himself and THANKS A LOT, PODCAST, now you have me upset on Adam's behalf.
They make up.
It's only 12:15 but the guests are tired of looking at their phones and are ready for bed. I know it's easy to look at that and think: you're paying 6 figures to sit on a yacht by Greece and look at the same phone you have at home? But looking at our phones has become a sort of meditative act, a calming down at the end of a chaotic day, and this day has definitely been that for these guests. Just a few hours earlier, they were walking uphill like Michael Jackson.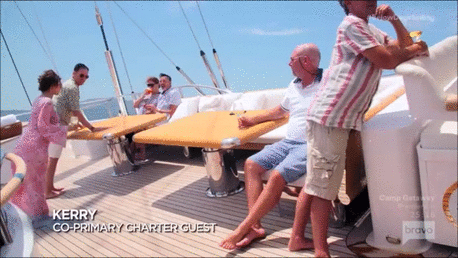 Second steward Madison Stalker has been feeding and watering the guests, this is a super early night for her. She tends to be a bit of a night owl, so ten Canadian Tire dollars says she does laundry until 4 am anyway.
Now that Adam and Jenna have made up, we've got all kinds of inappropriate unprofessional PDA going on in the crew mess. Like Jenna sitting on Adam's lap for an extended period. Even deckhand Ciara Duggan calls a party foul, she and Paget have been together for four years and they're never that handsy around others.
It's the next morning and the guests want to set up the events for the day with Jenna and Captain Glenn Shephard. It's not the Primary guests doing the planning, it's their friends because today we're having a celebration of life for Primary Kerry, who is dying of cancer.
Jaaaaaysus I thought I'd get through saying that once without crying, FINE.
They're not sailing anywhere today, time to get out all the water toys.
Drama in the laundry room; Georgia and Jenna get into it for some reason about Adam, who knows? Georgia's trying to be supportive of Jenna TO Jenna, who has forgiven Adam and doesn't want to hear anything nasty about him.
This is the peril of sharing your every thought and emotion with the people you spend every waking moment with; they form opinions!
Jenna serves breakfast while Georgia and Madison deploy to guest rooms for cleanup. That's right, when you charter a superyacht like the Parsifal III you get your room cleaned three times a day! Maybe more! Basically, if you step outside your room for more than a minute, a conventionally attractive steward with relationship issues and/or an uncontrolled drinking habit will slink in to fold over your toilet paper square.
Madison complains about the Jenna/Adam sitch while cleaning and while she's not wrong: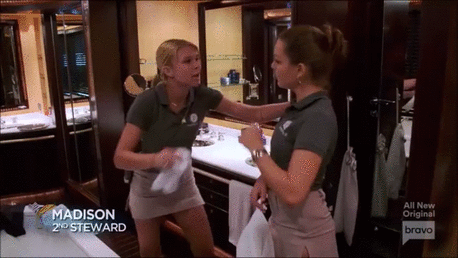 This is exactly the attitude that got her into trouble a couple of charters ago. Just let it goooooo, Madison, you don't need it in your melon.
Jenna walks in during this mock humping session. WHAT did I say??
Deckhand Chris Miller is the light of Paget's boat existence right now, he's so happy to have an experienced sailor he could cry. Ciara was super friendly yesterday, we find out why today when she congratulates Paget on not being a father.
Awww I love it when they talk about periods on TV!
Jenna sends Madison down to laundry and Georgia on break then heads to the galley to make out with Adam, leaving chief engineer Byron Hissel to serve the guests. He heads down and finds Jenna, who rudely asks why they asked HIM?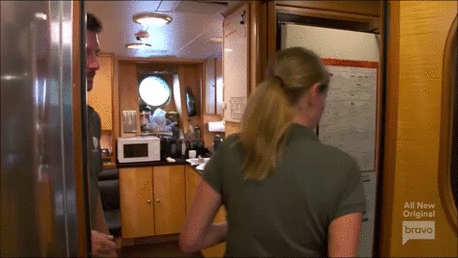 Jenna follows this sterling service up by taking an hour break, asking Ciara to watch the guests and going for a cuddle with Adam. She sends Madison up too, now that laundry is somewhat caught up.
Madison runs around in the mid-day heat, even Captain Glenn helps clean up in the crew mess but there's Jenna and Adam, snuggled up in a bunk, during charter.
The guests experience a slight delay in their wine refills, that could also be because Madison feels the need to stop and complain about Jenna and Adam every time she sees a crew member.
Captain Glenn takes out the garbage and clears glasses while Jenna tells us how she deserves this time.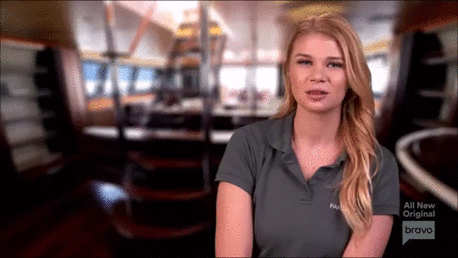 Captain Glenn asks Ciara what's up with service. Unfortunately for Jenna, Ciara's one of the people Madison complained to about not having any support. Captain Glenn is tight with Ciara and Paget, they've been working together for years. Ciara also used to be chief steward before she moved out on deck, so she knows what she's talking about.
This was particularly harsh: "Jenna spends more time on Adam's lap than she does on service."
The guests are all outside playing, so Madison asks Georgia to check the cabins as everyone wonders where the Sam Hill Jenna is. Adam's back in the galley.
Captain Glenn asks Madison about service, she tries to keep it civil, which is more than Jenna did for her earlier in the season. He then observes Jenna's return to the galley, which is all cuddling and kissing and: no service.
This is awesome!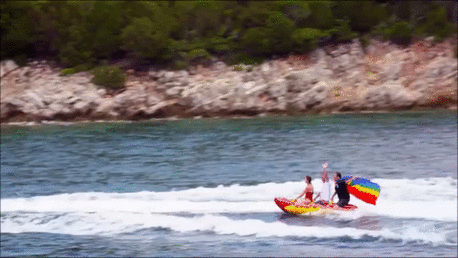 The CAPE! The HOT DOG!
Deckhand Chris kills his back lifting a wee jetski thingy that weighs a tonne and the next while is pretty grunty whenever he's around.
Everyone packs for a 6:30 party on the beach, the food looks great! Guests Mark and Dino have bought pajamas for the crew for the pajama party this night, can I go cruising with them next? I'm old but flexible!
Madison is just dragged off service and sent to the beach picnic mid-clean-up. She loses her equilibrium and it makes her feel disjointed. Okay, what she says is that Jenna has a disrespectful tone with her but I have to wonder if it's the Jenna Not Communicating What To Expect that's really the problem.
Georgia and Madison go to the beach picnic with the guests, leaving guess who in the galley with Adam? Captain Glenn listens to them make out from the crew mess, he's going to have to say something.
Everyone's happy that you're happy, lovebirds. Just do your jobs and wash your hands before you touch anything communal.
Paget and Chris flirt with Georgia while once again…  the guests are helped only by Madison.
Is it because these are the awesomest guests ever? They'd never slack off around one of those high maintenance groups. That sucks.
Georgia's brought her guitar to the beach, I didn't know she was officially the entertainment! The guests talk Paget into joining her with "c'mon Page, sing and take your clothes off" hahahaha. That may have been crew.
Chris watches Georgia and Paget sing together, he's finally noticed what everyone else has: there's something there.
He spends so much time trying to figure that out that he misses the tender floating away on the current. Madison brings it to his attention, IS MADISON THE ONLY PERSON WHO DIDN'T MENTALLY TAKE THIS CHARTER OFF??
Yerks
Paget and Georgia remain on the beach to pack up, even the guests can see their chemistry. Paget asks how Georgia and Chris are doing, since their one date, but G is really all about the P right now, even if she doesn't want to be.
You guys! It's okay to like each other! You can like someone a LOT and not do anything about it! Not every stone must be turned over.
Everyone dresses for the pajama-themed supper, I LOVE Primary Dino's ensemble! The whole look!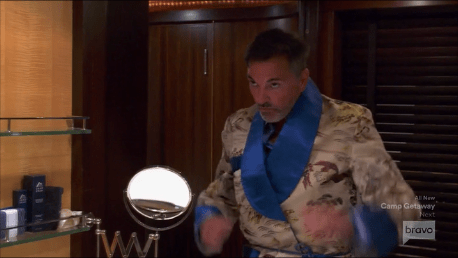 Huge gossip and shitstirrer Byron asks Madison what's going on, why is she so grouchy? Madison has learned that nothing good comes of talking to Byron, she deflects.
Time for a crew lineup!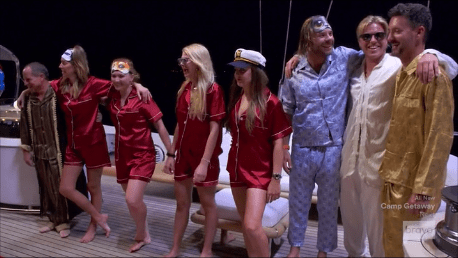 (Just so you know, there has been zero sailing today, that's why no pics)
Chris wins the pajama walkoff with a bump and grind followed by a dip in the hot tub, wooooo!
Supper looks lovely and is served by Jenna and Madison while Georgia cleans the guest cabins again. The guests have an emotional end to their supper, time for bed! It's the end of the charter tomorrow but I'm not ready to let these people go yet.
The seabob strikes the deck crew again, this time taking out Paget's hamstring as easily as it destroyed Chris's back.
Chris is still required to do labour, however, it's not clear if he's notified anyone of how badly he tweaked his back. He suits up in a harness to work on the mast. He's…really high up.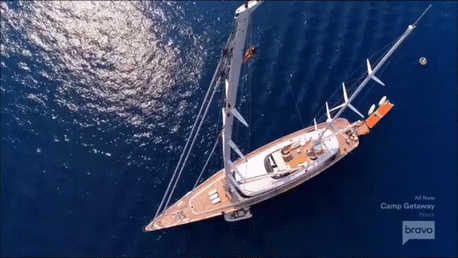 The guests depart, they had a great time and we're very sorry to see them go. Booo *sad horns*I couldn't even get a good look at the tip envelope FINE.
Time to do a deep boat clean, Chris finally tells someone in authority that he hurt his back badly. Captain Glenn has had a similar issue, he tells Chris to see a doctor but doesn't seem overly concerned.
Tip Meeting!!! First we getta recap of the charter, Captain Glenn is taking that dang seabob out of service, yay! He specifically calls out the deteriorating service in front of everyone, catching Jenna by surprise.
It's an extremely short turnaround this time, not even 24 hours until the next charter so maybe hurry up and show us the tip. It's another $12,700, $1,400 each and what? That is such a specific and un-even number for two sets of guests in a row to give the crew. Is that ten percent of the overall? 15%? I need to know!!
Wow. During lunch, Jenna bitches to Adam about Captain Glenn. On camera. Doesn't she know she's in a hierarchy?? That seemed super important to her when she wanted her juniors to shut up. She works to control her rage.
Jenna and Adam are bullies, they gang up on other crew members and mock them, poorly manage them, whatever they can so they feel superior to those around them. They are also dealing with their own vulnerabilities that affects how they see and treat other people, so I get that this behaviour comes from that sense of insecurity/instability. That does not make them not bullies, unfortunately. That's why Jenna was so brash when she was talking to Adam about putting Glenn in his place and so quiet when she was alone. She didn't have that negative and supportive energy reflecting back her own opinion.
See, Jenna, maybe you didn't notice the service was lacking because you weren't very involved when it wasn't meal time. The guests were happy because your team stepped up and filled the giant void you left when you decided that chilling with Adam and hanging out in the galley was more important than their wine refills.
Madison and Georgia discuss the issue in the laundry room, Captain Glenn takes Jenna into his office for a chat and that's where we leave it for today. Dun dun DUNNNN!! Until next time, when Captain Glenn and crew suspect a guest of bringing drugs aship and Chris gets bad news about his back. Cheers!