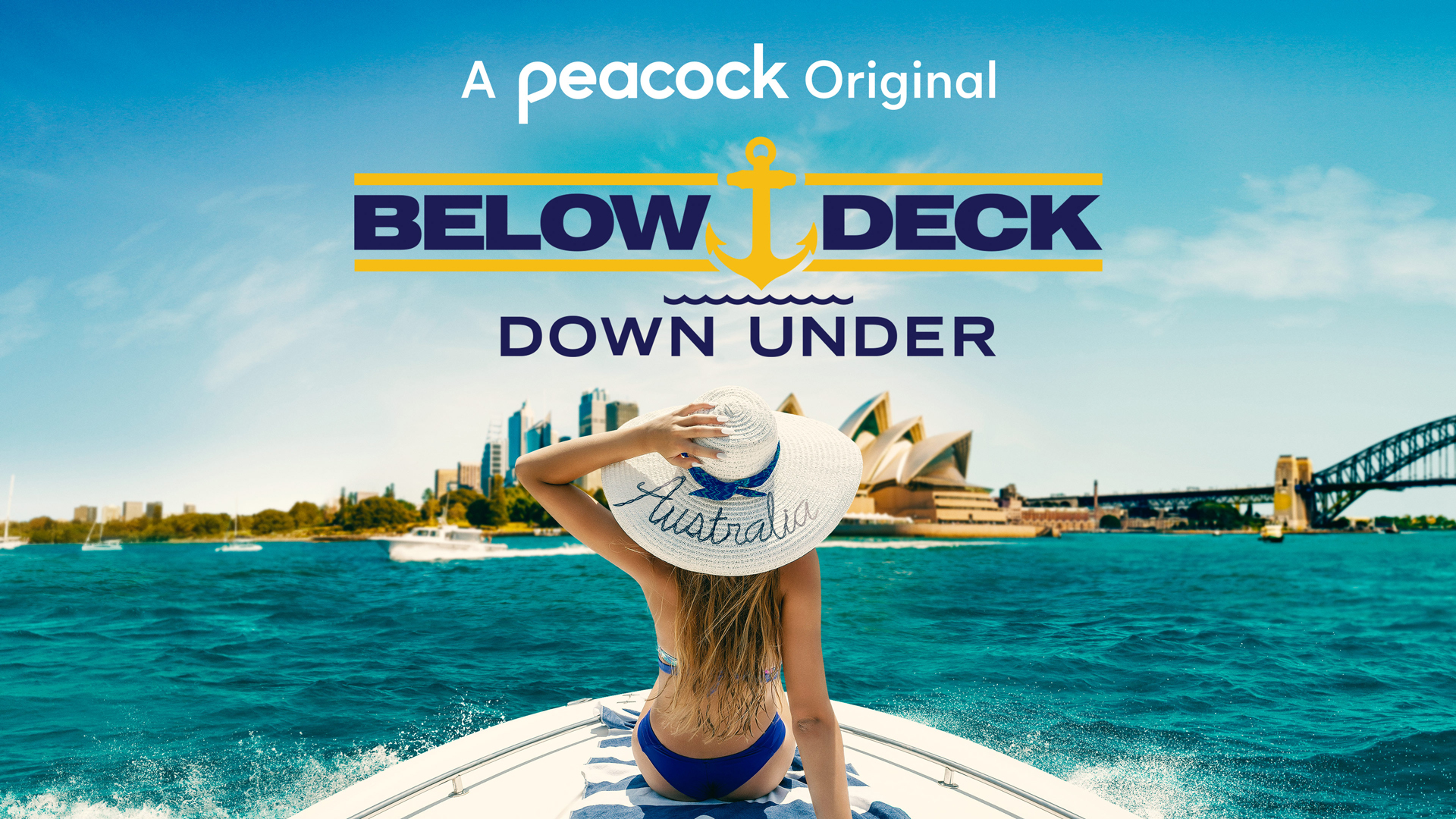 Hello! Can you believe there's another Below Deck franchise airing at the same time as its most recent incarnation? ME NEITHER! Welcome to Below Deck Down Under, because Bravo wants all of our Mondays. ALL! Take it!! I love that Aesha Scott is helming this version of the Below Deck series; she's always been a favourite of mine. Let's get right into it with my recap of Below Deck Down Under S1:E01 G'Day Mate!
We open with a beautiful montage of the Great Barrier Reef off Australia then we're straight into the drama of young, oft-intoxicated people working together under high pressure in close quarters. I love that Aesha Scott is the one in charge here; I bet she makes a great chief steward! (The chef looks like a d-word that doesn't bark)
Who else is on board? We've got super hot Captain Jason Chambers, obnoxious chef Ryan McKeown,  stewards Magda Ziomek and Tumi Mhlongo, deckhands Benny Crawley, Brittini Burton and Culver Bradbury and our bosun is Jamie Sayed.
Captain Jason is on board when Aesha arrives; she's the first of the crew and she's too late! Captain Jason has already washed down the boat a day before, by himself and shirtless. He's super cute when he's not talking.
Bosun Jamie is almost Captain Jason's twin, he's 36 and ready to get things done in his first role as a bosun. Other people trickle in, I love how friendly Aesha and Ryan are at the beginning since the previews show them fighting non-stop for the whole season. Aesha probably doesn't show Ryan what he thinks is the right level of respect and perhaps she believes she's showing him exactly as much as he deserves.
He's from the East coast of the US and thinks that means he's tough and has a good bs-meter. Okay.
The stewards greet each other with much hugging and high voices; see, I would be terrible at picking out models. Magda from Poland came from modeling (cut to basically just shots of her bum plus sunsets?) but I 100% would have thought the gorgeous Tumi from South Africa was a model long before Magda.
There's a mini-deckie meet on deck, young Benny and the fresh-faced Brittini are excited to meet generic Culver. Jamie takes his team through the galley to choose rooms.
Captain Jason calls everyone to the salon for the first crew meeting, but none of the women are listening because again: super hot. He calls himself more of a big brother than a captain and however you wanna play that, sir.
We meet the slightly less photogenic off-camera crew (hai Xavier, Tim and Bastien!) then everyone heads to their various departments to get ready for charter!
Aesha takes Ryan aside for a chat about how he works, you can actually see all the red flags right up front. He appears to think the guests are there to eat at HIS convenience. I get that good food can't be created out of thin air but it's Not About You.
Jamie is leading a deck crew for the first time but he's not new to being in charge or hierarchical rules-driven military-adjacent organizations. He's been a trainer in the police and also a topless waiter.
You can totally see at least half of why Bravo chose him.
Oooooooh first kind of boat tour and there's a huge gym on board! Yay!
Aesha gives Tumi the second steward title, Magda seems okay with being confined to life below deck in the laundry but we'll see.
Magda and Tumi gossip about the boys on boat: 100% all about Captain Jason. Magda has been dating her soulmate for 5 months; Tumi laughs at that but we all have to start somewhere, don't we? We aren't born dating our soulmates for 20 years!
That would be weird.
Benny and Brittini share a little bit; Benny is in a world of hurt. He lost both parents recently within 6 months of each other; he still can't talk about it. He wants to be out among people but I wonder if he's quite ready.
It's time for our first Preference Sheet Meeting of Below Deck Down Under! Who's our very first charter guest? Primary Charlie Gambino is probably not at all connected but he does have a lot of very attractive young friends traveling with him. One is Nicki Maroney but I couldn't catch any other names booooooo.
Oooh Ryan may be a problem later but I like how he organizes his fridges and freezers!! All the organization...droool.
We've got a new wrinkle for Captain Jason and Jamie; they have to watch the tide tables every closely as they only have a foot of clearance once the tide goes out.
Or something, I don't know but it sounded bad! Hitting the bottom or something?
Captain Jason irons his own shirts...
Awwww and we get to see his little daughter Saskia! She's so cute, only 6 and in the Philippines. He hasn't been able to see her for over a year and I can't even imagine.
Tumi got into yachting by advertising table settings on Instagram, Aesha is ECSTATIC she won't have to make fancy table decor. Aesha is also super happy to see Captain Jason wiping down a table at the last minute; he's very detail oriented.
I love how she thinks that somehow will be a good thing for her. It will not.
It's already guest arrival! Welcome first guests!
They look obnoxious. And very young.
But look at the BOAT! The superyacht Thalassa is so pretty!
Not pretty: Ryan's food. Giant Alaskan King Crab and giant prawns and ick. I'm sure it tastes great but these guests are all dressed in high fashion and tearing about the food with their hands is...not awesome.
Neither is the bow thruster breaking before they even leave the marina; we get a confusing montage of Captain Jason driving a superyacht into a restaurant and being interviewed by the news. What. How is he driving again?
Jamie finds Brittini and Benny standing around visiting and directs them inside to help with literally anything; I'm worried about Magda's 'chill ' work ethic. I think she thinks she's just there to look good.
Has she seen Tumi??
The deck crew works hard to fix the Thalassa; Captain Jason lets Primary Charlie know about the mechanical issue; at least they can use jetskis. And film TikTok dance videos.
Magda has dropped approximately 487 wine glasses today.
Benny hops on the back of a guest jetski; erm that's not okay. Jamie AND Captain Jason radio him over and over; Jamie hasn't noticed Ben's location yet. Jamie's in the middle of explaining to Culver and Brittini that they need to do more when he spies Benny swinging by on the back of a jetski.
Ryan plates dinner as the guests dress in their Greek toga best; Tumi has outdone herself with her room decor. It's just very busy, lots of stuff everywhere. Giving me hives. The guests love the Tomahawk-style steak, the deckhands love eating leftovers in the galley while their boss is outside cleaning the deck.
Jamie takes Benny aside to tell him to do more; Benny clapping back in Interview isn't going to make him any friends. I don't love a whiny non-worker.
Finally, at 7:15 the Thalassa is ready to roll; Captain Jason gives us a rundown of the risks he's taking in trying to save this charter. Will he make it out of the marina? Jamie wouldn't even try in this low water. There are literally only 10 minutes from low tide. With five minutes left they lose communication and...we're out for tonight!
Well! What did you think? I liked seeing Aesha again, of course and the guests were even fine and honestly, after we got the third franchise they all blurred a bit, didn't they? Until next time, everyone, cheers!