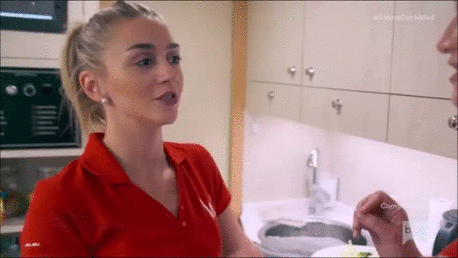 Hi! It's time for our boozy shenanigans on Below Deck Mediterranean, who's with me?? We're still on charter aboard a super huge yacht with Captain Sandy Yawn, already we've got trouble within the Interior crew. Already! Let's roll into Below Deck Med S5:E02 Can't Touch This recap after the break.
We left off last time in the middle of a fight between chief steward Hannah Ferrier and her second steward Lara Flumiani, who she would like to just LISTEN, PLEASE. Lara prefers to talk. It's going suuuuper well.
Hannah is not a woman who can hold her temper, Lara is not one to show a reaction so things escalate very quickly. Hannah storms off then returns a moment later to tell Lara that her shift time has changed for the third time in less that 12 hours. Lara points this out, she must not understand how hierarchy works.
In case anyone missed the Hierarchy Breakdown on Below Deck Sailing Yacht, here it is again:
Hierarchy means:
I'm your superior, do what I tell you
Do what I don't tell you
Do what I'm thinking I should tell you but I didn't but you should know it because when I was learning, people were really shitty to me so I learned stuff on my own like you should because it's TRADITION not abusive
Do it again
Do it better
Do it then go to sleep right now because I want you up first thing in the morning so I don't have to work with you
Do what I said under my breath, then do what I said after that even though it contradicted the profanity-laden thing before that
Don't talk back
Ever
Primary Charter Guest Chris Harris and his baby sister are up playing…rock, paper, scissors? I think? He's kind of fratbro hot and pretty chill, they got lucky.
The deck crew is all getting along so far under bosun Malia White. There's The Unit, aka Pete Hunziker who is exactly what you'd expect including the fact that he calls Malia 'sweetheart' when she's giving him direction. Affable dude Alex Radcliffe and quiet model Rob Westergaard round out the group.
Malia's dating another chef (remember when she dated Adam Glick? It's burned in my brain too), hopefully this one isn't an arsehole with rage issues.
Pete brought his dead dog's ashes with him, OKAY. Everything is totally normal. Pete and Alex laugh hysterically over this, if one or both of them aren't high, I'll eat your hat.
In the galley Hannah complains about Lara to her third steward Jessica More and chef Hindrigo Lorran who we call Kiko. Kiko can not be fussed to get involved, he's just here to cook, fanks! Hannah's just happy she has someone she can stick on service while she's punishing Lara with cabin cleaning.
Everyone goes to bed for 3 am, except Alex who switches out with Rob on anchor watch.
It's an early morning for the crew, the second day of charter starts at 5:45 am. Captain Sandy Yawn calls the galley for fresh-squeezed orange juice at 8 am, Jessica is on it!
This is somehow related to her being one quarter Japanese, I'll let you know when I figure out the connection.
Kiko knows his crowd, he's making "American fluffy pancakes" to make the guests happy, awwww. If he really knew his Americans, he'd be weaving a bacon blanket right now, wouldn't he?
Lara gave the guests food, but then didn't ask them about egg orders then tells Kiko nobody is eating when she literally just sat four guys with a plate of fluffy American pancakes. Lara argues with.herself as to whether or not she argues a lot, girl. Just. Go get some egg orders.
She does, but Kiko doesn't understand 'over easy' which I don't understand but which Lara did NOT need to be rude about to Kiko. Kiko's like a tall, skinny puppy who just wants to cook great food for people. Why would you kick that puppy, Lara??
Jessica jumps in to explain, it's just fried soft, Kiko, it's okay.
(How does a chef not know what over easy eggs means?)
Kiko cooks the eggs, hands them to Lara, who decides to finish drying cutlery first. In the other room. Kiko is flustered, eventually asking Jessica. Eggs get cold fast.
Is Lara…trying…to get fired? She's being like cartoon supervillain bad at her job right now.
Lara comes back in and tells Jessica to clean the cabins, since she's on breakfast. Jessica corrects her; they're both on breakfast so Lara points to the list and asks if she can read.
This is day two of the whole season, you guys. This is a marathon, not a sprint, you gotta spread the shittalking out over six weeks.
Jessica was directed by Hannah to stick to service instead of cabins, so she suggests that's what she does, but Lara must be thinking she's in charge right now so she argues.
You know that person who always argues and is always right and can't figure out why there's always a problem at every single job they go to?
Wow what? We get a really surprising backstory from Rob, for one thing, he's South African. I have heard not one single word he's said all along, let alone an accent. Anyway, he was helping smuggle drugs? To pay for his mom to go to Rehab? He knows this is filmed, right? Ah and his mom didn't make it, she died almost a decade ago from liver failure. Some alcoholics can't make it through, addiction is a BEAST.
Hannah gets up for her shift at 11, Kiko takes her aside immediately. Maybe they could keep service to just him, Jessica and Hannah? Thanks!
Primary Chris comes down to the galley to ask for some Smirnoff Ices, awww, I remember those! They play a drinking game with them, hiding them in stuff, when you see one you have to chug the whole thing. Man. Chugging vodka and lemonade is a young person's game, bring out the Mike's Hard Lemonade!
*I. I rue the days of Mike's Hard Lemonade. All several hundred of them.
Malia and her crew set up the water toys, Captain Sandy coming by to lend a hand as Hannah asks for breakfast debrief from Jessica.
Primary Chris and his best friend Chuck Wang head out on water skis, Jessica hides a bunch of Smirnoff Ices in and around deck then returns to the galley where Alex asks Kiko if the sink has a processor, you know, a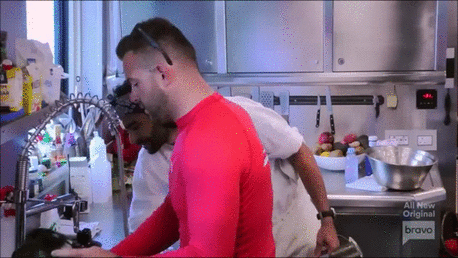 By the time he tells Kiko to call him "Masturbator, Masturbator" on the radio I think Alex has forgotten how to breathe.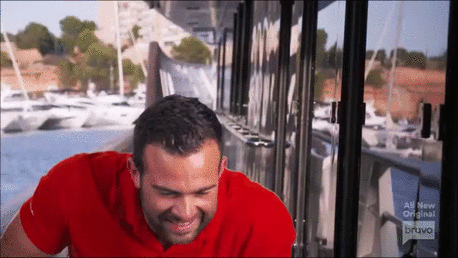 Hannah asked Lara to see how much water is stored in the aft deck, but Lara didn't know how to find that so Hannah has to go anyway, pointing at the fridge saying "here's where I'm going to store your body." When Lara asks for clarity, Hannah indicates that it's just through there but Lara doesn't know how to go through there to find the fridge. She turns and leaves, Hannah yelling "EXCUSE ME" after her.
The next couple of hours is a blur of guests on water toys, Kiko making paella with excruciating slowness and hungry guests wondering when lunch will be served. Kiko is a full hour behind right now, nobody's happy.
Even more drama below deck when Hannah asks Lara to go work on cabins and leave cleaning up the crew mess. Hannah has been pushed almost beyond endurance.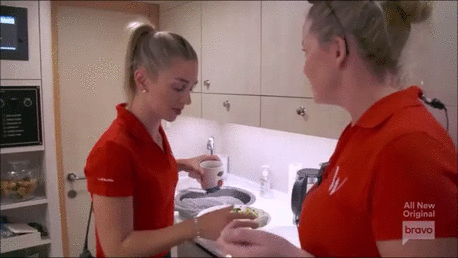 Lara knows exactly what she's doing.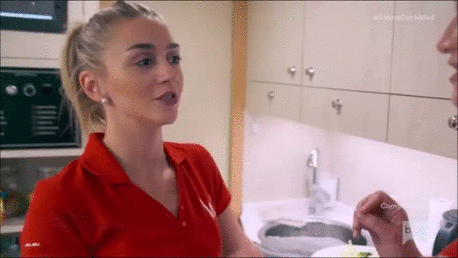 Pete is listening to everything from his cabin, of course he calls it a catfight. Dickhead.
Malia is a new boss so she's doing something unfortunate, she's asking one of her crew if she's doing a good job leading them. Alex says sure, he seems like a pretty chill dude, and doesn't really answer when she asks about Pete. That's…not a good choice. I think Alex is cool, but you need to figure out how to manage Pete yourself.
Another run-in with Hannah and Lara in the laundry room, I am just waiting for Hannah to go to the bridge and ask Captain Sandy if she can fire Lara. There's just no way this is going to work.
Wooo the slide it out, yay! The guests are all in the water now, Captain Sandy will be joining them for supper later. It's also Primary Chris's sister's birthday, so she'll be sharing in the carrot cake birthday cake.
She gets Iced!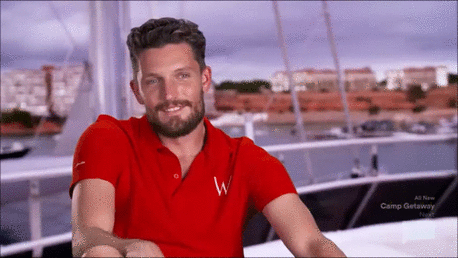 Like. He's model cute and all, but I'm just not picking up a personality there. Or a pulse.
Time for supper! Hannah and Jessica work on the table, their setting isn't bad! Lara is silent. Lara is scary. Lara could be the kind of person who stabs you in your sleep then wakes you up to explain how it's your fault. Then slaps you.
Kiko forgot that Captain Sandy would be joining the guests for supper, so they're one short at the dinner table in.front.of.Captain.Sandy. She even reminded him in the afternoon!
On to the next course, which is steak to be cut with butter knives…because the table isn't set properly. Captain Sandy maybe yells at Kiko for the steak being tough, but then she calls him on the radio in front of everyone to tell him they're actually awesome once she has a steak knife to cut it with.
Look how pretty the cake is!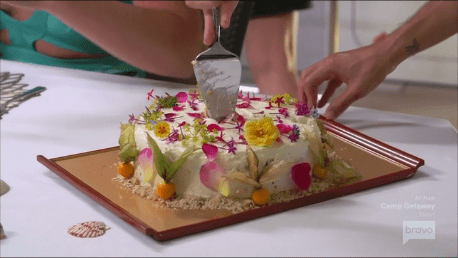 The crew gives guest Jessica a flower bouquet filled with Smirnoff Ice, Jessica shotguns them because she has a college degree.
The guests head to bed early, it's 12:30 am and the whole boat is quiet. Even on the bridge where Rob is on anchor watch and texting his partner in an open relationship. He didn't ask for the open, he doesn't like it! I heard that a lot last year when I was dating, men couldn't understand why so many women were in polyamorous relationships, they just wanted to date one person – that one!
Malia and Pete get into it a little bit in front of Alex, I don't think Pete understands that he's undermining Malia's authority. She takes him aside for a chat, if he messes around like that, he's not going to be her lead deckhand, capiche?
Malia leads a complicated docking for Captain Sandy, she did it! Wooo! Lara tries to talk to Hannah but let's do that after the guests are gone, yeah? Primary Chris gives a nice speech, I've just figured out who one of the guests looks like! Abbi Murphy from Below Deck!
Captain Sandy calls everyone to the main salon for our first tip meeting of the season, woooo! It's…what's my guess…$18,000 USD! Locking it in.
First Captain Sandy wants to congratulate everyone, fine, fine, good job Hannah and Malia, sure, show us the tip! Whaaaat it's $18,000 oh but in Euros, which is more. $1500 euros each, wow, yay! That's a good bar to set for the season!
After the tip meeting, Hannah finally talks to Captain Sandy about Lara, Captain Sandy would like to see Hannah turn that around. Wow. Even with the gross insubordination. Hannah doesn't tell her that, though, and agrees she'll try to make things work with Lara with a do-over.
To her credit, Hannah does try to have a calm conversation with Lara, but it starts by Lara telling Hannah she started half an hour late this morning because Hannah pissed her off. So. Hannah goes to get Captain Sandy, literally dragging her out of the crew mess and we're out! Until next time! Cheers.