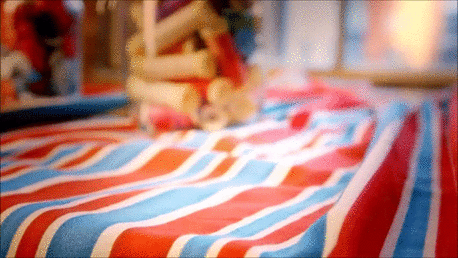 Hello! Look! I found a new show (with help)! AND the Great British Sewing Bee is like GBBO so I couldn't be happier. Most of what I recap these days is a choice of English, Irish or Canadian murder, I am ecstatic to have another lovely show with nice people helping each other hem things. Join me as I dive into the GBSB S6:E01 Wardrobe Staples recap after the break!
Host Joe Lycett opens by introducing our two judges Esme Young and Patrick Grant.
Full disclosure: I know nothing about this show other than it has opening credits eerily similar to the Great British Baking Show and features people making clothing in short periods of time. I may ask a lot of questions.
*I am a terrible, terrible sewer. I can manage repairs but small machines and I do not see eye to eye. See also: bandsaw machines.
First Pattern challenge! Esme hands out the patterns, the sewers are to make a wrap skirt, wrapping in the front with two buttons and two loops. Fabric choice is up to the sewer, think weight and ease of use, everyone!
Esme and Patrick go over the skirt in more detail, cautioning against stretchy fabric, which would lead to a wobbly seam and difficult fit. There are six pieces to be made in three hours, to the fabric wall!
The judges walk around for a check, Patrick and Esme stop first to talk to Hazel and I'm very sorry, but I can't find last names anywhere. Hazel is a charity worker and is using a colourful animal print that in no way makes me want to barf.
She started to sew again after feeling as though she'd lost her sense of who she was after having a child. I hear you, sister.
Professional dancer Alex is next for a chitchat, his workstation is a mess due to his speed so Patrick starts straightening his scraps.
I think Patrick and I would get along just fine.
Punk-y, alt-y Liz is worried she's taking too long to cut out her pattern pieces, but you don't really want to hack at those, do you? Her fabric choice is quite busy, but host Joe likes it, it looks like tattoos. He doesn't have any tattoos, neither do I! Now I know of three people in this whole world without one!
*I used to think it was some sort of badge of honour, keeping my skin clear for new freckles every year, but I've since come to think that it's just another sign of inaction, of indecisiveness. Even a bad tattoo is at least making a choice.
Fashion rebel Peter from Brighton is using a fabric that speaks to him, and as it has a face with lips and everything: it's possible he means that literally. He is a Vivienne Westwood aficionado and wears a sewing fez that he allows Joe to don.
Jewelry maker Nicole is using a gold metallic fabric that makes the judges wince. It's got stretch and is super lightweight. She didn't do a test sewing on it. Patrick makes sure so he can feel fine about sending her home later for it. I'm kidding, but for reals, she's going to be up against it once she starts sewing.
Sewers are heading for their machines, time for first stitches! Nicole runs into trouble almost immediately.
Ah but I love Angillia's fabric, it's in a really restful shade of blue linen with sprigs of something on it.
Disaster strikes Liz as she starts attaching pieces, she's got her right front attached to her left side. She unpicks as we meet Fiona, who is using the same paisley fabric as Therese.
Did they not see that someone else had chosen the same fabric? How will they know it's theirs?
Therese is all charm and self deprecation.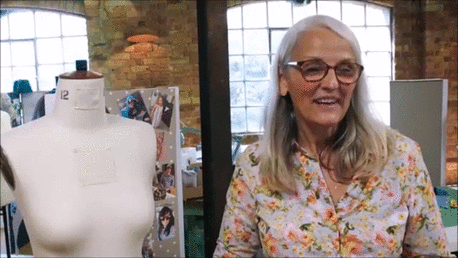 Thirty minutes out and everyone is working on their rouleau loops that have to be sewn, then turned inside out. Hazel is remaking hers with only 10 minutes to spare.
Angillia doesn't have buttons on, I love that Joe runs over and grabs her two packets of them from the wall.
*As a child, I once spent my whole allowance on four jars of buttons, I still can't ever bring myself to throw any away. There's a feeling of richness to having so many things.
30 seconds!
And time! Our first judging of the season starts with Peter and his skirt full of faces.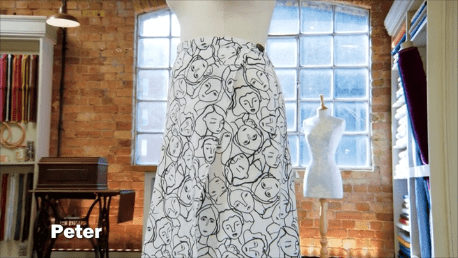 He gets an "absolutely smashing" after the judges enjoy some fart jokes.
On to Mark! He's also used paisley, you can for sure tell we're in the UK ifyouknowwhatImean.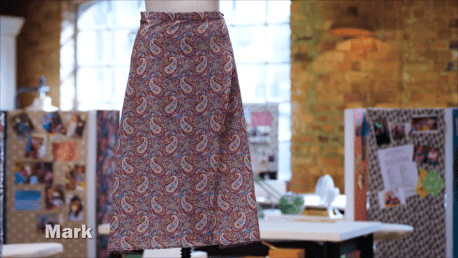 Therese is first in the Battle of The Blue Paisley Wrap Skirts, she's done a great job and they love the fabric.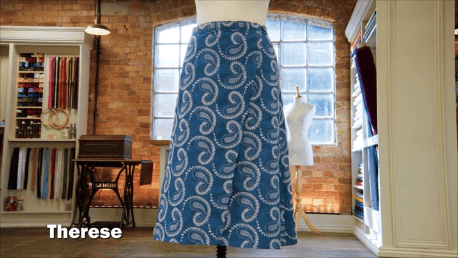 Do they like it as much the second time 'round? Sure they do, Fiona!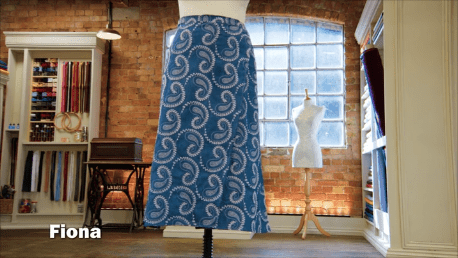 Matt didn't anchor his buttons properly and I loathe his fabric. I know that sort of material is out there, I just don't know why you'd choose it on purpose.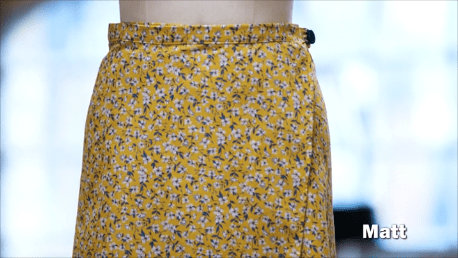 There's one big mistake here that you could call a style choice; Alex wrapped his skirt the other way.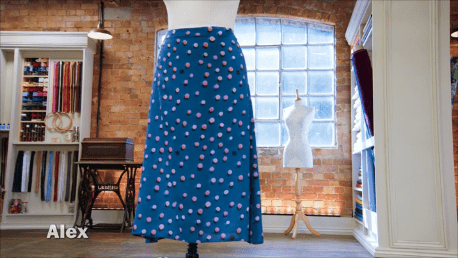 Ali's skirt is quite pretty.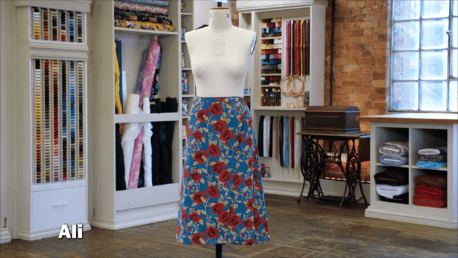 Oh Angillia, you needed to steam this.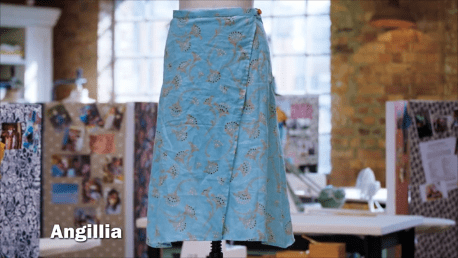 I don't like Liz's skirt material whatsoever but Esme adores it, it's just like Liz! Liz looks very crisp to me, this busy whatsit hurts my eyes. She also sliced her rouleau loop.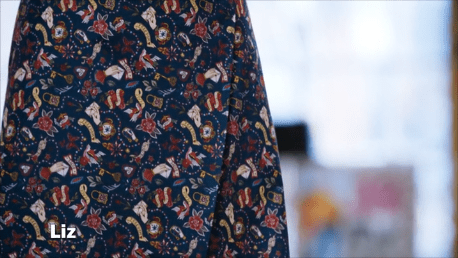 Clare has a meandering hem.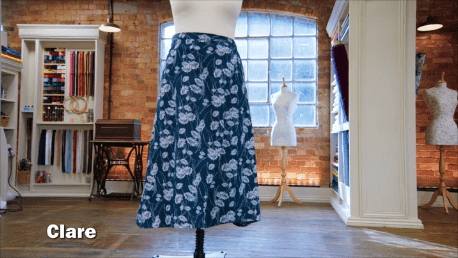 Heeeey, Hazel's loud animal print is actually cute here!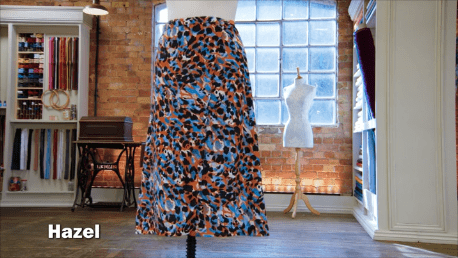 Nicole's stretchy, puckery material has led her astray.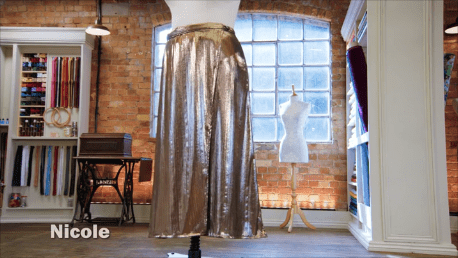 She still likes it, but it's just such a dated look, which is not bad for a wrap skirt, izzit?
All the skirts ranked from worst to least worst:
12th place – Nicole
11th place – Hazel
10th place – Alex
9th place – Clare
8th place – Matt
7th place – Angillia
6th place – Liz
5th place – Mark
4th place – Fiona
3rd place – Ali
2nd place – Therese
and Peter is the first Great British Sewing Bee Pattern Challenge winner of season 6!
After a group lunch on a busy patio, we're back for the Transformation Challenge, where the sewers will make over a man's office shirt into something fabulous. Specifically: a single woman's wearable garment. It's a blind-judging challenge, so the judges leave instead of offering assistance tableside.
They choose two shirts of varying colours, let's see what everyone comes up with!
Some of the sewtestants are leery of this challenge, but this is right up Matt's alley. He's been designing drag costumes for his partner and friends for years, he feels right at home chopping things up and making them look much, much sparklier.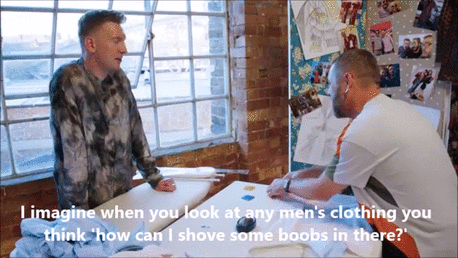 Clare has done some transforming in the past, her esthetic can be summed up in one sentence.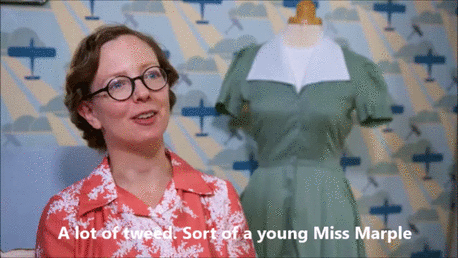 I adore her just for that, but I have to point out that the elderly Miss Marple wears only black with lace featuring prominently. Maybe toss it in on a cuff or something. She's making a halter sundress of some variety.
For something completely opposite, Liz is making a bustier with no hints of Miss Marple. I hope she has boning! That's very important with bustiers.
Alex is going back to his roots to pleat a kilt. Mark is an actual banker and wears these shirts literally every week day, except for the occasional casual Friday where he can sneak in a personal design. This is probably like therapy for Mark, let's deconstruct that shirt for you!
Ali's a paramedic with a sense of humour, you'd certainly need something to wade through all that emotional scourge, wouldn't you?
Oh. Well. I've been calling it The Bit On The Side, but apparently it's The Haberdashery and everyone looooves it. I'd also love somewhere with tidily stored sequins and feather boas, no tea or shade from me.
Nicole is using a full wad of mismatching trim.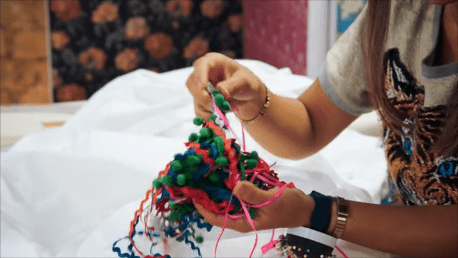 Oh. Oh no no no. Dingle balls around a van's windshield, sure. Around the hem of your skirt and not even in a cute colour?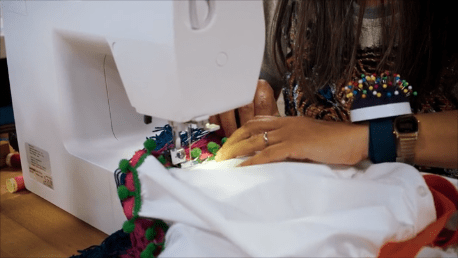 Hazel uses a fork to make her pleats and I legit thought that's what pins were for?
Peter has just slapped the arms everywhere, calling it a dress.
Angillia is more traditional, she's making a…shirt out of a shirt.
Problems are popping up all over the workroom, Joe helps Mark pull his dress up and a huge rip appears right in the middle where it can't be mended. Alex has again done something backwards and has sewn his zipper on the wrong side. 3 minutes to go!
Mark cheats just a tiny bit, trying to pin up the centre after time has been called.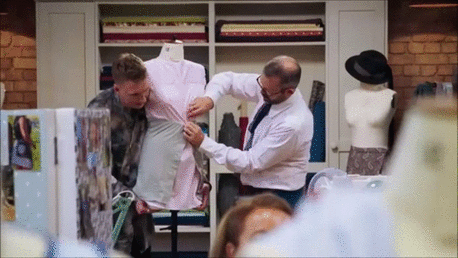 They're ready for judging! Well. Sort of.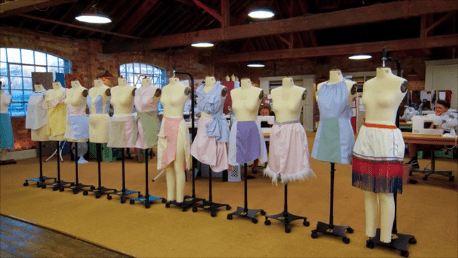 Nicole's skirt is first up, they like all the tacky trim, it's quite effective!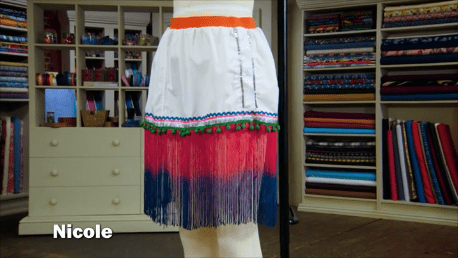 Now Clare's, which has a lot of clever detail.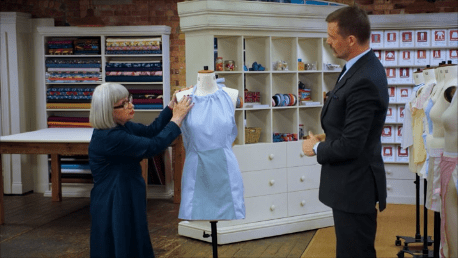 I quite like Therese's new shirt made out of old shirts and so do the judges.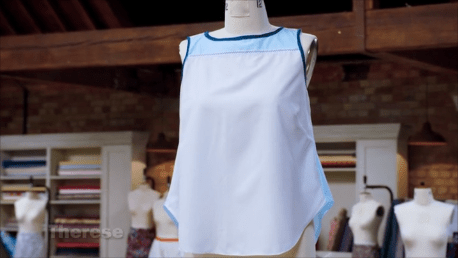 Ali's miniskirt fares equally well, 'it's a lot of sewing' in not a lot of time.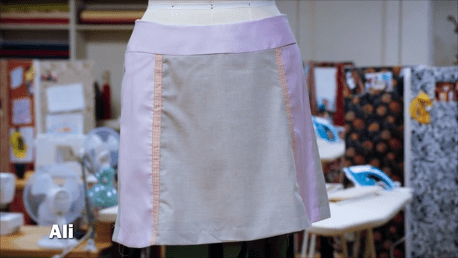 I'm not sure about Liz's bustier, there doesn't appear to be any boning. Patrick calls it effective because he doesn't have breasts.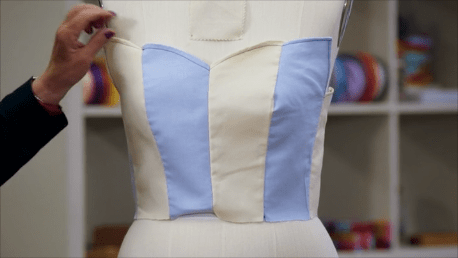 Matt's skirt intrigues the judges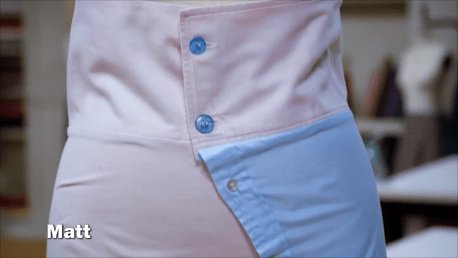 While I flat out hate Fiona's, sorry, love.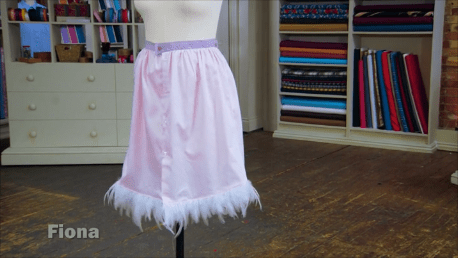 Huh. I like Peter's so much more than I expected to.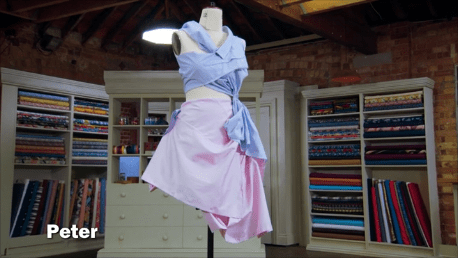 I can't get a good shot of Hazel's skirt, but here are the colours, anyway.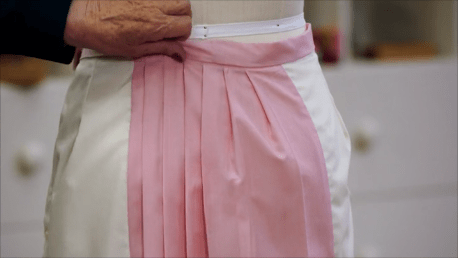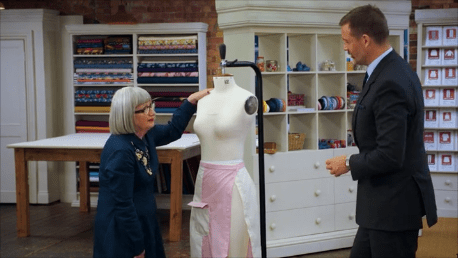 Wow. Alex. You're…in trouble, mate.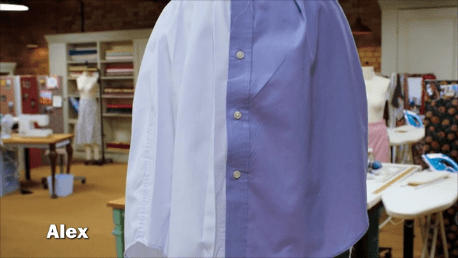 And so is Angillia. This is an unfortunate effort.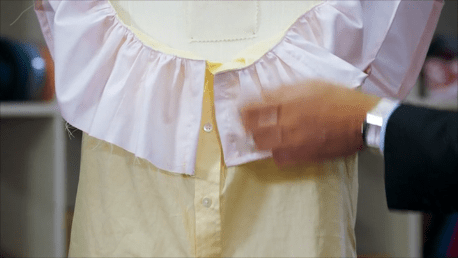 Ah Mark's broken dress reveals the true problem with his design, he didn't give a way for a person to put the minidress ON.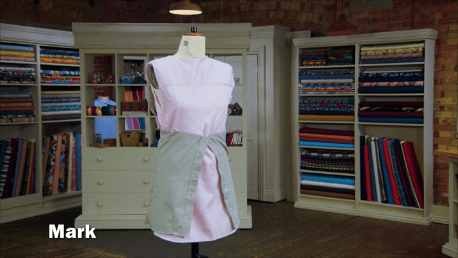 I guess if you're not used to making clothes for other people or other genders, you might not know that they're not made of silly putty and need actual openings.
Now the ranking!
12th place – Angillia
11th place – Mark
10th place – Fiona
9th place – Alex
8th place – Therese
7th place – Ali
6th place – Hazel
5th place – Liz
4th place – Matt
3rd place – Clare
2nd place – Nicole – from last to second!
and Peter is the first Great British Sewing Bee Transformation Challenge winner of season 6! That's back to back challenges for him.
Day 1 is done! Angillia has a path forward.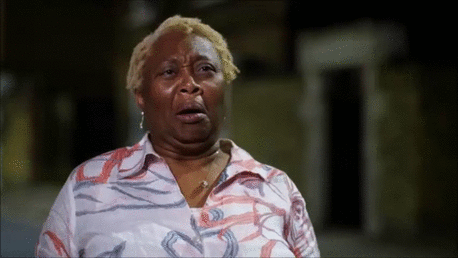 It's the next day, everyone is in the same clothes and it's time for our Made to Measure Challenge! Models abound, what are we making for them today? Since it's wardrobe staples, they're assembling tea dresses and I don't know what that means. Thankfully, there's a vignette describing exactly them, essentially modest, floral and below knee length. Garden parties with the queen, supplies Fiona.
Ahhhh now I know where I remember them from, thanks Liz! They were worn in the 90s with Doc Marten boots and a jean jacket and/or hat.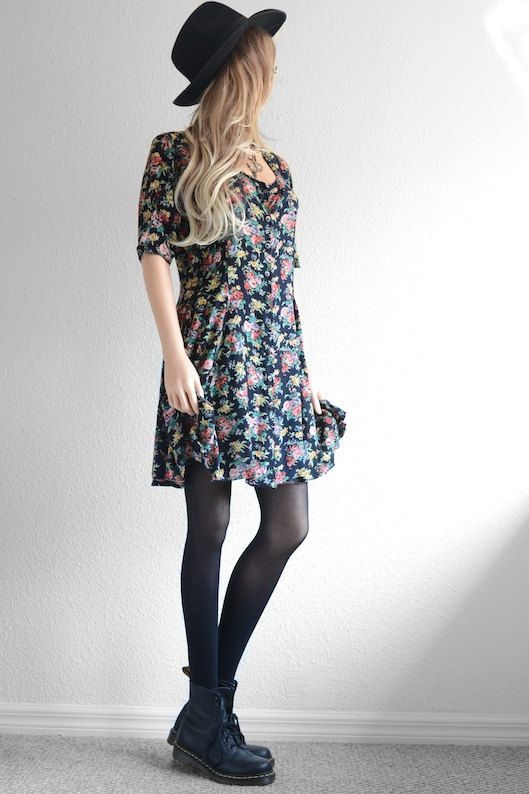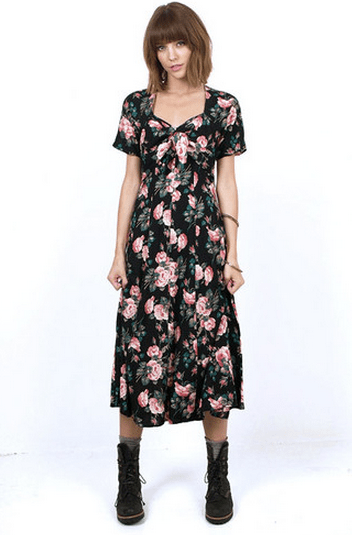 Where were we? Everyone was able to practice making these, making their own patterns and the like, but now they've got real people to adjust to and we'll see how that goes. This is exactly what Matt does, he's not the least bit worried about this challenge although I do wonder at his fabric choice again.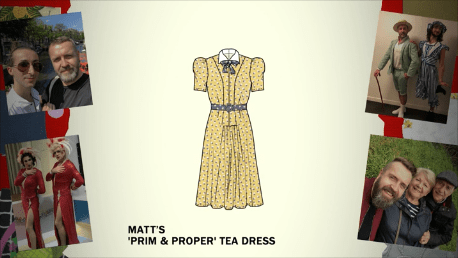 Of course this is right in Clare's Miss Marple wheelhouse, she's all about the 40s.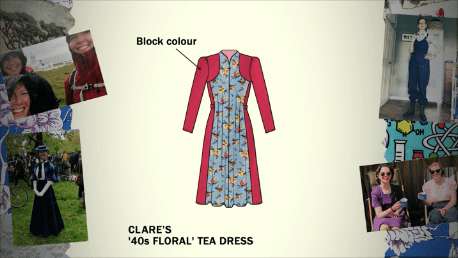 Peter's gone with a 'bonkers print' for his dress, he'll be first or last!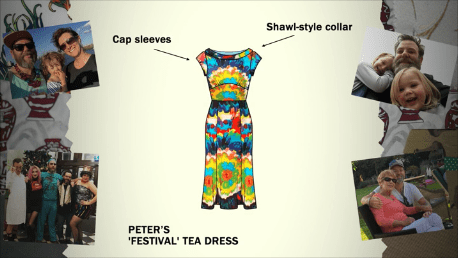 Mark's dress has pockets! POCKETTTTSSSS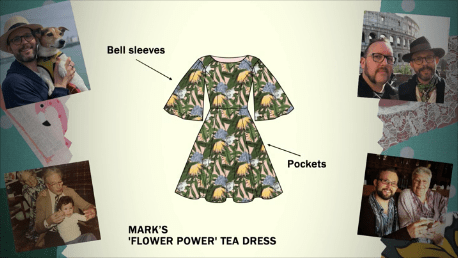 Nicole is adding sparkle to a loud fabric, I'm excited to see how it turns out.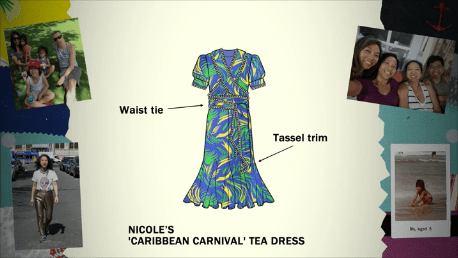 There's only one hour left and Fiona's dress pattern looks amazing.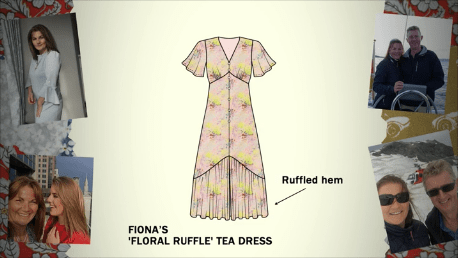 Angillia's dress will have gathering parts as well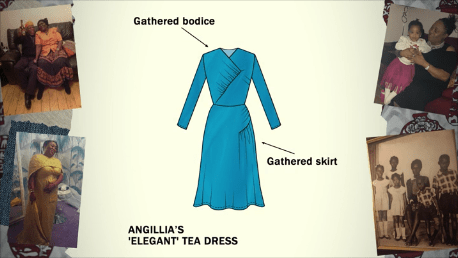 Alex's bouncy fabric might be quite difficult to work with, but he's hoping it's enough to keep him in the Sewing Room.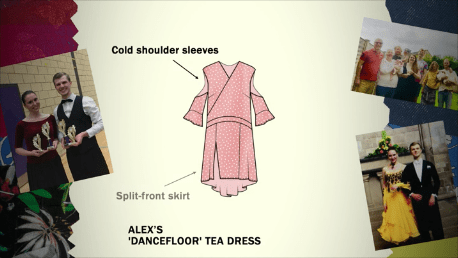 Sewers fit as they go, Ali's has a handkerchief hem.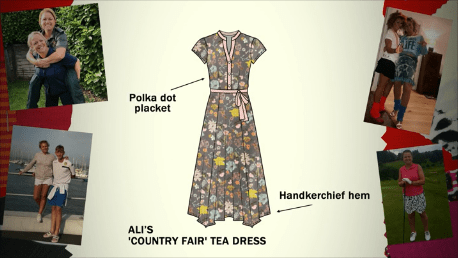 Ahhhh but I love Hazel's outline!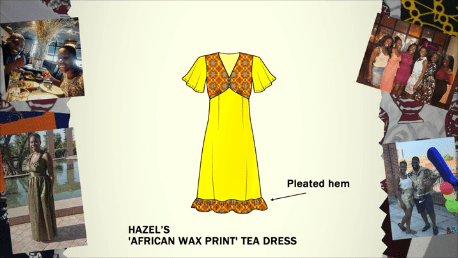 Therese has already shown indications of a signature style, she likes things clean and fitted.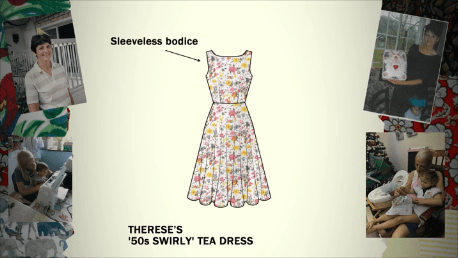 More importantly, she's shown the required skill to execute them.
Liz is making the exact dress I found online, but without flowers.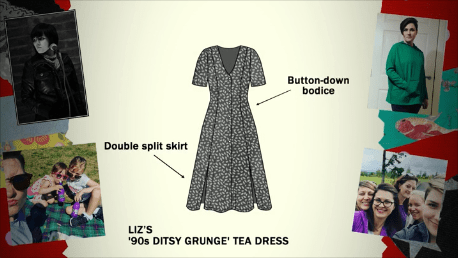 Peter unexpectedly finds himself in trouble, his measurements were not accurate and the dress is too small across the midriff. He'll have to add a panel, he's hoping it won't stick out like a sore thumb, but this is kind of what the judges do. They're also watching from above as he scrambles, there are no secrets here including how much Alex has pulled his material out of shape.
Lots of things left to finish, I think Angillia's main issue is time management. She moves too slowly for the amount of work she has left.
I only saw Therese's for a second, that woman can sew! That looks completely professional, now make me a fitted light blue lace dress, there's a good girl.
Peter's model pops a seam at T-5 minutes, he literally throws his arms up and runs. That's the kind of energy we need, Angillia!
Okay, I called Mark a cheater for pinning after Needles Up was invoked, but here's Liz putting on buttons so maybe that's more of a guideline than a rule.
Time for judging!
Oh wow, Matt's done an awesome job with that dreadful fabric. Patrick calls it 'delicate, bouncy and chic.'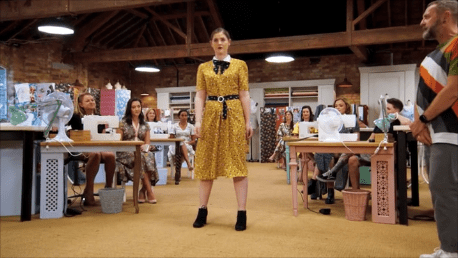 Look at Therese's, honestly. It's perfection. And it's lined, which is what makes it looks like an actual dress.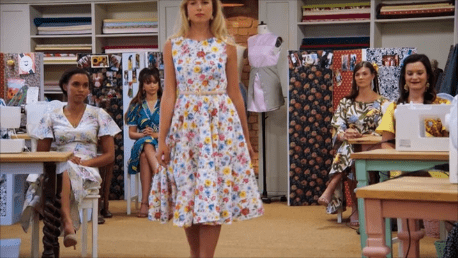 Ali has some lovely design details in her dress but I don't think the tailoring is suited to a handkerchief hem, which you tend to see on more flowy and voluminous material.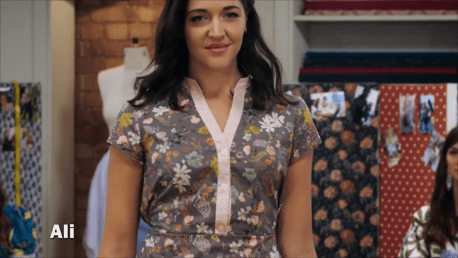 Hazel's dress is a fantastic colour, but it's not fit well, is it?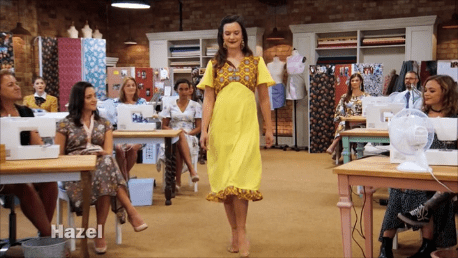 Clare has given us the quintessential 40s tea dress and it's amazing.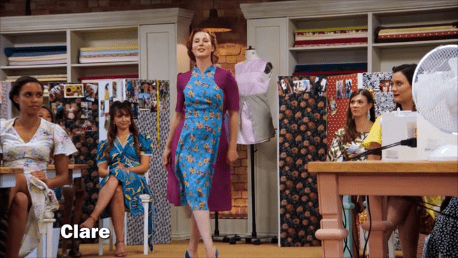 Mark's dress has pockets! Unfortunately an awful lot of fabric too. It overwhelms this poor girl.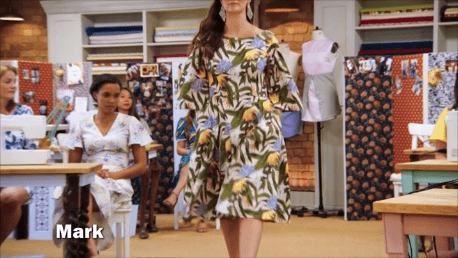 Nicole has done a great tea dress, even if her model seems determined to hide that with a substandard stomp.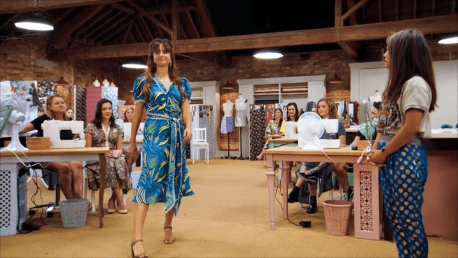 Literally lifted from the 90s, Liz's dress with the two side splits is fantastic, if a boring colour (which was the point back then).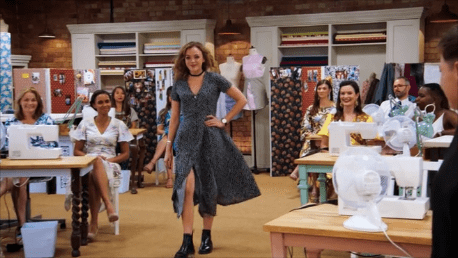 Besides the eye-bleedy fabric, Peter's got a really nice dress for us. I adore the neckline and flowy hem, I didn't even notice the extra panel in the back.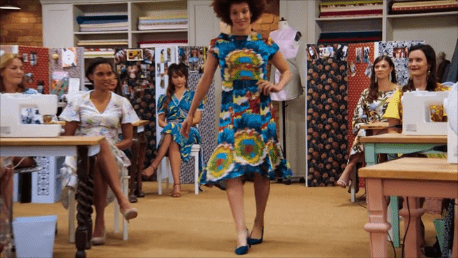 I really like Fiona's dress, but it has some issues on the bottom.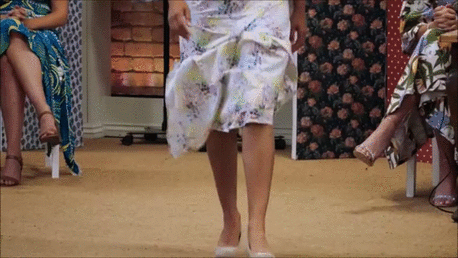 There are some problems with Angillia's finished product, but it's a lovely colour.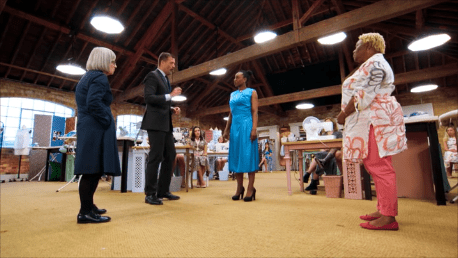 Alex is really the one in trouble today, he and Angillia are on the block, this dress is probably not going to help him.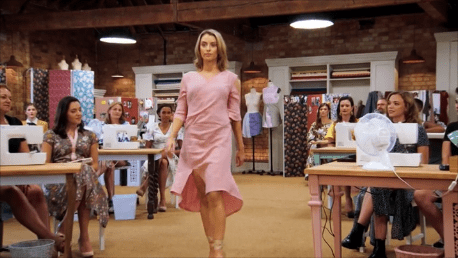 I love the back, it's just a bit of a mishmosh. Esme calls the unfinished sleeves into question, he answers that he meant to do that.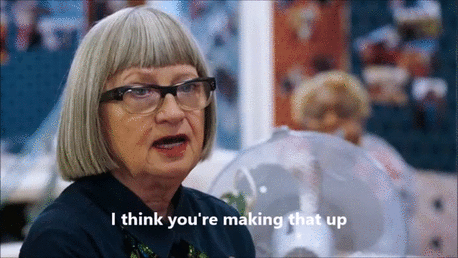 Now it's time to find out who won Garment of the Week and who will be leaving our cozy Sewing Bee.
Always the good news first, Matt wins Garment of the Week with his tea dress!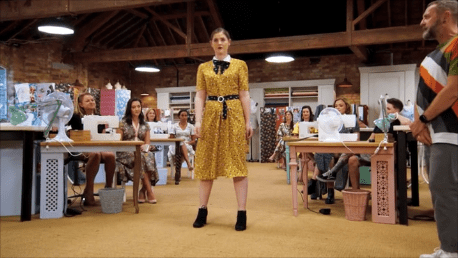 And leaving us will be Angillia, causing us all to sigh. I really thought young Alex would be going, but it's our restful blonde now on her way. It's incredibly hard to get here, Angillia, you're amazing!
Until next time, everyone, cheers!