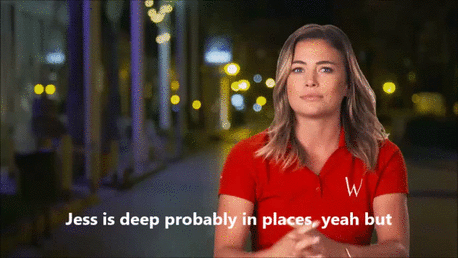 Ahoy, mateys! It's time for a new stew already on Below Deck Mediterranean, whomever could it be?? I could only come up with one name and it ain't Julia, but let's see who Captain Sandy Yawn has in store for chief steward Hannah Ferrier after the break in my Below Deck Med S5:E04 Ace of Stew Face recap!
Even though we're barely four episodes in on Below Deck Med's fifth season, we're already having to replace someone. Lara Flumiani was second stew under Hannah Ferrier and completely the worst. WORST. This is her during a meeting to discuss her attitude.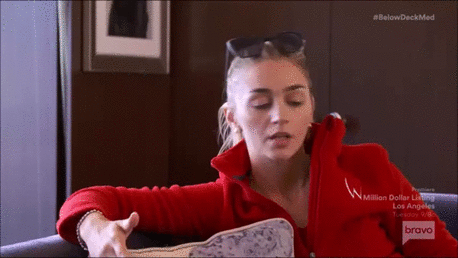 Captain Sandy was willing to allow a reset but Lara decided she didn't want to work like that and she quit, literally 45 minutes before a charter. Lara left behind lead deckhand Pete Hunziker aka The Unit who cried when she left. CRIED.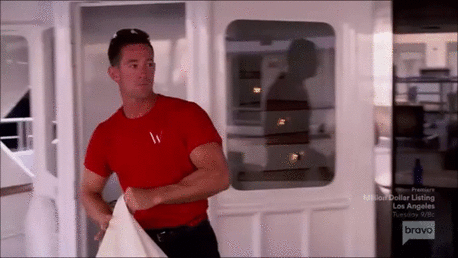 I am all about tearing down toxic masculinity and stereotypes but let's just say I didn't see self-proclaimed "Italian Stallion" Pete leading that particular fight. It was lightning fast to get that attached.
So! We've got a new second stew coming! The only one I could think of was Bugsy, but she and Hannah bumped heads because: Bugsy was a better stew and should only be chief stew on boats.
That's not where we ended last episode, though, we ended with Captain Sandy reading the riot act to the deck crew because Pete keeps calling his boss bosun Malia White "sweetheart" or "sweetie." That's not okay.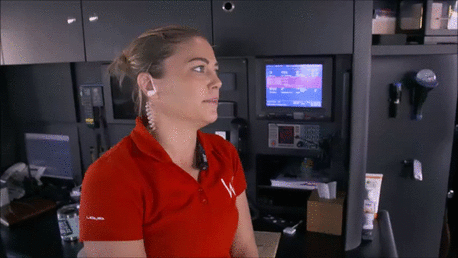 (Maybe Malia should stop asking her crew, especially Alex Radcliffe if she's doing a good job and telling him she doesn't want him to feel like she's his boss. But he's not the one calling her sweetheart, that's 100% The Unit)
Deckhand Rob Westergaard knows exactly what was going on.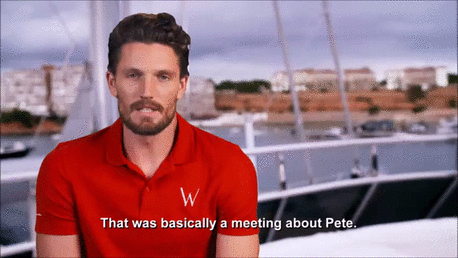 Did I mention we're in the middle of a charter with Primary Charter Guest Roy Orbison Jr. and his family including two adorable little boys? We are!
Hannah organizes a picnic for the guests with Malia, who will be sending crew to help. Third steward Jessica More will be working on cabins. Hannah was sticking pretty close to Jessica when she had to deal with Lara, but now she's reverted to her usual demotivating management style.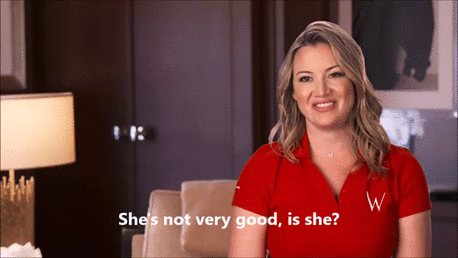 *My pug snores enough for a crew of 6 drunk grown men. For real.
Chef Hindrigo Lorran, or Kiko as we know him, is working his bum off getting food ready for the picnic, he has a HUGE galley. HUGE. It might even be inefficient, how big it is, and when's the last time you had to say that about a boat's kitchen? The Wellington is over 180 square feet, which sounds tiny but is apparently massive.
The guests go on a tour of the La Seu Cathedral in Parma while the deck crew rushes to set up a picnic site. Kiko does not have any experience in making picnic food so the stews are plating charcuterie with their bare dirty hands crouched by a cooler out of sight of the guests.
The weather is a risk today, clouds and wind are gathering. That's not ideal for a picnic, but at least they got the tour done first!
The guests head back to the boat while the deck crew puts away the picnic gear, Malia gets cut by broken glass that Pete threw into a plastic garbage bag.
Back on the boat, we get tiny Roy Orbison III singing Roy Orbison's song "Pretty Woman" which was pretty cute, if totally expected.
It's 4:44 and Hannah sends Jessica for a break until 6 with instructions to wear her black dress with the V on return. Watch that clock, it's going to figure later!
Jessica goes to the crew mess to lay down and flirt with Rob, who's in an open relationship but is trying really hard not to get attached to Jessica.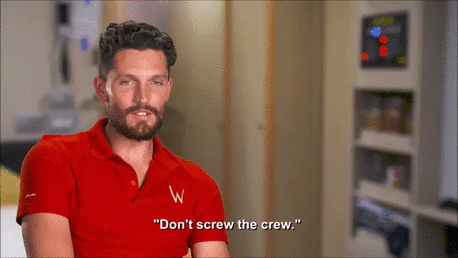 The Orbison kiddos just love Hannah, they're all over her. Rumour has it…Hannah has her own kiddo on the way, yay! Mazel tov!
Lookit how cute Bo Orbison is!!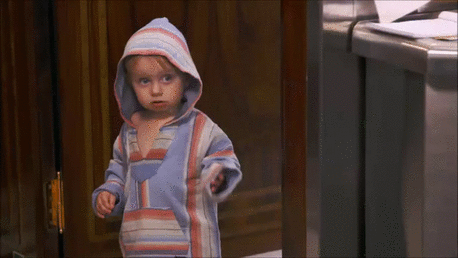 Hannah loses her shite when Jessica is 8 minutes late returning for service, but really, it's that Jessica complains that she only got a 45 minute break when she was gone for 85.
Awww, Pete tells us about his baby boy, he had a scary bout of bacterial meningitis just after his kiddo was born so couldn't hold him right away.
Supper is set for 8:30, Kiko is ready! Unfortunately, the guests don't come down until 9:15. Kiko is serving his signature Brazilian dish again, Captain Sandy wants to know if this particular pony has any more tricks up its chef's jacket. We're going to have to wait to find out!
At least it's not beef cheeks, right?
Ulf Ekberg from Ace of Base is also on board as a guest of the Orbisons, he tells us how he and the band got started. For quite some time, apparently!
Captain Sandy promised the guests she would take off early in the morning so they could try to capitalize on the weather, so it's not even 8 when she sets off. It's still kinda choppy.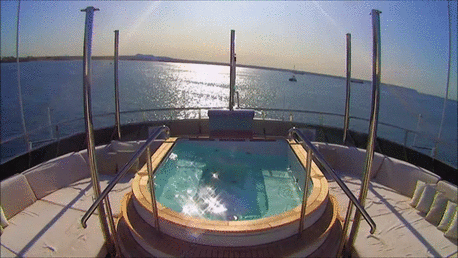 She finds time to yell at Jessica about the state of the laundry room before they leave, though, that's just putting first things first.
Captain Sandy prays to the weather gods for the ocean to calm down and somehow it does! The deck crew are able to put out the water toys and the guests eat breakfast out on deck. It's the last day of charter, get out there!
And they do! Wow, these guys packed a tonne of stuff into their last four hours on this yacht, I can't help but compare them guests on previous seasons who had to be dragged off the boat still loaded drunk and dumped on the dock.
Malia leads a very difficult docking; the wind is pushing the huge yacht around and there's not much wiggle room.
The guests were very happy with their vacation, especially the babysitting, whoop whoop! Let's see that tiiiiiiipppppp.
Wow, so this is what Swedish models wear just walking around.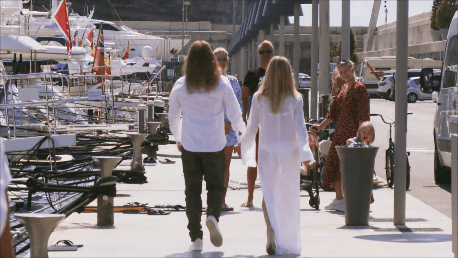 The crew gets to work cleaning the ship, somehow Rob ends up in the master cabin helping Jessica strip sheets off bed, huh. Weird.
Tip Meeting!! Wooooo!! I'm going to guess $20,000 euros because that babysitting was on point. Ohhh I'm close! $21,000 USD which is $19,000 euros and $1845 USD each!
First Captain Sandy tells us who the new/old second stew is: Bugsy!!! Yay!! she's excellent! Technically, she's Christine "Bugsy" Drake but we'll call her Bugsy because of course we will. She's so good! Just didn't get along with Hannah, who was..NOT that good then. But I think Hannah's come a long way in her work ethic, she seems calm and has been working very hard. It will be good for her to get a break.
Hahahaha there is literally no way Hannah is going to see it like that. No chance.
Bugsy has been working as Chief Stew (as she totally should have been), she's only coming as second as a favour to Captain Sandy, who thinks she's "amazing."
*Hannah swallows the bile that just sprung all the way up her throat*
Malia was also there for that season, she and Bugsy are quite good friends now. But not Hannah and Bugs, so we'll see. Captain Sandy points out how great Bugs is at table settings, Hannah is still not seeing anything positive about having Bugsy as her second.
They wash a bit of the boat and then get fancy for a night out, woooo! Somehow, the conversation has changed that it's Jessica who has a crush on Rob, but he's the one following her like a puppy, not the other way around.
Malia makes a rude comment to us about Rob being deep but Jessica…not so much.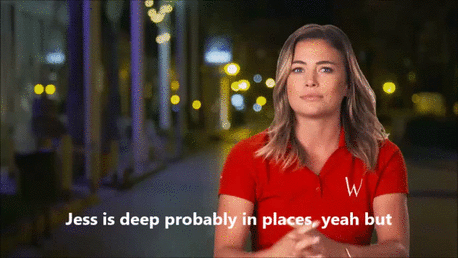 Excuse me: Jessica is lazy, not stupid. Don't be typical.
Jessica and Rob kind of hang out together at the club, Pete and Alex work on picking up ladies unsuccessfully while Malia, Kiko and Hannah watch and commentate.
Jessica and Rob ride back in a separate cab from everyone else, then spend the night cuddling and making out in his bunk. The guys are VERY excited for him.
Everyone's on deck by 10 am the next morning, there are only four hours until the next charter! Gimme my pre-charter meeting, you guys!
Hannah's not working, she's curled up in her bunk watching videos on how to be a better leader, awww. She makes it into the crew mess to ask Jessica about the size of Rob's junk, which Jessica couldn't tell. *sad trombone*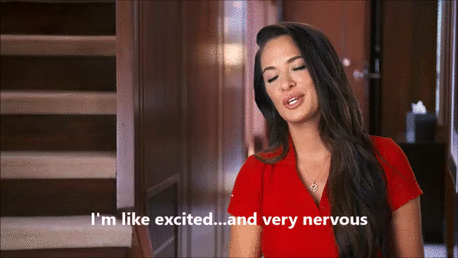 It's storming outside as Bugsy arrives, she's "bringing the thunder!" And we're out, cheers!