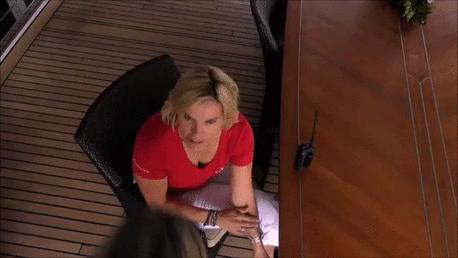 Hello! It's time for our Below Deck Mediterranean crew to enjoy a night out (by that I mean drink their faces off) and meet some new charter guests, will our chief steward snap out of whatever ails her? Let's find out after the break in my Below Deck Med S5:E09 Viva, Loss Vegas recap!
We open where we left off, with Captain Sandy Yawn holding a Come to Jeebus Meeting with chef Hindrigo "Kiko" Lorran about the kitchen's abject failure the previous charter. In fact, we've just left the Tip Meeting where that featured heavily, Kiko's not even planning on partying tonight as he needs to get his head straight.
I think he just couldn't get past the vegan-factor and then he was in his head and before he knew it, he was lipsynching for his life and wait, which show is this again?? Kiko is devastated by Captain Sandy's harsh words.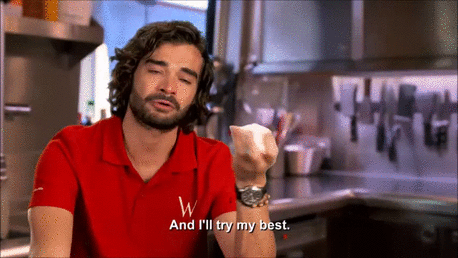 Awww third steward Jessica More has got more mobility in her broken finger! Ol' Lobster Claw has more range of motion.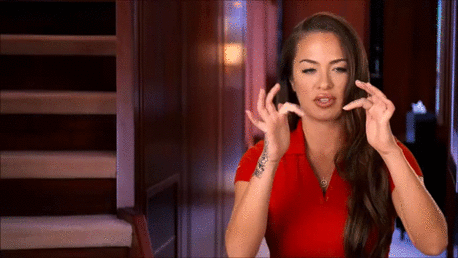 Time to find out who's coming next in our Preference Sheet/Pre-Charter Meeting with the department heads! Captain Sandy calls down struggling chief steward Hannah Ferrier, bosun Malia White and Kiko to join her in getting ready for whomever is paying tens of thousands of dollars to rent this floating hooorhouse for a fortnight!
Hai Primary Sean Foote and wife Crystal Foote! Karen Bramwell and Richard Bramwell will be joining the couple who have requested some pretty basic foods: fried chicken, nachos, beef and sliders. I can feel Kiko's relief from here! Corey Graham and Barbara Graham are joining the couples to celebrate their anniversary, I sense a pretty carrot cake decorated with flowers in our near future!
This is a four day charter, the last night will be a 90's hip hop party omigod that's going to be so much FUN!! Primary Sean apparently owns a record label, so that makes sense, right? Hannah is the opposite of thrilled to hear she's got a charter for an extra day, she's kinda checked out of this season already. Everybody tiiiiiired.
There are two cute boatmances at play on The Wellington, we've got Jessica and deckhand Robert Westergaard who have been spooning for ages and also second steward Christine "Bugsy" Drake flirting with deckhand Alex Radcliffe. I like all of these people, they have my blessing and I'm sure that's going to mean EVERYTHING.
Alex thinks he maybe blew it last time the crew went out by getting too drunk and ending up with shrunken junk in a very cold hot tub with Bugs so he's on the wagon tonight. Bugsy asks why he doesn't just man up and be like Rob and not play games and HEY. That's the best idea ever!
Everyone but Kiko gets fancy for a night out, he's staying in to work on his meal planning and really knocking these guests collective socks off. A four day charter is much harder on the chef, he better be on his provisioning game!
Wait. Hannah looks like she feels like microwaved garbage, is she staying in too? Nope! What in the Sam Hill is Bugsy doing with four hundred Ardene glitter clips in her hair?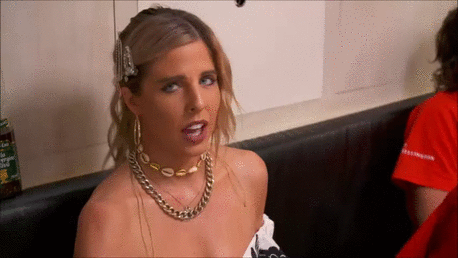 They all troop into town for supper, Rob and Jessica all over each other and everyone else fairly subdued. Bugsy tells us she's not great at opening herself up for relationships, she was rejected at 14 and it still affects her to this day. Bugs. 14! That was a lifetime ago! Well. You don't want to know how long it's been since I learned that people are just in relationships with me to manipulate me into doing stuff for them, I'm sure it's completely different and I can't hear you lalalalala.
Hannah is muted, she misses Kiko but Malia and Bugsy are over in the corner talking about how his personality isn't cooking the food and maybe Jess needs to go, too!
Guys. Kiko just cooked a six course dinner for 12 one charter ago. Maybe cut him some fucking slack, yes?
The crew dances in a club while Kiko sits alone and plays guitar with a glass of wine in the crew mess. He comes from a family of fighters, he's not giving up!
Awww, Jessica cries as she tells us she thinks she manifested Rob. I hope he's everything she's thinking he is.
Alex said he wasn't going to drink so he could come correct to Bugsy but it's 2 am and they're in the crew mess alone and he's babbbbling.
It's Charter Day and everyone is up and at 'em early, Hannah calls a meeting with her Interior Crew to discuss path forward. She's put herself and Bugsy on both main services because last time it went to shite. Laundry's the current problem, the crew isn't getting their clothing back from Jessica and when Captain Sandy doesn't have her dress whites…
Provisions arrive, boy we're sure not seeing much of former lead deckhand Pete Hunziker, are we? I'm guessing that racist Instagram post, noted in the New York Times, happened sometime between episodes 6 and 7 because he basically disappeared.
Captain Sandy settles in to listen to Malia direct her crew with regard to guests; Malia's hoping to fill in some of the gaps left by the Interior crew when it comes to guest care. Malia is strong and focused and Captain Sandy LOVES it.
She shakes her head when Hannah comes up to take note of what laundry of theirs Jess has lost, there may have to be changes. We're what? Halfway through the season? But Jessica is getting more flexibility in her broken finger! She's just not very…fast. Captain Sandy is done waiting.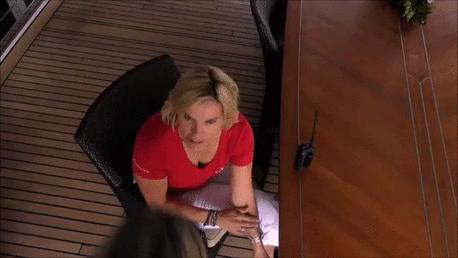 She tells Hannah to tell Jessica she said that and wow, we're suddenly at Deploy and I didn't even know we had bombs loaded.
Unlike Hannah, Malia is excited about this four day charter because at the end she gets to see her fella! Wheeee!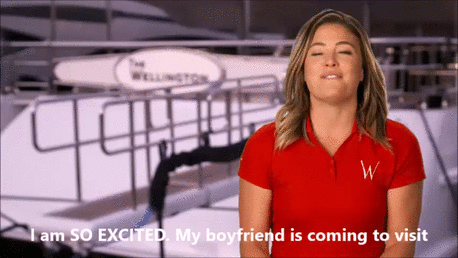 She can't wait to have an intelligent conversation with a male on board!
*buuuuuurrrrnnnnnnnn*
Wait. Are they setting this up so Kiko fails and Malia's boyfriend steps in?? NO!! I SAY NO! I SAY GOOD DAY SIR.
Hannah calls Jessica to the salon for a chat; Jessica said she didn't say crew uniforms weren't a priority, it was crew other laundry. Hannah explains the thin ice she's skating on, Jessica doesn't understand why she would be fired for that miscommunication.
Jessica heads right for the crew mess where Malia is cheerily and unknowingly eating with her crew to discuss, she's clearly angry and maybe that conversation could have waited a bit. We're only two hours before charter
AND they're here! Hai Primary Sean and Primary Crystal! We love your dress!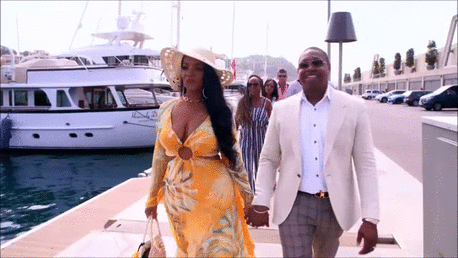 Oh I spoke too soon, Primary Crystal wants to know who the chef is right away, even before getting on board, this is going to be a tough charter for Kiko again.
The guests are handed champagne and cool towels as the deck crew unloads 100 huge suitcases from a cab, boat tour time! They end up sucking back oysters in the kitchen during the tour, yay! 'Brazilian style!'
Before we know it, we're on deck with everyone and Kiko going over the food plans. Someone doesn't want vegetables, someone else no meat or fish, no gluten is to be had anywhere, Kiko and I want to know what happened to the easy, basic food that was on the preference sheets????
They'll make the universal sign of making it rain when he gets it right, woooo!
Captain Sandy has been cruising The Wellington through swells to an anchor point, it's down and the fun can begin!
Kiko's first lunch is not a success, the guests don't complain to Captain Sandy but she can see how not awesome the steaks are and nobody is finishing them. She comes down to the galley to tell Kiko to never ever put the gravy on top of steaks ever again. He's getting more discouraged by the minute and I will die on Team Kiko so don't even start with me.
Time for water toys, yay! We've got a guest in a thong swimsuit who doesn't know how to swim on the back of a jetski, I repeat, thong can't swim.
The guy she's riding with plays around and plays around until he dumps the jetski over and Malia has to ditch her equipment and jump in to save thongbum.
Alex and Pete jump in too, while Rob stands dumbfounded on the back deck of their luxury yacht. Malia brings the non-swimming guest back to the boat by her life vest, that's why you should always be wearing them, woooo! The guest did well, she thought she was dying but she didn't panic and she listened to instruction. Whew.
Malia handled that shite!
Hannah steps in to help Kiko in the galley, suggesting chicken with potatoes gratin, just listen to exactly what they want! It's just very varied, I have no idea how he's keeping track of who gets what. Hannah very much wants Kiko to succeed and I am 100% on TeamKikoIsAwesome.
The guests are all very proud of Malia, girls run the world! Captain Sandy radios then to tell her to put away the toys, waves ramping up means they'll have to dock for the night. The guests snooze on deck, calling over Bugalicious to find out where they're going.
Bugsy sets another beautiful table, it's not just a fancy dinner, it's also Corey and Barbara Graham's 15th anniversary. I think they are the couple who dumped the jetski. Captain Sandy will be joining for supper, yay! NO PRESSURE KIKO
(all the pressure, Kiko)
The first course is seared scallops over savage (oh come on) rice, Primary Sean gets chicken 'scallops'! It goes over well, Kiko breathes and moves on to the next course. The main does not go over as well, bacon-wrapped chicken (as suggested by Hannah) isn't as well-received as the sea bass Kiko wanted to serve. The scalloped potatoes are difficult to make look fancy, but he tries!
Awwww look how pretty his dessert is! The guests love the effort, I'm always nervous until they actually try the food.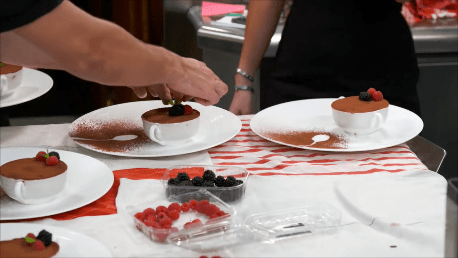 Everyone goes to bed early, Captain Sandy thanks Kiko for his good food but isn't impressed with the level of food he's bringing.
I said.what.I.said.
One of the guests falls down the stairs, but like, with class and runs into her room screaming with laughter. She said she was gonna fall down those stairs and she did! That's either a self-fulfilling prophecy or the flowy booze.
Jessica is on early shift in the morning, she sets a beautiful table almost like Bugsy! Kiko's knocked out a metric tonne of food by the time Bugsy comes on shift, will the guests have time to eat it before they leave? There's a LOT of food. I spy a huge chunk of Manchego!
Alex and Bugsy take the guests on a trolley ride tour, awww, no kissing in front of the guests!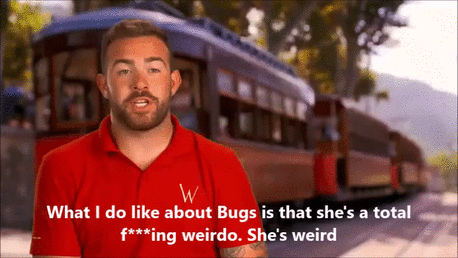 The guests tease them mercilessly, are they dating? They should just hold hands. Bugsy has zero poker face. ZERO.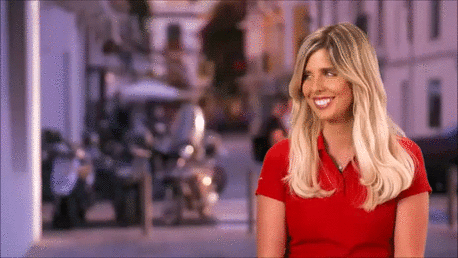 The next night is a Las Vegas party, Hannah and Kiko brainstorm over food ideas. He's thinking finger foods, that's all Hannah eats while she's there, sure!
(We know from the music and the previews that this is a very bad series of choices)
Deckhands Alex and Pete will be dressed at the Las Vegas Chippendales, I love how game Alex is, enthusiastically offering up what he calls his DadBod. He doesn't have a DadBod, he's a teddy bear!
The food is….not good. Basically chicken nuggets and fries plus these disgusting nachos.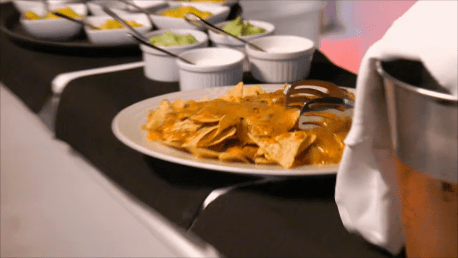 Malia hides them on the side, she doesn't want to serve these to guests on a superyacht but Bugsy throws them out like it's Chuck E. Cheese and we've got hungry 6 year olds champing at the bit. More deep fried food follows and I can't even watch, you guys. This is the food equivalent of a slow-moving four car pileup.
Kiko sends out his brownie cake shaped like dominoes while the guests are still eating his orgy of fried food, it's like a buffet!
Captain Sandy heads her off at the pass, there will be no dessert served during supper.
How did Kiko misjudge this dinner menu so thoroughly? Primary Crystal calls it like a kid's birthday party but she didn't mean it in a bad way. Captain Sandy is already primed to hate this dinner and she does not disappoint.
She goes and yells at Bugsy for serving those awful nachos, that wasn't fair. The guests are being really understanding, they toast to the service and talk about how the food was something Corey's ten year old son would like.
*I like that he didn't bring the kiddo, this is definitely a grown-up weekend away.
Kiko is going to be fired. There's no way he isn't and I am so sad about it. Malia is listening in the galley as Captain Sandy yells at one end of Kiko to the other. He's already resigned himself to being fired, he's got no rally right now and badgers her: he leaves after this charter, right?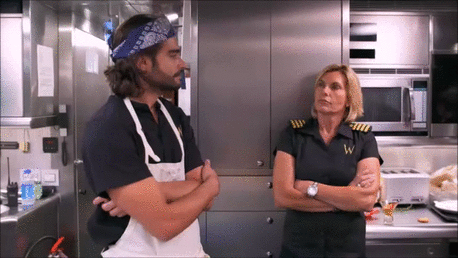 Captain Sandy realises Kiko has gone over the edge, you can see her calculating whether or not she'll get any decent food out of him the next two days. We're out!