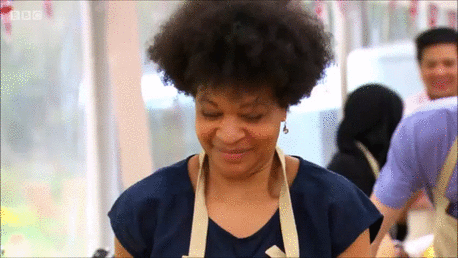 Hello! Welcome to the Great British Bake Off as we go back in time to 2015-ish and we have Mel Geidroyc, Sue Perkins and Mary Berry again, yay!! We're skipping all over the place, that's the glory of being an independent, time doesn't move in a linear fashion lalalalala I can't hear you! A dear friend suggested going backwards quite some time ago, this is for you, PL! Rolling into my recap of GBBO S6:E01 Cake Week after the break!
Our lovely hosts Mel Geidroyc and Sue Perkins point at all our lovely new bakers in the field outside the tent, nobody can believe they're there! It's Cake Week!!
Our baketestants are, in no particular order:
Alvin Magallanes – a perfectionist originally from the Philipines
Dorret Conway – a lady with a huge mass of fluffy hair
Marie Campbell – our older and sharp lady of the bunch
Mat Riley  – sort of tremulous and untidy looking with kind eyes
Nadiya Hussain – beautiful lady with a burka
Ian Cumming – basically an older version of Matt but in need of a haircut
Paul Jagger – Fancy eyes on this silver fox
Sandy Docherty – I swear to the gods that I know her from a soap!
Stu Henshall – adorable hipster type with tattoos and a bowler. A.bowler
Tamal Ray – very young and nervous
Ugne Bubnaityte – blonde and reminiscent of early ABBA
Flora Shedden – our youngest and freshest face at 19
We head inside so we can stare at judges Mary Berry (I did miss her so) and Paul Hollywood, they're ready to judge a Madeira Cake, the first Signature Challenge of season 6! Not even a fancy one, no extra layers or any sugarwork but it better be amazing anyway. Literally all I know about Madeira cake is that presumably it has loads of Madeira wine innit.
Hm. Ugne is from Lithuania, not Sweden and she pronounces Thyme 'thime' and I don't think I can let that one go past but she's a bodybuilder so perhaps just this once.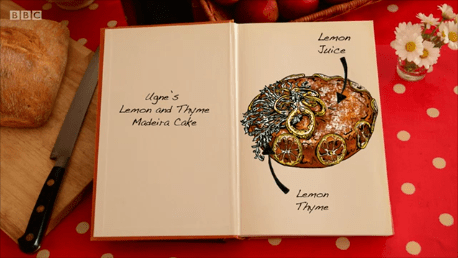 Nadiya is using a combination of orange zest and green cardamom, Paul's already being a bit wankery by trying to stare her down over it.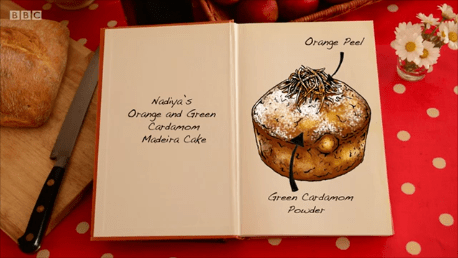 Ian's a travel photographer, he's based his cake theme on warmer climes with their ubiquitous mojitos and ginger.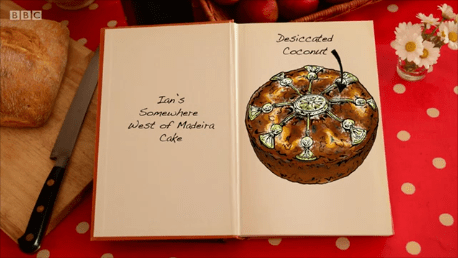 What on earth is Mat doing to his bowl? Is he angry? How tall is this man??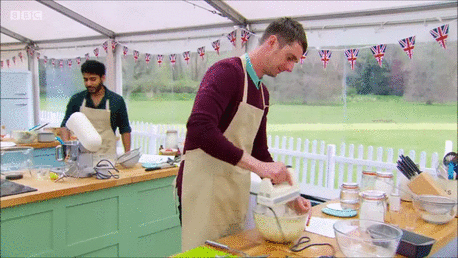 You're treating that batter like seven miles of bad road, Mat, go easy!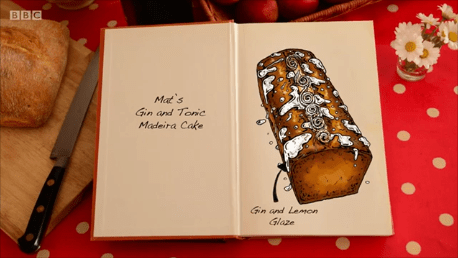 Our Scottish Marie bakes almost every day for her family, wooooo! She's sticking to the classic flavours of a Madeira cake, Mary Berry will be pleased.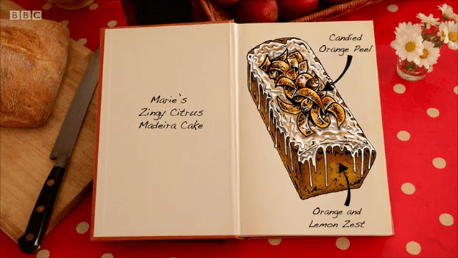 Dorret is also staying close to the classics with her lemon-zest flavoured cake (why do they all look like loaves?)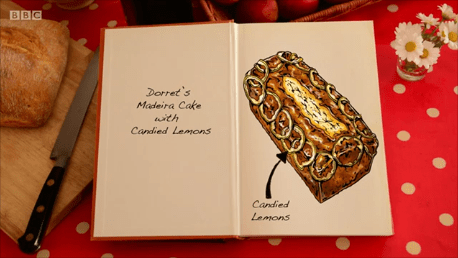 Extremely young Flora (19!) mixes it up slightly with blood orange instead of orange which isn't really a thing, is it?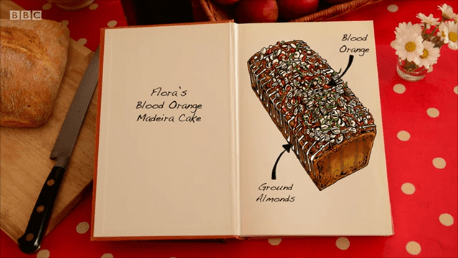 Alvin has suspended figs in his cake, Paul and I are listening…this sounds like a recipe that was practiced and perfected until sublime. "Partially hydrated figs" indeed.
Paul messes with Sandy next, if she's got apricots in her batter he wants to see a solid dispersal of fruit! She assures him that if the chunks are at the bottom, they're meant to be there.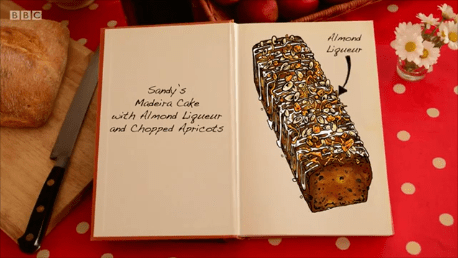 Flora forgot to set her oven on because at home she has an AGA that is on all the time and excuse me while I skip back to her home shot to stare at her stove. Ooooooooh lookit that!! How did I miss that??? So prettttyyyyyy.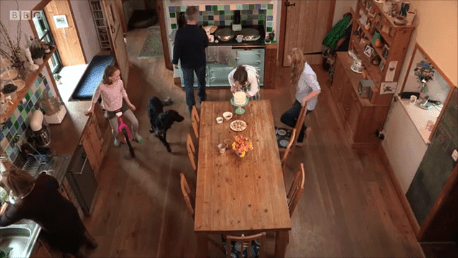 Of course Stu with the bowler plays a cello.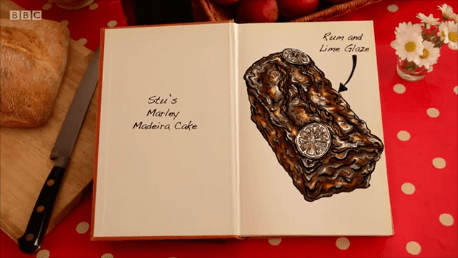 Oh now this is interesting, Paul Jagger is a prison Governor into sugarwork. Mel compares his look to Paul Hollywood but I thought I sensed something kind of dangerous there and it appears I DID!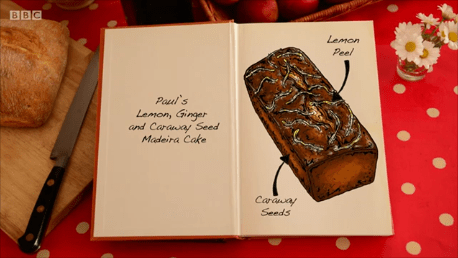 Everyone drags their cakes out of the oven looking for the distinctive Madeira "crack" which is when the cake rises upwards quickly and looks just like my lemon loaf. Not everyone has a crack, Ugne's cake is noticeably bare, save a couple of flares at the sides. Stu's loaf is tiny, is it supposed to be that small?
There's always one gadgety baker in the tent, this time it's Tamal, who is using a large syringe to inject careful amounts of lemon into his loaf.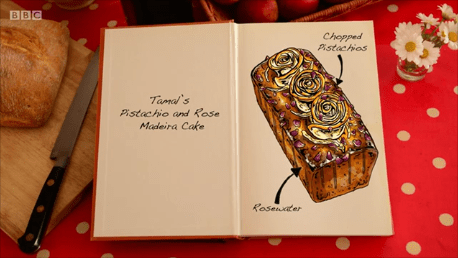 Paul's got a sad dark little loaf but Dorret is extremely pleased with her de-panning.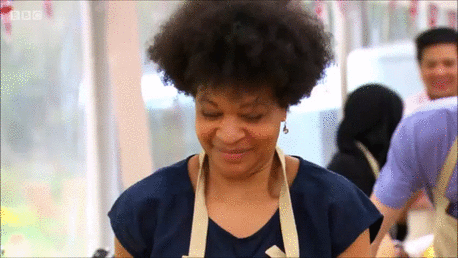 The last five minutes is a mishmash of bakers frantically yet carefully placing candied fruit peels (pass) onto their warm loaves and Marie…doing dishes. I already love her, I absolutely would do the same, bake a classic then see to the washing up straight away.
All too soon Sue tells the bakers to "step away from their cracks" and we're into our first judging of season 6!
So when I look at Nadiya's cake, I don't see any kind of crack whatsoever but the judges do. Mary Berry really likes the hardness of Nadiya's candied peels and the proper amount of cardamom was used.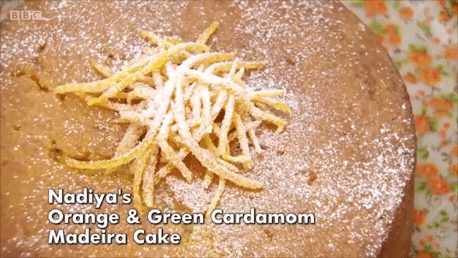 We switch to Ugne's cake, there is no way it will pass that candied peel test that Mary Berry just performed, it's soft and slimy all the way.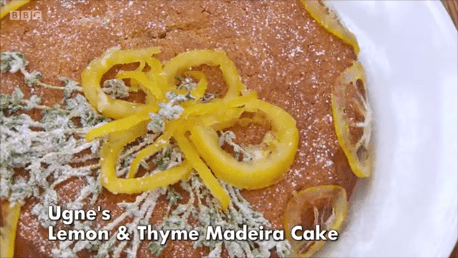 Ian didn't do any better with his coconut cake, which Paul calls like "chewing on wallpaper paste."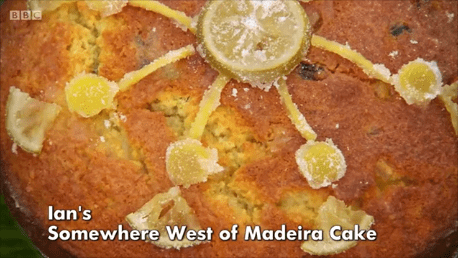 Lookit Stu's presentation! That's fantastic. AND he made two flavours in one loaf, it's glorious. The judges hate everything about it.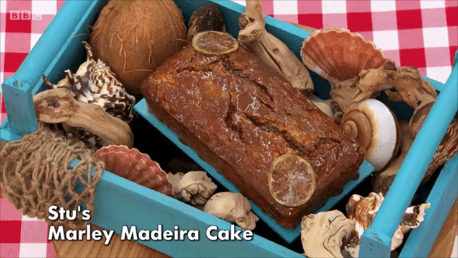 They adore Flora's effort which we only saw close-up for some reason.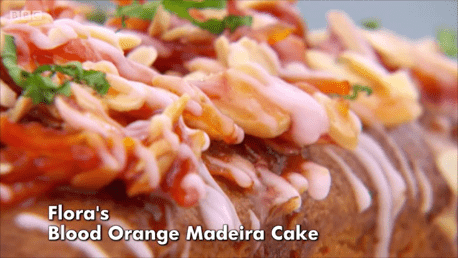 Ohhhhh Alvin's figs all fell to the bottom. Booooo. Suuuuper close.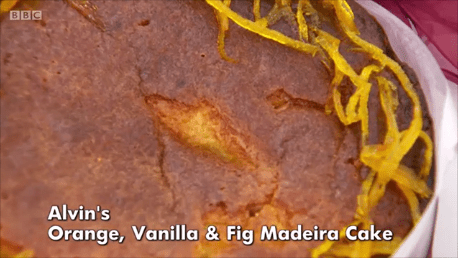 Sandy's cake retained it's fruit distribution! And someone found the un-Zoom button.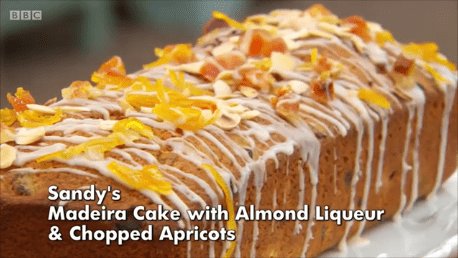 Paul's cake was overbaked, we spend zero time onnit.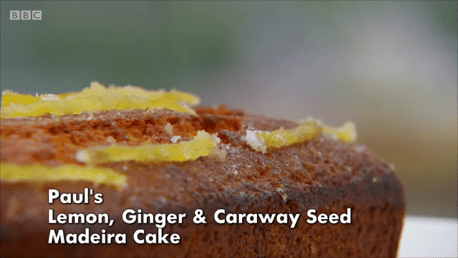 Onward to Mat's where we lost the seven shots of gin somehow. This point of view is like being up a cake's nose, isn't it?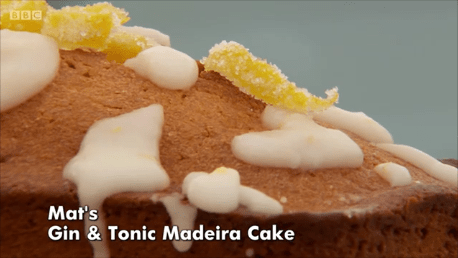 Tamal gets rave reviews, we all held our breath waiting to see if the Hollywood Hand was coming out, right?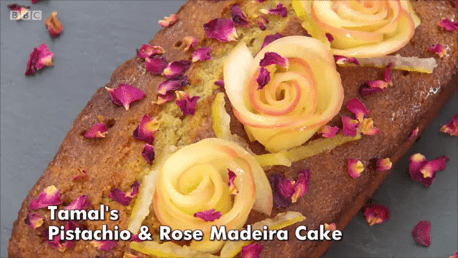 We're moving at the speed of light, Dorret has slimy candied peel but an excellent look and texture.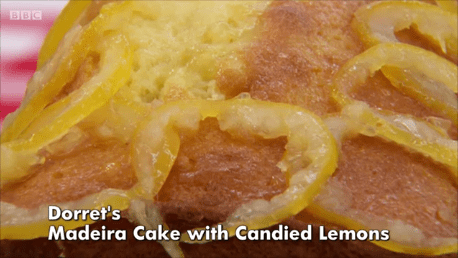 Marie has provided a perfect Madeira.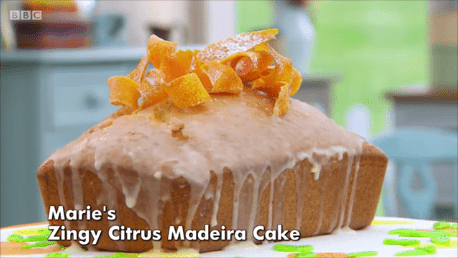 This look sums up GBBO in it's entirety for me; the relief then anxious waiting as the judges munch through a full bite.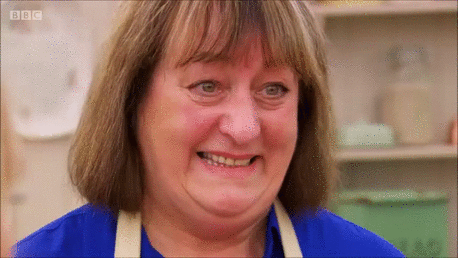 I think it's between Marie and Dorret; if Dorret had done a hard candied peel she would have been an equal match.
On to out first Technical Challenge of the season! Our clues: it's quintessentially British and you'll need to read the recipe at last twice and measure nice. It's a….walnut cake. Huh. Nothing with three layers and sugarwork?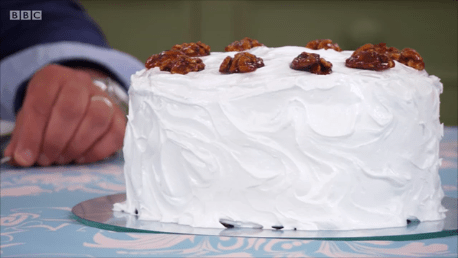 There are indeed three layers!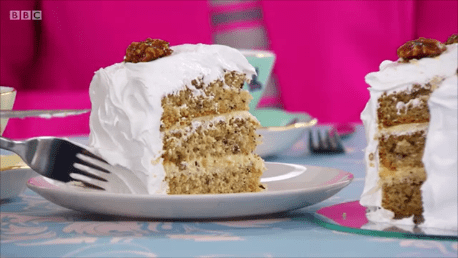 Hold the sugarwork.
Some consternation over walnut sizing then we're off to the oven to start baking. The decorating will happen while the sponges bake. On to the caramel for the walnuts, Stu and Alvin are really struggling. We know it's possible because we see glorious caramel across the room, but these guys are having trouble.
The meringue-style frosting done over hot water isn't clear to all the bakers either. Stu, Ian and Ugne are off-water making theirs and I can't tell about everyone else.
Marie's in the back cleaning up her work station and I love her.
Alvin somehow baked one of his layers on an angle…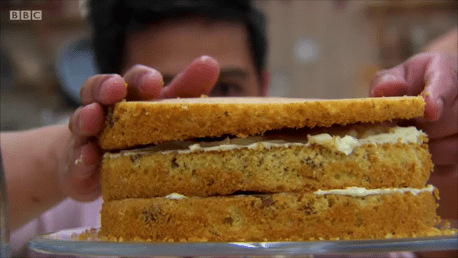 With five minutes to go, all the bakers are frosting as quickly as they can but Stu does not have enough caramel for his walnuts yet. We've got a couple of different finishes, Ugne had time to do some sugarwork (woooo!) but Nadiya chose to not frost the sides of her cake. Why?
On to judging!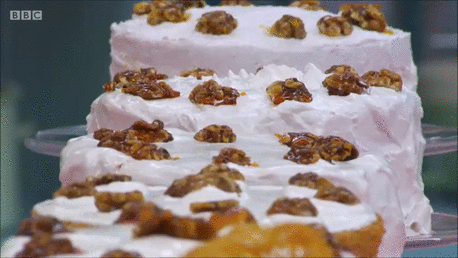 From least best to most awesome we have:
12th – Nadiya – granular and didn't ice the sides
11th – Stu – granular and just that one walnut and too-soft frosting
10th – Paul – granular
9th – Sandy – very sweet frosting
8th – Ian
7th – Mat
6th – Flora
5th – Dorret
4th – Tamal
3rd – Marie
2nd – Alvin! Even with being lopsided!
and Ugne wins the first Technical of season 6 with her excellent cake and added sugarwork!
On we roll to the Show Stopper Challenge, this week it's a throwback to the 70s for a Black Forrest Gateaux. I don't know about the cherry, but you will always have my attention with a chocolate cake of any stripe.
Ooooh Tamal has upgraded his with a chocolate collar. Extra chocolate: yes pees!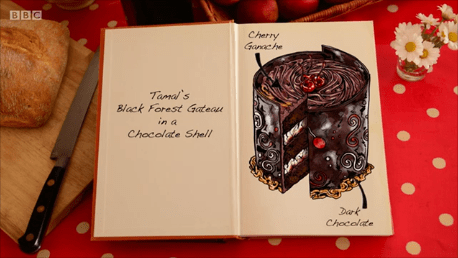 Stu is going off the menu again with his beetroot cake, I wonder if traditionalist Mary Berry will like that? How did I not notice before how closely she likes people to stick to the established standards?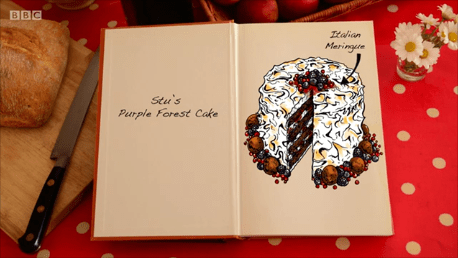 I like Flora's un-iced sides, this style of cake is lovely.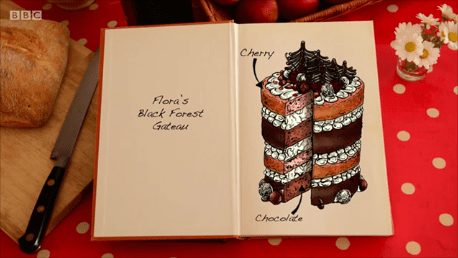 Dorret is getting extra fancy with her cake, she's got two types of sponge.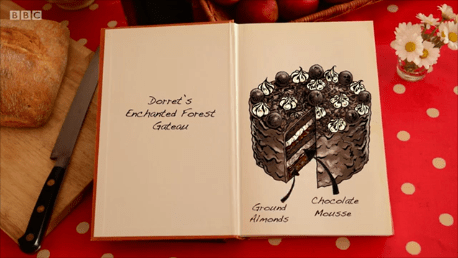 Woooooo Nadiya gives us our first mirror glaze of the season!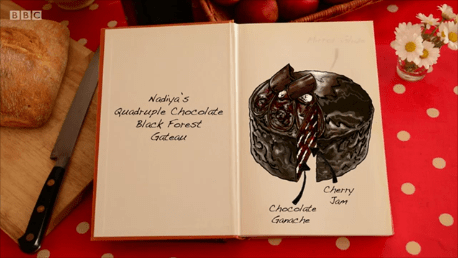 Look how fancy Sandy's cake is?? She's actually been to the Black Forrest! You know, I don't know if I realised it was based on an actual location.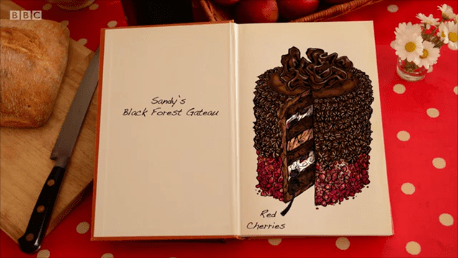 I don't understand anything about Ian's gateaux.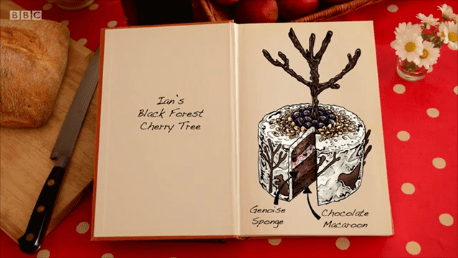 How does Stu not notice that his cakes have gone off? They're all dark and greasy near the edge, a sure sign of too much fat in the batter.
Marie. What?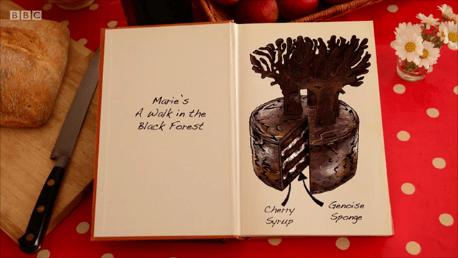 It seems I am the only person who was not aware of the Black Forrest, we're lousy with trees on cakes.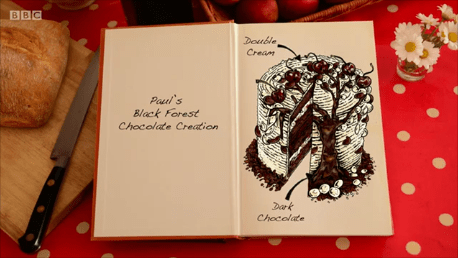 What…happened, Dorret? Did your cake get excited?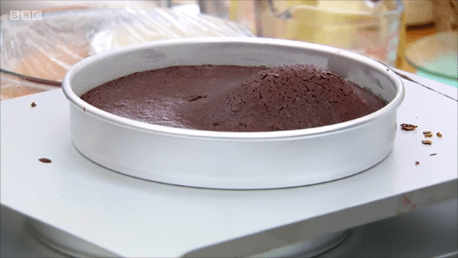 This is the third time Mat's made this cake, which is the most he's practiced anything and WHAT.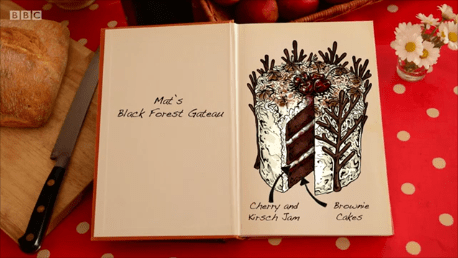 I'm going to focus all my worry on Alvin who thinks he has plenty of time.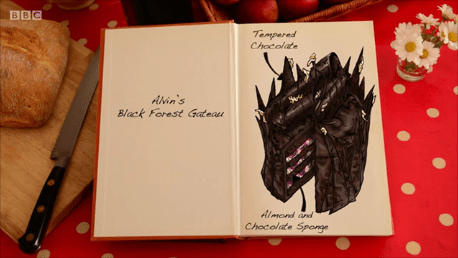 Ugne is going over the top again in her design.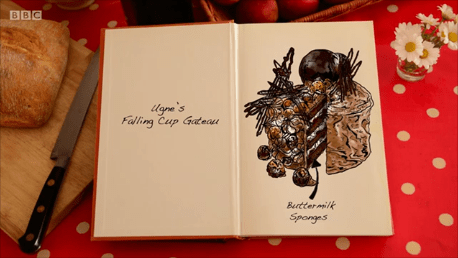 The only person I'm really concerned about is Stu, he displayed a real feral desperation in interview about his first day. He's got some really excellent ideas, keep it up fella! You got this!
Lookit the absolute joy on Sue's face!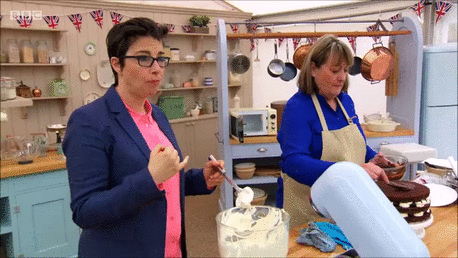 We get a great editing contrast between Flora's carefully piped meringue shaped icing and Stu slapping on frosting any which way.
The last five minutes is a blur of decorating, I'm quite concerned about our stylish Stu. He's needing to be helped by the older ladies around him each time, he just needs confidence! You got this, Stu! You're here, in the Bake Off tent so that means you're amazing!
Oh no Dorret.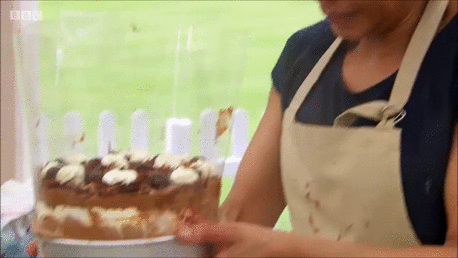 I said that under my breath and then teared up as she did, oh nooooo. The mousse has not set.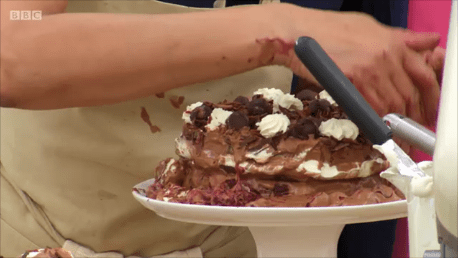 Sue is all over Dorret, who is devastated. It doesn't mean you're going to go home, Dorret!
Judging!
Flora is so pleased with herself and her cake that she practically squeaks. It is very well done, if slightly shy of kirsch.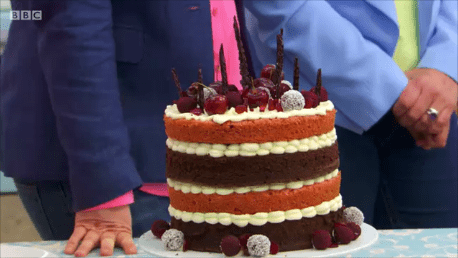 I mean. Ugne. I wax ecstatic about chocolate until I'm chocolate in the face but even I am repulsed by this. It's just…a lot. The sponge and cake itself: not good says Paul.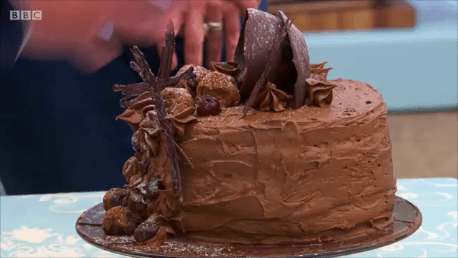 I don't get Marie's design at all but I have faith it's going to taste amazing. The judges love it.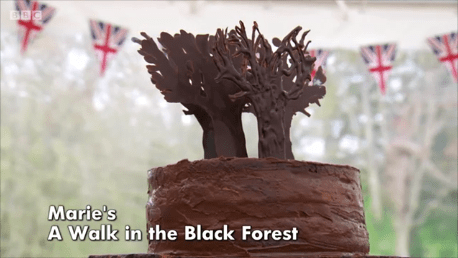 Alvin's cake could be in any of the better bakeries, any time.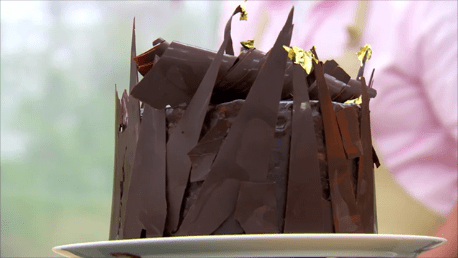 They stopped labeling the cakes, but this is Mat's and it looks quite lovely.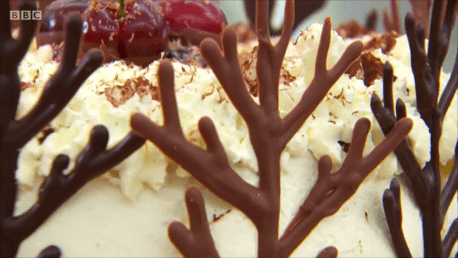 Oh sure, make me a liar right away with Paul's gateaux, fine. It's an excellent cake, as was Mat's.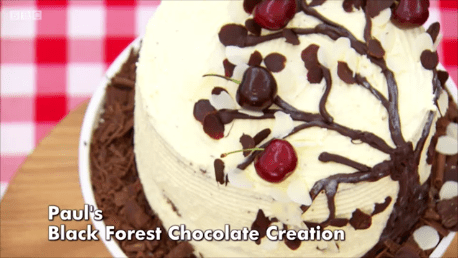 Sandy has had Black Forrest Gateaux in the Black Forrest, Mary and Paul, and they used shortbread in the bottom, so THERE.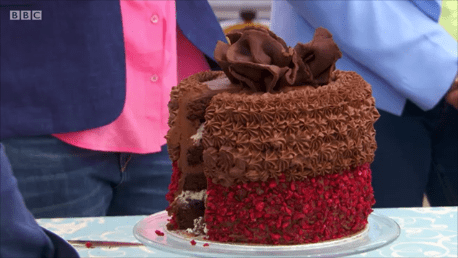 Tamal's collar turned out well, yes? The whole cake gets raves for being special and undeniably a BFG.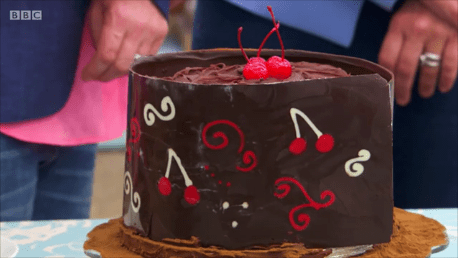 I am confused. They just called Stu up but I can see Marie behind him with a full cake. Do they edit the order? That's probably a dumb question. Paul compliments Stu on his original design then we're into the cake. The beetroot has not fared well for our hipster.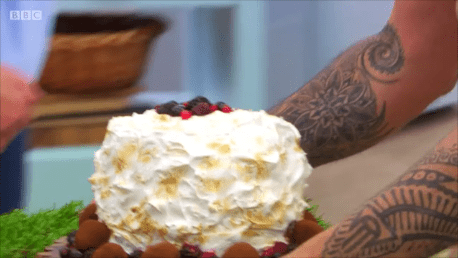 Nadiya and her mirror glaze are next, it's very different and very good.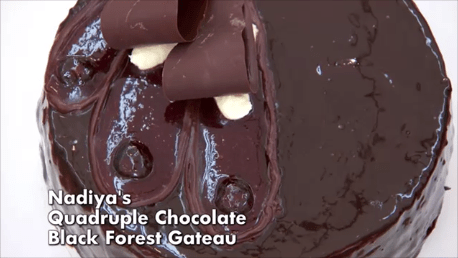 Oh Dorret. Not only does it look terrible, it tastes like chewing on a rubber tire.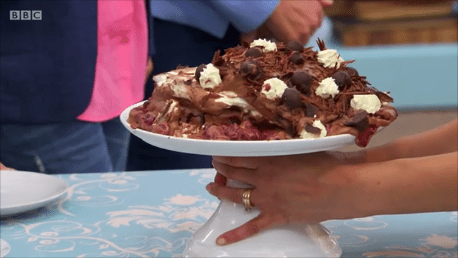 Ian is our last gateaux of the day and it's completely different from everyone else's. To be honest, I thought they would all look like Alvin or Tamal's, but we've had a wide variety. He did a great job with his mix of flavours and techniques.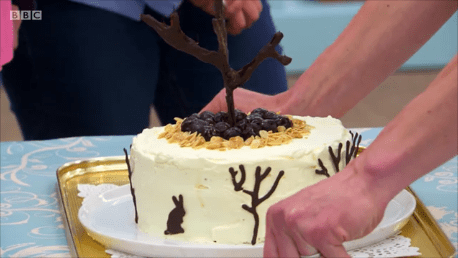 On to deliberations, where the judges hem and haw over the bakers proferrings without actually eating any more…although they're right.there. I'd be all over Tamal's and Alvin's, make no mistake.
Without further ado, our very first Star Baker of season six is: a very surprised Marie Campbell! Congratulations!
Leaving us is (has to be Stu or Dorret): Stu Henshall. Top 12 in Britain, Stu, nothing to feel bad about! Also, I would bet my bobby socks that it was his unconventional choices that sunk him, Mary Berry does not play with new ideas, it appears. I like new ideas, you keep them coming!
Ugne is flabbergasted, her Show Stopper put her in contention but the Technical pulled her through. Until next time, my loves! Cheers!