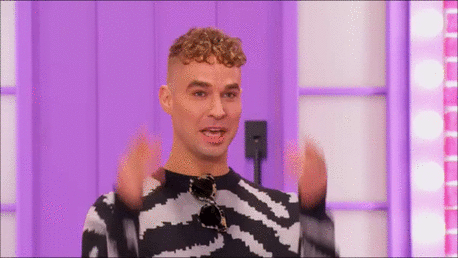 Hallleloo and welcome back to Canada's Drag Race where we're a mere loon call away from another lipsynch, are you ready?? Me too! Let's roll into my recap of CDR S1:E05 Snatch Game after the break!
There's a somber mood in the workroom after Tynomi Banks' elimination.  Ilona Verley is probably feeling it the hardest since her lipsynch was the nail in Tynomi's journey. (I know that's not exactly right but coffin didn't feel good either so there).
Also upset are BOA and Priyanka, but Montreal queen Rita Baga came here to win, you guys. She's moving on, sans tears.
The vibe gets a little kooky, this is what Canadians look like when they try compete nicely. Priyanka absolutely has a target on her back and that's what Rita Baga is glaring at. I have said this before but I will re-up, I'd be shocked if Pri-Pri doesn't go all the way. She's got all the Courage, Uniqueness, Nerve and Talent you could ever want in a performer. Plus she pretty and funny.
She's gotten right on Ilona's tets by telling her not to play the victim card, too.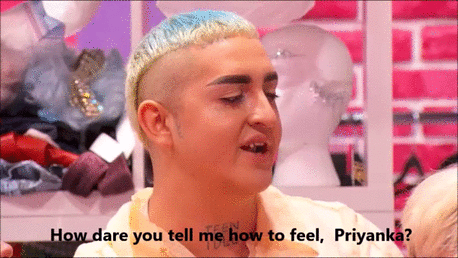 The RuSiren draws them all to the screen for some RuGuidance, it's a Celine Dion challenge!! There's no way it isn't, Kiara and Scarlett BoBo look particularly, so that must be in their acts. Huh. Maybe just Kiara, I assume Scarlett BoBo has mostly flaming swords and clownheads in her work.
In walks Brooke Lynn Hytes "Mama's homo!" She's got on black sunglasses a la Corey Hart, is it bad luck to wear them inside? Who cares, they protect from SHADE and that means we're reading today because reading is WHAT?
FUNDAMENTAL! Wooooo!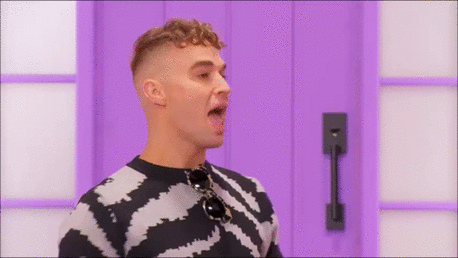 Priyanka wastes no time, going for perfection right off the bat: "Scarlett BoBo, your face is like your spot in this competition: *pause* filler." Oooooooo.
It's all downhill from there until Lemon: "Priyanka, you talk about having sex a lot, but the only thing you're f*cking is…  stupid."
I literally sat for 10 seconds with mouth agape. GOOOOOOOOOAAAAAALLLLLLLL
It coasted along (like Lemon) until Rita Baga got up there and read BROOKE LYNN.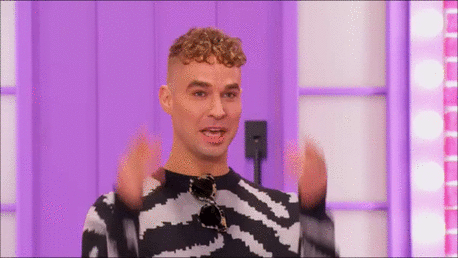 Of course Lemon won, she's the only one with a real killer instinct and the smarts to pull it off while looking cute. She wins $1000 from LAG Concepts for drag jewels and the maxi challenge is…
SNATCH GAME!! The first ever Snatch Game in Canada woooooo!! Lemon tells us it's really important because it separates the group by intelligence and she's not wrong but. You also have to know who to pick and be able to get right in there. Remember Jinkx Monsoon and her Little Edie? Literally everyone told her not to do that, it would tank for sure and who is Little Edie anyway? She won because she found the funny in that character and went full out, being pretty is never enough but neither is going full character if there's nothing intrinsically funny.
Jeffrey Bowyer-Chapman comes into the workroom to see how everyone's looks are coming along, Priyanka's already decided to do Miss Cleo, you remember her! The TV psychic – call me now!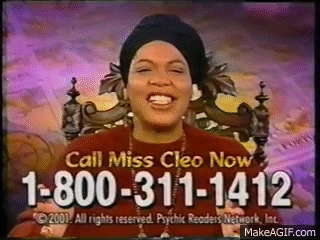 I'm worried that Kiara's choice of Mariah Carey is going to tank. Not because I particularly want to see Kiara stick around much longer (watching paint dry and do drag is more interesting) but because I like a lively Snatch Game and literally all Mariah is known for funny is her "I don't know her."
And done. So that could be excruciating for all of us.
Yiiiiikes Ilona Verley is doing Rebecca Moore, aka The C**k Destroyer. She's a pornstar with blonde hair and giant silicone breasts. Yes, completely unique. We'll know exactly who she is immediately.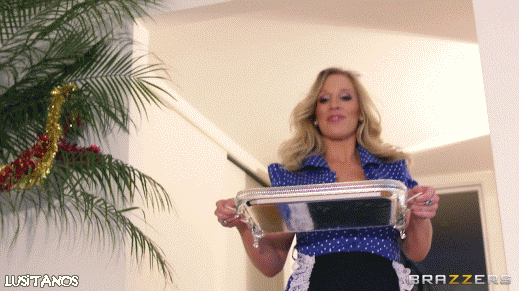 That's the only gif I could find that wouldn't get my site re-rated.
Yaayyyyy!! Jimbo is doing Joan Rivers!! One thing we know is that Jimbo can stay in character, I'm already preparing myself for leekage during her set.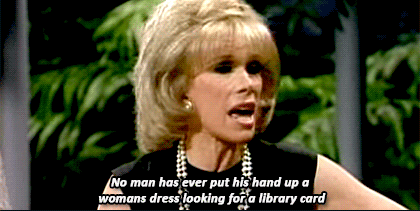 Wow, that was quite the rabbit hole. I forgot how fatphobic she was, and everything phobic, really.
Scarlett BoBo is torn between two icons: Liza Minelli and Fran Drescher. That's right, I said TWO.
She does a great Liza but her Fran makes Jeffrey look extra-sexy and it throws her off her game. I wouldn't be able to concentrate if Jeffrey Bowyer-Chapman was looking at me like that either and he doesn't even care about the milkshakes in my yard.
Is this the time to take a risk on a new character like Fran Drescher, or should Scarlett stick with her more polished Liza?
I would LOVE a Fran Drescher instead of another Liza, that's all I'm saying.
I'm sorry, why is Rita Baga choosing Edith Piaf instead of Celine Dion?? In FACT, why hasn't everyone chosen Celine Dion?? This could be the Night of A Thousand Celine Dions!
BOA has three characters to choose from, Cyndi Lauper, Rebel Wilson and Gypsy Rose Blanchard. Huh. I bet Rebel Wilson would be a hoot, but why is nobody choosing Canadian celebrities? That saddens me.
Lemon is giving us JoJo Siwa who apparently my youngest likes. *Mom shrug*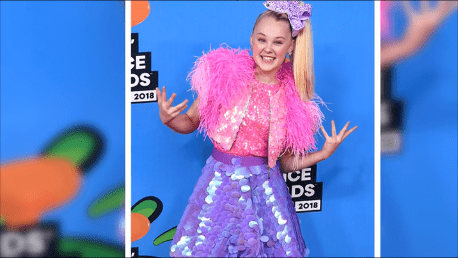 She cries when talking about how much drag means to her, she wants the judges to see that this is her life!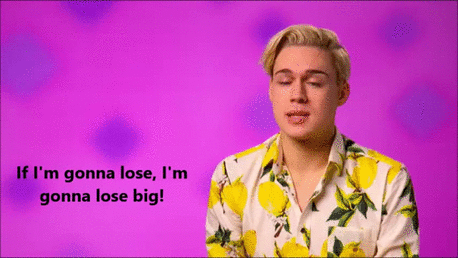 Hahahahahahaha as Jeffrey leaves the workroom, he tells our gang that the runway category is: Night of A Thousand Celines and I should have guessed! Hahahaha I'm so smart.
Mary Walsh is our guest host tonight, she's hilarious so I am pumped.
Okay! Rolling into Snatch Game, who we got?? I can already smell duds, but we also have our decisions: BOA is Gypsy Rose Blanchard who faked cancer and Scarlett went with Liza. *sad horn*
I love a good Liza!! She's just easy and done a LOT.
Justin Ryan and Colin McAllister are judging Snatch Game; Brooke Lynn Hytes is hosting. Let's roll!
Priyanka as Miss Cleo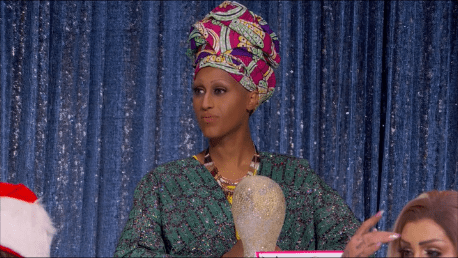 Jimbo as Joan Rivers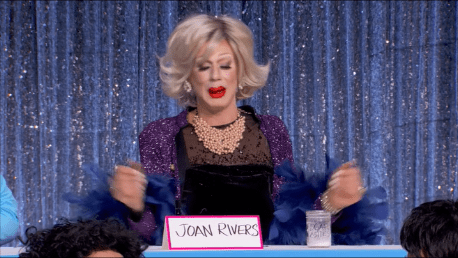 Lemon as JoJo Siwa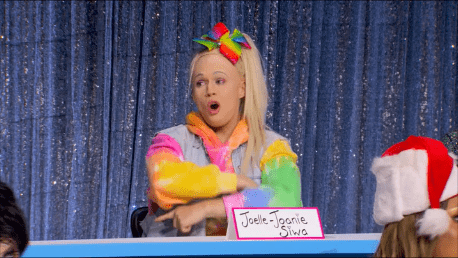 Scarlett BoBo as Liza Minelli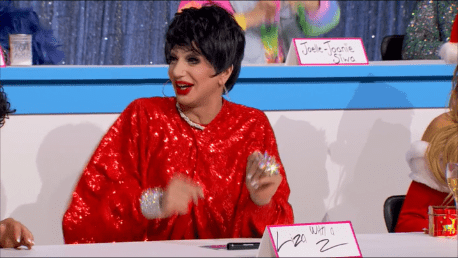 Rita Baga as Edith Piaf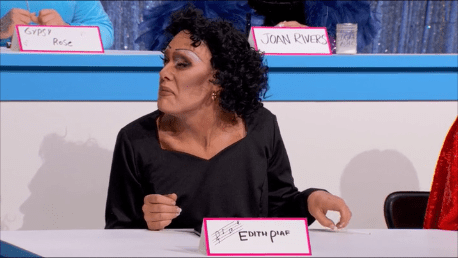 Kiara as Mariah Carey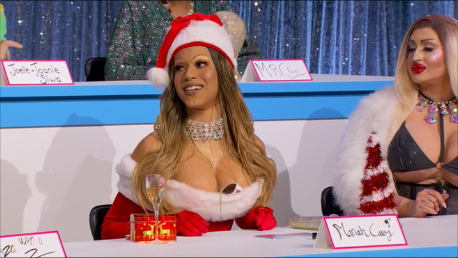 Ilona Verley as Rebecca More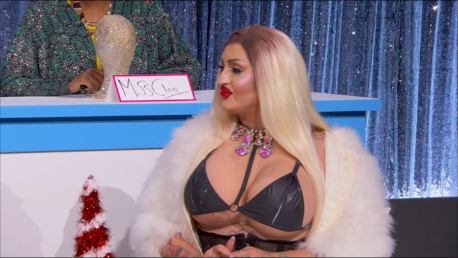 Colin's with me, he's looking for Canadian celebs too!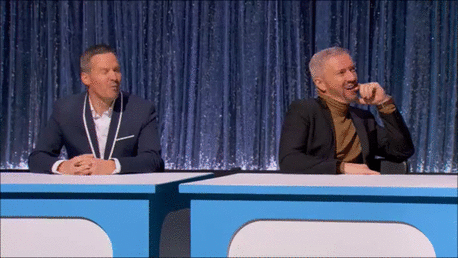 It's very Canadian to still imitate Americans even on their own platform.
Oh. Oh Priyanka is tanking unexpectedly, Lemon and Scarlett are awesome and Ilona and Kiara are going down in flames. Jimbo hung her whole Joan Rivers schtick on Joan's late husband Edgar's ashes (if that sounds convoluted, watch her snort them on scene) and it's just not…good.
Hahhaha okay Ilona made me snort loud enough to scare my dog by spelling "C—-OCK" so I am back on Team Ilona. And then Jimbo brings down the house.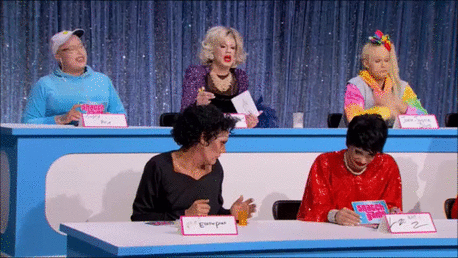 Wow, Priyanka did so badly there. So badly! She's worried going in to Elimination Day, so is Kiara for just as good a reason.
Jimbo had a great week, she tells us about growing up very different from everyone else, dressing unlike most and liking different things (I swear, I know I'm not a gay man but I just relate so hard) until she made people laugh in grade 10 and it took off from there. There's a power and freedom there.
(If I met you at a party I didn't know I was supposed to bring a present for, I would probably be doing a free stand-up set because it's also a great way to hide insecurity)
Kiara's dad doesn't know she does drag, she still hopes he would appreciate it when he finds out and I hope that's true. I read Priyanka's Twitter thread about coming out to her dad, it went well! I hope everyone can have that with the people they need love and support from.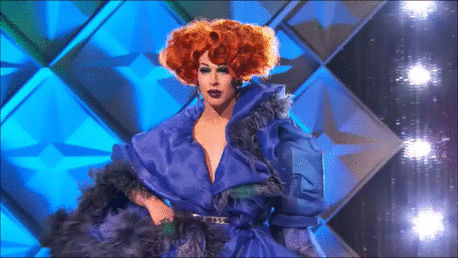 The Realness!
Scarlett BoBo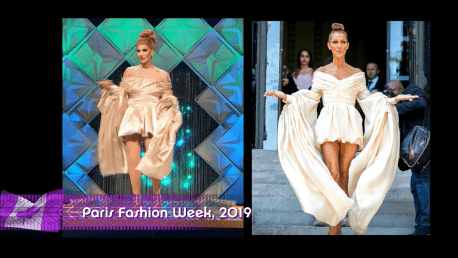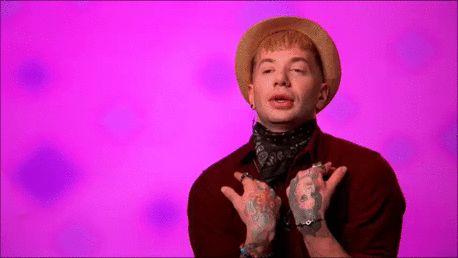 Kiara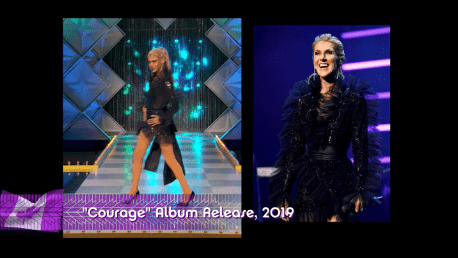 Rita Baga gives us TWO Celines, pre and post-fame.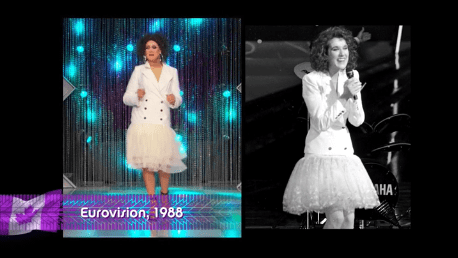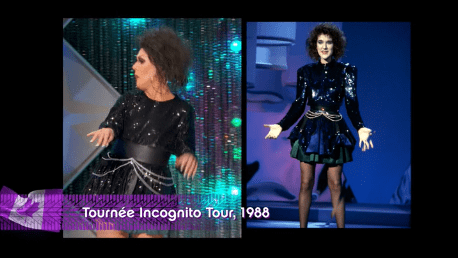 Jimbo does not use a giant breastplate this one time.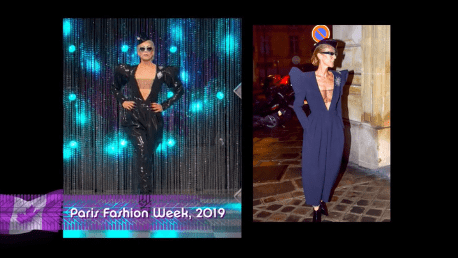 Lemon – it's a tiny bit meh, yes? For a woman who always dresses outrageously.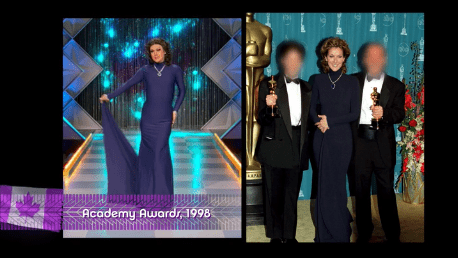 Ilona Verley is super cute as always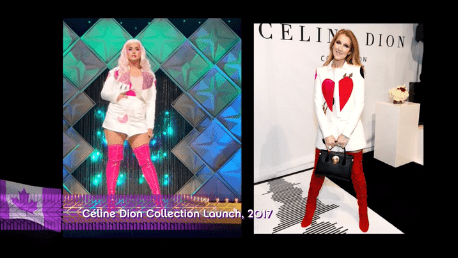 Priyanka's given us two Celines too!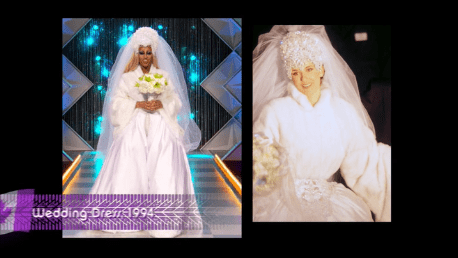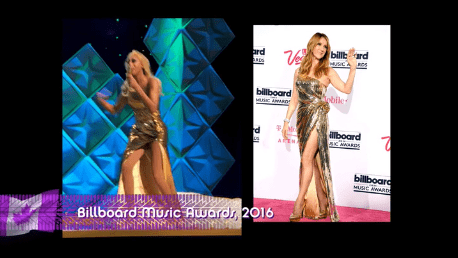 Time for judging!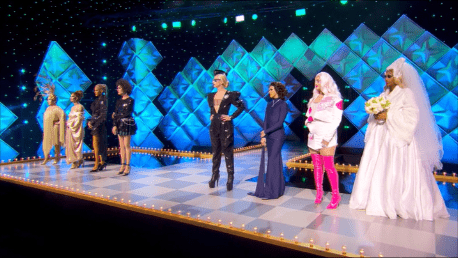 Ilona Verley and Scarlett BoBo are the only queens called forward, they're safe and everyone else did well or is at risk to lipsynch.
BOA is read for her weak Snatch Game performance and her loose runway look.
Kiara, well, we know her Snatch Game was shite but she finally put together a runway that wasn't cheap as chips.
The judges loved Rita Baga's Edith Piaf but I was bored. She's a top.
Jimbo HAS to win, not just because I loved everything but because the judges did too, especially Stacey McKenzie.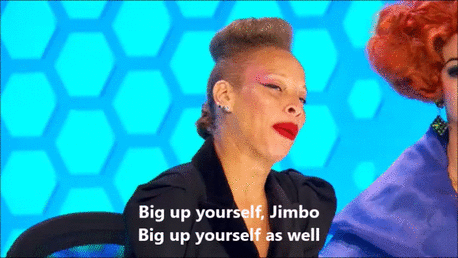 Brooke Lynn Hytes doesn't know what that means but Jimbo will TAKE IT.
Lemon smashed Snatch Game but not the runway.  I was wondering if she would be read for no boobs (which is entirely appropriate for Celine Dion, tho) but really just that it was kind of boring.
Priyanka did a fantastic runway but. But. Miss Cleo.
Scarlett BoBo and Ilona Verley are full-on asleep when the rest of the ladies come backstage, how long did that take?? How long did they talk to people on stage??
Hahahahahaha Jimbo wins! And not just the challenge but a 7-day cruise with Pitbull!! Hahahahahahahaa
Whaaaaaat it's Kiara and Priyanka going head to head, not BOA? That's shocking. We've got a Toronto comedy queen up against a Montreal dance queen to a Celine Dion song "I Drove All Night." Hmmmmmmm
I have no idea if Priyanka can dance!
Guuuuurl. That was the sexiest lipsynch I have ever seen and that's all thanks to Priyanka. Wow. WOW. Gorgeous and sexy with splits at the end. Wow. Kiara gave it everything she had but wow. Pri-Pri.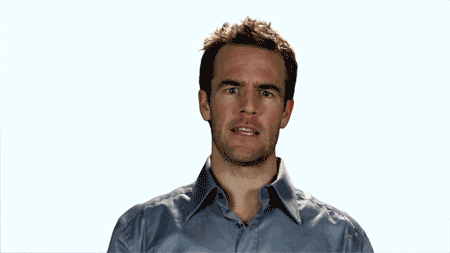 And with that, Kiara is released back into the wild.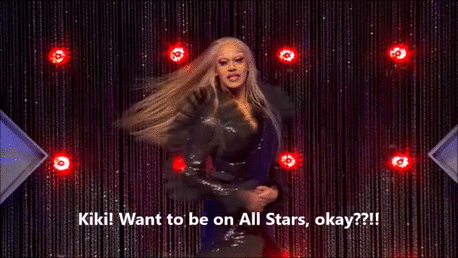 Until next time, hunties, wooooo! Cheers.