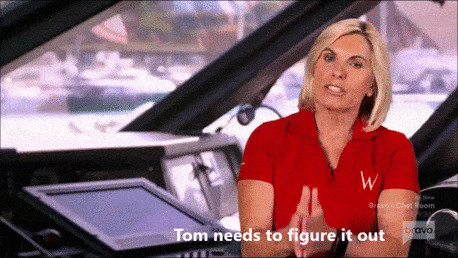 We're back for our very last charter asea on Below Deck Mediterranean, do you think chef Tom Chekkets will be able to figure it out or nah? Let's find out after the break as we roll into my recap of Below Deck Med S5:E18 A Real Handful!
So. We're about to start our last charter on Below Deck Mediterranean, are we doing that with or without chef Tom Chekkets? He's currently storming around the ship's galley complaining about overheated fish and how unfair it all is, will Captain Sandy Yawn be able to steer this wayward vessel towards victory?
By that, I mean will she put up with Sir Hissy Fit for two more episodes?
Tom is in the cabin he shares with bosun and girlfriend Malia White, she manages to talk him into returning to the galley but the state of the (MASSIVE) walk-in cooler sends him into another tailspin.
It's his REPUTATION!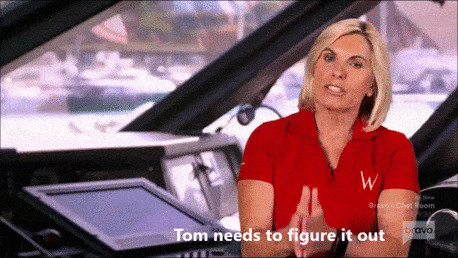 He'd rather walk off the boat than be associated with subpar food, based on the provisions that Captain Sandy has NOT provided him with.
Things aren't any less tense in other sections of the boat, deckhand Robert Westergaard is usually hanging all over third steward and girlfriend Jessica More but right now he's helping cheery second steward Aesha Scott fold towels. Jessica overheard them joking about the sex she and Rob may or may not have had the night before, she's grossed out and upset. Jess is hella jealous of Aesha, who seems to be just joshing around as usual.
Captain Sandy calls Malia into her office to ask the all important question: if Tom goes, are you staying? Malia doesn't answer directly, but says she has to respect her partner for life (Insta? Anyone) which means probably not staying.
I don't know why people bother getting into relationships anyway. So you can do a bunch of things together and build traditions that you can just forget about and end up with nothing anyway?
Stay on the ship, Malia.
Basically, Captain Sandy doesn't want Malia running interference between Tom and his captain any more. Tom has to deal with Captain Sandy directly, full stop. Malia agrees, she leaves with Captain Sandy shouting "go be a bosun" after her in an encouraging fashion.
It's almost time for the early guest arrival, everyone is in their dress whites already but I guess we have time for Aesha to ask Jessica how big her boobs are. Jessica coolly answers, Aesha uses that as an opportunity to feel herself up and I don't think the expression is "more than YOUR handful is a waste", lady. Plus, more than a handful is more for sharing so shhhh.
The provisioner shows up again as everyone is sitting around waiting, chief steward Christine 'Bugsy' Drake gathers the frozen fish and oysters and stashes them in the walk-in cooler as she can't find Tom.
Captain Sandy comes down, Tom throws his first hissy fit directly AT her and it's on. Captain Sandy will NOT be spoken to like that, she calls everyone to the main salon for a pre-charter meeting to discuss how high tensions are running.
She cries as she talks about everyone caring out their work and how they're doing it. Everyone has to make things work, that's what they have to do. Just one more charter! Make it work!
Tom goes to the galley to bitch a little more before charter and before we know it, the guests are here! Wow, these are some beautiful ladies!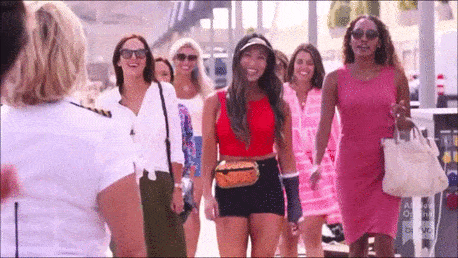 We've got co-Primaries Hannah Yu, Zaida Brown and Erin Grace as well as Mariette Frey, Lacey Dea, Amaya Hill and Nicole Holtmeier rounding out our Mom's Group of the Sea.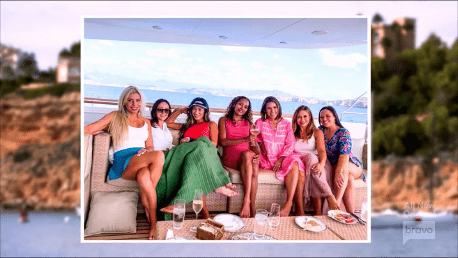 Bugsy takes the ladies on a boat tour with their champagne and cool towels while the deck crew schlepps one thousanty pounds of luggage on board. Deckhand Alex Radcliffe is definitely my favourite, but Pete Hunziker is also putting those gym muscles to work.
Tom's found something he can throw together for lunch, even if it's not the fresh halibut as planned. He makes me so.tired.
Malia takes her crew below deck for a chitchat and to appoint a new Lead Deckhand. Old Lead Deckhand Pete says not one word as she talks about his demotion, then she moves on to praise Rob for his consistency and finally to anoint Alex as the chosen one. He's a good dude and he's proven himself this season with his easy-going affable competence.
Speaking of the opposite of that; Tom is cooking lunch for 2 pm but has time to drag Malia into the walk-in to complain about the quality of the provisions. AGAIN. Did you not hear the Captain, you two? He's not supposed to talk to you about this stuff, Malia and you're supposed to make things work, Tom!!
Bugsy is left to half-heartedly flip things in frying pans left on, she texts someone and next thing you know, there's Captain Sandy in the galley listening to Malia tell Tom he's supposed to talk to Captain Sandy directly.
Oh wait, she's up one level, so it's just us hearing Tom saying "I don't care! I don't care about the guests, Malia!"
Well, the guests are having a great lunch, Tom, whether you think your meal is 'disgusting' or not. This is after he tears himself away from complaining in the walk-in and starts sending up plate after plate of food.
Aesha calls him a "spoiled little British brat" and wonders how Malia can find that attractive and honestly: I miss Kiko so much it hurts.
Tom sends out one last plate of chicken (that the guest ooooooh o'er) then he's off back to his bunk swearing about how unfair it all is again.
Could someone..just take him off in a tender, please? Thanks
They anchor in the middle of the ocean and Malia directs her deck crew to put out all the toys, all of 'em! I love how they're so used to the slide now, everyone hated the slide two seasons back.
The guests have an awesome time on the water with the toys and the slide. It's so different from most charters where a bunch of chubby older dudes play on the toys while their much, much younger girlfriends lay out and take pictures of themselves.
Primary Hannah is a parkour athlete and currently rocking a cast, so I'm not surprised when she ditches her jetski, I'm just shocked they let her go out alone. Rob has to go fetch her and they strike up a conversation as he tows her back.
She gets stung by a jellyfish on the way, so he has to tend to her wounds on deck while Jessica listens with: nope, not understanding that Rob is interacting in a fairly normal for him (if slightly over-personal) way with a guest but rather jealousy. I mean.
How can Jessica be so beautiful and so insecure at the same time?
The guests finish up in the water and head to the hot tub for shots and to talk about how hot Alex is within his earshot. 100% agree ladies, probably because I'm of a certain age too!
The plan was to go cliff jumping, the moms decide to have a nap instead and I can't see them regretting that decision for one second.
Tom has regrouped enough to start on dinner, maaaaaan am I looking forward to seeing the back of him, but I'm sad the season has to end booooooo.
So y'all know that there are three co-Primaries, right? They've been choosing meal times by vague voting, but apparently Nicole Holtmeier set a later supper (8:30 pm) than everyone else wanted. The women (who look lovely, all fancy!) tell this to Captain Sandy, who says sure: let's eat 30 minutes early!
Now.
I've complained about Tom for approximately eleventy thousand episodes now but this is absolutely a shit thing for Captain Sandy to do. She's focused on giving the client whatever they want, she must know that they're not going to like raw cod for supper, which is what they're going to get with her sticking her oar in after Tom's been told something else.
The guests are starving, but Bugsy is afraid to tell Tom that so she says they're fine and runs out of the galley.
Tom starts sending out tiny starters which the guests wolf down in seconds. He calls Malia down to the galley for help, which Captain Sandy hears, then keeps her there to help with plating.
Sigh.
Why…did Aesha do this weird flex in front of Jess?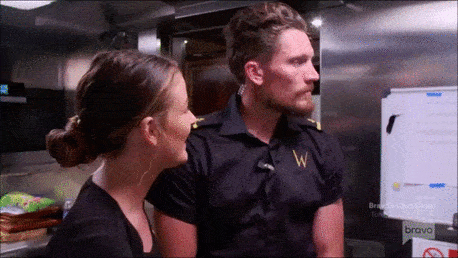 So the one Primary Zaida was definitely the hungriest, but she's gone past that point, past hangry to I Hate Everyone. She leaves the table at 9:47 with other Primary Erin so she can shittalk guest Nicole, who goes to her room to talk about how stuckup everyone is.
Sigh.
These are women in their forties who look like late twenties who act like 12 year olds.
Primary Hannah somehow finds herself alone on deck with Rob so she invites him to be in their group photo.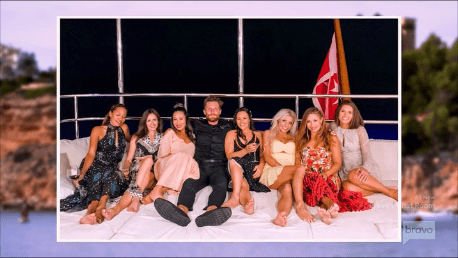 Okay!
He sticks around and chats with them for awhile, mostly about his modeling career and honestly: I just don't get it. At all.
Everyone heads to bed then we're up bright and early at 6:15 am. Primary Zaida and guest Nicole are up for veggie omelets, Tom doesn't even complain about that awwww.
The guests get ready to head into town, Aesha and Rob will be escorting them while Bugsy and Jess clean cabins. Jess is furious when she hears Aesha will be going with Rob instead of her. I'm sure this won't end poorly.
Aesha wonders out loud why the cabins haven't been started, Jess goes off to get the cleaning rolling while Aesha and Bugsy wonder what the Sam Hill Jess has been doing if she hasn't been working on cabins. That should have been done ages ago, the guests have been up for hours.
Once a few of the guests gather on deck, Malia calls for Rob and Aesha and this party is about to get started! The guests and crew stop for a photo while Jessica watches, she gets a picture of Aesha's hand grabbing Rob's bum and shite goes nuclear.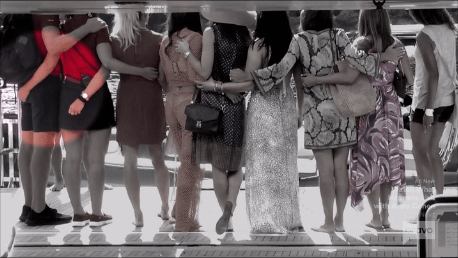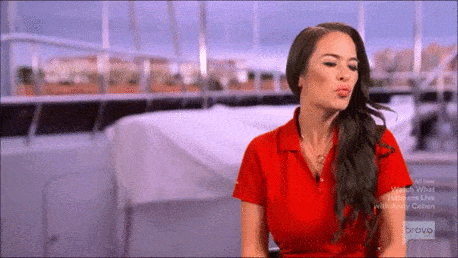 That's where we leave it for today, see you next week for the continuation for BumGrabGate! Cheers!