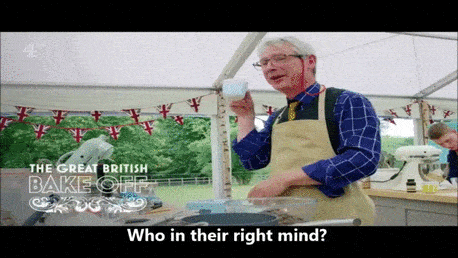 Hi guys!! The Great British Bake Off is back and I'm EXCITED!!!!! I don't know anything, is host Sandi Toksvig still here? Did she film this season before she quit or do we have yet another new host? Without further ado, let's roll into my recap of GBBO S11:E01 Cake Week after the break!
A painful Boris Johnson impersonation later and I have my answer. Welcome to the Bake Off family, Australian comedian Matt Lucas. I'm sure you'll be fine.
Looks like Noel Fielding is still kicking around, I suppose we'll see judges Paul Hollywood and Prue Leith any moment, shan't we?
Who else've we got?
In order of appearance, names filled in after!:
a lovely lady in a bright blue hijab who didn't think she'd make it – Sura Selvarajah
your messy aunt who grows more herbs than strictly necessary – Linda Rayfield
your tidy confirmed bachelor uncle who always rocks a vested suit – Rowan Williams
a red-eyed, red-shirted youngster just thrilled to be there – Peter Sawkins
Ahhhhh they've already answered by first real question: was this filmed during COVID-19 and the answer is: yes. They formed a large cohort and lived in a wee Bake Off Town all together. How extraordinary.
Back to the contestants! Next up:
a radiant blonde with large teeth and generous proportions – Laura Adlington
an Indian Gandalf? Those ears! – Makbul Patel
Bearded hipster with an Irish lilt – Mark Lutton
hollow-eyed waif with sallow skin and a cunning smile – Lottie Bedlow
an English Issa Rae with excellent earrings – Loriea Campbell-Clarey
Super clean cut and probably not a reformed criminal – Dave Friday
Cool dad with a pukka shell necklace – Marc/Hamish Elliot
Braided lady in African wax prints, come through Hermine!
Huh Paul Hollywood looks different and I can't think why. He looks like a skinny Kenny Rogers now?
We pause for the season promo, looks like lots of things fall over and people cry? Right, that's about normal!
It's time for our first Signature Challenge of season 11, Matt and Noel tell us the bakers will be making battenbergs over the next two hours, which is a square cake wrapped with marzipan with a design inside.
Linda is ready to roll! Er, square! Radiographer Loriea from Durham is making a bubblegum cake, it sounds sickeningly sweet, even from here.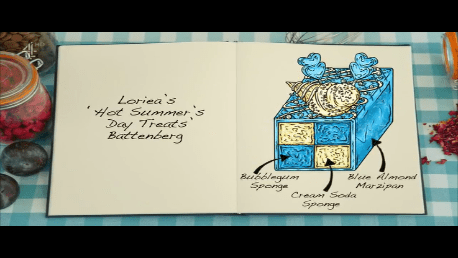 Samaritan volunteer Laura from Kent has gone in the other direction with all real flavours awwwww look how pretty??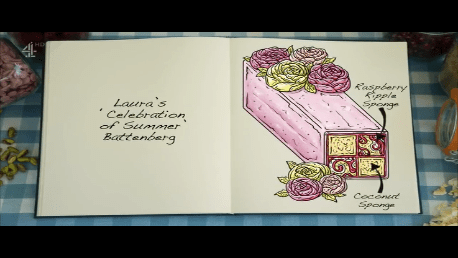 Lottie from LittleHampton has too much makeup of all the wrong colours and a plan involving the weed of the fruit world: rhubarb.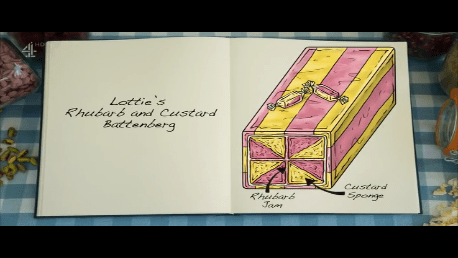 She's messed up his first sponge already, she's got to start over and there's just not much time, is there?
Dave is getting super fancy with his vodka marzipan, calm down, mate! It's only the first week! You've got a baby on the way at home, save some of that booze for then!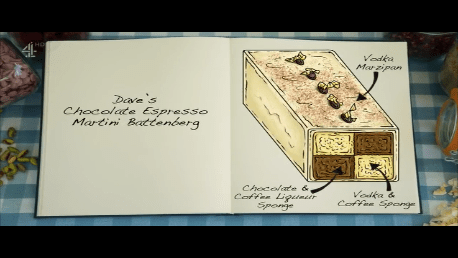 Marc is going all natural like Laura with his sour cherries battenberg but apparently cannot cut a round loaf of bread. We watch him cut it into four pieces, what the ever-loving hell?
He redeems himself by taking on the moniker Hamish after his dog, so that there's less confusion in the tent with the two Marc/Marks. I've just noticed that single dad Hamish has one regular leg and one fancy metal leg.
Peter is making a gluten-free offering, which shall please my friend J. Peter's more used to that sort of baking than the glutinous type!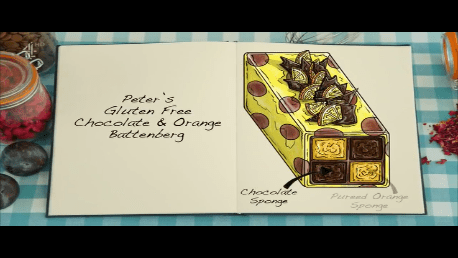 He'll be listening to his sponges like GBBO season 3 taught him!
I've not got there yet, I've barely cracked into season 6 as I work my way backward.
Sura can't exactly listen to this, can she?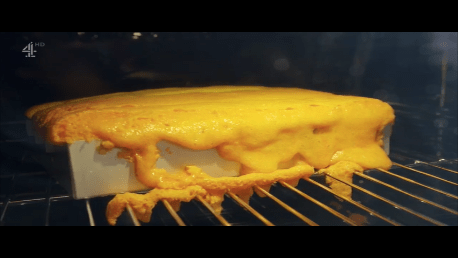 That's…going to be a problem. It's supposed to be part of this: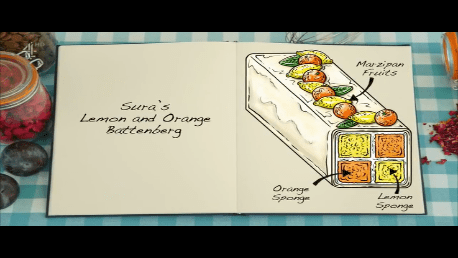 Homemade marzipan is the next hurdle to clear, I see many many colours but no real cohesion of mixing yet.
Awww, it's Mark's anniversary!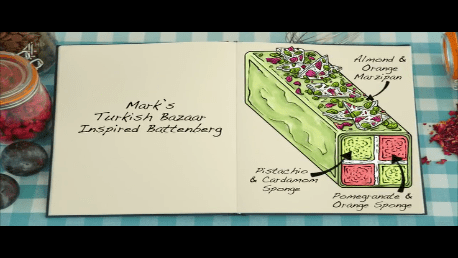 Rowan is making a complicated design with 13 different cuts required. I wish you luck, sir!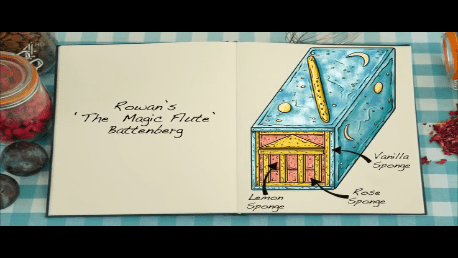 Speaking of unusual designs, Linda is making an ambulance-shaped cake. What?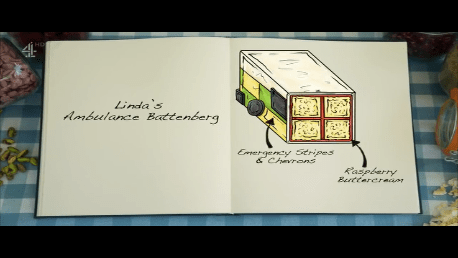 Oh alright, she's slapping wheels onnit, got it. Her paramedic cousin died recently, this is a tribute to him.
Mak is the only baker not using the traditional ground almonds for his marzipan, but instead is going with pistachios. MMMMMMMMM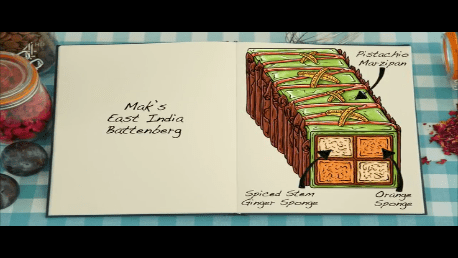 Oooooh I like Hermine's chocolate/orange combination!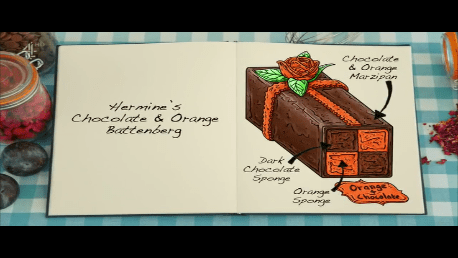 Disaster strikes Rowan during the decorating stage, not only does he have an extremely complicated temple to assemble, he's trying to do it with a raw centerpiece. He decides to microwave his largest sponge, WAIT. Did they always have microwaves? I have watched part of season 6 and everything after, I've never seen anyone microwave anything. Why would you microwave an uncooked sponge????
Lottie is feeling the pain of starting over, sure it was only 20 minutes but when you've only got 120…those two will be duking it out in the bottom as everyone else slaps marzipan on their finicky cakes.
3 frantic minutes of decorating and we're at our first GBBO judging of 2020!
First up: Peter! Great thin marzipan, moist and crumbly sponge.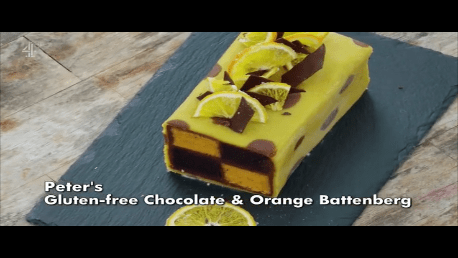 Mak doesn't do as well, Paul thinks it's over-complicated.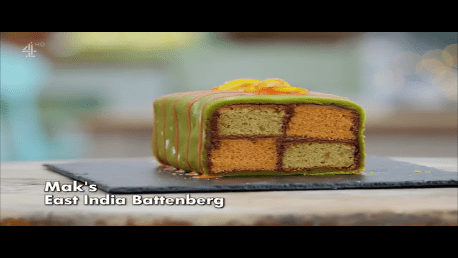 Hermine's looks fantastic, it's called "a pleasure to eat."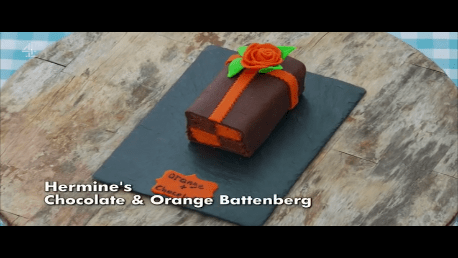 Laura did some great flowers on her bland cake.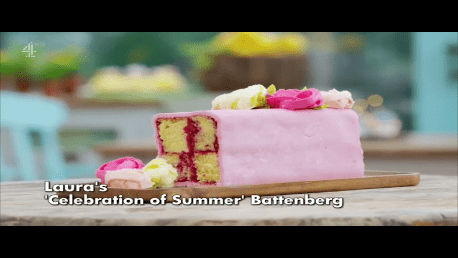 Dave's cake tastes fantastic and is neat as a pin.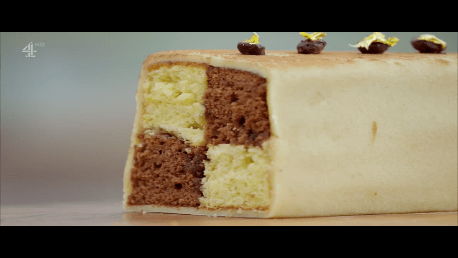 Linda's ambulance is alright, yes?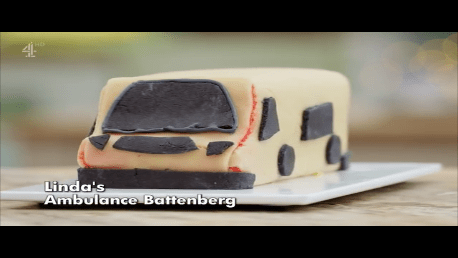 But the inside is overbaked and lacks flavour.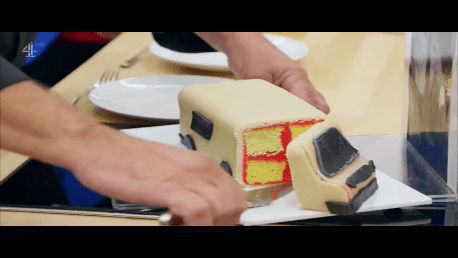 Loriea's is gorgeous, I can't wait to hear how it tastes. That marzipan is thicccc but unfortunately the cake is very dry.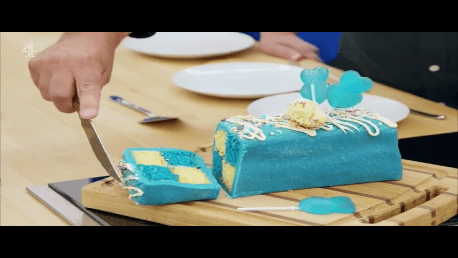 Mark's put pistachios in his sponge, which is apparently okay as long as it's not in the marzipan…hmmm…I see.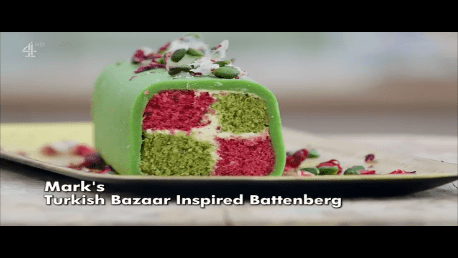 I love the busy-ness of Hamish's battenberg!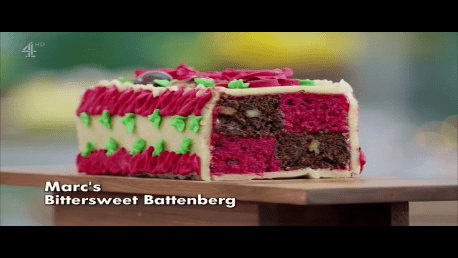 The judges: not quite as much.
Lottie does really well with hers, wrapped like a sweetie.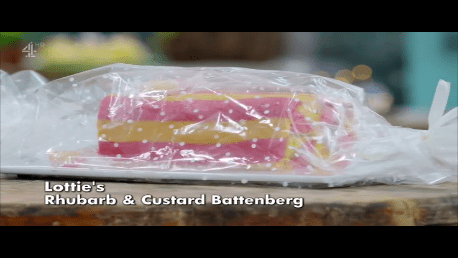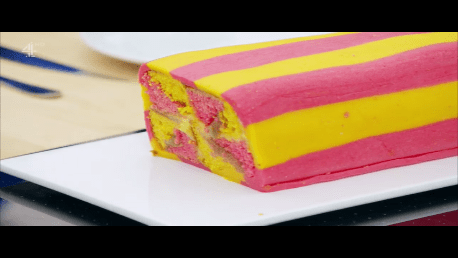 Even though up close it looks like this: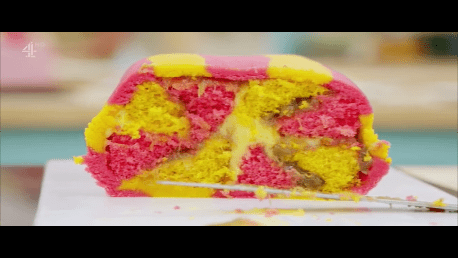 On to Rowan's Not Temple But Rather Magic Flute, which is still too dense.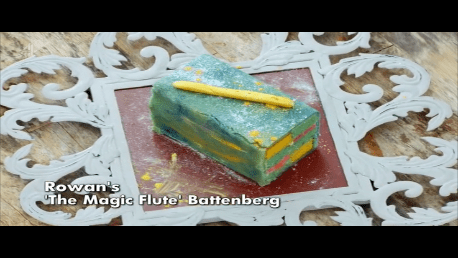 I love the colours on Sura's cake! The judges like that and everything else about it too.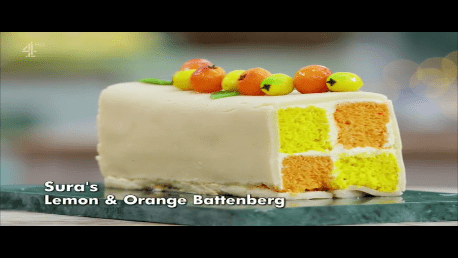 On to our first Technical Challenge of season 11, it's Paul's recipe and it's a classic in need of careful time management. Huh. That could literally be anything, anything at all.
But it's not anything, it's 6 miniature upside down pineapple cakes! Yuuuuuuuck x 6. But yay, they're using real pineapple, thank goodness!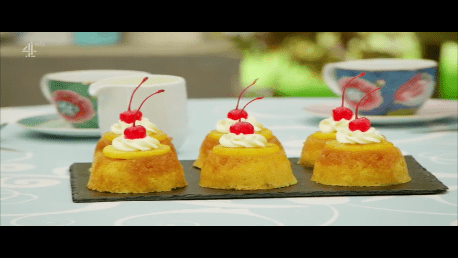 Caramel is the first challenge. Everyone stares at the sugar in their pots while carefully not stirring them and hurriedly assembling all the other ingredients required. Getting the right amount of caramel into the individual pots is also key, you need enough for flavour but not too much or the sponge won't cook.
Hamish forgets to butter his molds. I have no words for that most basic of errors.
With time almost up, it's time for the unmolding and I don't think I breathed for that entire time. Linda is in serious trouble, I don't think she's going to have anything to present.
The final stages are piping whipped cream and throwing a cherry on top, nobody's wee gross pies are cool enough for that so we get a lot of sliding cherries and messy whipped cream.
Time for judging, but.
Sura knocks over almost all of Dave's cakes shooing a fly off of one of hers.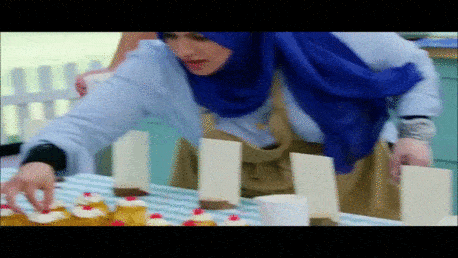 What can you do in that situation but apologize profusely? Sura does just that, then she and Dave split into two camps where she cries and half the bakers reassure her while the other half listen to Dave loudly pronounce that accidents happen while his face and tone say something else entirely.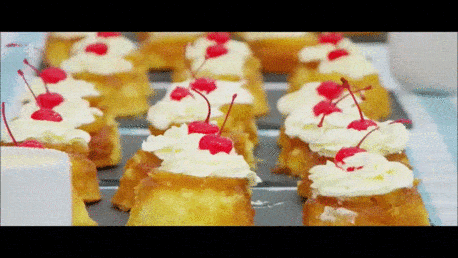 Things shake out in this order, from slightly less than awesome to most best:
12th – Linda
11th – Hamish
10th – Loriea
9th – Dave – they used his one good one left as a template for the rest, it was slightly overbaked and dark
8th – Mak
7th – Mark
6th – Laura
5th – Hermine
4th – Lottie
3rd – Rowan
2nd – Peter
Sura's win is bittersweet for her, all she can think about is wrecking Dave's platter full of wee yucky cakes
Here's what I don't understand. They've got everyone crammed together in the tent, why not just speed up the process and film it over much less time? Then people are separated for much less time. I guess people are still working from home, though, maybe? Although I don't know how you'd be a hospital pharmacist or radiographer at a distance.
Okay this is a bizarre Show Stopper Challenge even by GBBO standards: the baketestants will be preparing 3D cake busts of their favourite celebrity heros.
Hamish is up first, he'll be recreating David Bowie's Ziggy Stardust. In a delightful bit of foreshadowing, Prue talks about the glorious lines of the Thin White Duke's face which will surely be rendered crisply in cake form while under time restriction and on national TV.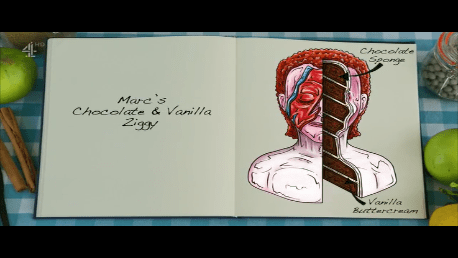 Interesting that the whitest woman in the tent is using one of the most significant symbols of Rastafarian culture as her bust. Question: why is Bob Marley green and blue, Linda?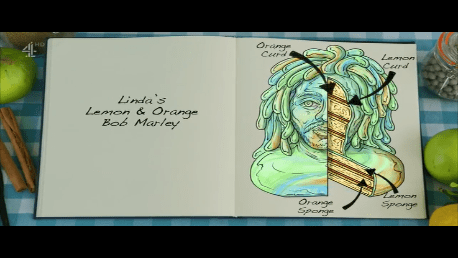 Laura's making a Freddie Mercury, as you do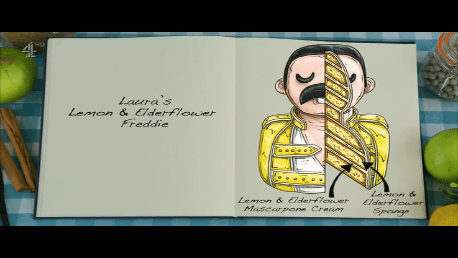 Lorie is making a bust of Jamaican poet Louise Bennett-Coverley with some super-not-cake-friendly spices. Scotch bonnet flavoured???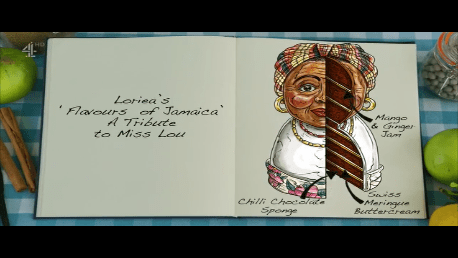 Sura's in a slightly better mood today, she's creating a David Attenborough bust.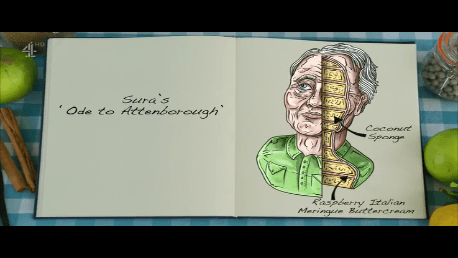 Another outlier is Mark's Charles Darwin cake, that's not weird at all.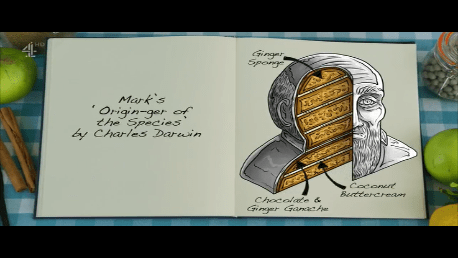 Lottie is making a Louis Theroux cake but extra thoroughly in using a skull mold first. Huh. Who dat? I looked him up and I still don't know.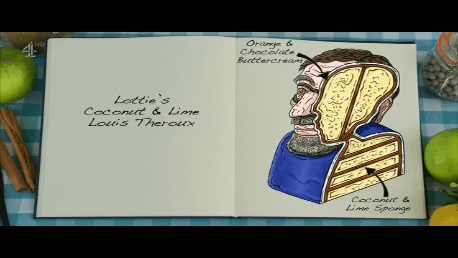 Rowan is going the extra mile with his Marie Antoinette effort, soaking cherries in kirsch and the like.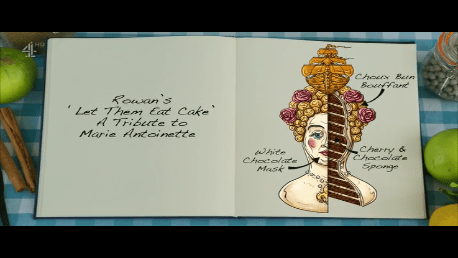 He's making choux buns for her hair, yikes.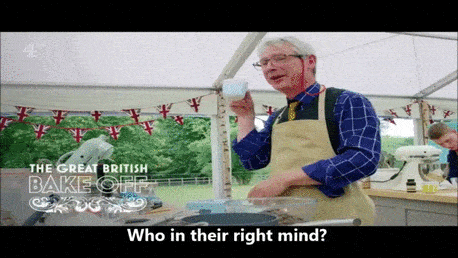 Peter is playing it safe with his helmeted and goggled Chris Hoy. I am worried there will be an explosion of fondant, I don't want to get all sweary in case there are any late joiners to the GingesBeCray Fondant Hating Club.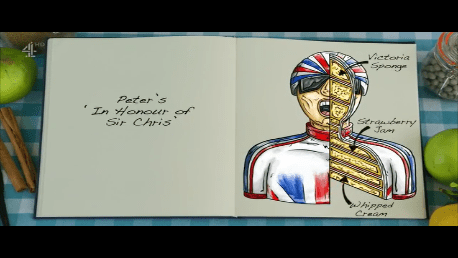 Indeed, Laura is rolling fondant as everyone else tries to cool their sponges in their colourful fridges. Mark drops half of his and throws the other half in the freezer, sure! Just slap on some buttercream and nobody's any the wiser.
Literally everyone is using fondant, or sugared boots, as I like to call it.
Dave is making a Tom DeLonge from Blink-182 and I forgot what I was going to say because I got so mad when they called Blink-182 a punk band.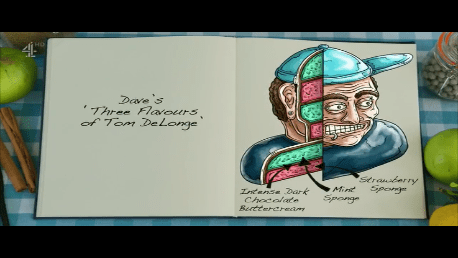 It was pop!!!! Pop with a side of cheek does not equal punk, check out some Violent Femmes or Pennywise or NOFX or any other actual punk bands and stop the insanity.
For whatever reason, this leads to Matt doing a spot-on Roger Whittaker impersonation.
I am sad.
Oh I am worried about Hermine's plan to recreate Lupita Nyong'o.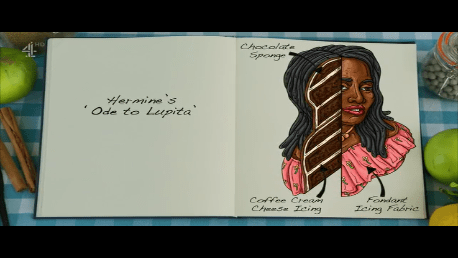 Awwwww, Mak is doing author Bill Bryson! I love Bill Bryson's books! He does the type of travel book I love to read; hilarious and pedantic and seem sort of useful but mostly entertaining? Like a magnifying glass applied with humour, I adore his work. Do not mistake my enthusiasm, this is going to be a terrible, terrible looking cake.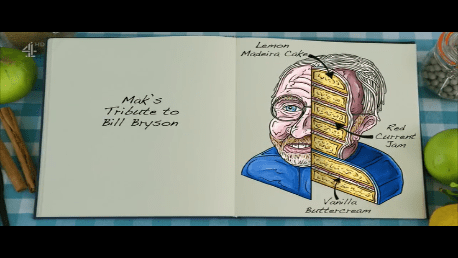 With thirty minutes to go, everyone rushes to decorate their stupid fondant. I cannot WAIT for the judging.
Sura helps Laura with her Freddie Mercury head, she wouldn't have been able to present without that so perhaps Sura has achieved a karmic balance in the Bake Off tent.
What did I just say????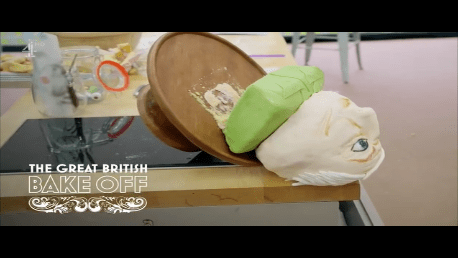 I've jinxed Sura from afar and from the future! I'm so sorry! Now I'd better go find someone who needs the giant cake head of a popstar from the 70s put on properly to sort myself out.
Okay, Rowan didn't do too badly! Even without the flat choux buns, Paul warns him to "say less, do more" and isn't that good advice for all of us, really? It's a tasty cake.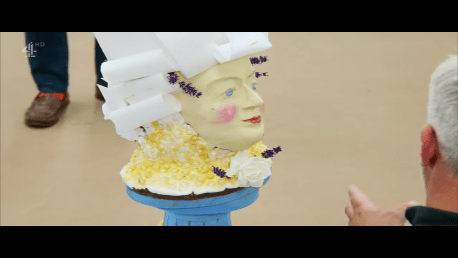 So this is Louis Theroux? Apparently? But the cake is overbaked.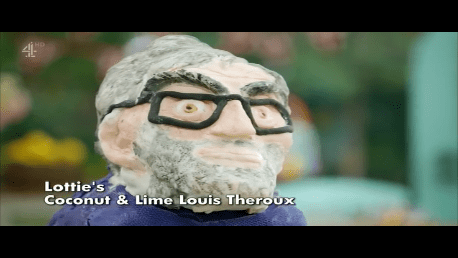 Oh Bill. What did Mak do to your cheerful face? He overbaked it, that's why he did.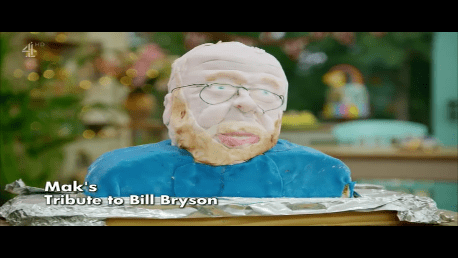 What happened to Bob Marley's mouth, Linda??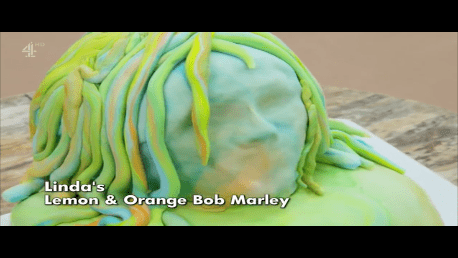 Why does he look like a lava monster coming out of the sea, Linda??? It tastes good, though, I guess, whatever.
Why is Chris Hoy screaming, Peter?? Who cares, he tastes great and is recognisable!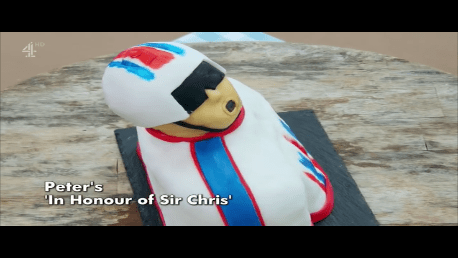 What in the Sam Hill.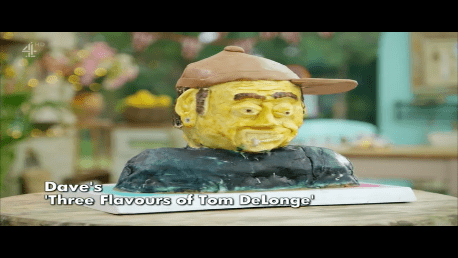 The fact that this tastes like toothpaste is the only thing that makes sense to me.
Oh Hamish. Oh Marc. Let's say a small little prayer to the ghost of David Bowie. Hamish doth not know what damage he has doneth.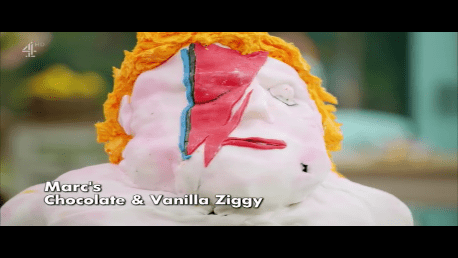 Okay. I have to start presenting these without comment because there's no point in pouring salt in an open mangled cake face.
Hermine's Lupita Nyong'o is delicious.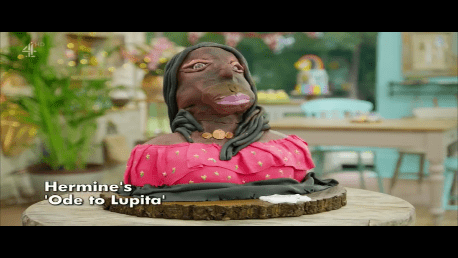 Mark's Charles Darwin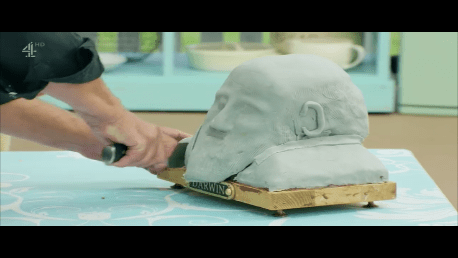 Loriea's Louise Bennett-Coverley is as spicy as expected.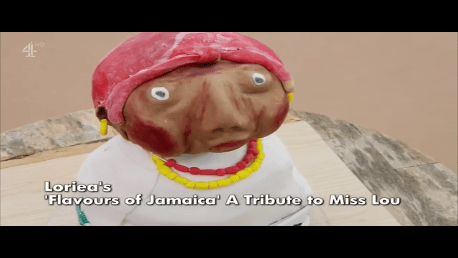 Sura's David Attenborough gets rave reviews, she's in line for Star Baker for sure.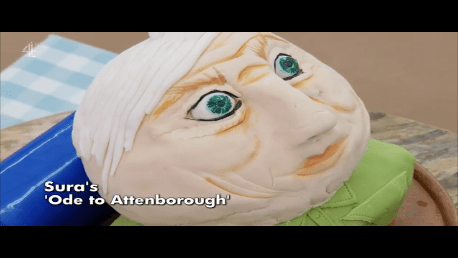 Laura's Freddie Mercury is delicious and moist if completely missing a neck.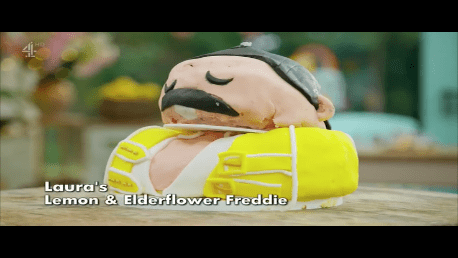 So. Our first Star Baker of 2020 is: Peter!
And first to go home in season 11 is: Loriea
I always write those before they announce it; most of the time I'm right but every once in a while they throw me a curve ball. For example, I had Sura in as Star Baker above. I am very happy with Peter's win, he definitely earned it. It's probably completely unrelated to how much he looks like he hasn't slept for millennia and is about to cry at any second.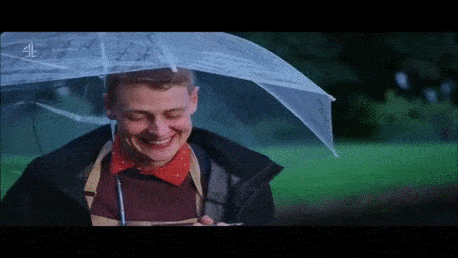 Another thing I was wrong about was who was going home, I was sure it would be Marc/Hamish but instead it was the lovely and cheerful Loriea. No shame in that game, chica, top twelve in Britain! To say that Linda and Marc were surprised to have made it through another week would be a strong understatement.
Cheers everyone, I'm so happy to have my favourite show back on! Until next time!