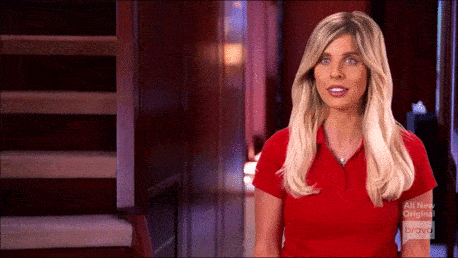 Ahoy mateys! It's time to drop anchor (or is it trou?) for our last trip of the season with Below Deck Mediterranean, are you ready for part two of Who Grabbed Whose Bum? And Why? Me too!! Rolling my recap of Below Deck Med S5:E19 The Bali is in Your Court after the break!
So. We're in the middle of a sitch-y-ation on Below Deck Med, we've got deckhand Robert Westergaard having his bum grabbed by second steward Aesha Scott, all in front on Rob's girlfriend and third steward Jessica More.
Jessica is at the physical violence stage of mad, she's not here for any of this. I am finding it very hard to believe that Aesha is being trashy, she's just so fun and chill. Why mack on someone else's dude? Unless she thinks it's a joke? Or she's just lonely, I dunno, dude!
Rob didn't feel anything, even with his "sensitive bum". He and Aesha have an awesome time wandering around with Primary Hannah Yu, Primary Zaida Brown, Primary Erin Grace and the rest of the gang. They even share an ice cream cone, awww.
Back on The Wellington, Jessica struggles for calm.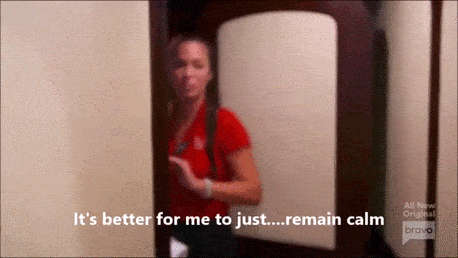 While chief steward Christine 'Bugsy' Drake tries to understand what the Sam Hill happened.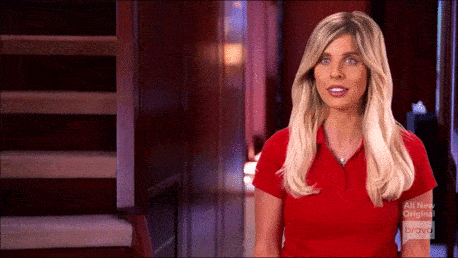 Nawwww but look at Bugsy and lead deckhand Alex Radcliffe!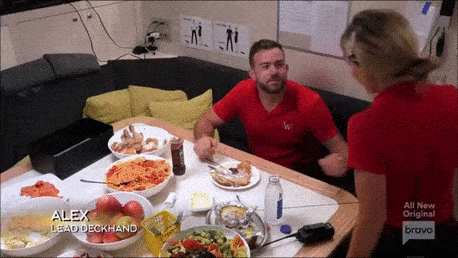 I lurve them together.
Bosun Malia White has picked up that something's wrong, Bugsy explains but somehow Malia gets it wrong and goes around telling everyone Aesha just slapped Rob's bum. It was a full grab, y'all.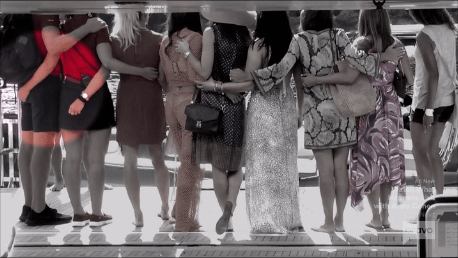 Yes, in case you were wondering, I do question my life choices while posting that. Thanks.
Bugsy tries to send Jessica for a break but Jessica really needs to be doing something physical right now, not stewing in her bunk and sharpening her shiv.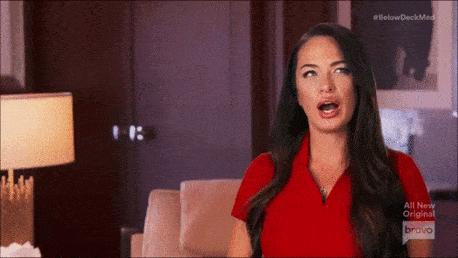 Jessica is trained in Muy Thai, so she could work through her aggression.
Aesha and Rob manage to have a great time while losing the guests and discussing Rob's mum's vagina. Yeah. For real.
The guests are done exploring so Rob radios Captain Sandy Yawn for a ride back while Jess does some deep knee bends in preparation. Okay, figuratively, but you know she ready.
Problem child chef Tom Chekkets goes for a nap, carefully marking it on the board as Captain Sandy told him to after he lost his shite over being disturbed 18 minutes into his break to cut up cucumbers on the last charter. He's trying to explain away his bad behaviour but we know better.
Well. The guests are coming in hungry, Bugsy has to wake Tom up anyway. Last day of the charter season, wooooooo! Just focus on that, Tom!
He doesn't complain to Bugsy about being woken up five minutes into his break, just swears a lot quietly and makes his way into the galley.
Primary Zaida is the most difficult guest by far, she asks for a chicken ceasar salad but is unhappy because it has bacon on it. That was on her preference sheet, it's a legit complaint which I'm sure Tom will take with equanimity.
Or whatever the opposite of that is.
Tom does make another, then heads for a break. Whew!
Aesha is in the galley when Jessica finds her, we all hold our breath while Jessica ties her hair back.
She is calm when she asks Aesha about the butt grabbing, Aesha says she doesn't remember doing that and apologizes but interviews that Rob was wearing a massive backpack, where else should she grab?
HOW can there be this much drama this season?? HOW?
Somehow, Aesha manages to make this a condemnation of *Jessica* for being *sensitive* about someone grabbing her boyfriend's arse.
Honestly.
Recently promoted lead deckhand Alex is a big hit with the ladies, he's just so cute and friendly! They all gather around to watch him work, this is a Stay At Home Moms group, did we say that yet?
Alex tells Aesha the ladies want margaritas; Aesha asks "does one of them want a rim job?" Alex is all of us: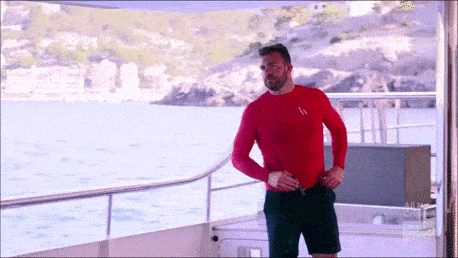 That…wasn't by accident.
Jessica was supposed to clear the table but she's decided to instead fight with Rob on deck. Look, she's not wrong, he keeps talking about her jealous energy hurting him but. But. This is exhausting, let's look at lovely couple Bugsy and Alex for a while instead!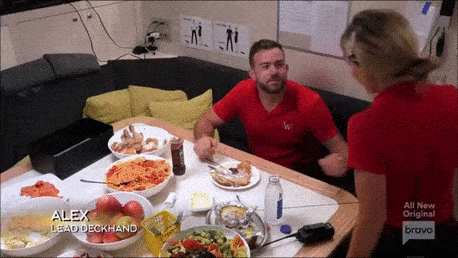 Bugsy is getting heated clearing the table that's sat out for hours not being taken care of, the guests actually come across Jessica and Rob still sitting and fighting. Rather, they were agreeing that Rob should probably date someone fun and free like Aesha.
Jessica does not go help Bugsy clear the table after the fight/agreement, she goes to her cabin to cry and I get it, girl. Bugsy pulls her aside for a check-in as Rob asks to speak to Captain Sandy.
Erm
Really??
He asks for a conference with the Captain of this vessel so he can talk about how jealous Jessica has been and how it's bringing him down. Captain Sandy gets snaps for not laughing in his face, instead she carefully reminds him that there is only one single night left in this Charter Season That Never Ends, keep it together, dude!
He seems to want her assurance that he's not doing anything wrong, she tosses it back to him: he's the only one who can answer that. He mentions wanting to get into engineering, she steers him toward (off-camera) David, they both seem a little lost in this conversation.
Half the charter guests jump off the yacht and the other ones gather in the galley looking for drinkies. Guest Nicole Holtmeier doesn't want a "skinny spicy" margarita, she wants a full fat one!
(There is no fat in a margarita, only sugar. Sigh)
Alex and Malia take the guests on a sunset cruise, man do those ladies like him. He's cute, respectful and into older women. Who cares if he doesn't know Bali is in Indonesia? I bet he cleans UP. Young people are adorable and so full of enthusiasm! They just don't always know what they want, either, booooo.
So Rob hooks up with David in the crew mess to discuss an upcoming crossing. Apparently this is a big thing, lots of miles and counts towards certification as a "yachtmaster." It appears this is at the same time as Jessica and Rob's planned trip to Bali dun dun DUNNNNN.
What ever will he do?
Tom is skipping around the galley, all excited because it's his last dinner on this superyacht from heckhole. But he's cooking all beef for supper and I can't be the only one who just saw Primary Zaida's preference sheet with "no beef, no pork" on it, right?
The guests dress for their supper and silent disco for after, have you seen The Lobster? You'd know exactly what I was talking about if you have!
The guests are a full hour late for supper, Tom must be medicated because he's not even complaining. Malia helps plate supper while Captain Sandy watches with a smile on her face, what a difference a day makes! I could swear I heard her telling Malia to stay out of the kitchen just a mere day or two before…
Malia wants to be a captain, Captain Sandy is going to help her with whatever she needs!
Tom quickly whips up a chicken supper for Primary Zaida, who waits and watches everyone else enjoy the beef filet. *Sigh* It's just that she's the angriest and hungriest, perhaps you guys could have kept an eye on her sheet particularly?
Rob and Jessica take turns fighting and being silent while cleaning guest rooms, I really do feel for them. It's hard to be in something uncertain when it feels like there's so much on the line. Relationships are tough, y'all.
The guest switch from gorgeous dinner outfits to pajamas for the silent disco. Malia, Aesha, and Bugsy join in the noiseless dancing. Well. Except for Aesha's caterwauling.
Rob and Jessica fight all night until one final blowout in the morning. I don't understand what's happening. He pushes people away and sets traps for them?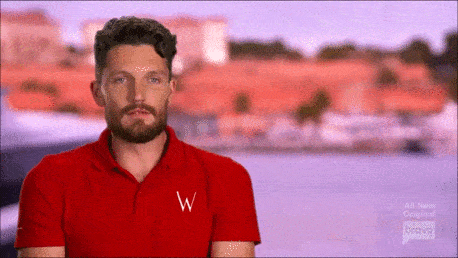 She thinks HE'S blowing things out of proportion?
I just.
He leaves her crying in their room and tells first mate David that he's in, he'll do the crossing instead of going to Bali with Jessica.
And we're out! Cheers, everyone. Hug someone important, life is tough out there, you guys.