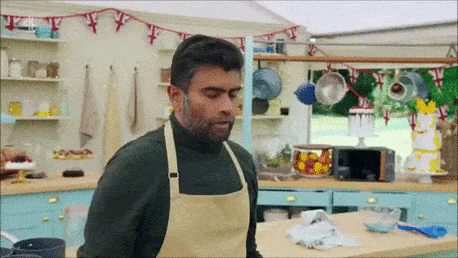 Hello! It's time for the best part of the week, the Great British Bake Off! Woooooo! We've got a new host and returning judges and one less baker than we did last week. Let's see what shakes out tonight in my recap of  Biscuit Week after the break!
We're back on the Great British Bake Off for Biscuit Week, yay! Just remember, they're sort of cookies and perhaps even a cracker but not really either. (English people like to dunk them in tea. IKNOW).
Hosts Noel Fielding and Matt Lucas introduce the Signature Challenge this week for judges Paul Hollywood and Prue Leith, the bakers will be creating 36 chocolate florentines.
Dave tells us the florentine is all about the snap, even though I am much more interested in the chocolate part of that equation. Hermine is nervous but I'm sure she'll do fine!
Last week's Star Baker Peter Sawkins is making sticky toffee something.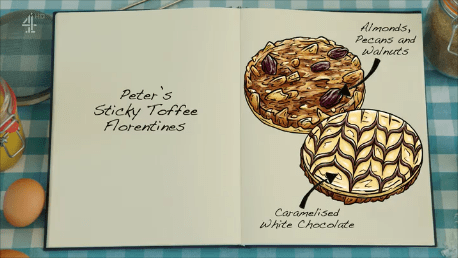 I just. White chocolate isn't chocolate and tastes like watered down sugared boots. Why?
Sura has gone back to her Iranian roots for the flavours in her bits of whatever. They look pretty?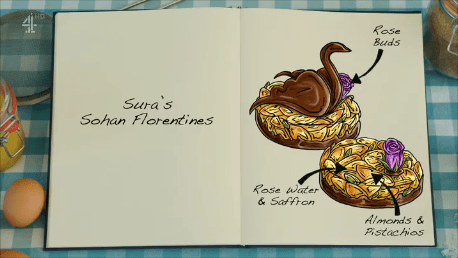 Oooh Linda is using Brazil nuts in her pretty biccies!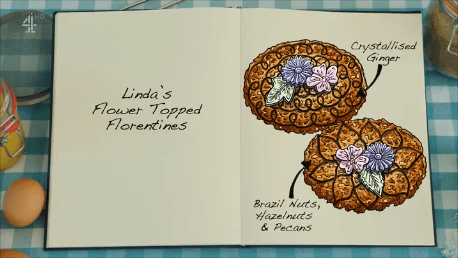 Mark is using macadamia nuts and I hate almost everything else.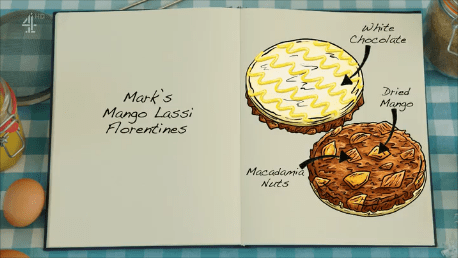 Makbar is a novelist! And in possession of insecure decorating skills, so we'll have to see how these peacock feathers turn out.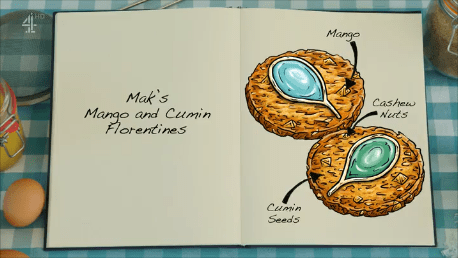 Dave is using three types of chocolate on his florentines, it's just like him to give me nothing to complain about!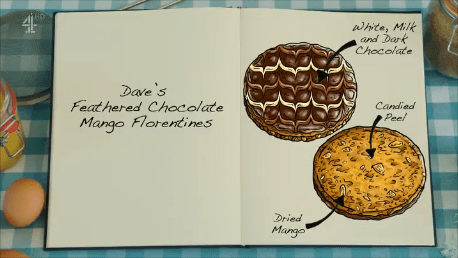 Huh. Laura's biscuits sound super sweet, Paul mentioned he'd like to see a dark chocolate for contrast but here we're seeing milk chocolate.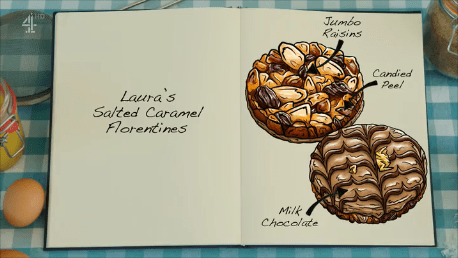 Lottie is making 'quarantine florentines" for her grandparents she doesn't get to see yet. It's hard, isn't it? Good lord, I still cry when I think about Easter. Standing on the lawn with cards, singing, and trying not to cry in front of the kiddos. Blergh. COVID sucks.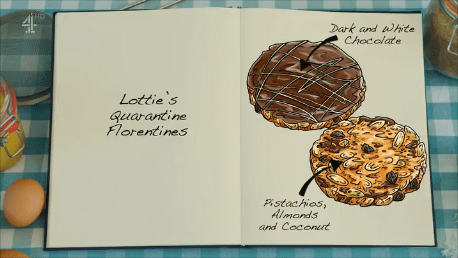 I am all in on these flavours!
Oooh but Hermine is using ruby chocolate, which I've only heard of but not seen! I'm excited!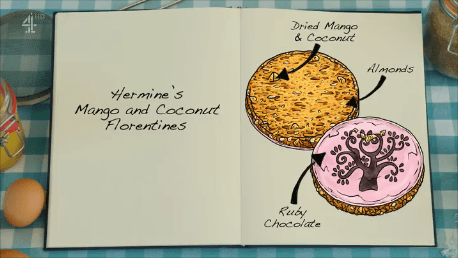 Rowan is at it again, promising fancy dress designs, will he have time this week to put waistcoats on all his cookies?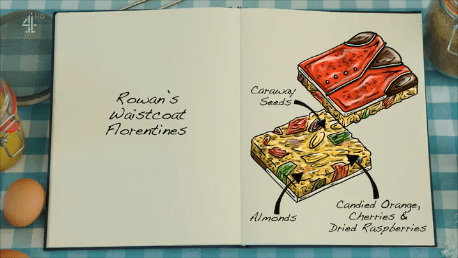 If you didn't think of "See My Vest" from The Simpsons, it's like I don't know you??!!
Nobody's florentines baked as they should have, Hermine is particularly behind so everyone else moves on to freaking out about tempering chocolate.
So much white chocolate floating about. I need to sit. Wait. I am sitting. Perhaps I need a little bucket for sighing into.
Ooooh Marc is using ruby chocolate too! I'm so excited to see what the difference in taste is like.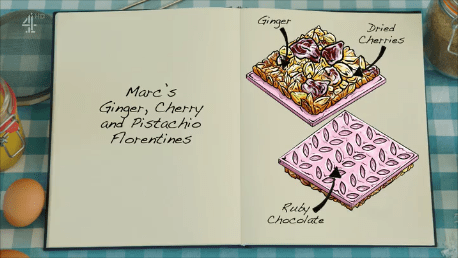 The last fifteen minutes are a blur of decorating, I love the look of the ruby chocolate! It's not the least bit like a ruby, I am here for it's vibrant pink colour.
Time is up! Mak continues plating like he can't hear the two massive and ridiculous men shouting his name from the front of the tent.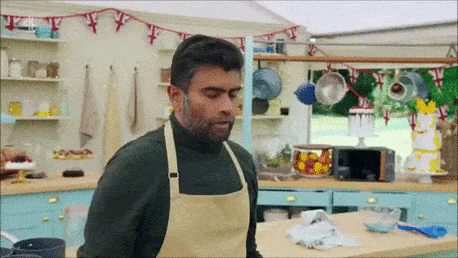 On to judging! Dave is up first with his massive snap and excellent dark chocolate.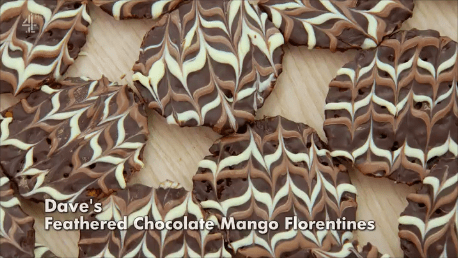 It's like he didn't hear Paul say he'd like more texture!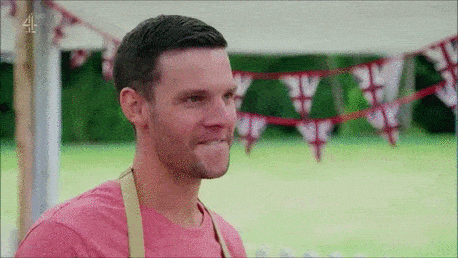 Onward to these yellow blobs I don't remember seeing a drawing of: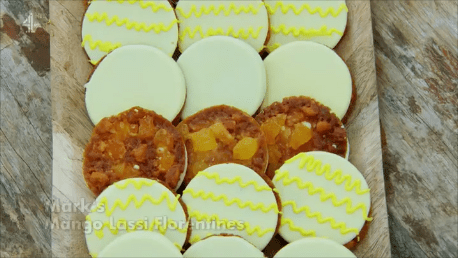 Oh. That's with the macadamia nuts, right? Mark. Oh but Prue has been also thinking about those.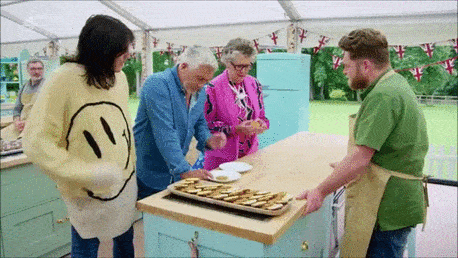 Laura knocks it out of the park with her sweet biccies, Paul loves the flavours but mentions dark chocolate as I knew he would.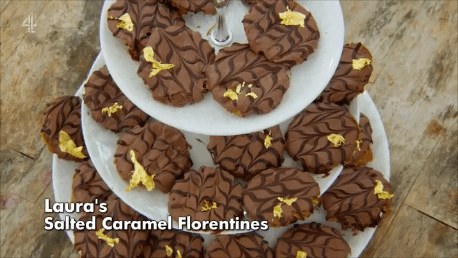 Rowan has over-promised and under-delivered on decorating again. Yikes, that dull chocolate, someone didn't temper.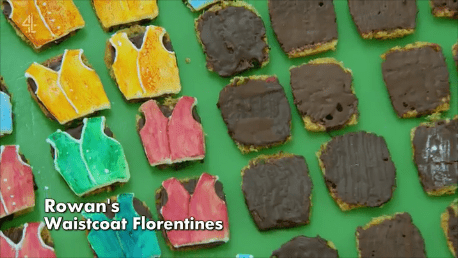 On my goodness, look at Sura's exquisite florentines.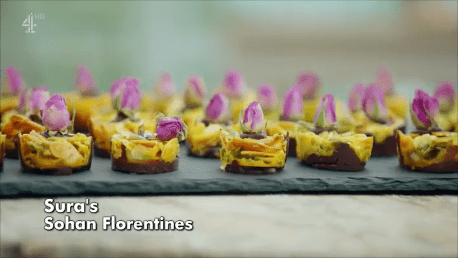 They're fantastic, but have zero snap.
Same with Peter's tidy biscuits, but he's one to watch with his excellent ideas and execution.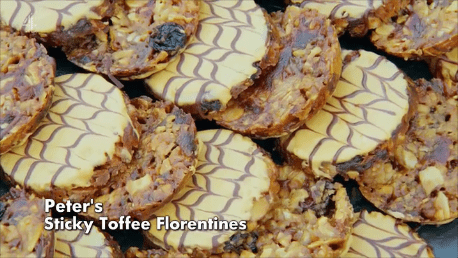 Oh gosh, we're on a bendy spree with Hermine's scruffy twisty florentines.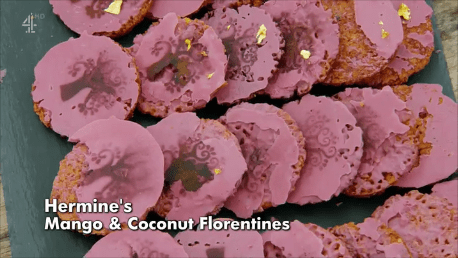 Marc does better with his (snap free) ruby chocolate efforts, he's used sour cherries again for his "very surprising, very original and very delicious" florentines.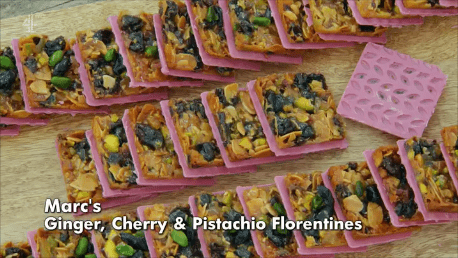 Paul thinks Linda has lost what a florentine is with her flowered whatsits. Turns out I never knew in the first place, so there! Their final verdict: it's a delicious biscuit with a terrific snap, but it's not a florentine.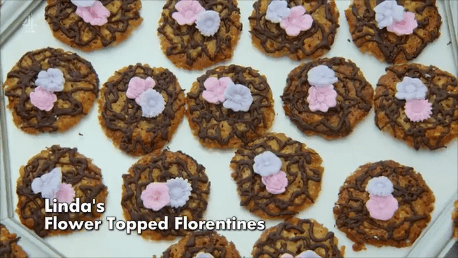 Mak's decorating looks a little like my groutwork in the kitchen: rustic. The problem is really in the underbaked cookie part, though, another one with good flavour but…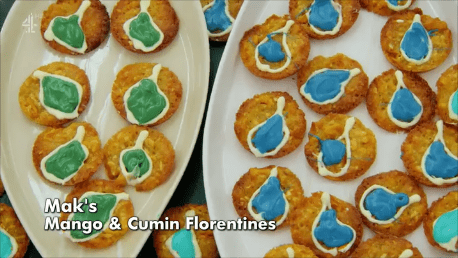 Lottie's classic messes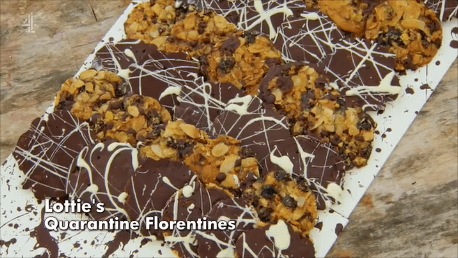 Earn her the very first Hollywood Handshake of 2020!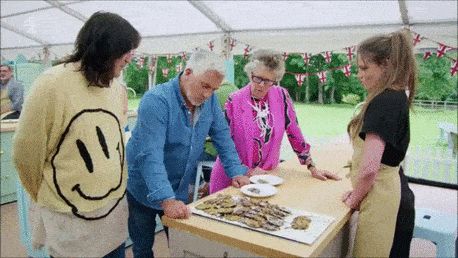 He even takes one with him to go! Woooooo Lottie!
Time for the Technical Challenge, this time set by Prue! With absolutely no useful advice, she and Paul are dispatched from the tent and we learn that everyone will be making 12 coconut macaroons. Ooh! I've made these! Recently, even.
They're making two types and why is everyone suddenly shoving mango into everything? I mean, mangoes are alright but I don't know if you need to smear them on every Tom, Dick and Macaroon. One hour and forty five minutes, you lot!
(Hm I wonder how my lovely friend Violet is doing, she used to call us "you lot" as a term of endearment and was a big GBBO fan)
Paul and Prue show us all the traps they've laid for the bakestestants in these deceptively simple-looking biscuits.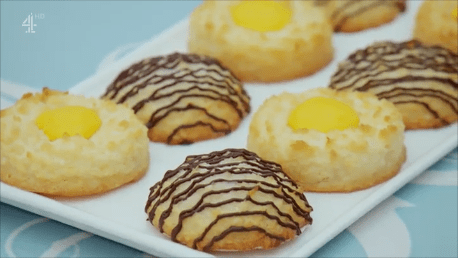 There's the processing of the coconut (not too long or they get a paste), the length of time in the oven, the setting of the mango curd, and the height of the walls around the mango curd. They're walking a tightrope, mates!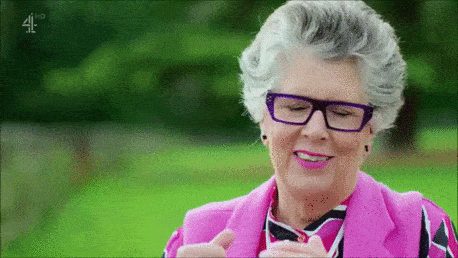 The mango curd hurdle seems to go fine for everyone, onward to cutting circles and processing the coconut: but not too much. Oh whoops, we've left Irish Mark behind still frantically stirring his recalcitrant mango curd which refuses to thicken.
Piping half the batter into a circle is the next challenge: how high should the walls be? High enough to contain yer solid curd, my lads and ladies!
The bakers slam their cookies in to bake and almost as one assume perches in front of lighted oven windows. They debate with themselves the existential nature of the word "golden", what does golden mean anyway? They're not allowed to discuss the bake with each other so, rather, they address their comments to the ether, "could that be golden? What about this?" Who can say?
Indeed.
Oh no, Mark shot right past golden to a non-subjective brown-edged cookie, why isn't he pulling them out? Why is he putting them back in??? Mark!! Can you hear me??! They're overbaked! Is this thing on??
Ermagahd. Rowan. LOOK AT YOUR MACAROONS. You must know that's not right?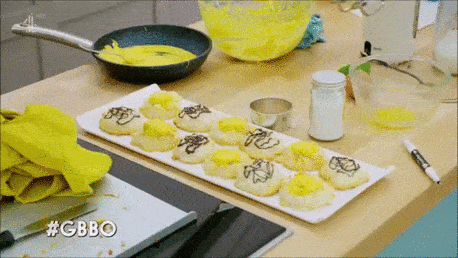 Well. he's having fun, anyway!
In order from least best to most best, we have:
11th – Rowan – duh
10th – Peter – just very, very underbaked
9th – Marc – same problem
8th – Lottie – not golden enough, apparently
7th – Laura – chewy
6th – Sura – non-uniform sizing
5th – Hermine
4th – Linda
3rd – Mak
2nd – Mark!!! So let me shut up, golden is not golden and overbaked is what we were going for
and Dave wins the Technical with their absolutely golden macaroons.
It has to be noted that the top three are all dudes who left theirs in to bake the longest. And that I side-eyed them super hard.
Dave is levitating a foot off the ground after his excellent day. Mak and Mark are relieved and feeling the cooling balm of a redemption Technical. Lottie and Peter look exactly like that but opposite.
On to our bizarre Show Stopper challenge, the judges would like to see a 3D table setting from a memorable meal and I'd like to see an intimate set with 1987's Guns and Roses line-up but here we are, aren't we?
How did that concept even come into fruition? Is marijuana legal in the UK now? Hashish?
Rowan's gone raving starkers again.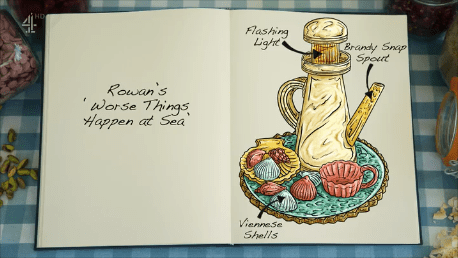 I have already girded my loins to say goodbye to our tidy uncle. Paul would like to see just one of Rowan's designs be completely realised. Four hours, Rowan!
Peter's making Scotland On A Plate.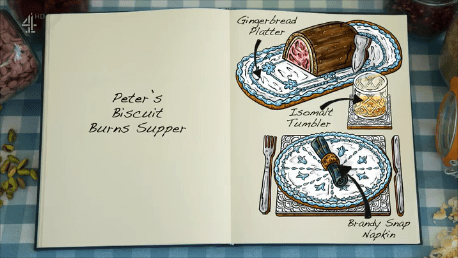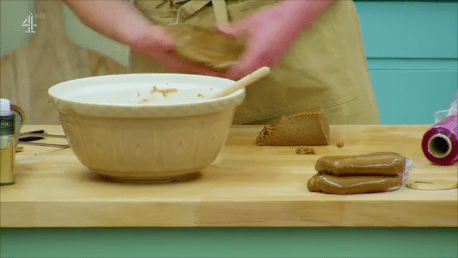 And then we look at Mark's work station, which I am unable to gaze upon directly.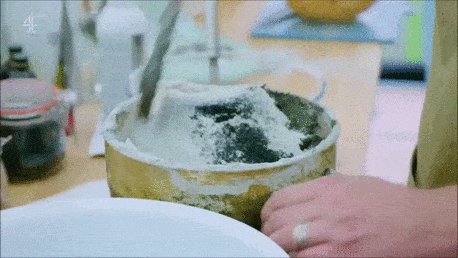 Can you not see you need a bigger bowl, man??!!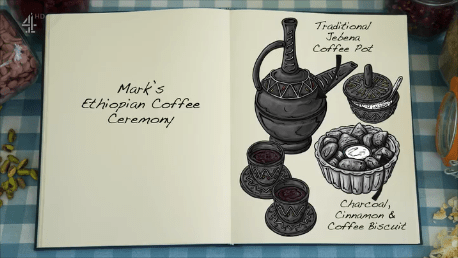 So we learned last week that Lottie likes to listen to Viking metal (?), now we find that she likes to make Viking-themed bakes and if she turns out like that Halloween horror a couple of seasons ago…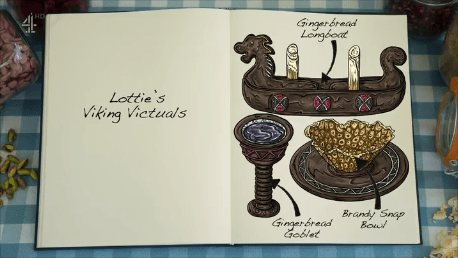 On to Mak's striking Indian tea set.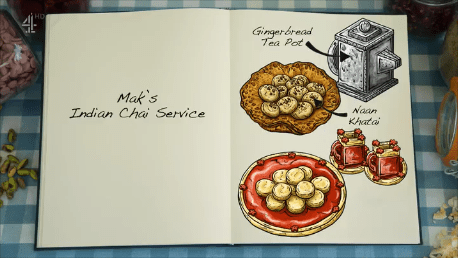 And then Dave's Mexican (?) table setting? With serving dishes like that?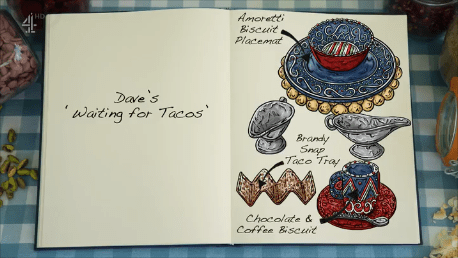 This looks perhaps more traditional, Sura.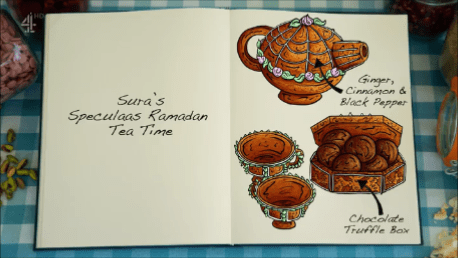 Marc's a sculptor with a lonely and lovely breakfast setting for one. Is that…memorable, though?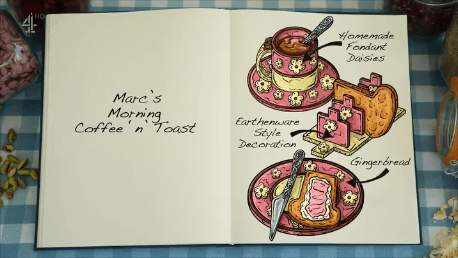 Nobody understands why Linda has chosen to build her beautiful diorama out of a fragile shortbread.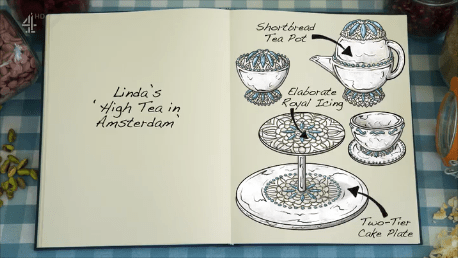 I suppose I should get ready to say goodbye to her as well. I quite like her, she was astonished to make it through week one and just happy to be here today. We know this woman can bake, she just seems to falter at the in-between parts.
I am confused by Mak's choice to bake his biscuit then attempt to shape the baked cookie around something. Why…? He struggles while Lottie does her best to wrest her Viking ship from its wooden mold.
Halfway through most of the baking is done, which seems premature. Shouldn't the baking bit be longer than the decorating part? It's not the Great British Biscuit Decorators.
Laura's another messy baker (her chocolate thermometer was a horror), but I like her design.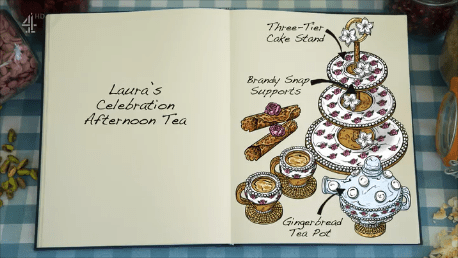 Hermine's is gorgeous! I'm worried for her, though, it's not been a great weekend for our West African.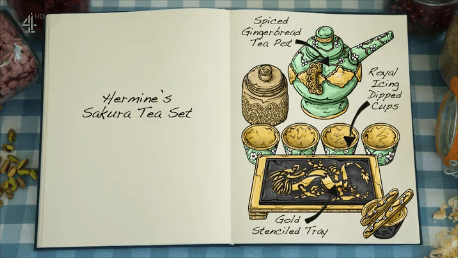 Mak's plan of shaping things after baking continues to crater.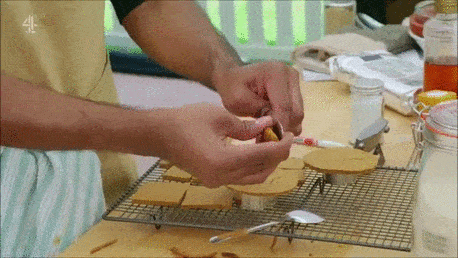 With one hour to go, it's all decorating all the time. Royal icing is carefully spread and squirted on cooled biscuits as I ponder whether or not Rowan's tea set looks like a lighthouse or not.
Suddenly we're only one minute out, how did that happen???
On to judging!
Rowan mostly finished!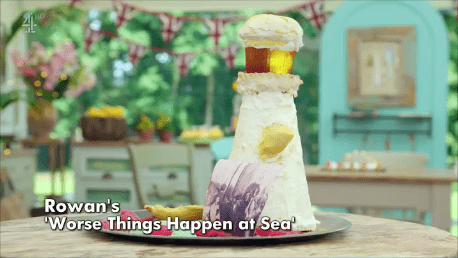 He even got a light! But it's a bit rubbery.
Marc and his lonely brekkie.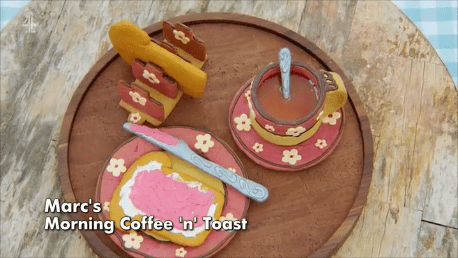 Hermine's lovely tea does not taste as good as it looks, unfortunately.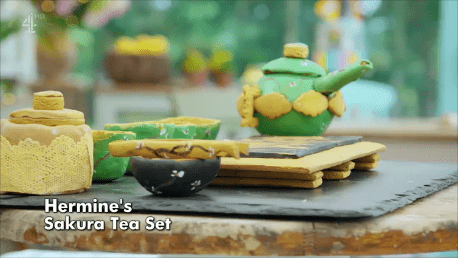 They don't think there are enough structural components in Laura's bake.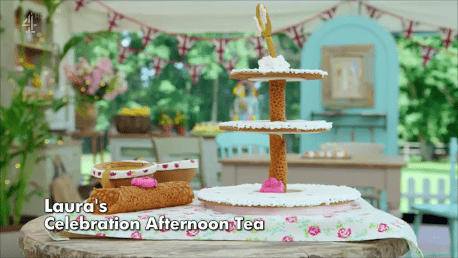 I love Linda's gorgeous delicate set.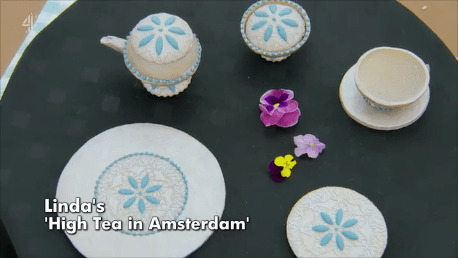 Mark put a LOT of coffee in his African coffee set.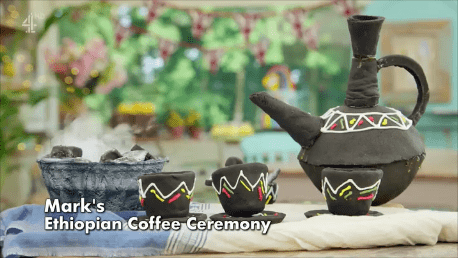 Dave is almost a lock for Star Baker this week with his colourful (if confusing) Mexican meal deal.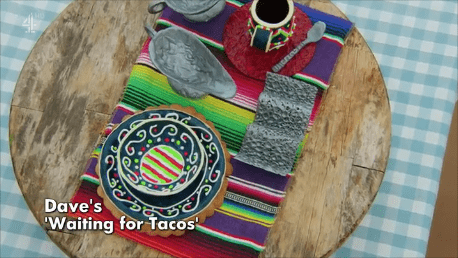 Indian Wolverine Mak didn't do any molding for the molding challenge. I don't think he understood the brief.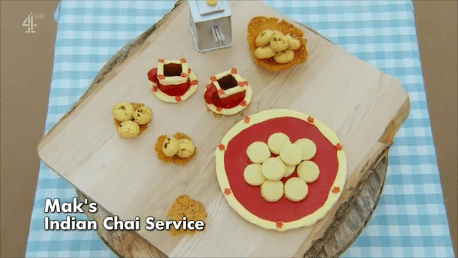 Aw I love Sura's beautiful bake but the judges think it looks rushed.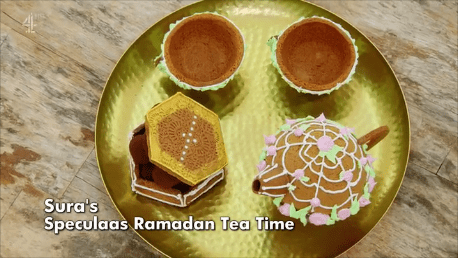 Peter blushes even more as the judges rave about his Scotland on a Plate.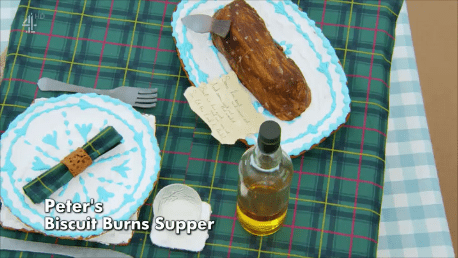 Lottie's certainly got presentation working for her but middling reviews overall.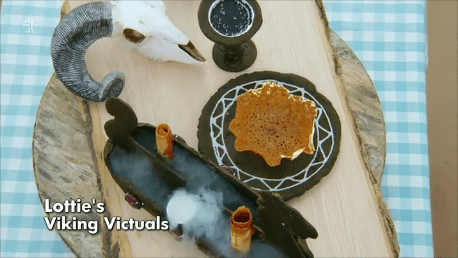 And that's it for today! Who is Star Baker? Who is going home? You know who I think is rising/leaving, the judges go this way:
Star Baker: Dave (as I called)
And leaving the tent: Mak, which caught me by surprise. It really should have been Rowan. I shall miss Mak's sparkling eyes and flowing locks.
Until next time, everyone! Cheers!