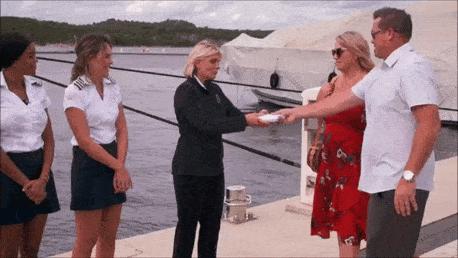 We're back with Below Deck Mediterranean about to get a new crew member to replace….who? If Bravo has taught me anything in the years I've been watching: it's not gonna be who we think it is. Let's find out after the break by rolling into my recap of Below Deck Med S6:E09 Brews, Stews & Management Blues recap!
We're mid-charter in the Croatian sea, previews are scaring me because it looks like we're in for another fight with second steward Lexi Wilson. We ended last time with chief steward Katie Flood asking Captain Sandy Yawn to fire Lexi for a suddenly sketchy work ethic; I feel as though I understand very little of what's going on this season for staffing.
The guests keep getting left alone without drinks, plates, cutlery, and their rooms left mid-cleaning, that's all Lexi. Captain Sandy is giving Katie another chance to manage her crew, she'll step in if she has to.
After a direct complaint from a guest, Katie poorly communicates that Lexi needs to check towels but leaves out the rest so Lexi…continues doing laundry.
Chef Mathew Shea thinks he was wrong, yesterday wasn't the best day ever, TODAY is! Woooo! This is the first charter he hasn't walked off the boat, so…yay you for doing the job you were paid to do? I'm still amazed that yacht chefs (apparently) make enough money to pay sex workers 150k in one calendar year should they be into that sort of thing.
A very quiet lunch in the crew mess with Lexi and Katie, who's forgotten her mom's birthday. Awww, Katie's a Christmas baby too, our kiwi was born on Christmas day!
The guests play in the water as Mat cooks and the stews stare at all the Oktoberfest garbage they need to set up. I bet third steward Courtney Veale will have a blast with this, she's got beer wench written all over her!
Our two Primary Charter Guests are Patrick and Jennifer Kirk; they like to party and by that I mean drink every waking moment.
Guess who didn't finish cleaning the twin cabin because she forgot and her boss didn't clearly explain what she needed to do? NO, GUESS??!!
Unreal. This is terrible service even for a
IT GETS WORSE
Lexi WALKS.IN on a showering guest with the towels she should have put in over an hour ago.
I'm totally guessing on time, but she didn't get those towels up there when Katie asked her to; maybe she would have seen the cleaning caddy then too and all of this is could have been avoided.
Lexi prefers to focus on the positive.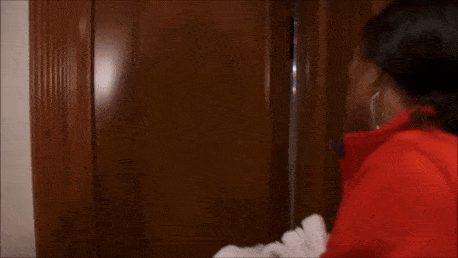 On a completely unrelated story, we learn more about Mat. He and school didn't get along, so he dropped out at 16 with his parent's blessing and made the world his classroom.
LOOK HOW YOUNG HE LOOKS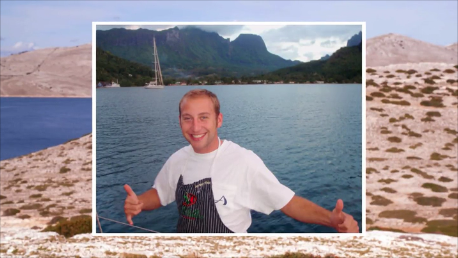 ANYWAY I bet that's maybe at least partly why he gets so anxious about his food; he learned from some great chefs but it's probably a little daunting to be around chefs with formal culinary training.
Bosun Malia White thinks she's got the perfect person in her crew to hype the Oktoberfest dinner tonight; deckhand Lloyd Spencer was a tour driver in Europe and likes to pretend to DJ with garbage cans: awesome!
Set 1: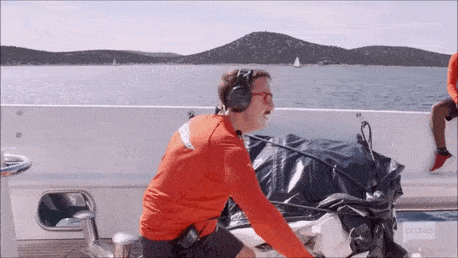 The guests stop asking Katie for one millionty drinks at a time to question her about her staff; why do they only ever see her? Courtney's hanging tacky decorations, Lexi's in laundry throwing away people's socks, everyone's busy! Then the guests ask for four hundred drinks again and all is right with the world.
Lexi can't concentrate unless she's on service, screw laundry and cabins, she bored.
The guests dress for dinner, the crew does too. Katie looks adorable in her beer wench gear and pigtails! I still think Courtney's gonna knock this out of the park. Lloyd and the guy crushing on Courtney, deckhand Mzi 'Zee' Dempers totally agree.
I thought deckhand David Pascoe looked like an elf, but the Bravo producers are right, he's absolutely Pinocchio!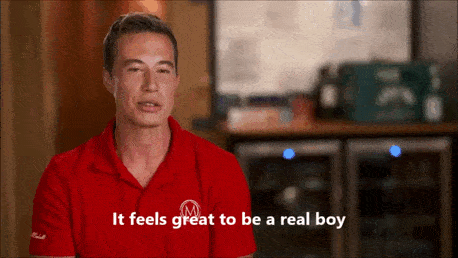 Captain Sandy asks Katie how things are going with Lexi, Katie says not well which is a lovely and typical understatement from her. Ohhhh I see what's going to happen now, Captain Sandy offers to bring on an extra person who could be deck OR crew, nice! That does mean they have to split the tip more ways, though, and tell Lexi, so Katie is scurred. She asks for some time to decide.
…are we getting Chef Luka any time soon…? Asking for ME.
What did I tell you about Courtney??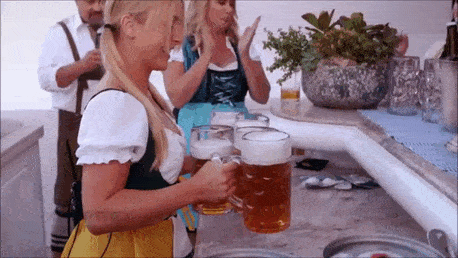 It's a tonne of fun up on deck, Primary Jennifer manages to drag out Captain Sandy and everything! Katie sends Courtney down to the cabins to switch out with Lexi so she can have fun too but Lexi demurs. She just said she didn't want to do cabins now she's refusing to leave the cabins…because she thinks they'll use this as an excuse to make her clean more. I feel bad for whatever is going on inside Lexi's melon.
Zee crushes in the beer slamming competition, but he used to compete in the Beer Olympics so that's totally legit.
Have you seen Beerfest by the Broken Lizard gang? They're so awesome, you may know of a little movie they made called SUPER TROOPERS.
Katie tells Lexi about the possible new person coming to help in the most painful way. I could see her heart beating in her throat from here. Lexi is worried about someone coming in and pulling rank, but we don't even know if she's deck or interior yet.
Courtney isn't happy to hear she has to move again, or that Lexi won't be replaced.
Mat gets the 20 minutes call; time for dinner! Boooooo we only getta see one course, the main with lamb and ratatouille. The guests LOVE Mat's food, it's the best part of this charter for them for sure.
Even better, everyone goes to bed early and Courtney shuts it down relatively soon after dinner.
There's gross weather in the morning, which Malia prepared for, so the whole deck crew is woken up early to deal with docking in wind at 16 knots. It's so smooth!
Lexi is on morning shift, she sets the table and goes to do laundry while the guests get up and wander around looking for a bell to ring for service. Their Titos level must be dropping!
Katie finally stumbles into the salon where the guys have already poured drinks for themselves; watch Primary Patrick's face when she says he should have waited (CUZ HE DID).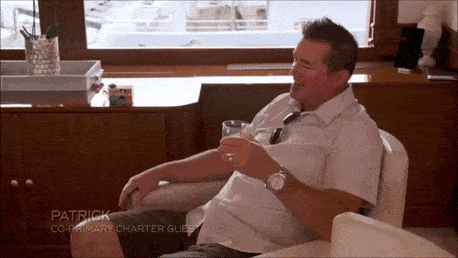 Mat sends up lobster eggs benedict, I didn't know that EXISTED! The guests are clinging to the food right now, nothing else has even come close to par for a luxury vacation.
One couple had sex in a bathroom and took pictures? Maybe the one who brought Chad!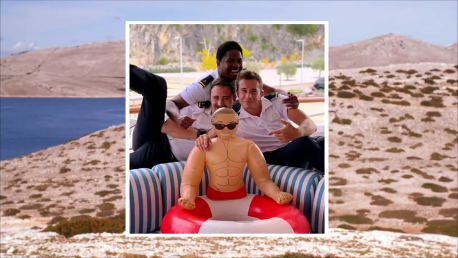 Time for guest departure, wooooo! I can't even be excited about Tip Time, there's going to be a big We're Disappointed In Your Lack Of Service speech first and I'm cringing in advance.
I mean, Captain Sandy does her part to hype it up.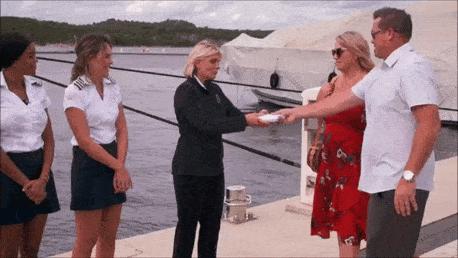 Katie tells Captain Sandy she'll take the extra help, thanks.
Tip Meeting, ehhhhh. Courtney is so angry about the extra help that smoke is almost coming out her ears. BUT! It's a big tip! It's $23585 USD (random), which is almost $2000 each and all due to Mat's food. It's the biggest tip so far!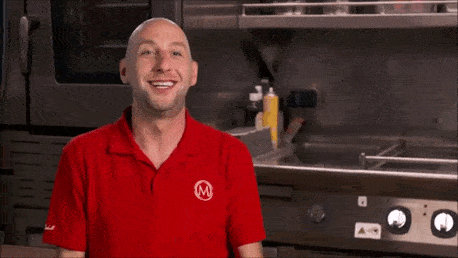 The new deck stew has to share with Mat, this ought to be interesting. All we know is that she's a redhead!
It's already time for our next pre-charter preference sheet meeting; we've got an all-ladies charter rolling up next! Besties Halie Porter and Niki Wiley are co-primaries, friends Kristol Yeager, Sarah Hyden, Andrea Coughtry, Danielle Stratton, Ashley Brown and influencer Bailey Hancock. Well, one of them is an influencer, not sure which. One also eats like a five year old, Mat is excited! Then not.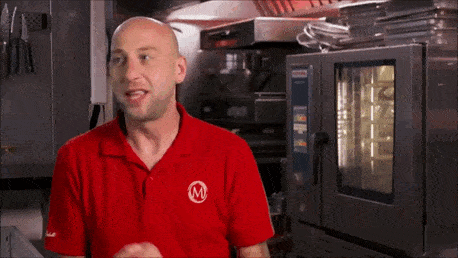 I am totally low-maintenance but were I on a charter on a superyacht I would absolutely be within my rights to ask for the gluten-free non-dairy keto-friendly moon.
First we have to turn the boat over, after Courtney and Malia do yoga and shittalk Lexi. Everyone's worried about the new person coming in and flexing.
Lexi gets into the hot tub with the deckhands, they're all very nervous with her close. The other women have gone to bed or are talking to their moms, we all hold our breath but it's fine. David went through a tough period after losing some friends, he identifies with how Lexi is possibly feeling after losing her dad.
She wasn't allowed to watch Harry Potter??
Zee continues his deck education the next day, he's afraid of heights but giving swinging off the side of the boat a go.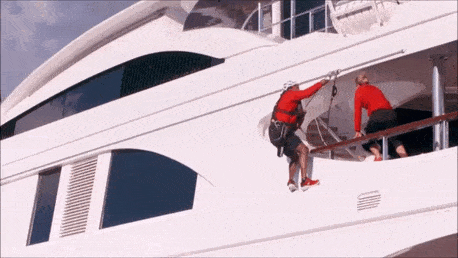 His FACE.
Katie stumbles through a talk with Lexi about how sub-standard and unacceptable her work has been; it's not been second stew worthy for sure. So Katie is stripping everyone of rank and they'll just see how everything goes. Here comes our new deck stew, woooo!
Oh.
But we're not meeting her yet, we have to wait until next week for that. We do get a preview of the rest of the reason, however, let's see if I can sum this up in sequence:
Crew twerking dressed as firefighters (Courtney, course)
Hot tub
Twerking
Hot tub makeout
'Don't screw the crew' (Guests can screw the crew but crew can't screw guests, clear?)
Scenery
Snorkeling
Scenery
SCENERY
Scenery
Hot charter guests
Shots
'C'mon now, Katie, you know we got that confidence in you' says hot charter guest
Zee falls down. Again
Crew laughs
New deck stew Delaney contemplates life choices that brought her from Berkeley to Captain's License to laundry
David misremembers Delaney's name
David making out with Delaney in hot tub
Lloyd makes a mistake
Lloyd vomits
Lloyd has chest pains
Lloyd on tender to land
Katie has to make decision
Mat argues about something nonsensical
Wooooooo Hot Chef Luka on deck!!!!
Throwing lines
Throwing lines
Worst docking ever
Captain Sandy screaming at Malia: I DON'T TRUST YOU
Mat tells Lexi: we all hate you
David falls HARD
Slo-mo of David falling HARD out of the hot tub (didn't watch)
David bruise
Mat on fire
Mat hands burnt
Woooooo so we'll just use this as a checklist, yes?? Onward, friends, until we finally meet Chef Luka! Until next time!