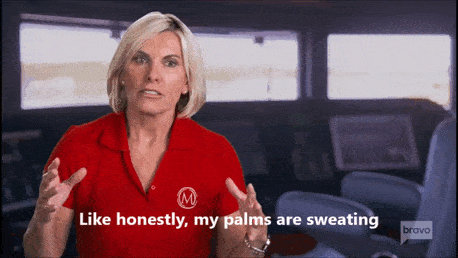 And we move our attention to Malta and Below Deck Mediterranean; is Malta even in the Mediterranean? Do they usually just have large motor yachts with abbreviated names and broken stabilizers? Hit me back in the comments. Rolling into my recap of Below Deck Med S7:E02 I've Got a Sea-Cret after the break!
We left Captain Sandy Yawn on literally a sinking ship, or rather one sliding sideways into the ocean because of broken stabilizers, are we okay?? Sort of? Captain Sandy Yawn calls off-camera crew Ray and Carlos to look at why the stabilizers aren't coming back online while the crew and chef try to stop everything from falling into the ocean.
We're on charter with Primary Charter Guest Billy Rodriquez and his co-Primary/fiance Chris Figueroa; let me tell you: Primary Billy is a handful. I bet they're going to complain about this wonky boat ride.
Captain Sandy and OffCameraDudes figure out the problem; the air conditioning is overloaded, causing a malfunction. There is no way to fix that, they're in Malta and it's hot!
Chief steward Natasha Webb works with chef David White and seconds stews Kyle Viljoen and Natayla Scudder to restore order inside motor yacht Home as the guests regroup by moving from one grouping of plush seating on deck to another. Captain Sandy stops by with an explanation, that seems to mollify the guests somewhat.
It's all hands on deck to clean up all the broken glass and bottles on the actual deck; everyone except bosun Raygan Tyler who has a sit and smoke because walking up those stairs was exhausting. Deckhand Jason Gaskell has already been complaining about her lack of work ethic, no way Captain Sandy hasn't noticed. Deckhands Mzi Dempers and Storm Smith work on the swim platform with brooms and pans; Captain Sandy brusquely orders Raygan (who came out of nowhere) to get the toys in the water right NOW.
Chef David is shaken, he had a pan of boiling water land in his fryer and now he's got to create supper out of chaos.
He's also not enjoying listening to his roomie and shag-pal Natasha be flirted with by Jason. I can't get a sense of Jason yet, he's from Indiana and is sort of generically handsome in the way scruffy white guys can be. I thought he was one of those stoic hardworking types until he complained all the way through supper at Raygan about her laziness so may maybe he's an assertive hardworking type.
Natayla works hard cleaning the master guest cabin; she and I absolutely love cleaning and don't know why everyone doesn't just do it to relax.
The guests watch as Raygan and Storm are unable to tie up Nautiboys so they can get in the water, Primary Billy is already getting loud about it. Jason finally jumps in the water after Raygan just sits there and watches helplessly. Mzi tries to share what he would usually do in that circumstance; Raygan doesn't want to hear his practicality.
David is already acting pouty about Natasha and Jason having a single conversation that didn't have any real flirtatious elements; he asks if she'd rather have Jason as a roomie? *Sad eyes* Nawww she loves her roomie that she makes out with and asks if he wants to screw.
Speaking of, Storm and Natayla are quite openly flirting, Kyle is going to be in the middle but in a fun and not angsty way!
Raygan hasn't given her crew a schedule so she says vague things like telling Mzi he should be resting right now but whatever. Captain Sandy asked for that schedule the day before, I don't understand what is happening with Raygan. Is this a stretch position for her?
Mzi worked under Malia White last season when she was bosun; completely different management style in that she *manages*.
Raygan retreats to the crew mess and works on the schedule; her reason for not having it before is that the schedule has to be based around people's capabilities and she only had one deckhand to start. I understand what she's saying while feeling like it's complete garbage.
Kyle is in with the guests telling his coming out and relationship background; I love that he's sharing himself with these guests who are part of the LBGTQIA+ community but am also cringing that he's talking in detail about a past relationship breakup.
Storm impresses Captain Sandy, who is then called to the crew mess by Raygan. Um, Captain Sandy is the *captain*, you should go to *her*. Captain Sandy approves the schedule but when Jason looks at it, it sounds terrible. Split shifts and people up in the early morning then back to bed and up again with a nap in the afternoon. Weird.
It's a lovely Japanese dinner and setting tonight, Kyle thinks walking around with a large pink vibrat*r sticking out of his pants will really set the mood for the guests. They laugh, but not quite as much as he does.
Kyle and Natayla are already over watching Natasha and David flirt, buckle up, homies! We have a whole season of this!
The guest dress for dinner with paper crowns, they loooove Natayla's gorgeous table. We hold our breath as Primary Billy tries the food, everyone loves the Japanese sushi wooooo!
Primary Billy and Primary Chris quiz Kyle throughout dinner on his gay movie scorecard, he scores abysmally! He hasn't even seen 'But I'm A Cheerleader"! Here are the other movies they suggest and I'll throw a couple in at the end:
– To Wong Fu, Thanks For Everything, Julie Newmar (I would have gone with Priscilla, Queen of the Desert)
– Mommy Dearest
I will throw in:
–Trick
– Torch Song Trilogy
But not in that order. Go!
Chef David brings out his lovely pink anniversary cake with a glossy mirror glaze, almost dropping it. He's sort of lovely and awkward but I'm not loving his jealousy.
Natayla sets up a different type of turndown for these fun guests, condoms, the pink penis and various sex toys are scattered artistically across the foot of the bed. Kyle is sitting blindfolded on a chair being whipped by Natayla with a feather when the guests enter.
I honestly can't tell if they like it or not; they laugh and joke but I would be pretty shocked if people assumed I wanted an anniversary set-up like that on a fancy yacht (totally would but THEY don't need to know that!).
Captain Sandy liked how Storm took charge that afternoon; she's appointed him to call distances on deck along with Raygan.
I will say, there is no power vacuum with Captain Sandy. You manage or she will.
Natalya throws beads off the boat and wishes for a boyfriend and that she wasn't lonely but she's not sad about it. She knows what she brings to the table and she's okay with waiting for someone to meet her half way.
Aww Natasha cuddles David at night, telling him not to break, to be strong. What was he upset about? Oh no. He's not another Tom Cheketts, is he??
The next morning it's breakfast and chill until it's time to dock. It's a super tricky marina to get in and out of, we get all the foreshadowing about Captain Sandy hitting a concrete dolphin.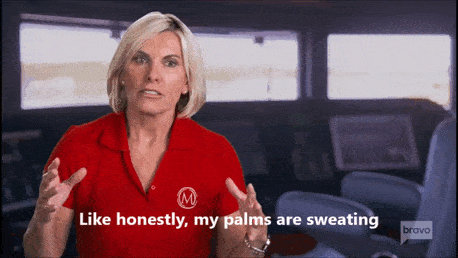 It goes so smoothly! Nothing to worry about! Pfft
Time for guest departure, I love the speech Primary Billy gives because we're on the same page about two things: the Interior crew is fantastic. Their service is some of the best I've seen and I'm not sure how they make everyone else look like amateurs but they dooooo. He calls out the deck crew for being disjointed, sure, I mean, half the gang showed up mid-charter, so there's that. Really he means Raygan sucks.
Show us the tiiiiippppp!!! I will guess $17,500 USD based on all the really fun drinks.
What
It's $27,000 USD???????? That's $2,454 each and that's unheard of! That's literally the highest tip I can remember which makes me think this particular motor yacht must be more expensive to charter than all the other superyachts we've seen in the Below Deck franchises.
Someone cheers with an orange drink among all the champagne, who's our non-drinker? I'll find out soon because it's time for our first crew night out on Below Deck Mediterranean season 7! Are you excited? I have chills!
Raygan's been clubbing with her mum since she was 16, isn't the legal drinking age in England 18ish? It is, says the Google, and Raygan's so tiny, so elfin, she wasn't convincing anyone otherwise. Goodonya?
Things heat up at dinner between Natayla and Storm, she thinks he has a 'rugged, pirate, homeless, hot' look but she hates the mustache and he will never ever shave it so it's basically hot homeless pirate Romeo and Spice Girl Juliette up in here.
Things get weird at dinner; everyone's been ribbing David and Natasha about being a couple, when she leaves the table Natayla starts jokingly asking David more pointed questions. He says they're not a couple but he wants to be a couple but in interview he says he's too good for her.
I beg your PARDON.
Then he spills: he and Natasha started hooking up on the last yacht they worked together but she asked him to keep it a secret because she was still with the boyfriend she just broke up with. I was wondering about that timeline; she said it was a super recent breakup but they were just working together for a month. Whatever, clearly her needs weren't being met by her boyfriend so she got some needs met and ended the relationship. Not wanting to jump into something serious with Johnny Looselips here is completely understandable.
That also explains David's jealousy; he knows she cheated on her last partner because he helped, maybe that's making him insecure about her trustworthiness. I will say I don't think there is such a thing as "once a cheater, always a cheater" because I think people can definitely grow and change for the better, but I understand how he could perhaps be feeling some type of way about everything.
With that, we're out! Cheers!