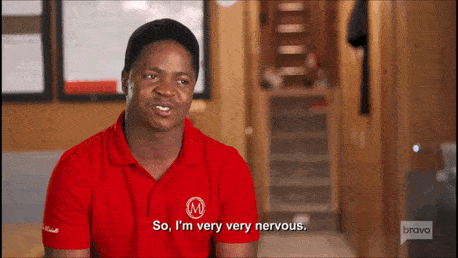 Are we still on charter on Below Deck Mediterranean? I can't tell because I keep getting this series and Below Deck Down Under mixed up. Let's see what happens tonight and if I can figure out who is on deck in my recap of Below Deck Med S7:E04 Skeletons in the Cabin after the break!
We open with Captain Sandy Yawn on the Bridge with bosun Raygan Tyler. Raygan has not been showing the kind of leadership Captain Sandy needs to see on deck; she has until the end of this charter to show she can.
So we ARE on charter, woooo, this must still be Primary Charter Guest Emily Butler and gang.
Chief steward Natasha Webb seems to have more time than I remember on other Below Deck franchise stews; she just spent half an hour in the shower with chef David White while the guests lounged by the pool. Tasha and Dave have been snogging but she didn't want anyone to know as she was still in a relationship when they started up. Natasha has had a lot of problems dealing with the guilt of cheating.
Life is short, Tasha and Dave, do what you can.
Raygan calls her crew to the deck for a meeting, she needs to come up with a better plan for water toys for the guests. She tells deckhands Mzi 'Zee' Dempers, Jason Gaskell and Storm Smith to start getting toys immediately in the water upon anchor, if not sooner. Which is, if I check the tape, the exact same thing Storm just suggested to her.
He'll have her job, you mark my words. She even tells everyone to listen to Storm because he has more experience than her.
Second steward Natayla Scudder reads out the guest preference sheets to Dave in the galley, she's not digging this set of guests but I LOVE preference sheets! Who writes these?? I bet it's the same person who did the press releases for Meghan Trainor.
Second steward Kyle Viljoen wakes up to help with breakfast, the guests will be heading for some cave swimming as soon as they're done.
Storm takes over directing the deck crew; Raygan says nothing.
David struggles with his evolving relationship with Natasha; he only agreed to share a cabin with her if they could come out as a couple after a week. Now she's feeling awkward and embarrassed and distancing herself from him. She slept alone in a guest room after a team night out and he cried himself to sleep. I empathise with both of them, I hope they can work it out.
Natasha freaks me out because she's so English and soft-spoken but then references genitalia all the time. He holds a giant fake taco to her crotch as she and Natayla search for Mexican-themed items for lunch. She's going to ask Kyle if he wants a piece: that's a hellz Nope.
Captain Sandy has been keeping an eye on the weather all day; she declines the guests lovely invitation to play on the water toys and lets them know they'll be heading back to dock this evening for safety.
There's very little time to get the water toys packed up, it's all hands on deck to deflate and put away toys. Except Raygan, who heads downstairs for a snack while Storm leads the deck crew.
This is going to be a tricky docking, Raygan and Storm will be on deck calling distances to Captain Sandy. Before that, they pull anchor and Raygan once again heads to the crew mess to eat while Storm leads the docking preparation. When she finally pops up on deck Storm sends her to do work.
Natasha, Natayla and Kyle are all swamped making Corona sunrises and spicy margaritas for guests.
David struggles to find his equilibrium in the kitchen as lunch is delayed for a full hour. Natayla entertains herself by doing laundry and gossiping about the guests. Wait. Is Primary Emily actually dating guest Noah? I thought that was her brother! He's at least a decade younger and that's only age-wise, I swear he's about 15 in maturity.
The guests are all quite young, they want Kyle to hang out with them but he has to work, boooo!
Raygan is calling distances but she's not doing it right, not at all. Jason tries to help her, clarifying that three meters are actually less than one meter but Captain Sandy hits the concrete dolphin as guest Noah watches and comments 'you HIT IT!"
I actually felt that in the pit of my stomach as Captain Sandy ran across the deck to find out what happened.
Can you imagine being Captain Sandy and hearing on the radio "3 meters, 3 meters *background noise – 'that is not three meters, that is one meter and she's going to hit* you're going to hit!"?
This is the first time Captain Sandy has ever hit anything in her career.
The Interior crew serves lunch as the deck crew struggles to get the lines tied up properly.
Captain Sandy has managed to get permission to use the tender to take the guests somewhere fun but the lack of direction of the deck team means nothing is getting done efficiently. Captain Sandy is done, she contacts Norma in HR looking for a bosun. Or maybe deckhand.
I've heard so much about Kyle's butthole today, SO MUCH. You're welcome for sharing none of that. Nor Storm and Mzi's extended discussion about the colour of their pee.
Dave's doing a big Moroccan meal tonight, I love Moroccan food! You know what Natayla loves? Bantz with Storm wooooo!
Dave is in a world of hurt with Tasha and you can't blame him but maybe he could just calm down a little tiny bit. Give her just a little space. He just feels like crying all the time.
He helps tuck her into bed, awww, he's very sweet.She brings him a coffee in the morning and worries about his lack of sleep.
Everything else moves slowly, breakfast is quiet and calm except for everyone loving on Kyle. He must be a lot of fun to be around because they want to put him in their collective pocket.
Captain Sandy takes Storm aside to thank him for his leadership during the docking and asks about the contact incident. She wanted to acknowledge his excellence, I thought she might be asking him right then to be bosun but she tells him they'll talk later.
Tip Time! Primary Emily gives a brief speech calling out the deck crew disorganization then we're counting our money! Woooo! I am guessing $25,000 USD, what do we got??
$19,000 USD my bad, I wasn't even close. That's $1,727 each, okay, that'll cover the shots, shots shots tonight.
Captain Sandy calls Raygan to the Bridge.
Ahhhhh and then we get the dreaded TO BE CONTINUED screen! Boooooo! Until next time, everyone!