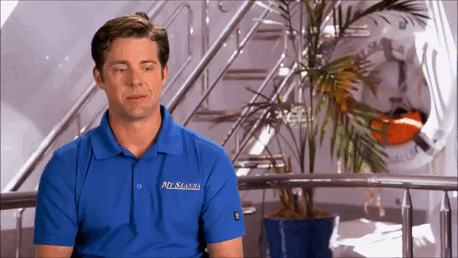 Hiya! It's time for Below Deck and an over-warm crew because it's too cold here and I need a breaky break! Rolling into my recap of Below Deck S9:E07 Plenty Of Jake To Go Around after the beak.
It's the morning after an epic crew night out, the highlight of which was (mostly straight) lead deckhand Jake Foulger making out with (not straight) second steward Fraser Olender.
Neither one remembers all the kissing, thank the gods chief steward Heather Chase video'd it with her phone. Fraser is suuuuuuuper worried and upset, he thinks Jake might think he was really into him, which he totally is. What wasn't shown on Heather's phone? Jake leading all of that. All of it. Fraser was just along for the crazy hot ride.
Deckhand Rayna Lindsey liked it almost as much as I did.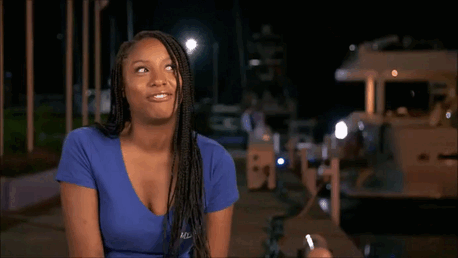 She's tormenting Jake about while they wash clean windows on deck while Fraser self-flagellates in his bunk. When Fraser comes out for a smoke break, he and Jake fist-bump it out, all good! Jake even congratulates himself, out loud, for how sexually free he is.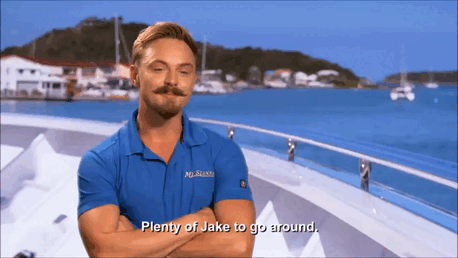 I don't know if he knows that makes him sound like he used Fraser's affection for an adventure.
Inside Below Deck, machinations are at play as Heather tells Fraser she's putting him on laundry and depressed third steward Jessica Albert on service for the next charter. She tells Fraser first, who acts completely surprised when Heather rolls it out to the group. Jessica is not great with people so this is going to go awesome.
Fraser is many things including a Tom Holland look-alike, but he's not exactly warm or fuzzy or…caring. Jessica is distracted by some family health concerns, he just wants her to snap out of it because: BORING.
Captain Lee Rosbach calls the department heads to the bridge for a pre-Charter meeting, which are the new highlights of the show for me. Show me what weird stuff thew new Primary guests want to eat, or more realistically: won't eat!
Chef Rachel Hargrove and first officer Eddie Lucas (well, he's also bosun? I don't know) wait with bated breath and Heather, who's coming?? Our Primary is Michael Cadez and he…oh. He's celebrating his recently cancer-free status with his long-term girlfriend Jennipher they're just messing with us with that spelling, right?) and his kiddo. That all sounds unproblematic and human. What the hell, Bravo??
Okay, they're having a boobie party the first night, sure! I gather Michael survived breast cancer, as did Eddie's mom.
Rachel is muted, this charter is mostly meat and potatoes but she's great with giant slabs of meat so I have faith.
Rayna and fellow deckhand Wes O'Dell discuss racism, starting with the yachting industry and ending with Rayna talking about being beaten up in Minneapolis by three white guys. Wes was raised in St. Thomas, which he says is 80% black, he never felt weird or outnumbered or unsafe because of the colour of his skin. Rayna still deals with the aftereffects of that assault to this day. She doesn't think she'll have children because of that, why bring someone into that? I'm sorry, Rayna.
Captain Lee has an idea that Eddie isn't crazy about; he wants to leave the dock at 10 and set up all the water toys in the ocean so when the guests arrive (by water taxi?), the party is already on.
I'm going to make a prediction that Jessica is not going to do well on service. She's already texting her mom about how much she dislikes everyone she works with.
Guest arrival! They're coming on a taxi so the deck crew is working overtime to get everything set up. Well. Most of the crew. Wes can be pretty slow.
Boooo I can't get a clear opening shot of everyone! I kept thinking Jennipher was Vicky Gunvalson from the Real Housewives of Orange County, so that should tell you something.
The guest are very appreciative of the boat during the tour, I love that. And it was a great idea of Captain Lee to have the boat at anchor with all it's fun parts on display too. They can't wait to get in the water!
(Even if it was a nightmare for the deck crew)
Things get heated in the crew mess between Jake and Wes; Jake is a great deckhand but he's not great at managing people yet. He's not wrong that Wes is slow but he's not explaining it properly.
Fraser and Rachel talk to themselves non-stop…do you think they know it's a sign of intelligence?
Jessica is technically on service, but she's leaving the guests alone and one gets behind the bar. Jessica doesn't even take over, she lets the guest make their own drinks until Heather sweeps in and reminds everyone they're paying 5 figures to NOT make their own drinks.
Captain Lee joins the Booby Party where we hear how resilient Primary Michael is. Aw, don't make me cry, Below Deck! He seems like a real sweetheart and so does his girlfriend Jennipher.
These guests are totally normal, I bet that's nice for Captain Lee. Nobody's drunk, fighting or trying to follow him to his room.
Jessica wipes a bidet with a towel, then places it on the counter. Right from one to the other. Right there while Rachel and Eddie sing the Booby Song.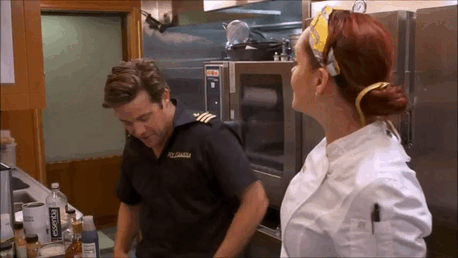 Heather's had enough of carrying Jessica's load, she warns her after dinner that all eyes are on her and she better put up or shut up or maybe get back on the porch? I don't know but girl should know she's in trouble.
Jessica complains to Raya when she gets to bed,  much shit-talking about Heather ensues. Gnight!
We're onto breakfast nice and early. That's what happens when people sleep instead of getting knee-walking drunk. Cake doughnuts with maple glaze? PASS.
Also, greeting a co-worker like this while on shift ever?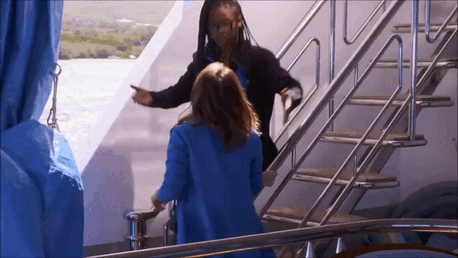 PASS.
The deck crew is supposed to set up the slide for after breakfast but it seems nobody knows how to do that, exactly. Captain Lee gets involved while the whole charter watches Wes flounder around on a jetski.
Eddie, embarrassed, starts cursing Wes loudly while the guests are in earshot as Wes makes more and more mistakes. Captain Lee thinks HE'S the only one who gets to be mad and unprofessional and warns him to keep his voice down.
Maybe…if you weren't jumping over him on the radio while he's directing his crew…and judging him at the same time…he could calm down?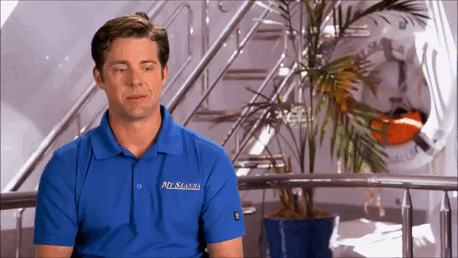 Hahaha I kind of love how they keep calling one of the guests "Nichole's husband" like that's his job. I mean, I don't know, maybe it is!
Fraser has been in the laundry room for exactly one day and already Captain Lee has noticed how amazing it looks, all organized and clean. Yikes, I mean, Jessica was in there since the beginning.
Rayne and Jake fight loudly about nothing within earshot of every single charter guest, laying out in the late afternoon sun like contented land sharks. We're out, until next time, cheers!