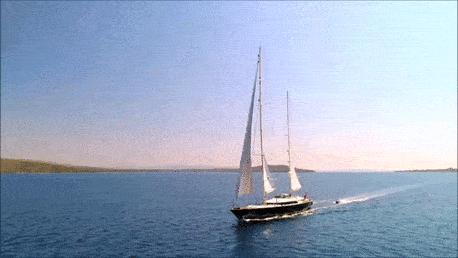 Well, we're at a crossroads on Below Deck Sailing Yacht as we so often are in the Below Deck franchises, about to lose a crew member over basic incompetence or alcohol. In this case maybe both. There's nothing to it but to do it, rolling into my recap of Below Deck Sailing Yacht S3:E07 Strip For The Tip after the break!
The deck crew is going through it on Below Deck Sailing Yacht, young, green deckhand Tom Pearson didn't raise the alarm soon enough in a wind storm and the Parsifal III ended up aground albeit with thankfully only minor damage. This led to an unfortunate night of binge drinking including screaming reprehensible things at third steward Ashley Marti who had humped and dumped him in just a couple of days.
Captain Glenn Shephard doesn't care so much about the drunken screaming because nobody's told him, but he doesn't trust Tom on anchor watch any longer which makes him nearly redundant. Will Tom be fired? That's our main concern going into our third/fourth? charter of the season.
Other complications include Ashley liking Tom's boss Gary King much more than Tom, and Gary himself liking Ashley's boss second steward Gabriela Barragan much more than Ashley.
I mean, you couldn't make this stuff up, nobody would believe you!
Jim Blumenthal is our Primary Charter Guest coming on board, all the preview foreshadowing has centered around the food so chef Marcos Spaziani will be under the gun for sure.
Of course so is Tom, who goes straight to Gary after his chat with Captain Glenn. Last time Tom went to see Captain Glenn to affirm that he was ready to knock this next charter out of the park. Captain Glenn had already talked to Gary and Chief Engineer Colin MacRae about keeping Tom sidelined until he decided what to do, so Tom did not at all hear what he was expecting to. That was the first time he (and I!) understood that his job was on the line for the grounding.
Gary doesn't have much good news for Tom, he also couldn't sleep if Tom was on anchor watch again but it's not his job to fire anyone.
Guests arrive out of NOWHERE! Chief steward Daisy Kelliher takes us for a boat tour, we have a baffling mix of beautiful young women looking forward to topless sunbathing on the Bunny Pad and old men with very bright shirts.
I mean, there are women of a grown age as well, I just can't get a handle on this mix yet.
Several hundred heavy bags are brought aboard as the guests survey their luxury accommodations, I love that juxtaposition.
Tom thinks he's all done working now the guests are aboard, he sits next to Colin across from the Captain and whines about wanting an apology back from Ashley. Oh and hey, he's been inside her.
I mean, she didn't want to hook up with him at first because he was too young and yeah.
Captain Glenn cannot believe that the kid who ran his superyacht aground and was begging for his job an hour ago is sitting there whinebragging about banging one of the stews instead of working. He sends Tom off to wash something, but Tom comes back less than 30 minutes later to sit and gossip with Daisy and Colin. Captain Glenn gives up and calls a recruiter to request a new deckhand as soon as possible.
Deckhand Kelsie Golgia is assigned to late shift with Ashley, who is still mad at Gary for choosing LITERALLY ANYONE ELSE over her. She still thinks she could have had Gary whenever she wanted, or says as much anyway, good luck Gabriela!
Gary would sleep with LITERALLY ANYONE ELSE other than her.
I can't figure out how there is time for the crew to be sitting around and visiting so much, where are the guests?? Tom does pullups on the swim platform alone while the two stewards set the table for hours.
We're in Menorca and it's time for our first dinner of charter, which is a Spanish-themed fiesta. I don't know why one of the guests dressed as a matador but I love it! Do you, Ken!
Marcos sends out course after course of fancy Spanish cuisine, they want to kidnap him already and compliment Gabriela on service.
Kelsie wakes Gary at 4:00 am when she sees rocks on the radar within the lines, good job! Everything is safe and people know you will raise the alarm as necessary. Wooo!
It must be March because Gary's going to wash his hair.
One of the old men guests puts his finger in Daisy's ear and I am so fecking grossed out right now for her. Just...keep your hands to yourselves, fellas, you're not paying for access to crew orifices this tour.
The guests get one hundred amazing dishes for breakfast, while they're noshing Daisy heads down to the crew mess to work on the upcoming crew talent show.
Captain Glenn makes his own casting change; when he hears there is a deckhand available shortly he calls Tom to the crew mess for one last meeting. Tom understands, he's been very distracted with news from back home about his best friend's dad. Captain Glenn gives him an hour to pack his shite.
Wow.
That was quick and decisive, don't eff with Captain Glenn. And not even any hard feelings after on either side.
Ashley and Gabriela think he's being fired for his 'vibe' for the love of. In a shockingly short amount of time, Tom is gone and schedules are remade.
We're about to sail!!
The crew races to stow everything as the sails are raised and is there anything more beautiful at sea? There is not.
So we're down a member for the talent show, Gabriela can dance, yay! Someone knows how to play guitar, we've got singing...
Gary goes for a nap while everyone else plans and the guests wander down to the swim platform looking to play with the water toys. Where is Colin??
Daisy finds the guests on the swim platform and radios Gary, babysitting them until he makes it on deck to blow up inflatable kayaks for them to explore caves.
The guests dress for dinner, it's a seafood extravaganza! This means timing is going to be key and Marcos immediately flubs it by not listening to Gabriela's heads-up that the guests are seated.
The guests are more than seated; they're starving. There is no food ready until some bread at ten minutes past, Marcos throws out some shrimp tartare ten minutes later and then it is all flying out the door and the guests will only remember how fantastic the food is.
Time for the talent show! Gabriela and Daisy are first up with a sexy samba; followed by Marcos spinning a empty platter on one finger(??), Ashley and Kelsie line...dancing...? a comedy routine from Captain Glenn, a personalized song from Colin and finally: a lapdance for Primary Jim from Gary.
That was hilarious, I almost cried because I think Primary Jim took off more clothing than Gary!
Gary discusses his situation later; I was right, he really likes Daisy! Ashley still thinks she has a chance to jump Gary if she puts enough pressure on the situation and I just do not understand. He looks like he smells BAD. Why is everyone fighting over this Kevin Sorbo knockoff???? He's kissed everyone but Kelsie.
Primary Jim is up early the next morning, Kelsie serves him coffee instead of doing deckhand stuff. The rest of the guests are up by 7, with no stews on board to serve.
Gary and Daisy end up in an argument about service; Daisy will need to schedule to accommodate when guests get up and not just depending on when whomever went down. I imagine it's hard to figure that out night one, though.
With that, we're out! Until next time, where Gary is the sweaty roulette wheel all the ladies throw their money down on. And I do mean down. Cheers!