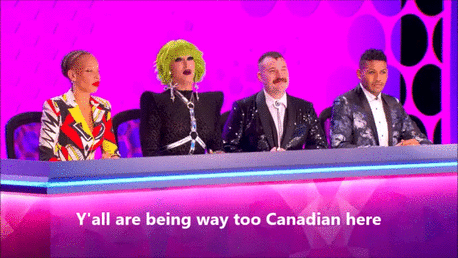 And we're back frolicking in the land of canola and honey for another installment of Canada's Drag Race currently showing on Bell Media. I get it on Crave, but the shows are listed on Bell? I dunno, look, now they're both covered! Let's roll into my recap of CDR S1:E04 Single Use Queens after the break!
Last week Priyanka took the maxi-challenge with an awesome rap battle win and funky hair runway look. Yes, hair. We lost our pageant queen mother Anastarzia Anaquway who had to battle her friend Tynomi Banks in lipsynching, she didn't leave a note!
Anastarzia didn't leave a goodbye on the mirror!! We're all shocked. Everyone leaves a "go get 'em betches!"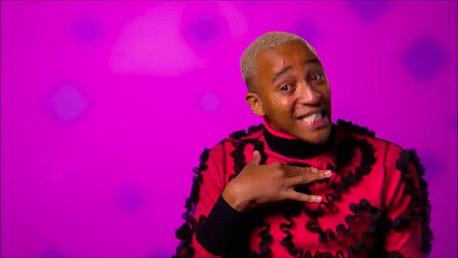 BOA and Scarlett BoBo had a problem last time, well, Scarlett had a problem with BOA but they've buried the hatchet and are friends once more. Montreal queen Rita Baga calls this a Toronto problem.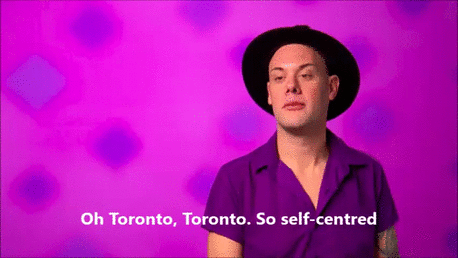 She interrupts the love-in to remind everyone that it isn't Toronto's Drag Race.
Hahahahahahahahahahaha You're only gonna really get that if you live in Canada outside the GTA. Plus Montreal calling the kettle black is fun!
Priyanka takes a moment to review; she's a Toronto queen too and that's not really going very well for anyone, is it?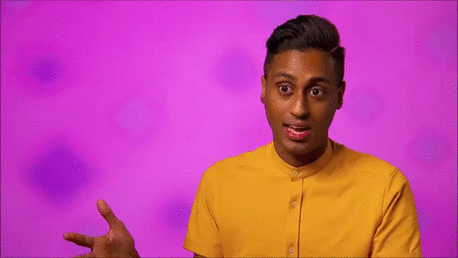 Kiara doesn't want to be in the bottom again, she's here to prove she's more than a fashion body-oddy-oddy! This is me holding my breath, girl!
OKAY. We're back in the workroom, Lemon is frisky and Tynomi is downright rude. She doesn't care about judge Brooke Lynn Hytes' final warning, forget that! The judges can put her in the bottom all they like, she'll just fight her way through a lipsynch.
This is classic In Their Head-ism wherein one of the strugglers tries to get their confidence back by striking out at the hand that's feeding them. Tynomi, you pulled through that lipsynch by the skin of your panty-panties, maybe this is a good time to align your spiritual chakras.
Namaste.
RuSiren! RuPaul has a message for our ladies and it is this: something with recycling trash. Are we dumpster diving, Mama Ru?
Host/judge Stacey McKenzie can't quite remember what the challenge is….maybe the Pitt Crew can help! Awwwww lookit they got a chubby Crew member, I love the adorable DadBod even if it's definitely not interested in my MomBod.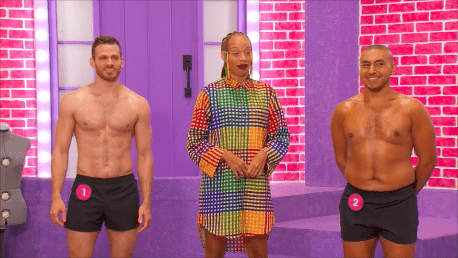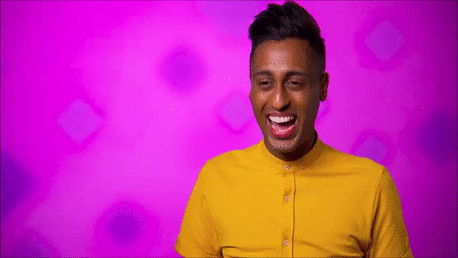 But WAIT! There are more Pitt Crew members! And they all have numbers on their tiny shorts, are they choosing?? Priyanka calls for an immediate production halt. I think she's gonna pass out.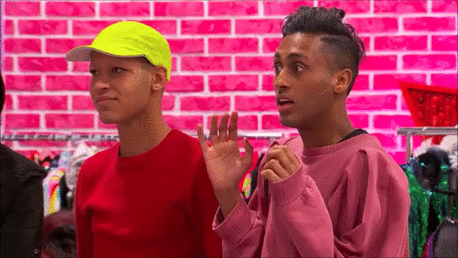 Ooooooooh there are even MORE Pitt Crew!! They're gonna play Memory with their underwear! Thankfully all the men look very different, if all very purty. I love how DadBod is not just adorable, he also blushes and smiles every single time they hoot and holler.
Hahahaha this is the best mini-challenge ever, we've got men pulling down their shorts to show off the tiniest briefs imaginable for us, Priyanka calling them "all the boys that blocked me on Grindr. Good. This is an intervention."
Jimbo wins the extremely entertaining memory game, she dances "finally I f***ing won some s***!" because we are nothing if not klassy in winning in Canada. Winning a game where men showed off their shiny packages over and over and over.
*Adorable was leopardprint
Nobody likes Jimbo celebrating the mini-challenge win, that's so Canadian. You can win, but you have to be self-deprecating and 100% surprised or you may as well be an American.
Stacey explains the main challenge: Waste Not, Want HOT!
They will be working in teams of three to create an iconic fashion line out of…scraps. Jimbo assigns paper to her crew of Tynomi Banks and Ilona Verley, plastic to Scarlett BoBo, Rita Baga and Kiara and finally metal scraps to Lemon, Priyanka and BOA. Lemon likes the metal but got read for a boxy shape on her last make-it challenge so she's hoping for the best!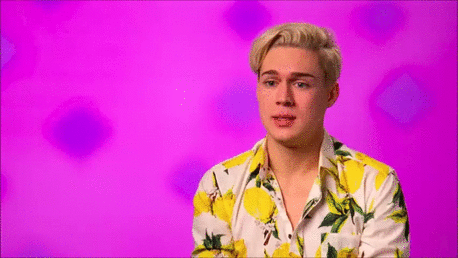 Scarlett BoBo has been complaining non-stop about getting plastic scraps for fashion but it turns out that she, Kiara and Rita Baga are all glue gun queens, what's the problem??
Teams are starting to find their vision but Team Metal is going to have a problem because they didn't listen to the part where Stacey said the looks had to be cohesive. Ilona Verley and Tynomi Banks are our biggest gossips, they're paying faaarrrrrrr more attention to what Team Metal is doing than their own stuff. They're especially harsh about Scarlett on Team Plastic, but they're not necessarily wrong.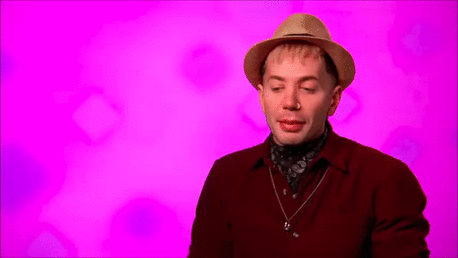 Priyanka can't believe how shady these betches are being, Scarlett can't help but notice when there are THREE staring at her.
It looks like Team Paper has splintered into two groups also, which is not surprising, neither is it that Jimbo stands alone while the other two are the Sherbet Showgirls. You know she's going to do damagedsexdollrealness, that's what she DO.
Stacey will be helping each team on their runway walking, woooo! She's all legs and freckles. Team Paper, or Maison Papiere (we think things sound klassier in French in Canada, not just signs!) is up first where Jimbo is very much the problem.
Jimbo can't walk. She's all "personality" said like: what does she look like? "She has an amazing personality." We'll see if she can carry it off!
The House of Rust is next, Priyanka is an excellent walker anyway but Stacey brings it up to the next level. I think she busted something holding her breath while PriPri slunk down the runway. Of course Lemon is amazing and of course BOA is not. She has a great personality.
La Maison Boraga (Team Plastic Fantastic) is last but not least, Kiara and Rita Baga do great but…Scarlett BoBo walks a bit like a truck. Out of gear. Shades of Jimbo.
It's Elimination Day and we're back in the workroom where Rita has shaven her head! A bald decision, so to speak.
Ahhhh The Mirrors of Sorrow have claimed us again, Scarlett and Rita chatting about being drag mothers devolves into Scarlett and us bawling about her drag mother who just died, Ginette BoBo.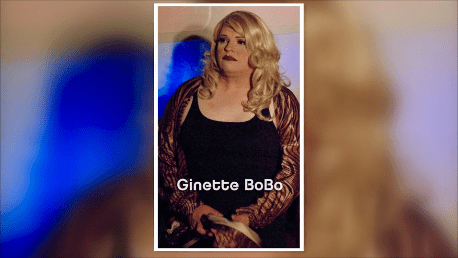 A lot of times these kids don't have places to go, drag mothers can literally be like mothers and life support systems. I am a mother to a drag mother, which makes me a…drag grandma? You would love my six-foot little girl in size 12 pumps!
Our guest host this week ls Evan Biddell, aka Biddell, Canadian fashion designer of…flying squirrel onesies? That's all I saw on his Instagram, in all sorts of colours and none fitting whatsover. Oh wait, there are also Hammer-pants. I miss Hammer-pants.
Sigh.
We're on the runway with judges Brooke Lynn Hytes, Jeffrey Bowyer-Chapman Stacey McKenzie and our three fashion houses!
La Maison Boraga, ladies and gents: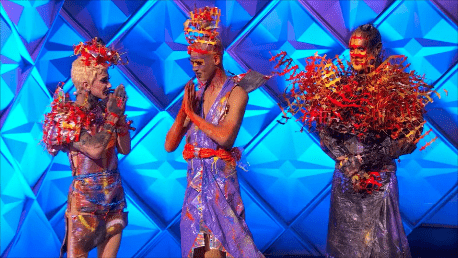 Scarlett BoBo – cool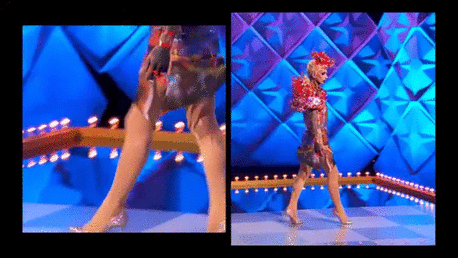 Kiara – meh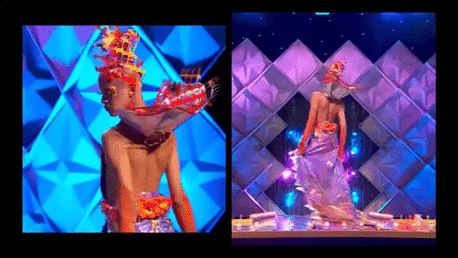 Rita Baga – Club Kid realness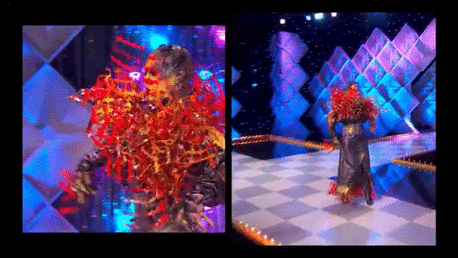 The House of Rust, hunny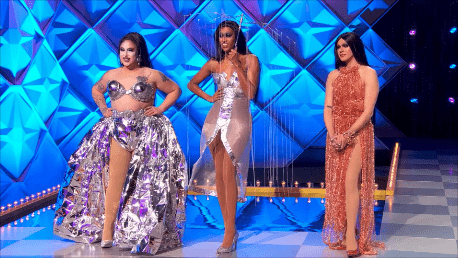 BOA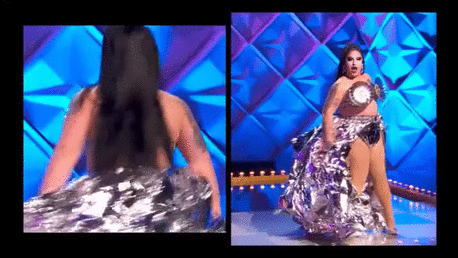 Priyanka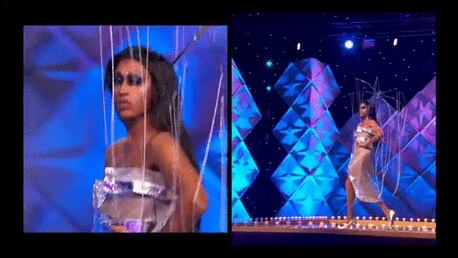 Oh wow, Lemon looks great, but nothing like the other two at all.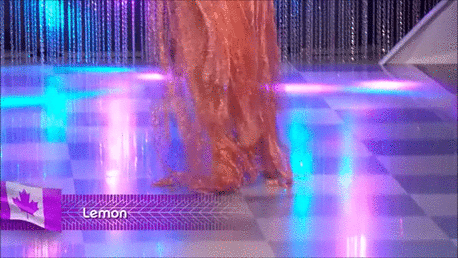 Maison Papier!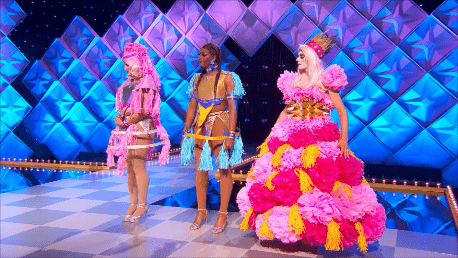 Ilona Verley is so cute, always, for someone with actual random tattoo writing on her face.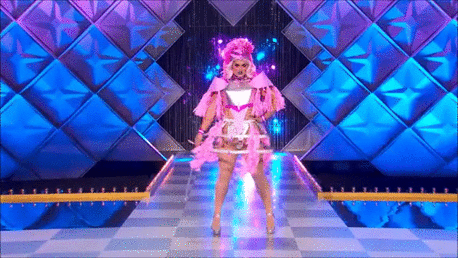 Tynomi Banks looks Tacky Thanks.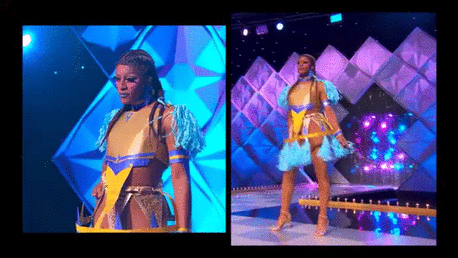 And Jimbo is nothing like the other two, of course.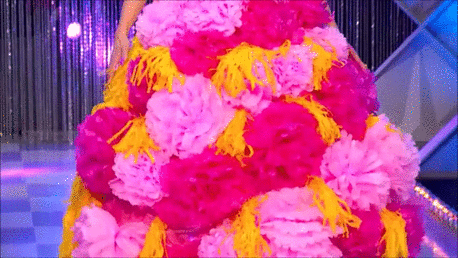 The clear winner has to be La Maison Boraga, they're the most cohesive by far. I'm leaning toward Scarlett BoBo for the top prize, but apparently the judges like Rita Baga better and she takes her second win on only four challenges! That's HALF! Snaps
On to the critiques! The House of Rust is first.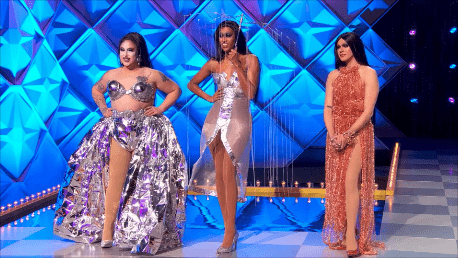 BOA is asked to stop being funny and serve something sexy, Priyanka gets good reviews and Lemon is read for being discordant but fabulous.
Wow, the judges hates Ilona and Tynomi's looks, that's too bad for Tynomi. I love Ilona's look and whole schtick but Brooke Lynn Hytes says she and Tynomi pulled back so Jimbo could look awesome.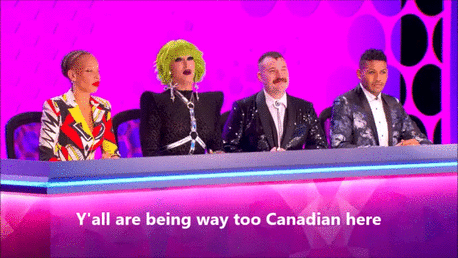 Except no, that's not it at all. Jimbo just came up with her own idea and didn't want to do what the rest of her team was doing. Tynomi's critique starts with her and Stacey crying, Tynomi's in her head and can't find a way out. She got scared and girl, she is the weakest on the runway, maybe because of that.
The judges love Jimbo's look, but Jeffrey hates that she didn't paint her arms and hands as she did her face. Jimbo makes the mistake of using time as an excuse, Jeffrey's got no time for that.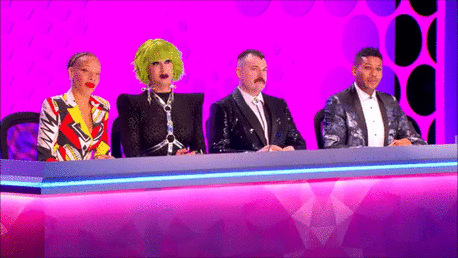 Tensions are HIGH backstage, Jimbo mentions that it's cold and Ilona flips out, she's going home and she's COLD??!! Jimbo does not hold back, we get a full verbal throwdown and good for you, Jimbo. Ilona is stressed out for good reason but she didn't need to take it out on Jimbo, especially when it's really Tynomi that's in trouble.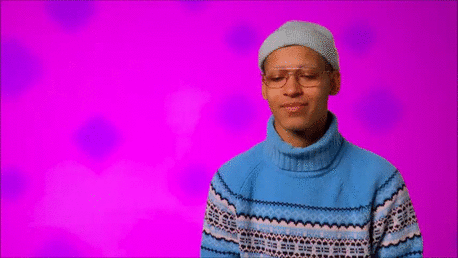 It turns out that Ilona and Tynomi are both in trouble, they'll be lipsynching against each other. It was such a visceral elimination ceremony, all the air went out of the room when Jeffrey told Tynomi she'd be lipsynching again for the third time out of four. Priyanka swore, then slunk off safe in her beautiful dress. Nobody wanted to see Tynomi go down, including Ilona, who refused to compete at first. Tynomi kept telling her she had to perform and that's the other part of it. Ilona Verley is representing a lot of people, we need to see what she can do so she can do it for way more money in clubs, you got this girl!!
The judges talk her into it too, go Ilona!! And go Tynomi, what an awesome lipsynch to "Girlfriend" by Avril Lavigne!! Truly epic, I know who I want to stay.
And it's the same as the judges, congrats Ilona Verley, chantay you stay. Goodbye Tynomi Banks, we're all crying together as you are sent home.
LEAVE A MESSAGE!!!!!
Okay, she does, nobody will dim that light.
Until next time, squirrelfriends, cheers.