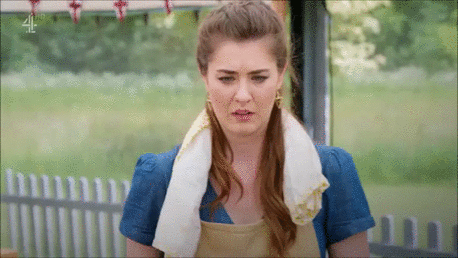 Annnnd we're back to the Great British Bake Off, where we're down to the short strokes now with some bakers improving vastly and others hanging on by the skin of their teeth. You guess who's who! Let's roll into GBBO S10:E08 Pastry Week without further ado!
Are they trying to imply that host Sandi Toksvig is tiny?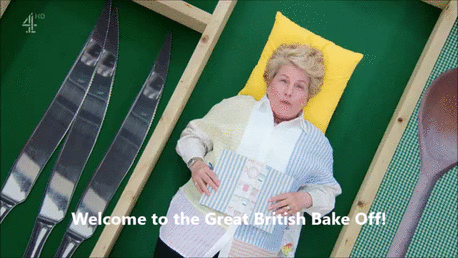 Well. Compared to cobra-shirted host Noel Fielding she is, but I wonder what her actual height is, off to ask The Google! Wow. 4'11" or 1.5 metres. She is wee!
Young Henry Bird turned everything around last week, going from mentally composing a goodbye speech to accepting his first GBBO Star Baker mantle. We lost our other toddler, Michael Chakraverty tapped out after a claggy and stodgy grilled cake challenge.
We're in the quarterfinals already, can you believe it?? Pastry Week is not for the week of heart, I worry about those that scarcely and nonsensically escaped elimination *coughRosiecough* but perhaps this is a specialty!
Of all our remaining baketestants, not one would consider themselves a fan of pastry, which is quite finicky, to be fair. You can't touch it for long, it needs lots of working over, again: without touching, and it's super temperature dependent. It's always summer and one million degrees in the Bake Off tent, this would be a challenge for someone who even liked making pastry.
We waste no time jumping into our first challenge (really, what's the hurry? We've got barely any bakers left!), judges Paul Hollywood and Prue Leith require Signature pastry dish Tarte Tatin. It must be savory and have good lamination, although all the recipes I could find involved fruit, not meat.
Lamination is achieved when you pound cold butter into cold pastry! It looks like so much fun! Or the opposite of that.
Prue and Paul walk us through what they expect while I try not to watch Rosie Brandreth-Poynter cut up garlic with a paring knife.
I know baking and cooking are different skillset, but there's usually some overlap. Why can nobody on this show properly wield a knife??
Back to a standard Tarte Tartin, it is absolutely usually with fruit so caramelization is important, Prue tells us. So. You wouldn't want a caramelized lamb whatsit, would you? I shall reserve judgement until we see what everyone comes up with.
Also: I rather like that the baketestants know what they'll be tackling on the weekend and have time to practice. I know there are shows where mystery ingredients are presented and everyone must compose on the fly, but I love a good prepared bake.
Earlier, Noel made a joke about "Good Lamination" being a Beach Boys song, trim David Atherton is now singing such while prepping his dough. I'm unabashedly a fan of David's bakes, he's tidy and precise and quite a solid baker. He's also usually second place (5 times in the Technical!) so every week I root for him to break through that bridesmaid barricade and win at least once.
The bakers could choose to make full or rough-puff pastry, everyone's chosen rough-puff because of the time constraints. You know if departed contestant Priya O'Shea was here she'd do full puff, totally. She didn't believe in time management, but these guys do and that's why we get no butter pounding thus far.
What's Rosie doing? I'm glad you asked!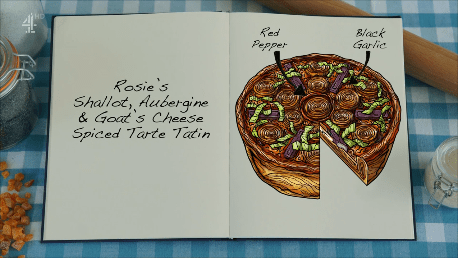 She explains the difference in pastry types to Noel, who will never get that minute back. Ever.
On to our front runner, Steph Blackwell who has frozen and grated her butter. Inexplicably, she's using a serrated paring knife to cut up shallots and I shall probably need an extra cuppa of Calm Down during this recap.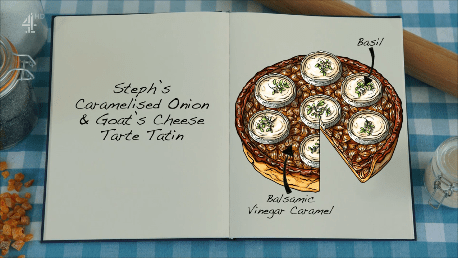 Everyone freezes their pastry and starts fillings.
Is this…a carrot?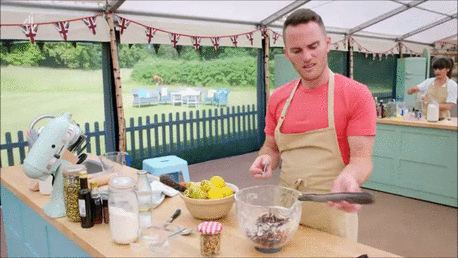 Watching Henry carefully slice cherry tomatoes one at a time with a paring knife is giving me a headache, let's look at his plan instead!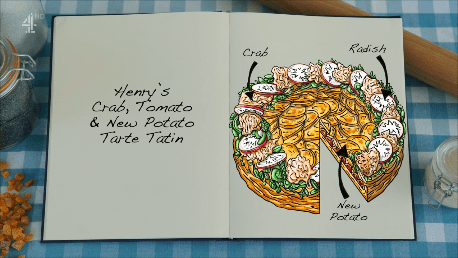 The judges like his plan but worry about his shirt and tie combo in this heat. I like the fact that he's combined a pink tie and a flowered navy shirt, highly approve.
Alice Fevronia has been rising to the top as well as young Henry, she's got a strong design aesthetic. Her tarte tatin looks as though it will be quite lovely.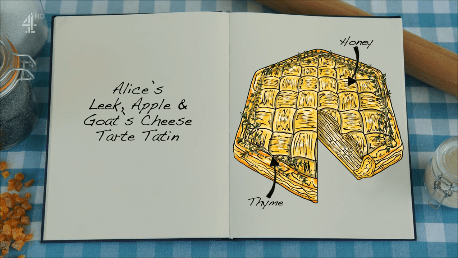 I'm sorry, WHO peels an apple in this manner? Backwards?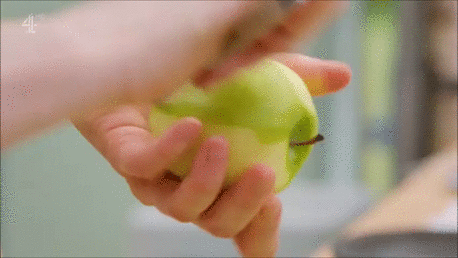 I CAN'T WORK LIKE THIS!!!
*breathing*
On to David's Bulgarian whatsit, I'm quite happy he's developed a theme that isn't obnoxious *coughHelenacough* but does everything need to be Bulgarian? Does it? I love that his partner's grandma picked the walnuts for this challenge, it sounds like a lovely supportive and close extended family.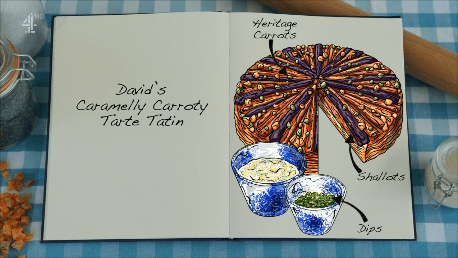 Rolling out stage again! Everyone throws their pastry back in their freezer and pulls their fillings out of the oven. Halfway through!
This is again where the savory tarte tatin has lost me: they have to use actual caramel in the pan for the bottom. That sounds delicious with apples or pears, should you be into that sort of thing, but with leeks? Potatoes? Really?
David has a lisp this week, what's going on there? I'm positive he didn't have that before, has he fallen into a door?
Sandi helps Steph feel better about the feedback she got from the judges (Paul didn't like the goat cheese and Prue called her plan simple), she's quite lovely, isn't she? And funny. I like Sandi.
I am worried for Rosie's filling, it looks very….wet. Pastry over soup, yum! Soup over pastry: less yum.
Why do Alice and Rosie's workstations always look as though they've recently knocked the table over? And why does David have a high collar around his neck? Oh! Because it's hot! Do you think they plan Pastry Week based on the weather forecast? It's always smoking hot and we all know pastry has to be kept as cold as possible.
Although everyone's got their dishes in the oven, there is no relaxing while making toppings. Instead, most bakers are crouched outside their oven doors as though that helps. Alice even has a fan with her, what?
5 minutes!
But Rosie has another 4:31 on the timer, there's no time for topping like that!! Oh no, Alice's pastry is quite soggy and Rosie's appears to be swimming. There's no time for messing about, time to turn it out!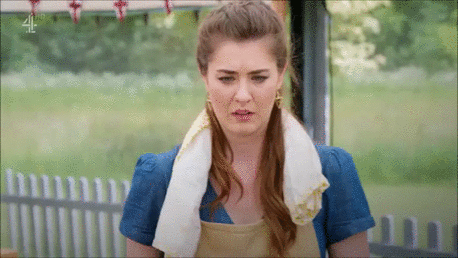 Time for judging, whatwegot??
Henry's looks quite pretty! He has achieved lamination, and the flavour is lovely, yay!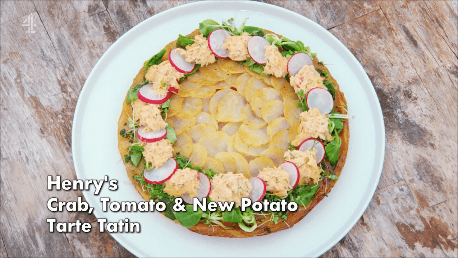 David's dark carrots confuse Paul, he thinks they're burnt but NO! His pastry is lovely and crisp but Prue takes issue with his externally applied sauce saving the dryness of his tarte.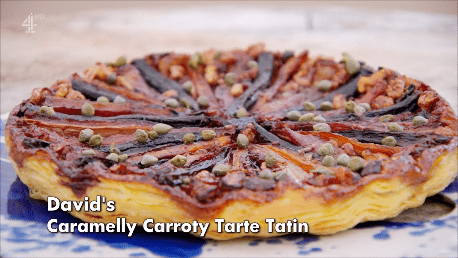 They like the lattice of Alice's leeks, but the lack of caramelization have the judges frowning. It's slightly too wet but a lovely flavour.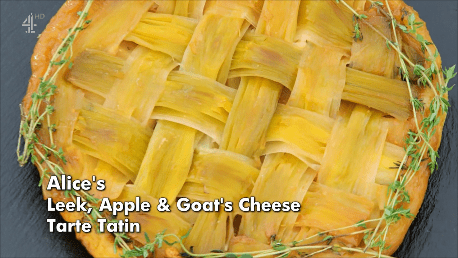 Steph hasn't worked on the topping as much as other bakers, but she has good flavour.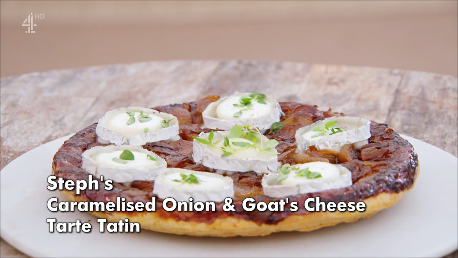 Wow I sure do not like the look of Rosie's whatsit. And it's soggy and has too much garlic, which I didn't know was possible. I'm sorry, Rosie.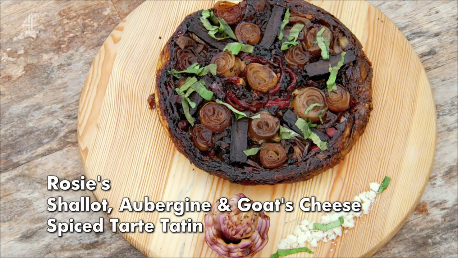 Only Henry was happy coming out of that challenge, onward to the next!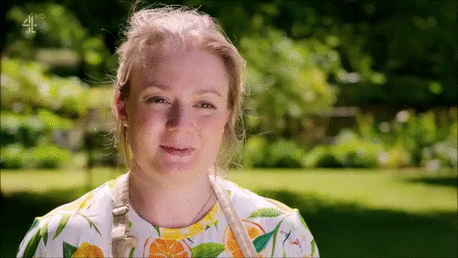 The Technical Challenge is Paul's, he reminds them to be careful which is suppppper helpful as always. They will be making a Moroccan Pie, using walker or brick pastry. Which means "12 very thin sheets of walker pastry wrapped around a filling." What?
The bakers stare at each other in dismay, Henry even offers to get naked if anyone has even heard of walker pastry.
David saw it in a travel program.
Keep your kit on, Hank, nobody needs that in a hot tent on a summer's day!
Paul and Prue show us what they're looking for, basically it's like a phyllo pastry.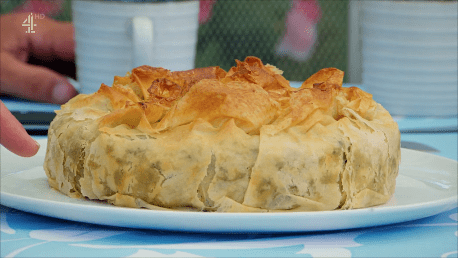 Heeyyyyy, I think my partner's mom might have made something like this for Thanksgiving! But with pumpkin and an open top!
A careful hand with the thin pastry and spicing is required, let's see how it works for everyone!
Huh. The bakers have to *paint* thin layers of pastry on top of a completely flat pan (that I covet for pancakes) over top of boiling water. Your basic nightmare.
And it's sort of working! Eventually. And then people start running out of batter, even poor Steph cries and that's not happened before.
Adam Hills *??* gives us the half hour warning and we're on to fillings! Rosie bashes away at a chicken breast with a chef's knife *moment* before telling us she's never cooked chicken (what) and that her meat is usually alive.
WHAT.
Ohmigod, I'm going to go grab another cuppa while these people chop. My lordt. Why is Alice's counter so messy?? Noel is concerned that Henry is still making pastry sheets.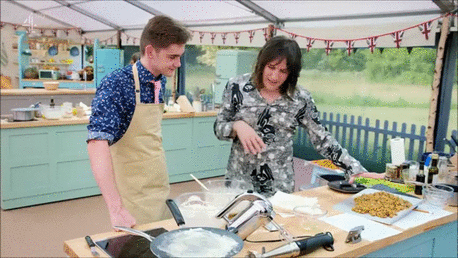 I still can't believe anyone managed to make one of these things!! Everyone but Henry is baking, he has no choice but to join them or he will have nothing to present.
During baking, an impromptu game of catch breaks out with fruit, save Rosie and Steph who are BAKING.FANKS.
Pastries are out of the oven, yay! Except for Henry, who waits for the one minute warning and wrecks his whatsit. As does Rosie, and I was JUST going to say how good it looked!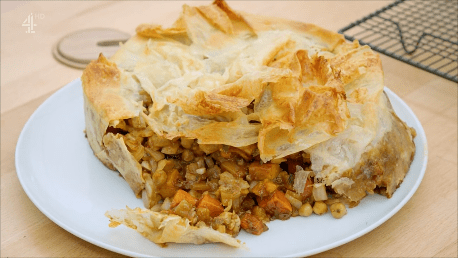 Time for judging!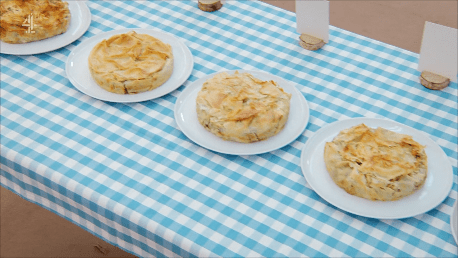 Oh Rosie, she's first and it's well-spiced but basically has no bottom, soggy or otherwise.
The ranking, from worst to winner, are:
In fifth place – Rosie
In fourth place – Steph
In third place – Henry
In second – David
And the winner is: Alice because we can't have David win EVEN ONE TIME
NO! WAIT!! Here are the actual rankings from real judges and stuff!! I'm usually suuuuper close, but I'm right off the rails!
5th – Henry! Henry? Really?
4th – Steph! Okay, I got ONE
3rd – Alice – are you kidding me if Rosie gets even CLOSE to the top with her missing bottom, I shall RIOT
2nd – Rosie
1st – DAVID!! DAVID FINALLY WINS A TECHNICAL!!!!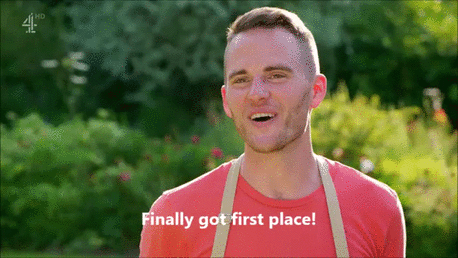 Do not get me started on bhvhd bfvhsbdvfhbfhvdk Rosie being in this AND getting second.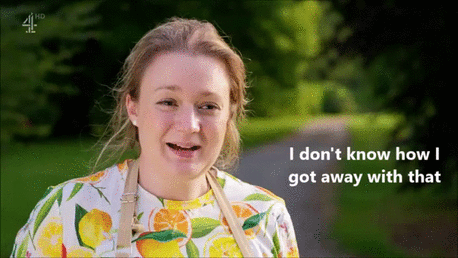 On to the Showstopper Challenge, let's see what our giant pastries will look like! The baketestants will make a large, shaped, and vertical pie and I have no idea why that makes me laugh behind my hand but here we are. There have to be at least three pies all standing on each other, that sounds mad.
Alice's treehouse pie sounds fun! She's very creative. I'm just happy I haven't heard white chocolate even once today (IT'S NOT CHOCOLATE).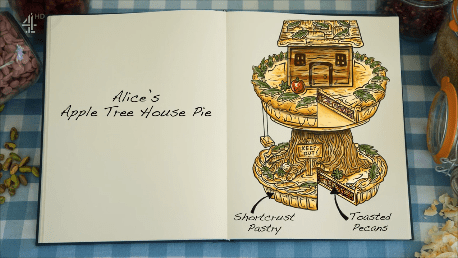 David runs afoul of Paul with his lid-less pies, is it even a pie? What makes a pie a pie? Cherries, if you ask me but nobody has so as you were. He's using quite a lot of carrots again and that lisp is really distracting! I swear he didn't have that the last eight weeks. He tells us he's based his theme today not on Bulgaria as expected, but rather his hometown of Whitby, NOT the one in Ontario.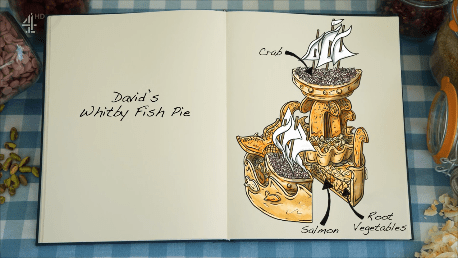 Ohmigod the tradeoff for not having to hear white chocolate is watching and listening to more sketchy knifework. Every time they drag a blade across the cutting board to clear it, my shoulders go up. Use the back side, people! Don't dull your knife!
I like the look of Steph's, even if it feels as though we've seen a lot of carousels this season.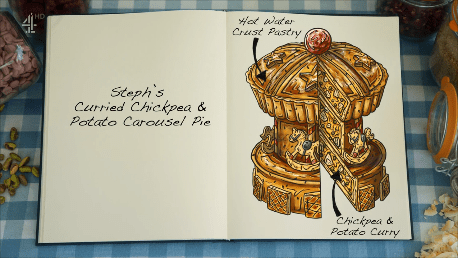 More curry over at Rosie's bench, these are some girly pies, y'all! She has nine pies to bake. 9. NINE.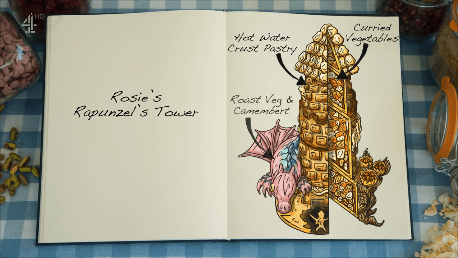 It must be near lunch because when the judges and Sandi get to Henry's table, they attack his ham like vultures. I would do exactly the same, I could eat my weight in ham on the bone. Mmmmmm.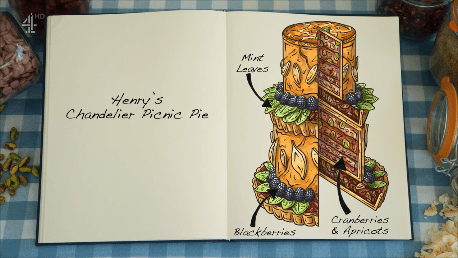 Sandi chichats with David about his hometown, which he quite liked until he was a teenager and realised they were no clubs about. Not his type, anyway, which makes Sandi laugh.
I don't understand why Steph's pastry is spotty with stuff innit. Noel quizzes Rosie on the name of her dragon while I try to figure out why she's patching her pastry dough so…badly. Does she not have a bigger piece? I don't understand why she's so short and why she's sticking bits on it.
Ohhhh I want Henry's! The chocolate chunks and pecans ohhhhh
There is only one hour left? That's impossible! The pies aren't even baked yet! Rosie has NINE to get through!
The de-pieing begins at 30 minutes out. Well. For most people.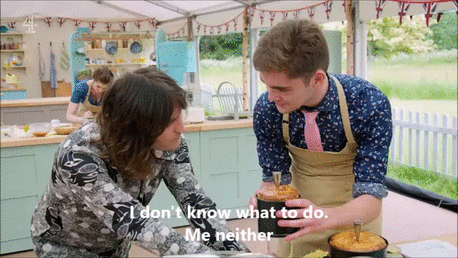 Ten minutes, time to assemble! Then one minute, ONE! Hurry, Alice! Get your swing on! David speaks in voices while Rosie bemoans her lack of dowels and literally cries while trying to hold it together.
We're to judging.
Rosie's tower is up first, perhaps a kindness as this pie in on a timer for sure. The judges appreciate the design, but the over-thick pastry and dry filling has signed her ticket home.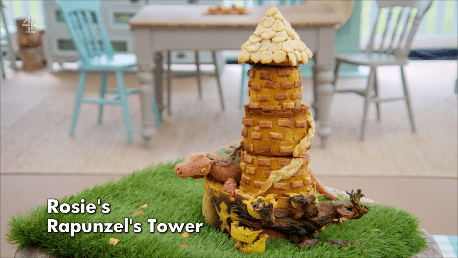 On to Alice's pretty treehouse; the judges praise the design but the pastry is "tough as old boots" and the filling is too dry.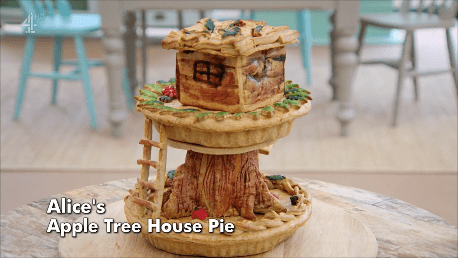 Next up are David's open pies, it's so lovely! I hope it's not too dry like everyone else trying to avoid a soggy bottom. It is too dry.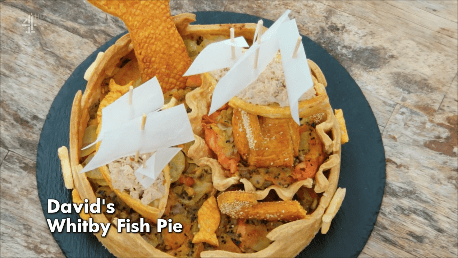 Perhaps Steph will fare better! She does, it's perfect and delicious and not too dry. Atta girl!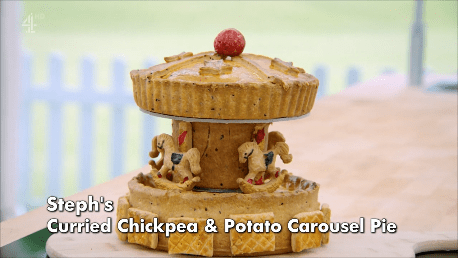 Last up is our Henry, who almost drops his entry. Thick pastry and dry filling means he won't be winning the Showstopper today.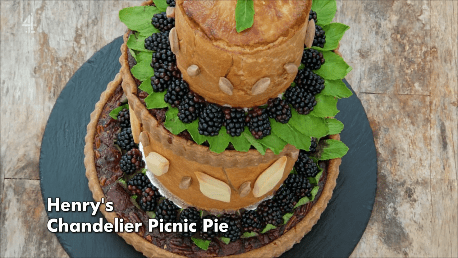 If Rosie makes it through instead of Henry…I will be so annoyed I will stir my tea with more vigor than strictly necessary.
Here are my predictions:
Star Baker: David (probably Steph instead, but damnit, I'm going to be right one of these times!)
Going home: Rosie (if there is a Jeebus. Nothing against Rosie, but she should have gone home four sketchy eliminations ago)
The actual standings!
Star Baker: Steph. OH COME ON. Why not just tell everyone: sorry, we're only judging on the Showstopper, might as well sleep in and miss the other two!
and we lose: HENRY. ARE YOU KIDDING ME. Is Rosie related to someone on production staff????? WHAT
For the love of. I can't believe. Henry, who just produced a pie with a delightful flavour combination that Prue couldn't even believe. Is leaving before a baker who did.not.have.a.bottom.on.her.pie in the Technical.
Anyway. FINE. Have a great day, try to enjoy it, oh right, and congrats, Steph. Sure.