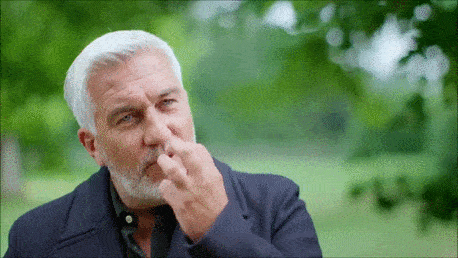 Yay, it's time for the Great British Bake Off and I'm 100% for some soothing baking shenanigans where the worst thing you have to worry about is if someone's going to lose a corner in de-panning. If you understood that and felt the same, we should be besties forever and I shall bake you muffins on every second Wednesday. Rolling into my recap of GBBO S11:E06 Japanese Week after the break!
So what does Japanese Week entail? I am completely ignorant of Japanese cuisine outside of my butchery of sushi (okay, rolls), what does Japanese baking look like? Anyone know before we dig in and they show us?
Hosts Noel Fielding and Matt Lucas introduce the week with judges Paul Hollywood and Prue Leith, what's our Signature (Japanese) Challenge this time around? I'm glad you asked! The baketestants are to prepare 8 soft steamed buns filled with whatever they like. Oooooh do curry!!! Or pork! Can you curry pork? Sure you can! (But maybe chicken)
**Side note: I had my very first proper Ramen soup the other day and it was AMAZING. I couldn't believe the flavour! The bounciness and firmness, the garlickyness of the noodles, they were transcendent. I could easily live on that and I'm only sad it took me this long to try it.
Oh yay, baker Peter Sawkins (sorry, his is the only last name I can find regularly without spoiling myself) looks all bright eyed and perky, he's been let out of the basement!
What's Paul talking about here?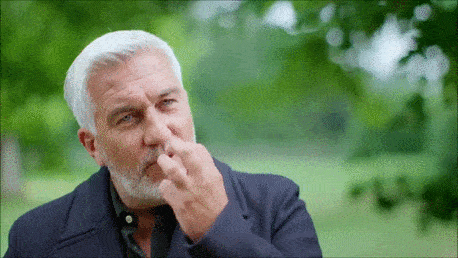 Buns still?
Dave's making chicken-faced cat-food sounding buns because he can't sense my dismay from the future.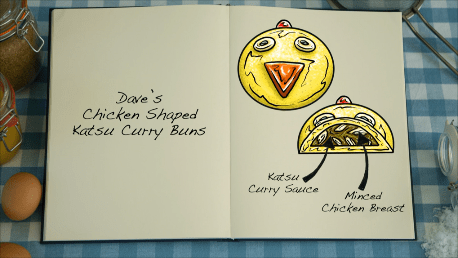 Awwwww lookit Peter's adorable lamb buns that I would never ever eat because someone RUINT lamb for me a decade ago??!!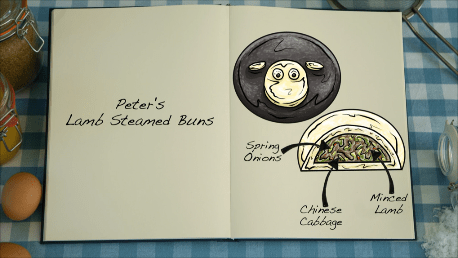 Laura was Star Baker last week, woooooo! She's making piggy pork buns, but like Peter is doing more of a Chinese-inspired filling than Japanese. See? Nobody else knows from Japanese.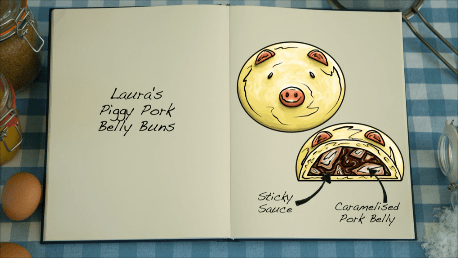 I did go for Japanese barbecue a while back, it was….interesting.
I really like curry but I'm not sure about what our Marc is doing here.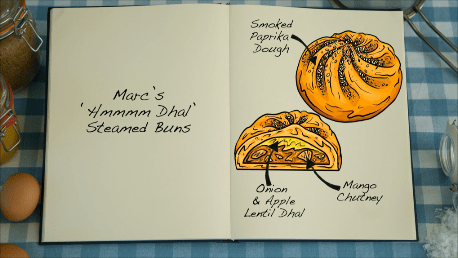 Mark is just happy to be here, folks! He's making burger buns, one without pickles for our picky Paul.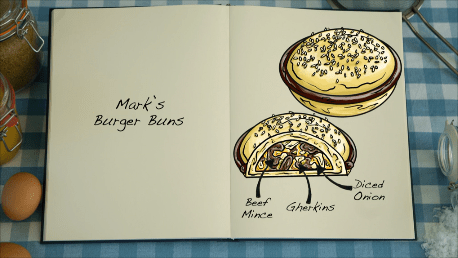 Lottie is also making a burger bun, it's a Burger BakeOff! for…Japanese Week…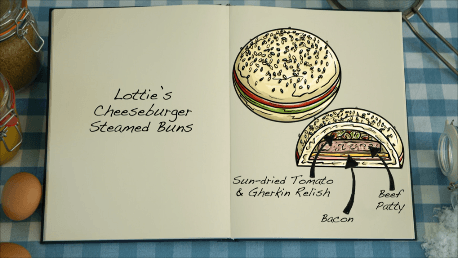 She's accompanying hers with the traditional Japanese…spiralized chips…
My god I cannot watch these or any GBBO bakers cut up food with knives. So slow!! So imprecise! So inconsistent! You're in a kitchen waiting for dough to proof, go ahead and throw an onion on a board and practice! Cut up some pickles so you don't put me in pain watching you on international TV!
Hey! Hermine is actually trying to do something Japanese!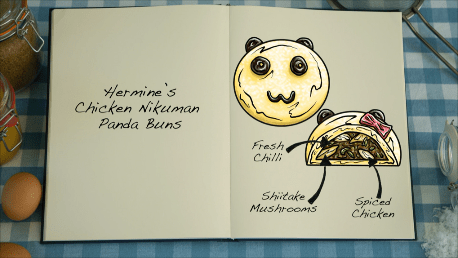 I do worry in that she's "eyeballing" and "winging" the dough as opposed to "weighing" or "measuring" her dough portions.
Everyone loads their steamers then hovers over them anxiously. Peter looks as though he's guarding organs purchased on the Silk Road.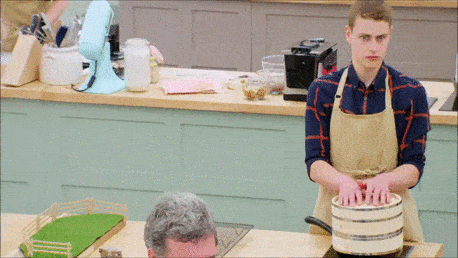 Time's up, let's see what we got!
Hermine's pandas are first for judging, she did an excellent job. Perfect baking.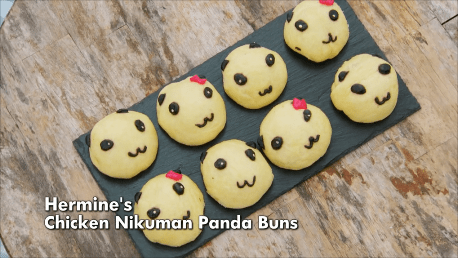 I think Mark's look a right mess, but Paul calls them "simple but highly effective" so what do I know?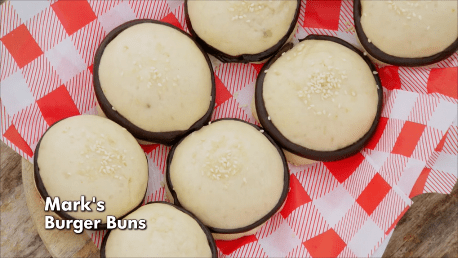 On to Laura's slapdash pigs, Paul calls them "very, very dry but very, very beautiful."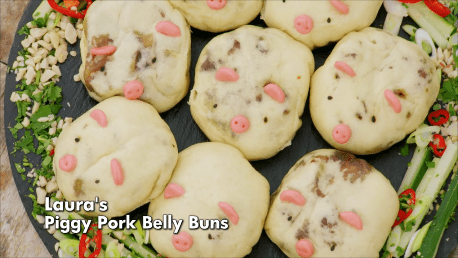 Marc's buns got massive! Look at these orange marvels! That's Paul's only complaint, that they're too big but Prue doesn't mind some extra junk in the trunk.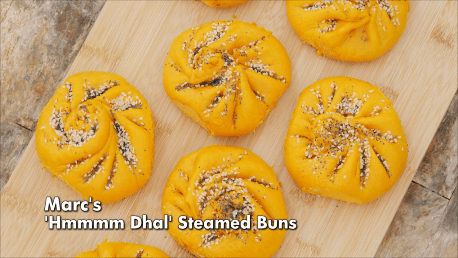 Well. They sort of look like chicken, don't they, Dave? Not quite enough filling, or enough flavour, but he did very well.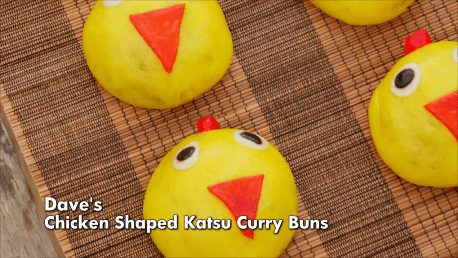 I MEAN LOOK AT THESE.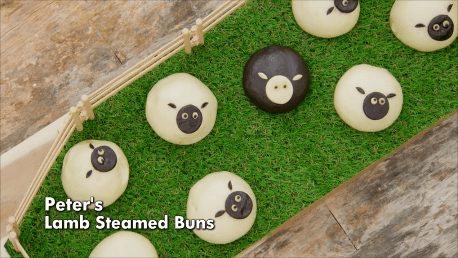 Peter, they're adorable! Just too much meat and not enough bun, said nobody else ever.
I think Lottie's and Mark's both look just like playdough sets my kiddos used to make. She does well too, if slightly too dry as well.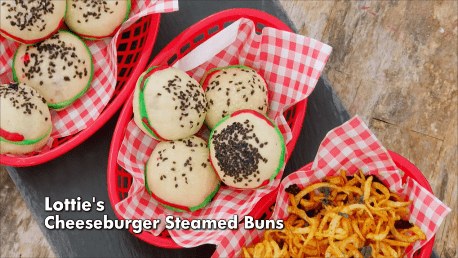 On to the Technical Challenge, this time set by Prue who tells everyone not to panic (they should panic). We'll be watching our baketestants prepare…a matcha crepe cake. Huh. I don't hate or love matcha but I wouldn't fry it up in layers, stack it up and call it a cake either, so.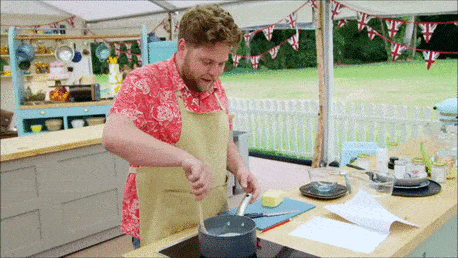 Inside the moldy rock is layers. Yay.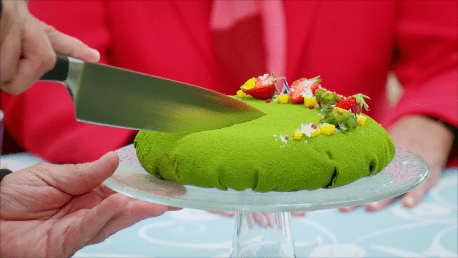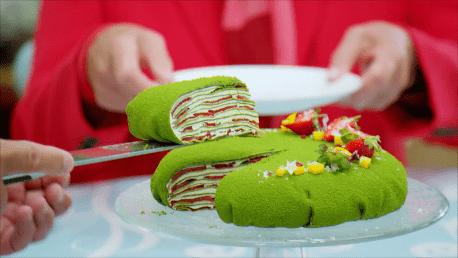 Pass.
Hilarity ensues as Lottie, one by one, ticks off all the things she does not know how to do on this skimpiest of recipes. Swiss meringue? Check as NO. Temperature check? Also NO. But she'll be fine, she has a way of pulling things out against all reason or odds.
Now, Mark knows about Swiss meringues and he STILL makes the crucial mistake of whisking it into his mixture rather than carefully folding in to retain the air. At least he has the common sense to feel bad about it.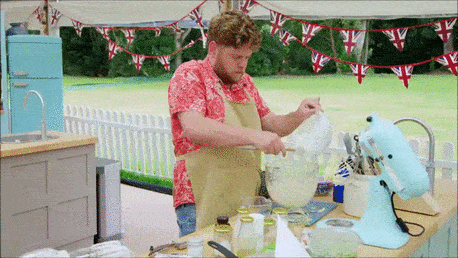 A heartpounding montage of crepe making ensues, followed by:
a close miss with most people running out of batter before achieving 12 even layers
then the strawberry cutting is a mess
then the layering
then the freezing
then the flinging of matcha powder
One minute left! Nobody knows what a crescent shape is, has no-one seen the moon recently??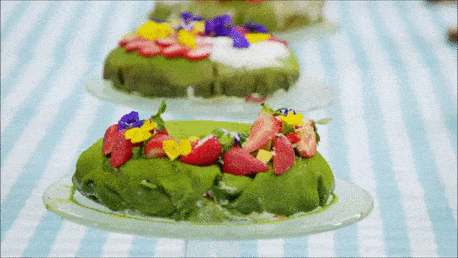 Judging goes smoothly, from hideous to fluffy perfection we have:
7th place – Laura with too many thick, chewy layers
6th place – Marc with too many thick layers
5th place – Mark with his messy sides
4th place – Hermine's super messy outsides and tidy insides
3rd place – Dave
2nd – Lottie pulled it out! I knew she would
But it was Peter with perfection on his "Japanese" matcha mille crepe cake!
The Show Stopper challenge sounds adorable this week, it's to make a Kawaii Cake which look super cute online! Four hours, go!
Mark is making avocado babies! Prue thinks this is him expressing his feminine side, which tells me she has only passing knowledge of reproduction.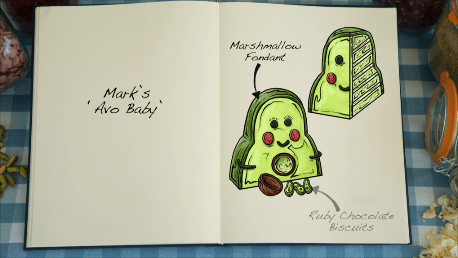 Dave is making something to do with his dog.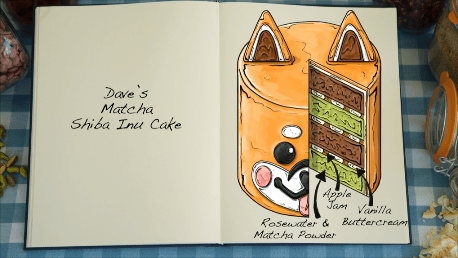 But Marc. Well. Marc is using fondant.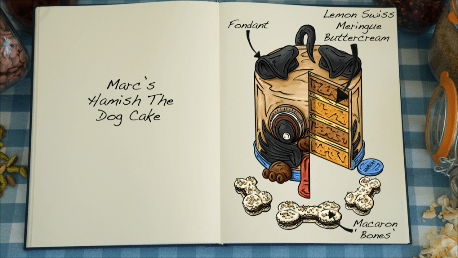 Lottie's sounds suuuuuuuuuuper sweet.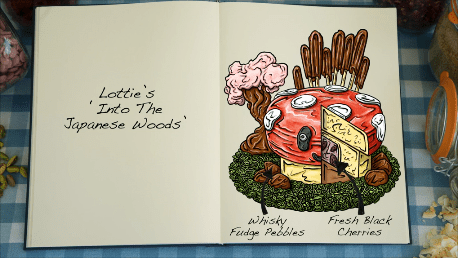 Awww look how pretty, Hermine?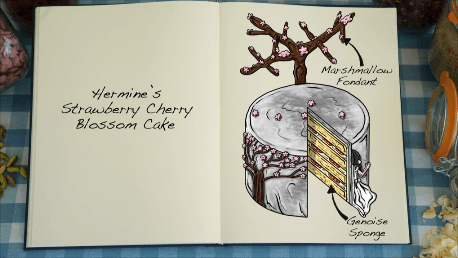 Hm. Peter's making a shuttlecock?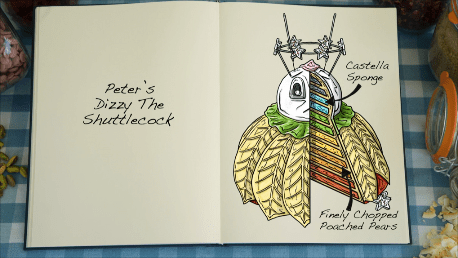 WAIT. Noel Fielding has a two year old daughter???? He's. He has children?
I love Pineapple, Laura!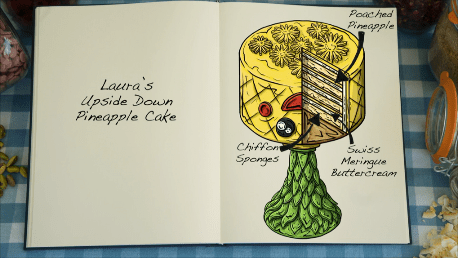 Oh. But it's fondant too, we find that out when she cries as it tears going on. Not to be a negative Nelly, Laura, but I think it was too thick and also fondant. A lovely buttercream will do much better and cause 100% less tears.
I am so excited for judging! The cakes without fondant! Let's find out what's we got.
First up is Peter's "Dizzy The Shuttlecock". Well baked but Paul's not too fussed about the flavours.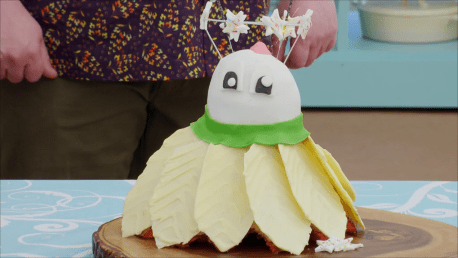 Eh. Dave.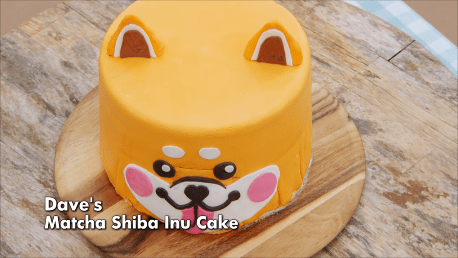 Lottie's jiggle cake.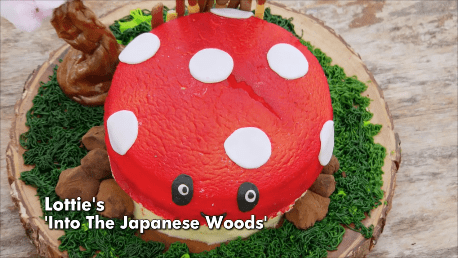 Eh. Hermine.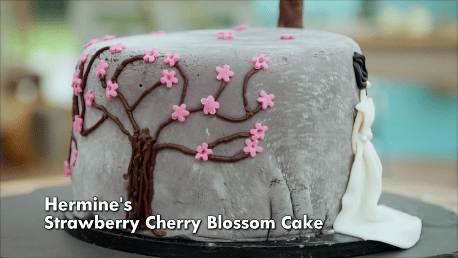 Eh. Marc.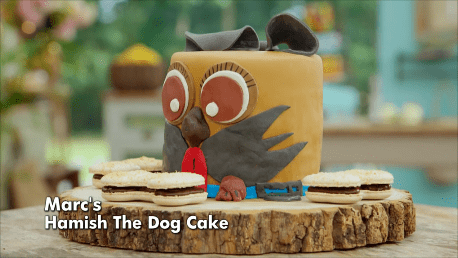 Laura's is super cute.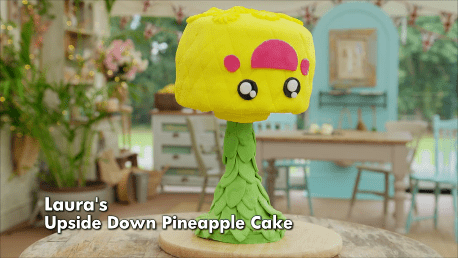 Mark's avocado babies are cute but scruffy, just like him! Ah but almost inedible. Oh no, he can't be at risk, I like him so much! It makes me happy just to see him!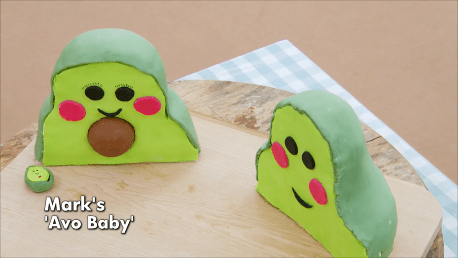 Did you know it was Paul Hollywood's 100th episode today? Me neither! Atta boy!
So here we are, who's going home and who's in the running for Star Baker?
Our Star Baker of the Week is: Lottie! Wow, atta girl, she earned it with her jiggle.
Going home: Mark. MARK! Boooo!!!!!!
Mark, Dave and I cry, I'm so sad he's off. He's a magic baker and a lovely person and I shall miss him. Laura was convinced she was going until they loved her adorable upside down pineapple cake so she's relieved and feeling only a tiny bit sad she's not making her way home. Until next time, everyone, I love and miss you all. Cheers!