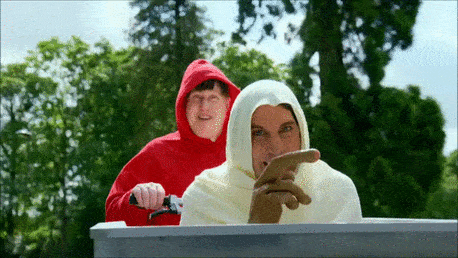 Here we are again for the Great British Bake Off, aka Paul Hollywood's 101st kick at the baking can! I think it's sort of telling that it's only HIS one hundred and first episode, but there will be no snark re: staffing this week. I can't believe I'm saying it, but I'm holding on to Noel Fielding with all I have and this is where we are now. Let's roll into GBBO S11:E07 80s Week after the break!
Wait. Eighties Week? Is that a thing? Was the 80s known for their baking innovation and complexities? I'm pretty sure that's when Pizza Pops and Chef Boyardee really came into their own. Huh. Apparently this is related to E.T.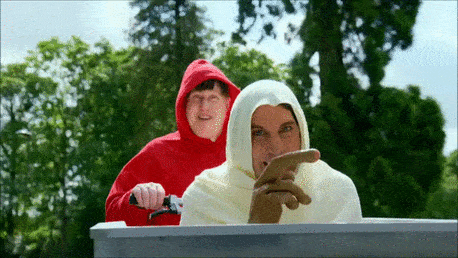 I watched that as both an adult and a single mom, let me tell you: that's a whole 'nother experience.
You know Bake Off has a dark side, here they demonstrate that by scheduling an ice cream cake challenge on the hottest day of the year. On a BAKING show.
I don't know if I've mentioned this before, and I know I've talked about the theme song making me happy but the real kicker for me is when the judges and hosts first enter the tent. Paul Hollywood, Prue Leith, Noel Fielding and Matt Lucas all file in to a particular sequence of bells as music; it simultaneously calms me down while creating a low-level excitement that sustains me throughout the show.
They're all here to explain the Signature Challenge of the perplexing 80s Week, the bakers will be creating 8 individual savoury quiches with short crust pastry. Oooh I love a good quiche, I think 80s would be the ubiquitous ham and cheese, wouldn't it?
Other random 80s thoughts: sour cream and onion chips were very big then and how about chips and dips parties?
The quiches cannot be served in tins, that means we need a very firm base, don't we? We do. And two different savoury flavours, right, off you go!
Ooooooh young Peter Sawkins was born two full decades after the start of the 80s but we'll try not to hate him anyway because he's making a coconut curry quiche with crab! MMMMMM.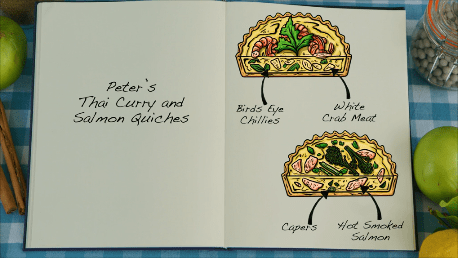 And another one, sure.
Laura was only one years old in the 80s so she doesn't remember any of it but is nonetheless going to make quiche with sausage for our entertainment.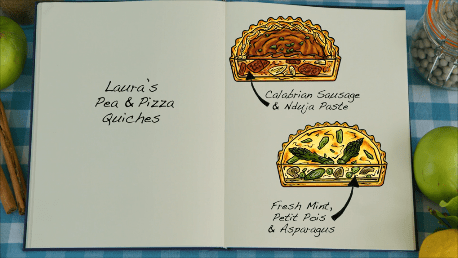 Marc was a teenager in the 80s (like me!), he's got all kinds of horrific music preferences and is yet again representing Cornwall in this challenge.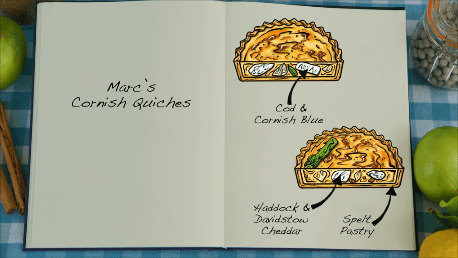 So I mentioned the heat, yes? It's 28 degrees Celsius, conditions under which literally nobody wants to be in one big tent baking with 5 other people on TV. Everyone's throwing their pastry in the freezer, which is not normal at all.
Hermine is our French baker, but she likes cooking even more than baking. She's not ready to blind bake her crust as she's still messing with fillings. Hm. Wouldn't it be better to do the fillings while you're blind baking? Just throwing it out there!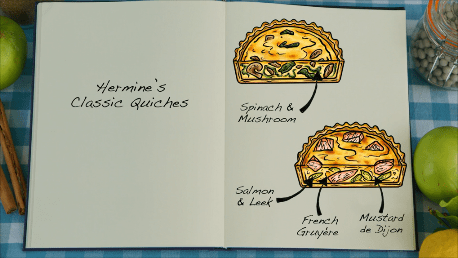 Remember that pastry she threw in the freezer? It froze, as things thrown in freezers are wont to do. She's a bit stuck and it's not like there's loads of time to lark about on the Great British Bake Off.
I don't know what Dave's doing.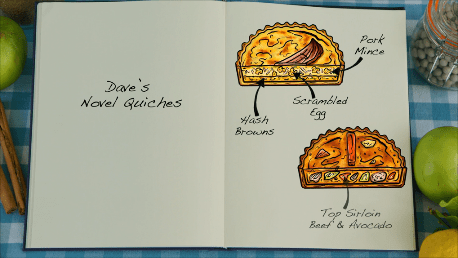 Lottie's doing something similar but with baked beans and black pudding because there always has to be something left uneaten on the platter.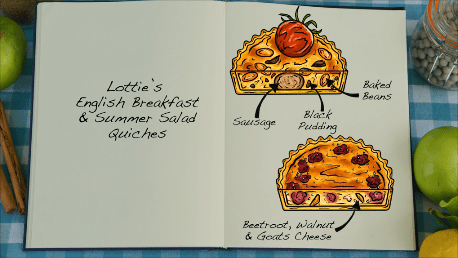 I miss Irish Mark L of last week's dismissal.
Half an hour left and Hermine is finally blind baking her crust. Yikes. She slides the baked quiches onto her display platter at literally the last second of time, woooooo! Still counts!
(Please be cooked)
Judging! Lottie's quiches are very neat and perfectly cooked underneath. Prue hates baked beans, however, wouldn't Lottie have been able to make one without as she did with Paul last week due to his hatred of gherkins?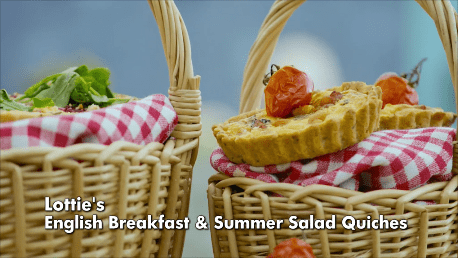 Dave's spicy quiches are too spicy and his sausage quiches are too sausage-y. I would be remiss if I didn't mention the judges telling him last week to make his flavours stronger.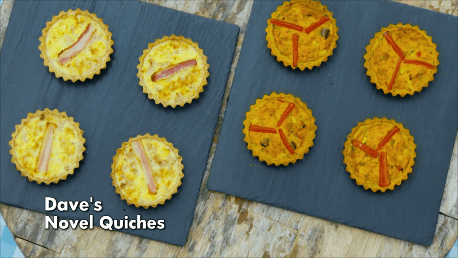 I can't tell the difference between Marc's two Cornish pastries.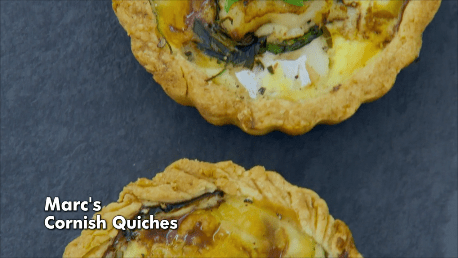 And I'm not the only one, Prue says that's her only complaint. The quiches are beautifully baked with fantastic flavour.
Laura's are leaking, unfortunately, and her crust is tough but as always: her flavours are excellent.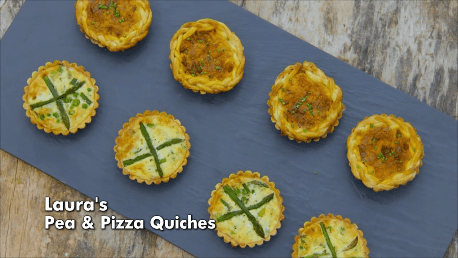 I don't agree with how Peter has styled his food, but they're well baked.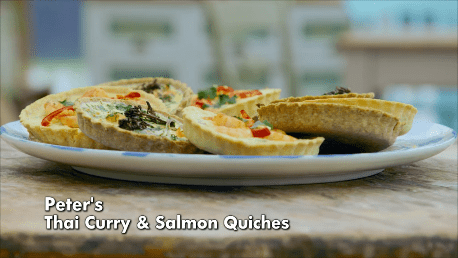 Unfortunately, Hermine's did not bake all the way through but they are transcendent anyway. Lady can cook!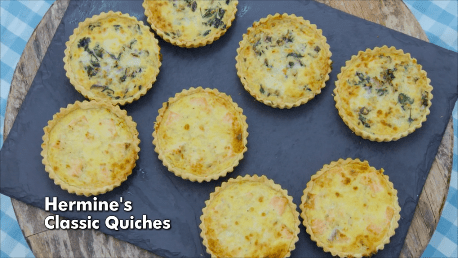 Laura was a huge aid to Hermine in completing her bake on time, I always wonder if there's a bit of helper's remorse after the fact when the person you helped does much, much better than you in judging. That's just my North American brain at work, used to US reality competition shows, in the UK everyone helps each other and makes cuppas at the same time.
On to the Technical Challenge, where Paul has decided he must have a tribute of 6 finger doughnuts made for him, in custard and jam.
Huh. Like finger-shaped doughnuts?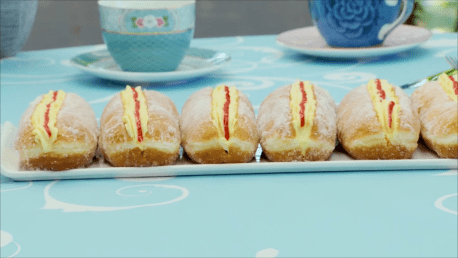 I still don't get it.
As I don't get why we have to listen to Matt Lucas warble 80s tunes from my childhood. STOP RUINING MY CHILDHOOD MEMORIES MATT.
We're up to 35 degrees in the tent, everyone's soggy from the towels around their necks and now they're got to deep fry doughnuts at 160 degrees.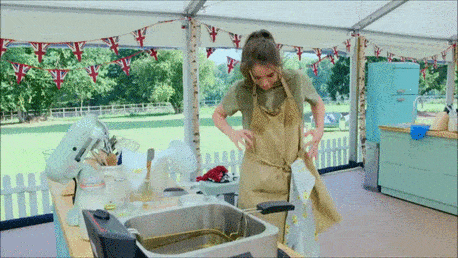 You can't even call that hidden sadistic tendencies, can you?
Dave waaaaaay overfries his, I'm not going to say what his six-inch overbrowned finger doughnuts look like but I'm sure you'll pick them out in the montage.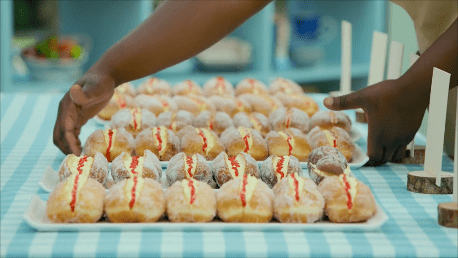 From least awesome to totally gnarly, they place:
6th – Dave, he underproofed his dough as well as over-frying it
5th – Lottie with her misshapen and overfried doughnuts
4th – Laura
3rd – Marc
2nd – Peter, who even said this recipe did not play to his strengths – first time deep frying!
And Hermine wins handily with her totally wicked offerings
We're going straight into the Show Stopper this week, thank the gods the baketestants get a chance to go relax with cold beer in between because soon enough it's time for ice cream cake!
IN THIS HEAT.
Why would anyone put marzipan on an ice cream cake, Peter?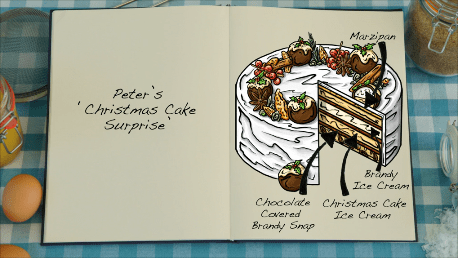 WHY?
Hermine is using mango. Okay. I hear people like that in everything, it's the Frank's Lousiana Hot Sauce of fruit.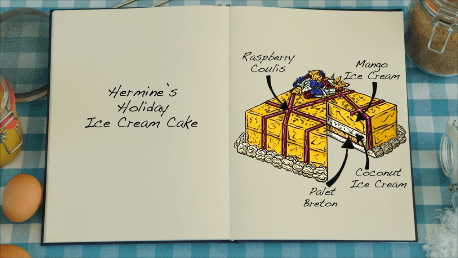 Honey ice-cream, Marc?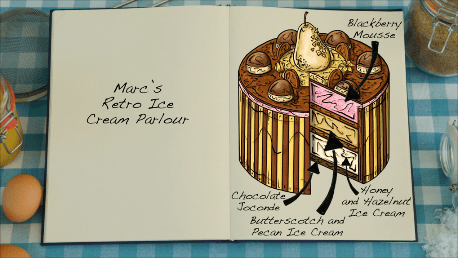 Salted caramel again from Laura.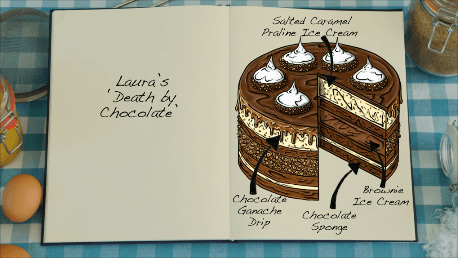 I don't know why I take that, white chocolate and fondant personally, but I DO.
Dave is going to decorate with ice cream?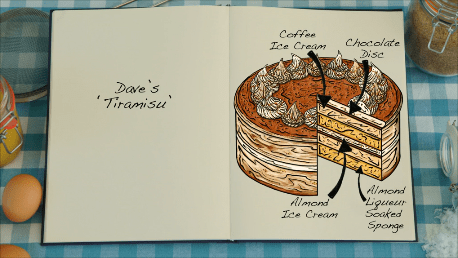 Lottie's ice cream cake is extremely 80s to the max!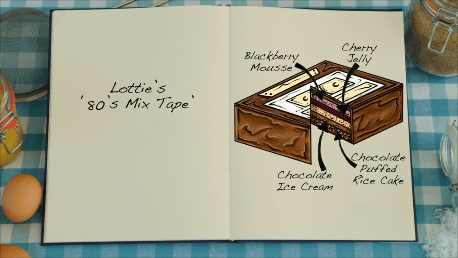 Oh no. OH NO. Laura didn't turn her ice cream machine to Ice and now she has wasted 40 minutes merrily churning her custard at room temperature.
Everyone works frantically to keep their ice cream icy, but Peter's not struggling a bit. He's calmly creating holly decorations, earning him the moniker of "baby-faced assassin" from Noel. He wants to make it into the final, damnit!
There's no way to prepare these cakes properly in this heat, Laura is struggling but she's not alone. This is Lottie's cassette tape.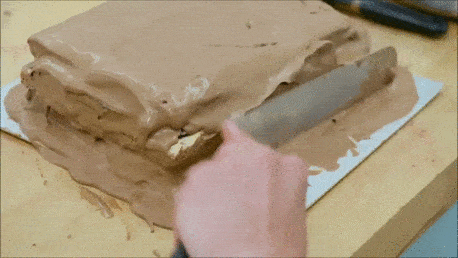 Laura hears a noise from her freezer.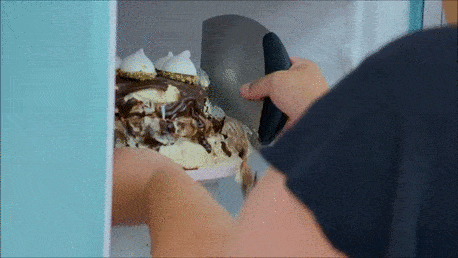 Yiiiikes and we're into judging!
Marc is up first with his fantastic (comparably) looking solid cake. Only the honey ice cream didn't set, everything else turned out well and the judges are impressed.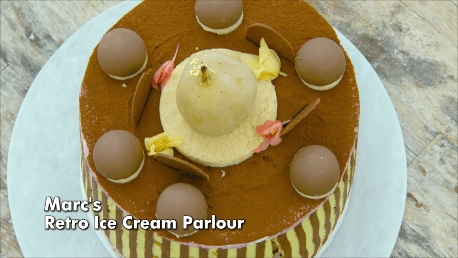 Hermine's looks great, if you're into fruited yellow ice cream. Hermine is almost definitely a lock for Star Baker this week, mark my words. If we don't lose Laura, you may make me eat her salted caramel.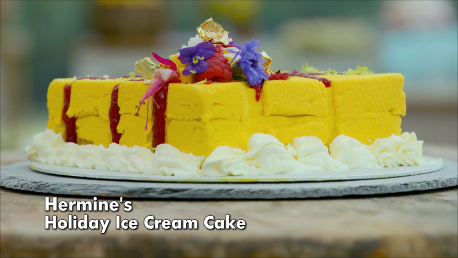 Oh Peter. How lovely. Another fella in contention for Star Baker this and every week.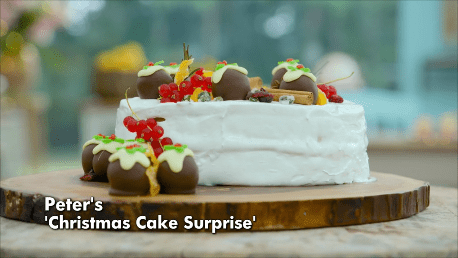 Dave has had some issues with melting and decorating but redeems himself with great flavours.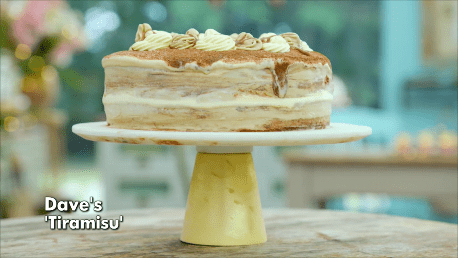 Behold the glory of a melted cassette, thrown into the fire at the end of a tempestuous relationship involving spandex and Spandau Ballet!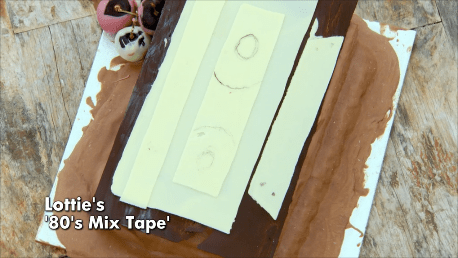 (I'm trying, Lottie!!) Unfortunately, it doesn't taste any better than it looks, so she is back on the chopping block, I'm afraid.
Laura's Death by Chocolate could easily be the Death Of Her Time on GBBO but the flavours are excellent.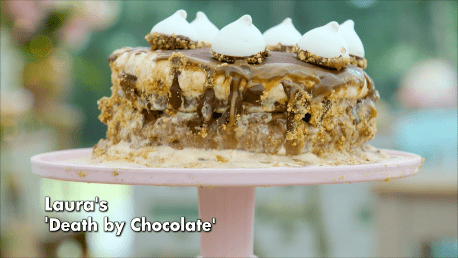 I think that was probably enough to save her and sink Lottie, but there's only one way to find out!
Star Baker this week is: Hermine!! Just as I thought, she had an excellent week, highlighting her cooking and flavour mad skillz.
And going home is: Lottie as expected. Ah we cry as she talks about her lack of faith in herself, maybe she can bake! Ah Lottie, you were magic and we shall miss you. So funny, so talented, so worthy of being here. Top 6 Baker in the UK!!
Until next time, everyone! I'll try to be more timely! Cheers, everyone.