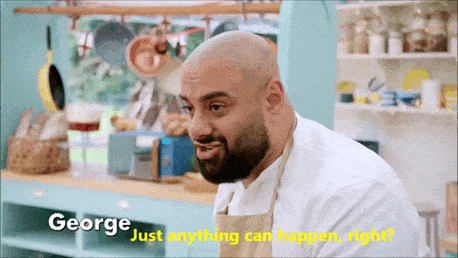 Hello ladies, gents and all welcome, it's the best part of the week: the Great British Bake Off time! Wooooo! We lost our first baker last time and gained our first front-runner, why do I always dislike the ones who show early talent? WHY?? Rolling into my recap of GBBO S12:E02 Biscuit Week to find out who I will be rooting for next after the break!
It's Biscuit Week, that means COOKIES wooooo! Last week we lost Model Railway expert Tom, he was lovely about coming in 12th in cakes in the nation. I hope he went home with his head held high. Jürgen was the first Star Baker of season 12, hmm, technically excellent but I wouldn't call any of them visually appealing, particularly.
Who else do we have? Pasting!
Amanda, 56, a detective from London who ran into a spot of trouble with her wobbly soldiers last week
Chigs, 40, Leicestershire – only been baking 6 months. SIX
Crystelle, 26, London – did very well with flavours, she's one to watch
Freya, 19, North Yorkshire – our vegan child is not one to overlook, she came second in the Technical and performed spectacularly even without dairy
George, 34, London – is my personal favourite because we both like to feed people
Giuseppe, 45, Bristol – looks all shaggy but produces very specific bakes, an engineer all over
Jairzeno, 51, London – had a bit of a rough week with a rogue cake design, we'll see how he shakes out
Jürgen, 56, Sussex – our Flavour King, as dubbed by judge Paul Hollywood
Lizzie, 28, Liverpool – almost incomprehensible but with a whimsical style
Maggie, 70, Dorset – lovely and cheerful AND DOES NOT LOOK LIKE JUDGE PRUE LEITH, PAUL
Rochica, 27, Birmingham – didn't distinguish herself either way yet, although she does have a healthy bent to her bakes.
There are a series of notes that play when the judges and hosts enter the tent. It's the exact same feeling I get at the beginning of a run, and when I hear the kettle pop off: an immediate calm descends.
Hosts Noel Fielding and Matt Lucas introduce our Signature Challenge of Biscuit Week: the baketestants are to prepare 24 identical brandy snaps.
Now.
I'm not nitpicking, but would anyone have a specific signature brandy snap? Aren't they all sort of the same? I guess we're about to find out, in approximately two hours!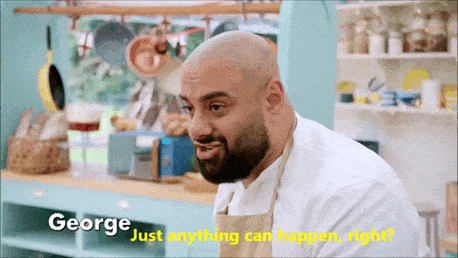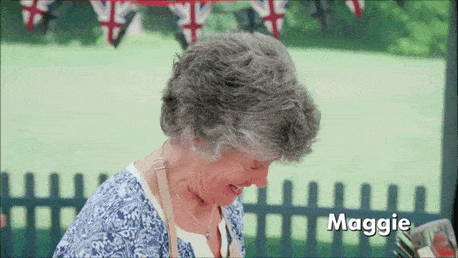 I'm trying to keep an open mind about Lizzie, but she's wearing Crocs, cutting up apples very slowly and has based her brandy snap inspiration on McD*nalds.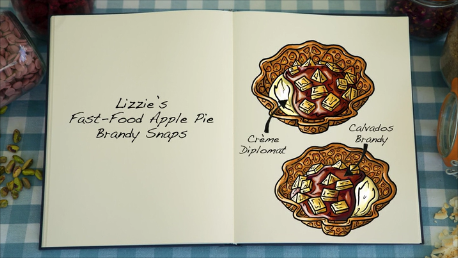 She does have a lovely dog named Prudence, so there's that. I can barely understand what she's saying! I find myself looking at her hands for signals!
And now I have "Dear Prudence" in my head.
Crystelle is also using apples in her brandy snaps, but less sweet ones, she's hoping. She has two older sisters that are equally as gorgeous as she, I don't know where to look! I mean that in the least creepy way possible.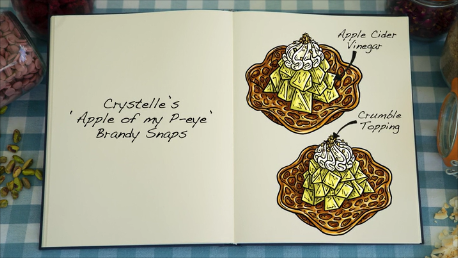 Maggie is making traditional brandy snaps because she and I know that's best.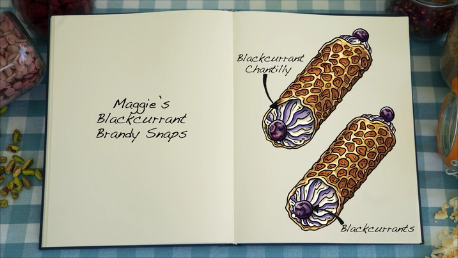 George is doing something weird but I still love him. His butter/sugar isn't melting fast enough so he's turning up the heat and we know that will be a very bad decision.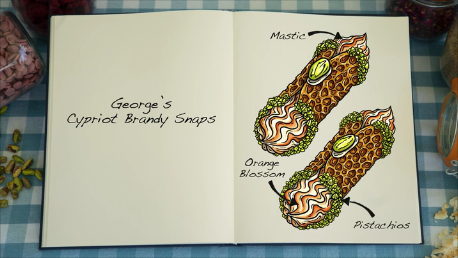 I am also very concerned about Amanda's newfangled method, it doesn't look right at all.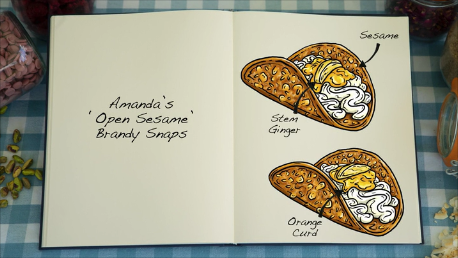 Matt says Paul loves ginger and what can I say? We're addictive.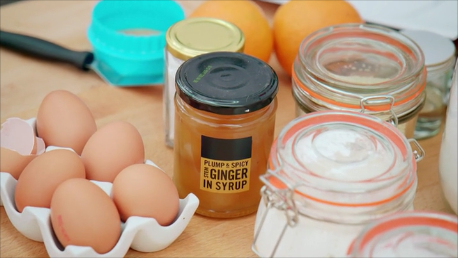 I'm blushing!
Freya is going strong cappuccino!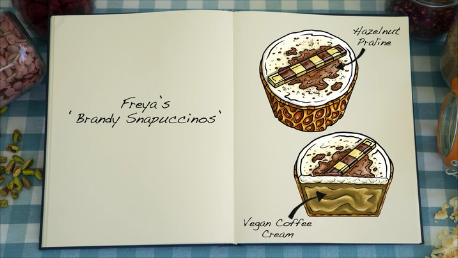 As is Rochica, who is taking her flavours from Ibeetha. I LOVE it when they say Eye-Bee-tha!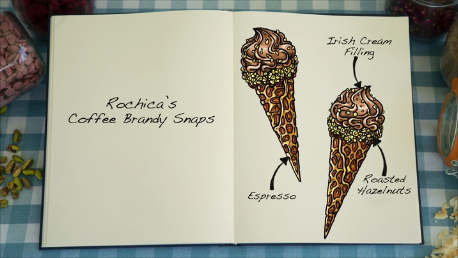 Chigs is adorable and baking with booze.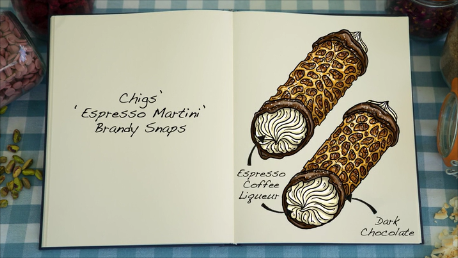 We have so many different looking snaps going in the oven for varying amounts of time! Jairzeno has one million flavours and oddly short shorts for reading.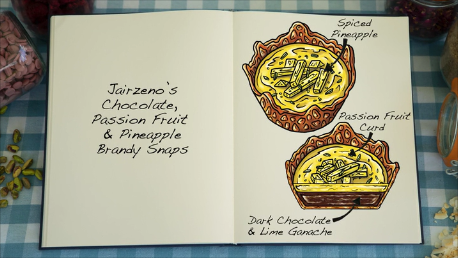 So I used to have a cooking blog. On there I compared myself almost daily to the Anal Retentive Chef character played by Phil Hartman lo so many years ago. You can just imagine how I'm feeling right now watching Chigs splash in random amounts of booze and Jairzeno dumping in unmeasured chocolate chips to 'thicken things up."
My WORD.
It's not that I'm particular, it's just that I'm particular.
Jürgen has a master's degree in physics and presumably knows what he's doing, so I suppose I shouldn't be as worried as I am that he's using two jars of cinnamon in his snaps but I AM.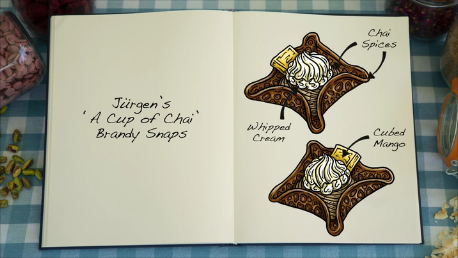 Two JARS.
Giuseppe is using HAZELNUT and CHOCOLATE wooooooo!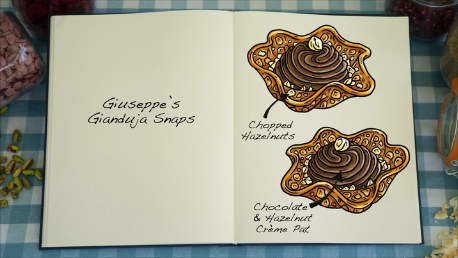 But he's doing his brandy snaps backwards, now the judges are very worried.
AHH and then he drops some going in the oven and there's only 30 minutes left! We swear with him.
George is never.making.brandy.snaps.again.
How can there only be 60 seconds left???
Oh Rochica, they're beautiful!
On to judging! Freya is up first! Her 8 tablespoons of espresso are just a tad much, but overall a 'decent job.'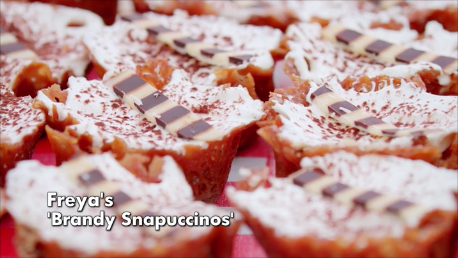 Amanda had quite a bit of trouble with her filling, but it's the snaps themselves that are letting her down. Prue thinks the flavour is absolutely delicious! Amanda looks like a woman in wandering in the desert being offered a glass of water.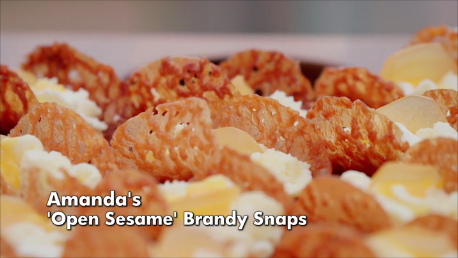 Jairzeno has a slight problem with time management but his flavours are great, if overstrong and his work quite messy.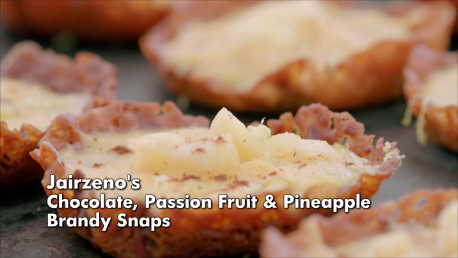 I just love Rochica's wee chocolately cones.The judges do too, aside from the massive range of sizes.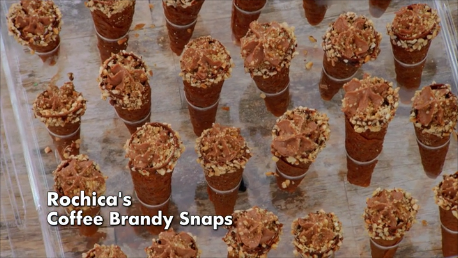 George is more than just Greek, you guys. I mean, I'm in because of the pistachios but the size bit is tricky. "Original and sensational!"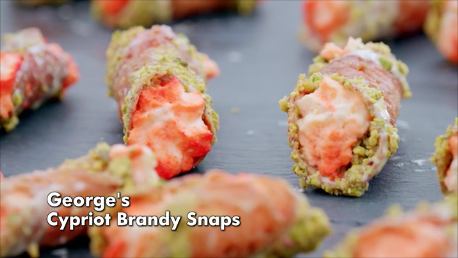 The thing is, you can't really give the rest any leeway for time management when you've got someone like Crystelle knocking it out of the park on time with a beautiful display, can you?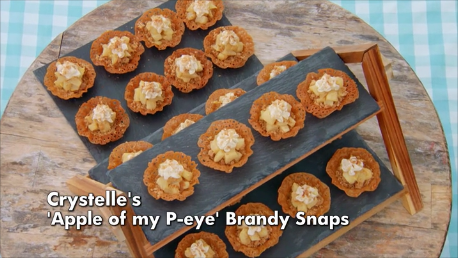 Lizzie basically had the same recipe but.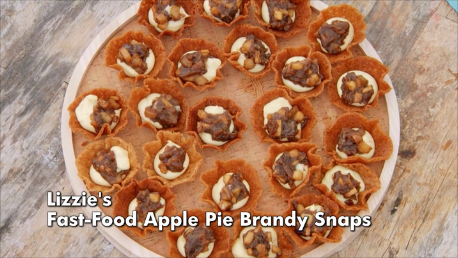 Okay, the judges say it tastes alright.
Well well well Giuseppe pulled it off! What were we worried about?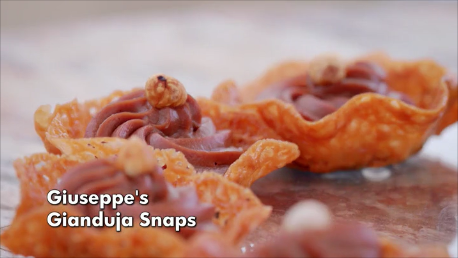 Chigs did a great job too!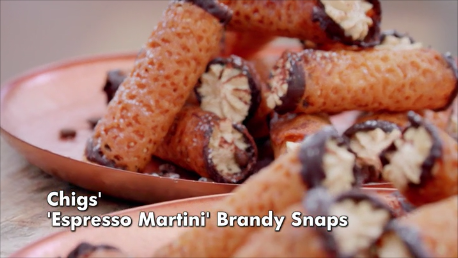 Maggie made a couple of mistakes with her lavender beauties. Underbaked snaps is one, and soaked up cream is the other. We have a marked lack of snap but they're delicious.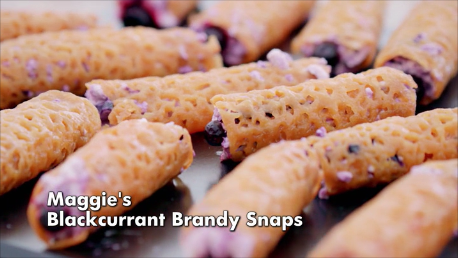 Jürgen did manage his cinnamon properly after all, teach me to question a physicist. He gets a Lucas Handshake, which really isn't the same thing.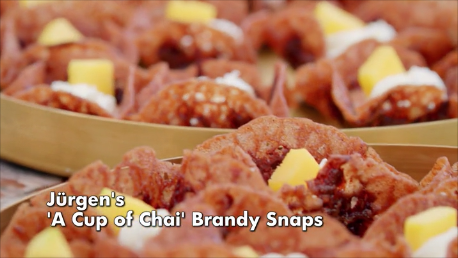 So where are we after all of that? Only Maggie is really in trouble, but I have faith!
Onward to Paul's Technical Challenge, he counsels to read the recipe and achieve perfection! Sure!
We're making 12 identical sandwich jammy biscuits that absolutely have to taste better than that description. Only one hour forty five!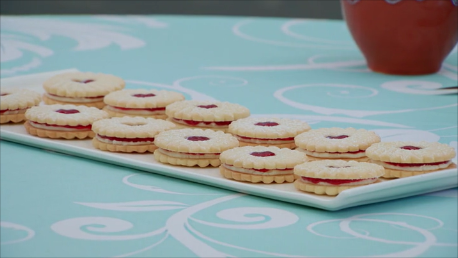 Prue is South African?
Paul has excellent instructions like: make the biscuit dough. Crystelle gets stuck when she overcooks her jam, she's not got enough left to fill very much of anything. Everyone figures out that they have to chill their dough, whew.
BUT. Paul has left many pitfalls, chilling the dough repeatedly is one of the key challenges. Giuseppe really wants to bake his but he's determined to wait as long as possible to keep the shape definition.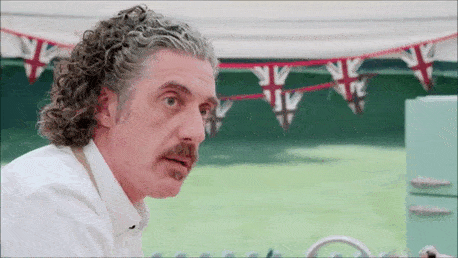 Remember when baking was a way to relax and feed people, guys? Remember that??
You can really tell the experienced bakers in the Technical. Even though they don't have instructions that spell anything out, they can tell what's wrong and how to solve it, it's just a matter of whether or not they figure it out in time.
Why is Crystelle baking a new batch at 5 minutes left???
You wouldn't think there would be much difference between these but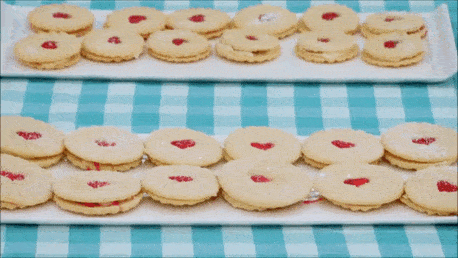 From least awesome to most amazing, we have:
11th – Rochica and her raw cookies
10th – Crystelle and that gelatinous jam
9th – Jairzeno's biscuits just didn't taste good
8th – George and his unchilled dough leaving no shape
7th – Chigs, same issue
6th – Lizzie – under baked
5th – Maggie, not much definition
4th – Amanda, decent
3rd is Freya (one to watch, that one)
2nd is Giuseppe and I believe that leaves:
Jürgen winning the Technical
I believe we've seen our final three, everyone!
On we roll to the Show Stopper Challenge, which is an interactive toy built out of love, childhood memories and biscuits.
George is making a biscuit aeroplane that flies!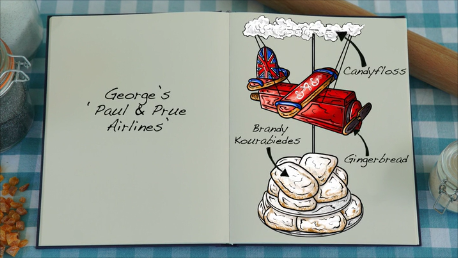 Even Matt stops mugging about to see if he's joking or not: does he have enough time for this??
Lizzie is incomprehensible as always but something with a truck?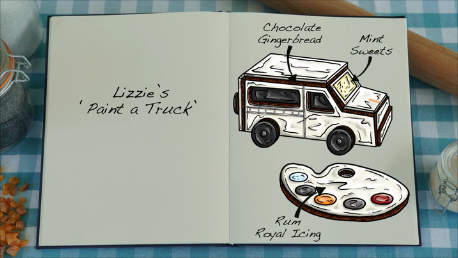 Oooh Jairzeno is making a Tall Ship, which immediately made me wince: stay away from the Tall Ships Festival! People died there on Traces!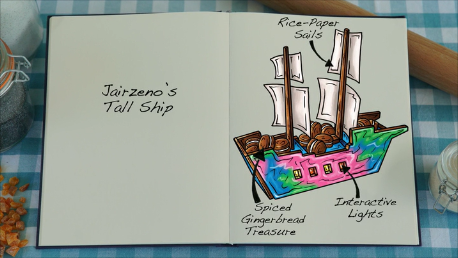 His looks fab, but he's moving so very slowly that I worry he and George will be fighting it out for Least Finished of the day.
Maggie's making a seaside scene, which isn't a toy, exactly but it's as close as this post-war child is going to get.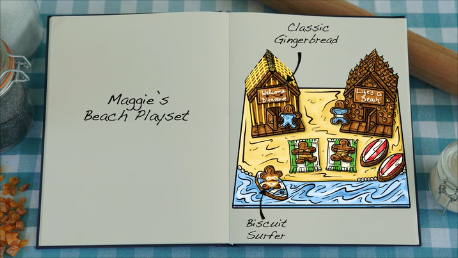 So I've already got opinions about Jürgen; his windmill is technically interesting but boring. I still can't believe he won on the ugliest lamp in the world last week.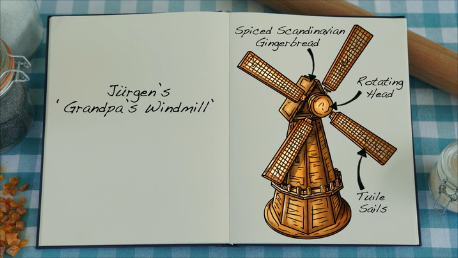 Everyone is using gingerbread, it's super strong and able to support most designs.
Freya is revisiting brandy snaps again!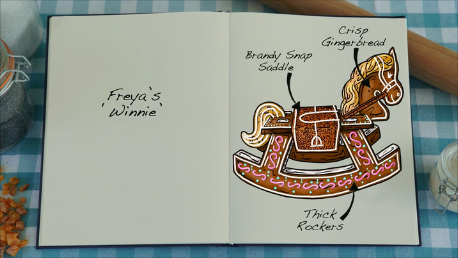 We've got all sorts of rocking horses roaming about and I was wrong just up there: Amanda is using a sugar cookie base for her biscuit toy instead of gingerbread.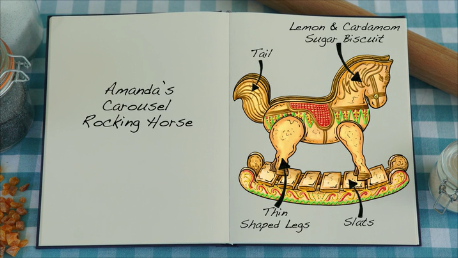 I won't lie, even though it breaks halfway through construction, I would much prefer to eat that horse rather than every other gingerbread whatsit there.
Chigs grew up playing snooker, he's making a table.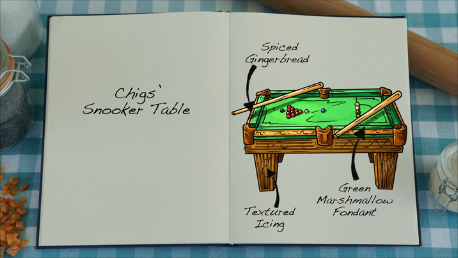 Now I've realised I should be making a crib board! That is the toy that symbolises my childhood, we didn't have TV, just one millionty books and a several crib boards. I'll never forget getting a fancy one shaped like '29' from Santa just a week or two before I turned 7. MAGIC. I'll post a pic if I do!
Giuseppe is making a board game as well!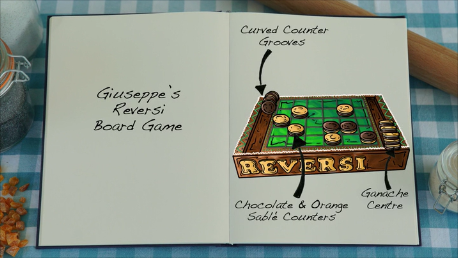 As is Rochica.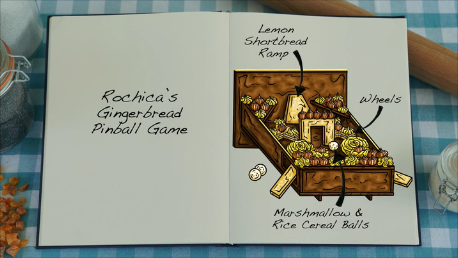 Watching her mess with melted marshmallows and rice krispies with her hands is stressing me out.
I'm worried that Crystelle has bitten off more than she can chew; this has a LOT of parts.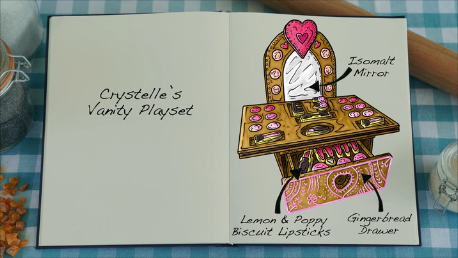 Oh no, only half an hour left! I can't watch!!
Okay, through me fingers.
Why is George painting after his airplane is hanging?? It almost falls over! Amanda's rocking horse has broken, Jairzeno's lost a sail, George's plane won't swing, it's MADNESS!!
It flies!!! Yay George!!
Stop flying it!! It could fall!
Maggie cries. Amanda should be crying. Jairzeno is resigned.
Judging is awesome already, George's plane flies! And is tasty, good job!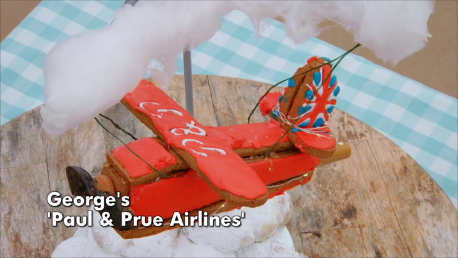 Rochica's looks amazing, look at it! She did a great job on the bake, absolute redemption.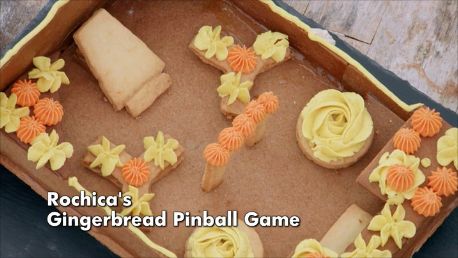 Giuseppe has made a game board out of an old game I'm sure nobody alive has played but it looks lovely and tidy and…engineered.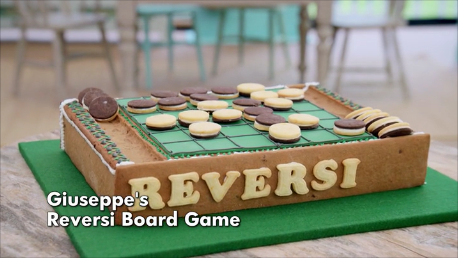 It's hard to take these seriously when we just had a flying plane.
This snooker table is fantastic, Chigs, and tastes great as well.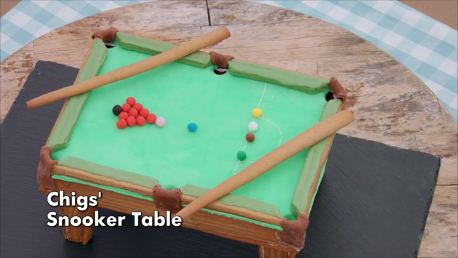 I think Lizzie might need to work on her design aspects a little and her flavours are a bit strong, except with icing, when they're delicious.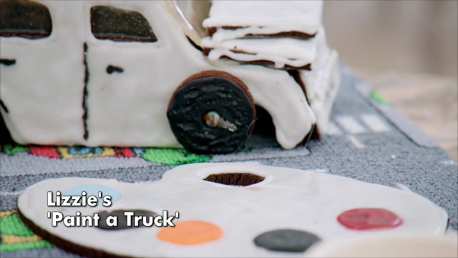 Well. Jürgen's windmill. A tan masterpiece of good flavour. Snore.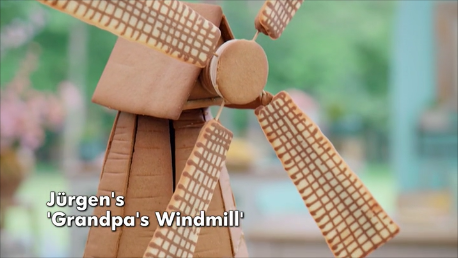 Crystelle is having some serious anxiety when the judges come anywhere near her, I hope she's alright? She only gets good feedback and seems nearer to breathing at the end.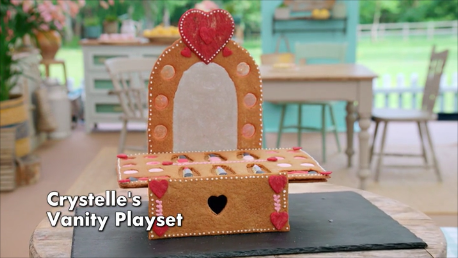 Our first (and only upright) rocking horse is next, Freya gets middling feedback.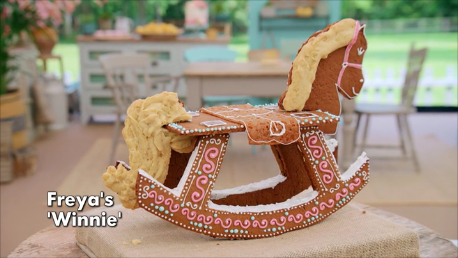 Hai Amanda. You've got your guard up, we can see it from here. The biscuits are delicious, even lying on the paper.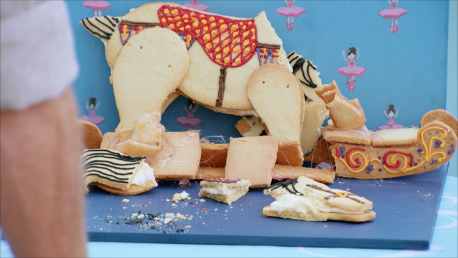 Ah Maggie, I love you and I hope you make it through even though there's a flying plane in the running and Paul called your biscuit diorama 'basic.'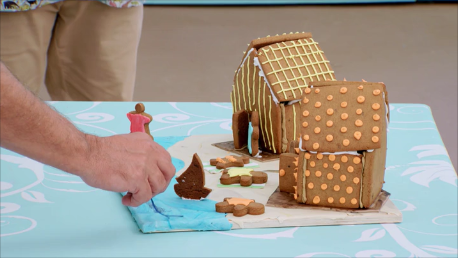 We cry after. How dare you make Maggie cry!!?? You're amazing, love, don't you listen to Paul Hollywood, who's he when he's at home??
*Cuppa break
Jairzeno has a good explanation for his messy ship even if Paul doesn't believe a word of it.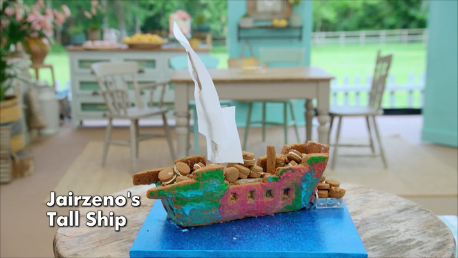 Maggie and I are going to go cry over a cuppa in the back while the judges deliberate on her and all the baketestants' fates..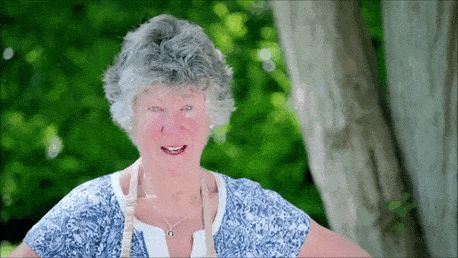 This week our Star Baker is: Jürgen
Yay.
And going home is: Jairzeno and I'm crying again, this time with relief that Maggie gets another week. Thanks, Jairzeno, for taking that for the team and for your delicious bakes. Top 11 in the whole United Kingdom, JZ! You're amazing!
Next week is: BREAD WEEK!!!! This is hands down my favourite week since it's my favourite thing to bake and I do it the most, I can't wait to see what bonkers new ideas they have for us! Until then, Maggie and I are going to pop some corn and relax for a night!