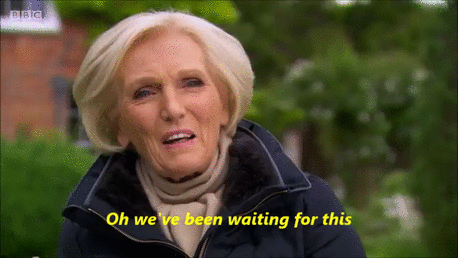 This is it, we're in the final of The Great British Bakeoff, who will take this year's prize? Will it be engineer Andrew, wily and wacky Candice or steady-on Jane? This will also be the last time BBC will be airing GBBO, so next year it will just be Paul Hollywood staring down prospective bakers as Mary, Sue and Mel are hitting the bricks. Ladies: CALL ME
It's so tense in the tent! Jane won Star Baker the first week and then held on until now for the final, I wasn't sure but her interview confirms: GBBO is filmed in advance.
Candice looks lovely today, but for the love of all that is holy: look at her footwear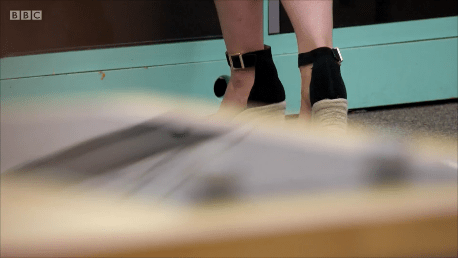 I'd like to blame it on the patriarchy that shoes like that even exist or that it's unrealistic expectations of beauty standard but the truth of it is: Candice CHOSE those shoes to wear. Perhaps motivated by those mitigating factors, but Jane's probably wearing Sketchers or Chucks and looks comfy AF.
I am just so impressed that Andrew made it to the final! And that's he's a aerospace engineer at such a young age. He chokes me up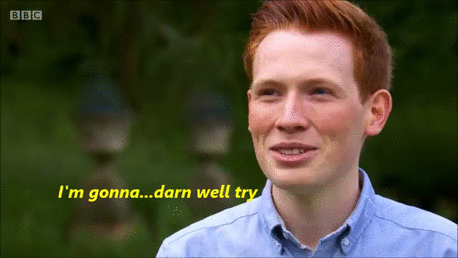 The signature challenge is weird....a giant three-layer filled meringue crown? For WHY? All right, Mary Berry explains: it was the Queen's 90th birthday when this was filmed and it makes sense that the final is royal-related anyway. It's just that I can't picture it, Mary! I wasn't doubting you!
Jane's Red, White and Blue Meringue Crown looks...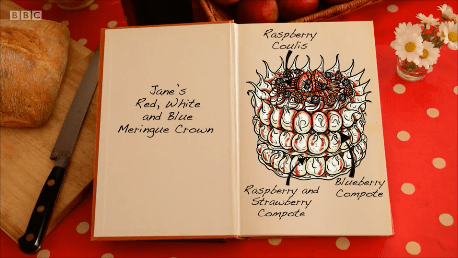 But it's her husband's fave! Paul warns her that since she's gone so simple, it had better be perfection. NO PRESH JANE
Guess who's making the opposite of simple?? NO, GUESS??!! Candice is making two types of meringue because of course she is, and it's all up to the sugar type to make the difference in her Queen Victoria's Mango and Strawberry Crown. Fancy!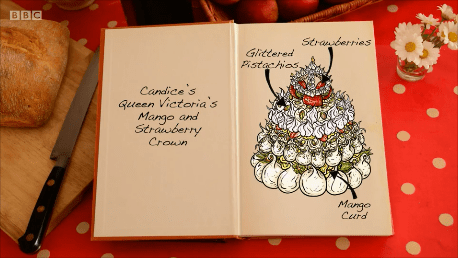 I can take snaps all day since there are only 3 bakers! You wait! Candice figures she reigned it in on this challenge, what are the judges going on about?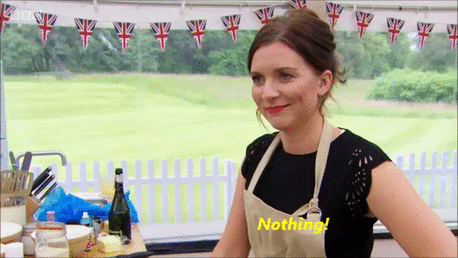 I see freehand piping. I need a minute. Cuppa break!
I also see mushy meringue; Candice, I'm worried that your meringue isn't stiff enough, can you go back 4 months and re-beat it? Thank you!
Andrew's looks FANCY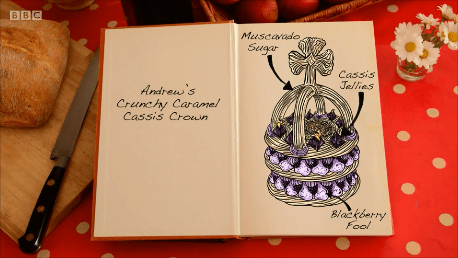 Mary is concerned about his mushy muscavado sugar meringue; we've both noticed the soft looking meringue. Mary and me - we're on the same page. It's like looking in a much awesomer mirror.
I had to take a snap of this: lookit how gorgeous Jane's blueberries look! British fruit indeed!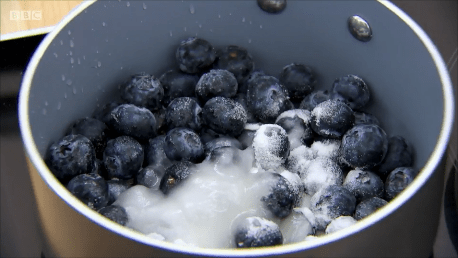 Andrew put his praline on the wrong side of the baking paper, whoops! Everyone's on crack-watch and you just KNOW Mel and Sue are sad they didn't get right in there at that point. Woot, Sue runs over to hear the voices.
Oh darn it, Andrew's meringue is cracking like a motherhumper, you can HEAR it. Jane's impressed with Candice's wee crowns: you can't out-Candice Candice! I think Andrew's look like ropy coils of albino poo, but don't tell him, I really like him.
Literally, me AND Mel watching Andrew put his crown on his queen melon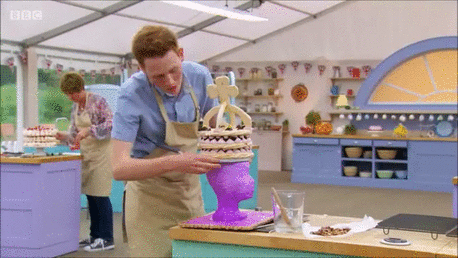 Andrew's is too sweet, but they loved the effect. Sorry Ginja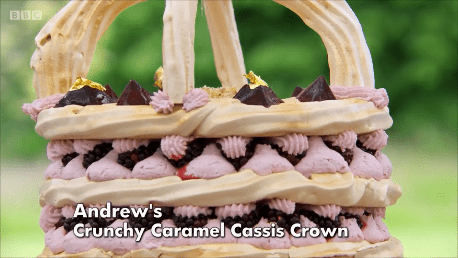 Candice's looks great!!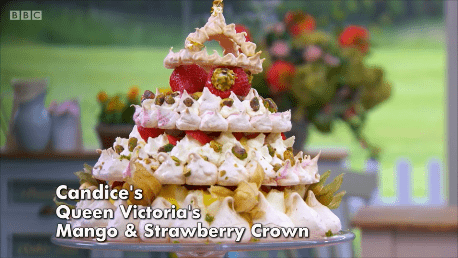 Ohhhhh and she gets the Hollywood Handshake!!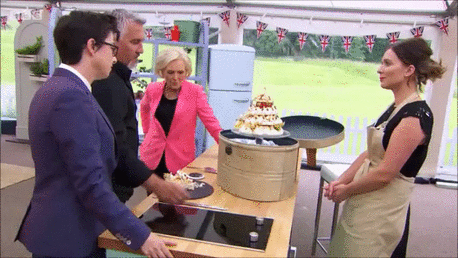 While Jane and Andrew smile and internally chew on their livers. I'm only half-joking, everyone is super supportive on this show, but who wouldn't inwardly groan at a competitor getting a coveted accolade in the final?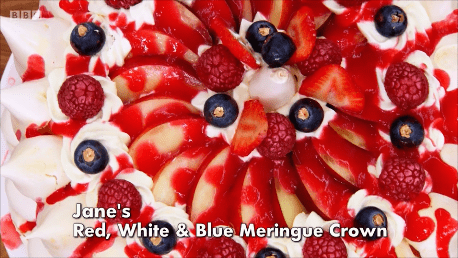 Jane's looks and tastes fantastic, all of a sudden there are hands flying everywhere!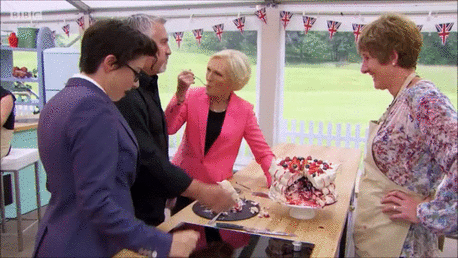 A double handshaker in the final!! Paul calls it three layers of heaven!
Sorry, Andrew, you've done amazing for your age and I think you're just brilliant. My door is open if you are ever in Canada, I love to feed kiddos.
Candice's face makes me laugh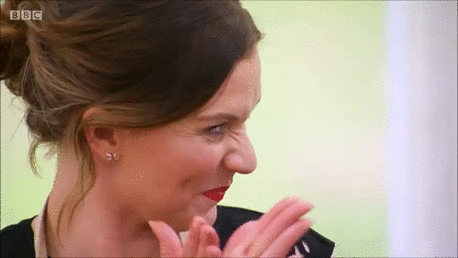 And then her interview makes me look like I sucked lemons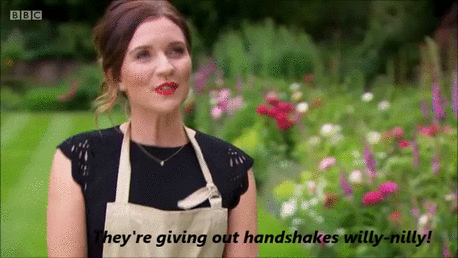 Come on, Candice!! Keep it together, don't get nasty in the end! They pretended to smile for you!
Now it's time for the Technical Challenge, which Mary calls familiar so now we're thinking wet bread, aren't we? Dampfneudel for all! Hey, did I tell you?? I found a recipe for dampfneudel! Fanny Farmer has EVERYTHING. Sorry, sorry, the baketestants will actually be making a Victoria sandwich with jam and buttercream. The challenge is that Sue is going to be a naked Zorro...?
This is what it should look like: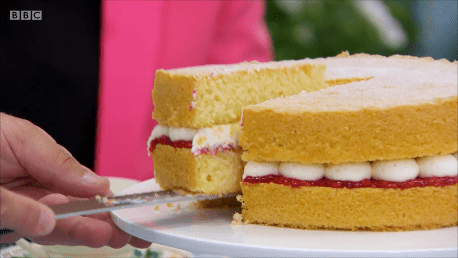 Ohhhh and they totally messed with the bakers, giving them multiple types of butter and egg sizes: ALWAYS UNSALTED. I once stopped following a Canadian chef because in the same episode, he made bread machine bread (ON A COOKING SHOW) AND used salted butter in his cookies. You know who you are. SALTED. And then ADDED SALT. Madness
We have two different methods of creaming on the go; Jane and Candice are going all-in-one and Andrew is butter and sugar first. I would do that as well, but then I didn't just get a Hollywood Handshake like everyone else in the tent did either.
Baking time! I'm not gonna lie, I'm just marking time until the showstopper. My friend PL has challenged me do the showstopper, so I'm going to assume it's bread, because that is my JAM.
But not bread with jam, that would be weird. Well, unless there was peanut butter, then that's okay.
Speaking of jam! Judging time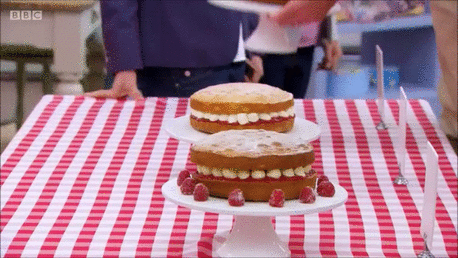 And Candice's jam isn't set in her too-dark Victoria sandwich. She did try to sell it with some random berries around the edge, just wasn't complicated enough for her I gather!
Andrew gets MUCH better feedback, he'll be in the top for sure. Jane's big sponges has mushy jam and it's too dark, so I call Andrew to win this Technical.
From worst to best: Jane (really??), Candice and Andrew our aerospace engineer takes it! Yay!
This is it! The Show Stopper and then we find out who wins! I should give my prediction: I call Candice as winner, she has flashes of brilliance that cannot be discounted. If Jane makes a grab outside of her bailiwick, she MIGHT have it, but at this point, I will go with Complicated Candice with the Uncomfortable Footwear of the Church of M.A.C. Cosmetics.
Oh wait, I missed the double clasp handshake in the Signature challenge, that was to Jane! There WERE hands flying everywhere, but I'm go back and roll the tape to make sure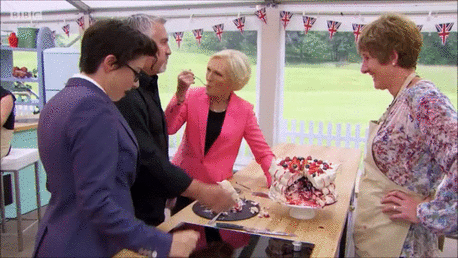 Not only is this the final bake of the season, it's the final bake for Paul, Mary, Mel and Sue together!!!!!!!!! Oh man. And I bet they didn't even know it when they were filming, so they couldn't get any extra cuddles in or anything!!
What
The
Hell??
PL!!
You want me to make 1 chocolate celebration cake, 12 puff-pastry sausage rolls, 12 mini-quiches, 12 savoury scones and 12 fruit and custard tarts??
I THOUGHT WE WERE FRIENDS!
This is the Showstopper for the final: a picnic fit for a queen. I will say I did do this type of spread for my kiddos' birthday parties when they were little, when it was more about feeding parents instead of ordering pizza and making sure there were mini carrots on hand for the Healthy Food Sanctimommies within sight. Most of these are even on my recipe blog; I shall choose to believe that my pal PL chose this challenge for me for that reason and not because she wants to see just how blotchy a crying ginger gets.
5 hours! 5 hours to do all this! They better get that puff pastry started!
I'm going to talk about myself some more, because of my background in commerical kitchens, I tend to do massive batches as well, just not so many different types at once, except for with non-baking items. When I was single (I know, this is riveting, isn't it??!) I would set aside one weekend a month and do huge batch cooking, 15-20 recipes at a time, carefully frozen and labelled after. I am very organized in the kitchen but never ever judgy about YOUR kitchen. The only time I would do something like this is for Christmas baking, which involves a LOT of different types of bakes but not usually sweet and savoury together. WHO'S BORED OF ME EXPLAINING MY BAKING YET?
Aw Candice, she's gone back to her family roots for her final bake.
Her family talks about her and we all choke up, right? She was just as adorable as a kiddo!
Andrew listened to me and got his puff pastry done, he's got a spreadsheet with his timeline broken into 5 minute chunks because of course he does.
Ohhhh, Andrew was an adorable chubby redhaired boy! He, er looks like me when I was a teenager. He's amazing. Is everyone going to make me cry today???
Jane's gone another route; no spreadsheets for her! She's just gonna keep going.
Jane's kids talk about her newly ramped-up obsession with baking, her offspring are gorgeous! Henry (great name!) and Amy think she's amazing. No sign of the husband after the wedding pic?
There's a big party going on outside the tent, I see Benjamina and load of other baketestants and A PUG!!! I SEE A PUG!! Is that Candice's pug? True story: I stop every pug I see for a cuddle. I've stopped my car. Pug owners universally understand.
Kate sums it up for everyone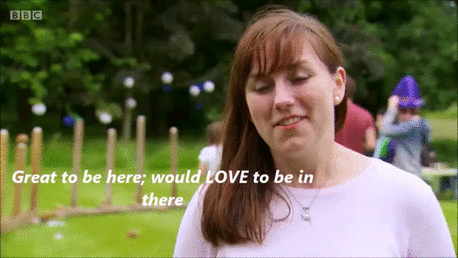 We're down to 30 minutes and I don't even know how anyone is going to finish, honestly. Shite, Jane's wrap isn't working! Her collar is over-chilled. 2 minute warning! She throws glitter at it, and that is always a solid plan. These sausage rolls are making me hungry! Except for Candice, hers are creeping me oot.
Everyone tries not to cry, it's almost over! Okay, we're all crying, aren't we?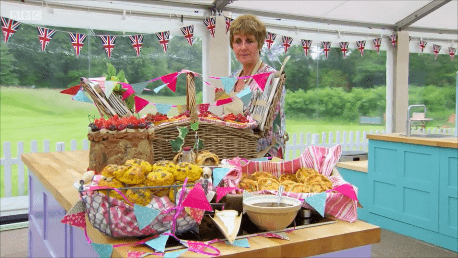 Jane, dang it, she's got raw pastry in her sausage rolls. Her tarts look FANTASTIC, taste the same, scones are okay, fruit tarts are terrific. The informal-looking cake is last: tastes beautiful and the surprise is great in the middle.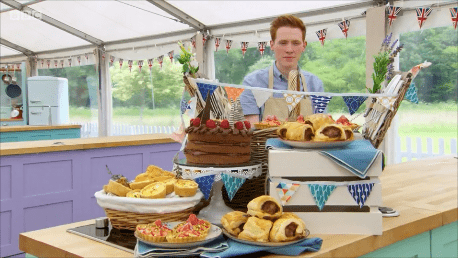 They love the meticulous display: the sausage rolls also have undercooked pastry. The scone is gorgeous but not much flavour. The quiches are delicious but his fruit tarts have a super gross soggy bottom. That's a great cake.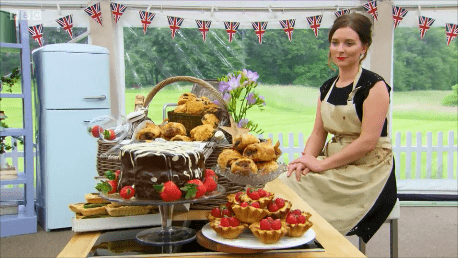 Mary LOVES the little piggies, I like the size but the eyes are creeping me out. ALL of her pastry is good, but the scones are also losing their flavour. Her custard is good, more good pastry (slightly overbaked) and it's down to the cake: it's lovely and Candice has won, as far as I can tell.
They bring their food outside for the people; it's a picnic! That IS Candice's pug and her boyfriend is adorable too, isn't he?
The winner of the Great British Bakeoff 2016 is: Candice! I knew it!! Yay!
Good job Jane and Andrew! Top 3! Candice cries and we cry and everyone's happy for her. Now she's TRYING to make us cry!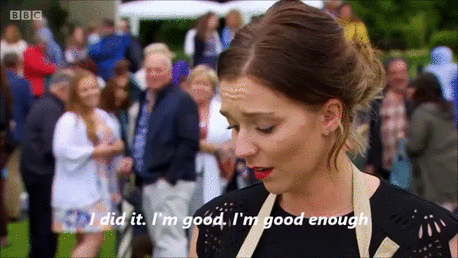 GIMME DAT PUG!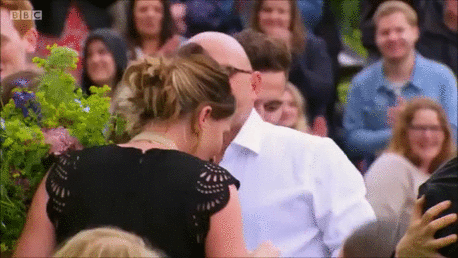 The Captions of Truth take us out
Thank you to PL for suggesting this show as well as the technical support you and JS provided and thank you to ALL that read along this season. I see why you love it, V! Cheers and soggy beers, you lot