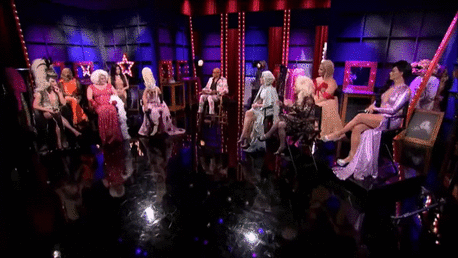 This is a funny kettle of fish, isn't it? Having the reunion after we already know who won the season of RuPaul's Drag Race All Stars? It's going to be interesting watching the group dynamic after the anti-Alaska / pro-Katya media shitestorm. Let's roll the bitchLoveFest!
Woo hoo we start off with a nod to RuPaul's (LONG OVERDUE) Emmy, yay!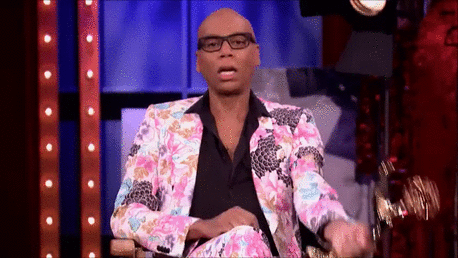 Was that Detox giving MamaRu a sideeye during?? WHAT?
Oh and now we get it: one queen isn't coming tonight. Now I already heard this is Phi Phi O'Hara AND that RuPaul unfollowed her on Twitter: escandaloso! Oh and we have a new tool to call BS!
For example: "I blame the edit"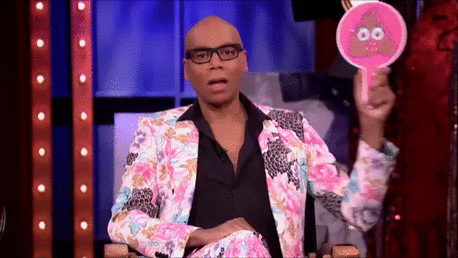 Ru starts things off with what LOOKS like a softball, but is really a (I was going to say spiked bat but I WON'T, THANKS WALKING DEAD) minefield: how did you all handle the elimination twist? Alaska came up with the using the judges critiques, which makes perfect sense except for when Alyssa was sent home instead of her because she sent $10,000 to Detox's paypal account.
It was to deflect the responsibility, of course, duh. Detox turns it around, saying Alyssa broke the pact first. Alyssa demands a recount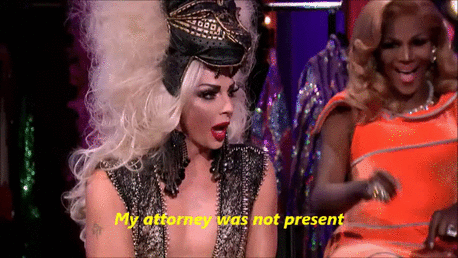 Also? Alyssa looks SICKENING. Now I understand what all those starlets have been going for with their clavicage: Alyssa Edwards's shiny, smooth nekkid chest look.
MamaRu asks Coco how she's doing? Okay already crying; Coco had just gotten out of the hospital when she got the call for All Stars, her lungs were failing. Okay then we all cry as she tries to get it out. She just didn't want to let down the people who believed in her. She didn't think she should have gone home so quickly, neither. Alaska agrees, everyone thought Roxxxy kept Phi Phi due to friendship. Coco even tweeted about it!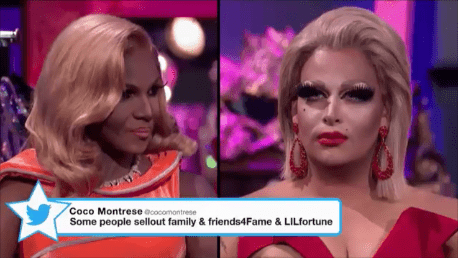 And now it's time for Adore! At least she showed, man. She may have run away like a small intoxicated child, but she's HERE! *coughPhiPhicough* She cries but she thinks maybe leaving wasn't a good idea. Er. She wasn't ready for the critiquing, the challenge, that her dresses weren't good enough. RuPaul breaks it down for her: if you are a superstar, baby, you dress like one. You do NOT buy off the rack and if you do? You have it altered so nobody KNOWS it's off the rack, or so that they can't get it exactly the same anyway.
This segues into a heartfelt talk with MamaRu: every one of these queens is here because they deserve it: they're ALL all stars. She's been doing this for 35 years and she's found those ways to nurture herself and build and protect her spirit. They all need that self-care.
Is Adore in for All Stars 3?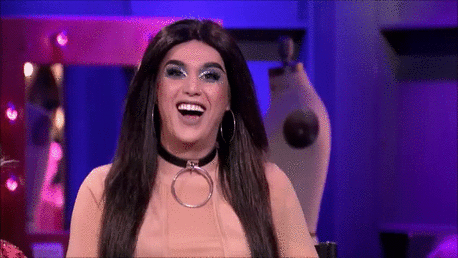 We're on to Shocking Moment Number 2: when Alaska sent Tatianna the second time. Tatianna gives it to her, but Alaska shrugs it off: lookit how people rallied around Tati after! If you wanna call her a snake, or fake, she's gonna show us exactly what's fake about her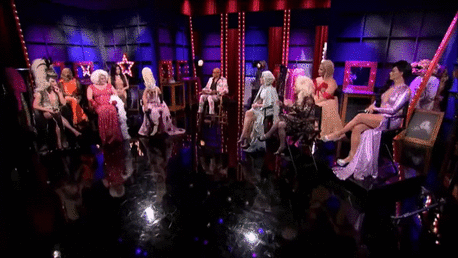 On to Ginger (who is channeling Jean Harlow realness: you look good, hunty!): did she do what she came there to do? No, she didn't win (course), but she just didn't feel like herself. Part of that was timing; she had JUST lost and her head wasn't on her team. Alyssa gets dragged into it; Alyssa protests: what's this about a dirty game? Ginger backs her right down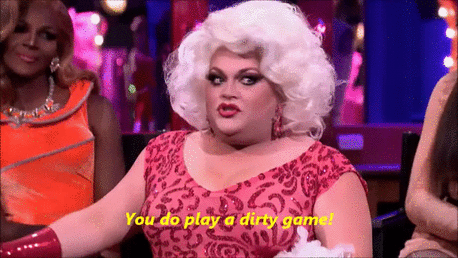 But Alyssa gets the last laugh as she lays it out nice and clearly: if she was being strategic, she would have sent Katya home. Katya LOVES it but that's a GingerBurn so I mostly just held my breath.
Now we're talking about Alaska sending Alyssa home each time; Lasky feels completely justified in the first instance; it was PAINFUL shooting with Alyssa and she'd do it again. Plus the two-in-one camera dress was not a two-in-one. Katya jumps all over Lasky's trash bag funeral shroud to Poundcake look.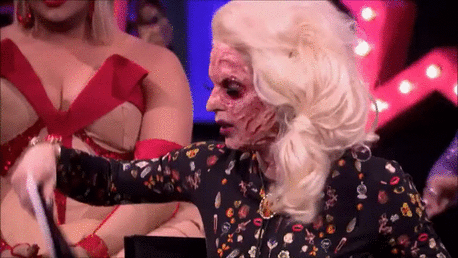 Detox comes for Alyssa: she funny so she gets judged differently. Oh now I KNOW you did not, you sour piece of poundcake. Don't hate her coz she's funny, respect the charisma that you CLEARLY lack, ho. Alyssa chokes me up when she says she loves playing dress up.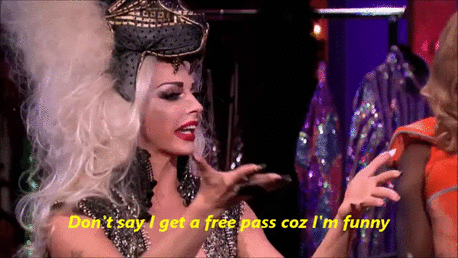 Now we have the top Toots (good looks) and Boots (gurl. don'ts) of the season; Roxxxy gets mad props for all her looks and she is pretty! Phi Phi's future of drag look gets snaps and Alaska REALLY hated that f*cking camera dress of Alyssa's.
We revisit the lipsynch between Alyssa and Tatianna, they were FIGHTING to get back in! Then we're at the Hug that Didn't Happen because Phi Phi was mad and not hugging Alyssa no-how. Katya gives her snaps for being authentic and in the moment, I have to agree. I have no idea what "what you see isn't always the truth" means; was that an editing comment?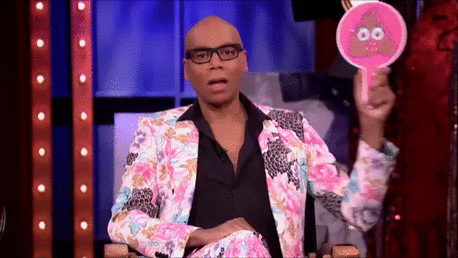 The family week was big for everyone; they all had a fantastic time! Except Alaska, maybe. We talk to Alyssa about her sister and her mom and we tear up a little. The cynic in me noted for the first time that Alyssa was crying in a really awkward position with most of her face showing, which is literally how I have cried NEVER, but maybe the table was in the way.
Adore and Detox bang their fans. Sometimes? They share the fans they are banging with each other. Wow. I wonder where Sam Elliot stands on that? I say that, but I'm mostly into really smart dudes, I'm entirely a nerdy writer groupie. Show me your brain!
Now we're at where we have been heading all night: Alaska's temper tantrum. Detox was shocked at how quickly Alaska crumbled, Katya just ate popcorn and Alyssa understood completely. These ladies WANT this. Alaska was just afraid of doing anything people could pick at, and I get that.
Detox owns up to the bad decision of sending Alyssa home over Roxxxy; Alyssa doesn't hold a grudge because she doesn't want to get the cancer you get from bitterness.
Let's talk about Roxxxy! RuPaul gives her snaps for her on fleek wig collection; Alyssa thought she should have won! She was in the bottom 6 out of 7 shows: that's how you win Big Brother! Hahahaha. Roxxxy felt bad for making it that far, she didn't think she earned it. Ru says she did *coughOKcough*
Now we're reviewing Detox's time on the show and I have some serious dislike issues with Silicone Drag Barbie. She says she didn't perform the best because her dad was diagnosed with cancer right before she started filming. And she and Coco banged.
Time for Katya! She's like a dance-y Sharon Needles tonight! And she's on a journey, Ru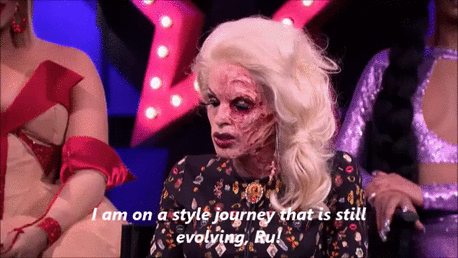 And finally: Alaska.
Oh
My
God
I JUST got what Pound Cake means. I'd not seen the words separated before but THERE IT IS! Pound cakes! Like bums and pounding and how am I recapping this again? Becks?
We getta see Alaska as a baby drag queen, my GAWD she's a gorgeous dude. Everyone says nice things about her (she's sending in her 9th audition tape next year!), but it's Ru who takes it home for us: she brings a sense of fun, intellect, enlightenment and is a marketing genius. THAT is the future of drag.
Lasky's trapped in the Drag Hall of Fame with Chad Michaels and we're oot until season nine!
I'll tell you who REALLY won this season: Katya. She's gone mainstream, hunty, her sayings are all over the world and she crossed over. Long Live Kween Katya. Now lemme go get my America's Best Friend Race t-shirt...
Cheers everyone from me and my fellow recapper extraordinaire: BeckyMaeCray. We love to yak drag and we can't wait until the next season! You can catch her on Mimi's new reality show and I'm always kicking around her somewhere...TTM