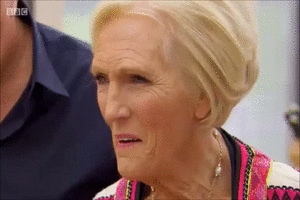 Hi guys! I am slightly behind due to Canadian Thanksgiving starting early at my house; I'll do my best to get this Great British Bakeoff recap out in a timely fashion. Let's roll Dessert Week right after the break!
Andrew is very much looking forward to redeem himself; he is very much a Desserts Man and I did not know there were such things! How did I not know this? I would like a Desserts Man!
CANDICE. Did you not read my recap last week? Are you just taking the piss with that makeup? I MEAN.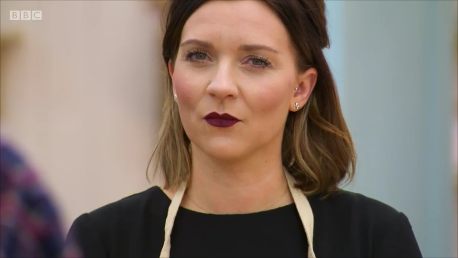 The two new highlights that came out of nowhere on the nape are interesting.
Tom thinks he's been afflicted by the Curse of the Star Baker, he seems to falter right after taking the lead and if I was one of those opinionated types, I'd say it's because he shouldn't be getting Star Baker as often as he has. Pfft.
The signature challenge on Dessert Week is a roulade! It must be sweet and it must be sponge and for my sake, I also hope it's not jelly. They're always jelly and this show is OBSESSED with jam! Go for chocolate! Heeeeey, Jane's got some out, I'll follow her.
Side note: it was my parent's anniversary this week, who wants to see the carrot cake I made? Yay, you ALL do!!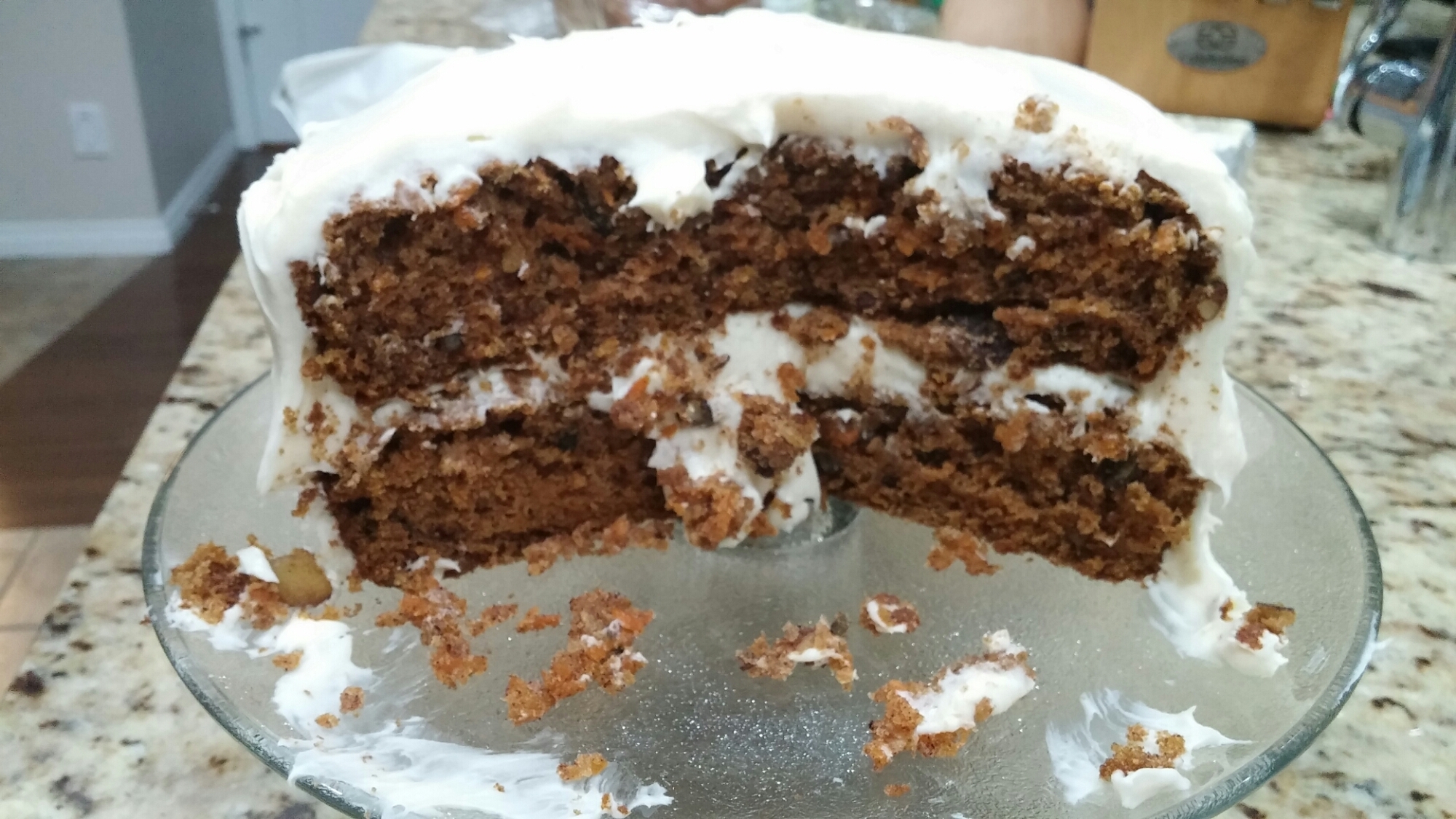 Oooh, Andrew is planning a cool design!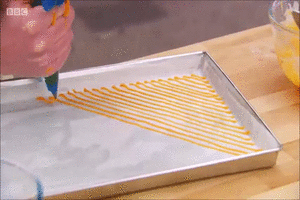 Everyone's making fatless sponges, except Selasi, who's added butter into his genoise sponge for his Summer Picnic Roulade with strawberries and whipped cream. Mary is hoping there will be no crack whatsoever, which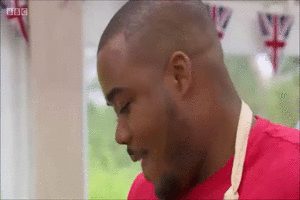 Tom's making a Millionaires Roulade with nutmeg in the sponge. It has crushed shortbread, salted carmels and chocolate and sounds DELISH. Paul thinks it's "interesting" which makes Sue and I want to know if that's a Dr. Evil "interesting" or a "heyyy, I wonder how that will taste?" interesting? No answer
Benjamina calls her Pina Colada Roulade "a bit cheesy" but I am too horrified by her grilling pineapple rings to notice, really. Is she using canned pineapple or does she have a pineapple corer? They look exactly uniform! HORRIFIED! Mary's happy, though, the pineapple is going inside with a bit of the rum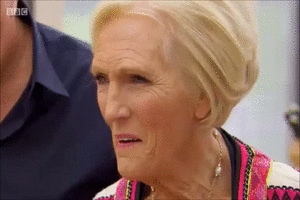 HAHAHAHA for reals, she did that when Benjamina said rum!!
Sponges out of the oven time! Andrew is making a Tropical Holiday Roulade based on his dad's recipe. It has bananas in the center and I kind of blanked out after that. Slime City: Population Andrew's Roulade
Tom has a wee pink hand-cranked fan that he thinks will help him cool his nutmeg sponge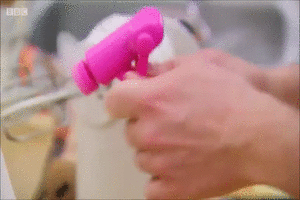 Selasi and Jane are utilizing opposite rolling techniques, she's all about the long and strong, he's gone with the short and wide. Candice isn't listening to my dirty talk, she's too busy making her dad's favourite white chocolate Crowd Pleaser Roulade. That sounds super uncomplicated for our made up maven. She ends up rolling her sponge right in front of the judges and is greatly relieved by Mary's proclamation that she knew it was all right. I think Mary's been at Benjamina's rum perhaps.
Tom's sponge isn't great, it's flat and it cracked. He starts again while Jane whips more alcohol into hers. Ladies and gents, we have the TTM Winner: Jane's Chocolate and Hazelnut Roulade with booze innit! Woo hoo! Paul frowns a bit at her lengthwise roll, we'll see if that will hurt her in judging. Roll tight, Jane!
Andrew and Candice are going head to head in the Passion fruit Curd battle, he has confidence in his plan because it's his dad's recipe and you heard it here first: it's the Skirmish of the Sires! Andrew's daddy's Passion fruit Curd vs. Candice's daddy's white chocolate whatsit!
Selasi's trying to get his flavour right, there's an aftertaste, but what the sam hill kind of mess is his workstation in?? Curd everywhere! Mel just likes to see a man...spreading cream...on a sponge...she's a little giddy.
Jane's struggling, but Tom's looks like hammered shite, like: LITERALLY. Mel reminds him: it's "informal!" and helps someone else: "say it's a regional thing!"
Judging time!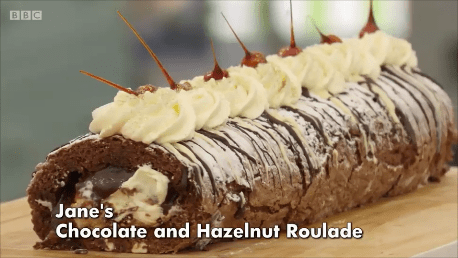 Jane's gets medium reviews, Mary likes the little bit of tipple!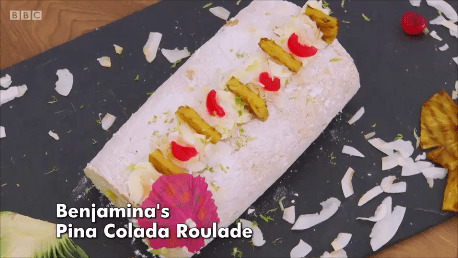 Benjamina looks fantastic, tastes good, but not exactly true taste due to the coconut paste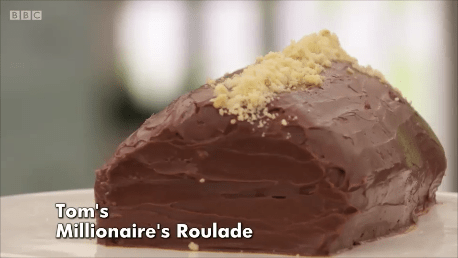 Tom's log of poop gets crapped on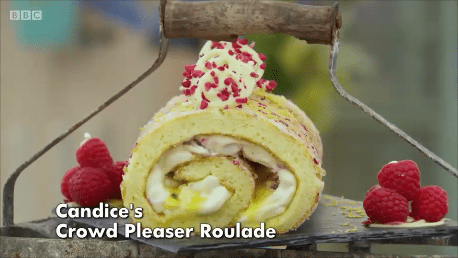 Everything on Candice's presentation looks pretty, except for maybe the roulade itself. It's cracked and messy and rubbery and yeah.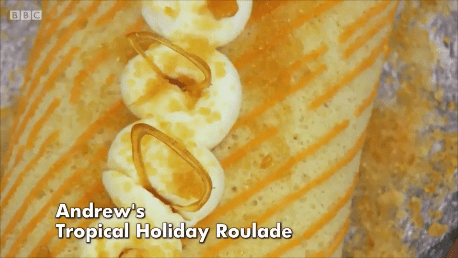 Andrew's soft filling has led to a smooshed roll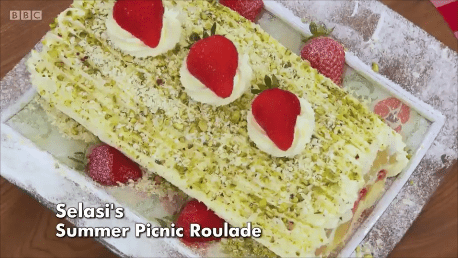 Selasi's looks great inside and out! His sponge is fantastic and Selasi is shocked at the great feedback.
During feedback, we learn that Tom thought his roulade looked like a chocolate bar. I wonder if he means like an Oh Henry in a swimming pool, because that's all I saw. Pardon my French if you're a religious man.
For the technical challenge, the baketestants will be making a Marjolaine, which everyone in the world had to look up, but once I saw it, I knew it! It's a Dacquoise! Those are tough as HAYULL to make, even if Cook's Illustrated thinks they aren't. Good look with your rectangular gateaux!
Selasi's is concerned about coming in last, I think our chill baker is finally feeling the heat. He mostly seems tired, not stressed, but I really think this will be his week. He hasn't burned anything in ages.
Paul and Mary have an awkward discourse over who's the cruelest (April! Cruelest month too!) and then we getta see the fancy cake. I don't particularly like what they've done to that one, it looks overdecorated and has too many nuts spackled on. I love nuts, BIG fan, but that looks too...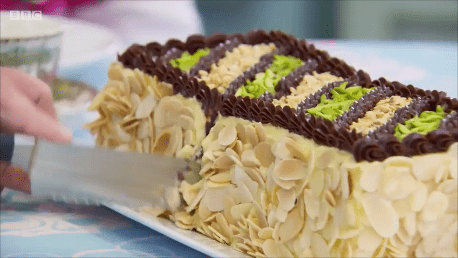 Nut grinding, roasting and folding into egg whites, everyone is stirring soooo carefully...then smearing or piping the mixture into two Swiss Roll tins. I'm concerned about how gritty Selasi's is looking. Everyone bakes theirs at the same time and starts the ganache. Ganache is dead easy but then comes the praline.
Praline history lesson! I'm off for a cuppa, I'll just mess that part up. Sue had fun in France!
Mel has her hair down and curled, it looks very pretty today! She comforts Andrew, who's piped meringue has cracked while he was cutting it next to a ruler (SUCH an engineer). He'll be fine as long as nobody tips Mary off *side-eye Mel*, but she'll hold this secret to the grave, I FINK in her bosom.
Everyone is precision-spreading their layers of filling, nobody's talking except Mel and Sue. Piping time! Jane's is GORGEOUS! I am really impressed with everyone's work! Yay.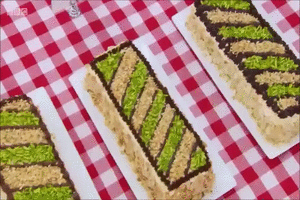 Andrew's look fabulous inside AND outside. Jane's does almost as well, Benjamina's piping is slagged. Tom's is subpar but Candice gets a pass on her nice and neat effort.
From worst to best: Selasi (sorry, love!), Tom, Jane, Benjamina, Candice and ANDREW TAKES IT!!! Yay!!! He IS a Desserts Man!
Showstopper Day! The bakers have to make 24 mini mousse cakes. They must have sponge and mousse, be tiny, high-end and sophisticated! Lovely!
Jane's look SUPER fancy, her Chocolate, Coffee and Vanilla Joconde Cakes and Blackcurrant and Vanilla Ombre Mousses look totes adorbs! And me and Gator Girl are in no way too old to use those words. Paul's worried she's doing too much, but she thinks it's Week 7, you gotta go for it, right?
Benjamina is making Apple Crumble Mousse Cake and Chocolate Coffee Mousse Cakes. Sure, I guess she ran out of chocolate? Nobody could lend her some?
Selasi will be serving Lemon, Raspberry and Passion fruit realness, along with Chocolate and Mint Mini Mousse Cakes, sure! Mary gives him props for his use of the freezer for an extra chill.
Quite a few bakers are using gelatin sheets, it's a fine balance that must be watched. I hope it tastes okay.
Tom's doing "something really classic and simple and making it ludicrously complicated, which is the hipster way" for his Hipster Picnic whatsits. Hm. He didn't bring molds, so he'll be piping everything and Paul, well, Paul wishes him luck. By the by, I was at an awesome spice store and I smelled those bloody elder flowers everyone was so excited about last episode: PASS.
More careful folding into egg whites to get the mousse right, Candice and Jane are adding an Italian meringue to make it more "mousse-like."
Candice's new highlights are making me stare, I wonder what would drive someone to just streak two chunks of their hair exactly where they clip it back to work? It's as though she was messing with butter and wiped her fingers in her hair or someone's attached a bleach drip over her bed. ANYWAY, her Blackberry and Raspberry Bubbles and After Dinner Mousses are as complicated as hers usually are. She has almost as many mousses as Jane!
Tom's working his wee pink fan again, I'm starting to be concerned that he actually thinks that's doing something?
Andrew is measuring his strawberries as he cuts them because of course he is; his Childhood Ice Cream Mousse Cakes look fun. Mint chocolate and forest-fruit and a mini ferris wheel even!
It's starting to get hectic in the kitchen with first and second mousses needing time to set; Jane's convinced she left gelatin out of one of her five (FIVE!) mousses, but throws them in the freezer with a wink and a prayer.
Tom is the only baker not using molds, ohh Tom. I worry for your wee pink fan. Jane gives him a back rub. Time to unmold (de-mold?)! Sealsi looks quietly concerned, but Benjamin's square ones are totally set, if a little boring-looking! Woot! Candice's are set! Selasi's are not.
I'm sorry, Selasi, it's between you and Tom today to go home and I fear it may be you.
We have so many mushy mousses this time, oh bakers. Hold steady! Maybe they taste amazing! Oh Selasi, they're just TERRIBLE.
Judging time!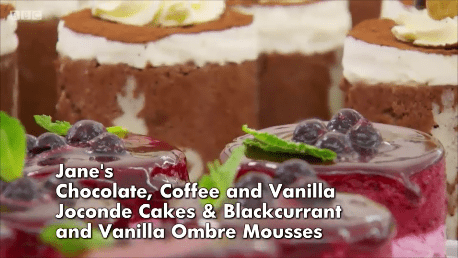 Jane and her five mousses are first, the mousses are fantastic. Tiny bit of problem with her jelly on to not setting, but overall: great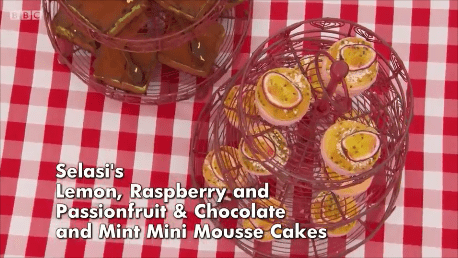 Selasi's, well, you know.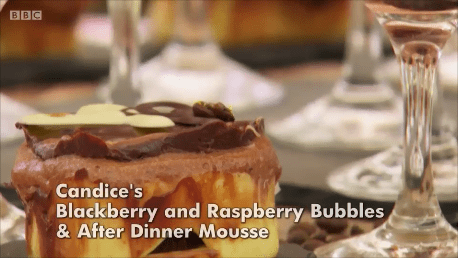 Candice's flavours are okay, but not mousse. The pretty ones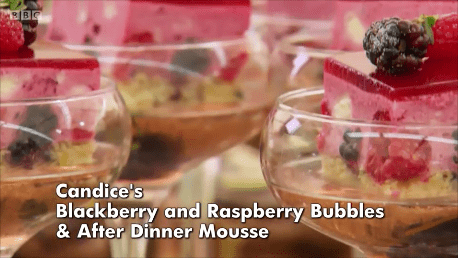 Don't fare much better.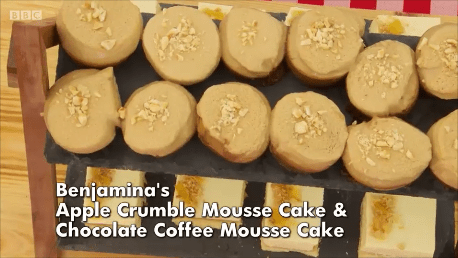 Benjamina's mousses are fantastic, just a bit...droopy.
Tom's piping has ruined his cool idea.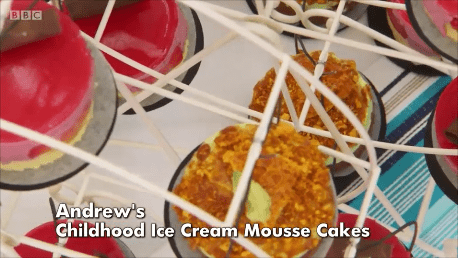 Andrew does VERY well, I have my fingers crossed for Star Baker!
They sit and wait, who will win?! Who will go home??
Oh and Andrew takes Star Baker!!! I totally teared up, yay GinjaNinja!!
And going home is: Tom
Oh wow, I knew it was between him and Selasi, but he was Star Baker last week, right? Wasn't he? I'll look it up. He was! Curse of Star Baker! And I thought of Paul's assertion that the Bread Week winner always went on to the finals, Paul was shocked as well. Hm, well, any way you slice it, you were Top 6 in all of Britain, Tom, great job! You and your Thor's Hammer and tiny pink fan can pack and go with your head held high. Until next time, cheers!