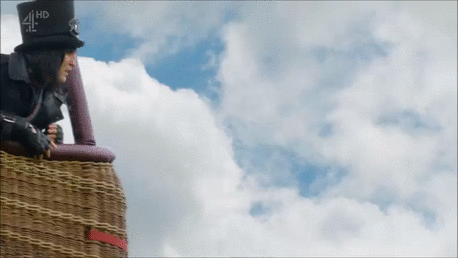 We're moving back in time to the Great British Bake Off season 8 where we meet our new hosts Sandi Toksvig and Noel Fielding along with new judge Prue Leith joining lone remainer Paul Hollywood in judging the best baking Britain has on offer. Rolling into GBBO S8:E01 after the break!
So where were we? That's right, we're lousy with new talent on GBBO and while I do miss Sue Perkins and Mel Geidroyc terribly, it's the loss of the lovely Mary Berry that seems the most unfortunate. I've had a couple of seasons to get used to Sandi, Noel and Prue so I'll probably not whine tooooo much. Probably.
Why is Sandi's hair lying down like that? Was Noel's always so feathered?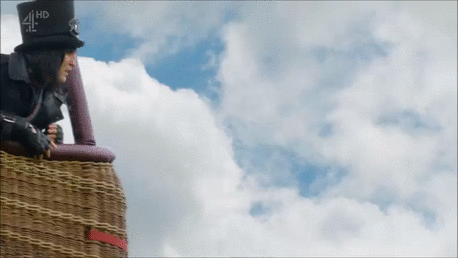 Let's find out who's baking for us this series! We'll meet everyone as we go along. First up is new judge Prue Leith, other judge Paul Hollywood thinks she'll be the mystery factor, everyone knows what he wants but what about Prue?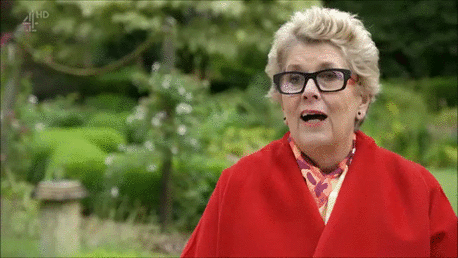 Without further ado, we have our first Signature Challenge of the series and it's….not my favourite. They'll be making family-sized fruity cakes but I'm completely distracted by Sandi's bangs on her face, her bomber jacket and the makeup she's wearing. Is she dressing more like herself then or now? Now she has a fondness for buttondown shirts of the crisp variety and is rocking a similarly lofty 'do without the whole-eye eyeshadow we see here.
I don't know why this perplexes me.
Anyway, sorry, no dried fruits, so not your usual fruitcake, yay!
James Hillery is first up to tell us about his whatsit, he's going full rhubarb.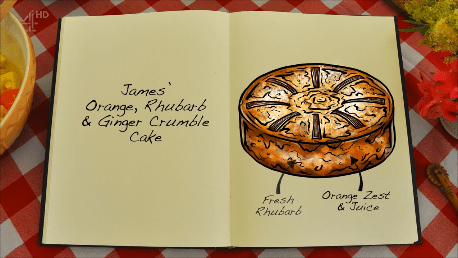 Stacey Hart is one of four bakers using apples in her cake, awww, she's a stay at home mom of three boys like I was! I am easing my apple disapproval.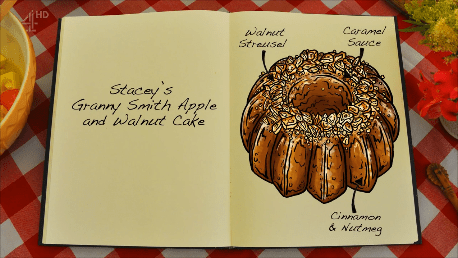 Liam Charles is sure he's snuck in under a fluke, he's making a not-super-sweet cake anyway so we'll see. I've never seen a cake cooked in a giant deep loaf tin like that, but he defends his choice because that's what you do when you're 19 and you're on TV.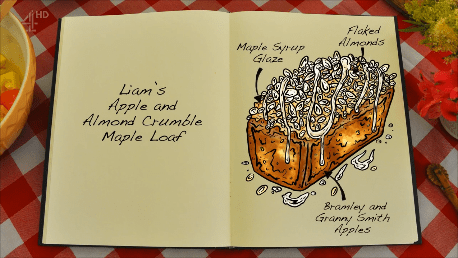 I've seen Julia Chernogorova running around all over the place already like a small deer, she's using four hundred bobby pins in her hair and two zucchini squash in her lemon cake. Ah but she forgot to squeeze out the moisture, that's a big problem. Those suckers are wee water sponges.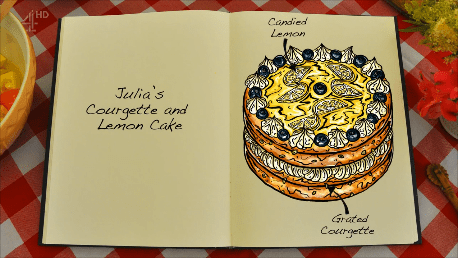 Sophie Faldo didn't miss that important step in her cake, she's a former army person and I approve of her edible version of a piña colada.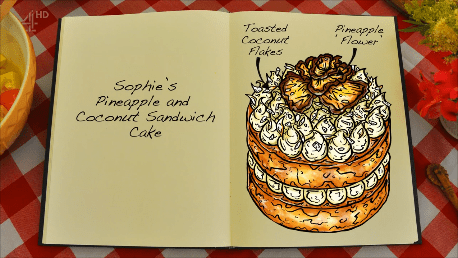 Peter Abatan shows us how easy it is to open a coconut, he just bangs it on the counter. Really?? I watched two home cooks spend an hour on that, he's magic!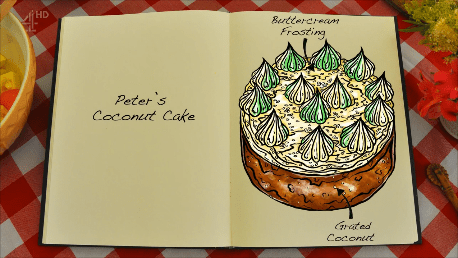 Chris Geiger is this season's Johnny ShinyShirt of the MiddleAge Disco variety, interesting. Even more interesting: he has no fat source in his cake and only two eggs. Prue and I are intrigued. I hope it's not rubbery.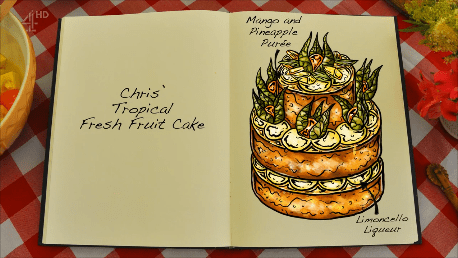 Bakes are in!!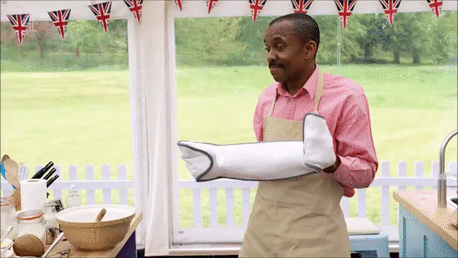 Disaster strikes when Chuen Yan 'Yan" (I can't tell if that's a last name! I'm guessing on her and Peter) realises she hasn't turned her oven on, a shaky start to a day she compared to her wedding, sans her wife. She has to throw it out and start again.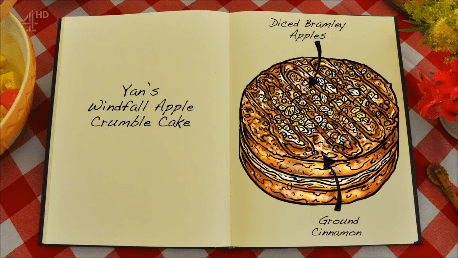 Flo Atkins was signed up by her daughter, it's all her fault! She's our most mature baker at 70-odd and she's making a citrus cake.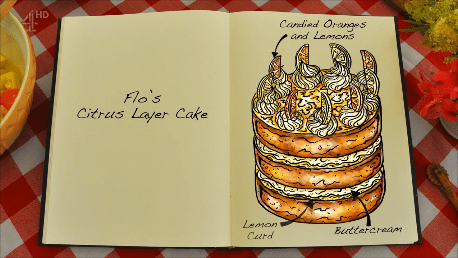 Omigosh, her kids wrote a message of support in her recipe and I'm totally not crying already.
Oooh, we've got a Scot in the mix! Hallo Tom Hetherington from Edinburgh! I like your fancy pear! But I wouldn't eat it. Pears are for looking.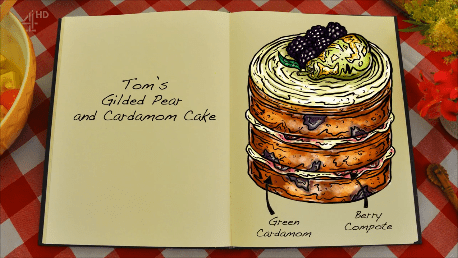 Kate Lyon is a blacksmith, what? That's awesome! (Tie your hair back, love). She's using pears too, I think.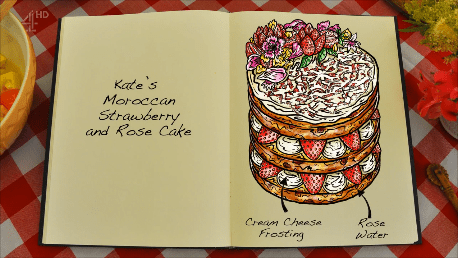 We meet Steven Carter-Bailey next, his mum thinks he should totally win! He looks and sounds exactly like an ex-boyfriend of a friend, I'm going to have my eye on him…His wee toffee-apple whatsits do sound amazing, though!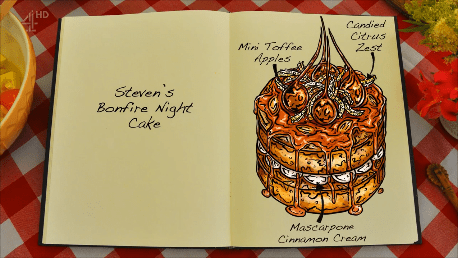 Everyone carefully eases their ovens open to test their cakes, fruity cakes are difficult to test because you never know if you poked a piece or not. You don't want to make a pincushion out of your cake either, so it's lots of deliberate prodding going on throughout the room.
Arrrgggh Stacey used a metal cake tester, stuck it in her cake, then stuck it in her mouth. That's raw cake! Did you wash that after??
Those big cakes are trouble, they've got to bake and cool in time to stick stuff on top for the fancy, young Liam and Stacey are getting panicky.
Everyone seems antsy, actually, except Sophie, who serenely pipes exactly equal dollops of icing between her layers. Ah poor Stacey, she's getting redder and redder the longer it takes for her giant cake to bake, Liam's not even pulled his out yet and there are only two minutes left. Yikes. There's no way anything is decorated on either.
I can't suss what James is doing, he's wandering around looking out the side of the tent. Is he done? Waiting for his cake? Ah, he's waiting for his cake, he pulls it out at that timecall as do Stacey and Liam.
James loses his crunchy bottom to an undersized offset spatula, oh no!
1 minute to decorate!
First judging!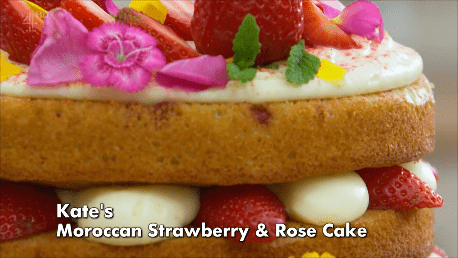 Kate's cake tastes mostly of rosewater, which is not a fruity cake.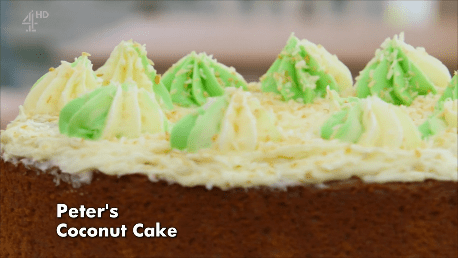 Peter used FIVE (5) teaspoons of baking powder in his cake, it's burning Paul's tongue!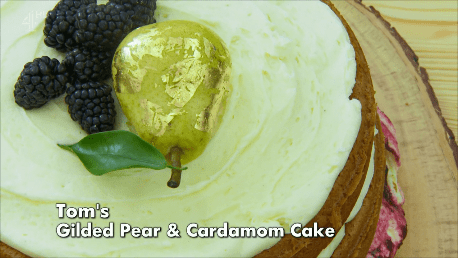 Tom's cake is beautiful, but is overbaked.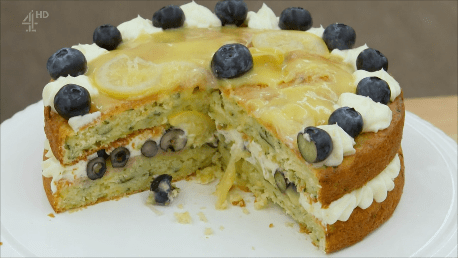 Julia didn't squeeze her courgette/zucchini and it shows.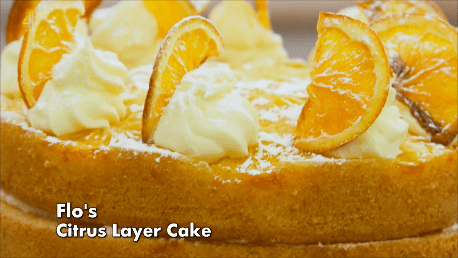 Lovely decorating on Flo's cake! She did an excellent job overall.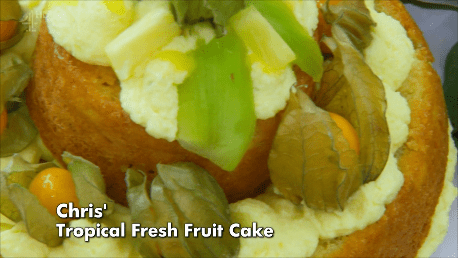 Chris has attempted the impossible with his fatless sponge, I'm more concerned about the leaves all over that people have to pick off before eating. It's like tail-on shrimp in my food, what's the POINT? I'm happy Paul says Chris has baked his sponge to perfection.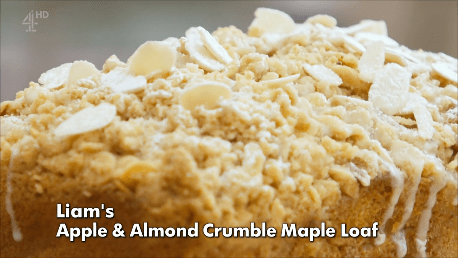 Liam's stodgy and boring loaf cake isn't winning him Star Baker today, I'm afraid.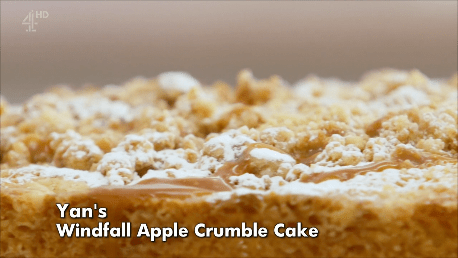 Yan's second attempt at a cake isn't imparting a lot of flavour to Paul but it's a good sponge. She'll take that!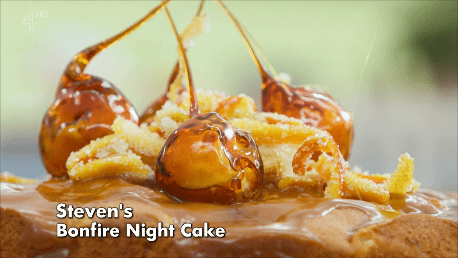 Steven's cake is gorgeous, full stop. Lookit those wee apple whatsits? HE GETS A HOLLYWOOD HANDSHAKE! On his first effort in front of Paul in the very first challenge!! I wasn't even looking at hands yet!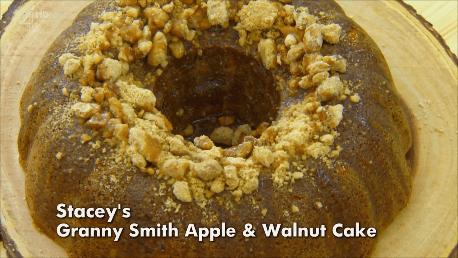 Come through Stacey! It looks lovely!
On to other latecomer James, it's all wet in the middle and unlike Stacey's, there was nary a good photo opportunity.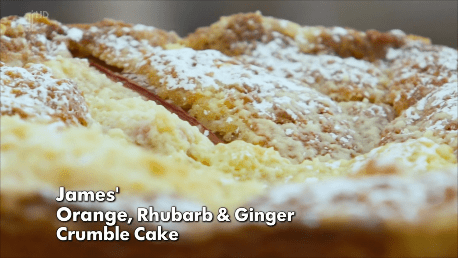 I really like Sophie's tidy piping, the baking is lovely as well.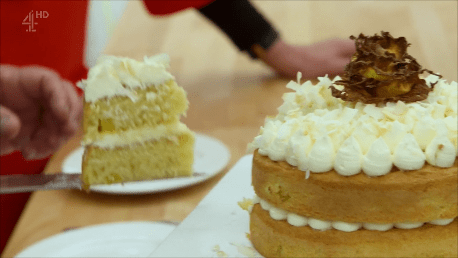 And SHE gets a Hollywood Handshake too! Sophie is blown away, Steven glower-smiles from across the room. Sophie worries she's peaked too soon, but I don't think she has, not with that piping.
They're your hands, Paul, but I don't know if you want to throw them at every fruity cake you come across, you wouldn't want people to think you're cheap.
Next up is Prue's "fiddly" Technical Challenge, comprising of 12 chocolate mini-rolls. They look adorable!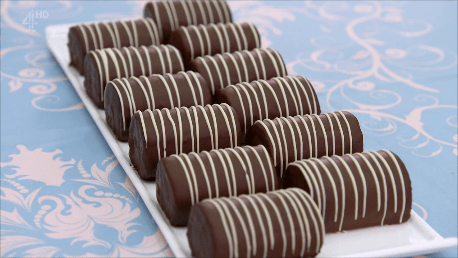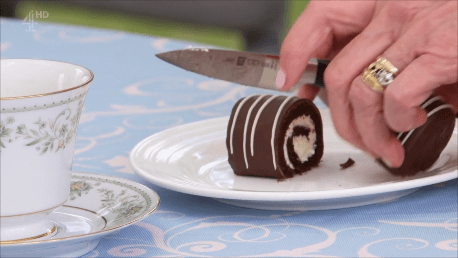 And sound like a high-end twinkie with a peppermint twist and now I want one. Or 12.
Much muttering to one's self ensues, oh no Chris!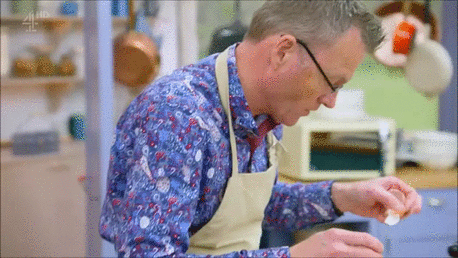 He didn't beat his egg whites!! That's the leavening agent, or rather the only thing that's going to give any kind of rise. Oh Chris.
That's a huge mistake. If you were into sports or somefing, this would be like someone dropping a ball of varying shape.
The next big opportunity for disaster is with the peppermint extract; even a quarter teaspoon too much will overpower and make the dessert taste like toothpaste. People tread carefully here, I can already see I have an affinity with Stacey.
Chris and Stacey decide to remake their sponges, Chris STILL hasn't read the instructions properly and beaten his eggwhites enough. Honestly.
Peter didn't read his instructions either, he's got white chocolate in with his other real chocolates and it's just for the drizzle bit after.
You know I like to chide and gibe with the best of them, but these are Britain's top twelve bakers, they have to be amazing to get on here. They're under a metric tonne of stress right now.
Only James is relaxed, you'd think he rolled mini chocolate rolls every week or the like. Everyone else is struggling with cracking sponge, sticky parchment paper and uneven icing. Oh Chris. Oh Liam.
The carnage.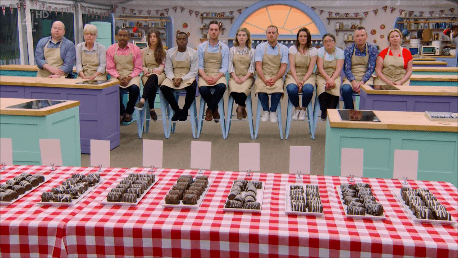 From last to least-worst we have:
Chris
Stacey
Peter
Flo
Liam
Tom
Steven
Sophie
Yan
Julia
James – really? I thought he'd be first!
Kate Lyon wins the first Technical Challenge of Season 8!
We're back the next morning for the Showstopper Challenge; it's an Illusion Cake to fool the eye. How long do they have? 4 hours! Go!
Sophie shows us her design, she's already made this once with great success.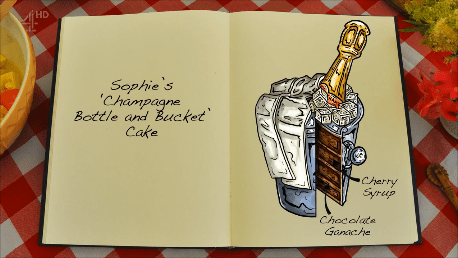 It's not going to be all fondant, is it? I think that's such a copout, and it tastes like sugared boots.
Stacey's making a fancy clutch, I liked this look better than when they cut it in half to show us its red velvet guts.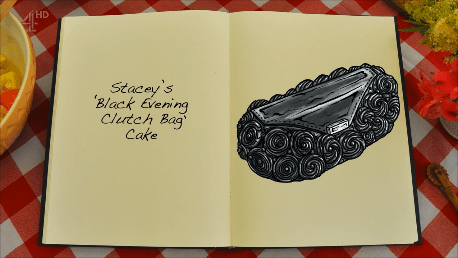 I'll take Tom's, yeah I will!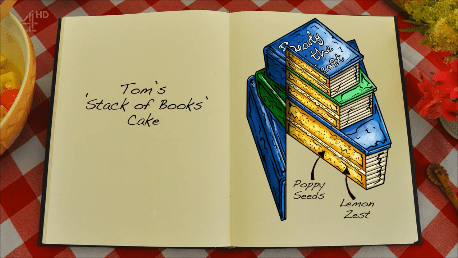 And I'd not turn my nose up at James' neither.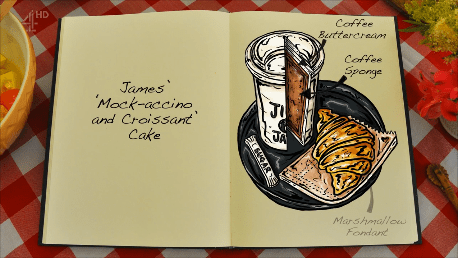 Banana cake!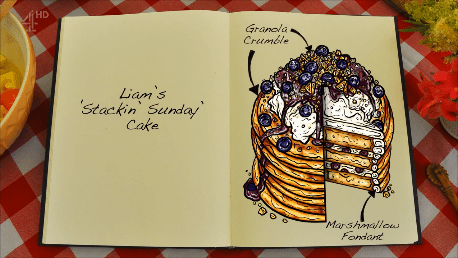 I hope Chris's cake turns out, it's a risky move making something based on Paul's recipe.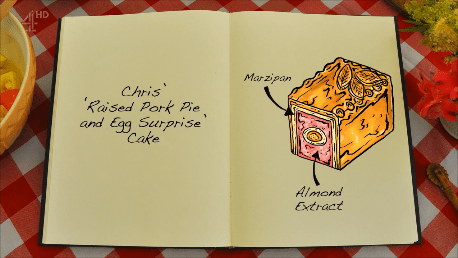 Flo's looks so cool!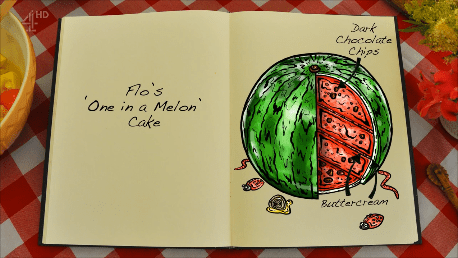 Kate's terrarium looks beautiful. It seems like it has quite a bit of complicated engineering as well, so fingers crossed.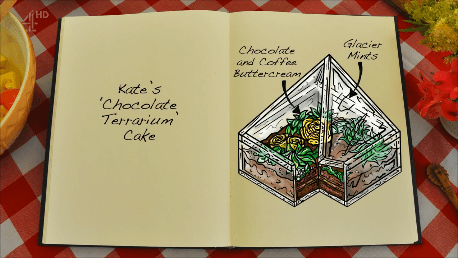 That's not a knife, now THAT'S a knife! Go Peter!
Steven is using pounds of fondant in his Bakers Lunch along with a spray gun.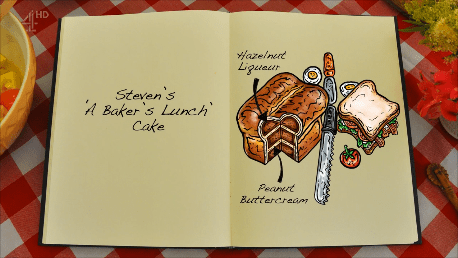 Yan is also using fondant.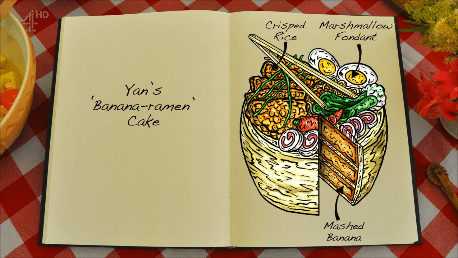 Stacey is riding the struggle bus with her sponges this week, she's got small dense cakes to work with and she's worried. She throws them all away with half of the time gone already.
It's as though she's never read my recaps about the Curse of the StartOver. It got Dan in season 9 *sage nod*.
Julia's icing technique is driving me bonkers, why would a baker be so tentative? Look, I understand none of you lot know how to chop anything, but spreading around buttercream is definitely in the purview.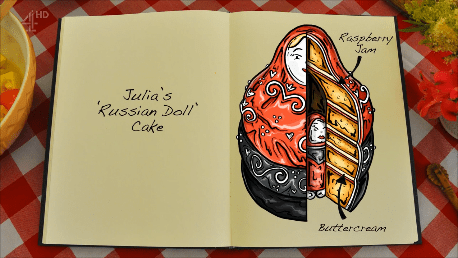 That's on the nose, isn't it?
This whole thing is one large fondant challenge, I am protesting my drinking water instead of tea and snorting softly under my breath at inconstant intervals with my arms crossed.
Erm. Sophie.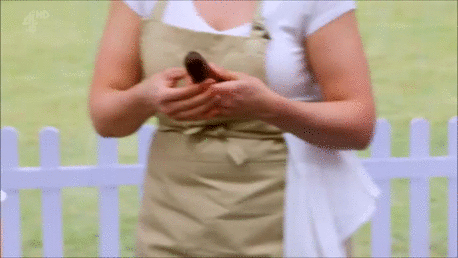 I'm sorry, I love Yan's the MOST! The fiddly little details, all the pieces, it's awesome! She's first up for judging, getting mostly good feedback. Little dry.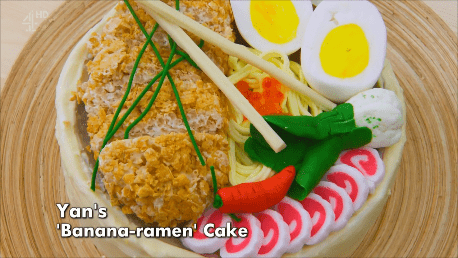 Then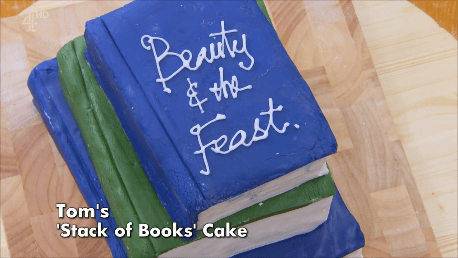 Also a little dry.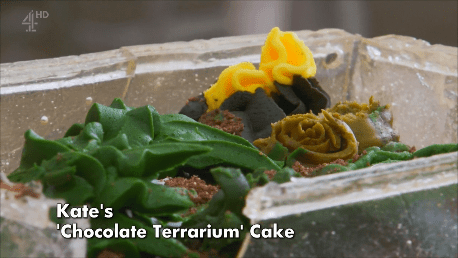 Aside from the missing top, just great!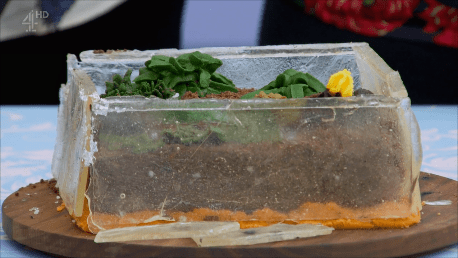 Nice and moist.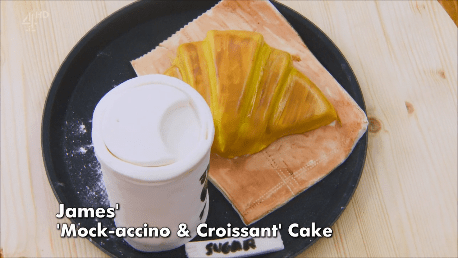 Great flavour.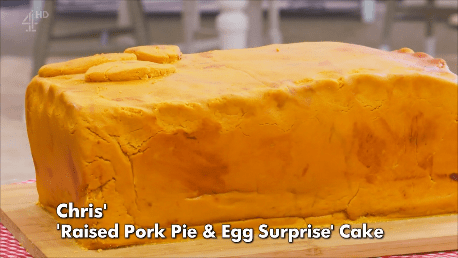 A bit too almond-y.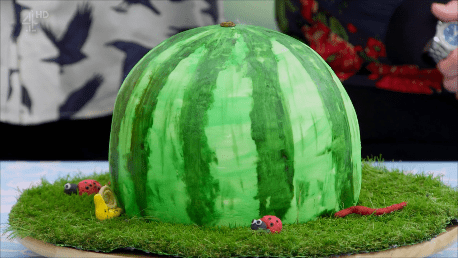 Looks great, has a spot-on sponge, Paul finishes with "I love you, Flo."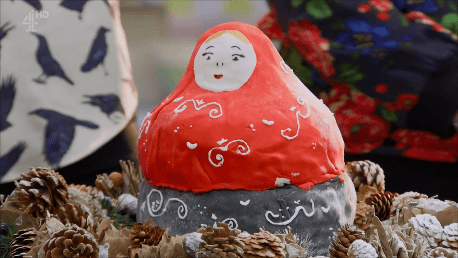 A bit too plain and dry.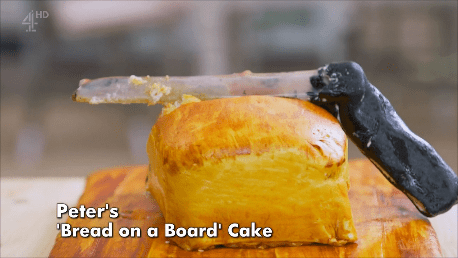 Too dry and a bit simplistic.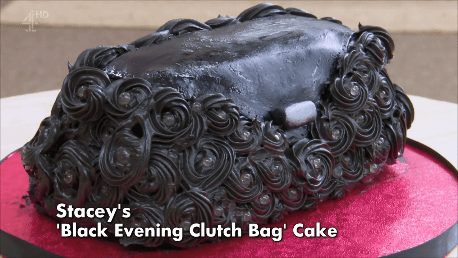 It's delicious, but rich and doesn't look like a handbag, which means they've never seen a posh handbag. Pfft.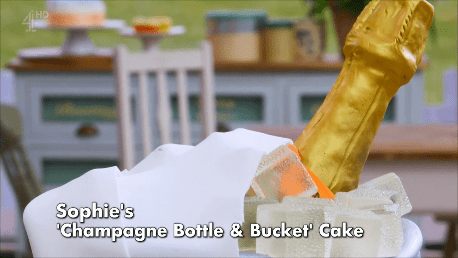 The design is fantastic but the cake itself is dry.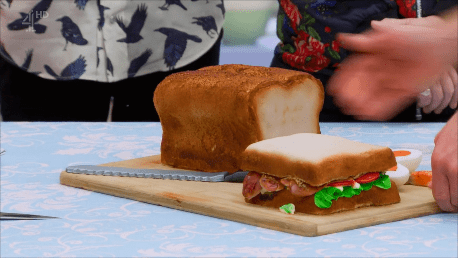 I'm pretty sure Steven has Star Baker in the bag, the judges oooh and ah over his cake, Paul calls it perfect. This man can bake.
Liam is last, Prue can't get enough of the illusion of his pancakes.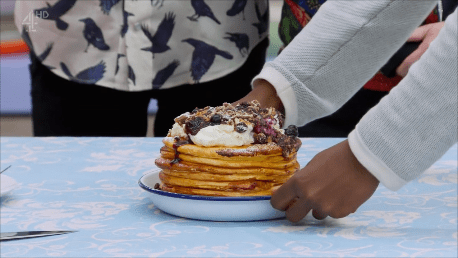 So! The judges deliberate but I already know who has to be winning and going home. My guesses:
Star Baker: Steven
Going home: Chris
Let's see what the experts think!
Star Baker: Steven (nailed it!)
Going home: Peter. Oh! I didn't think he did that badly, did he? Is this because his drizzle was brown? IS IT?? Well done, Peter, top twelve in Britain, nothing to be down about there, fella.
Steven calls his mum to tell her about being named Star Baker, we all cry when he gets to the Hollywood Handshake because HE'S crying and it's impolite to let someone do that alone. That was very sweet.
Until next time! Cheers