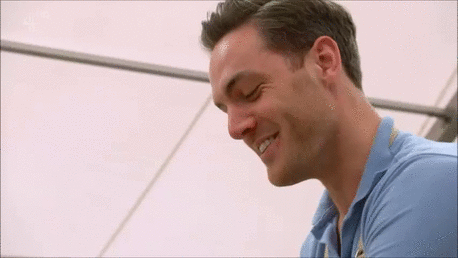 Hello! Welcome back to the Great British Bake Off and 2017 when nobody's heard of the coronavirus and self-isolating is just something you do after a soggy night at your local Karaoke bar. Social distancing was garlic-based and not even our bakers washed their hands enough. Are you ready to find out what we're baking today? Me too! Rolling into GBBO S8:E02 Biscuit Week after the break!
We're baking cooooookiiiiess!!! But since we're in the UK, we're calling them biscuits and I will try my hardest to remember that.
Hosts Sandi Toksvig and Noel Fielding banter a bit outside the tent, this is their first year together so they're still finding a rhythm. I like how Sandi chills out more later, she's also apparently working through a bomber jacket stage, she's like a tiny pale Karamo Brown with a blonde wig.
Judges Paul Hollywood and Prue Leith look on as Sandi and Noel explain the Signature Challenge; the baketestants will be making 24 sandwich cookies in two hours and 15 minutes. What an odd length of time.
Liam Charles is the first to tell us about his biccys, he's only 19 but he understands the importance of stuffing lots of chocolate into things and I appreciate that.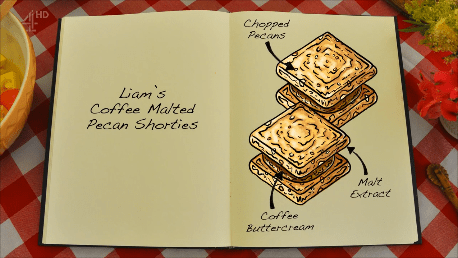 I got all excited because I saw Julia Chernogorova carefully grinding cardamon pods next to a huge pile of peeled pistachios but then she whipped out the pistachio extract and it's like nobody's seen this show! Never use extract! Never! It tastes artificial and too strong, it's a sword Season Eight contestants seem determined to fall on. Honestly.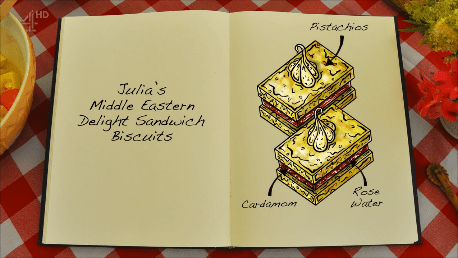 Steven Carter-Bailey was this season's first Star Baker last week, well done Steven! (You can just tell he's a Steven and not ever a Steve) He has some fancy yummers planned.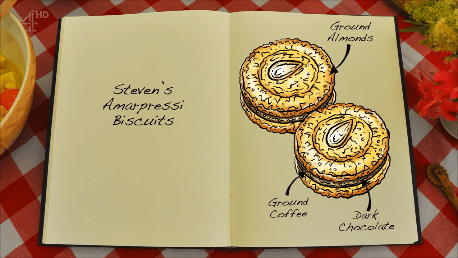 Yan Tsou is a scientist, she'll have some fun whatsits for us but the inspiration for her cookies is her wife Marian, who likes a bit of pb&b after Zumba.
All of the bakers are chilling their dough, you can't make anything keep a shape if it's warm when it goes into the oven.
James Hillery is piping every single one of his biscuits before they're chilled, that's a metric tonne of work.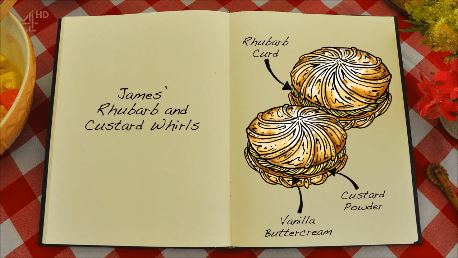 Our Scottish Tom Hetherington is doing twice that, he's piping tops and bottoms and smoothing out half of them. He's a crisply appointed young architect.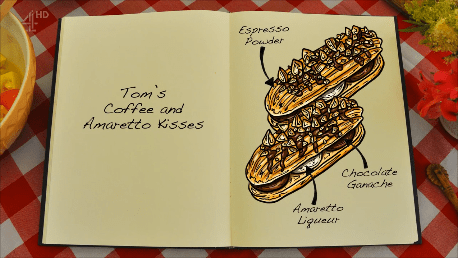 These are famous last words: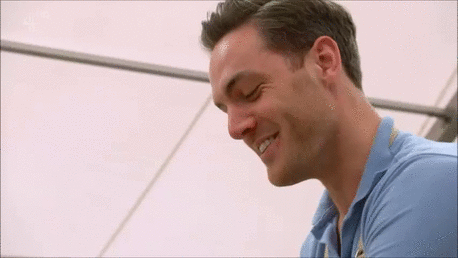 Flo Atkins is making the first fruit filling we've seen so far, Prue makes sure there will still be some gin in the cookies, yes? Yesss. In the buttercream!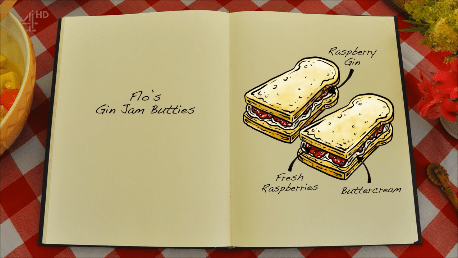 Chris Geiger is on a redemption tour with whiskey and chocolate in hand. I'm listening…he likes sailing, styling his hair carefully, forgetting sunscreen and wearing fancy shirts with loud prints but not like Hawaiian.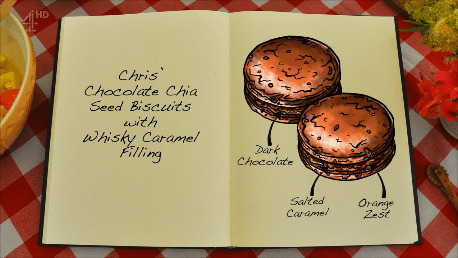 Sophie Faldo didn't win Star Baker last week, but she did get a Hollywood Handshake! She's restful, she and her braided hair, and lemon biccies.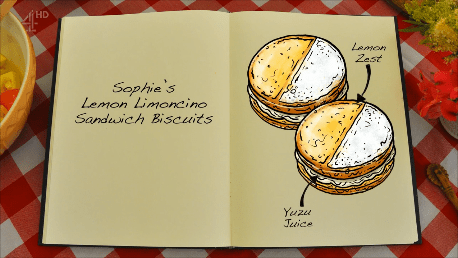 Stacey Hart had a rough go last week too, she'll be looking to score much higher with her marshmallow floof cookies.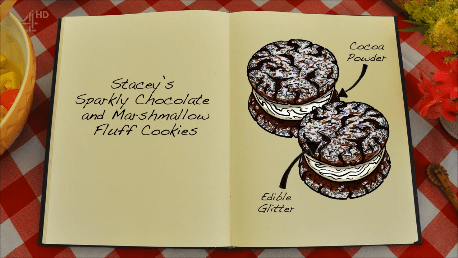 Bakers are being extremely careful with their sizing, aiming for identical and mostly achieving it, from what I can tell. I'm so glad nobody's making macarons, macarons are BULLSHITE.
Blacksmith Kate Lyon is also into refinishing furniture with her hair loose, it's like nobody ever took an industrial safety course ever! She's making shell-shaped pirate biscuits with…pineapple. Hm.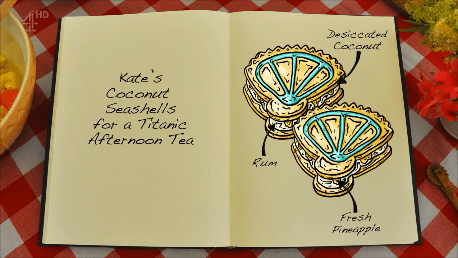 Her design is based on the Titanic, who served such things with tea, one of her relatives actually survived the disaster. Interesting!
The first batch of biscuits hit the oven while Noel narrates the precision which which they must be baked, ooooh. They're baking cookies, Noel!
Bakes are going in, coming out, going back in and there's this one tray I absolutely hate. I think it's Julia's cookies, they're asymmetrical and lumpen.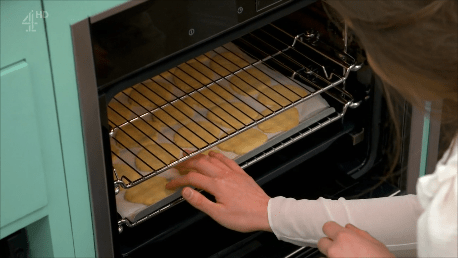 Maybe they're Kate's?
Now the filling and squishing together! After the counting and re-counting of the biscuits, that is. I'm worried that Flo's cute sandwiches are going to lose their filling the moment someone touches them. She's done long before everyone else, which is typically a sign that she hasn't done a complicated enough recipe. If you're not tearing your hair out and sweating into your icing bag, are you even on GBBO? Tom has completely run out of time, as expected after he cursed himself.
I love that the bakers who are done help those that are not, it's so Bake Off! Unfortunately, Kate's not had time to ice hers and that's not something other people can throw on a plate for her. Hm. Tom has three helpers and she has none. Speak up, lass!
Time's up, judging! The bakers have a nosh on leftover cookies while waiting for Paul and Prue to swing around.
Liam is first up! The judges like the uniformity, but they're super squishy. "I'll just stand her and catch Paul Hollywood's drippings" muses Sandi as she contemplates the life choices that have brought her to this moment.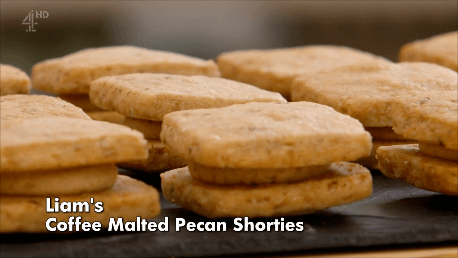 James gets a "fantastic"!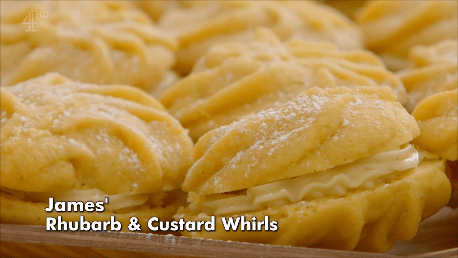 C'mon Chris, pull it out! Booooo too rich. (Like AS IF)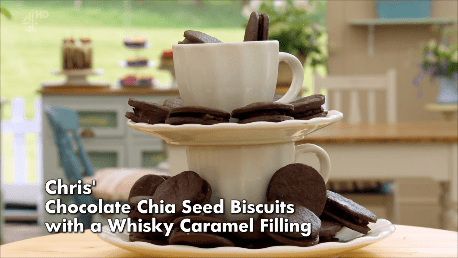 On to Yan's PB&B hahahahahaha that's what I called them before I knew what they were! If the cream filling had set, they would have been perfect.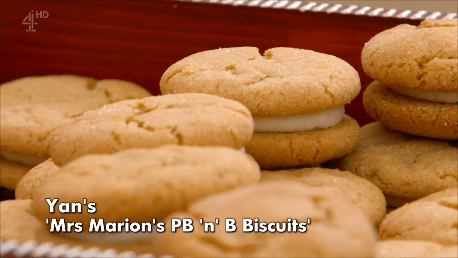 Those look like cracks in Flo's butties, I hope they aren't oozy too. Overwhipped biscuit dough, sigh. There is no gin flavour, Prue is disappoint.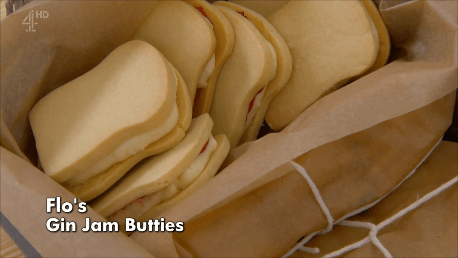 Steven's cookies aren't fancy, but they're well-baked.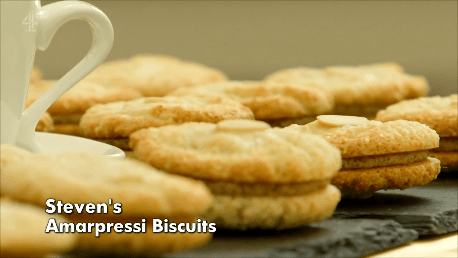 Great flavour in Kate's seashells, but the icing's dodgy and they're too tough.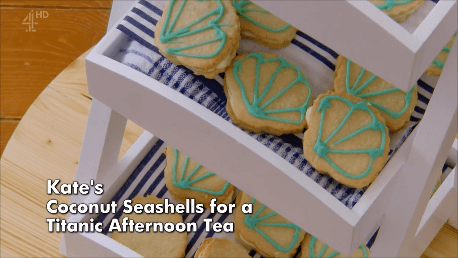 I love Stacey's glitter-biscuits! So do the judges, yay, thou hast redeemed thyself!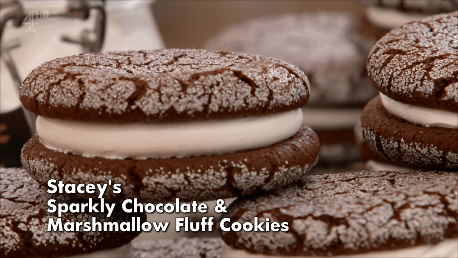 Julia's look so weird that I almost can't get past that. They're green with bits of red jelly inside. Although they dance if you poke them (like me!), the flavours are too strong and not complementary.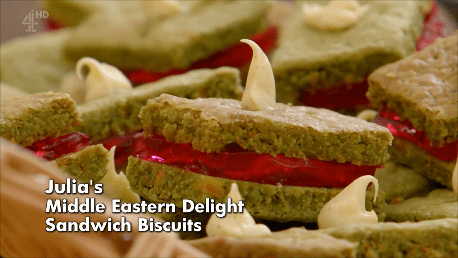 We knew Sophie would have precise and tidy cookies, everyone loves them.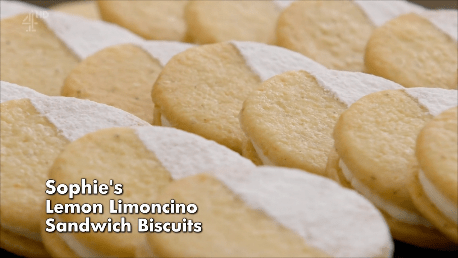 I'd take a messy Tom's biscuit smeared in chocolate and nuts any day over a tidy lemon something! He gets great reviews, whew. Thank all your helpers, fella!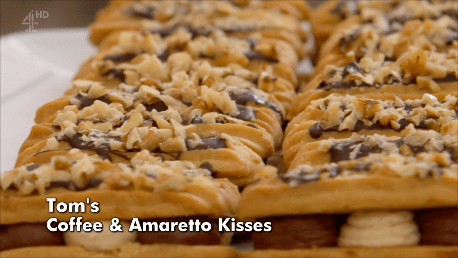 Time for our Technical Challenge under the Gingham of Mystery! Paul gives the bakers a punny clue: they shouldn't "fold" under the pressure. Sandi gives us the punchline: they'll be making 12 fortune cookies of two different flavours in two hours.
The gang scour their memories and stare at their pared down recipes, awww, it says DO NOT CONFER WITH OTHER BAKERS right across the top.
Look how pretty they are!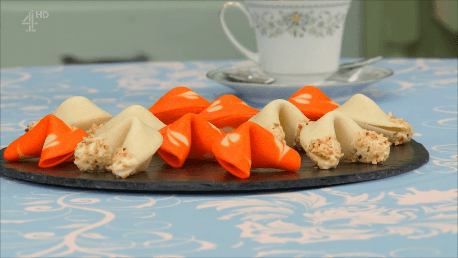 I feel perhaps my Chinese takeaway has been phoning it in.
The bakers don't confer with each other, but rather Noel and Sandi, craning their necks around to see what everyone else is doing with the egg whites. Nobody really knows how big a flattened fortune cookie is, Steven's guessing.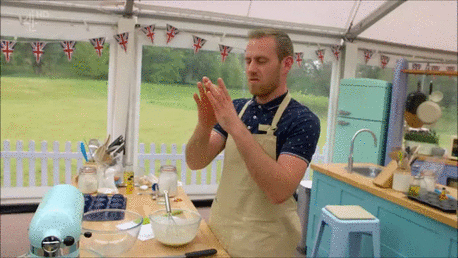 Nobody knows how long to bake them either, most display an appalling lack of knowledge re: lucky Chinese numbers. 8! 8 is the lucky number! Not 3 or 5, but anyway, don't bake your cookies for 8 minutes, burnt is most unlucky.
It's James and Sophie who figure out how to use the rim of a glass to get that iconic fortune cookie bend, I'm not convinced that Liam's seen one before, even on TV as he said. Flo and Stacey are completely out to lunch, they need to look at other work benches, and fast.
On to the orange flavoured ones, Paul and Prue can't complain about orange flavour since it's in the recipe, but I hope they're watching amounts. Steven's dough is lovely and serene, Chris's by comparison looks like a dog's breakfast.
Oh no, Stacey finally gets it but she only has 15 minutes left. She hasn't done any orange ones.
You can tell this is not an American show because she says "all I have to go now is the dipping and the nutting" out loud and nobody swallows their tongue.
Liam, Stacey and Flo will be duking it out for last place.
Judging!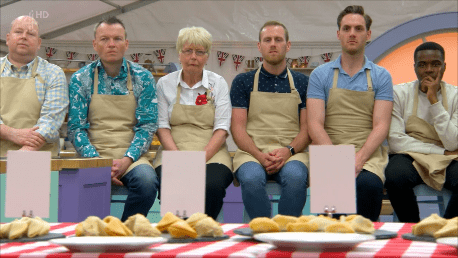 From worst to least worst:
Chris – all raw and misshapen – Prue even spits hers out, ouch
Flo – they're not the right shape but the fortune is spot on (I've made a right mess of this)
Stacey – raw and misshapen
Kate – too pale
Liam – we knew this already
Steven – rubbery and underbaked
Tom – decentish
Julia – not bad
James – I thought he would win, his looked excellent
Sophie is second, I also thought she had this in the bag, look how tidy?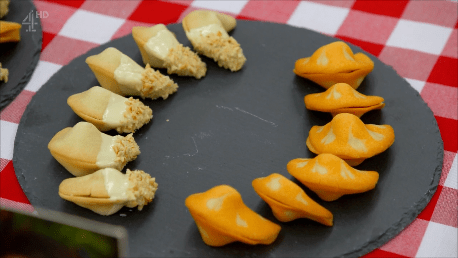 And it's Yan who wins the fortune cookie technical with her excellent spheres!
It's the next day and we're ready for our Showstopper Challenge, or ARE we? Paul and Prue are making our bakers create board games out of biscuits. Board.Games. That they can play! They have to be able to play with their food before they eat it. I don't…understand.
An overview of the games to be played: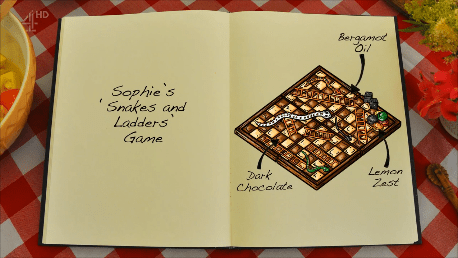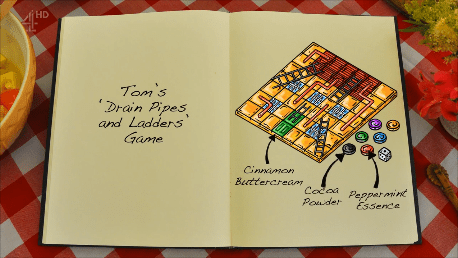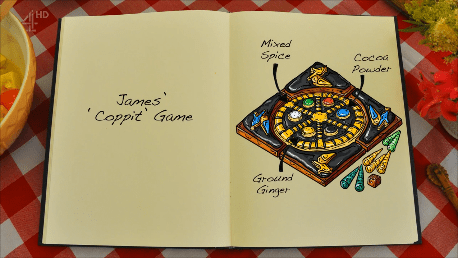 WAIT. I think I play Stacey's game already!!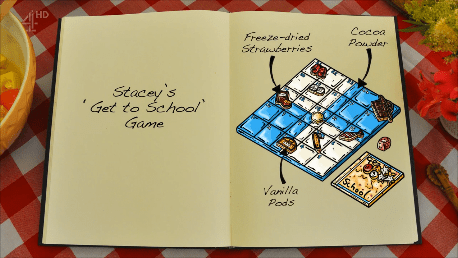 (I usually lose)
Ohhhhhhh Kate is using grains of paradise to flavour her Jumanji game and I have to split my allegiance.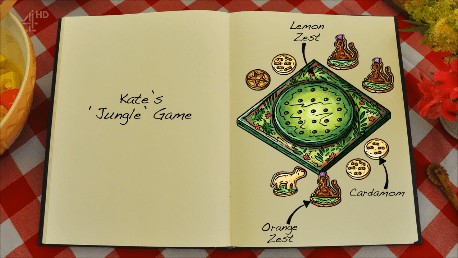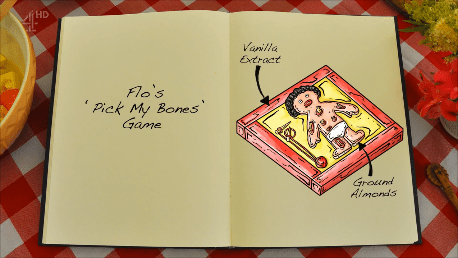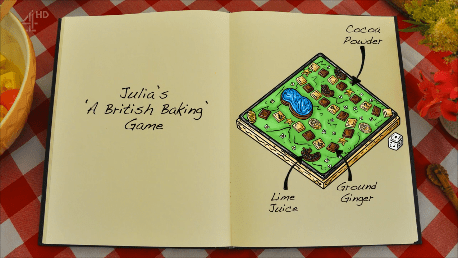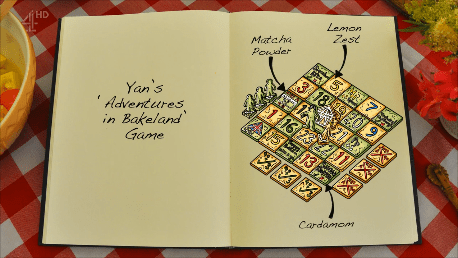 I'm sort of obsessed with Yan's fiddly bits.
Bit of a mixed bag for Liam.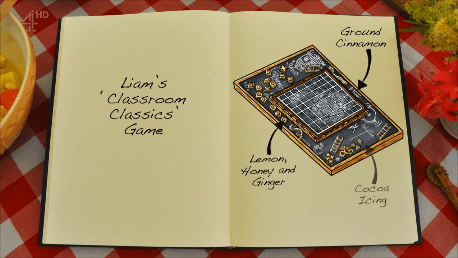 C'mon Chris! You can do this!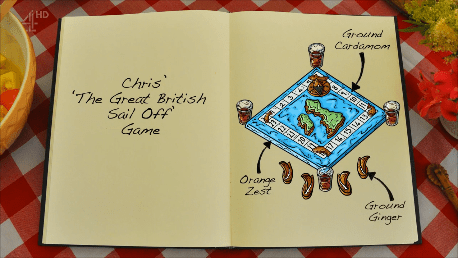 OOoh I like Steven's!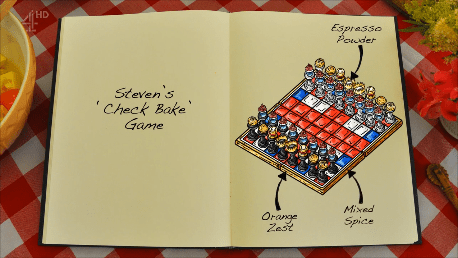 And then he says he's using fondant for each top and WHY
Sugared boots.
I mean, I'll give you fondant for Cake Week with illusions and whatnot, but what's the business case for Biscuit Week?
Cracking bases abound, it's a butter-scented nightmare!
There are only five minutes left, everyone pipes like mad and Noel cruises around asking unhelpful things. Literally every baker is dissatisfied with their final input, but we're out of time.
Judging! Of course Sophie's work is tidy and restful to look at, how does it taste? Very good, very well done.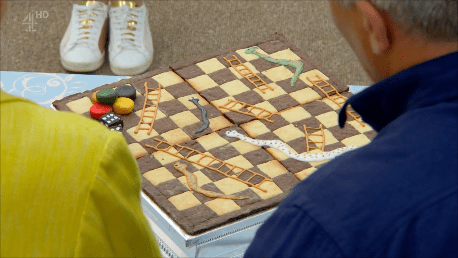 On to Tom's, which looks great and is super spicy, if slightly too soft for Paul's liking.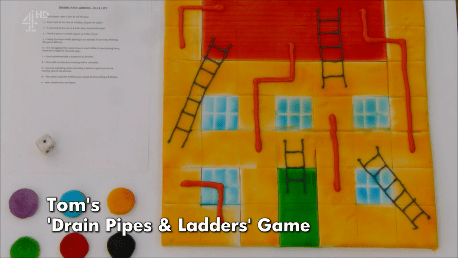 Julia's biscuits are delicious but her fictitious game is disappointing.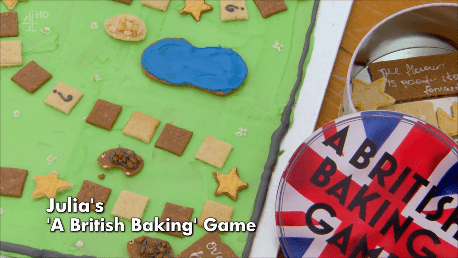 Yan has gone with a similar concept, it doesn't fare well either.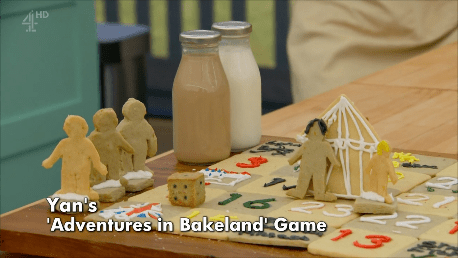 James's looks fantastic, it looks like an actual board game, which not all do.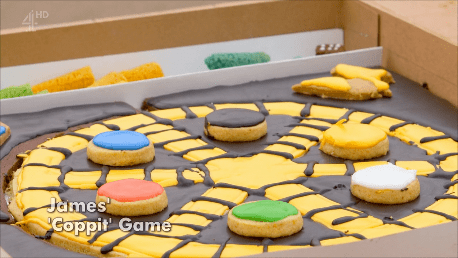 It's a bit of a mess at Flo's station again and now I'm thinking about who we're going to lose. Well. It probably will more likely rhyme with Smis than Smo, but we'll see.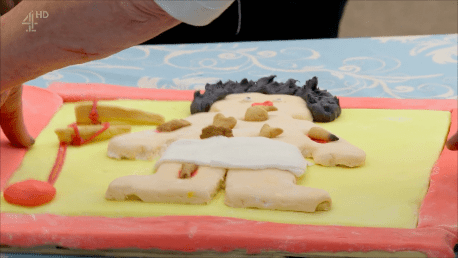 On to Chris. Well. He has a great compass!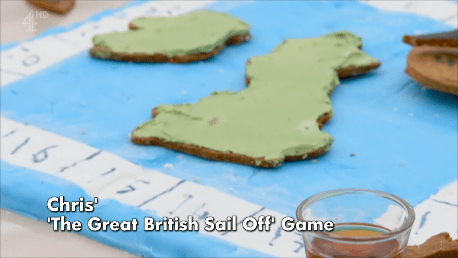 Kate's isn't looking very impressive either, I forgot that we're also at risk of losing her.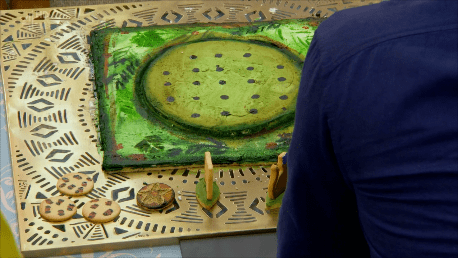 Now Liam, whose board doesn't look impressive but whose flavours are amazing. Yay!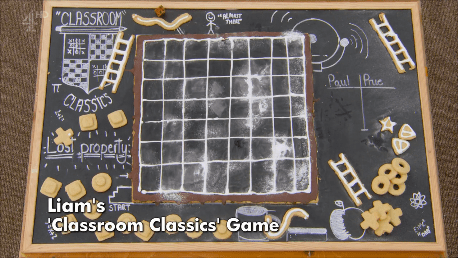 I'm feeling conflicted about Steven's chessboard. He really went for it, I feel like that has to be acknowledged but I just sort of want to kick it over. It looks fussy and show-offy, which is a ridiculous comment to make about a competition to show off how awesome your baking is. Will ponder. The judges love everything about it, if Prue had a Leith LeftarmGrab or something, she would have thrown it his way.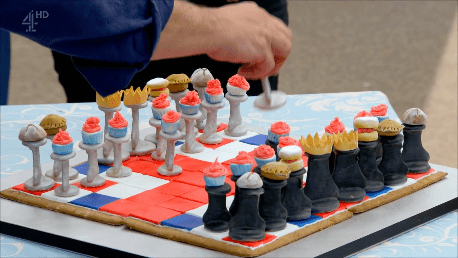 On to Stacey and her cute made-up game, which is well-conceived but poorly baked.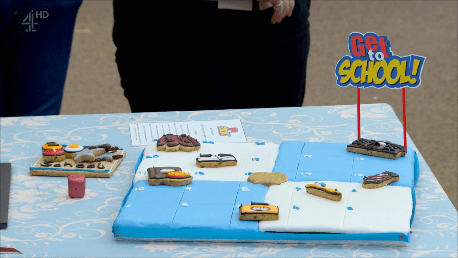 The judges and hosts discuss the bakes, here are my guesses for Star Baker and going home:
Star Baker: Steven
Going Home: Chris
So let's see what everyone else thinks, including people who know what they're talking about!
Star Baker: Steven (of course)
Going Home: Chris. I'm sorry, Chris, but you're top 11 in Britain! With a fantastic compass!
Congrats Steven! Your fondant bits were impressive if you're into that sort of thing. It's interesting, I think he says he's "bullied" himself throughout his life and about halfway through this show I thought to myself: I wonder if he's Annette Bening's character from American Beauty. The scene where she slaps herself when she doesn't close a real estate sale came to mind. I hope that's not the case and I have no idea where that idea came from.
Until next time! Cheers!