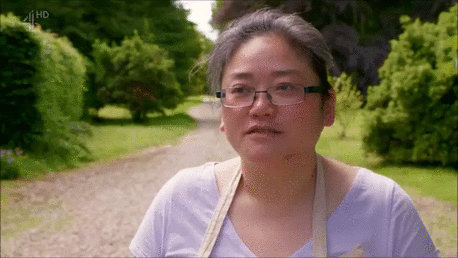 Hello! We're back with the Great British Bake Off for a notoriously tricky set of challenges: Pastry Week. Without fail, someone will go for a full-puff instead of a rough-puff and madness will ensue. Are you ready to watch nice people pound butter into blameless bits of flour? Let's roll into the GBBO S8:E06 Pastry Week recap after the break!
Last week we had a new Star Baker in Sophie Faldo, mostly due to her excellent pudding whatsit that looked a bit like a Cyrillic flag.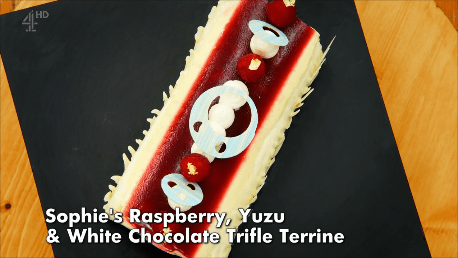 Or perhaps a delicious centipede? Either way, she took the crown and poor James Hillier was sent home after a series of disastrous challenge efforts. I will say, if you had to go home on GBBO, Pudding Week is the one to make a run for it.
Onward!
Hm, I hadn't noticed, but young Liam Charles (I'm sorry, I have to mention his age every time, he's only 19) points out that there are only two men left, himself and Steven Carter-Bailey, who's been the one to watch this season fo sho.
Yan Tsou is all about the pastry, she couldn't wait for this week! Let's hope that confidence carries her through the two days of difficult baking.
Hosts Neil Fielding and Sandi Toksvig introduce the Signature Challenge of the week; the baketestants will be making 4 savory pies with fancy decorating and short-crust pastry.
OOOOOH I make a great tortierre! You should ask for my recipe, it's the best ever, I even did a three-meat testing protocol, very sciency.
Okay, sorry, sorry, back to the professional amateurs.
Judges Paul Hollywood and Prue Leith explain what they'll be looking for, both style and substance, essentially. Lots of fiddly pastry cutouts are important, but they must flake too, which means don't overwork the dough. Never overwork pastry dough. Keep it cold! We're so bossy.
Yan is the first to show us her Nerd Pies which truly sound amazing. I can't wait to see them in edible form.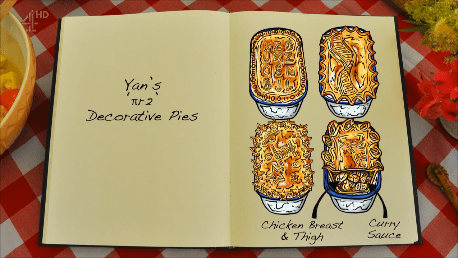 Steven's making two kinds of pastry because he likes to show off and he's kind of amazing. He's making four pies to celebrate Fleetwood Mac…I don't follow. I mean, you can like whomever you like and I sure adore the 'Mac but. He names some of their more obscure songs and I am even more perplexed. However, I'm a simple person, I'm ecstatic that his pies have meatballs in them! MEATBALLS! Genius.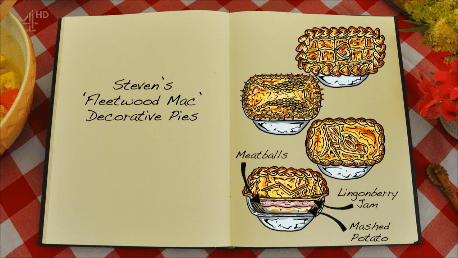 Kate Lyon has complicated pies planned, with celebrity faces on top of people she finds more inspirational.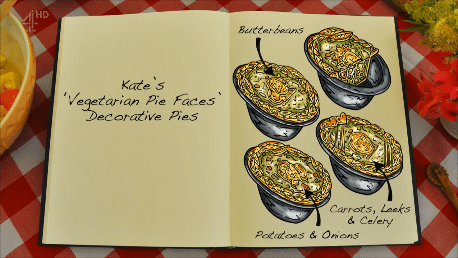 No offense to any fans, but a late deep dive into the particulars around John Lennon's personality indicated he was…kind of a massive jerk. Sure, musical genius and not Mediocre McCartney over there (I'M KIDDING. Sort of) but not exactly someone you'd want to be around a lot or have children with.
Yan has a whole formula written out, the essence of a perfect pie. Sandy loves it but I'm looking at the butter/lard equation and pursing my lips.
Stacey Hart is bringing love to GBBO.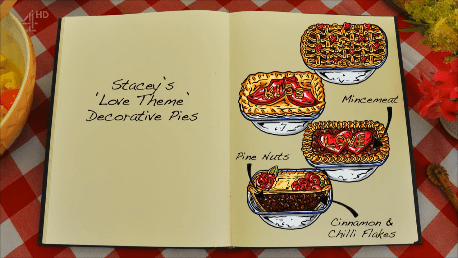 I'm not sure I understand Julia Chernogorova's choice to not cook her sausage meat before filling her pastry. There are a lot of unwelcome outcomes that could result, the most important being raw filling, followed shortly by soggy pastry.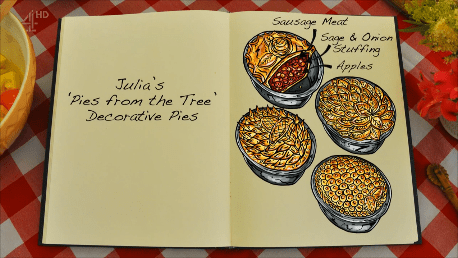 Her theme is Things You Find In Trees, okay!
Sophie is making the four seasons in pie form, but she's blind baking her pies with beans on top of plastic wrap and I am deeply concerned.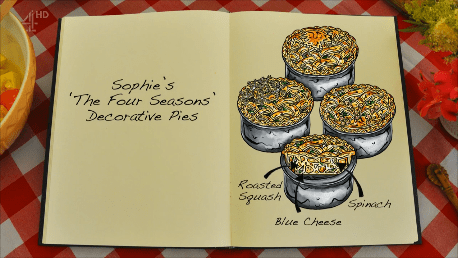 Is it a special atomic plastic that can withstand the heat of the oven while looking exactly like Saran Wrap?
Oh. Liam's using sweet potato in his football club themed pies. What a waste of chorizo and feta.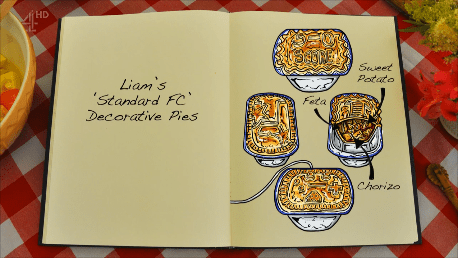 With only 45 minutes left, every baker is running out of time because they're cutting out and braiding and smearing stuff.
Oh gross, Steven mixed lingonberries with mashed potatoes to put on his meatballs and it looks disgusting.
All the pies are in, but there's just not enough time to finish them. Some of the bakers end up staggering the pies, putting them in at different times, but that will affect their colouration and could be a problem. As will raw pies, Kate. Bake, William Shakespeare, BAKE!
Pies are out! Time to judge!
Sophie's up first, both judges absolutely love her pies and designs. She even gets a hand pat from Prue, awww!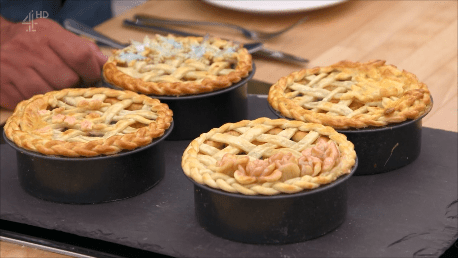 Steven has fantastic decoration, just one pie lagged behind and wasn't as well cooked as the others. The pink mashed potatoes have the unfortunate appearance of raw pork, but they taste fantastic.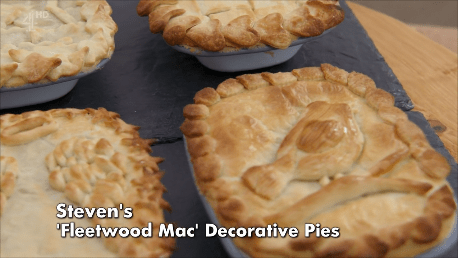 Julia's are burnt, she used baking powder in her pastry and the filling cooked and retreated away from the sides so they don't look great inside.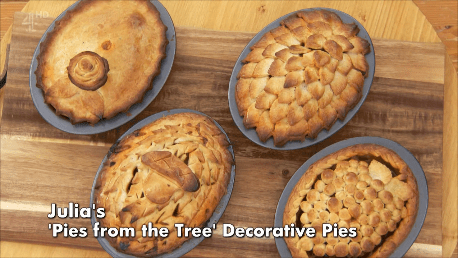 Poor Kate and her raw celebrity faces, pleasant but boring and soggy bottoms besides.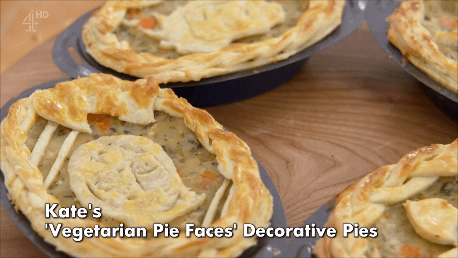 I would love to see Yan's pies if she had more time! The pastry is excellent, absolutely fantastic, yay! Everything else is a bit of a wash, but as she points out: it's Pastry Week, not Dry Curry Filling Week or the like.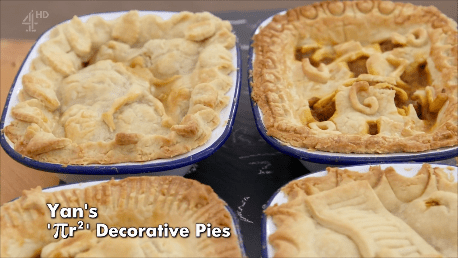 Liam did a great, tidy job of decorating, Paul and I approve. Excellent pastry, a "bit of a triumph!"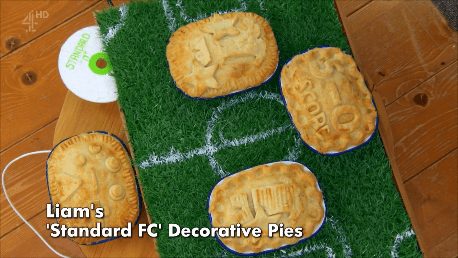 Lookit how pretty Stacey's pies are?! Paul loves them too so Stacey and I stare at his hands but no handshakes today!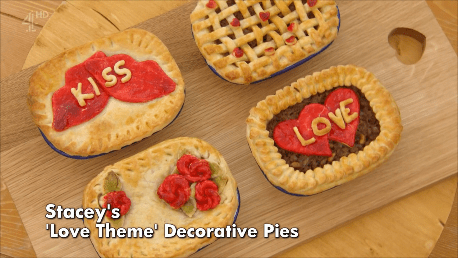 Most people are happy with their bakes in the Signature Challenge, but Kate chafes at being called boring and Yan's concerned people will think she doesn't know how to make pie now.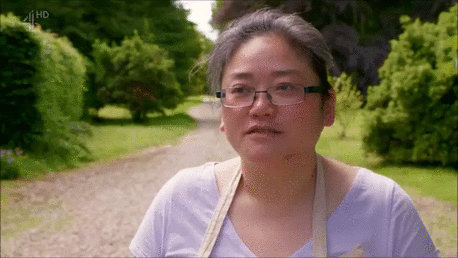 Time for a confusing Technical Challenge, this week Paul is testing the bakers with Portuguese Custard Tarts (Pasteis de Nata), thanks Google! They have two hours to make 12 of the wee silky, smooth tarts.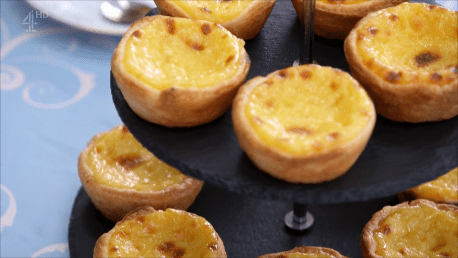 I am concerned about two bakers immediately, Kate and Julia are all feeling up their rough-puff pastry willy nilly and you just can't. You need your pastry to be as cold as possible and using your hands like that is not going to give you the result you want.
Sophie and Steven are going great guns, they know how to do alllll of this. Stacey and Liam roll their dough the wrong way, they're not going to get as puffy as others. I would probably also do that, because I'm so used to making cinnamon rolls along the long piece.
We watch Sandi make Portugese tarts in a manufacturing facility makes a liar out of me with all their dough fingering.
Back to the kitchen, some serious issues with dough and custard means we're biting our nails and staring in oven windows.
Judging!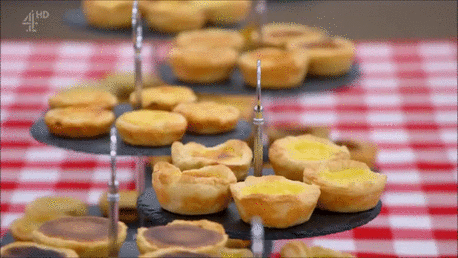 From worst to least worst:
Seventh – Julia – shortcrust not rough-puff
Sixth – Stacey – tiny
Fifth – Kate
Fourth – Liam
Third – Steven
Second – Sophie
And Yan wins the Technical Challenge this week!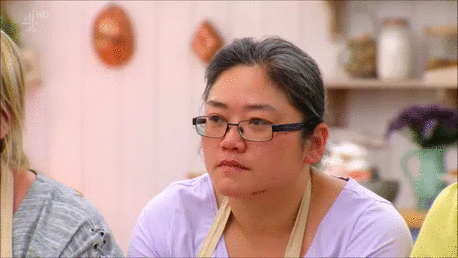 We know Julia and Kate are in trouble going into the final, Paul suggests Stacey is on the bottom as well after that dismal showing in the Technical but I think it's really between the first two.
Time for the Showstopper Challenge! The bakers will be making hand-raised hot-water crust family-size savory pies, wooo! Topped with glazed fruit. Really?
I'm okay with the amount of meat in Sophie's effort.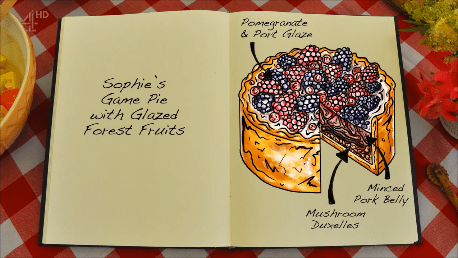 On to Stephen's Christmas pie.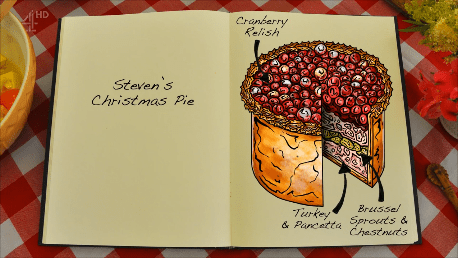 Oh wow, Liam AND Kate are both making turmeric pastry, what are the odds of that?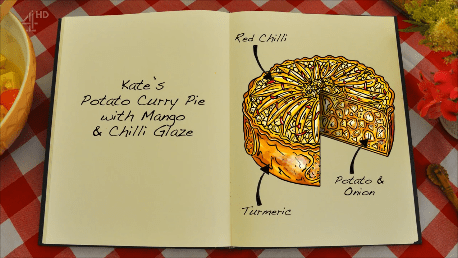 Liam is not following tradition with molding his crust on the outside of something, which makes Paul frown and me start water for a cuppa.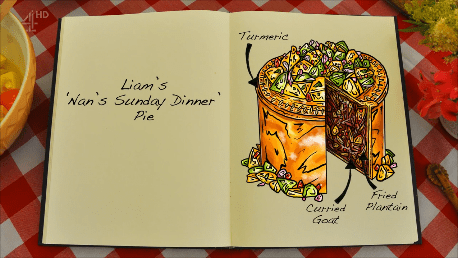 Is it okay if I take a hard pass on the curried goat?
Yan's also molding inside, Julia makes the same stand and Liam changes his at the last minute. I just love Yan's ideas, truly.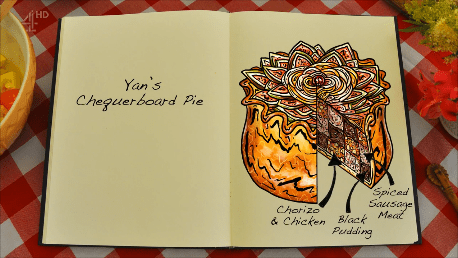 Listening to Julia scrape her metal whisk around her metal pan making her filling is making me check on my kettle.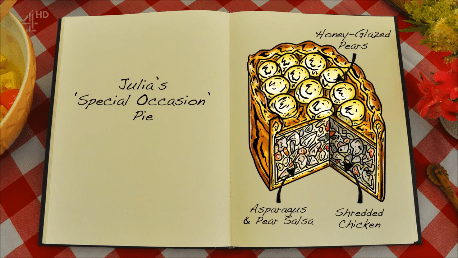 She has a really neat mold, though, she's just never done it this way before, so I'm worried.
I'm all over Stacey's whatsit.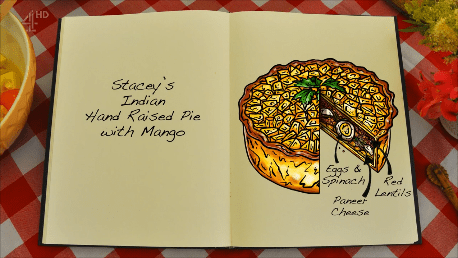 Some of the bakers have a hard time getting their crusts off their molds, Steven is such a good neighbour. Ahhhh I want to make one of these right now!
Something has gone horribly wrong with Stacey's, did she forget an ingredient? Julia has an amazing mold, she talks to Yan, who offers to help her but the mold is clearly the type that comes apart…so.
Time to work on toppings, wait! Look at where we are??
The tent is by a CASTLE?? Is that Downton Abbey??
Oh no, Stacey is in serious trouble but I will not have her go home this week, I will burn that tent down. It has to be Kate or Julia for there to be order in the world.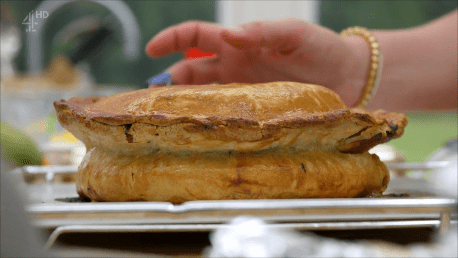 Steven's giant meat pie is in the oven almost until the last second, everyone's over looking at Yan's because the topping is so beautiful.
Judging! Ahhhh Soohie's pie is awesome but there's an issue with a bit of the pastry not cooking through.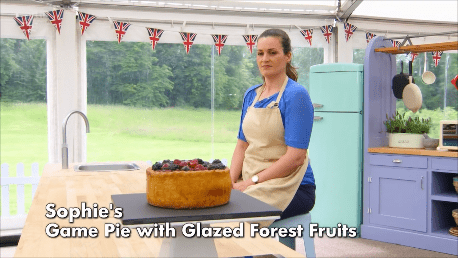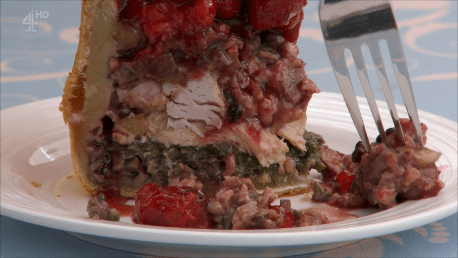 Kate fares better with her pastry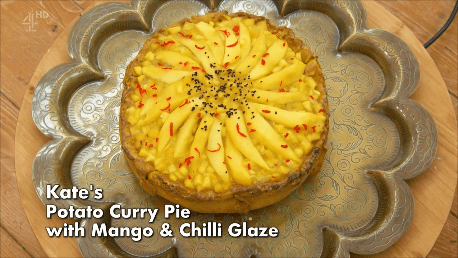 Which is unfortunate for Stacey, who follows that curry mango effort with her own.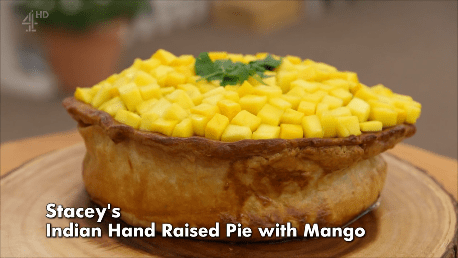 She also left in a bit of parchment in the pie, yikes.
Steven's neat pie is another style over substance effort, looks great, tastes ehhh.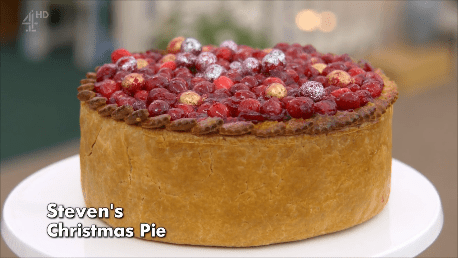 Lookit how pretty Yan's topper is! See what I mean?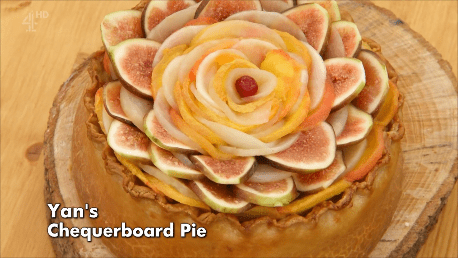 It's even better inside!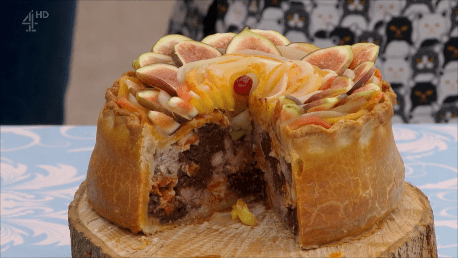 This is a person who can bake pie.
On to Julia's, where everything is overcooked except the pastry, which is undercooked. I think I see who we are losing today.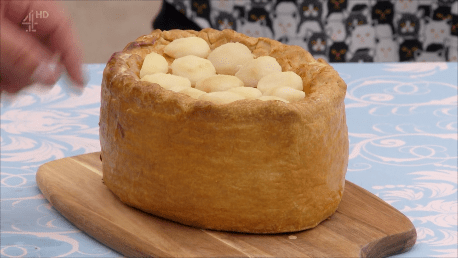 Liam's looks great, he's got a deft touch with decorating.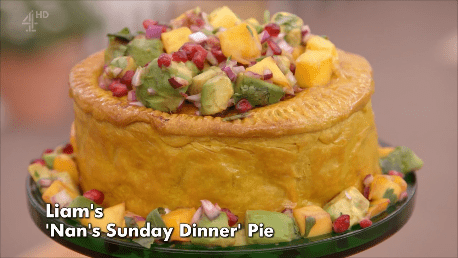 And awesome inside.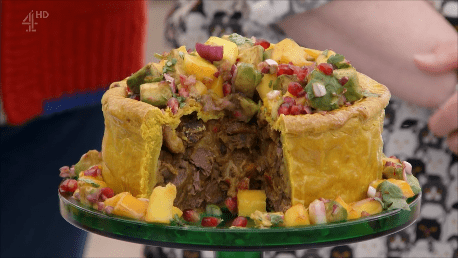 The man can bake. Paul says Liam's nan is welcome to come cook that at his house any time.
So this week, we're crowning:
Either Liam Charles, Sophie Faldo or Yan Tsou as Star Baker
and
Julia will be going home. Like, for sure.
The judges decide: Liam Charles is Star Baker! At 19!!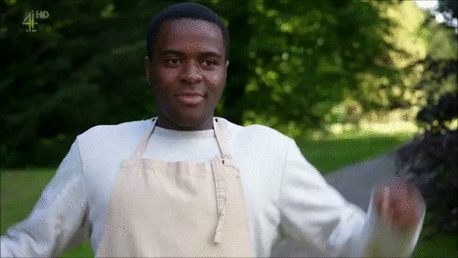 And going home is: Julia, Sandi cries when she says it so I cry and staaapppp! She's an excellent baker, Top 7 in Britain! She's only 21 herself, awww.
Until next time, everyone! Cheers.