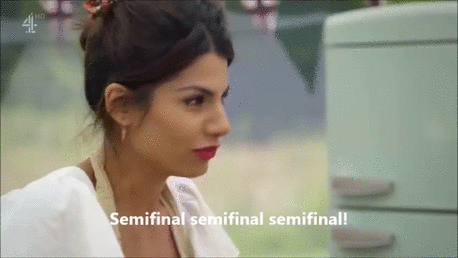 Well hello there! I decided I needed some Great British Bake Off in my life and since I didn't manage to finish this particular series, I'm doing it. Whose with me?? Let's roll into GBBO S9:E09 after the break!
We're in the semi-finals with our final four: Briony Williams, Kim-Joy Hewlett, Rahul Mandal and Ruby Bhogal. I'd be okay with any one of these baketestants winning, but I have a soft spot for Kim-Joy and her tiny and ingenious animal shapes.
It's not only the semi-finals for series 9, it's also Patisserie Week, which is notoriously difficult and will for sure involve at least one mirror glaze.
Hosts Sandi Toksvig and Noel Fielding aren't worried, Noel's half French!-ly dressed, that is.
The bakers file into the iconic Bake Off tent, Briony's got her French gear on, consisting of Eiffel Tower earrings and a blinding amount of red lipstick. I can't look directly at it! Nobody else did anything fancy, thank you for shaking your pom-poms, Briony, I love that you're approaching this with the right level of enthusiasm.
The hosts and judges Paul Hollywood and Prue Leith get us rolling into the Signature Challenge, which is 24 dipped Madelines. Ooooooh, I love a good dipped Madeline! They're to be two different batches, with different designs and flavours. Ooooh, there's more than one design? I had no idea! Broaden my horizons, GBBO!
Okay, still no clue on design but after exhaustive video essays from Paul and Prue, I feel I've learned some key information about Madelines:
You chill the batter, which is a straightforward Genoise sponge (HAHAHAHA like a Genoise sponge is ever straightforward)
there's an important hump on the back, which cannot look like a camel's hump, but rather a "gentle rise" or "bump"
There is just the one type of pan used for making Madelines, whew
Literally every baker talks about the humpy/bump and I am embarrassed to say I've never, ever noticed it before. Everyone's using a modern cheat for that all-important gentle rise: adding baking powder to their flour.
Ruby is questioned first by the judges about her designs, oh I see, you can stuff things in your batter. Wouldn't that make them heavier? Regardless, Paul likes to tease by asking worrying questions, like whether or not Ruby has frozen her raspberries? Shame that…Ruby is a bit of a loose cannon, she has big streaks of brilliance followed by almost cashing out her chips, so I'm interested to see what she does here.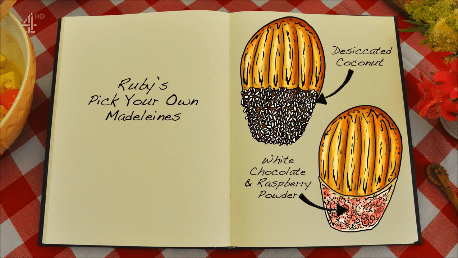 Rahul is doing something very similar but I'm on the fence. He's got hazelnuts but also some white chocolate. I give him a 50/50, which is how many of his Madelines will have humps, according to him.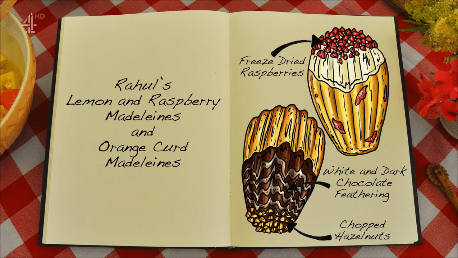 Sandi's over hopefully smelling Briony's lime zest.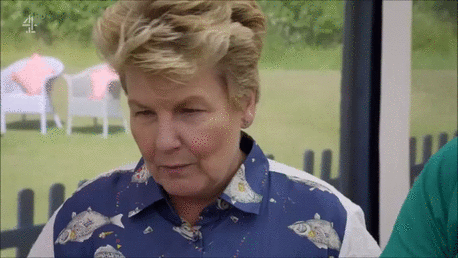 Both of her confections are cocktail-themed, Sandi likes that about her.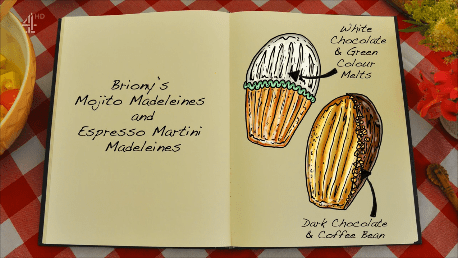 I love Kim-Joy's whimsical creations but watching her chop pistachios means I have to stare at a wall for a full 60 seconds.
Surely there's a baker out there that can handle the business end of a knife, isn't there?
Halfway through! Noel plays badminton? with a wookie? as the bakers pull their batters out of the freezer.
Paul and Prue stand on one side and quietly judge everyone, Paul's not happy about the baking powder but Prue's more worried about the fresh raspberries being shoved in everywhere.
Bakes are in the oven!
Sandi tries to find out how Rahul's feeling about the semifinals, but he talks into his chin at the best of times and now he's talking directly into his oven, so she's getting nothing.
Ruby and Rahul don't think they have humps, but I can see their lovely lady lumps from here so I'm confused. Basically camels over in Kim-Joy and Briony's ovens, surely those must be too high. Do they get smaller when cooling?
Everyone stares covetously at Kim-Joy's Madelines, the first she's ever made, each with a massive hump on the back.
Noel tries to be supportive to Rahul, but gives us the skinny.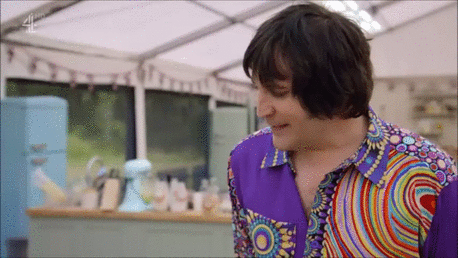 Decorating time! Kim-Joy works on here bunnies while Ruby tries to shellac hers with over-thick chocolate.
Judging! Nervous Rahul is up first, Paul thinks they look amazing.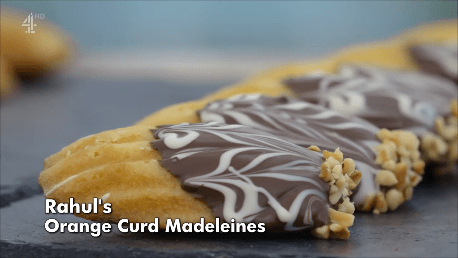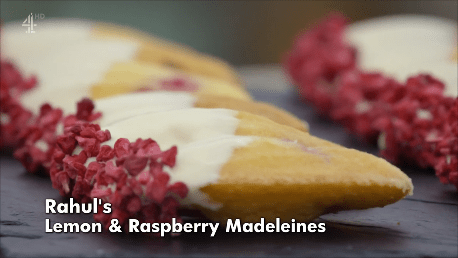 I will say, that's sort of how I imagine Madelines, not with this giant bit in the back. Ah! Paul says his hump is the perfect size and that's what I just said! As someone I once knew said: it's not the size, it's the shape. They're also delicious, another case of Rahul being all nerves for no good reason. You cry wolf too often, my son.
On to Ruby, oh, these look awful. I'm sorry. She's got no line definition and the decorating can only be described as unfortunate.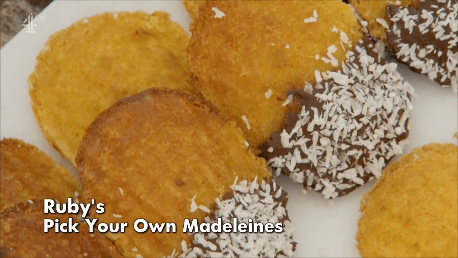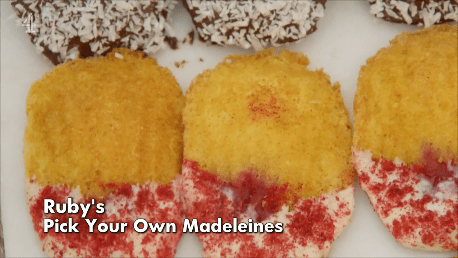 I like a woman with a sense of occasion, Briony's done hers up in martini glasses.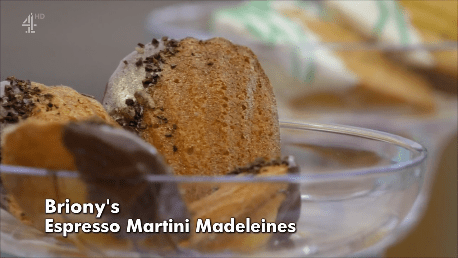 The lime/mint ones don't taste of either, however, but the espresso martini Madelines come through for great flavour.
Kim-Joy's hump is all camel, no matter that people were staring at them. This is the baking powder that's done them in, but they are adorable.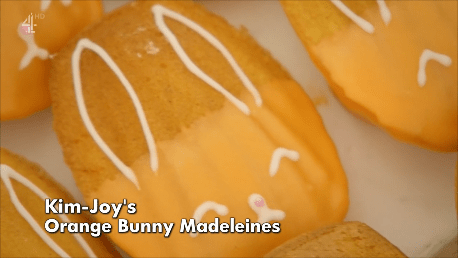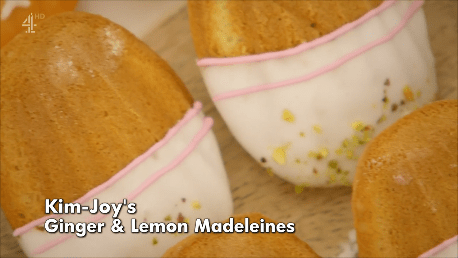 The flavour is best in the orange ones, the others don't come across as well and we're done the semifinals Signature Challenge with Rahul the clear winner. Again.
Prue gives us the Technical Challenge today, the bakers are advised to use their freezers for…a Torta Setteveli. Thanks, Google! It looks like a two-layer chocolate cake with maybe a mirror glaze (I TOLD YOU). But wait! There are actually seven (7) layers in this cake because apparently Prue hates every single one of them.
Let's listen to her cackle with glee as she explains the level of difficulty!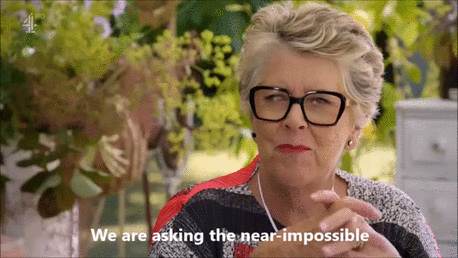 Look how gorgeous this cake is! I forgive you, Prue!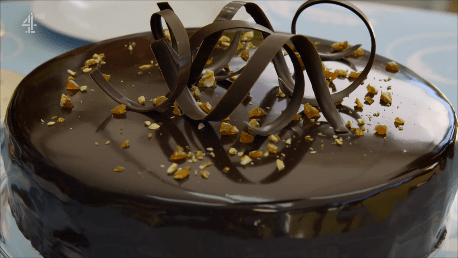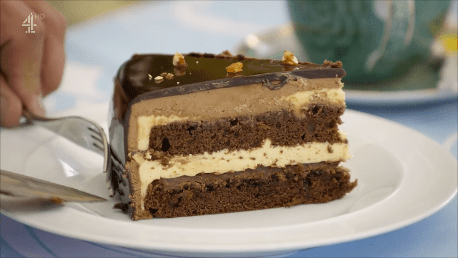 (Because I don't have to try and bake it, on TV, for the first time from a blind recipe)
Briony calls it a "really posh Rice Krispies Cake" and now I must have one.
Kim-Joy falters in the chocolate mousse stage and has a cry in the corner, it'll be alright, Kim-Joy! Slap a gorgeous mirror glaze on and nobody will be any the wiser!
Kim-Joy has made a mirror glaze before (the secret is the water), but Briony hasn't and even she notices her "gloopy" glaze probably isn't going to reflect anything other than Paul's disapproval.
You can tell when baketestants run into trouble in the Technical Challenge, they start craning their necks around trying to see what everyone else did.
Oh Rahul.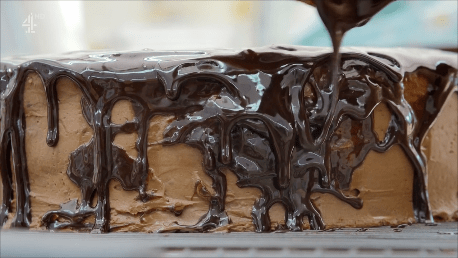 On to judging!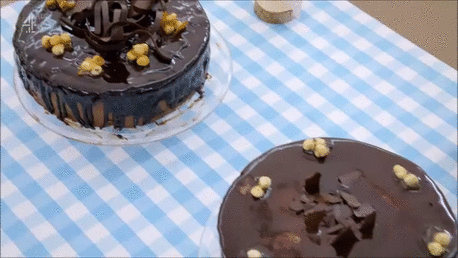 From worst to best, we have:
Fourth place – Rahul – "can't eat that chocolate cake – too rubbery"
Third place – Briony – "incontinence pants"
Second place – Kim-Joy – excellent, save for the missing mousse
First place – Ruby – "beautiful"
Ruby does great at Technical Challenges, woman can bake.
Back to the hotel for everyone, tomorrow is the Showstopper Challenge and that will decide the final three!
Whaaaaattttt do you know what the Showstopper is this week? A Parisian window filled with THIRTY SIX (36) patisseries. In one five hour period and hey: why are the hosts and judges wearing the same clothing? Is that for editing? I mean, that tent gets pretty hot, you'd think they'd want to launder.
They've got an extra hour, but three types of pastry to make and that's no joke.
Most of the bakers are making "rough puff" pastry, which does not involve banging cold butter into your dough, but rather grating it. Briony is going the full Monty.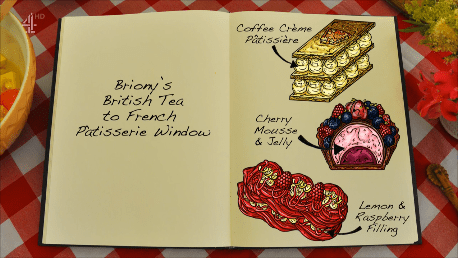 Rahul is focusing on cheap and cheerful.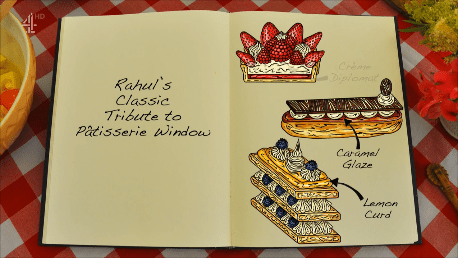 Paul does a creepy thing where he sneaks up and tastes Rahul's creme pate without saying a word and walks away, that ain't right.
Onward our bakers forge, struggling through such challenges as over-thick choux pastry, unpuffed-puff pastry and underdone tartlet shells.
I love Ruby's designs!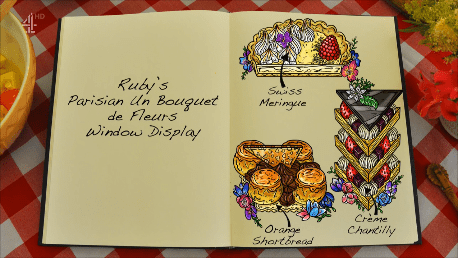 Of course Kim-Joy's are beautiful as well.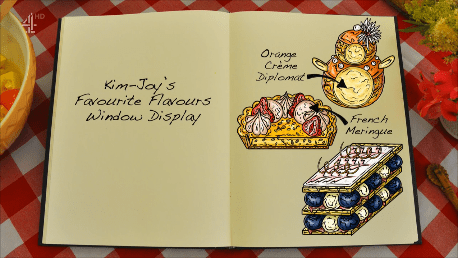 I fear for Briony and her puff pastry, it's very puffy, underbrowned and not nearly cooked enough for someone who needs the oven-space for choux pastry. It comes out raw and doughy in the middle.
Decorating time!
*Pedant alert! I used to refer to this type of observance as related to OCD, but have since been chastised for using words that have clinical meanings in a social way, so I will just say that watching bakers place unwashed fruit directly out of the carton onto their bakes is driving me MAD.
Oh yikes, more trouble for Briony, her choux pastry is fun-shaped and fun-coloured but also burnt. Time is up!
It wouldn't be Bake Off if someone about to go home didn't whisper encouragement down the aisle at the likely winner.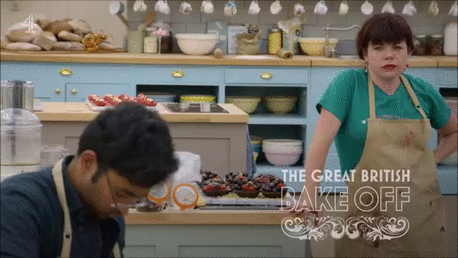 Kim-Joy is up first for judging.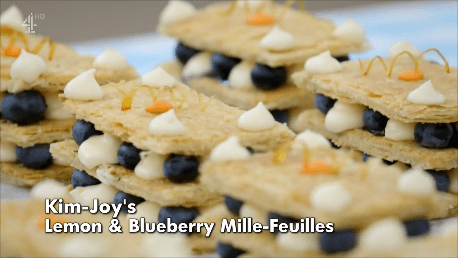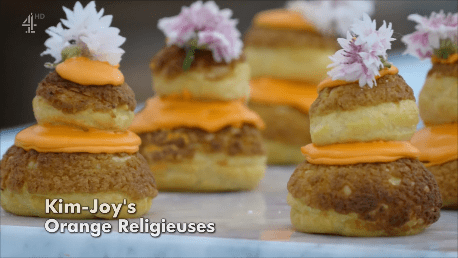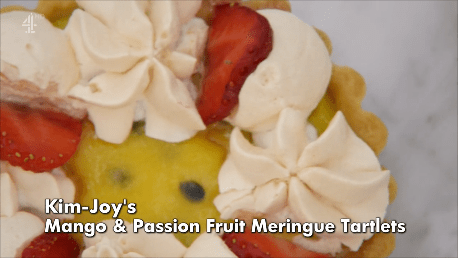 Paul starts off telling everyone that their treats are oversized, he wanted small and delicate. If only he'd communicated that prior to everyone baking their arses off for five hours. He moves on to complain specifically about Kim Joy not putting anything fancy on her mille feuille because he is determined to make her cry. Well, she doesn't, so there, getting middling reviews overall.
I think Ruby's look gorgeous. They agree, she's done really well except for a couple of minor things. I'd bet money she's making it through to the final and I would not have expected that going in.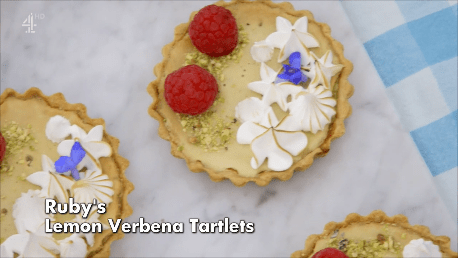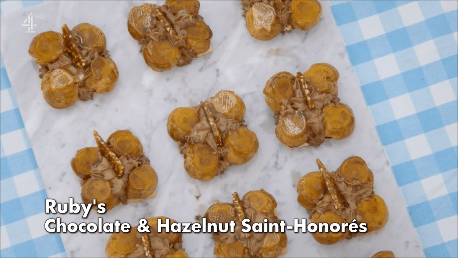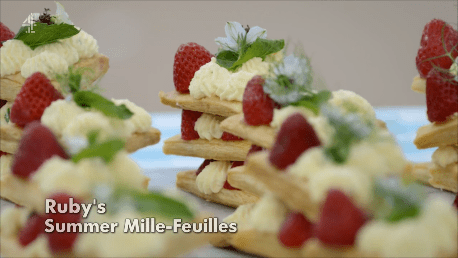 There is not going to be a lot of good news for Briony, I'm afraid.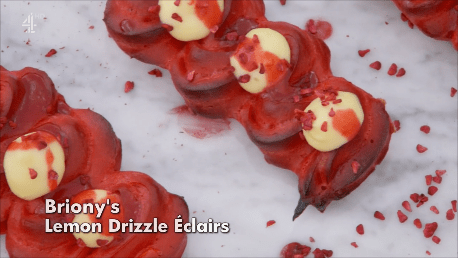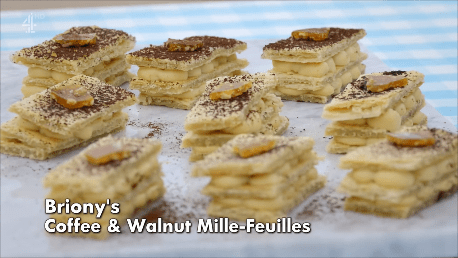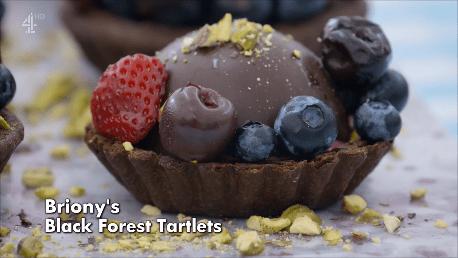 The judges reach for positive things to mention, but there's too much salt, the pastry is chewy and mousse is not set: this is just not her day. You're a fabulous baker, Briony, I appreciate you.
On to our last baker of the day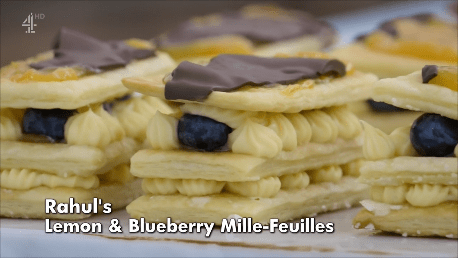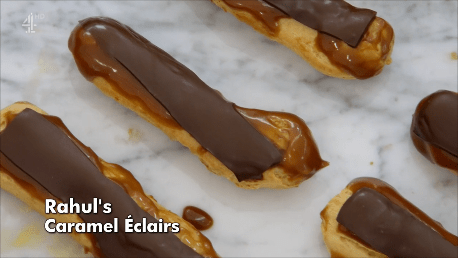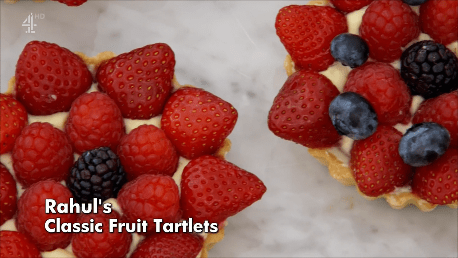 Paul is personally offended by Rahul's unglazed fruit, out there tasting like fruit and not sweetened at all with sugar made from fruit. I love eclairs and I wouldn't eat his, they look as though they could clear out a public swimming pool. His mille feuille looks awful but tastes amazing, so he's got one out of three.
The judges deliberate, then we have our announcements.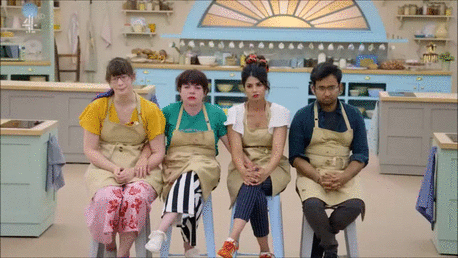 Star Baker: Ruby Bhogal! I knew it! She did a great job!
We try (unsuccessfully) not to cry with Sandi Toksvig as she tells us who's going home:
Briony Williams and I am sorry to see you go, young lady. You did an excellent job on days where you didn't mix up the salt for the sugar.
Group hugs all around, Kim-Joy was hoping Ruby would get Star Baker, because that means all three of them going into the final have two each. It's so balanced! I'll see you next time for the series 9 final where Ruby goes up against Kim-Joy and Rahul in an epic outdoors battle of the bake. Cheers!