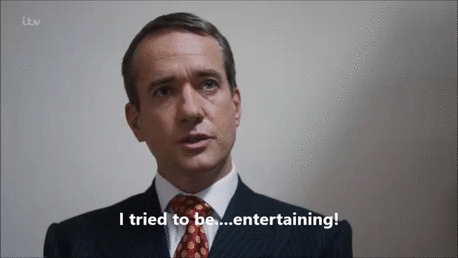 And we're already at the end of Quiz, wooo! It's been such a fun show, I'm sorry to finish it but I'm looking forward to the last installment. Without any further ado, let's roll into the Quiz finale!
We open at Mensa headquarters, where our millionaire Major is applying to take the test. The Mensa coordinator makes it obvious (in a very English way) that this is a ridiculous waste of time, but Charles Ingram (Matthew MacFayden) persists and is successful. He wears his Mensa pin to court where he is being tried for being a coughing moron.
Floor Manager Kerry (Maggie Service) testifies of Charles and his wife Diana Ingram (Sian Clifford from Fleabag!) were not as happy as they should have been after winning a million pounds, she overheard them fighting. Why is this relevant? Floor Manager Kerry has a theory about that!
The Ingram's solicitor Sonia Woodley QC (Helen McCrory) listens politely then holds forth on the vagaries of memory and its elastic qualities. She asks the jury to set aside the tendency to gravitate towards a sensational answer for what happened and instead accept that perhaps the truth is that the Major just knew the answer to those questions.
We go back to September of 2001 when the Ingrams are being brought into jail and interviewed, together. That's odd, isn't it? To interview two alleged members of a conspiracy together? Charles did not know Tecwen Whittock (Michael Jibson), their co-defendant, but Diana called him heaps of times before he ended up sitting in the chair behind Charles coughing portentously.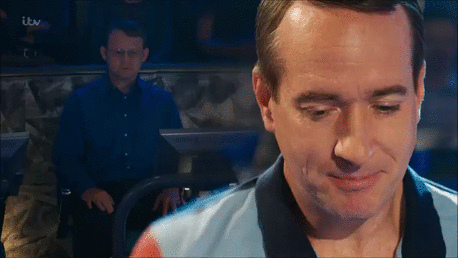 She called him the night before AND the morning of the big show.
They get home from the police station to a scrum of media outside their house so they can fight about Diana's brother and fellow quizee Adrian Pollock (Trystan Gravelle) again. Charles is quite certain he didn't cheat, but he's starting to wonder if his wife did.
But..if Charles wasn't using the pagers or listening to coughs, there is no cheating, perception or otherwise. It doesn't matter if Diana tried to help him or not, if he wasn't aware of it, he didn't cheat, right? You can't do that accidentally.
They hire Sonia Woodley, who believes their case, the way they were arrested is usually reserved for murderers and pedophiles. Someone is clearly out to make an example of them.
It's not much fun over with the showrunners either, Paul Smith (Mark Bonnar) listens to his team come up with different lame ideas with a sense of loss; they're the talk of town and not in any way good.
We're back to the beginning, with Tecwen introducing himself to the Ingrams as Claudia Rosencrantz (Aisling Bea) settles in to watch the legal shenanigans.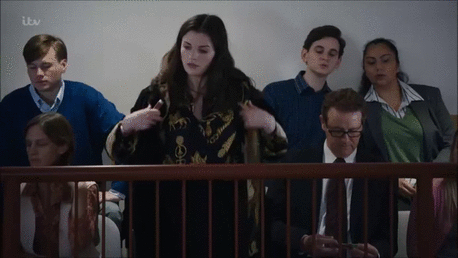 (They're ITV! That's what's funny!) Head of Programming David Liddiment (Risteard Cooper) next to her is not as excited.
Onward the Crown Prosecutor rolls, covering the same territory we already saw (Craig David is awesome, honestly, check him oot) with sound tech Kevin Duff (Andrew Leung! We finally get a character name!) and then handing him off to Sonia Woodley for cross-examination.
She brings up the important point that they, the Plaintiff, edited their tapes to produce this version G, in which someone appears to cough "no" at an answer.
Another witness is Fastest Finger contestant Larry Whitehurst (Scott Handy) who'd been watching Tecwen the whole time and didn't stand to applaud Charles when he won.
This can't be actual testimony, can it? Everyone's just spouting wild theories with no evidence. Everything I know of criminal legal issues is from my TV Detective Certificate, I really must protest.
Sonia takes a pretty good run at Larry, but withdraws her line of questioning before the judge can rule on it. You can't unring a bell, as you can't unhear a cough, seems to be her strategy.
On to the police on the stand, who dove deep into the Ingram phone records to find all those calls to Adrian's 4 pagers. That's a significant number, because there are four multiple choice answers and if Adrian had been able to get a signal, perhaps he could have assisted Charles.
(But they keep saying that Diana made those calls, they can't know that, we saw her call from her kitchen phone. Am I being nitpicky? I am)
*I can't stop noticing the coughing! The jurors, the prosecutors! It's out of control! Someone get that juror some water.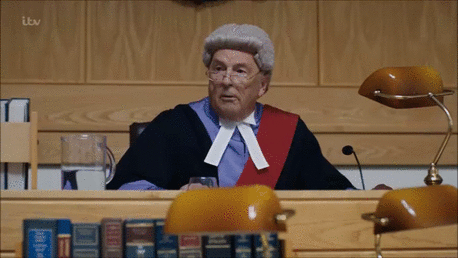 Then even Judge Rivlin (Michael Elwyn) starts up and the session has to be stayed.
A defeated Sonia sits with the Ingrams outside court before heading to pick up their daughters from school. Their car is egged by former friends of their kiddos, they may need to pull them out of school.
Diana and Charles try to figure out what to do when Adrian calls to nag Diana about her book again, SHE NEEDS SOME SPACE, ADRIAN! Stop calling!
Chris Tarrant (Michael Sheen) is on the stand entertaining everyone.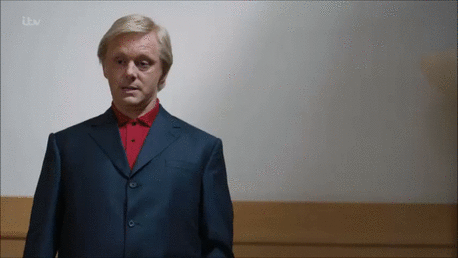 Sonia's there for business, she asks how much he knows about the questions being asked and what kind of guidance he's allowed. He tells us about the general security of the questions and then she gets specific. Did he hear any suspicious coughing the night of? He did not.
Ohmigosh, Buffy, the Ingram dog is shot with a pellet gun and dies. To kill a dog??
Charles is spat on while running, his commanding officer seems somewhat understanding about his arrest for defending himself but he is put on leave in tears.
It's time for the Defense case! Judge Rivlin takes a lozenge as Sonia interviews a doctor who tells us of Tecwen's uncontrollable cough, literally not controllable and how unlikely someone would use him for strategic coughing.
Paul Smith has been compelled to testify, he enters in time to hear Tecwen's testimony. Tecwen's…not had a great life, or done very well on game shows, and he denies being the third mastermind in this complicated conspiracy.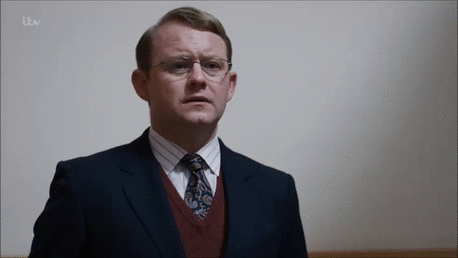 Paul Scrolls through message boards for fans of Who Wants To Be A Millionaire? noting Paddy Spooner's (Jeremy Killick) name and number.
Paddy is surprised and suspicious when he sees Paul waiting for him in the pub, but when he realises that Paul comes in peace and curiosity, he stays for a pint. I think he just wanted to show off his system.
Paul is shocked at the breadth of the collusion between the players, hundreds of whom Paddy Spooner has helped get into his chair. All white, all middle to upper class, accounting for 10% of all the money won on the show.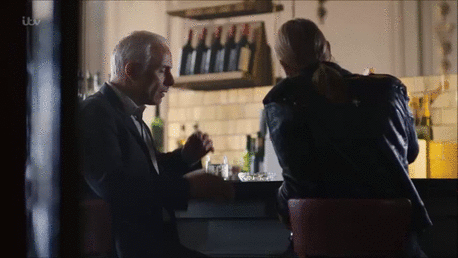 Paddy's hanging it up and getting out of the Truth Market, he's smelled what the Google is cooking and he's cashing in his chips.
Just one thing: Charles was not Paddy's client.
Diana is on the stand, explaining about calling the pagers. She never knew which one was charged while her brother was on the lam, that's why she'd call all of them. She was looking at the monitor not to see an opportunity to cough urgently at Charles, but rather to be able to see his face.
She helped him train for the show.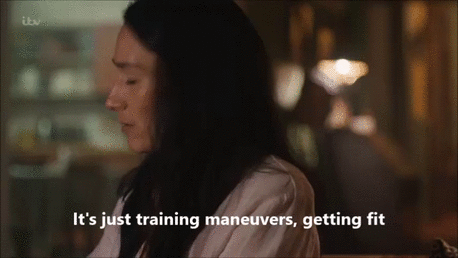 WAIT. He knows who Craig David is!! Best part of the show for me, so far.
Yeah they chilled on Sunday!
Oh wait! There's a dance number! I spoke too soon! Awww I love a good show tune.
Back to court, where Charles has taken the stand and is explaining about forgetting Craig David at the crucial time. He swears, he didn't cheat.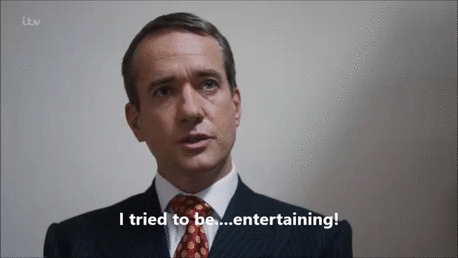 Paul Smith is on the legal hotseat answering to Sonia as to why his tape was edited to highlight 19 of the 192 coughs recorded that night. She points out his creative choices and narrative choosing then we're on to the videotape of winner Judith Keppel whose turn was also rife with coughing.
Paul defends his identification of Charles as a problem when nobody ever questioned the other winner; why him? Paul says Charles played his game so weirdly he had no choice but to think it was rigged. However, Paul didn't actually see Charles play "his" game. Paul is deeply emotionally invested in his game, he can't separate what he thinks Charles and Diana did to his game from himself.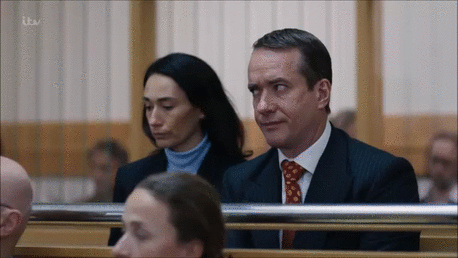 Sonia's closing arguments focus on confirmation bias, where you see what you expect to see and in this case: what the whole crew expected to see. Except for Chris Tarrant, who wasn't connected to anyone else, was the closest to the player and didn't suspect anything. She shreds the case as carefully as the prosecutor built it, fibre by fibre.
Tecwen, Charles and Diana are all found guilty. Their sentence is only 18 months and its suspended, which perplexes everyone.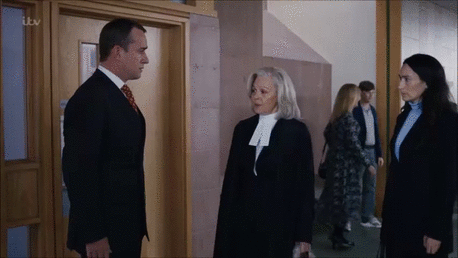 They're free to go home, without money or jobs.
ITV carries on with its event programming, Martin Bashir makes them loads of money and we see the real Charles and Diana Ingram navigating the scrums of media and protesting their innocence. I'm slightly frustrated because it was reported that they've just roused up their appeal 17 years later, but that doesn't seem to be the case. They never accepted the verdict and have been appealing the whole time. What an unfortunate life and tragic perversion of that was supposed to be entertainment: a quiz show. Huh.
I will say I quite enjoyed Helen McCrory, just got completely lost in the show watching her and forgot to write anything down or look for gif opportunities, so sorry for that!
Until next time, everyone, cheers.