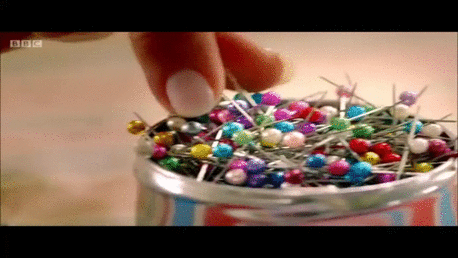 It's my second episode ever of the Great British Sewing Bee, I'm loving it! Aside from the fact that I can't find out the contestant's last names, it's been aces. Are you ready to roll into the second episode of the sixth season? Let's find out! My recap of GBSB S6:E02 Holiday Week is up after the break.
Last week, we lost Angillia to the Curse of the Unfinished Sleeves but Matt reigned supreme with his garment of the week, a mustard-colured tea dress reminiscent of a 70s revival of an Agatha Christie play.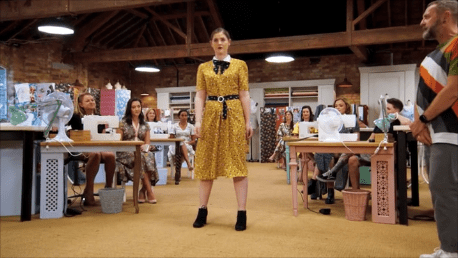 It WON.
But this week! This week we're going (sort of) modern with Holiday Week! Nicole is very excited, she's into shiny, bedazzled clothing with stretch.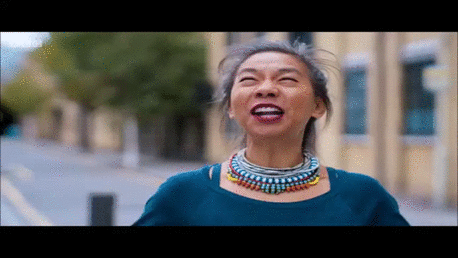 Dancer Alex got through by the skin of his teeth, he better step that sewing up, y'all! Host Joe Lycett introduces our judges, the right honourable Esme Young and the right dashing Patrick Grant. They'll be making all holiday clothes all the time today and tomorrow.
The one thing that's very different from the Great British Bake Off is the setting, whereas GBBO is set in as pastoral a scene as possible, the Great British Sewing Bee is completely industrial. I can see lorries belching smoke any way I look.
(Hee hee hee I said lorries like a real English person)
Esme explains the Pattern Challenge, the home sewers will be making a pair of women's palazzo pants in 3 and a half hours. Esme strongly suggests using a print and they'll be checking pattern matches closely.
The only thing I have to say about that is you should wear either matching underwear or no underwear under them if they're sheer. SAYS A FRIEND.
There are a couple of tricky bits to the pants; they need to have an invisible zipper and pockets and consist of ten separate parts. This does look complicated.
Ali's chosen a beautiful flowered fabric, we get a vignette of her sexy golf clothing. You know Ali, we just met and I'm not going to disagree with you, I'm just going to ask if you sincerely think those three words go together.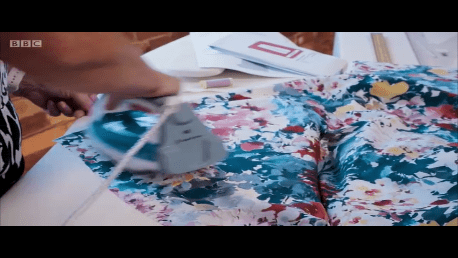 Alex has chosen a more muted print, did you know he's a university student as well as a competitive ballroom dancer? Me neither! He says his university classes on Artificial Intelligence help with his precision and I don't want to to be a dick but he put the zipper on backwards AND wrapped his skirt the wrong way last week. He may not have studied what "precision" means yet.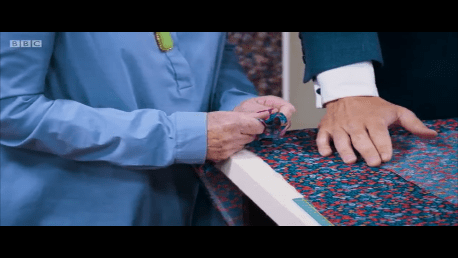 Mark thinks he'd absolutely wear these pants on holiday.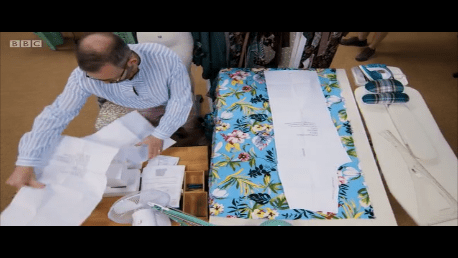 He's got a great fabric choice, two adorable dogs and a lookalike husband.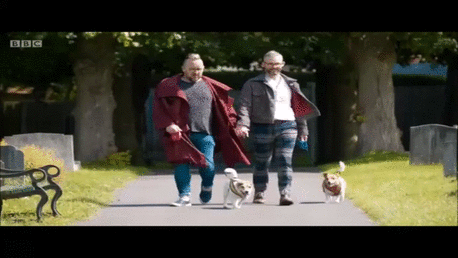 I'm sorry, now that I have a dog all dogs must be captured for posterity.
Hazel is all about the African wax-prints, she works on pattern matching while we make awwwww faces at the pics of her matching family outfits.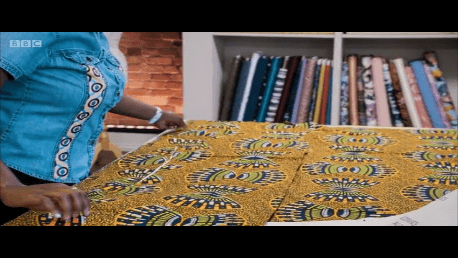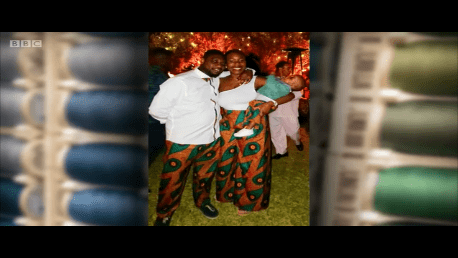 Oooh Fiona has a great material, I love that! She's worried about pattern matching too, of course, but I think it's going to look awesome.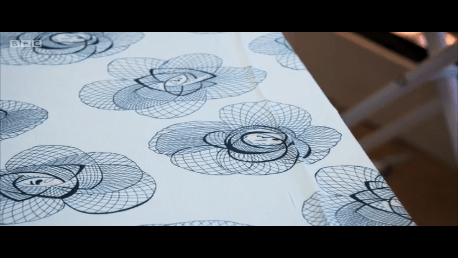 Therese has found a regulation attractive print.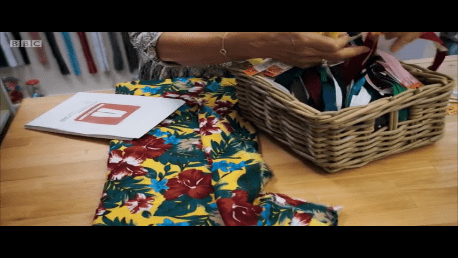 Matt's going with an animal print, I expect this sort of thing from Nicole, sir, honestly.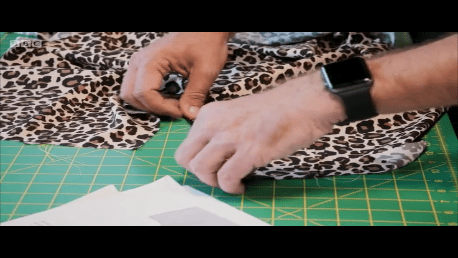 Clare is our retro young lady, she'd look right at home in Home Fires, absolutely. She's chosen a super boring print and I am concerned.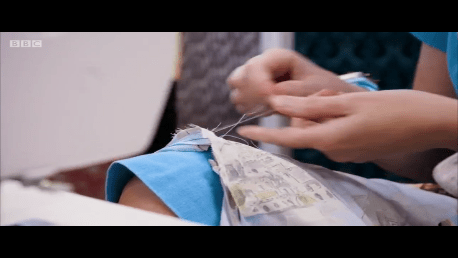 It sort of looks like a print that's been dipped in tea or left out in a dirty puddle of water, yes? Too subtle to make an impact.
Oh. Maybe it was just that part.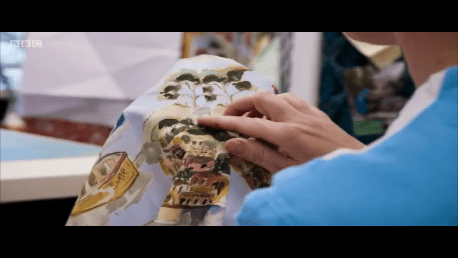 Fiona is lagging far behind, she hasn't hit her sewing machine at all, thanks to her slippy crepe fabric.
One and a half hours to go! Ahhhh, what did I say about Nicole's fabric choices?? On the far left you can see a cheetah or something print, that's her contrast fabric to go with the red flowery bit on her table! It's like I know her…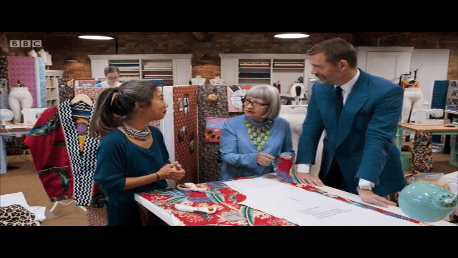 Peter's using that same fabric for contrast, wow, I would not have thought of that for palazzo pants but three of them have done just that.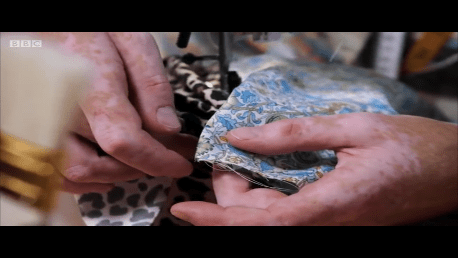 45 minutes to go! Liz checks her tiger's bum.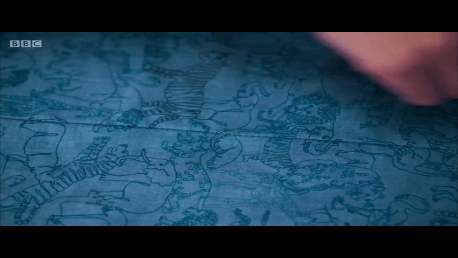 What a subtle print! I don't think that's what the judges meant but I quite like it.
Fiona has mastered a triumph that literally nobody will see, as it's inside the invisible pockets.
Joe sings Tom Jones songs for Alex for encouragement (technically, Alex asked for whale songs but we got "Sex Bomb" which is clearly the better choice) and suddenly we've only 15 minutes!
Then it's one minute and everyone's mannequin's bums are hanging out, its chaos!
Judging time!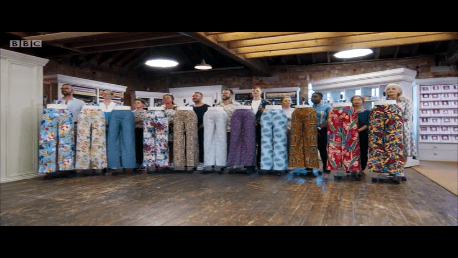 Clare is first with her…pattern. Her palazzo pants are 'perfection!'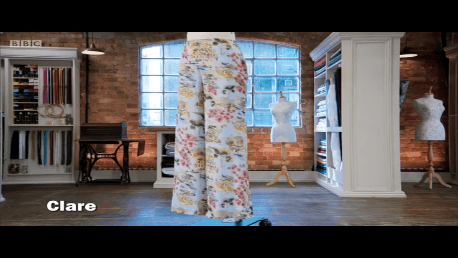 Therese also did well.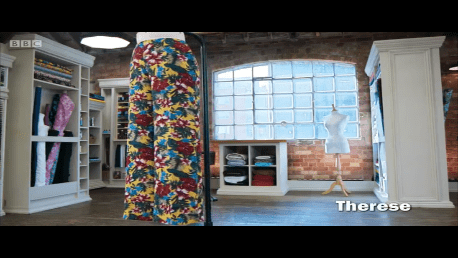 I think Liz has used the completely wrong fabric, they're not flowy at all and the print is not the sort of print you want on palazzo pants. You don't want someone scooting up close to make out the tiger's bum on your hip. Or do you?? Esme is happy with Liz's superb pattern matching, so let me shut up.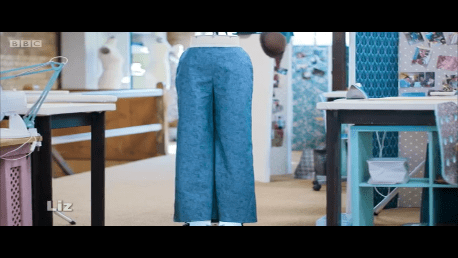 Mark does great, everyone's knocking this challenge out of the park.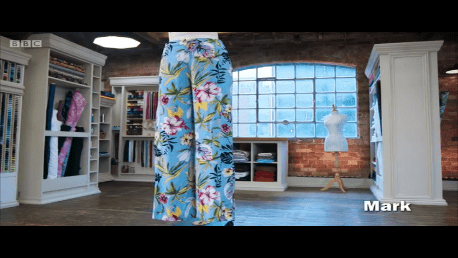 Matt is the first of our leopard pants, 'not a bad go.'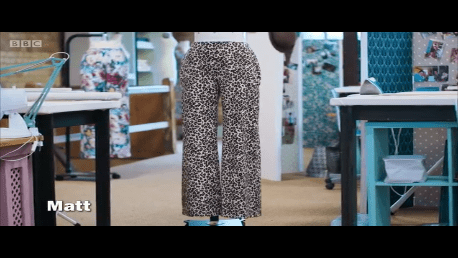 Alex's pants look wonky, no? The zipper's stitching popped as well.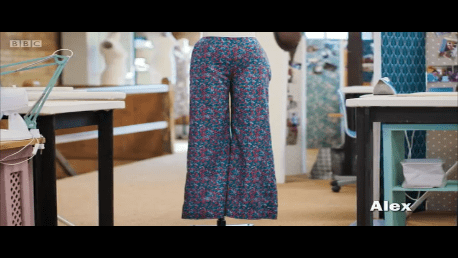 Patrick looooves Ali's pants.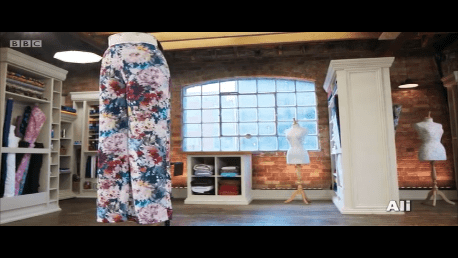 Peter went for a contrasting leopard pocket, but his alignment is just a little off, so it doesn't work.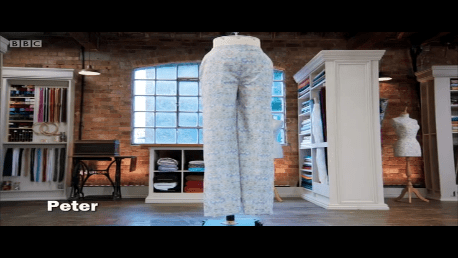 Hazel's pattern matching wasn't as accurate as it could have been and her pockets are misaligned as well.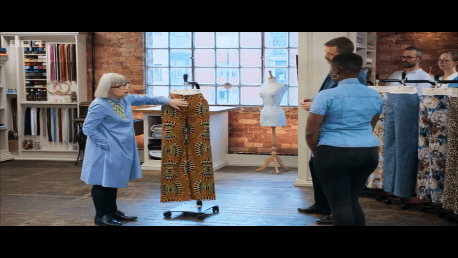 Worse than that, Nicole used contrasting material for her facing, that shows up starkly and does not look great.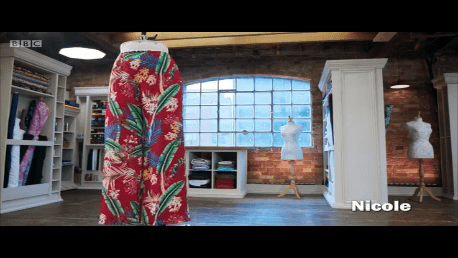 Let's see how Fiona's slippy material made out! Well, for starters the waistband is all over the place.
She asks about if her pocket mistakes are because of the facing, Esme goes for a burn.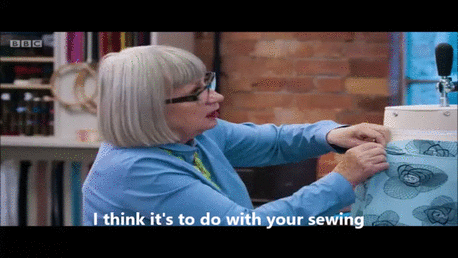 In order from least best to best, they are:
11th place – Fiona
10th place – Nicole
9th place – Hazel
8th place – Peter
7th place – Alex
6th place – Liz
5th place – Matt
4th place – Mark
3rd place – Therese
2nd place – Clare
And Ali wins the Pattern Challenge today!
Fiona is concerned after her showing.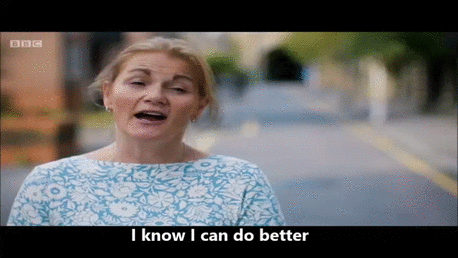 After lunch alfresco, our home sewers are back in the studio for our Holiday Week Transformation Challenge. They have 90 minutes, two towels and all the haberdashery they can throw on to make a ladies garment. Go!
Now, one of the towels can be this thinner sort of scarf-like material, so they're not completely in TerryTown. Liz is using something that looks like a burlap sack and talks about making her own diapers for her adorable daughters. Ohhhkay. Then she frays all the seams because apparently that's unexpected for burlap sack dresses.
As far as I can tell, only Hazel is using something recognisably a towel. Oh no, wait,Clare has as well, she's got an adorable little jumper with a hood. Think Sean Connery in Goldfinger.
There are literally yards of pink pom poms everywhere! This haberdashery is probably the most fun part of the Great British Sewing Bee, isn't it? Like fabric shopping in Mood on Project Runway or romping through the storeroom in Next in Fashion.
5 minutes to go, now the pom poms are really flying! Joe helps everyone, he's right in there.
Judging!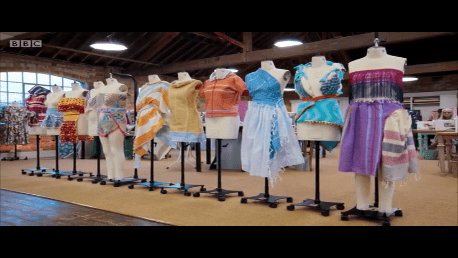 Huh. Hazel. That's quite a lot going on.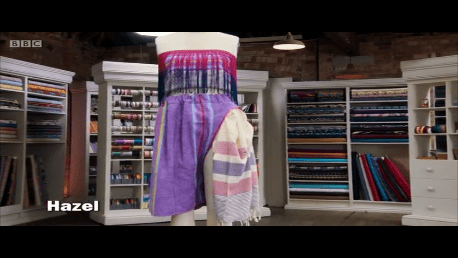 Ali did three layers of pom poms, all with their own elastic.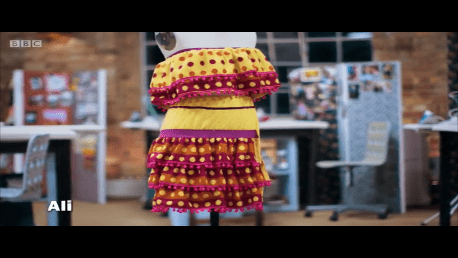 Same pom poms for Nicole! Just somehow more subdued.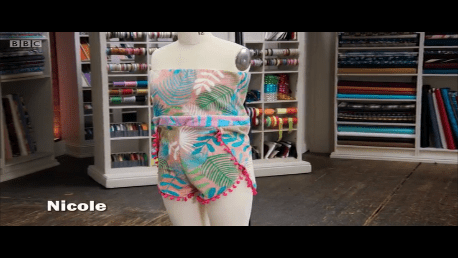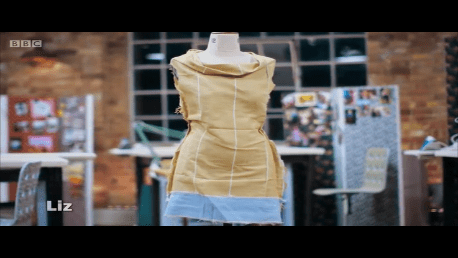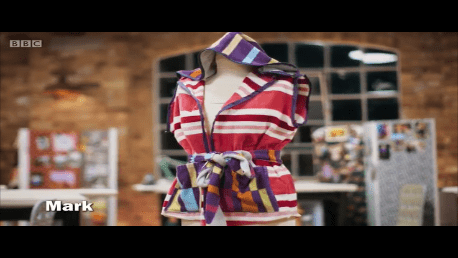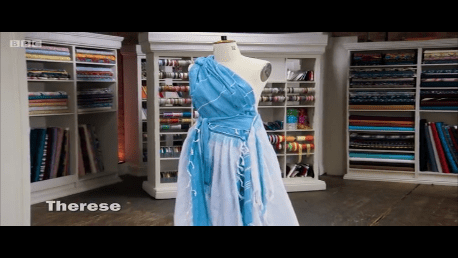 Oh I love Peter's. He's got great dress sense.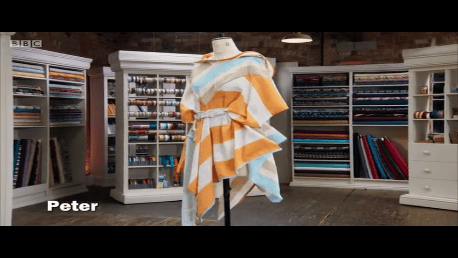 Oh. Clare just did the top. It's very cute.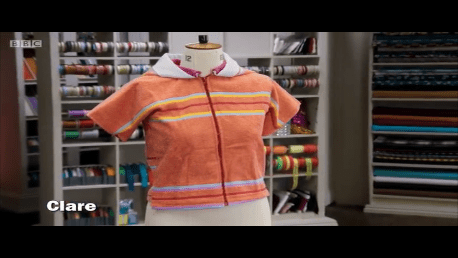 Wow, I hate Fiona's so very much.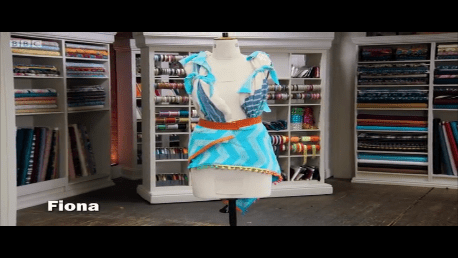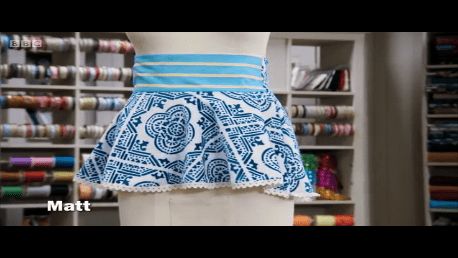 I thought there was more to Alex's…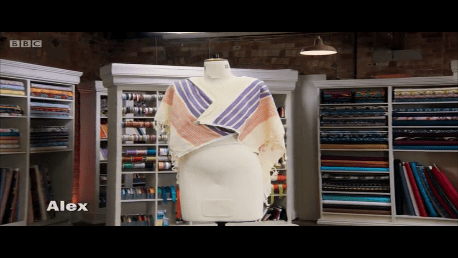 And that's all of them! From least best to best, we have:
11th place – Matt
10th place – Alex
9th place – Fiona
8th place – Clare
7th place – Mark
6th place – Liz
5th place – Ali
4th place – Therese
3rd place – Hazel
2nd place – Nicole
And Peter wins the Transformation Challenge again!
Alex feels the jaws of fate breathing down his neck.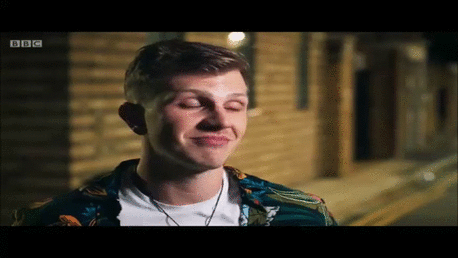 Is that…what jaws do? Or am I thinking Fickle Fingers? Hm
It's opposite to last week for the Made to Measure Challenge, we've got men waiting for our sewers in the sewing room! Tattoos and muscles abound, I'm always surprised how modern men look on the runway compared to women. I'm not up on the latest supermodels, but I don't remember a lot with neck tattoos and that's fairly common for male models these days.
*God I sounded old there, didn't I? Get off my lawn! Cheeky teenagers.
Our sewtestants have five hours to make a men's holiday shirt for their models, starting now!
Clare is making a llama shirt because there weren't any alpacas.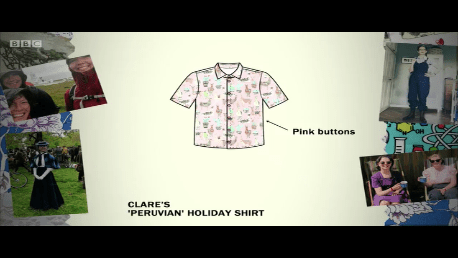 Ooooh Matt is making a Frida Kahlo shirt!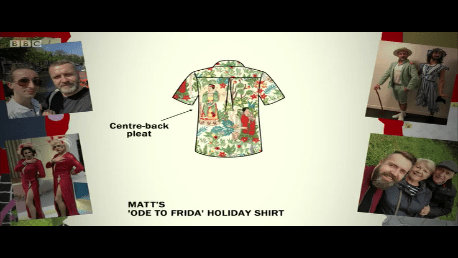 I never would have associated that with holidaying.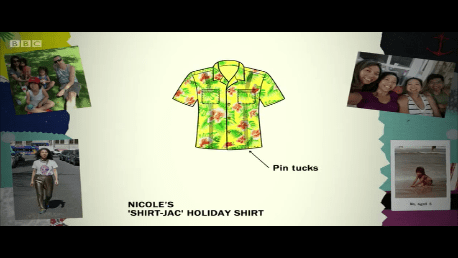 I love Ali's gorgeous fabric.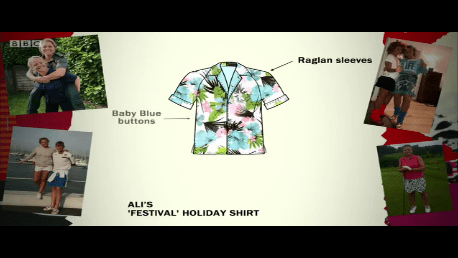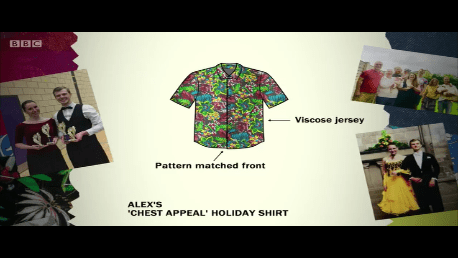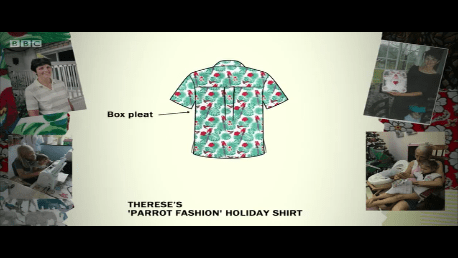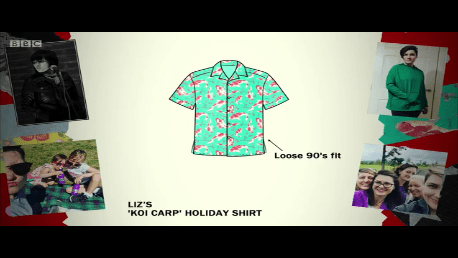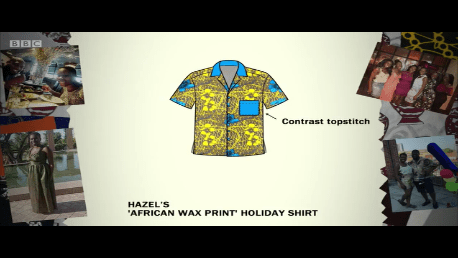 Mark is going for a double pattern pocket match!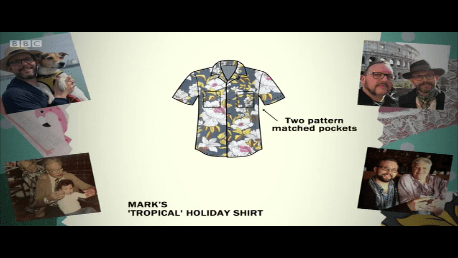 Oh no, Fiona was planning to leave off pockets, but now she's changed her mind based on feedback from Patrick and Esme and will be doing two pockets. I'm sure she hasn't time.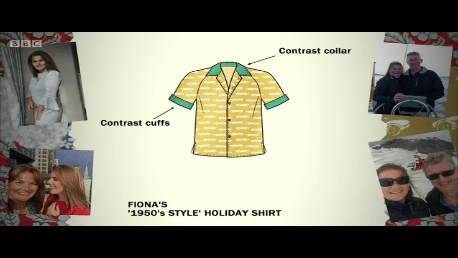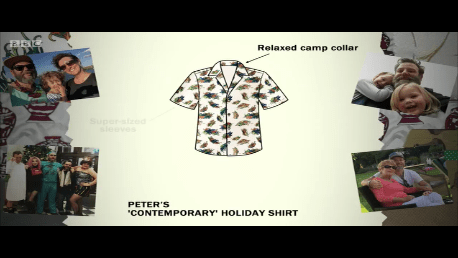 Nicole cries when her pintucking goes awry, you got this, our wee Trinidadian beach bunny! It's not really the tangled thread, she's emotional because her design and fabric is based on things her dad used to wear and now he's passed.
Alex is basically dressing his model as himself. I could not tell them apart if they were next to each other. As expected, Fiona has run out of time unexpectedly putting on pockets. She hasn't done a model fitting yet and we're only 45 minutes from judging.
5 minutes, everyone has to have a shirt on but Fiona is still pinning and stitching. This show is rife with cheating, there is always someone sewing after Needles Up is called. I see you, Liz, putting on that button like Joe hadn't just called it!!!
Judging!
I LOVE Ali's shirt. It's fantastic.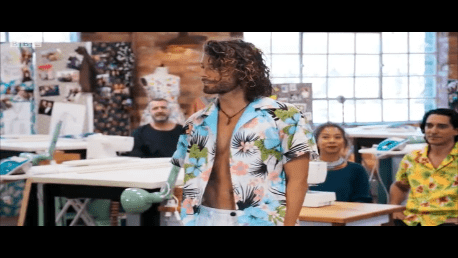 Matt's is fine.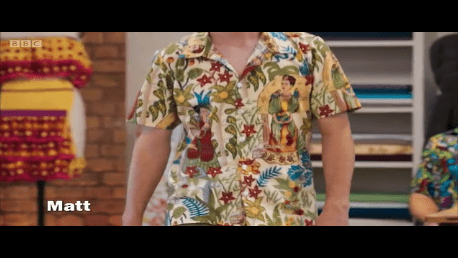 Clare has 'miraculous' pattern matching but the bottom is square and I don't like it so there.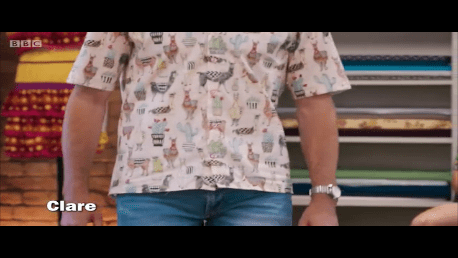 That's a busy shirt, Therese.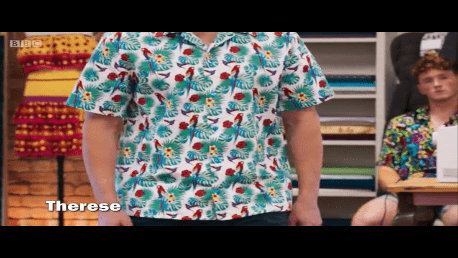 Hazel has made a gorgeous bit of apparel out of another African wax print.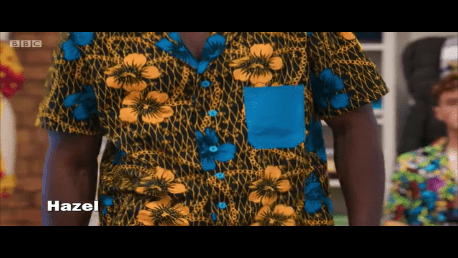 Nicole's shirt is so joyful.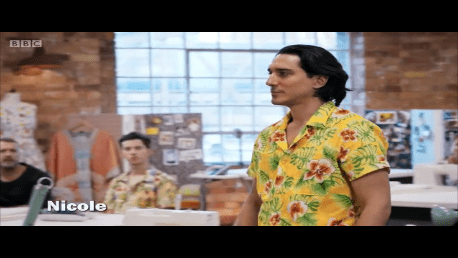 This is a great shirt, but whenever I see the model walking, I think it's too short. The judges love Mark's shirt, so let me shut up.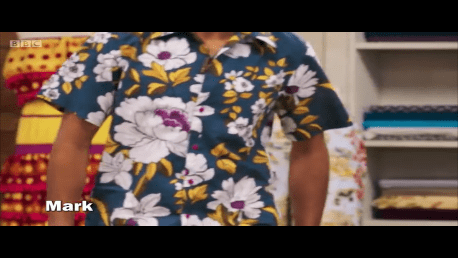 They are not crazy about Peter's effort, however. The sleeves are too big and the fabric is pulling.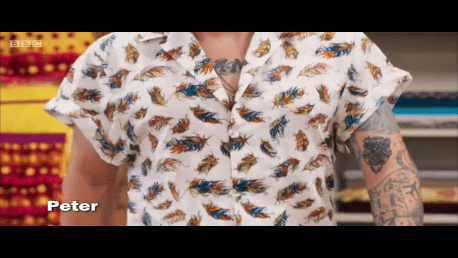 Ehhh. Liz. Ehhh.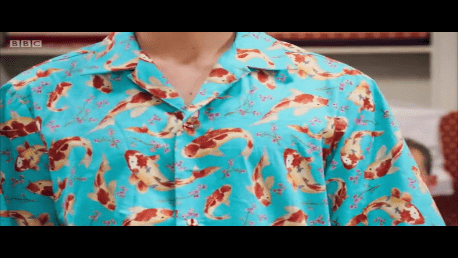 Oh gosh, Fiona. It's just not done. This is the GBBO equivalent of a raw cake with an acetate collar.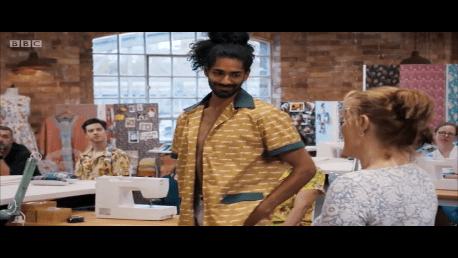 See what I mean about Alex and his clone?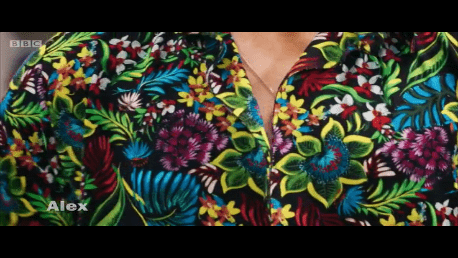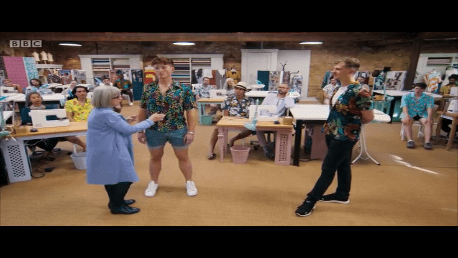 So. Our Garment of the Week is this: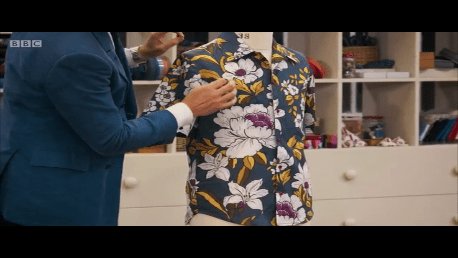 Mark's invisible pocketed pattern matching miracle!
And leaving the Sewing room is: Alex.
Thank your lucky stars, Fiona! Until next time for Children's Week everyone, cheers!