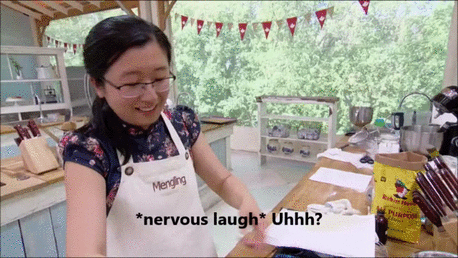 Hello, eh! This recap of the Great Canadian Baking Show really should have been the Canada Day choice, but here we are and let's get cracking! Rolling into my GCBS S2:E04 International Week recap after the break!
It's International Week, which is for sure a thing, I see a cookie Sphinx! (Shoot the nose off!) Last time we lost Ontario's Ann Marie Whitten to the trials of Bread Week (it's my FAVOURITE. Except they made sandwich cakes and I may die grossed out about it) but Edmonton's Sadiya Hashmi grabbed her first Star Baker with some gorgeous yeast-free naan breads and other assorted goodies.
Hosts Julia Chan and Dan Levy are on different pages for an opener, they really do play well off each other and I dig it. Judges Rochelle Adonis and Bruno Feldeisen help introduce the Signature Challenge for International Week, the baketestants will be preparing 24 identical and portable handpies.
….
Why do they have to be portable? Are we going somewhere with our handpies? Hey, what happens to the food after? I wonder if the cast and crew getta take home the leftovers, I'd be sneaking by Megan Stasiewich's bench after hours fo SHO.
There's more! The handpies need a dipping sauce.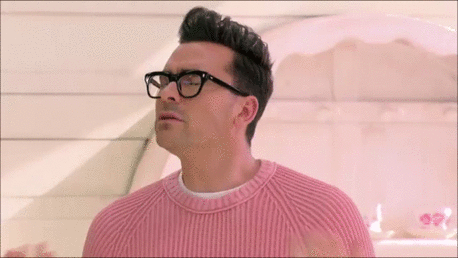 Julia doesn't wanna but reluctantly plays along.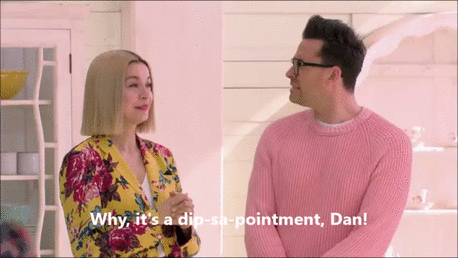 Oh. Sachin Seth calls himself East Indian and I corrected him in my head as "East Asian" and then I remembered that is a total dick move and people can identify however they want, TTM! Especially RACIALLY. Also, I didn't know he was East Indian/Asian, I was pretty sure he was Office Space. He's making samosas!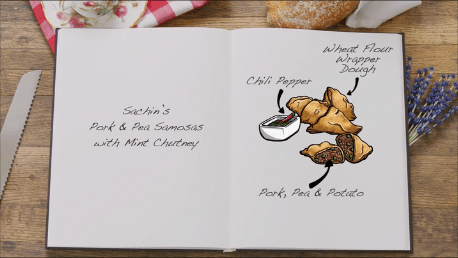 Megan calls this an Alberta handpie because it has lard and moose…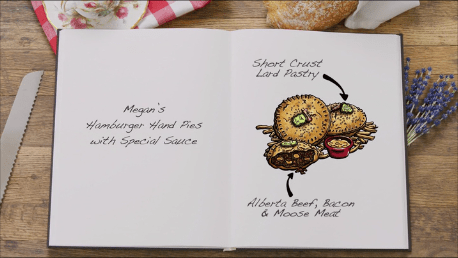 We've got all kinds of different fats at play here, Devon Stolz is using butter, which tastes better than lard but isn't as flaky. Mengling Chen is using oil in her dumplings, I looooove dumplings.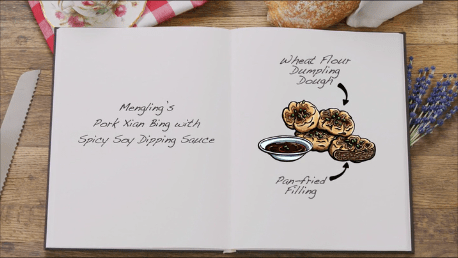 I have no idea what Sadiya is talking about here, I await the judges' response.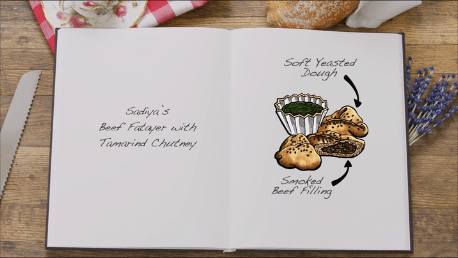 Andrei Godoroja has gone back to his Russian roots again with his butter-crust salmon handpies, I am unsure about the vermicelli but I'm sure he knows what he's doing. *watching you*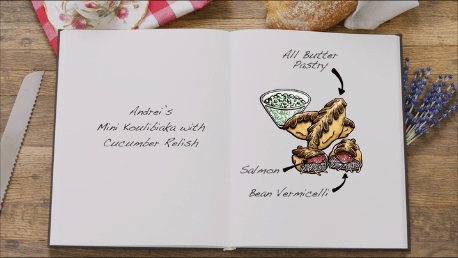 Devon. I am rooting for you. I think you're an excellent baker but you are making spicy ketchup and we need to have a chitchat.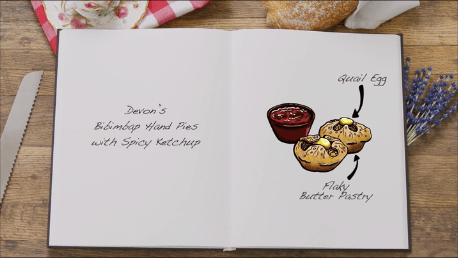 Dan is all in for Megan's leftover meat bits.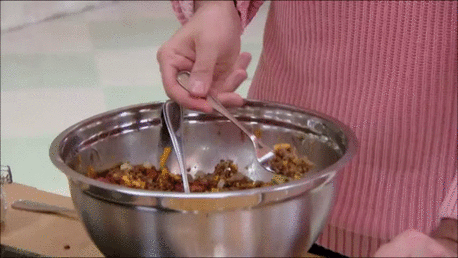 I love the sound of Timothy Fu's pie flavours!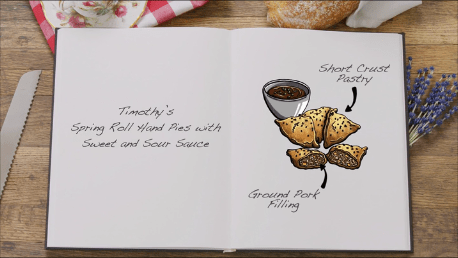 Now Dan's in Megan's pickle-laden sauce! See, I'm not the only one who would be cruising Megan's leftovers after LightsOut.
We have some good displays of handpies, but I'm concerned that Mengling had to do hers individually and some have definitely burned.
Time for judging!
Megan's hamburger pies are up first for judging, they taste great but the filling is dry, her bake is uneven and the crust is crumbly. That is surprising.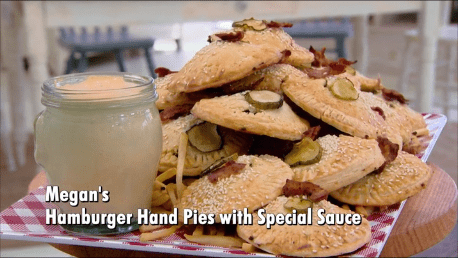 Sachin's samosas are well fried and filled, he should have maybe warned the judges about the heat in his chutney.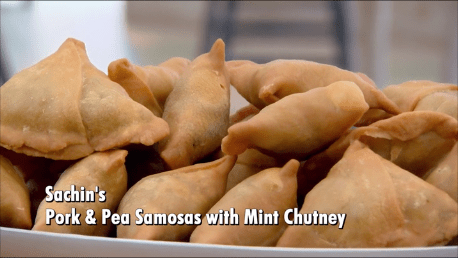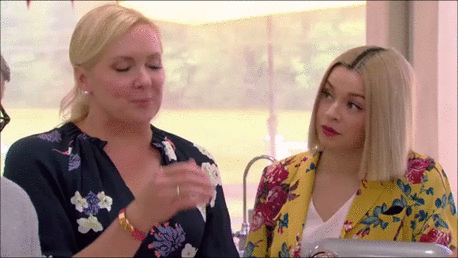 On to Mengling with her sensational flavours but slightly doughy dough.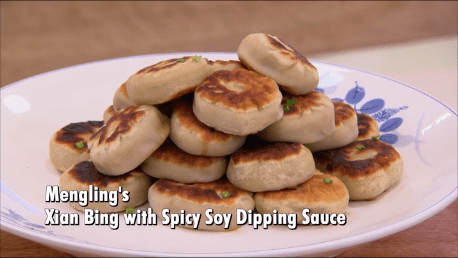 Devon does fairly well with his Korean handpies, if not for the iffy crust.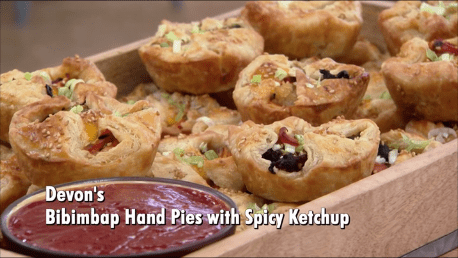 Timothy did a nice crispy crust on his "good effort" but ultimately they lacked a certain je ne sais quoi.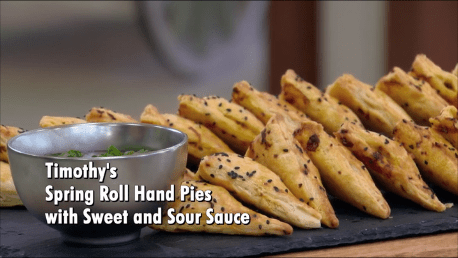 Sadiya's look fantastic and taste just as good.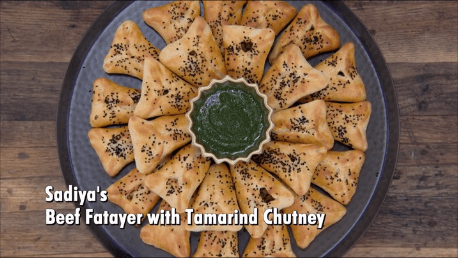 I do not understand why Rochelle is so excited to open up Andrei's nightmarish handpies with the wobbly spider guts.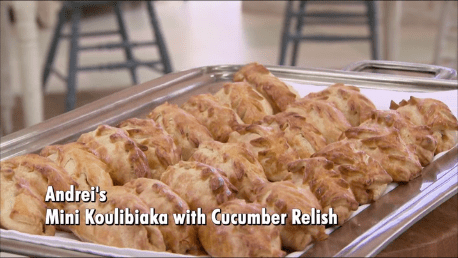 NIGHTMARE.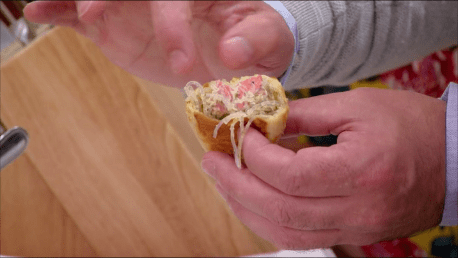 Bruno is happy that his bake is perfect and his filling is not dry, unlike almost every other handpie in the room.
Wooo and we're on to the Technical Challenge!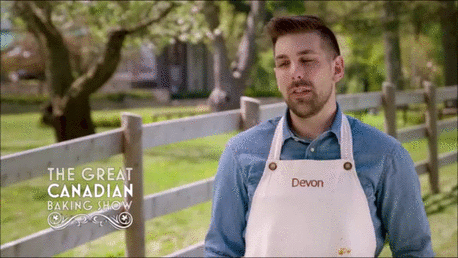 Bruno set it this week, he tells our bakers to "not get wrapped up and in a sticky situation." Hmmmm is he talking baklava? That's honey and layers. BUT! The judges say "sayonara"….and that's Japanese, so maybe it's something else entirely!
Like…12 daifuku mochi. I was so, so close. I'm actually shocked at how close I was to spelling that properly. Devon and Sachin are all over this, Timothy looks confused and Andrei has no idea.
Look how beautiful they are!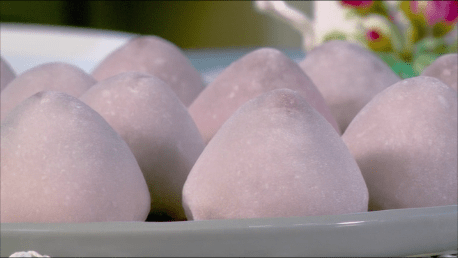 Oh. But. Inside.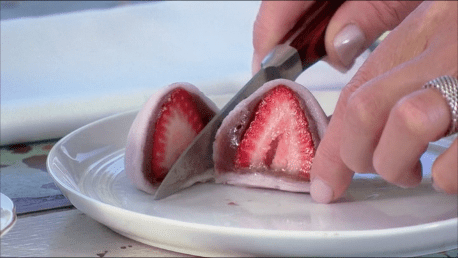 Devon has made these before and is confident to the point we just know he's going to crash and burn. He doesn't.follow.the.recipe. On week 4!
Judging comes before we know it.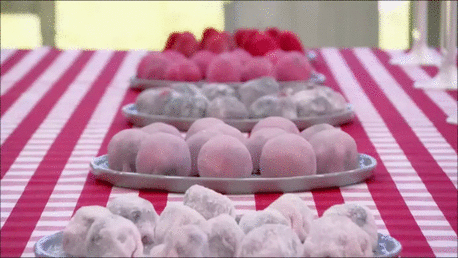 From least closest to awesome to most awesome we have:
7th place – Mengling
6th – Devon – bad dough/filling
5th – Andrei
4th – Sadiya
3rd – Sachin
2nd – Timothy
and Megan wins the Technical Challenge on International Week!
Wooooo! Did you know she's won two out of four? Me either! Totally blanked on that.
On to the Show Stopper Challenge, where our lovelies are faced with baking an Italian cookie sculpture or diorama. The only rule is there must be at least two types of cookies, then Julia lists off a bunch of Italian choices so I'm guessing that's a guideline too.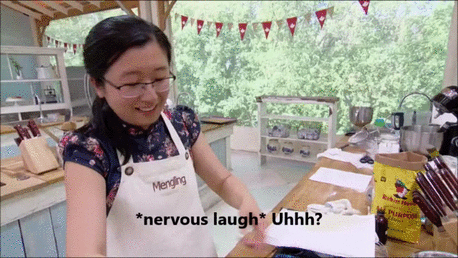 Everyone gets to work, the structure will be key! Go for a firm cookie!
Mengling is making a beautiful beehive! Awwww they're even cuter later when we getta closeup of the bees!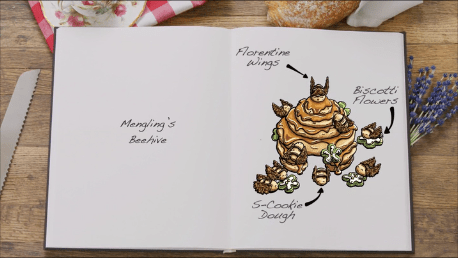 The Italian S dough is really difficult to work with, Andrei breaks a piping bag right out of the hopper. One day I will have a really fancy piping bag instead of disposable ones similar to the ones that Andrei just split like a Christmas turkey. One day.
Devon added milk to his tough dough to make it easier to pipe, Rochelle is concerned and now I'm worried we're going to lose Devon and I'm not ready!!!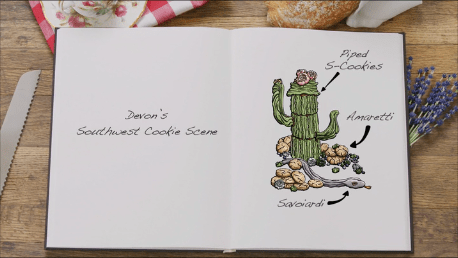 Timothy did a great job yesterday, but he's not sounding optimistic about his bus diorama.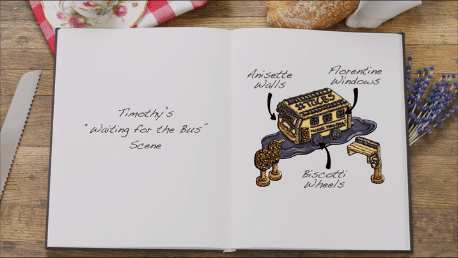 Sadiya home schools her kiddos and as someone who has done this recently (NOT BY CHOICE) I have to ask: whyyyyyyyyyyyyyyy?? This is one of the teaching tools she uses, but with presumably fewer edible parts.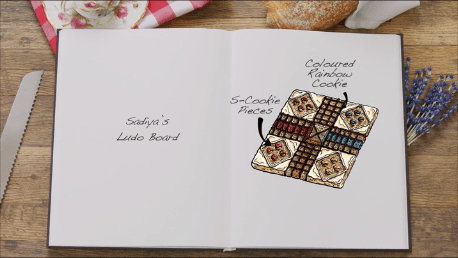 Megan is making a Northern Lights scene because we wouldn't be able to get through a whole season without someone referencing them. She has a sugar wall, which confuses Rochelle and makes me start.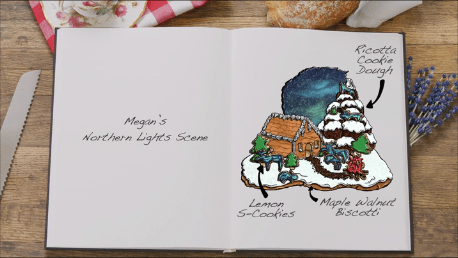 Sachin's making something with a lot of fiddly bits again, this time it's a Sphinx.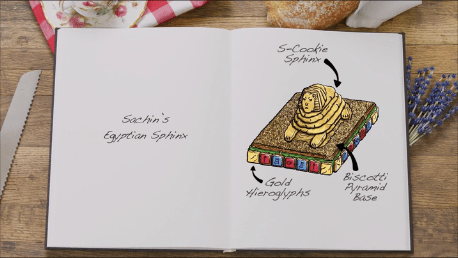 Andrei is also revising a theme: fish.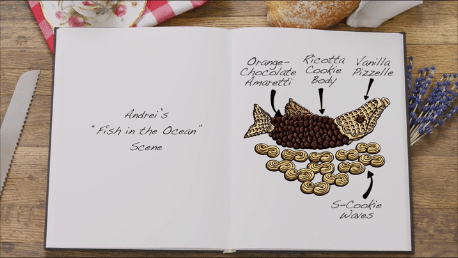 With only fifteen minutes remaining, it's a struggle for everyone to complete their diorama decoration, Sadiya is concerned that she has the only sculpture not standing. Mengling rushes to help her after completing hers and I just LOVE that about this show. LOVE IT.
First impressions of the completed works: Timothy, Sadiya and Sachin have kind of basic-looking projects. Not that it wasn't hard and well done, just.
Judging!
Andrei is first, his work is superb. He gave them four different excellent cookie doughs and executed a complete vision down the texture of the cookies inside the fish being soft as a contrast to the scales. Bravo Andrei on your beige fish on a cookie sheet covered with beige waves!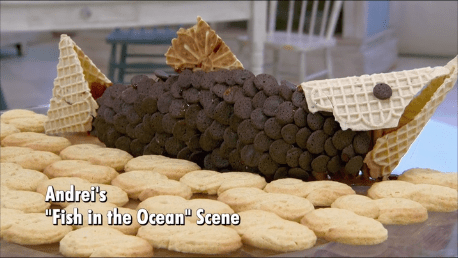 Whew, Devon does a great job with his cactus diorama, the one suspect dough is a little "stodgy" (awww that was for us Great British Bake Off fans!) but he did a fantastic job. Bruno wants the recipe for one, even!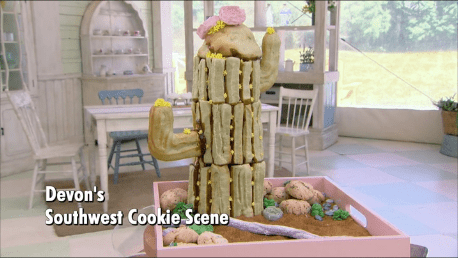 Omigod I love Mengling's bees so much! They all have different faces!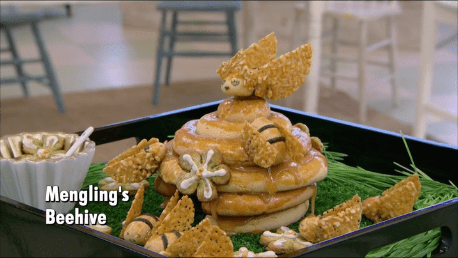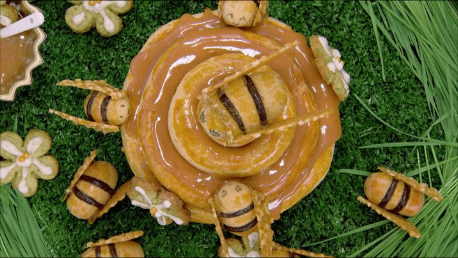 Rochelle calls her work exceptional.
Timothy's just looks basic to me, you? The judges like it, that's all that matters.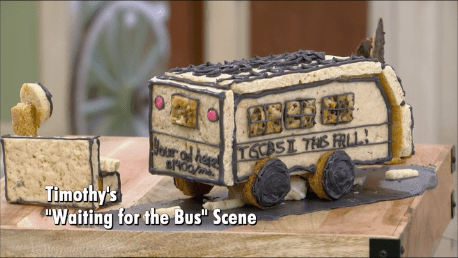 On to Sachin's, which underwhelmed. It's sort of little and beige. Thankfully, the flavours are all sensational and he will live to "yeahhhh" at us for another day.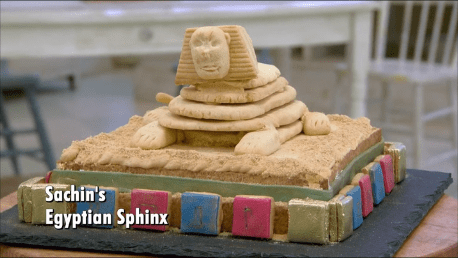 Bruno is also concerned about the level of restraint showed by Sadiya (that's Canadian for "BORRRRRING") in her sculpture, which is actually a giant puzzle cookie. An underbaked giant puzzle cookie as well.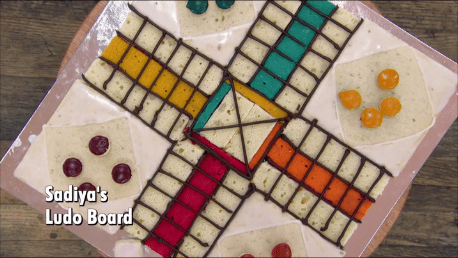 Now, Megan's given the exact opposite of the last three Show Stoppers, a riot of colour and shapes in her Northern Lights diorama.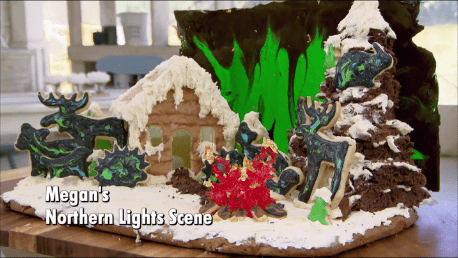 So we kind of went all over the place this week, didn't we? We don't really know who's going to place where. Let's see what the judges decide!
Star Baker: Megan Stasiewich, yay!!
And leaving the tent this week is: Sadiya. What. She literally won Star Baker last week, you can't send her home immediately after that!! She had a great Signature Challenge and placed in the middle in the Technical, you must be joking?? I DEMAND A RECOUNT. Okay. Top 7 in Canada!
Alright. Fine. Until next week, keep on Canuckling, my fellow Canadians and Canadiana fans!