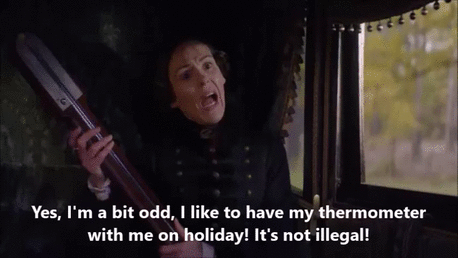 I'm quite nervous about Gentleman Jack this week, although it's been renewed for a second season (YAY), there are only two more currently filmed and this is one of them! Gak! I will focus on the glass half full aspect; I really do feel lucky that we even get to see a story such as this and Suranne Jones has been magnificent as Anne Lister. No less finely rendered is Sophie Rundle's Ann Walker, Sally Wainwright has absolutely done it again. Let's roll with large hearts and bigger hankies into the penultimate episode of Gentleman Jack!
We open in the kitchen with maid (housekeeper?) Elizabeth Cordingley (Rosie Cavaliero from Unforgotten series 2!) making breakfast and about to meet Thomas Beech (no name in IMDb but I will eat Anne's hat if that isn't Dino Fetscher from Paranoid and Years and Years! What a coincidence, I haven't seen his handsome face in ages and now he's in two shows I'm recapping at the same time! Welcome Dino! Unless it's not you, my bad, I'm sure you're fine whomever you are, cheers), Anne Lister's (Suranne Jones) new groom.
Anne herself is in the dining room detailing her itinerary to her bemused sister Marian Lister (Gemma Whelan who is just marvelous in this role. I like her so much better than in Game of Thrones, so much less incesty and she seems about 10 years younger) who is staring at Thomas instead.
Why, Marian!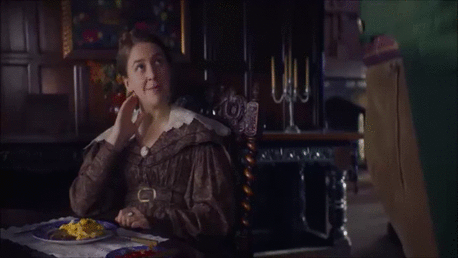 Marian tears her eyes away from Thomas's "lovely face" *in his pants?* long enough to notice that Anne's not herself today.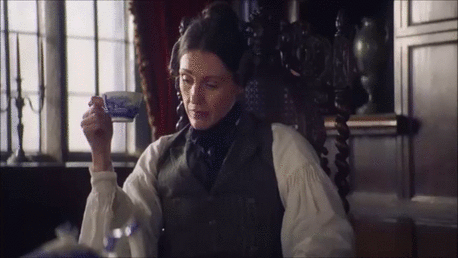 In case you haven't watched the other episodes (GO HITHER), Anne's feeling down because her lover Ann Walker (Sophie Rundle) has been taken away by her family after she started hearing voices. There are some other business-related issues as well, but mostly Anne just misses her Ann.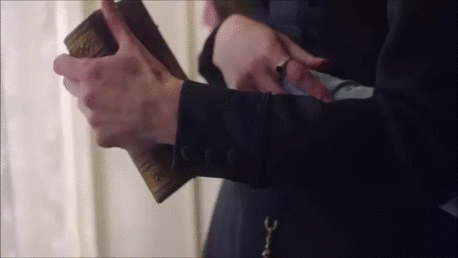 Sexy credits!
Anne's superintendent Samuel Washington (Joe Armstrong from Happy Valley series 1! And memorable Black Mirror S3:E06 Hated in the Nation) is distracted by his plan drawing by Thomas Sowden (Tom Lewis), who's come by to ask about something delicate.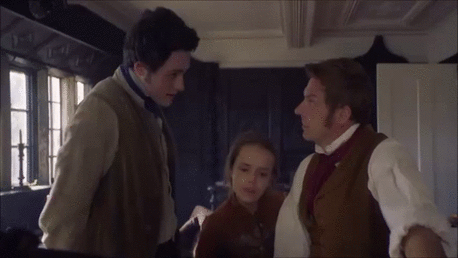 (It's the light humour that tells you Sally Wainwright wrote this)
He's come to ask for the hand of Samuel's daughter in marriage, Samuel is confused: have he and Suzannah (Amy James-Kelly from Safe!) even met? And what does Suzannah think about getting married?
I *love* that he didn't just get all Lord of the Manor about it and ask to count Thomas's goats or something, but I'm surprised that he credited his 16-year-old daughter with her own marital agency. In 1834.
Once Samuel hears that Anne suggested it (sort of, she said she likes married tenants), he's speechless and nobody gathered at the door can hear what's going on.
Marian comes home spitting from town, Mr. Rawson at the bank told her that Anne put Shibden Hall up as collateral for a loan to sink the coal pits on her property. Anne pulls her aside to find out what the Sam Hill is going on, Mr. Rawson's been telling tales again. The deeds to Shibden Hall are locked up securely in Shibden, which Anne shows to Marian.
Marian tears up, it wasn't just the lies about Anne, but Mr. Rawson (sorry, not sure which one (probably Chris) so I can't ID yet) went so far as to make a lewd remark about Marian's former admirer, John Abbot. Anne can't believe a magistrate and head of a bank would be so indiscreet in public, she's got to think.
She arrives at this conclusion: he's trying to find out how the estate was left and what Anne's chances are for raising the money to sink her pits without Ann Walker's help.
*Ann said she'd lend Anne the money but then also decided to marry a creepy dude instead of Anne and Anne was.not.having.it.
Anne calls Samuel Washington and James Holt (George Costigan from Happy Valley series 1!) in to workshop the Rawson problem; James thinks they're still stealing her coal and are trying to figure out what she knows. James and Samuel offer to rework the figures to see if they can make it more amenable, but Anne would be risking her entire income and possibly part of the estate. She's not quite ready to do that.
*Anne plays with her pocketwatch a lot in this scene and others, it reminded me of Suranne Jones fidgeting in Doctor Foster.
Anne heads to York to pick up her carriage for traveling; she's left it with Dr. Belcombe (Michael Xavier). She's not just there for her gear, she fishes for information about Ann. Anne and Ann agreed to not write each other, so she noses around whether or not a letter might have come…it has and it's not great news. Ann's sister and brother-in-law decided she was fine and didn't require medical intervention so they just took her home.
As mentioned above, Ann WAS HEARING VOICES and was convinced she would be/was a victim of religious persecution.
Her family was also openly floating the idea of marrying the wealthy Ann to a family member deep in debt, so there's that. Anne frets about it, to be gently admonished by Dr. Belcombe for underestimating Ann's backbone. He offers that Ann's condition would not be subject to curing, but rather management. It would require kindness and love.
Dr. Belcombe is an old friend, and we know his sister Marianna Lawton (Lydia Leonard), whom we met earlier. Marianna and Anne have been lovers off and on, somehow working around Marianna's marriage and Anne's desire to have a real, settled relationship. Marianna is probably the person who knows Anne best, calling her Fred and probing gently about the nature of Anne's friendship with Ann. I am curious because Anne says just now to Dr. Belcombe that if she and Marianna were together, the world might make sense. AND he asks if there's not too much water under the bridge for that. Does he know the nature of their relationship? Does she really think her best relationship chance is with Marianna??
Anne and the rest of the Listers have supper and discuss the to-do with Christopher Rawson (Vincent Franklin) at the bank, perhaps he was drunk. Rumour has it he drinks before going on the bench, too. Anne announces her intention to invite Rawson to Shibden Hall to apologize, Marian, Aunt Anne Lister (Gemma Jones!) and Anne's dad Jeremy (Timothy West) are aghast.
Christopher Rawson does indeed accept Anne's invite, but does not allow his dog to accompany him. I think he's got the wrong end of the stick if he thinks Anne Lister eats dogs.
All is at the ready, Anne waits in the drawing room.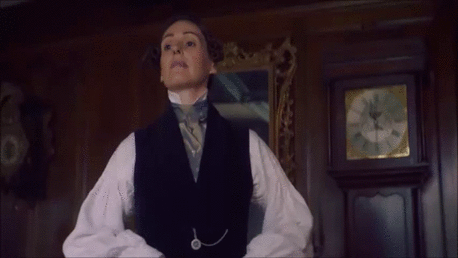 Some rudimentary parley to start, Anne suggests Rawson hire more than one thug to dissuade her the next time, perhaps three or four? The last one ran off clutching his family jewels. Hahahaha did she look at his?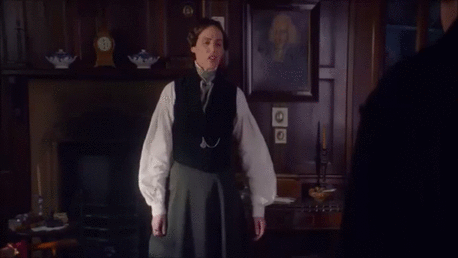 She offers wine; but I'd wager he's already deep in his cups. He's only there because Anne told his mother what he'd been up to. Why does his mother listen to Anne anyway?! Because she thinks most women are dull and stupid, but likes Anne.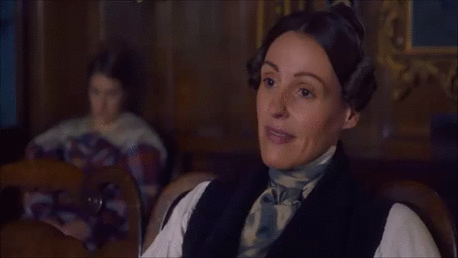 Hahahaha what did that mean??
Anne pours another glass of Madeira for an already-drunken Christopher and we're to the main event. She accuses him of stealing her coal, the price she quoted was an opportunity for him to make legal his trespass on her property.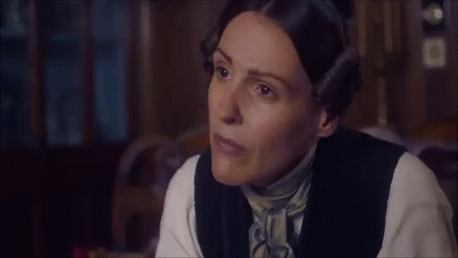 He appears to sober up briefly, listening to her bald statements of fact, but rebounds to boozily allude to her sexuality.
*Another glass of Madeira.
Anne moves in closer; did he only vaguely remember offering to marry Marian for her coal because he was drunk? And was he drunk when he was driving and caused an accident that led to a little boy losing a leg?
He starts shouting about how inept Anne is at business (hahahah I mean, you can call Anne many things, but you can not call her inept) and a steam engine is mentioned and he never needed her coal anyway so THERE and he's not stealing it and GOOD DAY.
Samuel's been doing his homework, he's come up with some ideas for expediting the sinking of Anne's pits, but not a way to allay the financial risk. She reviews with her lawyer Mr. Parker (Bruce Alexander), he brings up the same thing I've been thinking: is this really the best time to go traveling? There seems to be a lot on her plate right now, doesn't there?
Anne asks Mr. Parker for a loan, offering the deeds to Shibden as security.
Yikes.
So she's put her house up for collateral but she's still going traveling. What. All right, she's in mourning for her lost love. Anne relates her schedule to her Aunt, who is distraught for different reasons than I am. Anne insists that Marian put a copy of her itinerary in the safe, Marian cracks me up.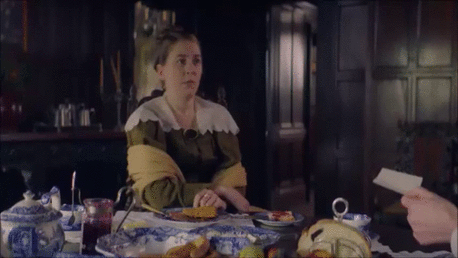 Anne asks her aunt to write to Ann's sister now and again for an update; everyone cries.
Marian stops by Anne's room to say goodbye and is instructed to help out young Thomas Sowden in his search for true love, ahh sisters.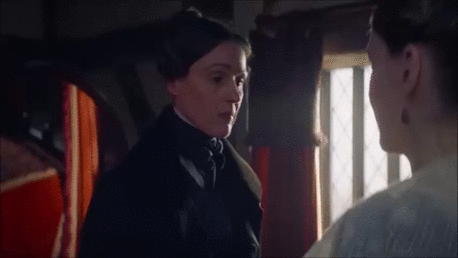 Anne briefs her dad about her plan to start sinking the pit the following week; it is kind of genius that she'll be away when it starts. How can she be up to something if she's not even there, indeed!
The carriage is loaded, the household is waiting outside and ladysmaid Eugenie Pierre (Albane Courtois) can't get any love at all from groom Thomas Beech. Cordingley ratted Eugenie out for her affair with the previous groom, but I'm surprised that didn't make him more interested. Maybe Thomas is gay! That would be AWESOME! Happy Pride, everyone!
We finally see Ann Walker! (Sophie Rundle from Bodyguard and Happy Valley series one and The Bletchley Circle which I've promised to watch). She's listening to her sister's children screaming in the background while she draws a bang-on pencil sketch of Anne.
Ann's sister Elizabeth (Katherine Kelly from Happy Valley series 2! Also The Night Manager) approaches with a baby in need of a burp and a headsup, her husband Captain Sutherland (Derek Riddel from Happy Valley series one!) has invited Alexander MacKenzie for supper the following week but she's not to worry or think anything of it. Ann ventures that she might stay upstairs, but Captain Sutherland wouldn't like that.
*Guessing this is the broke dude Ann is supposed to bail out via marriage.
Anne arrives at Marianna Lawton's house to find a carriage waiting. Marianna's husband Charles (Rupert Vansittart from Game of Thrones)'s nephew just died, so he's off. Marianna's staying behind, not least because her Fred was coming.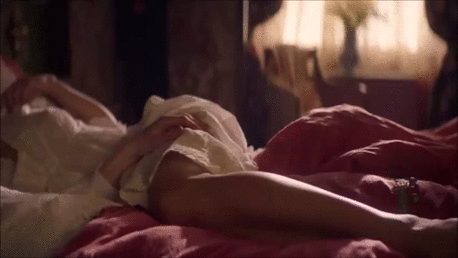 Anne explains that she thought Ann would just be a nice and wealthy distraction (and rebound after Vere Hobart's defection into heterosexual marriage *fie on Vere*), she was lonely. But then. She cries when she talks about her proposal to Ann.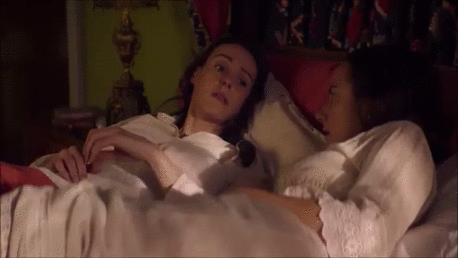 Marianna pries for information about Ann; she's shocked to hear that Anne had proposed. What about them?? WHAT ABOUT YOU, MARIANNA? *muttermarriedpeoplegettacallNOSHOTSmutter*
Marianna can't believe Anne talked to Ann about all the things THEY talked about doing before Marianna married her husband. Once more, when Marianna.married.her.husband. She hasn't a fetching leg to stand on and Anne's not one to sugarcoat things.
Mrs. Lawton's coming traveling and we're all thrilled.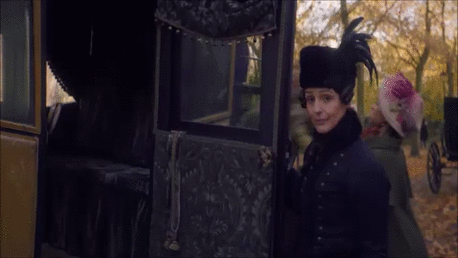 *Awkward silence*
Broken by Anne brandishing this massive thing, what is that?? Marianna wants to feel sorry for herself for a bit, she throws a pity party for one, complaining that the nephew who died was her husband's heir and now she could end up dependent on anyone at all.
Is that a thermometer? A huge thermometer?
Marianna continues, the reason she's upset is that she always thought she'd come to Anne when her husband died (he's much, much older. In fact, he was one of the Lords of the Vale and is almost dead already) and pardon me
Did she think she could just have sex with Anne whenever she could, live dependently on her husband and then skip over to Anne after he died? What was Anne supposed to do? Live alone on the faint hope that Marianna isn't as much of a crackpot as that plan suggests? What if the old bastard lived for 90 years? What then? It's fine for Marianna, living with som
*Cuppa break!
Okay! They fight about who rejected who when and honestly, they might as well be married already. How odd of Anne to confide in the woman she previously proposed to, I sometimes wonder if she understands people. I know she finds them fascinating! Do you think…maybe…spectrum? I'm probably reaching.
It is!! It's a giant thermometer!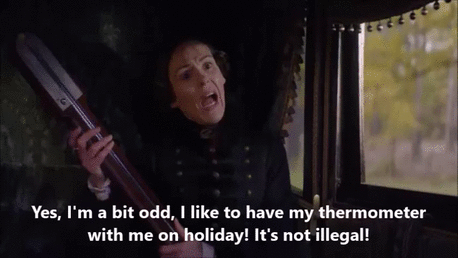 Hahahahahahahaha it's not illegal hahahahahaha
Back to the task at hand. Will Marianna come live with her at Shibden Hall?
But only when Charles dies and Anne is angry again. I already shouted about it so just imagine that, but sexy and with side curls.
We shift over to Scotland (I fink?) where Ann Walker's family is continuing their fill court press; her brother-in-law Captain Sutherland (Derek Riddel from Happy Valley!) wants to make sure she won't be hiding upstairs when his deadbeat relative shows up for dinner with his mum.
Anne and Marianna are sharing a room at the Angel Inn, but not talking. Which is much better than when they're talking, because Marianna is a complete asshole.
*Just one second
Anne isn't talking because she's remembering all the horrible times they had at Black Stone Henge (is…that a thing?) and another time from their past. Marianna
*deep breaths
Marianna does want to talk about those old memories, how horrible they were for HER. People stared at her, shunned her for hanging out with Anne who looked *gasp* MASCULINE. Marianna was MORTIFIED when she heard someone whisper "is that a man?"
*How did Anne spend five minutes with this complete and utter waste of breath? I know pickings were slim, but wasting your energy on someone who felt that your ostracization was embarrassing to THEM feels like the worst kind of expense. Listening to Marianna pat herself on the back for loving someone that she only acknowledged in secret seriously makes me want to vomit. How brave, Marianna, what a kind and virtuous partner you must consider yourself to be.
*Taking a minute to walk around in a circle pointing at the ceiling and shouting *quietly* about entitled and cruelly unaware arseholes.
Back to the show! Anne doesn't want to fight, can't they just accept things as they are and move on as friends? Marianna knows they could never just be friends, she loves Anne! Much more than this Miss Walker could!
Anne seizes her face and tries one more time: urgently entreating Marianna to come live with her in Shibden Hall. Marianna looks down and does not answer.
Anne desperately wants to believe her lover means what she says, that it's not years wasted on an insubstantial wisp of emotion, braced only by years of illicit lovemaking and stolen time. But love without action is only a poem, to be enjoyed then remembered with fondness.
Ann traces the image of Anne in her notebook with her finger, to be interrupted in her bedchambers by her sister Elizabeth (Katherine Kelly from Happy Valley! I know I introduced everyone above but that was 2500 words ago) who brings up the attack on Ann's matrimonial status. She wants to protect her sister.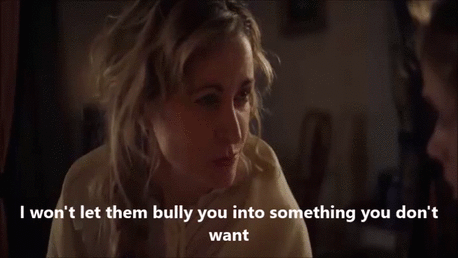 But she's a little afraid of her husband. "It's so much more complicated when you've children" and it sure is. Ann just wants to go hoooooommmme, but with Anne traveling (Ann's hopeful "have you heard from her?" made me think she forgot they weren't going to write letters), there's nobody to take care of her.
Anne visits her previous lover Vere Hobart (Jodhi May), who left her to marry a man and bear his child, who's ADORABLE! Yes you are! You sure are! Anne looks unsure.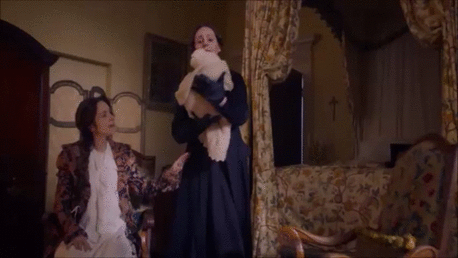 Hahaha, but soon takes off her gloves and cuddles the babe properly. What a good baby! Yes you are, you sure are!
Anne rushes back to the hotel (she rushes everywhere!) to find a napping Marianna and two cards from callers. One is a Lady Stewart, but I didn't hear much else because Anne's body language was entrancing me.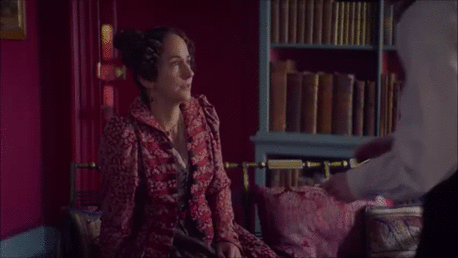 I've recapped two other shows with Suranne Jones; never would I expect her to be capable of this entirely male swagger. It's glorious. The sitting and hand grabbing! So perfect. All the kudos.
Anne practically runs out, to be dressed by Eugenie: what fresh hell is this?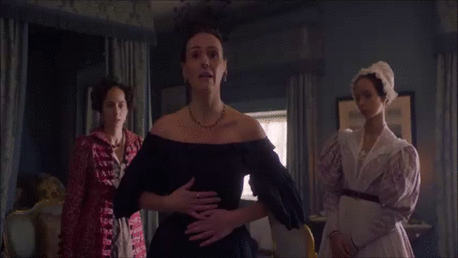 She looks like she's in drag! Again: I have only ever seen Suranne Jones in feminine clothing; it's a testament to the physicality of her acting that this looks so ODD.
Samuel Washington's at the Sowden Farm, he's decided to give Thomas his blessing, making reference to "friends in high places" as he does. Thanks, Anne!
Samuel inquires about Thomas's errant father Sam, Mrs. Sowden (Lucy Black) steps in with a great lie to cover his absence, backing up Thomas's account. You see, Thomas murdered his dad and fed him to the pigs because A) he didn't want to lose the farm B) Sam was a violent and abusive person and C) he didn't want to lose the farm.
Back to London with Anne and Marianna fighting again; Marianna is every middle school girlfriend you ever had that wants to bait you into talking about that new girl you dated. Anne's in London to distract herself, after all "when you're tired of London, you're tired of life."
Anne enjoys her friendships in London, which seems to irritate Marianna. Anne has maintained these friendships since she was first in France, she enjoys the unnerving and challenging aspect of talking to people who engage with the world. *Not just hideout in BuFu, England and wait for their husbands to die so they can pretend to be a companion to someone they mock for their appearance when not screwing them sideways*
*Totally not bitter
I'm a liar, because then Marianna asks if perhaps Anne's friends see her as a "novelty act, a court jester, an entertaining freak" and I want to throw hands, although I'm not entirely sure what that means.
Anne handles it faultlessly but from an intellectual stance; she suggests that Marianna is deliberately trying to be hurtful and perhaps they could talk about that, as her comments say more about her than they do about Anne. She points out that the higher one goes in society, the better it is if you're different, as opposed to provincial.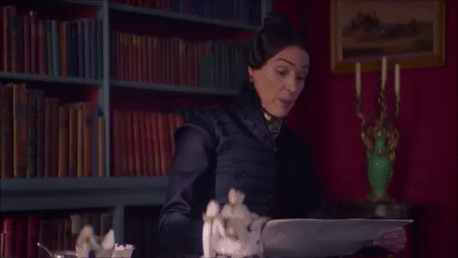 *I know I've gotten too shouty already, it's just: this is Anne's FRIEND. This is what she has to put up with from a friend and lover and confidant! THIS is what she gets to choose from, this incredibly intelligent and dynamic woman: being shunned or being accepted in secret by the type of asshole who suggests people only befriend her to mock her.
Marianna's husband is here! A tense standoff follows as he makes his way upstairs. Anne asks a final time: will Marianna be joining her at Shibden Hall? Of course not, even though she's asked her thrice. Charles is upon us.
He is no fool; he has taken rooms close by but gives Marianna the option of staying with her friend Miss Lister. What will she decide? *Who cares? Asshole.
Ann Walker sits in her room, looking very much like a small child who's climbed into a window seat until she moves to her mirror and cries.
Anne returns to her room and stares in her mirror.
A fight nextdoor draws her away.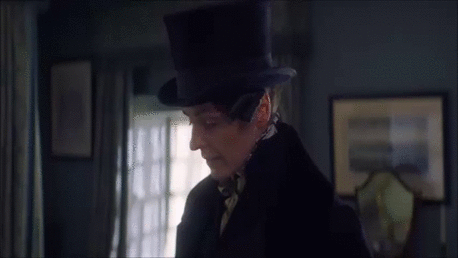 Ahhhhhh I held my breath. That was to Ann, wasn't it?! At first I thought she was looking at us, but no!
Across the UK, Ann breaks her wine glass in her hand and stares at the blood as Anne marches out to re-direct her servant. They're heading to…(I THOUGHT SHE WAS GOING TO SAY SCOTLAND) Paris.
Ann's sister comes in to find Ann covered in blood, what has she done?? She collapses and we're out. Jeebus wept.
I'm sorry I yelled so much, that was just rather a lot of Marianna, wasn't it? She is the worst. I loved seeing Anne working, I find her business machinations riveting. I am so worried about Ann Walker, the control other people (men) had over the lives of women was terrifying.
I've talked quite a bit about Anne Lister's mannerisms as we went, I can't say enough how impressive Suranne Jones is in inhabiting the character so completely. In less skilled hands, Anne would be a caricature, but I feel as though I know her, have met her and that's a testament to Suranne Jones.
Happy Pride Month!! Until next recap, cheers!