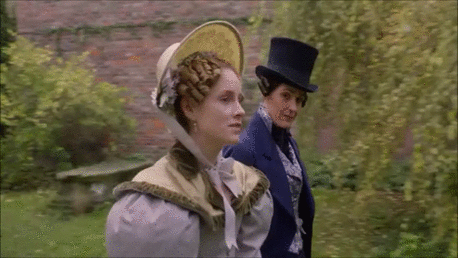 Ahhhh such a bittersweet moment, I could not wait to be able to sit down and watch the season finale of Gentleman Jack but then: this is the last we shall see of our intrepid Anne Lister for at least a year! Sally Wainwright has done an amazing job of dramatization, Suranne Jones has been magnificent and the story is just so interesting, I can't even say how bereft we'll all undoubtedly be feeling in approximately three hours. Well, let's get to it, ladies and gents and our non-binary, we've got an excellent show to go over.
A quick recap of this season: gentlewoman Anne Lister (Suranne Jones in a breakout role, although I've loved her work since Doctor Foster) has returned to Shibden Hall after a failed romance with yet another woman who ended up marrying a man. She sets her sights on the coal industry and Ann Walker (Sophie Rundle at her most incandescent) in short order and we getta watch Anne navigate the social norms of the day while being a screamingly obvious and glorious lesbian.
We left last episode with Anne Lister traveling with an off-again-on-again love interest in the form of Marianna Lawton (Lydia Leonard), whom I raked over the coals last recap until there were no more coals, then I verbally stomped on her until I could breathe again. Marianna is the WORST. But a fairly significant person in Anne Lister's life, did I mention that this show is based on Anne's coded diaries? But you knew that, course you did, prolly have it on a tshirt already for Pride.
*If you ARE just reading this for the first time, you should know I talk a lot. Sorry. Sort of. Speaking of Pride, I put a little Anne Lister in my outfit for this year! I'll put a picture at the bottom.
Ann Walker had been having some large mental issues (hearing voices persecuting her) and was dragged to Scotland with her relatives (her family mostly sucks) who are trying to marry her off to some broke deadbeat. We ended last episode with Ann slicing herself with bits of a broken mirror.
On to the show! We open with Anne Lister traveling and writing a letter to her Aunt Anne Lister (Gemma Jones! I love her work) about the sensible girl she's escorting. Miss Sophie Ferrall (Stephanie Hyam – you probably know her from Peaky Blinders, but she's the worst intern ever from Bodyguard for me!) is 24 and in possession of her own mind, yay! She turned down a Russian 20 years older than her with 2k a year and is already nosing around our Anne. She's seen Anne looking at her.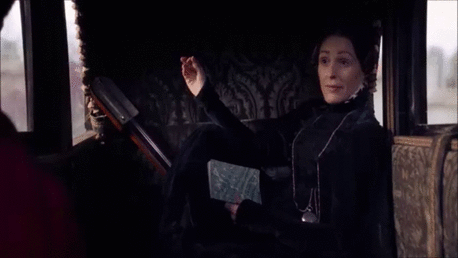 This gif has no particular significance, I just liked watching Anne look relaxed and content, resting with her giant thermometer.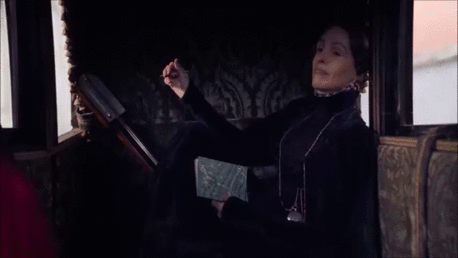 Sophie keeps asking personal questions of our Anne, ending with a query as to who broke Anne's heart? "Who is he? She?"
How BOLD, Miss Ferrall.
Our sad sexy Russian soldier is pining for news of her love.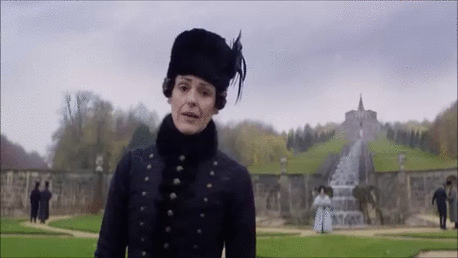 Sexy credits!
*I read the most ridiculous review of Gentleman Jack in The Atlantic, do you know they didn't like the score OR the credits?? Feck off, ye lot. Imagine. They also thought Anne's life as a lesbian is presented as too easy, which means they watched an entirely different show, didn't they?
Our erstwhile coal boss James Holt (George Costigan! He's listed again in IMDb! They've really shaped up this week, Dino Fetscher is right at the top!) arrives at the top coal bed to find a dead horse which means delays and extra expenses in sinking Anne's coal pits.
James seeks counsel and moola from Samuel Washington (Joe Armstrong), who's been helping Anne with her pits project. But there is no more money, Anne has already borrowed all she can against the deeds of Shibden Hall, her ancestral home.
*Her sister Marian is going to be soooooo maddddd….
Anne and Sophie arrive in Copenhagen with Anne's maid Eugenie (Albane Courtois) who looks completely and hilariously over it. She meets the De Hagemanns, Lady Harriet (Polly Maberly from PRIDE AND PREJUDICE) and M. (Caspar Phillipson), do they have any correspondence for her??
Her disappointment is palpable when she sees nothing from Ann Walker or her sister.
Ann looks AWFUL (Scotland looks gorgeous!)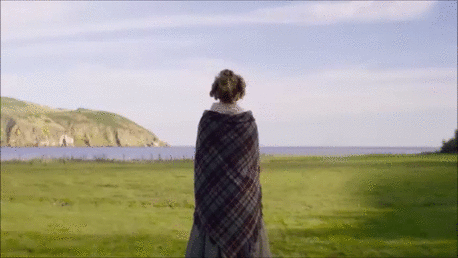 Her sister Elizabeth (Katherine Kelly from Happy Valley!) watches her out the window, concerned. Elizabeth's husband Captain Sutherland (Derek Riddel from Happy Valley!) ehhs and what! He threw out Anne Lister's address in Copenhagen?? HE DID WHAT. He calls Ann's relationship with Anne an unhealthy obsession, excuse me?
Did I mention that Captain Sutherland is the brother-in-law trying to set up Ann with his broke deadbeat relative? And I know I left this out: Ann had agreed to (sort of) marry Anne a while back before the voices and random men proposing came in. So there's that.
Captain Sutherland ignores all the nice things his wife is saying about Anne Lister to suggest he drag his cousin/scrub over for a proposal again. To her credit, Elizabeth argues against it, but he thinks getting married (settled – why does everyone want to SETTLE everyone? What's wrong with being footloose and settle-free?) and having some babies will help her.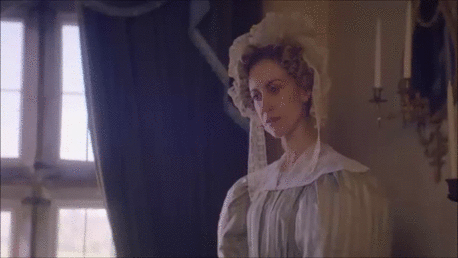 *Sometimes it's just a boatload of work and pain and frustration punctuated by moments of acute bliss. I hear.
Anne's in ladydrag again at supper in Copenhagen, Sophie's a bit of a wanker, she thinks she's funny teasing Anne at the table.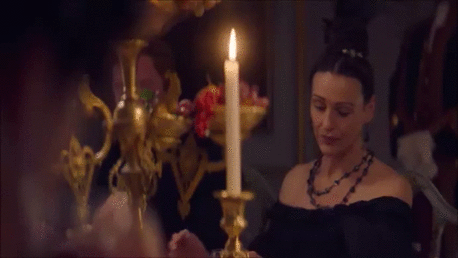 One of the other guests suggests that she be presented at court in Denmark, everyone else chimes in and I love seeing Anne look so happy!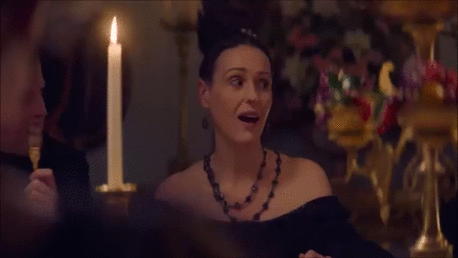 Her sister Marian Lister (Gemma Whelan, who's excellent here!) reads the accounts of her adventures to their Aunt, who's feeling poorly. Since Anne is planning to spend the winter in Denmark, Aunt Anne needs to hurry up and have a spell so Anne will come rushing back. Nothing permanent or life-threatening, perhaps a spot of mild pleurisy?
Samuel Washington has come hat in hand to Anne's dad Jeremy (Timothy West) for more money, ooooh he's going to find out she mortgaged Shibden….
Ann looks pale and writes letters, she's drawn a beautiful picture of Anne that she burns, ahh Ann. She hasn't forsaken you, your brother-in-law is just a dick.
Anne strides into the palace (I assume?) to meet the queen! Queen Marie of Denmark (Sofie Gråbøl) looks just like Anne's former love Vere Hobart! And is quite personable and friendly, given that Anne thought her lady-in-waiting was the Queen instead.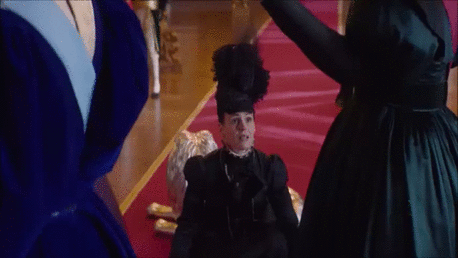 Wow, they get SUPER deep almost immediately, with the Queen asking why Anne is always in black. It's interesting that Anne is visibly discomfited but open, sharing her pain with this elegant stranger who gently suggests that maybe it's time to move forward from her losses and look to the future. "But it keeps happening" whispers a distraught Anne, but the Queen knows this is why Anne is in Copenhagen. She's on the run from a broken heart, just as Sophie suggested.
Time for the Queen's Birthday Ball, Anne is directed to wear white.
*Do you think the real Anne Lister walked like this? She's got the speed of a retired linebacker heading to a buffet. Why is she always RUNNING?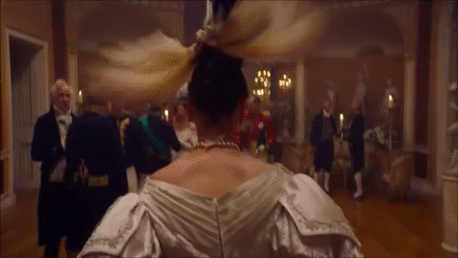 Anne is asked about Ann, so tries to distract herself with some extremely athletic dancing with Sophie but looks angry and distressed the whole time.
Ann asks her sister about having children, her "hard work but I wouldn't be without them" sums it up fairly well. She's pondering bailing out the deadbeat, but her sister knows that's not on. What does Ann actually want?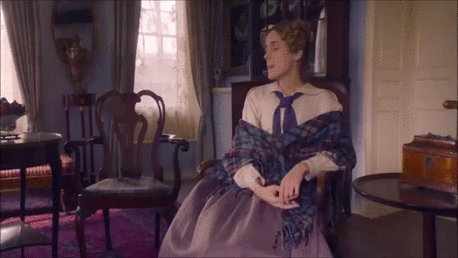 *That glorious little head wiggle*
A great talk about the "feckless and hopeless" Alexander and he's dismissed, the door closed and Elizabeth spills about the correspondence with Anne. Ann can't believe her sister kept this from her; or that her sister is kicking her out the door. She's got to get home! NOW!!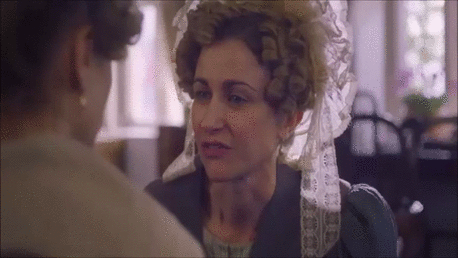 *They're just so miserable apart
Back in Halifax, William Priestly (Peter Davison who apparently was a Doctor Who?) reads a letter from Ann, who needs his carriage. Her Aunt Ann Walker (Stephanie Cole – she never had a name in IMDb before, yay! You guys rock!) asks William to go right away, perhaps Eliza (Amelia Bullmore) could come with? Eliza's willing to play along as Anne is away and therefore she thinks Ann is safe.
*Eliza was a great friend of Anne Lister's until she found her and Ann kissing on the settee, the shock and revulsion has made an enemy out of her. IMAGINE.
It will have to be carefully planned; they're afraid of Captain Sutherland's temper, even as we know him to be an affable fella from Happy Valley.
Dr. Kenny (Daniel Weyman) listens to Anne's latest letter to her Aunt, they might have to call Anne back because of her Aunt's health. Oh no, Aunt Anne has gangrene and it's gotten much worse in a short time. She'll have to come home quickly.
*Do it in two weeks!!! That's when they plan to rescue Ann!!
Anne's tenant Thomas Sowden kills some pigs and stares at the man walking up his path, his Uncle Ben (Anthony Flanagan) is a dead ringer for Thomas's dead dad, which can't be a coincidence as they're played by the same actor.
Thomas killed his dad Sam ages back after a particularly violent outburst, this Uncle Ben seems much more calm and less drunk than his brother, so maybe he'll be a good addition to the household. Thomas lays down the law about drink – not in his house, not ever. Plus church.
The Priestlys are at the Sutherland home to pick up Ann, but bad luck, Captain Sutherland has returned to the house unexpectedly. Ann's had quite enough. She is READY to go home and get Anne's address from her Aunt.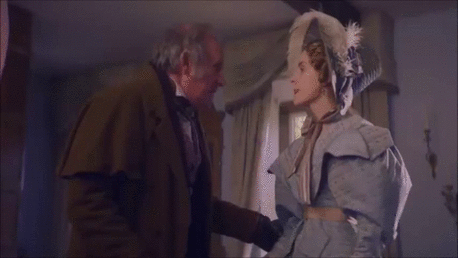 It's her decision! Everything from now on when it comes to her is HER decision and yay!! Captain Sutherland is left screaming "Surely we're all friends?!" at the carriage before grimly directing his wife inside as the cousins drive away.
The Priestlys don't want to hear about Anne. I'm glad they rescued Ann, but they're kind of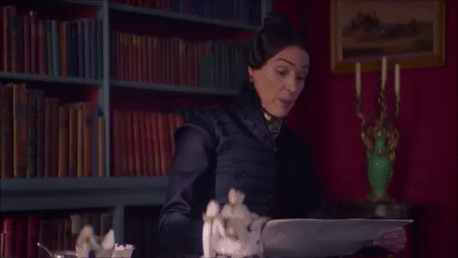 Groom Thomas Beech (Dino Fetscher! From Paranoid and Years and Years) wakes Anne as she arrives at the dock, she'll be home by Thursday! Especially since Anne's driving, causing Eugenie to throw up again. But this time she's not pregnant, woo!
Eugenie throws herself into housekeeper Elizabeth Cordingley's (Rosie Cavaliero! From Unforgotten Series 2!) arms and they're HOME! Hallo Argus!
Aunt Anne hears the thumping on the stairs and calls out for her beloved niece. Whoops, seems she's had a turn for the much better!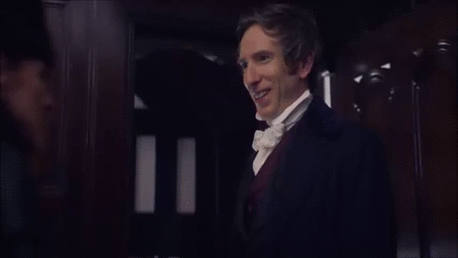 Anne slams Dr. Kenny up against a bookshelf, she risked her life to come home and her Aunt is bright as a button!
*Just WAIT, Anne!! You're going to be so happy that you came home.
Anne cuddles up with her Aunt Anne to ask about Ann once more (just wait), perhaps that awful Marianna Lawton was right and she's always chasing disappointment.
Anne's dad wants to see her, where exactly are the deeds to Shibden?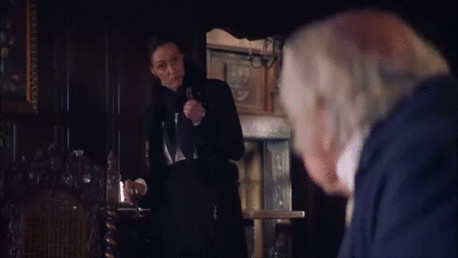 Hahahaha.
We know where they are, they're at Mr. Parker's office in the safe. Jeremy fills her in on the progress on the pits, there was a partial cave-in and they're stuck. Her dad calls her an idiot, this look says everything she thinks of his opinion.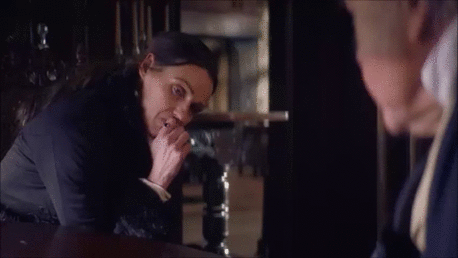 *A lot of Suranne Jones' tells have to do with her fingers; I'm positive there's a Tumblr out there celebrating it right now.
I've not introduced Joseph Booth (Ben Hunter) even once, so here goes: he's the groom/boy/helper/footman of the house and he's in almost every episode. He's mostly fetching things, not speaking a lot, so I've neglected him until now. Hai Joseph!
Ann is so happy to be home at Crow Nest! I also love her home, with its yellow walls and gorgeous settees. Ann stares at her bed, remembering the last time she saw Anne, then gathers her hat and sets off.
Cordingley dresses two small animals with as much gore as possible, to be drawn away to answer the door. It's Ann! She's come with her groom James (Saul Marron) to get Anne's address in Copenhagen. She's shocked white to hear that Anne is in town.
Anne's reviewing the mess at her coal pit with Samuel Washington, she's stuck and needs to weigh out her options. By that I mean scream with frustration into the wilds of northern England.
Oh
Oh but Ann approaches!!!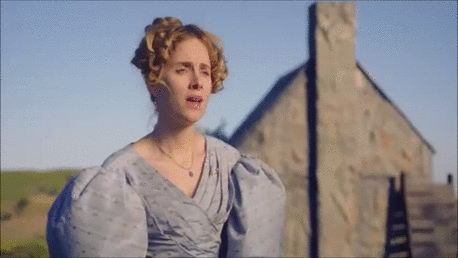 *I legit held my breath
Anne is still smarting from the lack of communication, her guard is very much up. She relaxes somewhat when she hears of Captain Sutherland destroying the letter, they talk about why she's angry and screaming in a field in the north of England.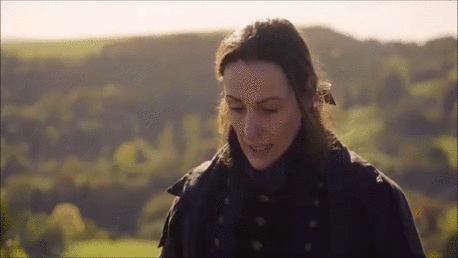 Our confident Anne is doubting herself, maybe she shouldn't have. Ann counters sweetly: are we alive if we're not taking risks?
And then we're finally to it!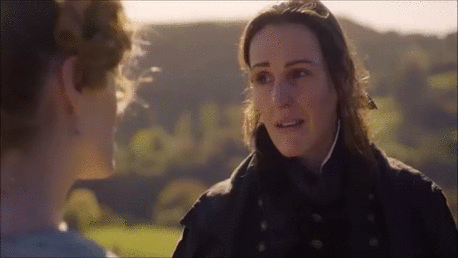 Anne is shocked by the scar on Ann's wrist, she would have come straight back. She tells the tale of her time in Denmark, visiting the Queen.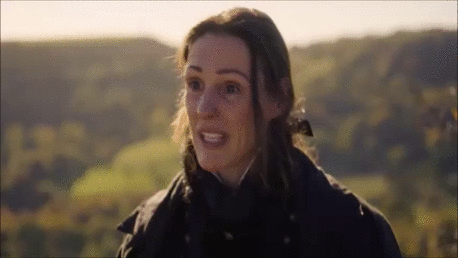 OH I'D SAY.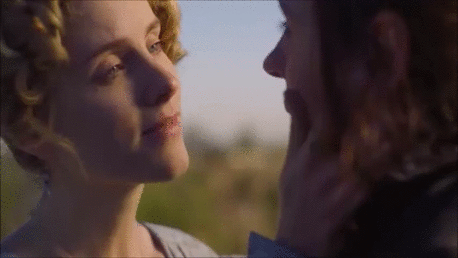 Gahhhh and then they talk of marriage; if Anne asked again, Ann wouldn't say no. But Anne needs to know if Ann would say yes? And mean it? And mean everything and take the sacrament in church and.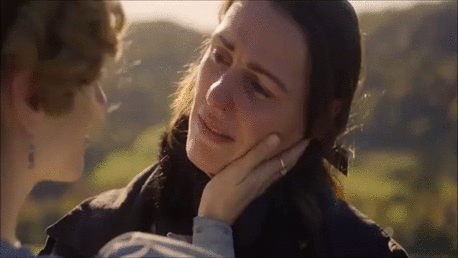 She's not as strong as you think. Ah the vulnerability of a strong woman reduced to pleading for her humanity from her lover.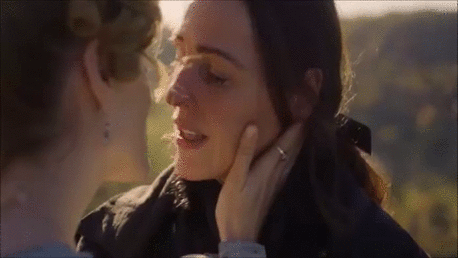 They kiss and it's all the joy you can imagine. The pain of their separation has shown them that there is no life apart. I do wonder at Anne's eyes opening during, is she checking to make sure it's real?
*I totally full on cried that whole last 5 minutes
Thomas is getting married to Suzannah Washington (Amy James-Kelly)! But I don't care because Anne and Ann are also getting married!!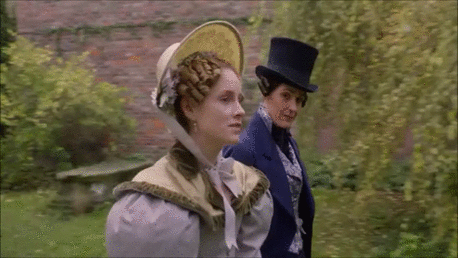 *Crying again *MINE* The sheer joy in that look. Ahh
Anne and Ann move to take the sacrament, with one final look at each other. They are very much in this together now.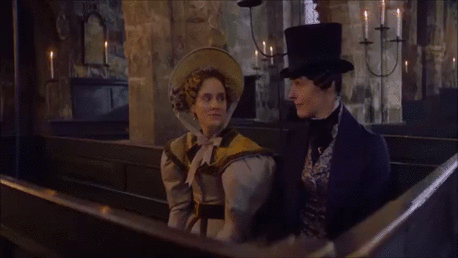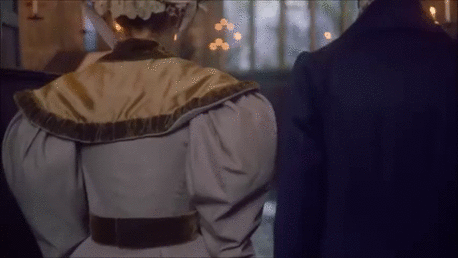 They look as though they just got away with a scorching IKEA shopping spree, fear, smugness and elation crossing their faces in equal measure. We see the Sowden celebration in tandem, how they are allowed to celebrate with friends and family in front of god and all the witnesses while Anne and Ann are forced to furtively mark their day.
They head out of church; Anne is full of plans for the day, but Ann soon sets that straight. They banter on about whether or not Anne is patronising Ann or not (I don't think she can help it) and when to move things and yep: married.
We end on "You are very pretty. In a certain light" and "Sorry, are you still talking?" and that's the end of the first season of the magic that is Gentleman Jack. Thank the gods we've got another on the way!
I think I probably wittered on enough up there, but just in case I didn't! We always knew it would be a bangup finish at the end of this season, I wonder if it would have been different if they knew a second series would be ordered so quickly. And quick it was, the viewership has been strong and the buzz equally good. Although I can't really tell; is it doing well outside my bubble? It is in the UK for sure.
The coal scenes might not be for everyone, but I love watching Anne conduct business like the boss she undoubtedly is. I myself can't figure out a way to send an email without an excessive amount of "please"s or "that would be great!" so I'm definitely taking notes.
Until next time, lovely people! It would be lovely if I saw you around, in fact, that would be great! I shall leave you with a picture of my Pride outfit, I knew that vest would come in handy some day. Cheers!