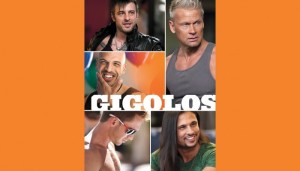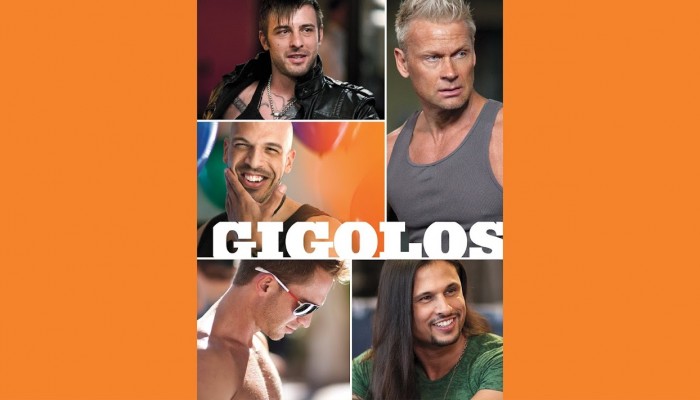 Can you believe we're almost done this season of Gigolos? Me either! This is the penultimate episode of S6, since Showtime is stingy with the Cowboys 4 us Angels, but we'll take what we can get. Rolling number 7 after the jump!
It seems Garren's wife has had twins, mazel! And the boys are looking for clothes for the wee Jameseses, at what looks like the Hipster Emporium, not any of the several outlet malls selling designer clothing for children. I have a friend who buys all her kids clothes there, she crazy.
Ermagahd, Garren's bebehs are so CUTE!!! So. They're looking through a bunch of not-kids clothing and Brace from Charlotte, MI, decides to hold forth about Colombians and what they like. Oh yes, in his extensive background of racial profiling, he's decided that Colombian = bright, loud colours. Even Vin doesn't want to touch that. The saleslady looks in pain already; Vin has to explain to Bradley and Brace next that Colombia is NOT Mexico. Sigh.
Next we make fun of Brace never paying; his Spidey sense tells him when a check is making it's way to their table and he heads to the bathroom. That reminds me of what Tie Domi calls Alligator Arms: those people that just can't quiiiiite reach their wallets...
We're starting off with a Nick Date, yaay! Imma be positive, I swear! He's meeting Veronica, who is a 30-year-old DJ from Los Angeles with the most painful-looking bewbs I've ever seen.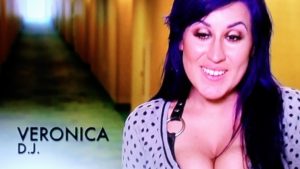 She has just a room, too, not a suite, so Nick doesn't have much space to swish his duster (seriously, dude? A duster? From 1986? Is that a duster? I don't know, it's stupid) and they have nowhere to sit but the bed. He starts some small-talk, wow, she's really gotten dressed up for this adventure, I see garters and heels that must be at LEAST 6 inches high. I'm telling you, you're paying, ladies! Open the door un-showered in flipflops while you're brushing your teeth, no need to do anything painful to your insteps!
She's been a DJ since 2004, but she also plays Nick's music, soooo...whet? She has a funky look that I dig, her own sense of style, but DUDE! Release the rack! OUCH. She's not 'bout that taking and using people like in LA, so she's gone pro to get Hawked *so.many.eye.rolls*. She feeds him his line, though, she likes the Alpha male type, and that's his cue to start the grabbing.
They disrobe in quick fashion and oh my goodness, this woman's poor breasts. I fear there's something really wrong. He does his usual: approaches the V and then stands up to take his pants off and go right to the secks. Foreplay schmoreplay!
She starts to get her own back during, slapping him twice across the face. He does not like to be hit, you know, like most of us, but he WAS just slapping her bum, sooooo... turnaround is fair play, right? Totes. He's mostly concerned because he knocked over his glass in her teeny tiny hotel room and his vodka soda ended up dripping all over his snakeskin boots. And dun!
Vin's got a dinner date from Alabama, this is 38 year old telecommunications expert Trinity: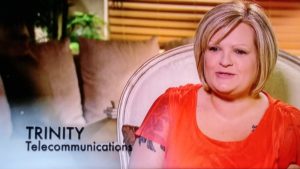 She's really soft-spoken and shy. Vin was a perfect fit for her first gigolo! She's been a side chick for forEVER. She was dating a guy in the military and got pregnant, which was his idea (really?) but then he met someone over Facebook and broke up with her over Yahoo! chat and has never seen their child. That's harsh, dude. She wants some romance, she wants to be the main course, not the side chick. He makes her blush by looking at her, but he's got more tricks up his sleeve, get on in there and get a kiss. Now get out of here, you crazy kids! I have a feeling at least one of you is getting lucky tonight!
Vin interviews that he gets lots of clients like this; side chicks tired of being on the side. Trinity is just so sweet, I can't even see her raising her voice, let alone issuing an ultimatum, so, yeah. People will walk all over you if you let them, especially if they know you love them and maybe don't love you quite as much.
Vin goes right to town, yay! He doesn't rush through anything, he's great that way. You know, after an hour, it's no fun for anyone but I bet he does a great 60 minutes! She keeps her eyes closed most of the time, which I find really endearing, then gives him a 5-star review after. High fives all around!
For our second storyline of the episode, Nick is meeting an insurer at Coffee, Tea or Me espresso bar. He wants to insure his frank AND his beans. This industry doesn't offer any long-term stability, no retirement plans, no 401Ks (is that like a Registered Retirement Savings Plan?) so he wants to be prepared in case anything happens. Nick says he dates 8 to 10 times a month, and he explains the possible dangers associated. Inexperienced women, zipper injuries, I mean. He wants a million dollars insurance onnit, but Actual Insurer says his underwriters will have to advise. Picture time! Nick brags that it's not his first time doing a c*ck selfie and Imma need a ruling on that: I thought we all agreed to call those dick pics back in '99? Didn't we? Someone get back to me. Also: not a talent OR a rare occurrence, Nick, everyone has a camera and contact list in their phones at any.given.time.
Next up is Jennifer, who is a Vegas entertainer having a date with Brace.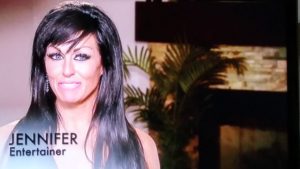 Not "entertainer:, but a director, choreographer and producer, woot! I mean, not that there's anything wrong with being an "entertainer", I just dig that she's out there making a big old mark on this world. AND, she's dating Brace, not "dating" and has been for 4 months. All right! There's another woman there for their date, she's going to penazzle and vagazzle them, which sounds HORRIFYING but also: very Las Vegas. She's there to "bling your thing, boo." Brace figures Jennifer wants what all women want from Brace, to "go a little deeper" and I just snort-laughed while throwing up in my mouth a little: do not recommend.
Oh man, they're actually applying glitter to their nether regions and while it looks cute on her bum, alllls the hypoallergenic jitters are getting me about the front. What's in that glue??? Will that come off with baby oil? It's a little tense, too, when Jennifer calls herself a bomb girlfriend (while directing the other woman to make sure her 'gina glitter is straight); there's a record scratch as Brace reacts to the G-word.
Oh but it gets worse! While tying Brace up, Jennifer drops the H-word in combination with the G-word and now it's a bloodbath. There isn't enough Patron and pineapple in the world for Brace to get through this. He interviews that he knows that's what ALL women secretly want, and some not so secretly. Jennifer is coming on awfully strong, though, it's excruciating to watch. Plus I'm pretty sure if Brace is awake and not in the gym, he's drunk or something else is in effect which slows down his reaction time by a few seconds. He's not thinking that about anybody right now.
The other woman leaves and it's fun time? It's weird, though, two very fit people bouncing around but no actual secks or even messing around. Odd
The boys are at a book reading: Vin's written a book! Tao of The Gigolo and why do I not have this yet??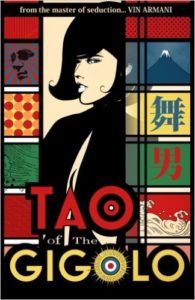 You know I had to read the reviews, right? They are positive for the most part, but seem to center around the fact that it's only 113 pages, so: not enough, which is not something I've heard anyone say about Vin before. I'm confused because this book was published in 2011, why is he doing a reading 5 years later? I mean, he's been on Gigolos for five years, it must be because they used to SHOW MORE DATES INSTEAD OF THIS FILLER SHITE, but I like Vin, so I will keep the muttering to a dull roar.
He does a reading and well, it's gotta be hard to get up there in front of people and spout a lot of possibly overwritten musings, so kudos! Questions after, a woman gets in there first, then Ash asks if Vin thinks it's possible to settle down after being a gigolo? Everyone turns to Brace, who calls himself scarred by the life. He's really struggling with his role in the industry right now.
Vin's asked about it and he gives a chef analogy: when he's at work, he puts out plate after plate of gorgeous food. At home, meeebbbbbe not so much, there might be a couple of Ramen noodle nights, ifyouknowwhatImean. So that can have an effect on a relationship, of course. And then Brace cries. I mean. Stahp!
And we're oot! Peace, love and glittery biscuits, y'all.