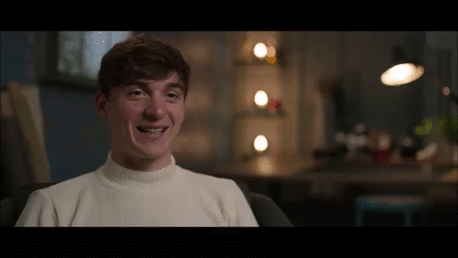 We've got a twist afoot in Making the Cut, I was trying to figure out why we had an extra episode and it's like I forgot that host/judge Heidi Klum likes to f mess with people. Let's roll into Making the Cut S1:E09 Pop Up Shop after the break to find out who's REALLY in the finale!
And then there were three designers: Sander Bos, Esther Perbandt and Jonny Cota in no particular order.
Jonny just survived a grueling elimination challenge against Megan Smith, who went home after displaying some beautiful clothes but perhaps a lack of distinct brand identity. Since Amazon is funding the winning designer and their brand to the tune of one million dollars, a super recognisable brand was of über importance.
Host/judge Heidi Klum and host/mentor Tim Gunn talk to the top three, reminiscing about the past six weeks, which no doubt seems like a lifetime to this crew.
They first met in New York, then zipped off to Paris, followed by a move to Tokyo. Now they're going….home! They'll all meet in New York again in a month, where they'll have a Pop Up Shop to determine who will roll into the FINAL finale! That's right, it's a two-stager, just like a low-class rocket.
They're got 30 days to put together 12-14 looks, put together a pitch and a business plan to show what they would do with the million dollars. Jonny faints inwardly.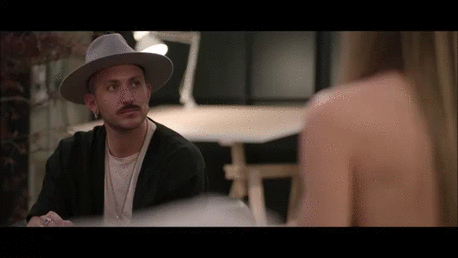 Let's see the differences between Heidi and Tim packing! Tim likes to pack on the bed of his pristine hotel room, alternating suits to pack the most efficiently.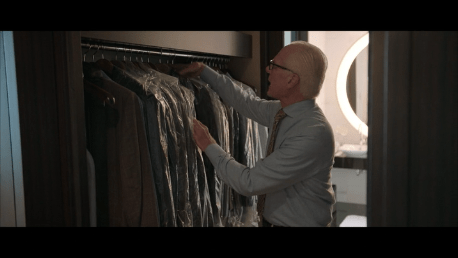 Heidi is more flexible in her space usage.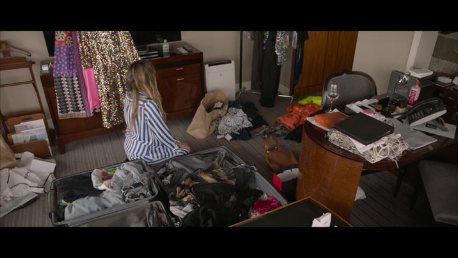 Tim's DONE!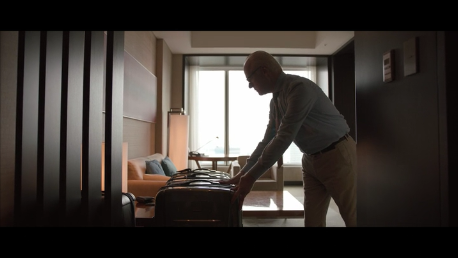 Heidi is NOT!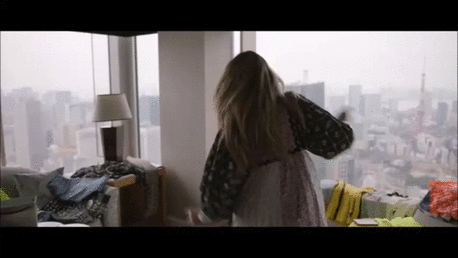 We're off to Los Angeles to watch Jonny exercise in slo-mo, but I'm not even mad because I've been binging Insecure so I've got my eyes peeled for landmarks.
(But seriously, cheesiest fking thing ever)
We meet Jonny's adorable husband Frank, who is super supportive and doesn't say anything about Jonny immediately running off to Bali to get samples made.
Sander's 12, right? Or close to it, which is confirmed by his mom being super happy he's home. I legit feel that way every time I see my kids. He takes us on a tour of Antwerp, Belgium and explains his newfound accessible bent. He's offering in-store tailoring and while I love that, that's literally the opposite of accessible. He has to be able to sell on AMAZON.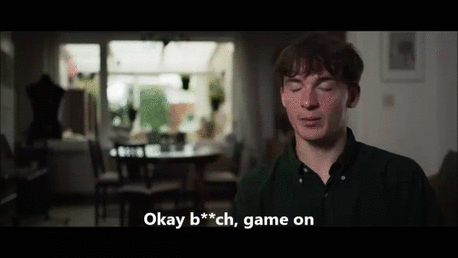 Having in-house tailoring sounds like the sort of thing I read about in Agatha Christie or Maeve Binchy novels.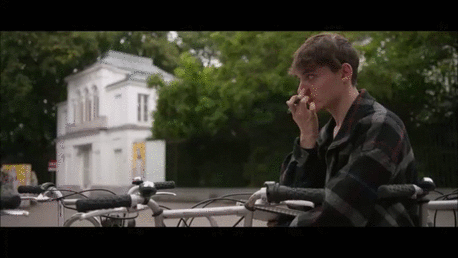 Esther, on the other hand, is super duper chill.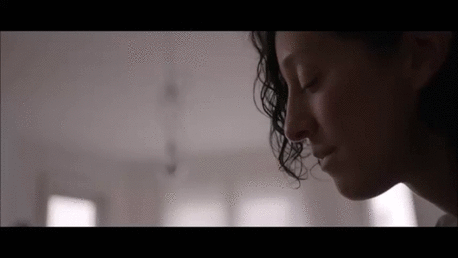 She didn't even tell anyone she was back in town, she's working on her designs non-stop. They feature a lot of black rope which could be a theme, sure! All three of the designers have strong family support systems, although both of Esther's parents have passed, they were her biggest fans.
It's already been a month and we're back in New York! Everyone arrives one at a time as "High Hopes" by Panic! At The Disco plays, Sander is READY, y'all.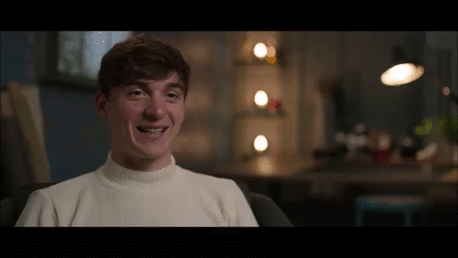 Ooooh they delineated each designer's studio using decorating swag, they all look completely different that that's awesome! Esther doesn't want to go back to Berlin and remember when you could choose to get on a plane and go somewhere? Just because you wanted to and could afford it?
Jonny's last to arrive, they chitchat and get caught up and I have to share my top two with you guys. I think it's going to be Jonny and Esther. I think Sander is the absolute best, but Jonny is more commercial, 100%. Esther, well, Esther is a lot of very well designed clothing in super dark colours. Okay, just the one colour.
Tim shows up as everyone unpacks, he makes them stop and come talk to him about how amazing it is that they're here. You can actually see them gritting their teeth at one point.
C'mon kiddos, you know the reality gods must have their emotional sacrifice! Pony up some grateful tears and let's get back to fluffing that odd yellow fringed belt of Jonny's.
Tim goes on to explain the Pop Up shop challenge more fully. We already knew it would be five of the looks planned for the runway and that the orders taken would influence the judges, but there's also going to be major points for design of the space itself. I guess I can see that, they are sponsoring a shop/shop, so want to know that the designers can make a space perform "product seduction" which sounds like a whole 'nother type of store.
Oh and someone's going home before the runway.
Tim almost cries when he says that, this is the twist they've decided to spring on the designers. Go home and work really hard for a month, bring all your work and best hopes to New York where…it will not show. That's shitty.
It's a testament to Tim's warmth and who he is that everyone hugs him anyway.
Steaming montage!
Three more TimTiques left, that's it! He starts with Sander, who's designed a Miss Bos collection to bridge the gap between streetwear and couture.
Hm. He designed a fabric pattern with his sister but I don't know if I like it. There are a lot of colours in there. He had a very small team, just him, his sister, two seamstresses and his mom drove his unlicensed bum around.
Esther's downstairs working with Stuart on her pop up shop design. It looks grey, hmm, still too much colour…
Tim talks to Jonny next, who's changed his brand to JONNY COTA as the judges implored. His collection is called Metamorphosis after his newfound growth as a designer. JFC, Jonny is giving us the whole enchilada, he designed shoes, purses, jewelry, even candles. CANDLES.
I don't understand why he has so many ugly prints and patterns in his collection but the judges will have to be impressed at this whole polished made-in-Bali experience he's putting on for them.
Sander's pop up shop looks nothing like this graphic.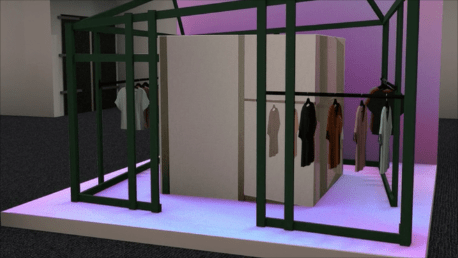 It's very…shiny, coloured and reflective.
I'm not sure what Esther is thinking. She's doing massive cutouts, sort of like when you made snowflakes as a kid? You fold over paper then cut bits out and voila! Esther's but in black. And it's ON black, so I just. Her collection is Hungry For Life and I love that she's feeling so open and creative but there is literally a cutlery set in her logo and oh Esther, no. No. It has forks and spoons cut out into pieces.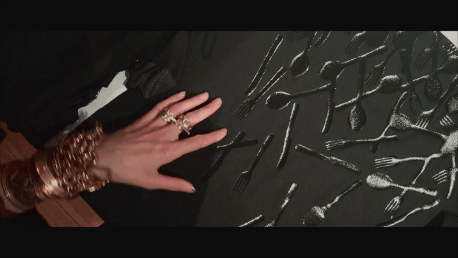 Esther.
She stares at her all-black collection, "it's so joyful." Sigh.
I don't understand why the mannequins are hanging from the ceiling and I don't understand the butterflies in Jonny's pop up.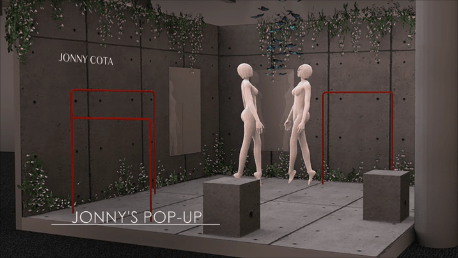 They're coming out of the mannequins mouths? Also, his backdrop looks a lot like Esther's, good thing she's covered hers with heavy black rope and he has (hopefully not all pink) butterflies.
Oh Sander, he's telling Tim about his tailoring business but I literally just finished an Agatha Christie novel where The Seamstress's Assistant Did It, his idea is so so old fashioned. (I mean, I love it)
Tim is super practical, he looks at Esther's art-installation-inspired pop up and asks an important question: what if someone trips on the giant ropes coiled on the floor everywhere? Esther and maybe Europe have a more relaxed attitude, she tells us. What could happen?
Jonny's hired voguers instead of models to display his wares, woooo! I'm so excited! Tim points out that having the mannequins hanging from the ceiling in the middle of the store is going to be a problem with the vogeuers vogueing and people peopleing around them, so Jonny moves mannequins to the corner.
It's already been two days and we're ready for our pop up shop challenge, woooo!
Ahhhhhhh but I LOVE this!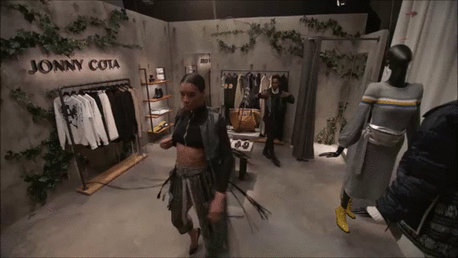 Esther's done!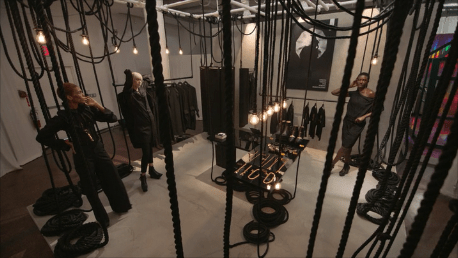 So is Sander!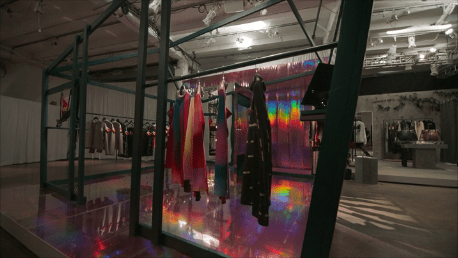 He's hired tailors instead of models to show off his gear; I really really hope this goes the right way for him. He's a genius.
I can't help thinking that Jonny
Never mind, we don't need negativity now, Jonny's lighting the I'm Ready Candle!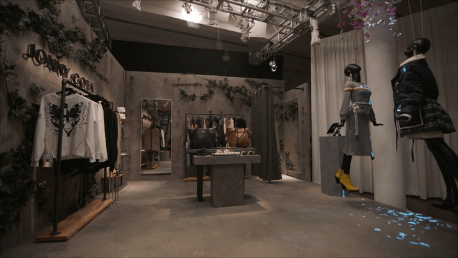 And it's happening! A huge lineup is let into the designer's spaces, let's see what New York thinks of their shops! The judges are also wandering around, we've got Joseph Altuzarro, Chiara Ferragni and Naomi Campbell joining Heid and Tim in checking out the goods. Hey, even Nicole Richie made it back!
Our youngest designer is also the shyest, Sander's never had a retail space as Jonny and Esther have, so he's tongue tied to start until people start trying things on. A couple of extra people are feeling up fabric in his shop, Stephanie Park from Amazon Fashion is doing her thing with Christine Beauchamp, president of Amazon Fashion. Thank the gods Sander makes his way over to say hi to them each personally.
The rest of the judges head to Esther's shop first and they crawl all over everything in a positive way, but it's Heidi and Naomi coming in after that actually buy stuff. Esther gifts them with black ice cream cones to be eaten with tiny gold spoons.
The judges chitchat after, the clothes are incredibly well made with a myriad of exquisite design details, none of which will show up well in an online store. So it's a poser.
On to Sander's tailor shop, Nicole loves that he's offering in-house fitting. Heidi wants to know where all his accessories and stuff are, he decided to just focus on the design, FANKS. I worry that he's still not commercial enough for them, but I have exactly zero worries about this young man succeeding in fashion, he's so talented. Naomi agrees.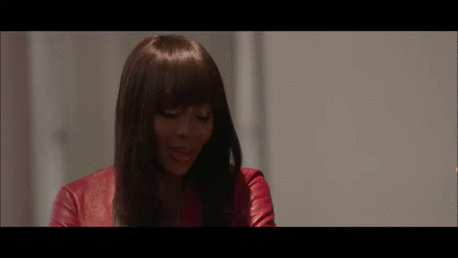 I feel like that might be the excuse they use when they send him home, he's got his whole career in front of him!
Our last stop is with Jonny, where Heidi and Naomi buy pretty much everything including white sweatshirts with giant gold butterflies on them because they've never been to a Fashion Bug, apparently. All the judges are impressed with his range of wares, he's pretty much a lock for one of the spots in the finale. I'd be surprised if he doesn't win, mark my words.
I just…don't think his stuff is special or different. I loathe what I've seen of Sander's collection and think Esther's clothing is too limited, so I'm kind of stuck with middle of the road-already seen it Jonny.
Jonny's family comes in to make us all cry, thanks a lot, Cotas! Sander's mom and sister come too, not as emotional and I can't figure why. I am now trying not to look at Esther's shop because I don't think she has any family? I don't want her to feel bad. I wish she had a partner or a super good friend to come and pat her on the back and scream when they see her name on the wall.
Time for judging and I just don't think any of us are ready! Good, coz we're not finding out until next time anyway, boooooooo!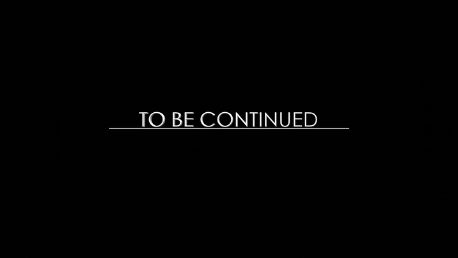 Until then! Cheers everyone.