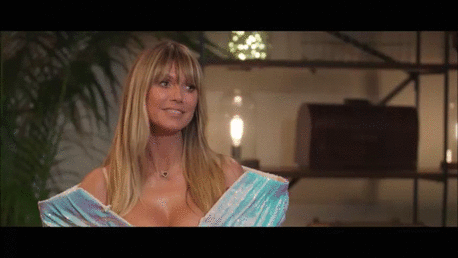 Here we are, already at the grand finale of Making The Cut, who's going to be at the helm of the Next Global Brand? (Now available immediately on Amazon) I have my suspicions, but I've been wrong before, let's see what Heidi Klum and Tim Gunn and the remaining designers have to show us in my Making the Cut S1:E10 The Winner: The Next Global Brand recap!
We ended in a cliffhanger last time, the three remaining designers Jonny Cota, Esther Perbandt and Sander Bos had just presented five looks at individual pop up shops in advance of a finale runway show. Only two will show their entire collections to the world, we don't know yet who but I have a prediction: Jonny and Esther.
I love Sander, I think he's the most talented designer on this or other shows I've seen: full stop. But I hate the collection he's presenting and most importantly: he's not very commercial. If you want to sell on Amazon, son, you gotta drop the clothing with donut shapes and I don't want him to.
Esther creates some fantastic clothing, but she insists on only using black and is on a strange cut-out tangent that I just don't see selling well online, and neither do the judges, who actually know what they're talking about.
That leaves Jonny, Mr. Safe Seen It Rock 'N' Roll with his leather and cheetah accents. I like him, I like his hustle and his clothing is fine, he'll probably win.
Let's find out what actually happens!
Host and judge Heidi Klum sits with other judges Joseph Altuzarro, Chiara Farragni, Nicole Richie and Naomi Campbell, asking each designer to explain their pop up and make their pitch to Amazon. The prize is one million dollars, so the stakes are high and everybody better be ready.
Jonny is first on the carpet to explain this.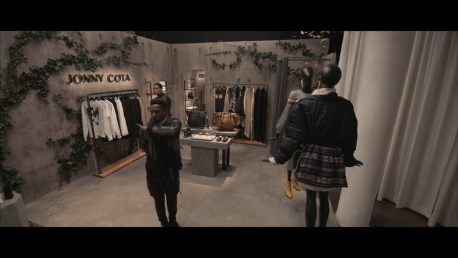 It's the debut of his eponymous brand Jonny Cota and reveals his growth from darkness to light, from armoured to open. Somewhere in there, models hanging by their necks from the ceiling with butterflies coming out of their mouths figures with fake ivy on the walls.
Nicole and Chiara loved the pop up, okay, they all love it, plus the accessories and the whole experience involving the I'm Ready candle.
On to Sander and his shiny reflective schtuff.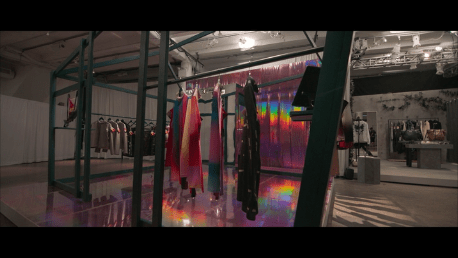 The judges all loved the thing I was the most worried about: his in-house tailoring. I just didn't see how that fit into a modern brand identity but I guess it's now new and innovative. Rocking like 1920s up in here! Now for the bad news: they didn't really understand his unpredictable colour and cut choices, it looked like 'fast fashion' and geared toward a much younger demographic. Naomi thought his looks were unexpected, warning that unpredictable is not what you want in a brand.
*Like remember when Justin Timberlake tried something new? Bland pop in a different flavour and everyone pretended it didn't exist until he went back to his usual style of pablum.
On to Esther and her prison-ish pop up shop.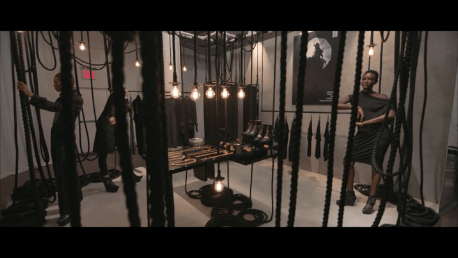 I mean. I feel cold and depressed just looking at it.
The judges really liked her shop, it's Joseph who carefully brings up the lack of coulour, which we've discussed every.single.time after her first win. Esther tried to branch out into white, but it didn't look coherent and she threw them away and focused back on her dark,dark joy. Honestly. Nicole points out that Esther is limiting her brand and designs by sticking to one colour (THANK YOU) but Esther shrugs it off as she always does. That's essentially the entire point: how can you be a global brand in a solitary colour?
We know Jonny's in the finale, he won this challenge easily with his whole package of a shop. (CANDLES). His asymmetrical dress is available in the shop and sold the most during the whole day.
Heidi polls the other judges as to whether they've changed their minds about who's joining Jonny in the finale, they have not and Sander is sent home by a distraught Heidi.
I've been expecting this for awhile. I think he's the best designer here but nowhere near ready to be a global brand on a platform like Amazon.
He doesn't say a single word as they talk about how they didn't want to make this decision. I comfort myself with the knowledge that at least I don't have to find something nice to say about this awful Miss Bos collection. I will be following Mr. Bos; I was right about the judges using his bright future as a reason to not give him this opportunity.
Ahhh it's still hard to watch him go, Tim Gunn and I are crying in the back.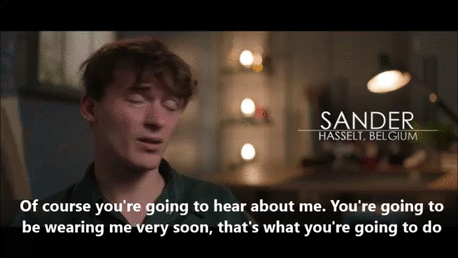 Now everyone is all smiles, time for the head to head final runway! I'm still bitter in the back, virtually smoking and muttering "oh SURE, let's go FULL MEDIOCRITY instead of BRILLIANCE" but then I can be a sore loser. I'm working on it.
We're off to the Hudson Mercantile building, where Esther and Jonny will be stomping it out for our enjoyment. Heidi and Tim are there to provide inspiration and it's raining again! Rain follows them everywhere! How is it even possible that they can travel literally all over the world and every single filming day it's raining or about to rain?
Before the runway, the Esther and Jonny will be presenting a business pitch to Christine Beauchamp, Head of Amazon Fashion. This will affect the judges's results. At least Tim will be there for moral support, whew.
Jonny thinks he is READY! He is definitely ready. Esther is more nervous about this side of the business, but she'll be fine, she's got a great warm personality and works well with others.
Seamstresses show up in advance of the Amazon pitch, everyone's hoping not too much alteration is required but I'm concerned because Esther has only had her looks on one person: Esther.
Time for model fittings! I am excited because I saw more than one body shape, woooo!
Oh okay, Jonny, you got me with the huge oversized net sweater. Fine.
Does Esther actually kiss the hem of a dress worn by a ginger giantess?
It's the day of the business pitch, Esther is sweating bullets in her studio but Jonny's letting it all hang out in the open air, talking out loud from tiny pieces of torn paper.
I bet 10 Canadian Tire dollars that this translates differently in German.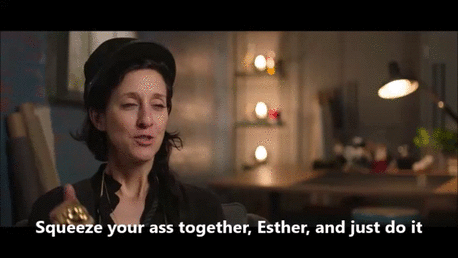 Tim shows up to escort her to the meeting, Christine Beauchamp is beautiful, welcoming, brightly dressed and ensconced in a gorgeous office with enormous windows.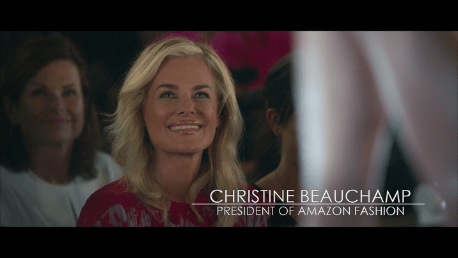 Esther begins, she calls her brand a combination of confidence and fragility, Christine likens that to modern femininity. On Esther rolls while I ponder that juxtaposition of strength and frailty.
Esther had a big business loan previously, two weeks before the 2008 financial crisis and she…was not successful. Business people love to hear about failure, though, what did you learn, Esther?! Lots. Esther learned about making a strong foundation was critical to success.
Christine asks The Question about halfway through: what about colour? Esther is willing to work some white in within a six month period, followed by perhaps another colour in six months or so, depending on demand. Sigh. She means off-white, I'm sure. Christine likes that Esther thinks about how people feel in her clothes, not just how they look, all the black is about strength. She's done!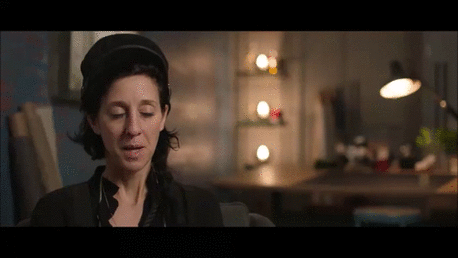 Now it's Jonny's turn, he is preparing for this as you would for a boxing match in an 80s movie, lots of slo-mo punching and jumping up and down. Tim escorts him to Christine's office, let's see him go!
A quick review of Jonny's past (how did I forget he was a circus performer??) and we're into his Bali vision of sustainable growth. Nothing is supposed to end up in a landfill, that's a significant commitment to make. I can't read Christine Beauchamp's face, but she makes a note at that moment.
The thing is, Esther had slide after slide of actual business plan ideas, including financing structures and reference to ERPs and she's talking about a business model. Jonny has words and do we just not see the slides? Help me out, here, cameraperson?
Oh no, it's literally just him standing there talking in front of a JONNY COTA logo onscreen. Business people like graphics and projections and percentages spelled out.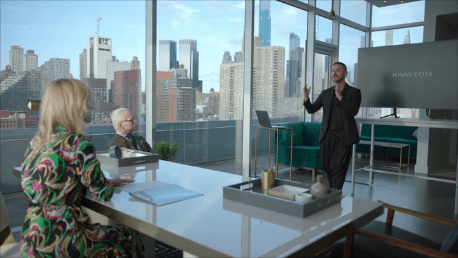 To review the pitches: Jonny brought passion, Esther brought an executable PLAN. If I were head of a business, I'd like numbers more than vision before I threw in one million dollars.
The designers have an hour to get their models fluffed in time for the runway. Esther nails it when she says that Jonny is really good at styling and she has a recognisable design esthetic. Jonny loves his collection but wonders aloud if it's as cool as Esther's.
Oooooh the runway looks AWESOME!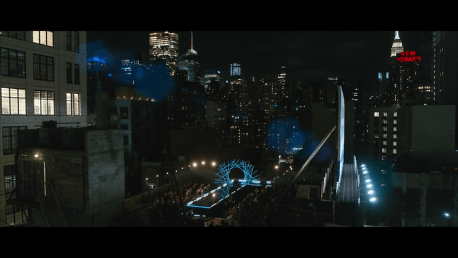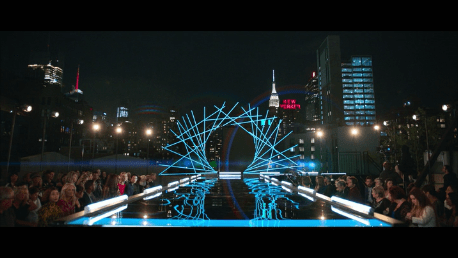 The designers are emotional; me too! Are you ready? Jonny's family and Esther's friends (thank the gods, there's someone there for her) are in attendance, Heidi, WHAT are you showing that much boob for??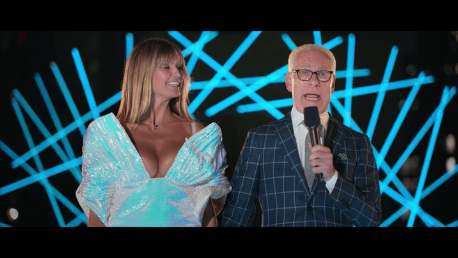 I mean, they're your boobs and they're spectacular but you almost put Tim's eye out. Is that supposed to be off your shoulder? That looks painful.
The judges are all in attendance except for Corine Roitfeld, whom we lost early on.
Time to start the show, let's roll Jonny's Metamorphosis collection! He heads backstage where Tim is crying with me because we're kinda big softies.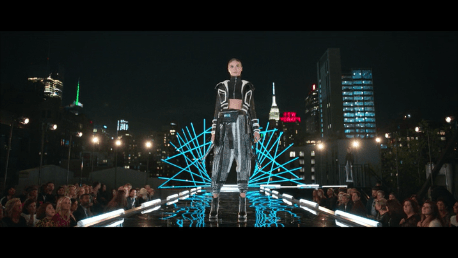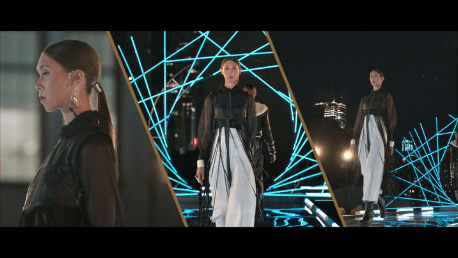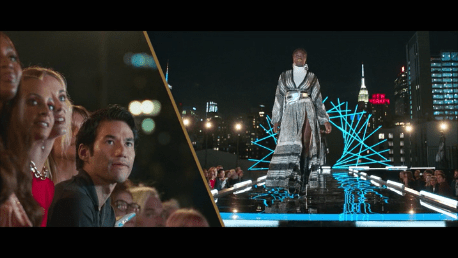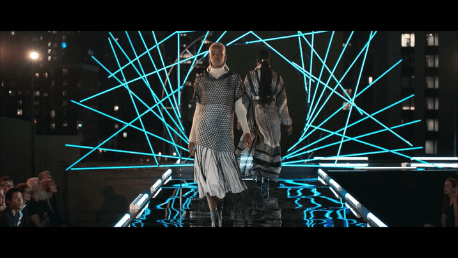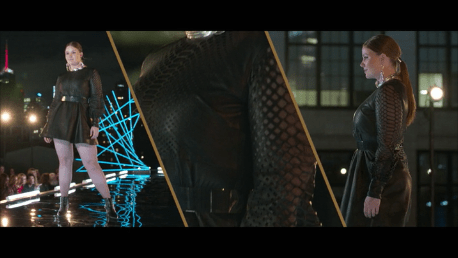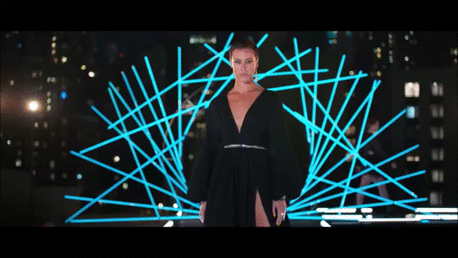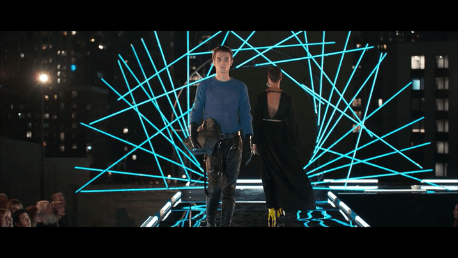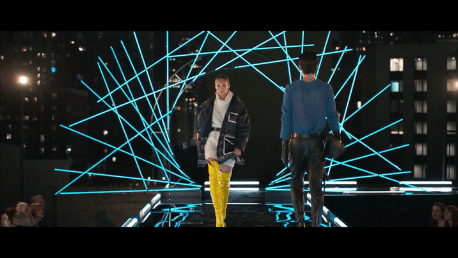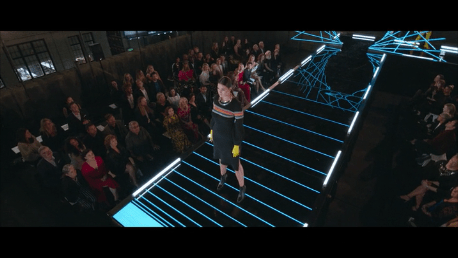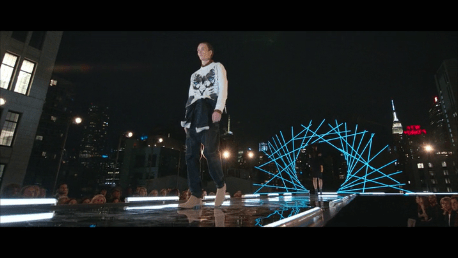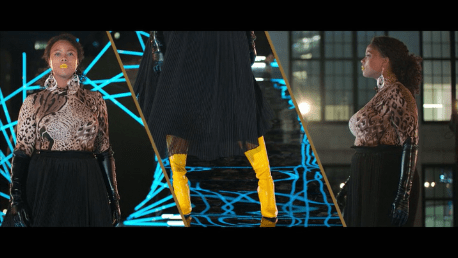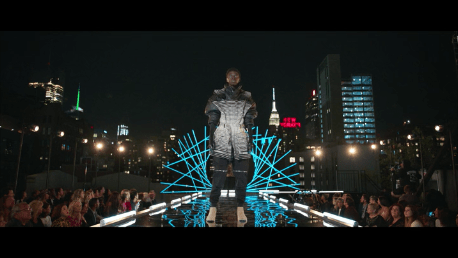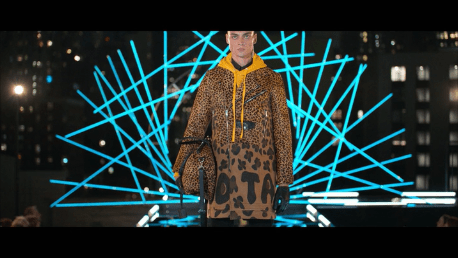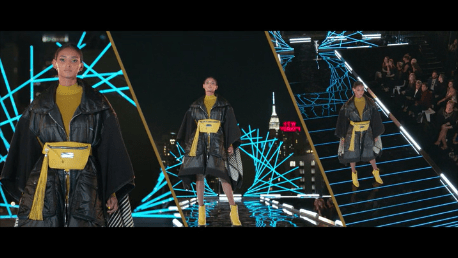 I was tired by the end but I can't say why. They weren't bad, right? Some definite flashes of brilliance, there just seemed to be a lot of them.
Time for Esther's collection!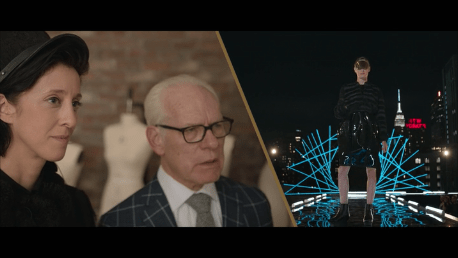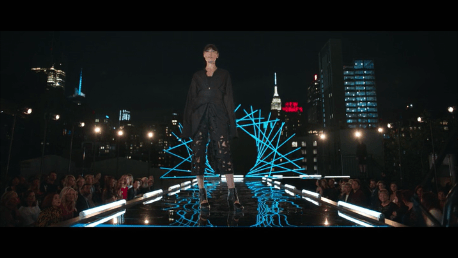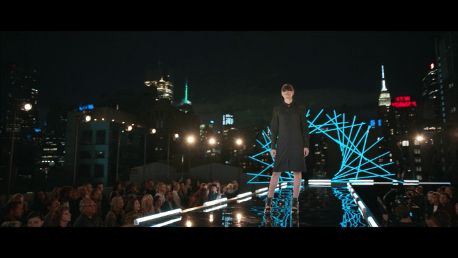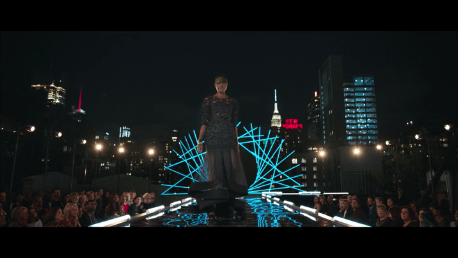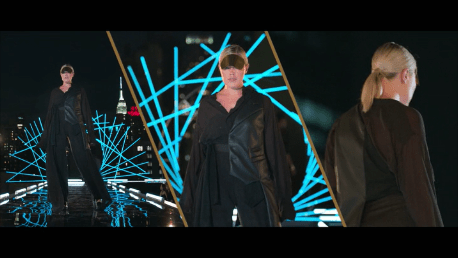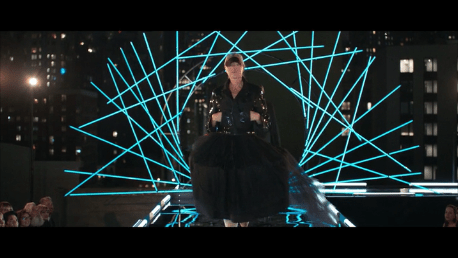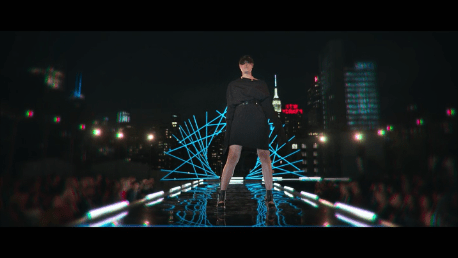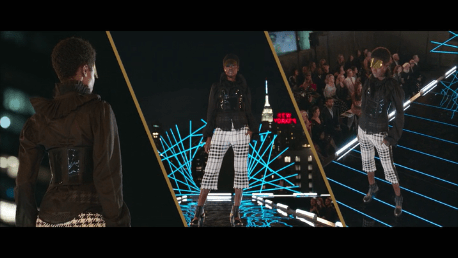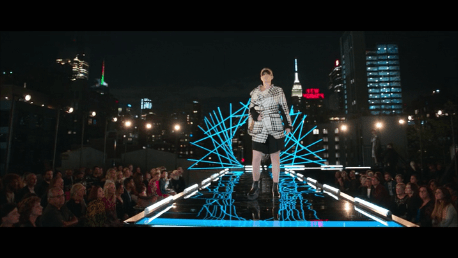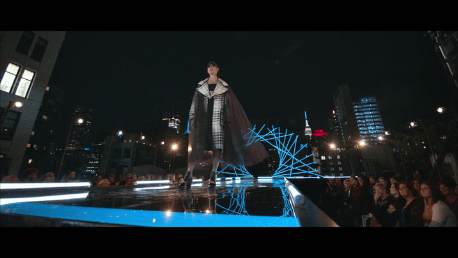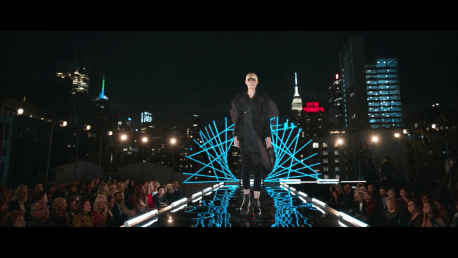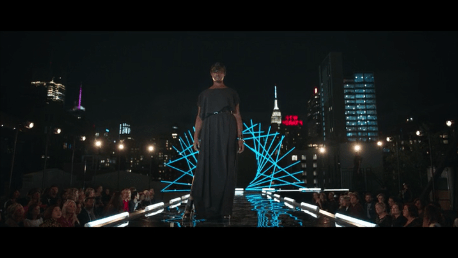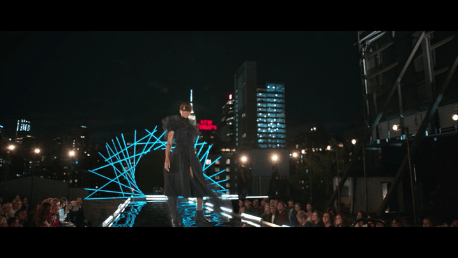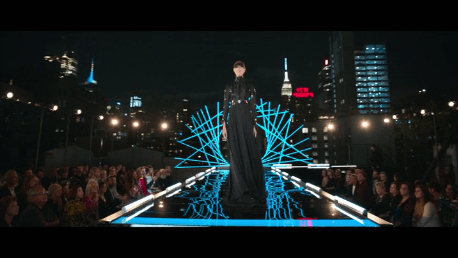 It's literally one black blur after another.
The judges are happy with both runways, they can see global brands in both. The designers are ecstatic to have shown their work, which way are we going from here?
The judges meet with Christine Beauchamp to discuss the business plans presented to her, then talk all over each other until Naomi says: let's just meet with them, yeah?
Tim comes in the room with the two designers, calling himself "a nervous wreck of a foster dad." Awww.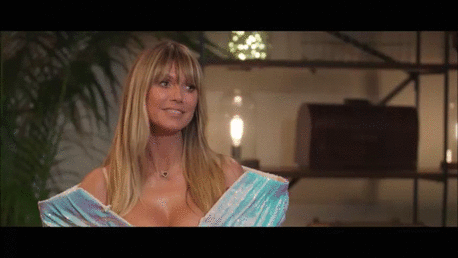 Esther is called up first, Joseph is very complimentary but Naomi cuts to the chase: will you do colour? Esther swears yes but Nicole pushes even more. Well, I guess we'll see. I'm so tired of talking about it, I can't believe we've spent ten whole episodes on it already. Heidi asks Esther why she should get One Million Dollars, Esther believes her grown plan and strong vision should carry the day.
Now Jonny to the hot seat and I'm sad because he is very passionate about repeating everything he's said four times this episode alone but the judges look bored. Chiara does the soft soap, but once again it's Naomi asking about the gaps in his lifestyle brand. Does he have a solid business plan? I didn't realise that he's been working in Bali for ages, interesting. He calls himself the best candidate in the competition to make the most money and I can see that.
Jonny has sustainability, infrastructure and colour going for him, Esther has a strong business plan and recognisable design esthetic. Who will get the golden ticket?
Well, I guess we're going to find out judge by judge! Heidi asks if anyone has changed their mind, Naomi says she has and now she picks Esther. Heidi didn't change her mind, she's going with Esther too. Joseph keeps Jonny in the game with his vote so it's down to two: Nicole Richie and Chiara Ferragni. Chiara goes with Jonny, leaving Nicole, who's been vocal about her skepticism re: Esther's non-use of colour.
She chooses Jonny, he just won a million dollars!
Congratulations, Jonny Cota, you're a millionaire! Hugs and kisses for everyone, Esther says goodbye without spoken remorse.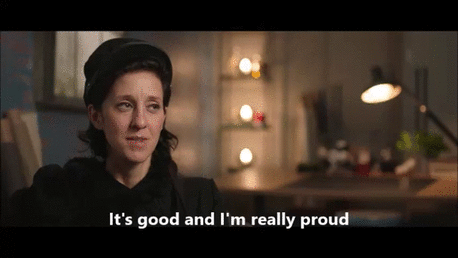 To the victor, the spoils: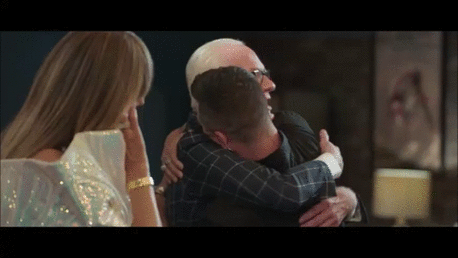 We get a montage of Jonny's journey from the very beginning, culminating in his final runway show. Congrats, Jonny, that was a close race against a dark horse.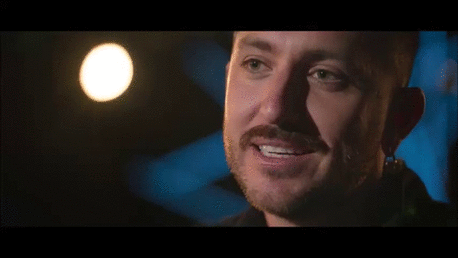 Esther, keep doing your excellent work. Cheers everyone, until next season! Peace.