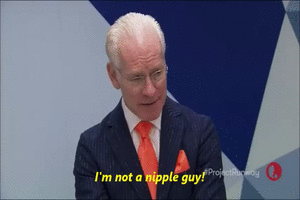 Welcome back to Project Runway where as usual: I am behind. Rolling Blacklight or Daylight after the break!
Last week we lost Linda, who was super nice but got stuck using a bad fabric with no backup plan. All the best, Linda! Top 16!
EyebrowsErin and the women are discussing how hard it would be to be a judge, I think I saw Eyebrow's ginch, whut? Pants! Eyebrows thinks it would be really hard to have been in the bottom three and Sarah agrees, AHEM: Kimber is in the room and we all forgot she was in the bottom three last time. Whoops!
Kimber's interview look continues to freak me out, gurl, you look great! You just went from the suburbs to the cooler part of Queen Street West.
Some runway shenanigans later, we get our challenge! Their looks have to go from day light to blacklight, just like the title says!
Nathalia and Tasha are 'CITED! And now we find out where this gimmicky runway is coming from: a suit from Transitions lenses is there to explain everything clearly. Blah blah Tim shills personally, I can't hate, I appreciate, I just won't transcribe any of it. There is a cool prize of a spread in Marie Claire, though!
30 minutes for sketching! Eyebrows wants to go from sweet to sexbomb and when did that become a hot word again? They used it on Paranoid S1:E2 the other day too! Anyway, I'm sure it will just be some circle dress shaped with a belt made of clipping choices.
Rik! We get a Rik description of his clothes! Is he sticking around or going? Is he not just cruising under the radar again? He says his outfit will look quite simple so I'm guessing he's in the bottom based solely on that.
Cornelius is floundering a bit; he's been safe the last two weeks and he HATES it. He needs to find a way to stand out!
Sole straight man Mah-Jing is basing his look on his fiancee Sheri; he calls her his wife sometimes, but no ring no thing, honey. 8 years engaged, though! What are you waiting for?? He gets very wordy describing what looks very basic, I hope he pulls it off.
Mood time!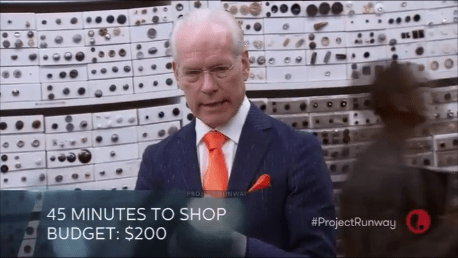 I'm surprised they only get 45 minutes, they've got to use their little blacklight flashlights on all the fabric to figure out if it will glow in the dark and that's time-consuming. Kimber isn't managing her time effectively.
Erin's not into neon, because it's tacky (says the woman who sent a neoprene tent dress down the runway last week) and she's going sheer as it's non-reactive. But. But. The challenge is that they use reactive materials?
Dexter's using fringe and creating a "Stevie Knicks meets the White Witch of Narnia" and I will reserve judgment until I see what the sam hill he's talking about.
Everyone's working away, but Jenni's frustrated at the back and forth of trying to work out how fancy their clothes are in the dark. Mah-Jing's having a hard time concentrating because it's Father's Day and he's bawling in a super high pitch at his four year old daughter and maybe we all take a moment. He sometimes feels like he's not good enough but his daughter thinks he is and that's all that matters.
I see you, Dexter, you're all tough looking with that giant huge gold nose-ring but I see you. You're a sweetheart with Louise Brooks bangs, hunty. Complimenting everyone and spreading joy: I GOT YOU.
Kimber digs her fabric that changes colour but she's worried because she doesn't use a lot of print.
We get a little Erin backstory, her dad rescued her from The Land Of The Mormons and brought her to Boston where she went to the art school equivalent of Community College. Okay
TimTique time! Erin's up first, she describes her look as "sometimes you wanna be slutty, sometimes you wanna be sweet" and there is nothing Tim or I can add to that.
Cornelius and I are skeptical, we already saw this dress, neon nipple pasties aside. Tim cares even less that we do about that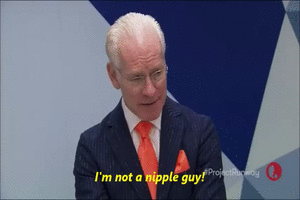 Sure you aren't, Tim, suuure.
Kimber's in trouble, the massive parts of white on her dress have dragged her look down. Roberi calls it too simple and Tim calls it ugly.
Cornelius hasn't done very much, which worries Tim, he tells him to figure it out! Corny comes right back at him: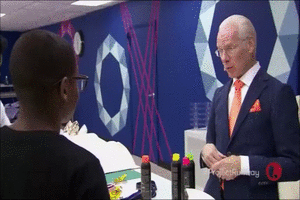 YOU DON'T NOT SASS TIM GUNN! YOU BETTER WILT!
Sarah's look is very her, which is accessible and already-available.
Rik's concerned with Dexter's unpainted fringe but gets rave reviews for his own work. It just needs a bottom.
Several TimTiques later, he LOVES Roberi's fringy mess of a dress. BRIK! Pull it oot!! I want to see more of you! Tim and I are worried he's not going any further.
Mah-Jing is not just creating a dress for his fiancee, he's making a WEDDING dress that Alex slow-bitches looks like a crime scene. That doesn't even make SENSE, Alex, you tool. Tim tells Mah-Jing to scrap the whole look and he doesn't really have time for that, does he?? Although he'd have lots of time to do it at home if he got skidded on this ill-fitting mess.
Jenni's dress looks grossssss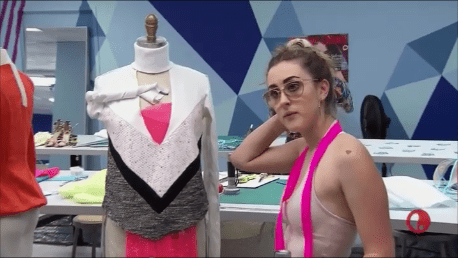 Aww Rik! He cries when he gives us his backstory, he just wants to pay back his and his mom's student loans! Erin LOVES his look, it literally stops her in her tracks.
Cornelius is changing his whole look, he's doing an on-trend dress with emojis. Talk about phoning it in
Come on, Brik, do something! You got this! His confidence is damaged and he just seems exhausted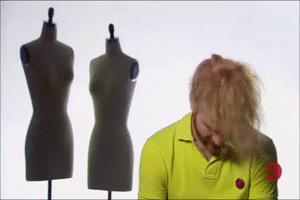 Dexter gives him a little dance and song break, keep on pinnin', Brik! You're in it to pin it!
Model fittings! Jenni's skirt literally tanks while Mah-Jing goes super simple. Make it work time!
Everyone's ready for a conjugal visit already, but none more than Laurence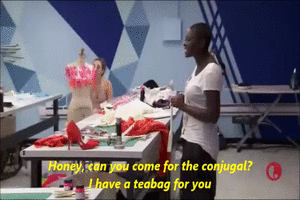 HAHAHAHHAHAHA
Jenni's creating a pattern on upholstery fabric with puff paint. I mean. I do not understand how this is clothing. Surely Michael's has a challenge show? Something with scrapbooking? It's even worse in the morning.
It's a whirlwind of fittings and handpainting and we're seeing a LOT of Kimber and Rik so I am guessing they're in trouble. Also Mah-Jing, his second dress is a mess and I can't see how he can fix it.
Hair and makeup time! We're far enough in that we're not getting as much direct product promo, sweet! Oh I spoke too soon, Cornelius gets a direct shot of hair smoother.
Alex can't tell the difference between Tasha and Kimber???
Are you fcuking kidding me?? Or did he just not not bother to find out their names?
Runway time! Heidi asks if Cornelius thinks his is the best, he always does! This leads to Jenni "laughing" for much longer than necessary and good GOD that irritates me. Attention-seeking much? Oh and Laurence did get immunity, which is why we didn't see her look much. The guest judge is Jamie King who is almost unrecognisable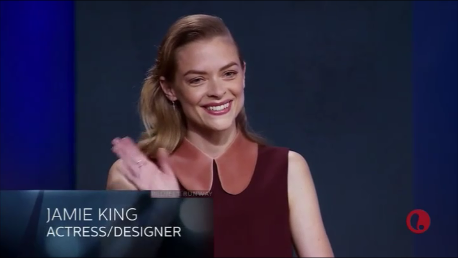 AND we get confirmation that there is a Tim Gunn save, yay!
Runway time! Cornelius is up first: how stupid does this look?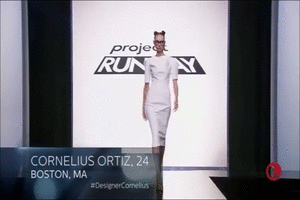 And then there's Jenni's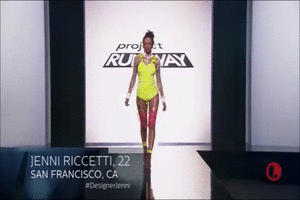 Alex's dress is underwhelming, we agree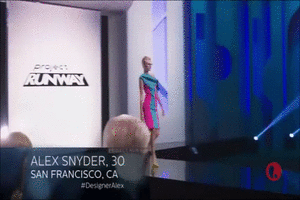 Mah-Jing and I are worried, his dress looks not on purpose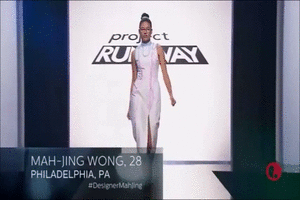 Zac isn't impressed either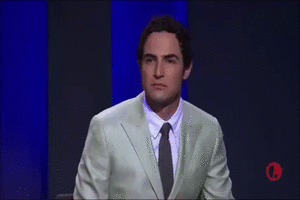 Nathalia's looks...fine? Meh but she did lots of pieces which is cool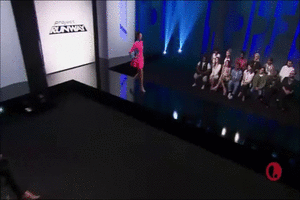 I LOVE ROBERI'S DRESS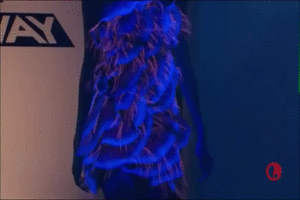 There is NO difference in Kimber's dress in blacklight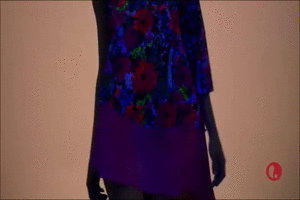 Sarah's outfit looks like all her stuff: PTA-appropriate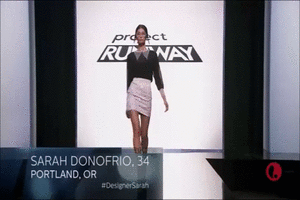 I don't know how different Rik's is, he just used neon cording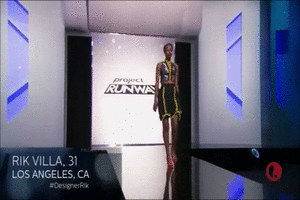 Laurence's coral diaper with blazer is...well cut?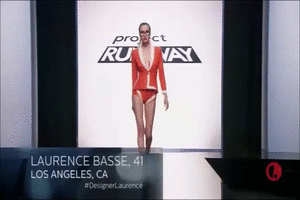 Tasha's looks...glowy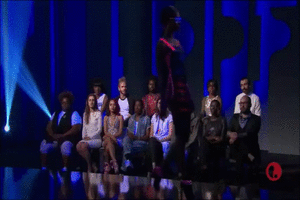 Erin loves her beautiful transition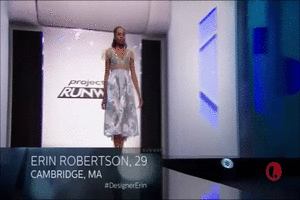 Oh Brik. Your sheath dress has an interesting shape but it's so simple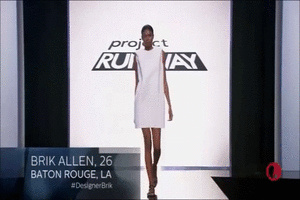 Dexter digs his fringe and it DOES look cool, but it's also super simple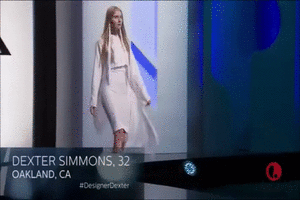 Safe are: Brik, Tasha, Nathalia, Sarah, Dexter, Roberi, Alex and Laurence. Yay, Brik made it! Woo hoo!
Judges Critiques:
Jenni is first to explain her look, Heidi loves the whole look in fact EVERYONE dug her Blade Runner plastic trench and she INTERRUPTS Zac who is telling her how much he likes it. I mean.
KImber: just okay and wearable: doesn't blow any minds. Kimber stands behind it but takes a lot of heat for lack of design for her "fine" dress.
Cornelius finally gets to speak on the runway! Heidi loved it and WHATEVER emojis *pretending to throw up face*
Rik: they hate the bottom, it looks stripper-ish and she's got her bum out. Bedazzled from head to toe
Erin (if she gets top again I am not going to need an emoji to pretend to throw up): they think it's fantastic, brb. Okay, they REALLY like it and I get what they're saying
Mah-Jing: his look was divisive, the judges thought his dress was a spermy-crime-scene disaster. He doesn't even defend it his dirty hotel room sheet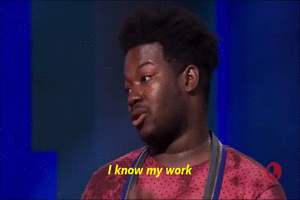 And now it's time to grope some models! Get in there, Zac! The designers do a post-mortem in the back, Kimber can't believe the judges couldn't see the glowing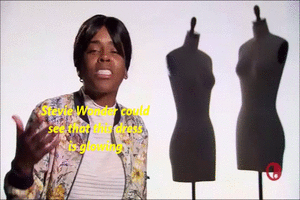 But I couldn't see it either, gurl, it wasn't glowing.
HOW ARE THERE STILL 9 MINUTES LEFT??
Nina is the sole voice speaking up for Mah-Jing, Jamie King liked his passion at least, so there's that. I think Kimber's in trouble and Cornelius will probably win for that stupid emoji dress.
Nope, it's Erin again, that's two out of three wins already for Eyebrows! I misunderstood, the spread in Marie Claire is actually a commercial for Transitions, so.
Cornelius is FURIOUS he lost to Erin again, pssht. Rik is safe and...so is Mah-Jing. Ah when he gains control of himself it's just gorgeous
Going home is: Kimber. You did a great job, Kimber and you have your own style which you will defend to the earth and good for you! Until next time, you guys!