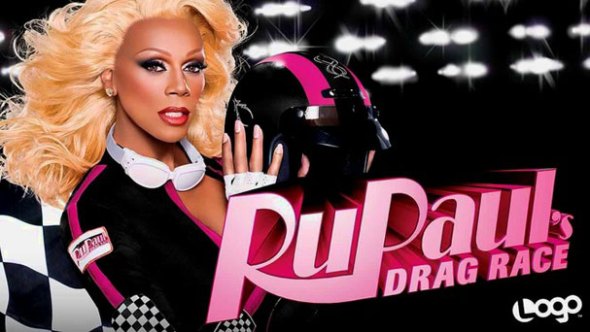 Woo hoo and we're back for more Drag Race huntys!! Last week the awesome BeckyMae did the recap and now it's my turn again! Let's roll!

Last week we got Naysha Lopez back (she pretty) and the gurls had an overacting challenge, with Thorgy and Bob the Drag Queen going head to head, but Cynthia and Robbie's choking led to their lipsyncing, sending Cynthia and her saggy-shorted cucu home.
FireUnicorn Acid Betty leads the charge back to the room, awww Naysha and Robbie are gonna miss Cynthia and her little cucu. Derek asks if Robbie wants to see her back then? "Let's not get crazy, Derrick!" hahaha
Bob the Drag Queen calls Cynthia's outfit a "Sofia Vergara's unfortunate cousin" look, you know, the one she doesn't send money. While the queens give Robbie props for lipsyncing in wheels, she's freaked out that she was in the bottom, in an ACTING challenge, which is exactly her wheelhouse.
Derrick is worried about his critique, but really still doesn't understand the problem. He's an impersonator, not a persona. Bob the Drag Queen uses Acid Betty as an example: that's not a character, that's BETTY. And you're Britney, but that is not YOU, you know? I once spent far too much time in piano bars, and one singer in the rotation, he didn't so much have an act as imitated other people's acts. Down to the way they sung something, or acted while singing, he didn't have his own voice, and neither does Britney, I mean Derrick.
Kim Chi thinks Derrick needs to take his drag much further and...that is not your axe to grind, Makeup Queen.
The amazing Debbie Harry is in this episode, SQUEE!!!!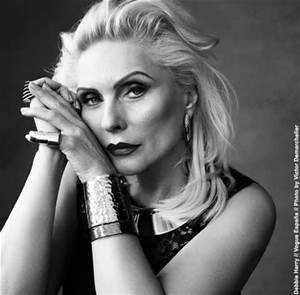 Next day, time for the work room, purse first! Purse first! They have RuMail already! The tide is high and did you know Ru was in a punk band called Wee Wee Pole?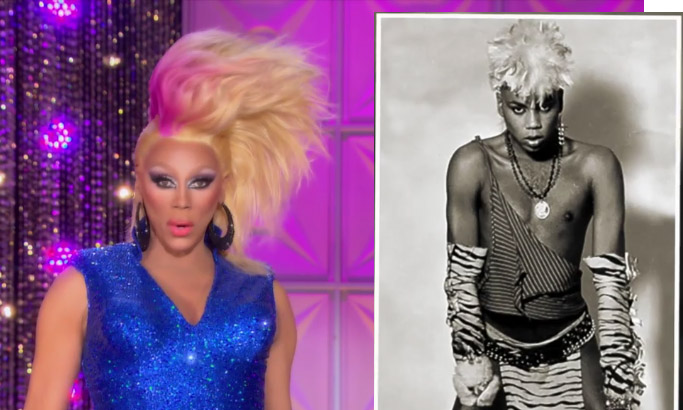 He modelled himself after Wendy O. Williams, the B-52s and his very favourite: Blondie! Maxi challenge is to form a New Wave band! Pardon me, what the HAYULL is MamaRu wearing??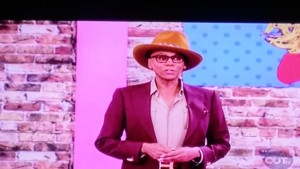 They'll be writing lyrics and choreography then performing live (gulp) but they get to pick their own teams, yay!
Team Best Friend Race forms quickly, with Robbie, Kim Chi and Naomi Smalls.
Team New Yawk is Acid Betty, Bob the Drag Queen, and Thorgy Thor.
Team Three (?) is Naysha, ChiChi and Derrick and it makes me sad to see ChiChi standing there all alone, no Team Country to play with, just the leftovers.
There are three categories they can choose; Punk, Synth and Party. You know I thought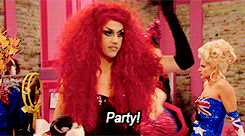 The runway will be neon realness, woo hoo! New Wave!! I can't WAIT to see what neon atrocities these ladies stomp out!
Everyone's fighting over Party, and I'm really surprised, I KNOW Team New Yawk would knock Punk outta the neon pink park! I mean. It would be epic! Bob employs some psychological warfare against Team Leftovers, pitting them against each other because ChiChi wants Synth and these gurls don't know how to fight against someone like Bob. He's too pushy, they too polite. As someone with a similarly strong personality, I will help you out: boundaries. Define them, early on. Repeatedly, if necessary.
Team Three is trying to work a shapes theme into their look, but they're interpreting it too literally and we even get some Derrick Barry shade! "I'm not surprised ChiChi came up with this look, this is a girl that shops at Michaels for every outfit she owns" and she just called you Budget, ChiChi!
Acid Betty comes over to stir up some more shite, really queen? Don't you have work to do? Bish please. Naysha says the same thing, but brings up Acid's age too, oooohhh.
I am still not buying Kim Chi and Naomi as Punk, this oughta be interesting. It's crazy that they have to write and choreograph a number in just a few hours, but I guess this is what they DO. Kim wants to do a song about Chicken Wings?
ChiChi isn't bonding very well with her team, she's working on her runway look because she doesn't have ANYTHING for neon realness. Derek and Naysha are getting along really well while ChiChi goes to the Shade Tree! Yay! But. She just calls herself weird and pledges to work this shite out. Sad panda. No shade again under the Shade Tree. Hey, maybe they need to start serving drinks in there! Or put in some books with a sign: The Library is OPEN
Team New York is not getting along so well; THREE strong personalities, two of which used to pushing people around whenever and however, they don't like how they have to keep stopping and waiting for Thorgy to process and work through the music and whether it fits. They just wanna GO! I didn't know Thorgy was a classically trained violinist, violist and cellist! That's badass.
The other teams can see poor Thorgy being double teamed by Bob and Betty, and not in a fun way, so they compliment her on her outfit, just little helping bits. Bob is in that mindset where everyone is out to get them (because of course, he IS out to get them, Mr. Psychological Warfare) and he brushes people off rudely. Kim is seriously just fcuking with Bob, though, LOL. "Haiiii Thorgy!"
Practice time with Lucian Piane! Dragometry (formerly Team Three) are up first, Derrick knows his performance last week has left him a target, so he's ready to turn it OOT. Unfortunately, the Mimi hand-waving and warbling is noooot good. Lucian suggests they talk-sing, since they aren't "incredible vocalists" (he sells that with an eye-roll and somehow it works!) but Derrick, she's gotta be her, she wants to SANG! Lucian gives alllls the props to ChiChi for understanding and incorporating what he's asked for, first take, telling Naysha and Derrick to "listen to ChiChi" and yeah. That's gonna happen.
Les Chicken Wings (Team Best Friend Race) are next, they need rawness, they need energy, they need anger; they're giving cheerful discordance. Lucian wants a primal scream but what he gets is a happy Naomi (that hurt her throat, lawd) and some tame screechingings. He tries to motivate them "someone just snatched your wig, tripped you and stole all your heels" but still, not primal enough. Robbie knows she's been on the bottom or close to the bottom since the jump, so she's worried: this angsty shite isn't werking.
Team New Yawk Street Meatz is up! Party! Lucian asks how everyone is doing with the lyrics, Thorgy isn't, though, but she tries to fake it for the team. They do a few run-throughs, but Lucian isn't digging it. He wants them to be more cool and new wave-y and less Broadway Musical-ish. Bob disagrees. Acid Betty, in the presence of someone who's opinion he respects is quiet AF, leaving Bob to fight this battle on his own. Thorgy never liked it anyway. It gets a little off track, with Lucian bringing up Lorde, leading Bob into a 5 minute rant about how much he dislikes Lorde's apathetic style and man: Lucian's just there to help. Bob CANNOT take direction and he was really rude and disrespectful to Lucian (I just don't understand, Lucian baby) and riffing and just not LISTENING. Don't come for a JUDGE!
Pre-runway, the girls are backstage getting ready, and as always happens, the Makeup Mirror of Truth comes for them all. ChiChi is broke and it ain't no joke, going through a bankruptcy. She says they were fortunate kids when they grew up, but they didn't have much money and I LOVE that. She took out a bunch of loans (now why they gonna give broke kids a tonne of money they know they can't pay back? I HATE The Brick furniture store in Canada for that very reason: most everyone I knew coming out of school ended up with serious credit issues after getting too much easy-pay furniture) and now works two jobs trying to pay what she can. She's here for the money and for the first time, I feel a cold shiver go across the back of my neck. Budget queens with heart go far here, but I don't know how well ones in it for the money do.
Robbie is riding Thorgy a little bit for being favoured (your Frida Khalo got a special mention!), who says she's the Susan Lucci of the season to Bob's...winning? Bob is funny, but that strong, strong personality, such an asset in getting ahead, so not helpful if you don't listen to those that know more...Robbie thinks Bob and Thorgy are in their own competition and it's so Coco Montrese and Alyssa Edwards S5!! Always TeamAlyssa. I don't know about Bob or Thorgy, though, Bob is FUNNY, but just too...egotistical? Rude? And Thorgy is super neurotic. I love them both!
Showtime! Ru is in a blue sequinned jumpsuit with peplum and new wave hurr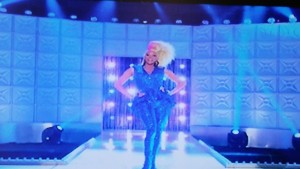 The guest judges are Chris Stein and Debbie Harry from Blondie!!!!!!
Street Meatz are up first; Thorgy is KILLING it
Dragometry is next: ChiChi is AWESOME Derrick and Naysha are awful, especially Derrick. ChiChi is werking, yo
Les Chicken Wings bring up the rear: they're trying...Robbie does well
Runway neon realness time!!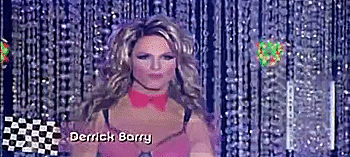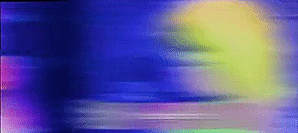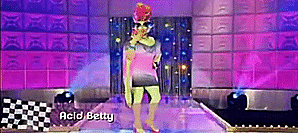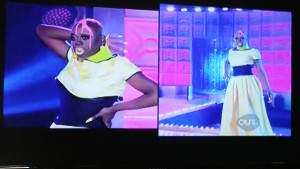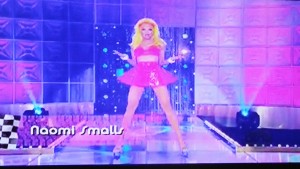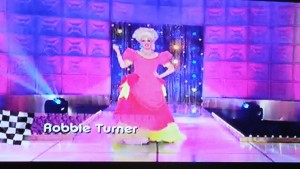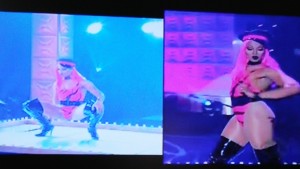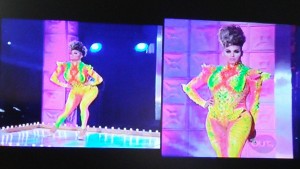 They skip right to the challenge winner, it's Robbie Turnt-her from Les Chicken Wings,yay! She wins a wig wardrobe! Side note: a Debbie Harry poster may have just given Papa and Mama Turner a tiny bit of straight-hope for Robbie, awww I was your first beard says Debbie!
Seriously, you have to watch the runway with small children: "she has the most stuff on her! (Kim Chi)" "She has the most HAIR! (Thorgy)" "Bob is a boy's name."
Team New Yawk is getting their critique, Bob apologizes for her attitude and all is well. Michelle likes her "rachet drag" and sure. Paint dripped over her bald head. Blondie gives her shite for not being professional. They don't really like Thorgy's look, she's getting lost in all the gear and Acid Betty is coming off with a Patty Duke 50s vibe. She disagrees.
Derrick gets shite for her lackluster performance but props for her voice FROM DEBBIE HARRY!!!! Naysha's ridic outfit and awesome arse get snaps but ChiChi gets called out for halfing the performance. I thought she did great, but Michelle wants to know why she's out there in a bathing suit then? She talks about her bankruptcy eeerh-ooh, but Michelle says it don't take money. And that's true, look at Michelle: everything she has on cost 50 cents! Anyway, ChiChi and Naysha make up and it's a nice moment that I can't WAIT to see ruint on Untucked.
The judges yak, they really don't like Thorgy's busy outfit and they're worried that Naysha doesn't have anything else to show them, but Chris Stein really hated ChiChi's runway look: YOU CANNOT WEAR THE SAME SHOES IN THE CHALLENGE AND THE RUNWAY!! Can I get an Amen?
Safe are Bob, Thorgy and Acid Betty are safe. Derrick is also safe, leaving ChiChi and Naysha up for elimination. I am so worried about my budget queen! Naysha's already been sent home, will Ru do it again??
Holy shite. Naysha tries some cartwheels, all flat footed and clumsy looking, but ChiChi turns it OUT. She back flips into a dead drop and then it's ON. Wow. It was more of a gymnastics competition for a bit, but anyone who thought ChiChi was just a twerking neck-swiveler got ALL told today. Dayum.
Naysha gets sent packing again, she goes out with a smile and another feature of dat ass doe and "don't forget, Ru has me on speed dial" HAHAHAHAH
We oot! Gurl. That was a good one! Can you believe Debbie Harry thinks Derrick has such a great voice, I'm GAGGING!! And worried for my ChiChi, but I have faith; she's a strong, gay woman and those back flips in 6 inch heels were UNTOLD. Until next week, when BeckyMae takes us to church!
Side note: if you can, watch Untucked, it's hilarious: Kim to Naomi: "I can see your halo" and so sweet; Naysha leaving ChiChi a special note AND a jumpsuit for her to work out.
**all pics are (poorly lit, sorry!) screengrabs by me or gifs borrowed from devoncat's Tumblr