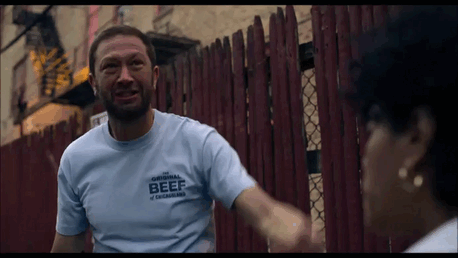 Hiya and welcome back to The Bear season one, Imma have to look up Ceres because I feel like I definitely know that from somewhere…rolling into my recap of The Bear S1:E06 Ceres after the break!
Omigod omigod omigod JON BERNTHAL is in this episode!!!!!!!
Quick note: I think Jon Bernthal is one of this generation's best actors and I have been saddened by his ultra-violent roles that don't necessarily showcase his genius. His presence. His talent. Between his appearance and Molly Ringwald, I feel like this series was created just for me and I need a moment.
Okay so I cried when I saw Shane from The Walking Dead, sue me!
In THE SHOW:
In the past, Michael Berzatto (Jon Bernthal – omigosh he is Mikey??) holds forth about the restaurant Ceres in New York,  named after the goddess of agriculture. He makes some kind of carpaccio as Carmine 'Carmy' Berzatto (Jeremy Allen White) watches, then helps. Their sister Natalie 'Sugar' Berzatto (Abby Elliot) is in the kitchen along with Mikey's bestie Richard 'Richie' Jerimovich (Ebon Mass-Bachrach) who is of course doing nothing but running that mouth.
Mikey is telling of a wonderful night with misleading voicemails and Chicago Blackhawks players and…and…wait for it…Bill Murray.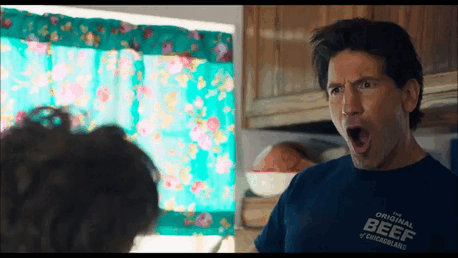 We switch to the present, where that same Richie is on a date with a nice lady who doesn't want to call his phone and hear Bill Murray's voice on Richie's voicemail.
I mean, nobody uses phones to call people any more anyway.
Sounds like Erica (Abby Pierce) got hung up around the 'in the bar at 6:45 am thing' overall. None of those party stories from your twenties hit the same way when you're dating in your 40s, do they?
At the Beef, in the kitchen, Richie consoles himself by slagging his date to Tina (Liza Colón-Zayas), Manny (Richard Esteras) interrupts by yelling about green tape being left on containers. Manny! That's the first time I've heard you speak! You would be FANTASTIC in a remake of One Flew Over the Cuckoo's Nest!
Sous chef Sydney Adamu (Ayo Edebiri) has another idea about a new menu item and of course she does! Carmy is still thinking about her proposed short ribs, slow down!
He gets called out back, where his extremely stressed out sister Sugar is freaking out about the fact that the IRS is holding her responsible for Mikey not paying payroll taxes for five full years.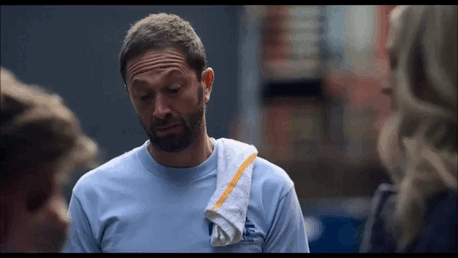 Mikey was an addict who killed himself and left his restaurant, unpaid taxes and several hundreds of thousands of debt to his brother Carmy and sister Sugar. Mostly Carmy.
Patissiere Marcus (Lionel Boyce) works on desserts as Gary 'Sweeps' Woods (Corey Hendrix) offers to help…ooooh. That's awesome when people are developed from within. Oh. Wait. He thinks Marcus is unhoused because he's been sleeping at the restaurant trying to perfect his doughnuts.
Also: Sweeps used to play for the Cubs!
Richie is struggling with change. All change. Any change. He's waxing nostalgic about a statue with no face when gunshots ring out and The Beef is hit.
In the middle of the day! Nobody even shouted anything! Everyone is okay, Richie checks with the neighbourhood drug dealers out front but Crooked John (Vasily Deris) didn't see anything. He'll keep an eye out, and Richie will let him keep hanging out in front of The Beef as long as they keep it 'lo-pro'.
Sugar is angry, now she's for sure losing her house. Carmy snaps out: 'don't cosign for a drug addict' and she suggests he's not processing trauma.
Of course nobody is calling the cops about being shot up on a Tuesday afternoon.
Carmy and Richie smoke out back; Carm asking if there's a name for that thing where you're afraid of something good going to happen because that means something bad is going to happen? Richie and I think: life. His ex-wife has done something kind of messed up, he's in her phone as Richie Bad News so whenever his daughter calls, that's who she's calling. Her mom defends it, Richie is contagious, he only calls with bad news.
Sydney debuts her braised short ribs with risotto dish to Carmy, he calls it tremendous. But ultimately: not ready. Not for a special, not for testing.
She takes an order out into the restaurant and gives an order to a customer for free.
Sugar is still trying to find payroll records from 2018 in the back room, she and Carmy finally hash things out. And find the records in a file labelled 'Shit'.
Outside, things are popping off as Crooked John and his gang of drug dealers is running up against a grey-haired gang of drug dealers and it's getting loud.
Richie tries to help.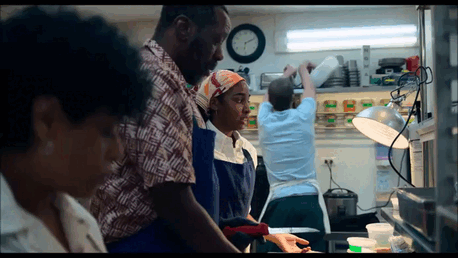 But it's Sydney to the rescue, which I now feel conflicted about. She went behind Carmy's back and I cannot with that. Anyway, she's out there in the middle of this unlikely looking gang warfare asking everyone to lower their voices.
She calms down everyone with free sandwiches every Tuesday? I'm pretty sure that was the deal, just as Richie finally finds his gun and comes outside to find everything okay.
More change!!!
Richie tries to reassert his sense of normalcy by telling more of his stories to a very busy Tina, Sydney finally has to tell him to stop and he flips out, to be dragged outside by Tina and lectured on how change can be good. Tina was definitely the chef most resistant to change but she's come 180 and she lays it out for Richie.
When he says this for the second time: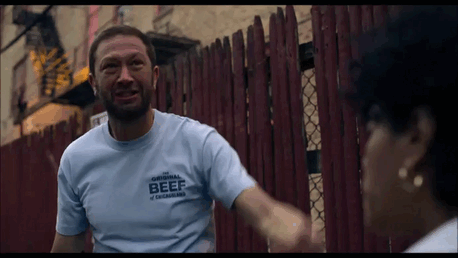 We know he means he is.
He threatens to quit, but Tina knows: where is he gonna go? Nowhere. Nobody is taking Richie in. Mikey and going to the bar at 6:45 am are gone.
He stands outside and watches the police roll up on the gangs out front while the kitchen hums like a well-oiled machine in the background without him. Is there a place for Richie in the new Beef? Can he evolve and adapt? Can he fit into the new system, the delicate ecosystem? Until next time, everyone. Cheers.