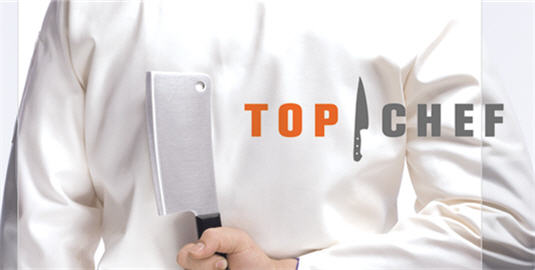 We're back for more Restaurant Warring on Top Chef - let's see what happens this time!
It's really Marjorie's Team's challenge to lose at this point, her front-of-housing was far superior to Kwame's and all her anal-retentive pick pick picking was invaluable in execution. Isaac was fantastic as well, far outshining Jeremy's poor Executive-Chef-ing.
This poor Executive Chef-ing of Jeremy is really going to be a problem for the Orange Team, they were still seating tables when Grey had already packed up, so they DON'T get the three hours of prep and down time before dinner service that Isaac is yakking aboot.
He looks over and sees yikes! Orange is still serving. When the judges came, Isaac pushed the meals out and through. Jeremy shut the kitchen down to just serve the judges and ended up SEVERELY behind. Phillip knows what's up, so he's thinking him as Front of House and Amar as Executive Chef for evening service should go better.
The judges call all the chefs around; they don't think they pushed it enough, food wise. They want some prize-winning stuff, yo! More amaranth foam! Both teams have stepped it up for dinner service, so let's see if we can get some more wow-mouths in this joint for supper.
The Grey Team will be serving: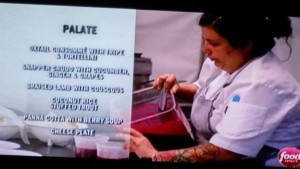 But holy shite, look how much the Orange Kitchen is doing: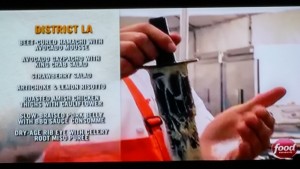 That's a LOT of food. Huh. Amar seems pretty confident, even if they are 45 minutes behind for service. Phillip is recruiting the wait staff for prep help ("do you know how to use a knife?" should never be asked in a kitchen) and has had to concede the olive oil / lemon juice mixing to Kwame. The night before, Kwame was threatening to mess with Phillip's dish by not assembling it properly, and part of that was the adding lemon juice to the olive oil in advance instead of doing it a la minute. I can see now why Kwame was concerned about time management, they have eleventy thousand menu items to push out. Crazy
Marjorie is making bread, AND desserts, which makes everyone happy, especially Isaac. I also love making bread; fresh bread makes EVERY meal fantastic.
Phillip is allllll over the front of house stuff, he's all up in everything. I think that will pay off, it's easy to discount little yappy poodles like him, but he is persistent and passionate and I think that will do well in this role.
Karen is making two and a half dishes for service AND is front of house, I dunno, man. Me and her are worried, that's a lot that can go wrong. She's still messing around with pasta in the back and she can't get out and talk to the servers, directing them, etc. Marjorie runs out front to get the servers started, but everyone is going to be running.
Phillip is explaining every single thing to the wait staff, and Amar is starting to get annoyed. Let's see if we can get through this; Kwame is right in that Phillip is very set in his ways and does NOT respond at all to criticism. He thinks the dressing for Phillip's strawberry salad is too thick and too sweet, but knows better than to change anything.
I'm really concerned about Karen; her taking on too many things may well sink the team. She hasn't even started on her trout, so she asks Isaac to help, and he does, but that means his lamb dish isn't getting prepped, soooo. She gets my Ragin Cajun sent home and I will NOT be happy. She finally makes it out to front of house, time for service!
District LA is offering a complimentary cocktail AND an amuse bouche, hmmm. That seems like a lot of free stuff. It doesn't matter anyway, because I'm pretty sure Jeremy is gonna fcuk it up anyway. What's going on, brah??? He can't seem to get risotto planned properly, he's got food all over the place, GET YOUR HEAD IN THE GAME, SON!
The judges show up at Palate first, and Karen is there to greet them this time, yay! I have to say, we know Karen is in the weeds, but you'd never know it to look at her, she looks like a serene puddle of chef-ly joy.
Not looking quite as serene is Marjorie, who lost prep time helping out front and is trying to get caught up. I do know (from Masterchef Junior) that panna cotta needs time to set, so I hope that's done at least. One of her mixers (a gorgeous red KitchenAid commercial size) dances itself off the counter and I've done that. The hole in my ceramic tile is living proof that bread is better kneaded by hand.
The judges get steel colanders full of Marjorie's garlic milk bread and I WANT SOME gahhh. They love it! Carl is just doing so well, his Oxtail Consommé with tripe is going to rave reviews and he's so positive! I love his energy right now, Namaste, bro!
The Oxtail Consommé is delish, apparently *herk*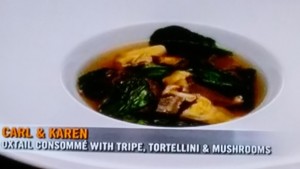 But they make fun of Carl's crudo - it's SO the new pork belleh. Amar is making pork belleh again, did you see? I totally snorted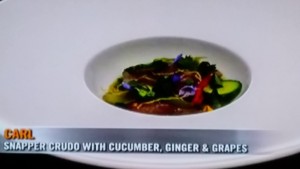 Over in District LA, Phillip is getting a lot of Jeremy's steak sent back, underdone. I mean. Steak? Amar, check the dishes! Pull a Ramsay if you have to!
Back to Palate for their main courses:
Karen's trout does not do well. They think the entire dish was misconceived, trout being so delicate, and the rice is mushy and yeah. Good thing she's doing so well in service tonight: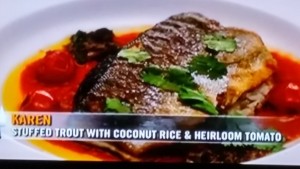 But Isaac's lamb is well-received. I'm still not eating it (lamb *herk*), but I do love couscous and fennel: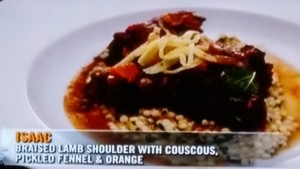 Isaac thinks Carl's doing really well as an expediter, he's even running the two and twos that Phillip was talking about over with the Orange Team, that Jeremy didn't understand. Isaac LOVES it.
Marjorie's cheese plate is liked, but I mean: cheese and nuts, you can hardly go wrong with that: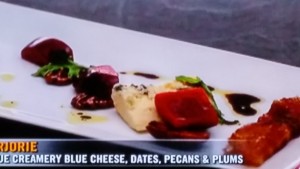 And her buttermilk panna cotta with champagne berry soup is not as popular, they think it tastes like a raspberry float and identify the fizzy champagne as seltzer water, and not in a good way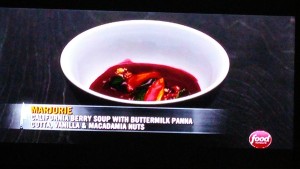 Time for District LA! A very nervous host (keeps side-eyeing the camera) hands out Bangkok Dangerous cocktails for all; they look confused, but again, I don't think in a good way. Phillip shows up and leads them to the judges table, where they sit around and bitch about the lack of cohesion in the menu. Did I mention how the Grey Team made sure there was a connective theme throughout their food? They totally did.
Orange Team and their food:
Kwame's amuse bouche: they HATE it. I have never heard them say "it's terrible" before, wow. It did NOT amuse their collective bouches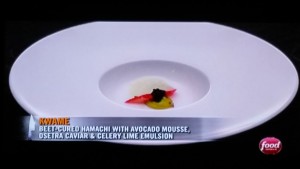 Amar's soup is called odd and they think he missed the point of gazpacho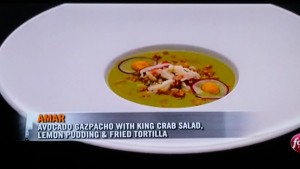 Phillip's strawberry salad / soup (which DOES look super thick) is called stupid, and it doesn't make any sense. WOW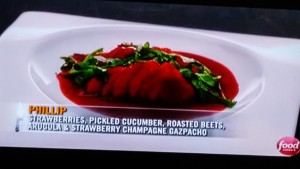 Phillip is wandering around showing everyone his chest tats, and in my experience, those tend to be super personal and not explained to strangers. However, his tats say "Wolf Am I" and "Mother Say You'll Pray For Me" so they can be shared, I guess? He's mostly talking about his other restaurants, and the judges are not really digging his schmoozing.
Once again; Jeremy is holding up other food to feed the judges, I can't believe this guy runs a restaurant.
Kwame's main: Amish chicken is overdone, and one-note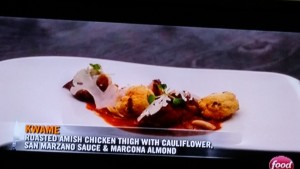 Jeremy's risotto has no flavour, they think he used water instead of broth (whuttttt???) and you can actually see the judges starting to get mad about their food this evening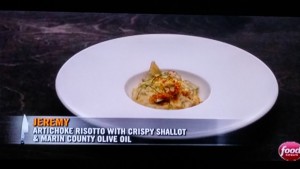 Amar's pork belleh (the old crudo) is super over-vinegared: BAD says Tom while everyone else winces. Padma says it's more concentrated than pickle juice and none of the other diners are digging it either. In the back, Amar is ladeling more sauce over more pork bellehs and WE all wince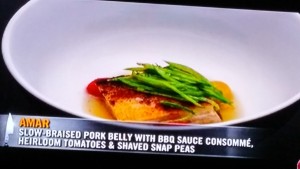 And Jeremy's dry aged rib eye is called "serviceable" but no blue-ribbon winner at the fair, his garnish throw-away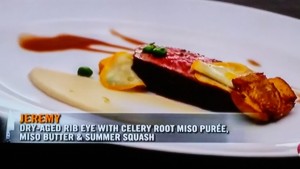 Those were seriously the harshest critiques I've ever seen on this show, judging is not going to be pretty. The judges say it was neck and neck after lunch, and that's not true, Palate had it, but anyway, they win supper as well AND Restaurant Wars. The individual winner is ISAAC!! YAY!!! After all that shit-talking by Marjorie, and being picked last, and the self-doubt he was dealing with over not winning a challenge yet...he kept it together and WON.
The Orange Team's critique is BRUTAL. From Phillip's crappy cocktail ("sorry you didn't like it") to all the bad food and the server's lack of subtlety. The judges are still mad and it shows very clearly. I am so shocked at how Jeremy (worst risotto in Top Chef history - was indeed water, not broth) fell apart, but the judges liked his salad enough at lunch that he is clear. So is Kwame, so it's between Amar and Phillip, and I'm betting Phillip goes home, at least partially due to his restaurant promoting.
And I'm right; Phillip is gone and everyone else is excited because they're going to the Bay area. Yay! All I know about the Bay area is that where Bay Area Women in Film & Media (@BAWIFM) is located.
Until next week! Keep your crudo in check and broth in your risotto, yo